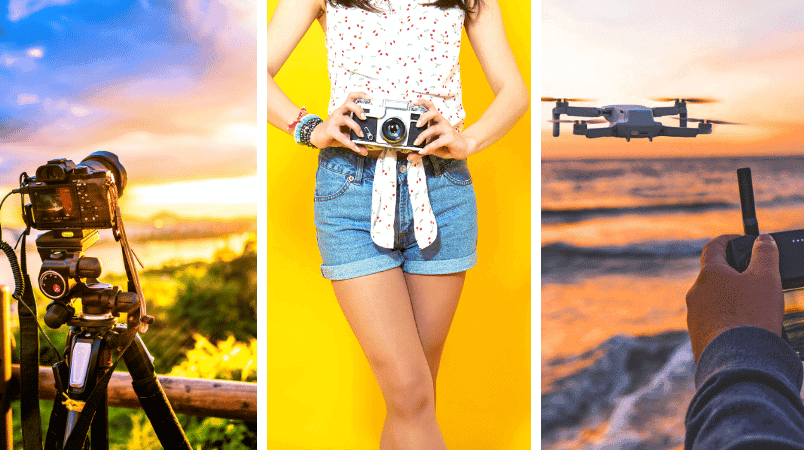 One of the biggest questions we get asked as travel bloggers is what photography equipment we shoot with. It's quite an investment to get a camera and the additional lenses. Then of course there's figuring out how to actually use it. Some people say you can just shoot with an Iphone and be fine and while the Iphone has come a long way, nothing beats the crispness and details of a RAW DSLR photo. It's what allows us not just to shoot for our content, but also sell photos and make additional income.
Learning photograhy is a necessary skill and even as we move more to video, photography will always have a voice. At least it's not going away anytime soon. I had the privilege of interning under a photographer in college as well as taking college photography courses, but there are so many tools out there to learn such as Skillshare.
Our Photography Equipment
Sony A7 III
Truthfully I was a Canon loyalist for the longest time. I started off with a used Canon DSLR full frame camera. It took solid pictures, but had some limitations. In the end, because we travel so much I ended up switching to Sony simply because it weighed less and a couple pounds make a difference when hiking several hours through a park.
There's no question that the Sony A7III is a good camera and I love all of the options to transfer to my phone as well as just how customizable it is. It took a while to learn the settings, but now I love just how much I can do with it!

Lenses
50 mm lens (No longer in use) – We don't use this anymore, but the reason I mention it is because it is such a great beginner lens and it's still a solid lens full time. The only reason we retired this lens is because we needed to make changes in a quick second and the zoom gave us faster flexibility.
I think everyone needs to start with a 50mm fixed lens and here's why. Typically, when using zoom lens, we treat the zoom the same as a digital zoom and quite honestly it makes us lazy. Having a fixed frame teaches you to zoom in and out with your feet and helps you get the basics down. Also it's more affordable.
24-70 mm F 2.8 G Master– Our most used lens. Considering we do a lot of photos of scenery this gives us just the right amount of range to shoot anything from nature scenes, to food, and more. We opted to go for the actual Sony lens because this is the most used one and we wanted to have the most crisp images that could be blown up.
Sigma 14- 24 mm F 2.8 Art Lens– This lens is used less often, but tends to be best utilized in tight spaces. We mostly use this for inside of hotel rooms or other areas where we can't move back far enough to fit everything in.

Camera & Video Accessories
Mosiso Camera Backpack
Traveling around so much and hiking with multiple pieces of equipment required a solid bag. We also wanted to be protected from rain in case were were out and it rained. Overall this backpack is great because it fits our two cameras, two lenses, go pro, drone, and additional settings. We even have a section for documents and/or laptop as well as an area or connect our tripod. The hard cover is waterproof and although it's not fully waterproof, it's been good for us.
Tripod
We have gone through so many tripods and they always end up breaking on us or not being sturdy enough. We finally got the MeFoto RoadTrip Air Tripod and not only is it steady, but it's so compact. It's kind of a splurge, but in the end we spent more trying cheaper lenses.
LED Light
This is my favorite item I can't live without! I use the for photo and video and I couldn't be happier. We use it when shooting in restaurants when it's dark, dimly lit hotel rooms, and some night scenes. You can adjust the dimness of the light as well as if you want a more yellow or white color of it. While I try to shoot in natural light as much as possible, it can make such a difference when I don't have a choice.

Cleaning Cloth
It feels like you can never have enough cleaning cloths! The lens gets smudged so easily and same for the phone lens. It's always great to have a couple stashed in the camera bag, wallet, purse, suitcase and anywhere else so you're never without one.
Waterproof Bag
This feels like another item we can't go without. With all the times we go out in water or think we might have to deal with rain, this stay secure and waterproof!
SD Card Transfer
This is a must if your laptop doesn't have a spot to transfer photos to from our camera. However, it's also really convenient when transferring videos from the Gopro or drone directly from the device to our phone since the files are usually really hard to transfer to the phone after it's so big.

Our Video Equipment
The Latest iPhone Pro Max Edition
Every time the new Iphone comes out it seems like such a splurge! However, the improvements always seem to be worth it. Ismail always spends hours watching the Youtube reviewers who get early dibs and who give their honest opinion and every time it's worth it.
Sony Alpha ZV-E10
This is our primary vlog camera and our most recent camera purchase. It's more portable than our A7iii and easier to stabilize so we don't have shaky videos. It took a while to get a second camera, but having one dedicated to video and one dedicated to audio was so nice.
GoPro
With all the travel we do, having a go pro provides us the flexibility of something small with great video quality. We use this for under water, going down water slides (somehow we do this a lot), and time when we are in water without being able to secure the waterbag. Sometimes we also use it for outdoor scenes. It has a very wide angle (makes everything look further away), but provides more details than Iphone. If something is extremely beautiful (maybe a waterfall), we might use the Gopro instead. The GoPro is amazing, but quality keeps on improving with each addition, so we try to keep up with new additional

Shot with Go Pro
GroPro Add Ons
In addition to have the GoPro, there are a lot accessories that make it perfect for going underwater, strapping for certain activities, and more.
Drone
As a travel blogger, being able to capture a full scene around makes the photos and videos just that much more captivating. We are able to capture angles we never got before and it's much easier to get couples shots this way since you can program it to fly away or follow you so you don't have to be in control of it at every moment.
We started out with the DJI Mini II and it was a great way to start with less of a commitment. We could learn how things work without as much of an investment. However, we soon upgraded to the DJI Air2S for more settings as well for a higher quality video!
We always recommended getting the fly more pack with extra batteries, because the batteries die pretty quickly and you want to spend as much time in the air as possible.

Shot with drone
Our Video Accessories
Phone Tripod
I love how compact this phone tripod in particular! It makes it really easy to use on a whim although it is a little unstable when you have it reach it's full height (I don't think it would hold up with wind). However, the ability to fit in a bag and then use to film is so nice!
Motion Sensor Tracking and Smart Mount Adjust
One of the hardest things as a travel blogging couple is we both want to be in contact, but just have still shots that don't move really limits all the amazing different angle shots and movements you can get. Truthfully, we just purchased this and haven't gotten to test it out, but I'm so excited for the potential. This tracks movement to follow you along if you're walking somewhere and want to capture it. The smart mount adjust just helps you be able to use your phone.

Sign up for more content like this!
If you enjoyed this kind of content, sign up for our waitlist to be the first to hear about an upcoming project aimed to help you build your business!