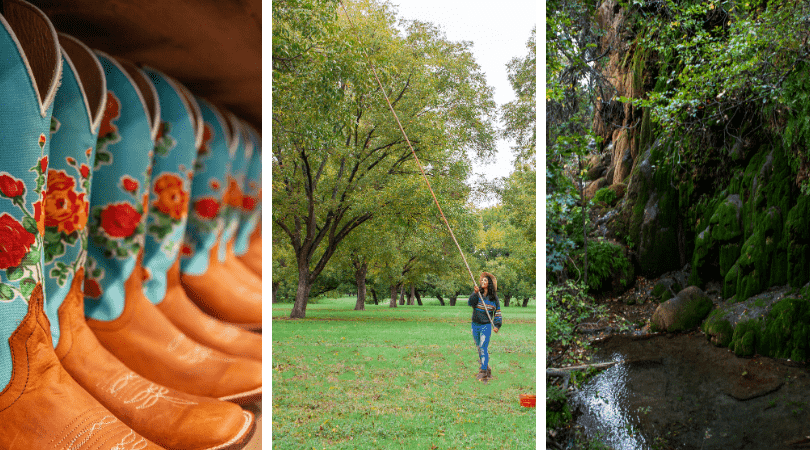 Nestled in the Texas Hill Country is the magical little town of San Saba, Texas, also known as the Pecan Capital of the World. By the time you leave San Saba you might find you're a little nutty about these super foods too! Apart from pecans, there are so many fun things to do in San Saba to keep you busy for the perfect weekend getaway!
Hike Colorado Bend State Park and See the Waterfall
Head over to Colorado Bend State Park to see the 70-foot waterfalls over at Gorman Falls. Colorado Bend State Park in general is just a beautiful place to visit and a must-see when you are in San Saba. There are multiple trails leading to the waterfalls, springs for swimming, and a beautiful overlook where you can see the river below. Make sure to give yourself plenty of time and water as some of the hikes can be a little more difficult. For Gorman Falls, be prepared for some slippery slopes and some jagged ledges.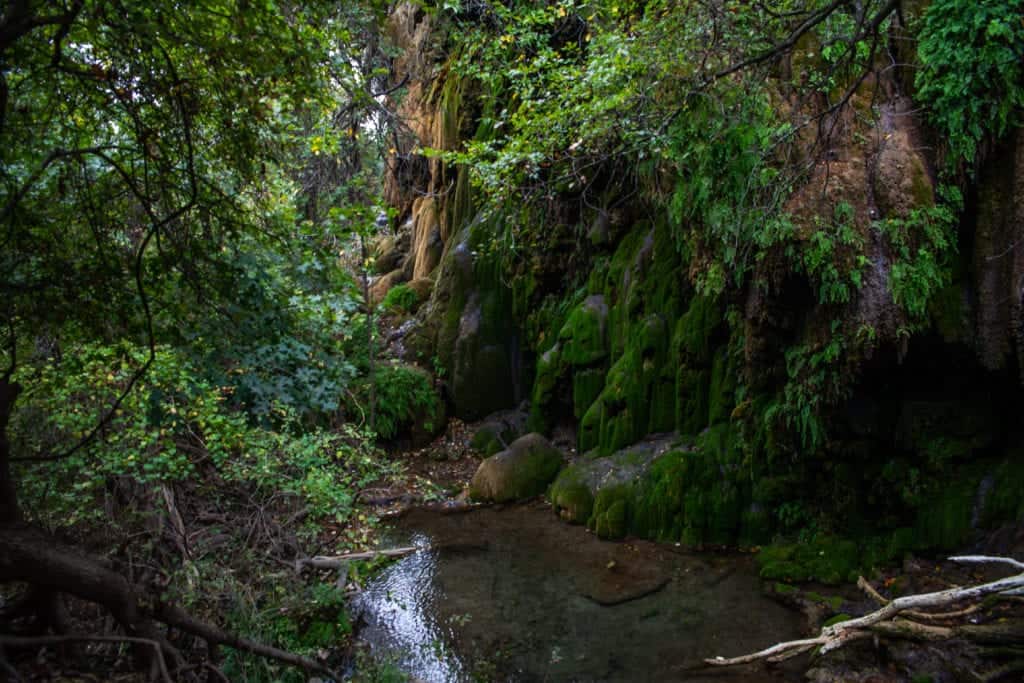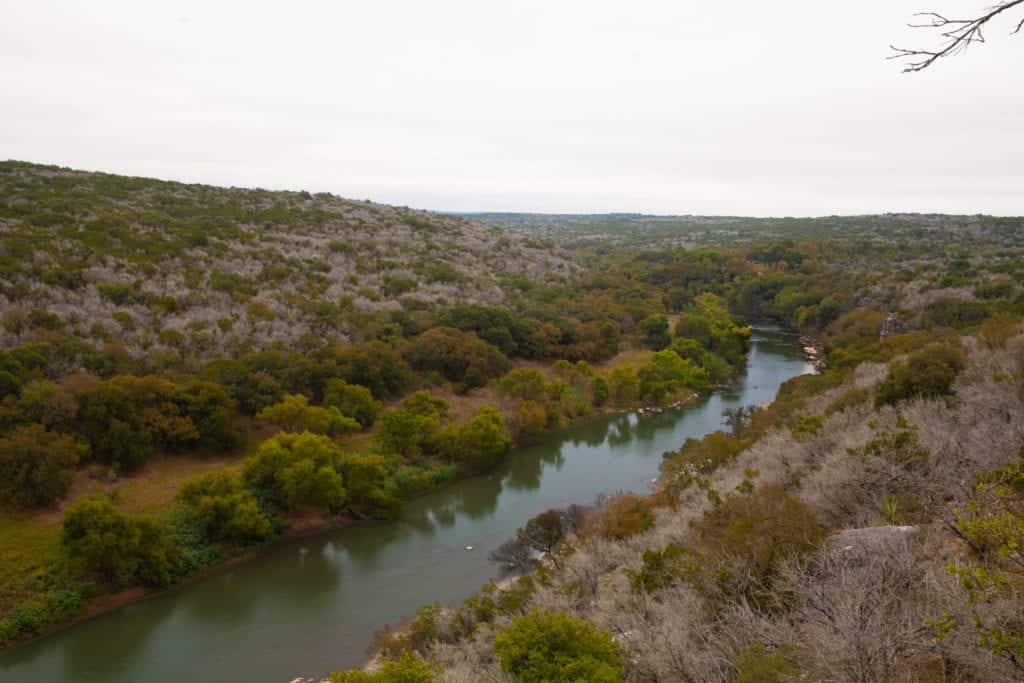 Make Pecan Pie
Millican Pecan Co is basically the grandfather of Pecans in Texas. The original owner of Millican was the one who helped create the modern pecan today by breeding trees to create the perfect pecan and creating the Mother Pecan Tree where most varietals of pecans originate from. From there they helped plant groves throughout San Saba.
From the owners at Millican Pecans I was able to appreciate just how incredible pecans are! So many vitamins and minerals like Iron, Vitamin A, B (1, 3, 5, 6, 9), E, antioxidants, and more. Pecan oil is now my favorite thing to cook with thanks to all of the health benefits it has! And spoiler alert: the best pecans come from the manufacturer.
During the Spring and Summer months Millican Pecans invites groups of 6 or more to join their pie making class where you can learn all about pecans and become an expert yourself. You just have to call to reserve.
Also, as Pecan experts, we felt confident asking them the proper way to pronounce pecans and it is…. Pee-con. The mystery is solved!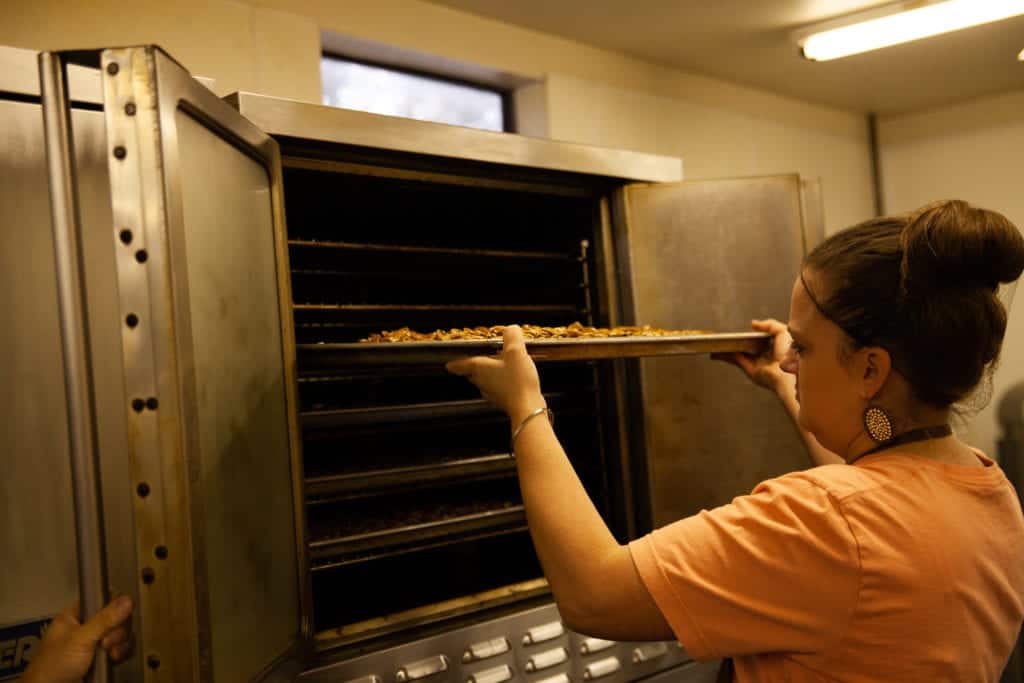 Buy All of the Pecan Products
Seriously! We fell so much in love with pecans that we drove out of San Saba with so many pecan products and multiple bags of pecans! I wasn't originally a fan until I learned that pecans can be juicy (from the natural oils inside the pecans) which makes them taste delicious and great for so many different things!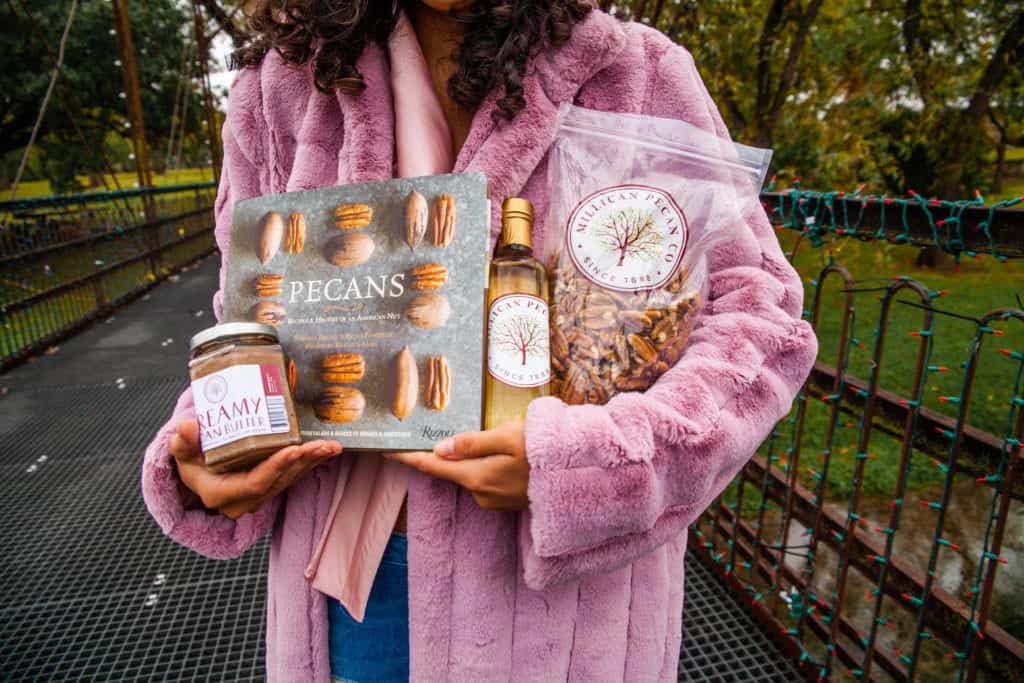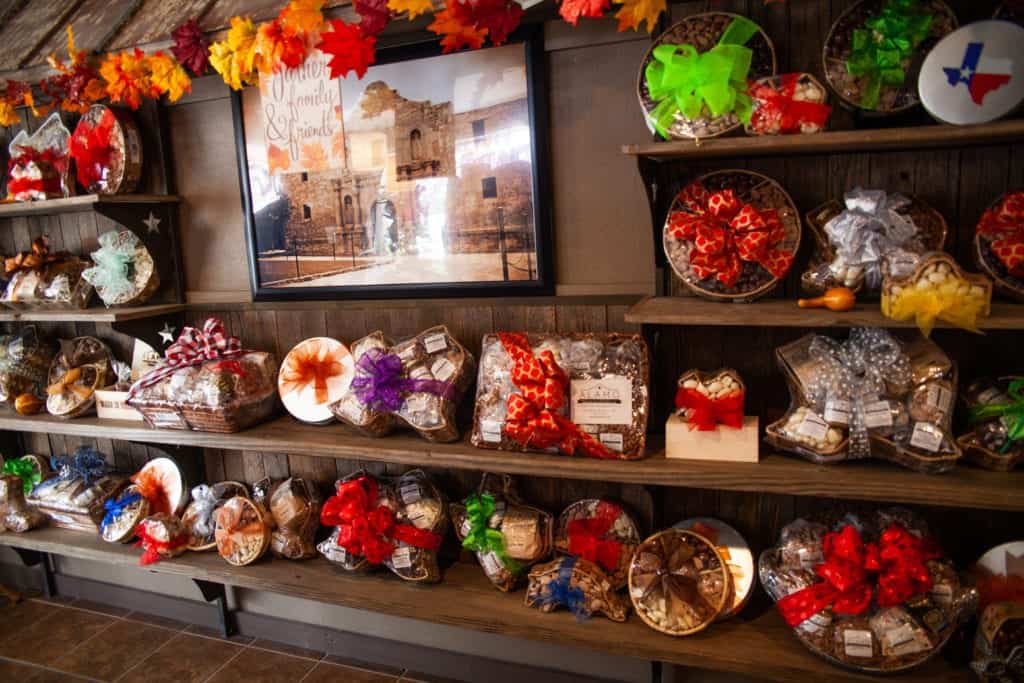 Alamo Pecan was so cute with their Texas pecan boxes filled with an arrangement of pecan goods including different flavored pecans, jams, butters, and more! They even had a coffee shop on site, so to go with the theme, I had to get a butter pecan latte, although they had plenty of other flavors as well.
From Oliver's Pecans we found delicious pecan syrup that I can't wait to pour all over pancakes. From San Saba River Company we got creamy pecan fudge and pecan jellies! There are just so many pecan items that are great! There are shops all throughout selling different goods, and many of the stores and restaurants carry different items from the local pecan shops.
Go Pecan Picking
Not only can you buy plenty of pecan products, but you can actually pick your own pecans at the San Saba River Company! Honestly this experience was just so cool! There are so many different pecan trees, and some require you to use a pole and reach high up in the trees, while others you can pick by hand. You can read all about our Pecan picking experience.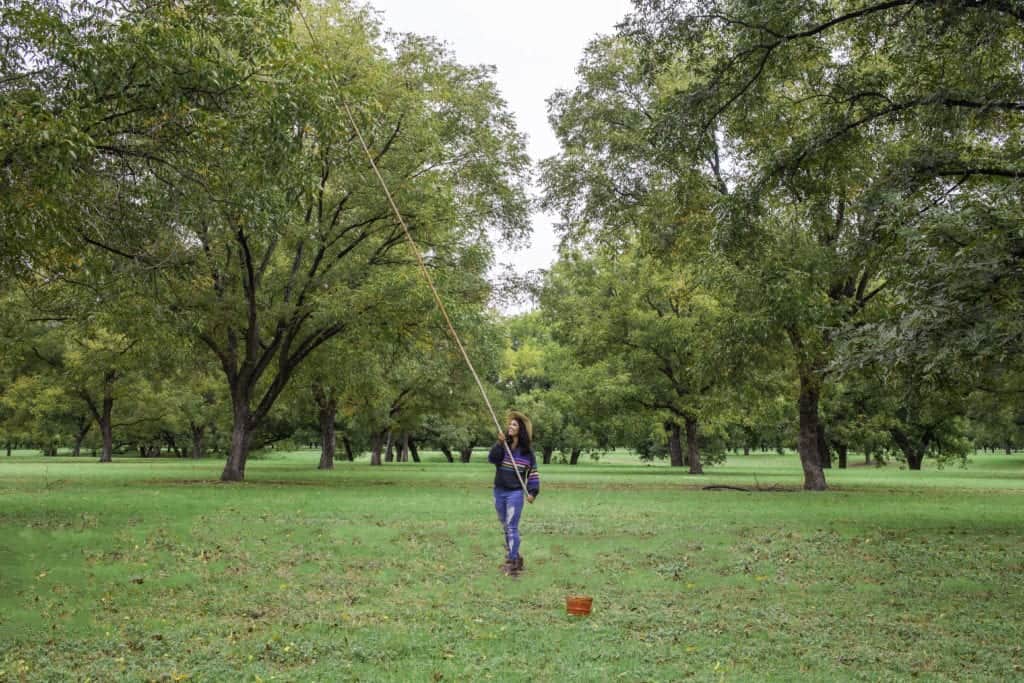 Eat Some of the Best BBQ in Texas
Y'all! I take my BBQ seriously, so let me tell you when I took a bit into the thick slabs of brisket at Young's BBQ, I knew I had struck gold. Don't let the small building fool you. Family run Young's serves up perfectly seasoned BBQ so good you won't need that sauce. Every bite is filled with flavor. You don't have to worry about BBQ that is dry. In fact it falls right off your hands. You'll want Young's BBQ to be your first and last stop when visiting San Saba!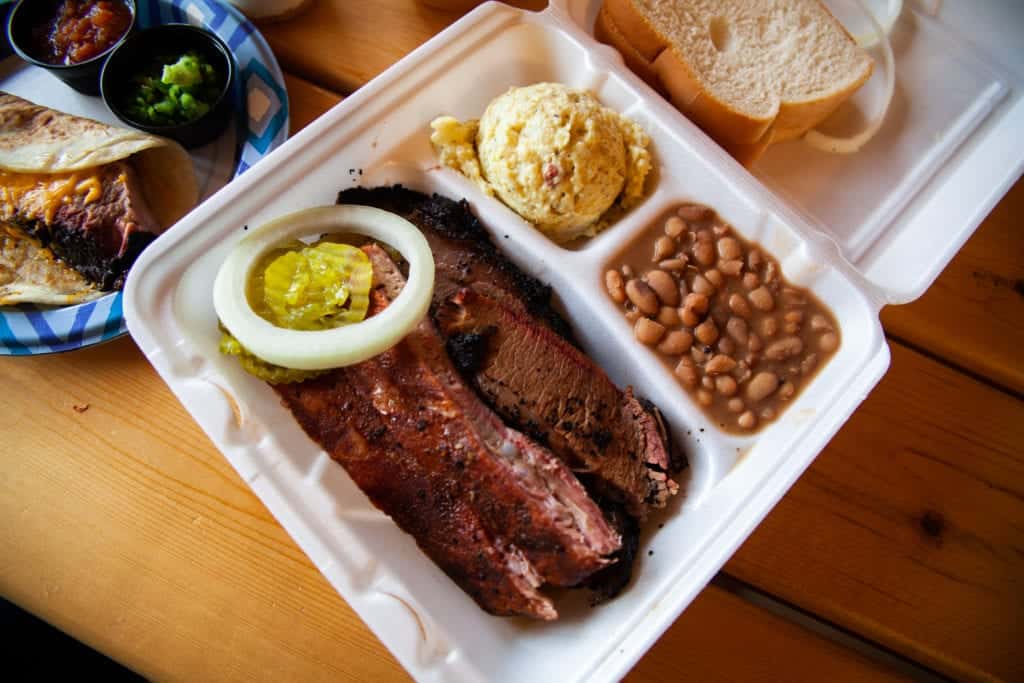 Drive on the Last Suspension Bridge in Texas
The Regency Suspension Bridge is the last suspension bridge in Texas that you can drive on! Crossing over the bridge, you have views from all sides of the Hill Country. Like all things in Texas with history, there are ghost stories related to this bridge.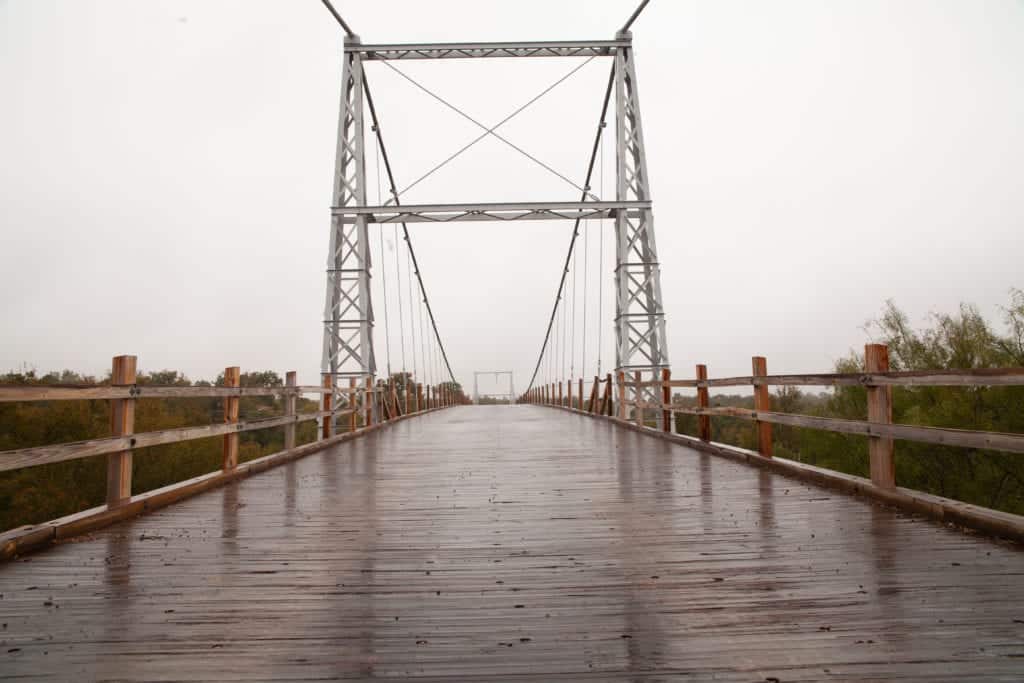 Have a Picnic by a Waterfall
We had originally planned on grabbing gourmet sandwiches from Bread 2 Dough Bakery and taking them over to Mill Pond Park which has a beautiful stream rolling through it and a mini waterfall. Mill Pond Park is a magical storybook-like park, and so we were sad when it started raining and we had to move our picnic indoors. However, Mill Pond Park makes for a romantic stroll or romantic picnic. I wish we had more time just to take in this beautiful park.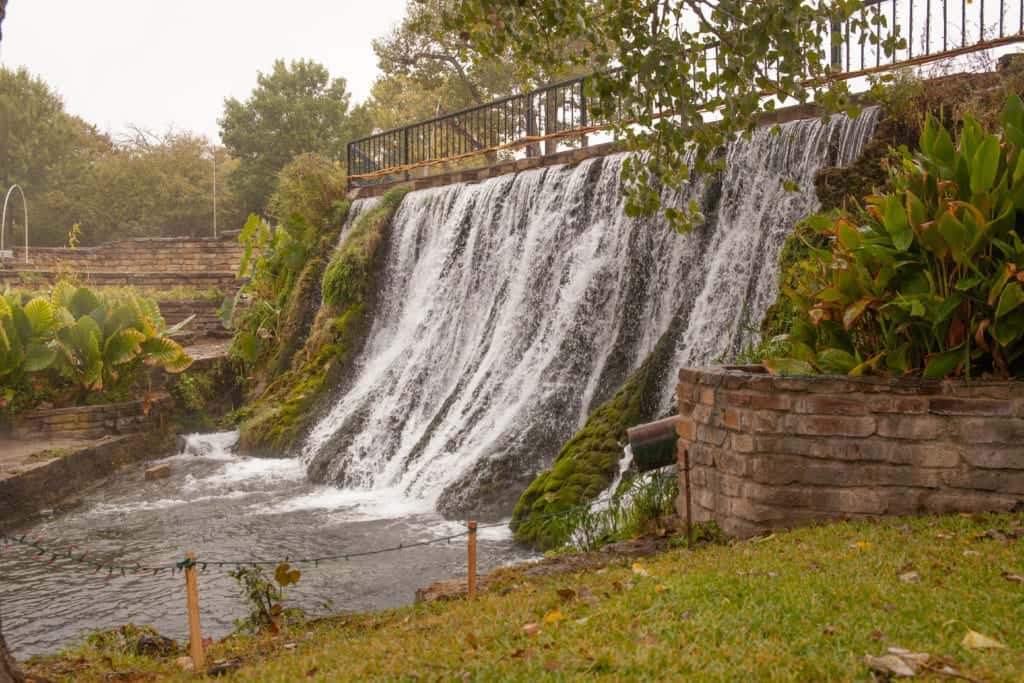 While we did have to bring our lunch back to our hotel, we still happily feasted on a grown up grilled cheese, a burger, and my favorite: fried zucchini. Bread 2 Dough is known for their sweet treats and so of course we had to pick up fresh made cookies and a moist velvety chocolate cake.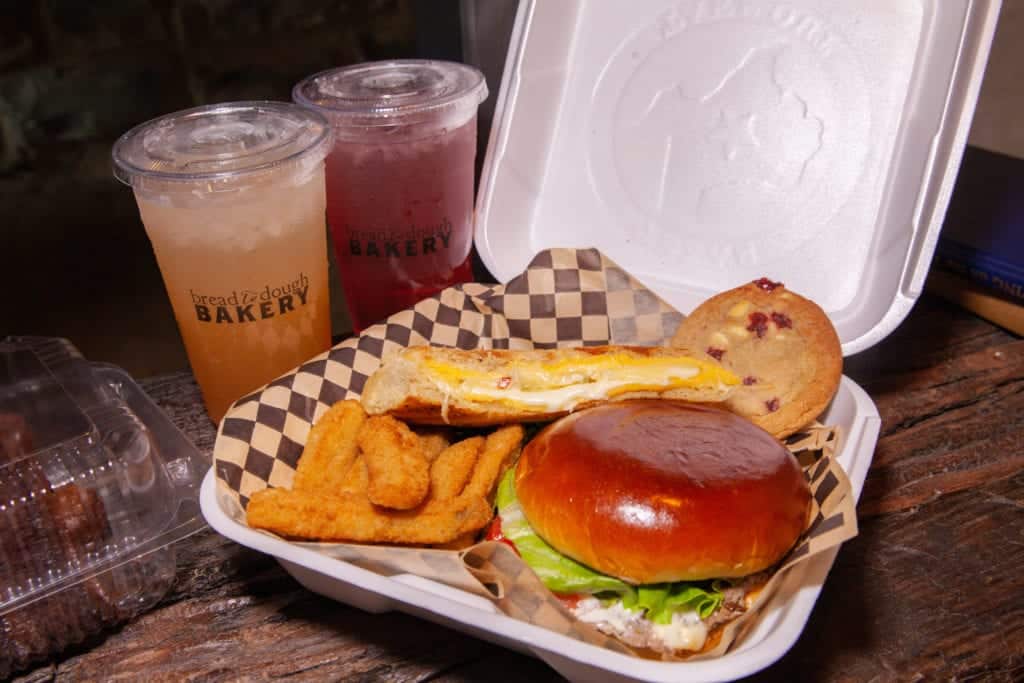 Indulge in the Largest Wine Flight (with a Pecan Beer)
I'm used to a flight with 4 or 5 beers so when Bar D Que came out with 11 different beers to sample from, I was amazed. Of course since we are in San Saba, the Pecan Capital of the World we found a pecan beer in the mix. Make sure you enjoy these drinks alongside a mixture of fried foods, burgers, and wings – all of the bar favorites!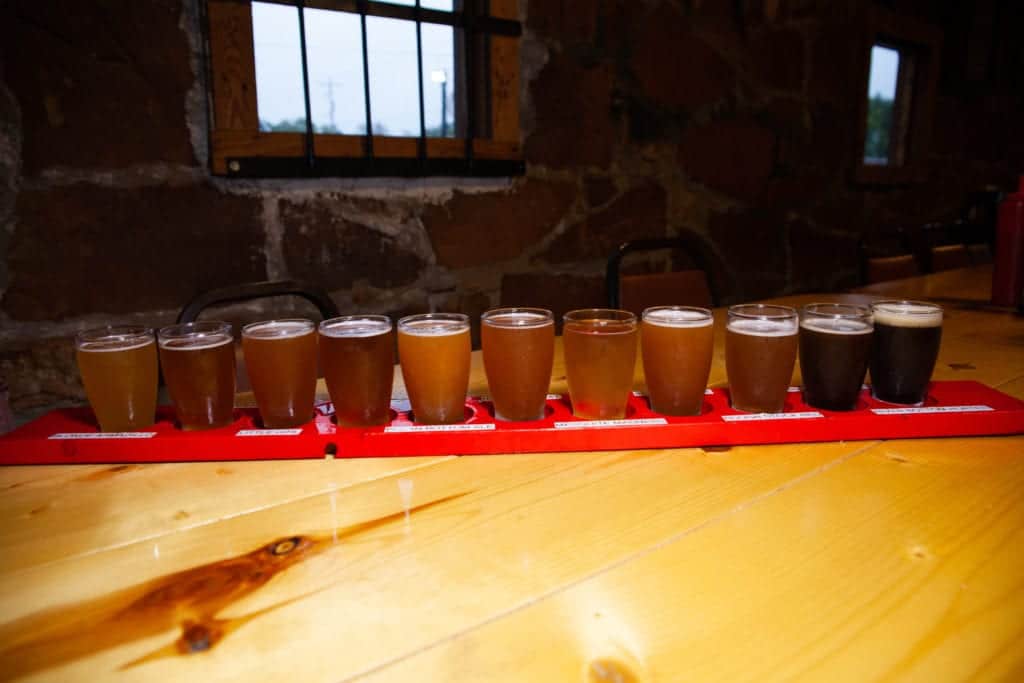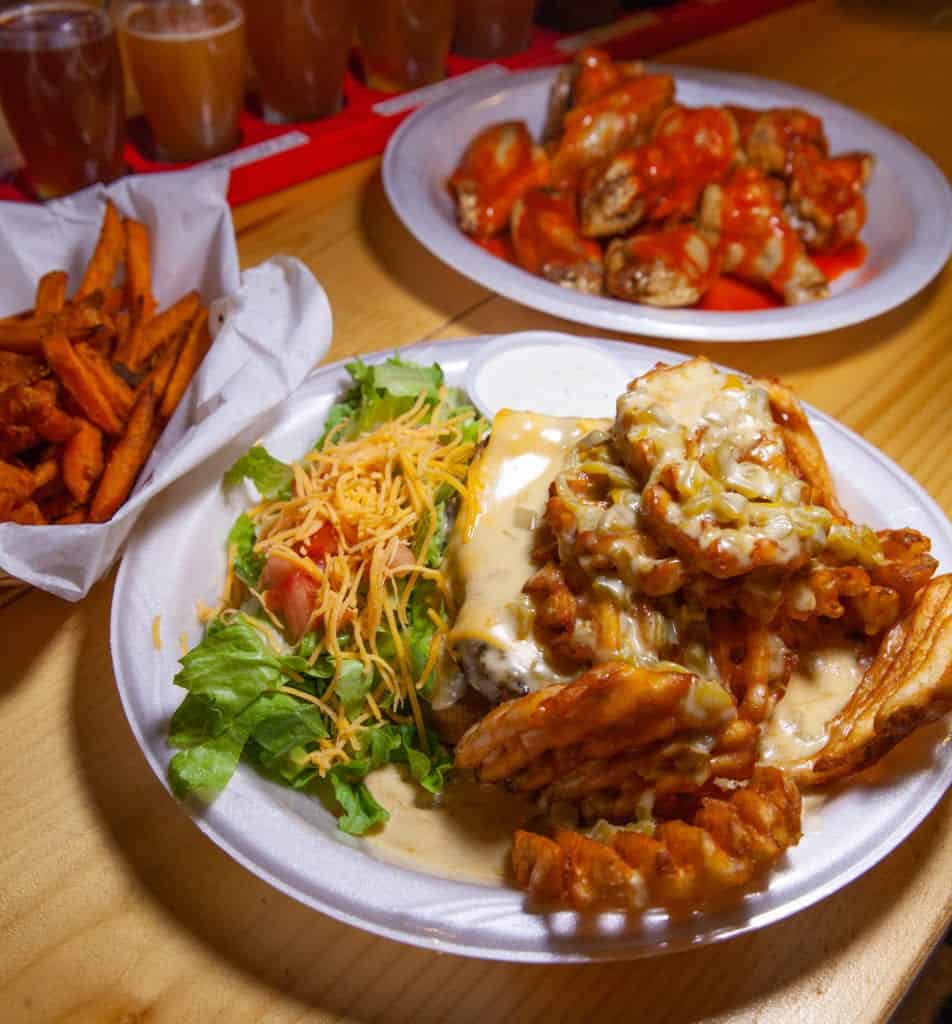 Check out Harry's Boots
Harry's Boots founded in 1939 is a Texas classic. Boots upon boots line the walls and they have a floor dedicated to hats! This used to be a spot of gathering and many people have stories of passing through San Saba and stopping at Harry's Boots.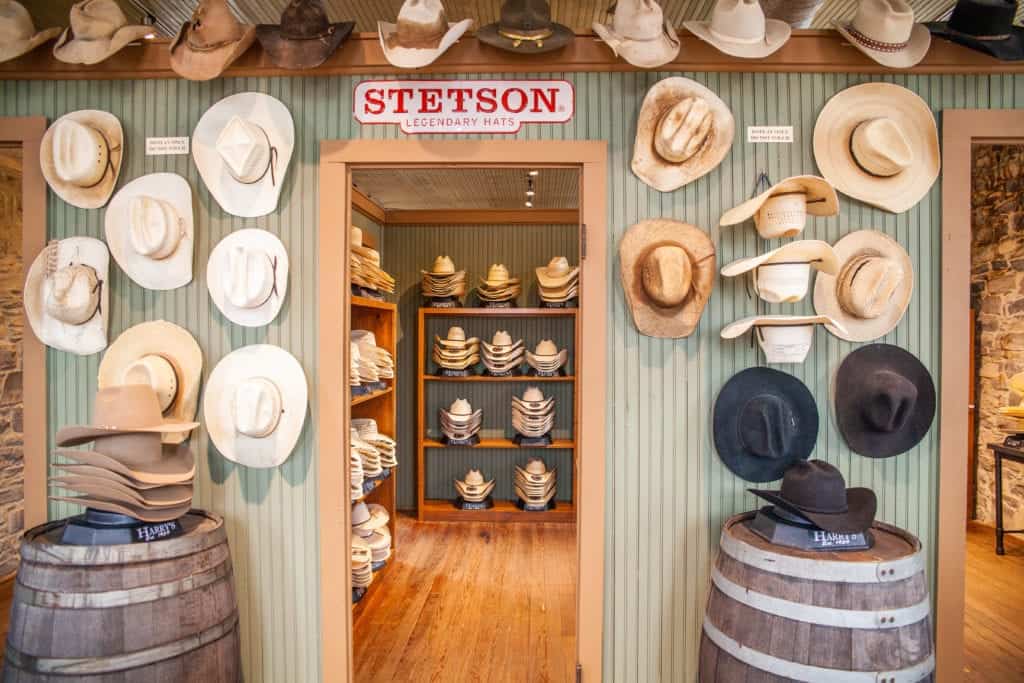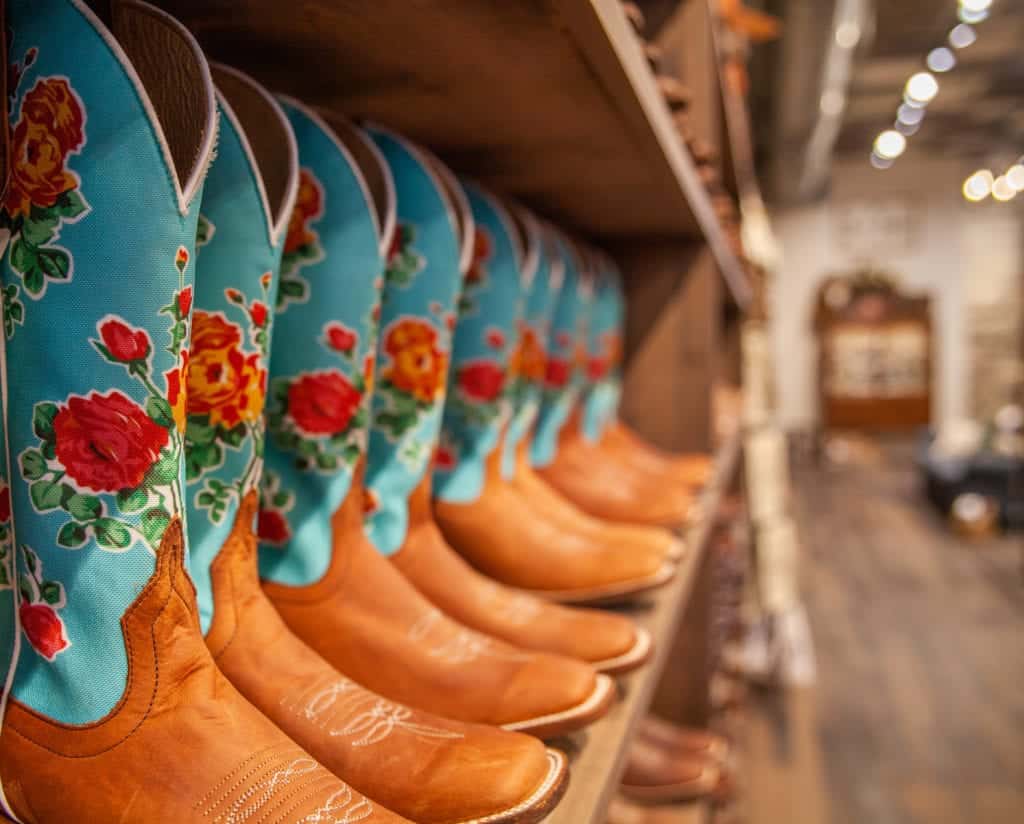 Dance Under the Wedding Oak Tree
This beautiful tree has been the spot of marriages for centuries which has caused it to be called the marriage tree or wedding oak tree. Share in a picnic, dance under the tree, renew your vows, and just spend some time loving in this beautiful spot. In 2017 this tree was dealt a devastating blow by a lightning strike. Years later, like true love, this tree flourishes!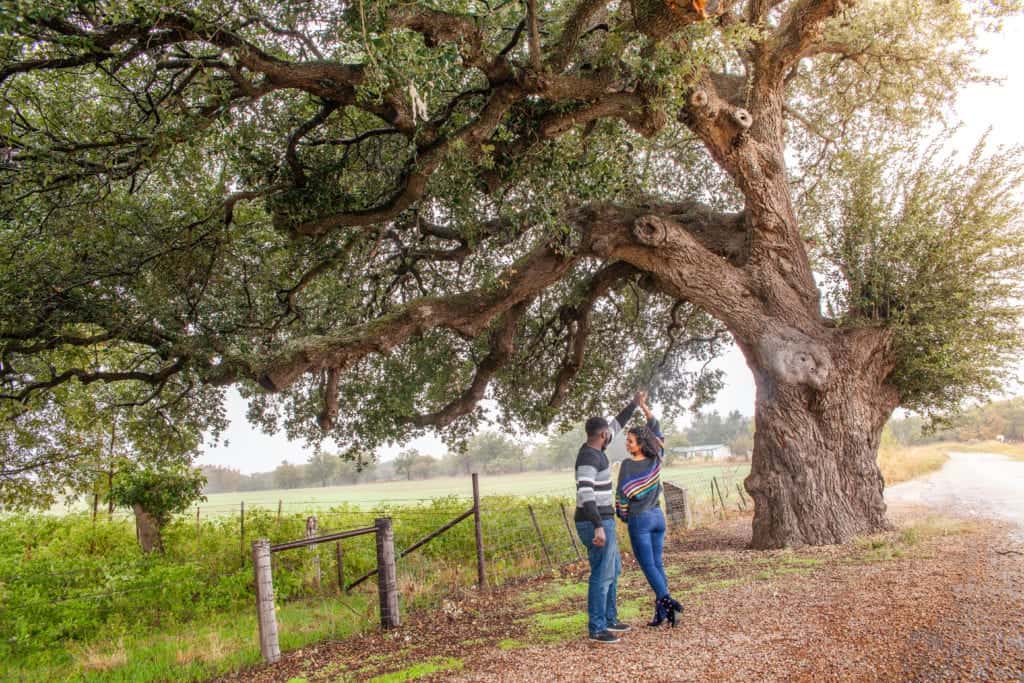 Then, Visit Wedding Oak Winery
After getting all gushy, head over to wedding oak winery, named after the wedding oak tree. This beautiful winery serves 100% Texas wine with wedding-worthy names like Bridal Bliss, Reconcilable Differences, and Something Borrowed. They have a beautiful tasting room, or members can enjoy wine right in their barrel room! You can also try their wine at tasting rooms in Burnet and Fredericksburg!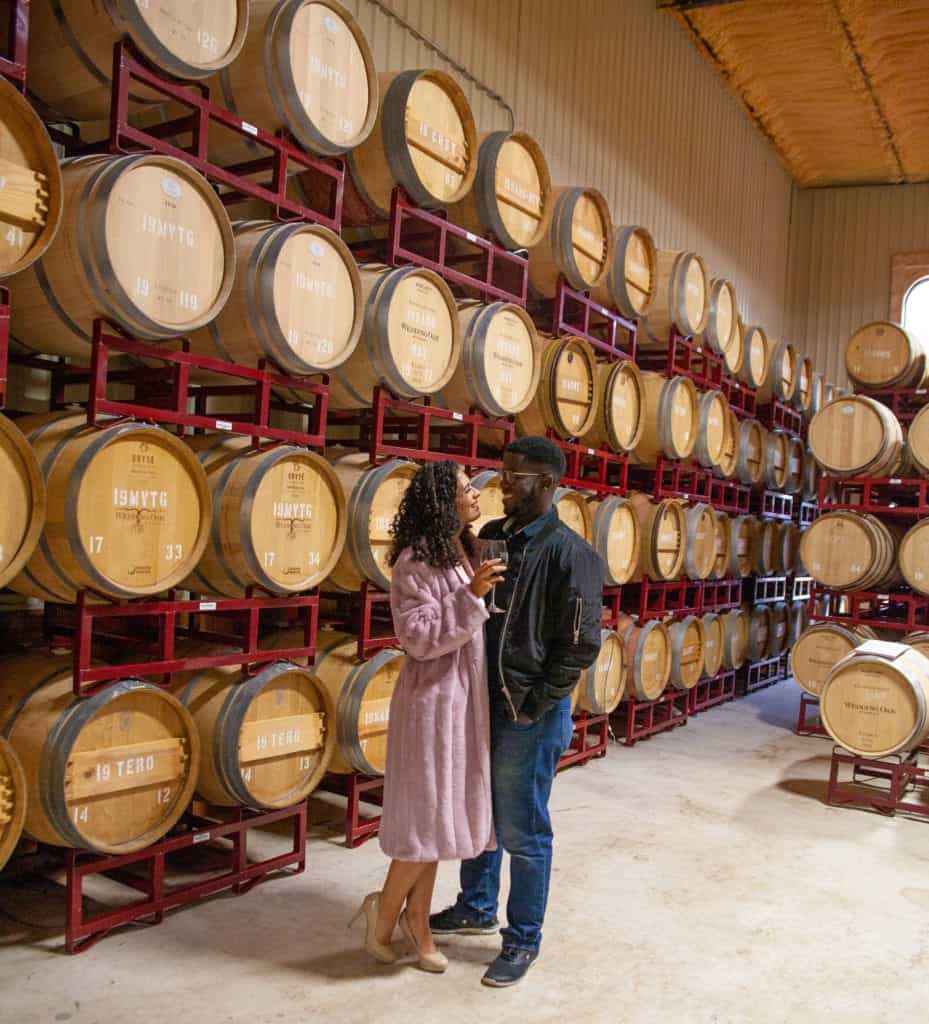 Get Your Spooky on at Old Man Scary Cellars
Or maybe mushy feelings aren't for you (or maybe you just love wine like myself). Funny enough, we went to visit Old Man Scary Cellars during the Halloween season, so it was a little extra scary. Channel your inner witch with the Brujita, a muscat with hints of pear and peach. They have local artwork hanging along the walls to browse and plenty of spots to sip and relax with a nice glass of wine.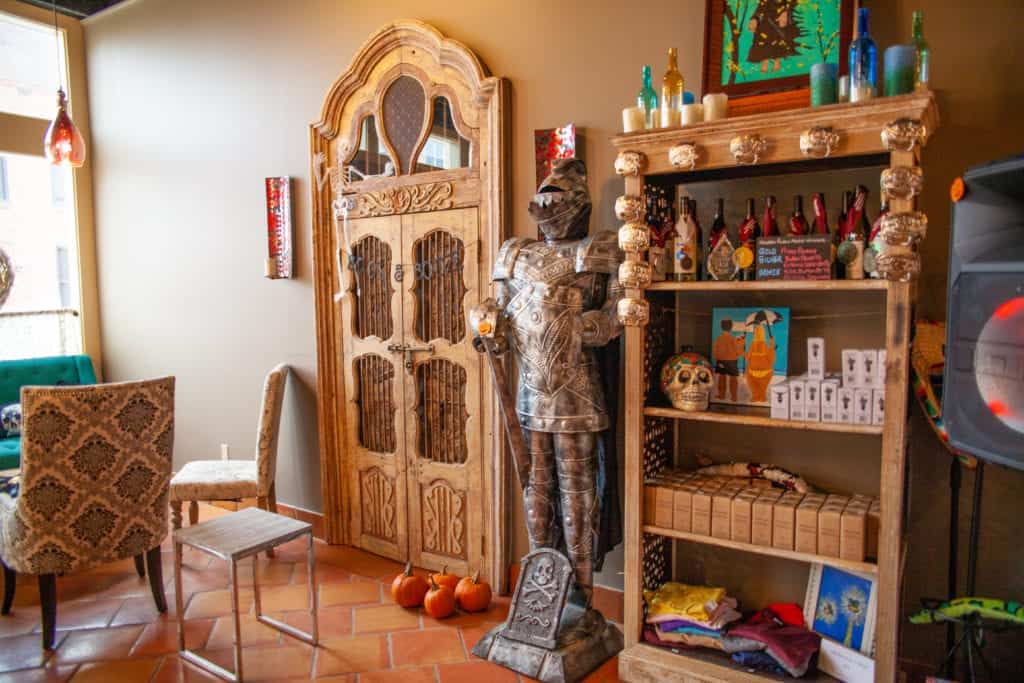 Explore the Mercantile
The Mercantile is the local downtown spot with small businesses. From clothing, makeup, accessories, food goods, and more, there are so many little treasures in here. Plus some great sales! I always love when I can support a local business.
Try Olive Oils & Vinegars
At the San Saba Olive Oil Company you can try some delicious flavors and walk out with some great gifts or items for yourself. I love trying different olive oils, so one of the things I liked about the San Saba Olive Oil Company was that they had unique flavors that I don't normally see. Garlic cilantro, lemon peppercorn, tandoori, and more flavors were different from what I've come across in the past. Even more surprising was their extensive balsamic vinegars where I tasted a pumpkin spice balsamic that tasted so sweet with zero sugars.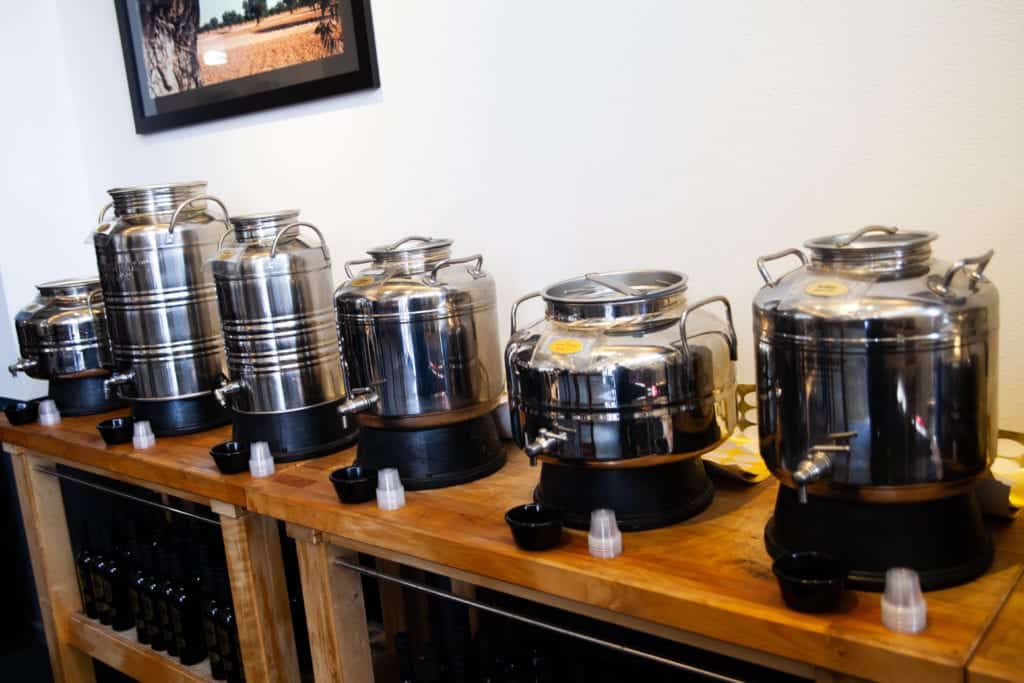 Check into the Dofflemyer Hotel
For a small little town, I loved how high tech the Dofflemeyer Hotel was. A punch in code system meant that our check in process was painless and took no time at all. This hotel was beautiful with artistic touches, historic appeal, and a convenient location. You can read all about our stay at the Dofflemeyer Hotel.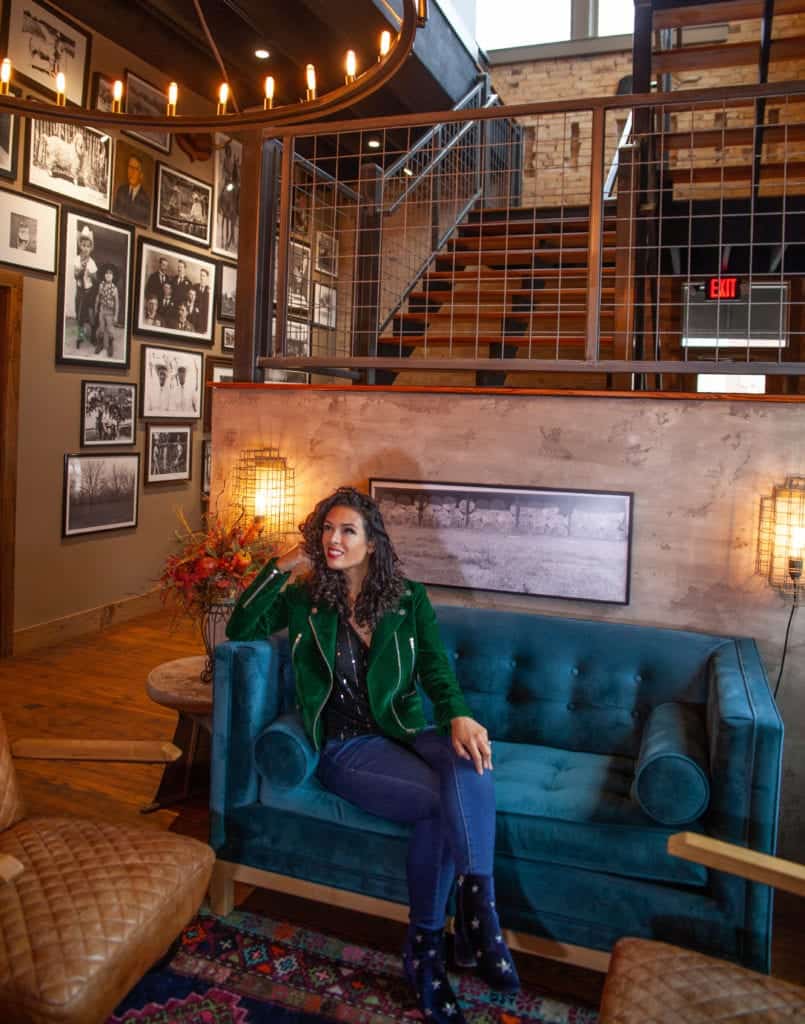 Things to Do in San Saba: Final Thoughts
San Saba is such an enchanting town! I loved all of the nature and all of the fun pecan-related activities. San Saba really loves their pecans, and it was fun to get in on that excitement. For a small town, I was amazed at all of the fun things to do in San Saba.
Looking for other fun weekend getaways? Check out these other quaint cities.
Jefferson– A beautiful East Texas town with a bayou, a cute downtown, and some NOLA feels
Burnet– Make sure to check out the crystal caverns
Driftwood – Home of the famous Salt Lick BBQ