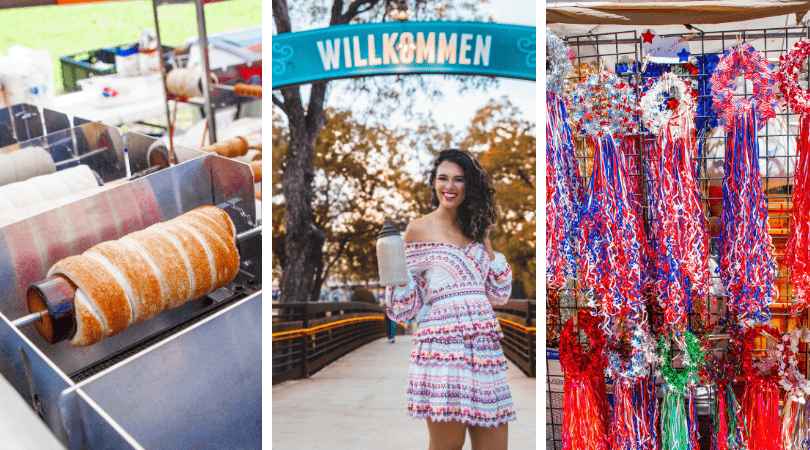 There are so many great festivals and events in Texas, it's hard to figure out where to even start! Here are some of the best festivals and events in Texas you don't want to miss!
Texas Festivals in January
Houston was the first official MLK day parade and the parade is a huge event in honor of the works of Martin Luther King Jr.
See incredible performances and enjoy the Asian New Year celebration in this free Texas festival in Houston.
San Antonio Coffee Festival
Coffee addicts (just about all of us) are going to love this Texas festival all about a bean that get's us through our day. Try coffee from all over the world, learn about the art of coffee and the different brews, and hang out with a bunch of other people who love coffee!
Irving Zest Fest
If you like things spicy, the Zestfest is all about fiery foods guaranteed to burn your mouth. Join in for the jalapeno eating contest, 150 spicy vendors, a whole weekend of spice to warm up the Winter month.
Denton Black Film Festival
Celebrate some of the top films just days before Black History Month and celebrate the diverse stories come together through captivating films and art.
Texas Festivals in February
Mardi Gras in Galveston
Can't make it to New Orleans for Mardi Gras? No need to worry! Galveston has the biggest Mardi Gras in Texas and with so much Cajun influence, you can prepare for days of incredible parades, parties, and lots of beads.
Austin Jugglefest
When it comes to weird festivals in Texas, we can bet that Austin will have a few including Jugglefest that covers all aspects of juggling! This festival includes performances by top jugglers as well as workshops and games.
Carnival Brasilera Austin
Coined as the largest carnival celebration outside of Brazil (not sure about that), this one-night festival consists of Brazilian bands and performers celebrating the holiday and people dancing the night away.
Texas Festivals in March
Hidalgo Borderfest
Every year, the Hidalgo Borderfest is a global event that celebrates a new country such as in 2020 where they will be celebrate Japan with performances, exhibits, and entertainment from the country with a mixture of the Spanish culture.
Shamrock St. Patrick's Day Celebration
With a name like Shamrock, it's not much of a surprise that this city would throw a pretty incredible St Patrick's Day Festival! The whole event includes 3-4 days of carnival, Irish court crowning, and lots and lots of green!
Dublin St. Patrick's Day
Just as perfectly named, Dublin, the Irish Capitol of Texas, is another city worth checking out for St Patrick's Day Weekend with parades, a 5k, and the whole city getting involved for different themed events.
Dripping Springs Texas Night Sky Festival
The stars really are bright in the heart of Texas and Dripping Springs celebrates this with a free night of planetariums, starlit yoga, photo opportunities, speakers, and so much more.
Frisco Pinball Festival
If playing pinball all weekend including rare games and even competing in a pinball tournament, sound like your jam, check out the Frisco Pinball Festival where you can hang out with avid pinball fanatics.
Texas Festivals in April
Poteet Strawberry Festival
Texas sure does love their strawberries! So much so that they created a whole festival around it where you can eat strawberry shortcakes and all the strawberry foods to your hearts content while listening to live bands, enjoying rides, and a general carnival experience.
Ennis Bluebonnet Festival
Every April, Ennis welcomes the blooming bluebonnets with its annual Bluebonnet Festival. During the festival they have maps where all the bluebonnets are currently in bloom so you can follow the trail and see them for yourself. They also have a large festival with food vendors, a wine walk, performances, and artwork to see.
San Antonio Fiesta
Fiesta San Antonio is a 10-day event in memory of the battle of the Alamo and San Jacinto. It is a celebration of San Antonio culture and it's an event in Texas you do not want to miss out on! It also might just be the biggest party in San Antonio filled with parades, cultural celebrations, music, and back-to-back events!
Galveston Island Wine Festival
Just about every city has it's own wine festival, but enjoying different trying different wine while walking along the beach with sea breeze all around is just absolute paradise.
Eeyore's Birthday in Austin
every third week in April people come together for a unique way to raise money for nonprofit groups by celebrating Eeyore's Birthday. People dress up in wild costumes, body paint, have drum circles, participate in Maypoles to celebrate spring, and in general celebrate life and Eeyore!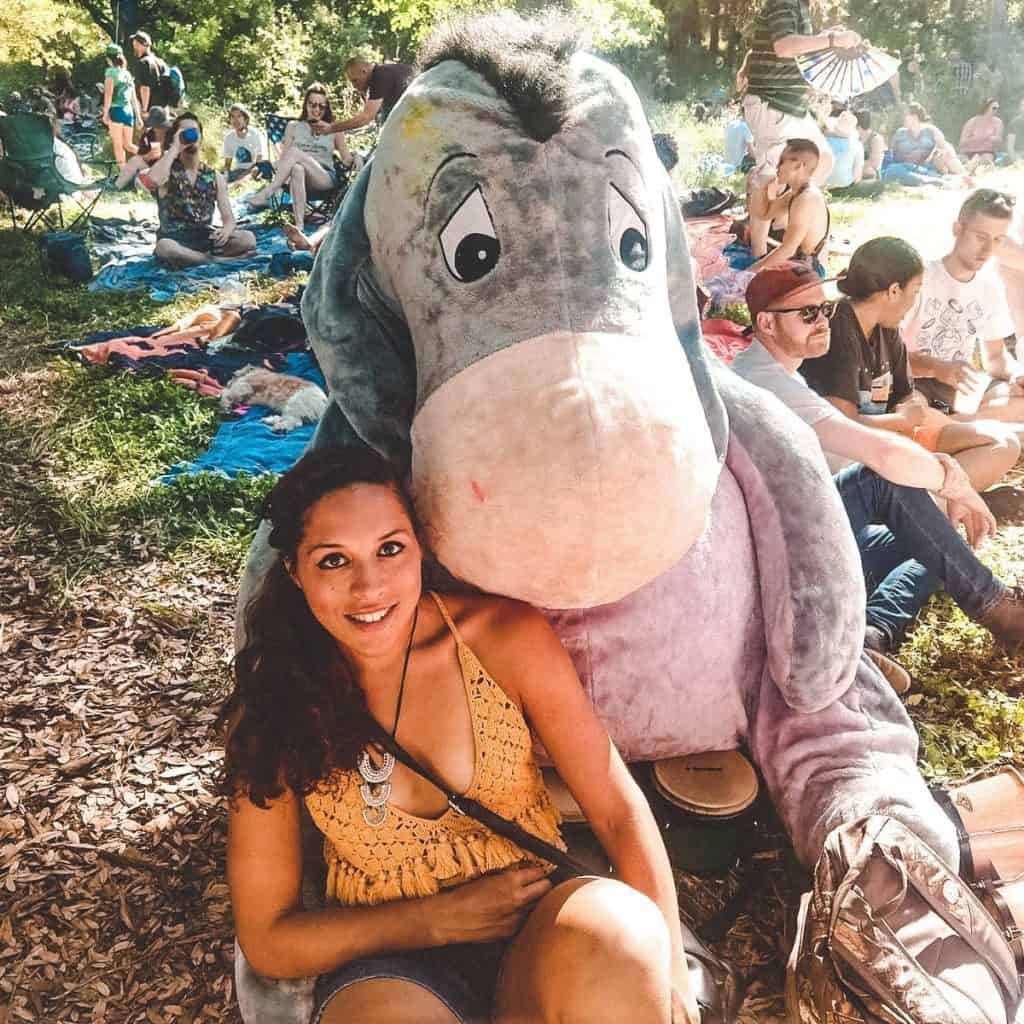 Port Aransas Texas Sandfest
It's truly incredible what kind of art people can create with a bunch of sand. Last time we were in Port Aransas, we tried our hand at sand sculpting and we're probably a long way away from anything decent, let alone the masterpieces these people create.
Cleburne's Antique Alley
Go treasure hunting at the Antique Alley festival in Cleburne where as many as 200 vendors set up to sell all kinds of things they found in their grandmother's attics that you can take home and give new life to. You never know what kind of incredible finds you might come across.
Texas Festivals in May
Dripping Springs Pioneer Day at the Dr. Pound Farmstead
History comes to life just like you're back in the pioneer days, minus the fear of dysentery, at the Dr Pound Farmstead in Dripping Springs, Texas. Enjoy Native American Dances, blacksmith demonstrations, beekeepers, and everything else to take you back in time in a fun and historical way!
Ennis Polka Festival
Ennis is rich in Czech culture and so every Memorial weekend they host the National Polka Festival where people from around the country come to this small town to dance, eat, and celebrate the rich Czech culture. Join in as the King and Queen of Polka are crowned, polka the day away at three different dance halls, and enjoy Czech food.
Plano AsiaFest
Celebrate the diverse and different Asian cultures during this free festival which includes dances, martial arts, cultural fashion shows, and vendors.
Texas Festivals in June
Blanco Lavender Festival
Check out the beautiful lavender fields and wander through the downtown market full of vendors selling all sorts of lavender lotions, beauty products, artwork, plants, and more. Not to mention all the delicious lavender drinks, cookies, and other delicious items. There is so much to see at the Blanco Lavender Festival.
Viva El Paso! (June through August)
Viva El Paso actually goes through until August, but every weekend is filled with a performance celebrating four major cultures in the city, Native American, Spanish conquistadors, Mexican and Western American.
The Billy the Kid Festival
All dedicated to the infamous Billy the Kidd, this Texas festival features an old West Gunfight, reenactments of his breakout from the jail, and all things Billy and outlaw.
Irving Canal Festival
With the gondolas along the canals, this place already feels like Italy. However, Irving gets a little more international in the Spring when they celebrate with international cuisine from around the world, global dance like flamenco, Middle Eastern belly dance, Polish folk dance, German Alpine dance, and so much more. The Irving Canal festival is a great opportunity to experience a diverse range of cultures all in one place!
Texas Festivals in July
Weatherford Peach Festival
Celebrate all things peach at the Weatherford Peach Festival where you can wander around Downtown Weatherford with all of the vendors while also trying a mixture of delicious peach goods and drinks!
Viva Big Bend Music Festival
The Viva Big Bend Music Festival is so big that it spans 4 cities and people travel around them to experience over 40 artists and bands and connect with the people in West Texas over great company!
MXLAN McAllen
Every year, Mexico comes to Texas for this one of a kind festival in McAllen. A different city or region is identified to celebrate the different cultures in Mexico. Artisans, chefs, and other locals travel to McAllen to share their culture through presentations, music, goods, dance, and so much more.
Ysleta Mission Festival in El Paso
This free music festival in El Paso is three days of family friendly fun celebrating great performers, history, and local cuisines all at the oldest mission in the country.
Texas Festivals in August
Grand Prairie Hatch Chile Festival
A whole festival dedicated to the hatch chile! Stock up on all the hatch chile you need, eat all the hatch chile foods, and enjoy live music and other local vendors.
Brew Master's Craft Beer Festival in Galveston
The Brew Master's Craft Beer Festival is a chance to try the best craft and rare beer from around Texas and the World. More than just a brewery fest, this event also includes a day of tequila tasting, and Texas BBQ.
Out of Bounds Comedy Festival in Austin
The Out of Bounds Comedy Festival in Austin is a whole weekend of laughter with over 80 different comedic performances of all kinds.
Texas Festivals in September
San Marcos Mermaid Festival
Mermaid are real in San Marcos! And they celebrate with a mermaid ball where every goes all out in mermaid styled ball fashion and mermaid throughout the festival. The restaurants also go head to head to compete for the most mer-verlous mermaid cocktail often featuring lots of sparkle and they have a fabulous mermaid parade.
McAllen Fiesta de Palmas
Celebrate the diverse culture of South Texas through live music from local and international acts, dance performances, international cuisine, and an array of cultural activities
National Cowboy Symposium and Celebration in Lubbock
This Texas festival celebrates all things cowboy heritage and includes Western writers, artists, Cowboy parades, and a whole lot of people dressed up as cowboys.
Grapevine's Grapefest
With a city named Grapevine, it's no surprise to find a festival dedicated to the fruit, and more importantly, the wine that comes from the fruit. For the adults they have a grape stomp and a wine pavilion to try wines from local and around the world. For the kids they have carnival rides and games!
Texas Festivals in October
Texas Jazz Festival in Corpus Christi
The Jazz festival is free to the community and involves a full weekend of jazz music and concerts for all ages with three different stages, hundreds of unique items being sold by vendors, and some great food!
Fredericksburg Food and Wine Festival
Fredericksburg is known for all the different wineries around the area and the food and wine festival is a great chance to check out the local culinary scene. In addition to the normal events they have special dinners and brunches, a cooking school and more!
Jefferson Bigfoot Conference
Jefferson is known as the Bigfoot Capital of Texas and so every year people travel from around the world to connect with other Bigfoot enthusiasts over dinner and then a search for him out in the forest. They'e even brought in special guests like Bob Gimlin who captured one of the most famous Bigfoot images.
Dripping Springs Songwriter's Festival
If you love music and want to discover up and coming artists soon to perform on the big stages, check out the Songwriter's Festival which is a FREE 3 day event featuring 30 performances a day on 6 different stages! You're sure to find a new artist you'll love.
Texas State Fair in Dallas
The Texas State Fair is a celebration of all kinds of fried foods that you didn't know could exist. When not munching down on all of the foods, there are rides, such as ones that gives you one of the best views of Dallas, different exhibits, and aisles of carnival games.
Borderland Heritage Fest El Paso
This El Paso festival celebrates the history and culture of the borders of the United State and Mexico. Take part in dance and musical performances and enjoy delicious food while learning about this area.
Plano International Festival
Experience hundreds of different cultures and "travel around the world" all in one place the Plano International Festival. People from different countries set up different booths where you can learn about the different cultures in each country. Additionally you can try different regional foods, watch performances, and buy international goods.
Texas Festivals in November
San Antonio Day of the Dead Festival
Day of the Dead, or Día de los Muertos, originated in Mexico and Central America thousands of years ago and is a celebration of loved ones who have passed. Since San Antonio is filled with Mexican influence and generations of Mexican Americans, it only makes sense for a San Antonio Day of the Dead Festival. The whole festival includes ofrendas to loved ones, people dressed up in different regalia, parades, and artwork.
Texas Renaissance Festival in Todd Mission
Step back in time at the Texas Renaissance Festival where you can dress up and wander around the grounds with themed foods and gift shops. There are all types of performances including dancing, full armored combat, jousting tournaments, and more.
Lone Star Film Festival in Fort Worth
The Lone Star Film Festival in Fort Worth is a gathering of great films of all sizes, the chance to socialize with film makers and actors, and a place of fun social events. This festival is one of the largest in Texas
Wurstfest New Braunfels
Even if you haven't been to Oktoberfest in Germany, Texas is lucky that we have the German town of New Braunfels, Texas that hosts a 10-day Wurstfest event similar to the German Oktoberfest. During the New Braunfels Wurstfest, you will be surrounded by delicious German food, people dressed in lederhosen and dirndls, music, and of course LOTs of beer!
Texas Festivals in December
Just about every city in Texas pulls out the lights and festivities during this month: Dallas, San Antonio, Houston, Austin! You can really take your pick of any city to discover Christmas lights, carolers, and other Christmas themed activities.