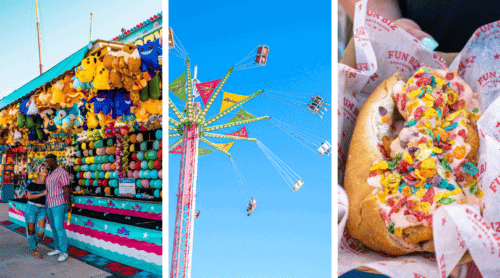 Last year, the Texas State Fair welcomed 2.5 million people and it isn't hard to see why! There is a debate with Minnesota over which state has the largest State Fair, but ours does last a whopping 24 days!
This year, you have from September 29th until October 22nd to enjoy all the fried fair food, carnival rides, and additional FREE fun the 2023 Texas State Fair has to offer.
Most importantly, the Texas State Fair is a non-profit organization, meaning their profits go back into the community. They also support local business owners and fund various community initiatives. If you're debating about coming out to the 2023 Texas State Fair, maybe this fact will convince you it's well worth it!
Things to Know Before You Go
You can purchase your admission ticket(s) online or in-person. However, you are only able to redeem it on the day you chose at check-out (if purchased online). Premium admission tickets, though, allow you to redeem it on the day of your choosing.
Coupons are one dollar each and these are what you will use to purchase food/drinks and get on rides. To play any of the games, you'll have to purchase a Big Tex Game Card. You can find them at the booths and kiosks near the gaming areas.
You can purchase your coupons online with your admission ticket or in-person. There are booths all across Fair Park if you run out and are looking to stay a bit longer.
You can pick up a copy of the State Fair's Visitor Guide inside the gates or pull it up on your phone. It has a map of Fair Park and even directions to some of the booths and fun fair food items mentioned below.
There are 12 gates through which you can enter Fair Park.
There will be animal encounters, parades, and free live musical performances. See the official Visitor's Guide for more information and a comprehensive list of all of the FREE, family-friendly activities going on during the 2023 Texas State Fair.
Wednesday mornings (10am to 1pm) are sensory-friendly! There is even an itinerary to help you make the most of these three hours at the Texas State Fair. The Midway will also have its lights and music/sounds turned off from noon until 1pm on Wednesdays.
What to Eat at the 2023 Texas State Fair
We visited five major areas of Fair Park and several food vendors within each of those areas. We tried to be as accurate as possible in our descriptions. Our hope is to help you navigate the maps portrayed inside the official 2023 Texas State Fair guide.
Note that we came in through Gate 6, where our Lyft/Uber dropped us off at the intersection. However, we were picked up at Gate 1, the taxi/rideshare pick-up area.
Although there are dozens of food items, below are the ones we highly recommend you try as well!
First Avenue
If you enter Gate 4 or Gate 8 and walk straight ahead, you'll end up on First Avenue. You'll find tons of food stands, the Bud Light Stage, this year's NEW, life-sized dinosaur exhibit, and "cheep" beer at the Beer Barn. There are also picnic tables and games with prizes!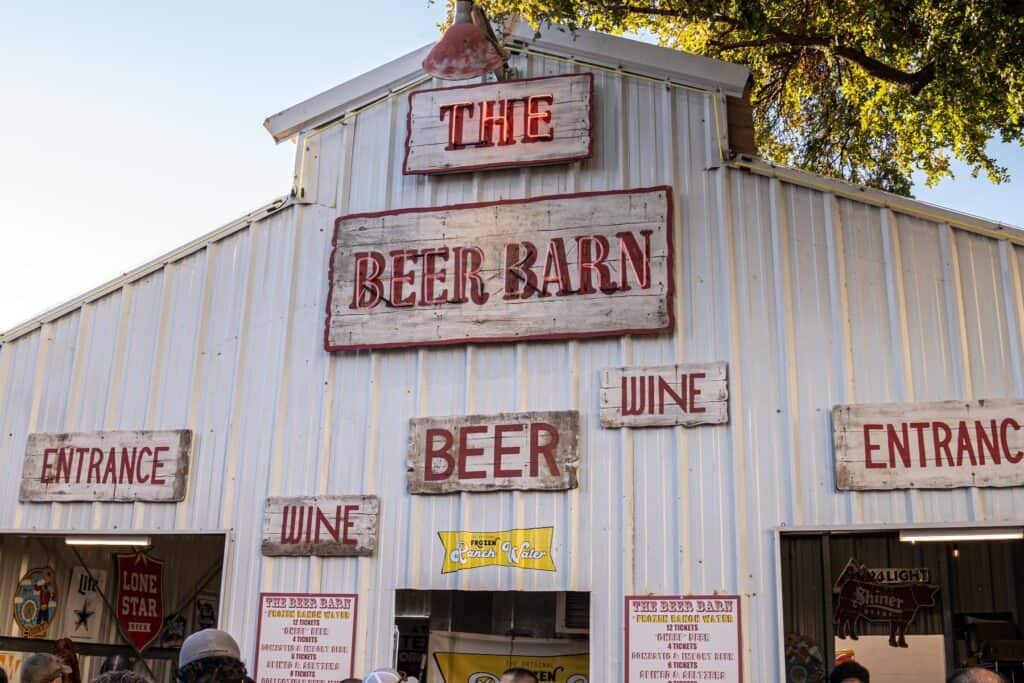 Fishbowl Cocktail at Gulf Coast Grill – While your group is waiting in line at the Beer Barn, consider sending someone to the Gulf Coast Grill for a Fishbowl Cocktail. It is big enough that two people could easily share it.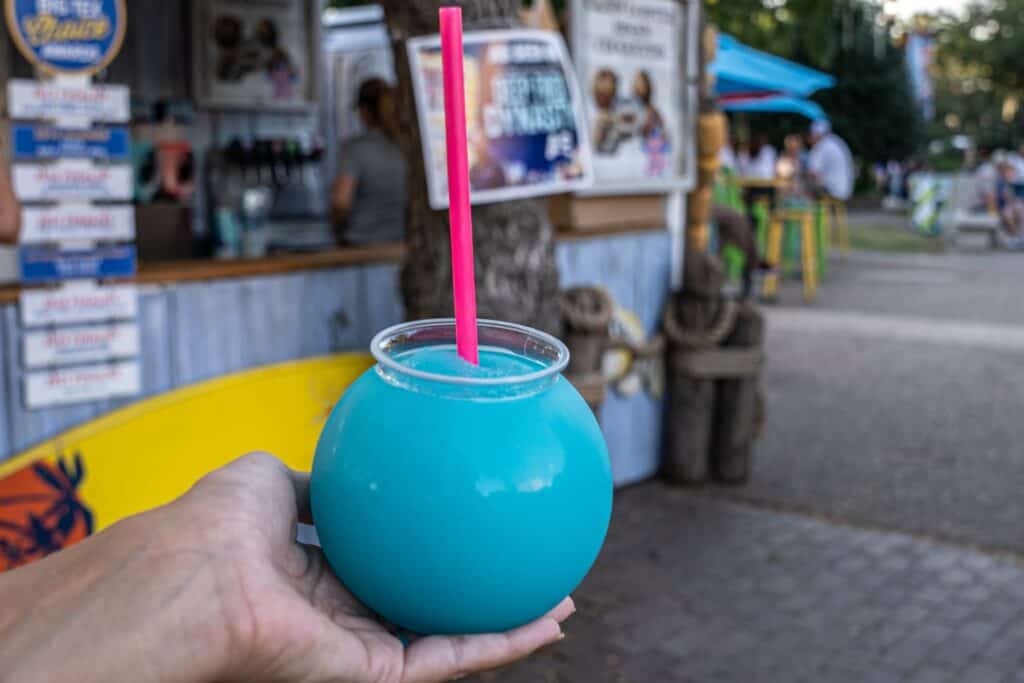 The Grand Area
Perpendicular to First Avenue is the Grand Area. Gate 5 is right at the entryway of the Grand Area.
You'll find everything from shopping at the Grand Place to relaxing at the Magnolia Beer Garden. Hang out, rest your feet, and enjoy one of the 2023 Big Tex Choice Award finalists from Holy Biscuit.
Fernie's Funnel Cake Factory
Fernie's Funnel Cake is returning to the State Fair for their 54th anniversary!
This year, their NEW Fried Cherry Pie in the Sky, a pie tart made with pastry dough, shortbread cookies, and cherries, was a Big Tex Choice Award finalist!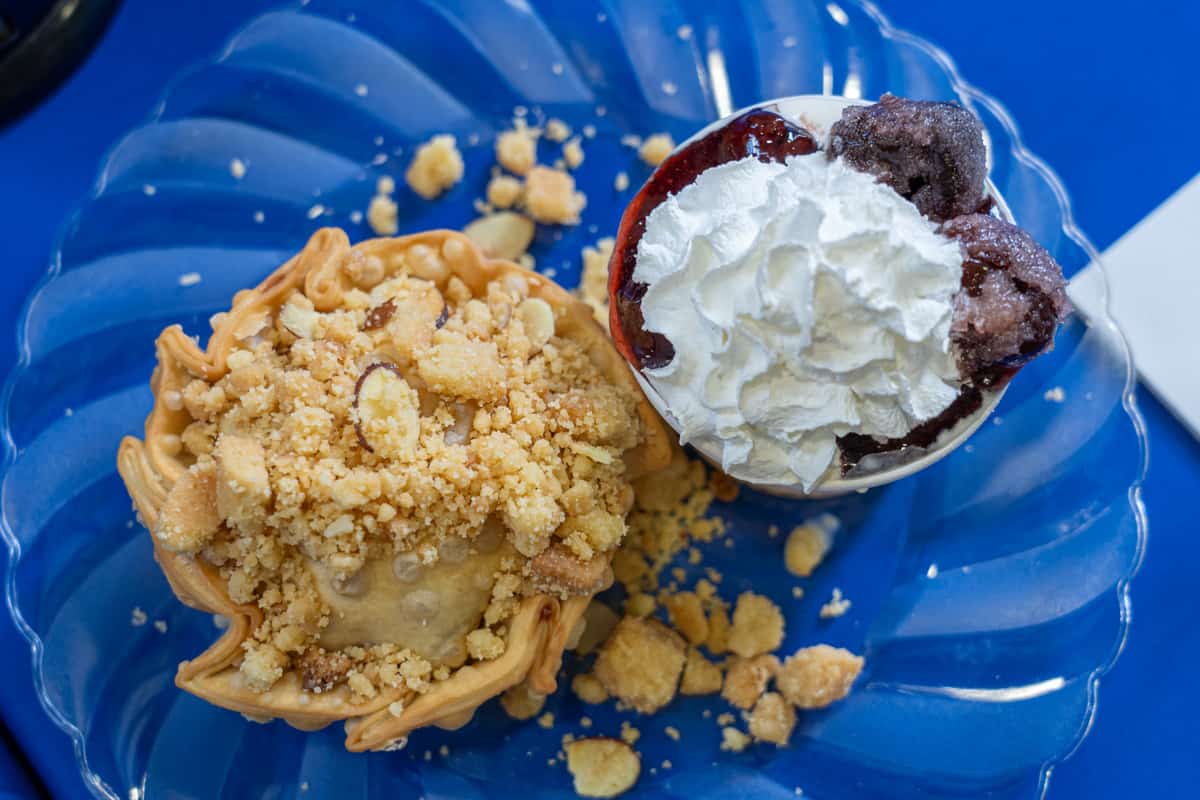 Keep an eye out for these other Texas State Fair classics from Fernie's:
Funnel Cakes – Known as the creator of the Texas State Fair funnel cake, we couldn't leave without grabbing one!
Funnel Cake Chicken Sandwich – A sweet spin on a favorite, this chicken sandwich is made up of a country-fried chicken breast filet in between two 5-inch Fernie's funnel cakes. It is then refried, drizzled with your choice of honey or syrup, and topped with powdered sugar.
Funnel Cake Shake – This creamy shake is made up of funnel cake flavored ice cream, whipped cream, rainbow sprinkles, a cherry, and a mini Fernie's Funnel Cake.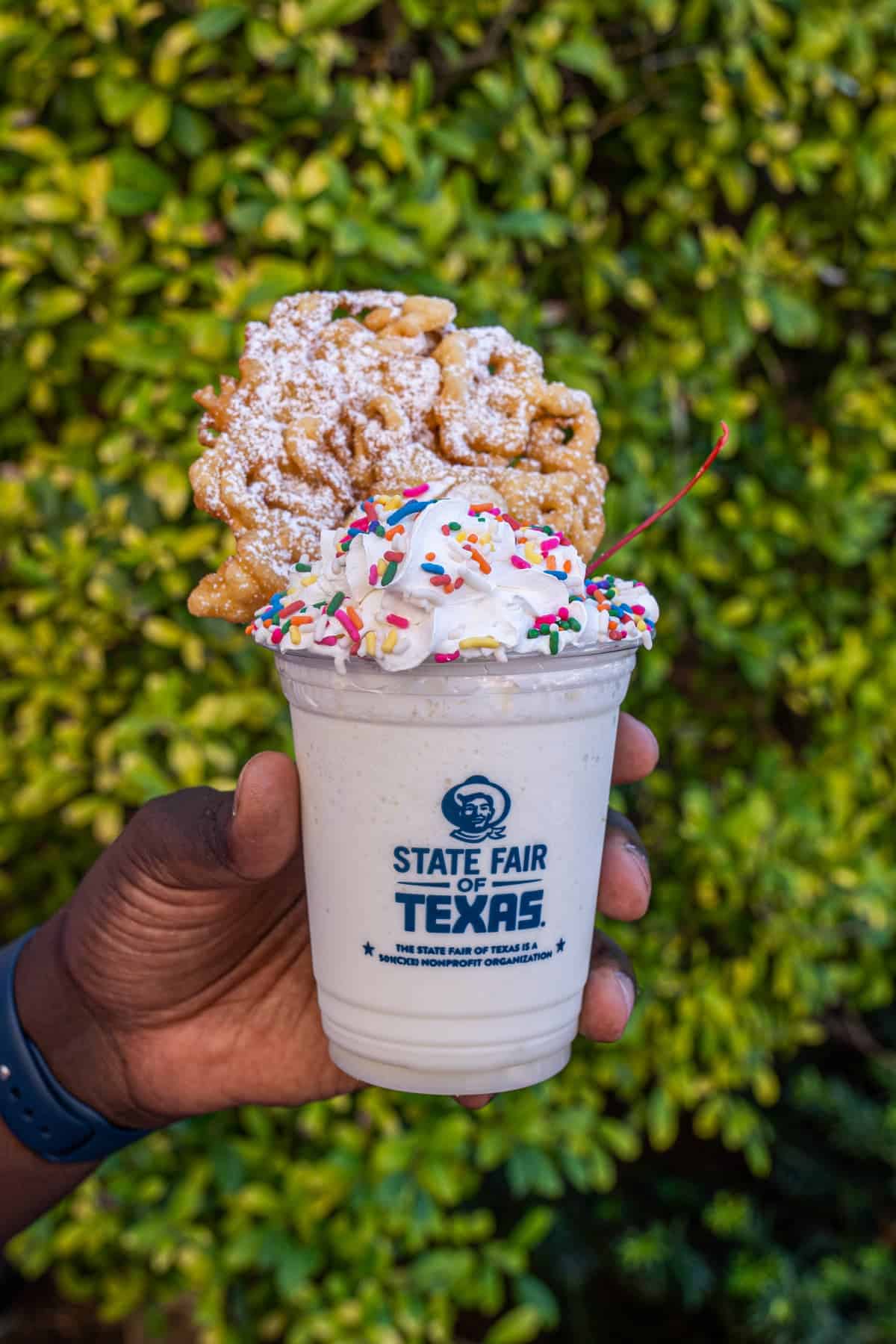 The Tower Building Food Court
Right behind the Grand Place is the Tower Building Food Court. This indoor eating area has even MORE food stands and a ton of larger tables. If you're looking to snag some of the more unique fair food items, this is the place to be!
Chicken & Waffle Sliders at Darlin's Chicken and Waffles – Yet another sweet spin on a classic, these sliders have piece of fried chicken sandwiched between the two, cutest waffles with LOTS of powdered sugar and syrup on the side. Grab one of these, among other food items, at a discounted price on Thrifty Thursdays!
The NEW Fruity Pebble Pickle at the Candy Pickle Factory (and the Rainbow Popper on Thrifty Thursdays).
You'll also find one of the Smokey's John's Bar-B-Que booths here! Scroll to the bottom for our recommendations from them.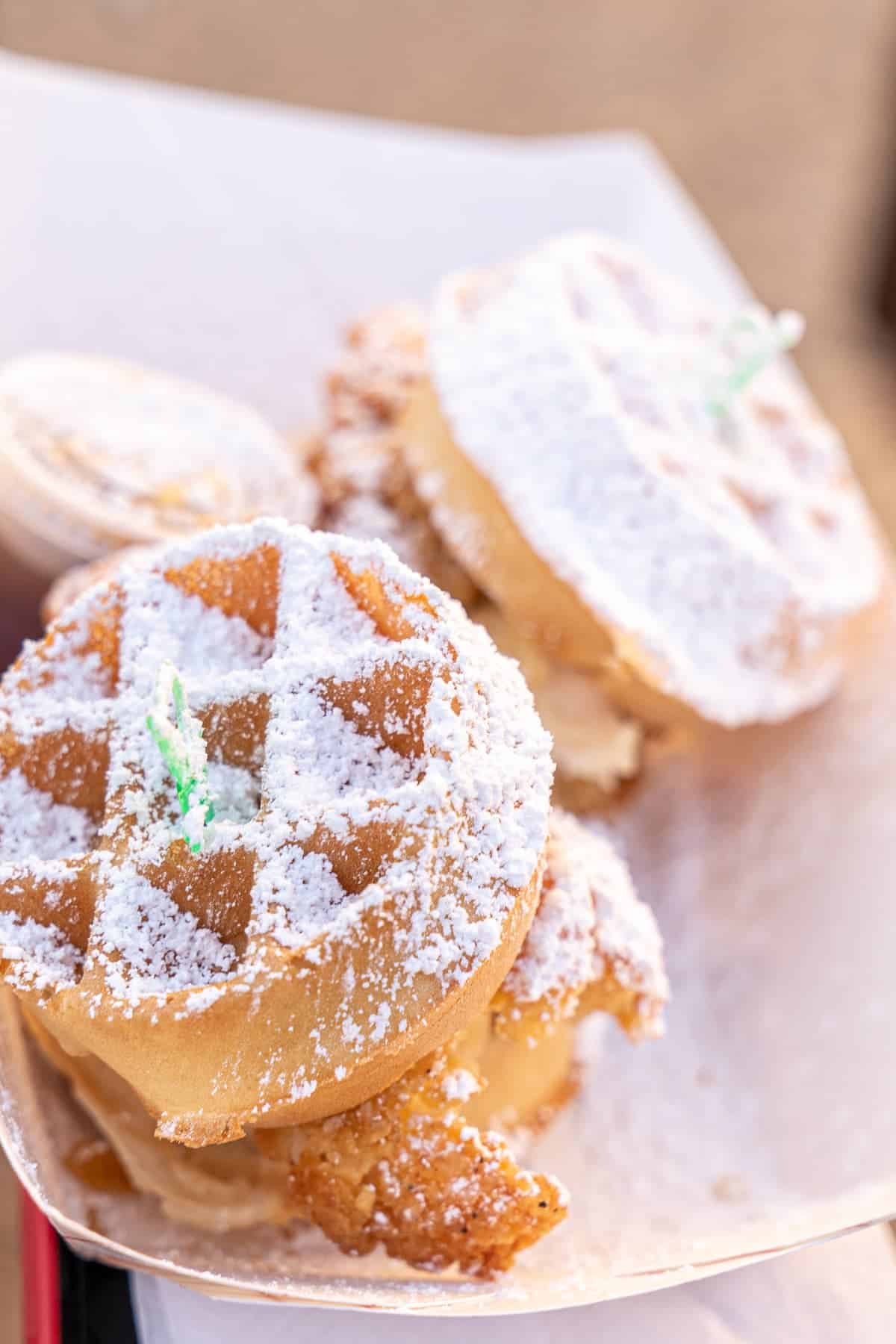 The Funway, Midway & Kidway
If you enter in through Gate 6 (also the DART MLK Station drop-off) and continue to walk straight, you'll find the Funway. It is clumped together with the Midway and the Kidway (here, you'll find rides for children 2 years and under).
You'll also find a wide array of food stalls, additional rides, games, and the iconic Texas State Fair Ferris wheel. Just behind this area, you'll also see Big Tex's little brother, Neon Tex.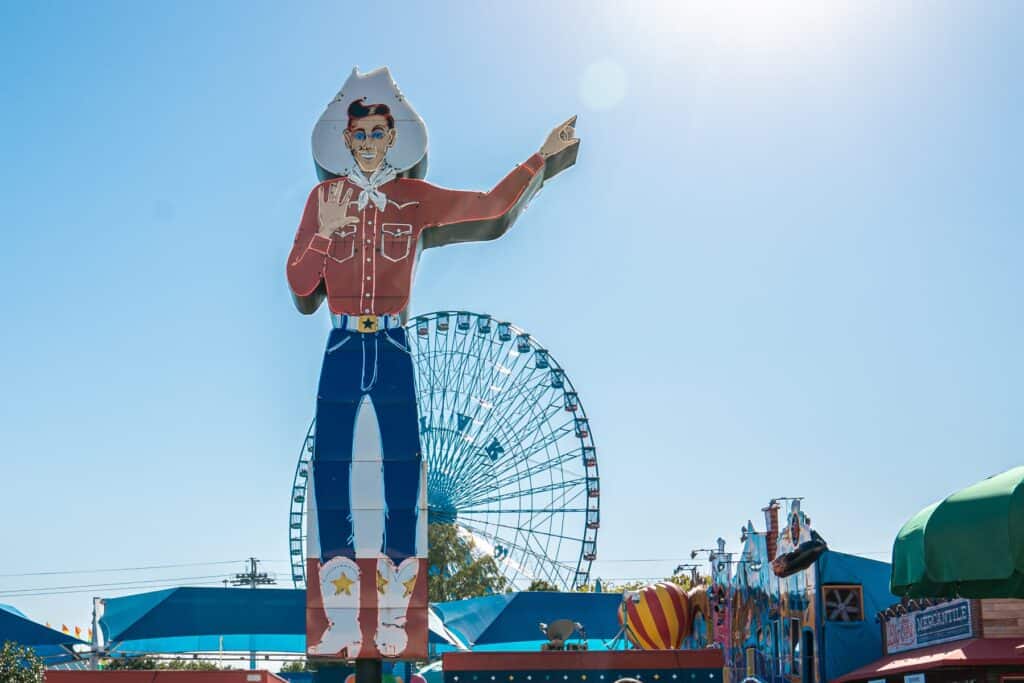 If you find yourself here with the kiddos, be sure to find the NEW Cotton Candyrita at Stiffler's Mom's Cookie Factory. Made with a cotton candy infused margarita, the cup is then finished with a pink sugar rim and fresh, pink cotton candy.
Chef Cassy's Booth
Chef Cassy Jones has always loved to cook. She grew up surrounded by great cooks and spent time cooking with love for her 5 children. When her daughter went off to college, Chef Cassy went to culinary school. Shortly after, she began working in catering and was encouraged by a customer of hers to apply to be a vendor at the Texas State Fair. And the rest is history!
She has been a vendor for the last 10 years and actually got her booth after her first application!
You can find her at the base of the Top O' Texas Tower at the end of the Midway. Look for a sign that says, "Fried Collard Greens."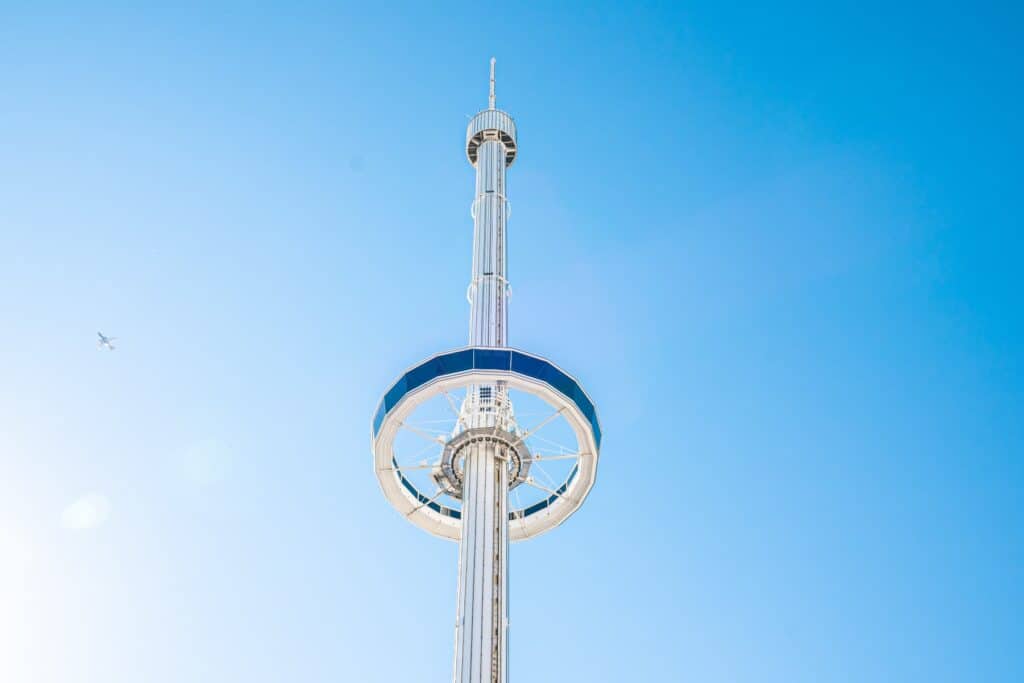 Fried Collard Greens – I beg of you, please try these! Chef Cassy mixes collard greens with cream cheese before wrapping them in wonton wrappers and frying them. She says to think of them like egg rolls, but instead of being filled with bland cabbage, they have tasty, seasoned greens inside.