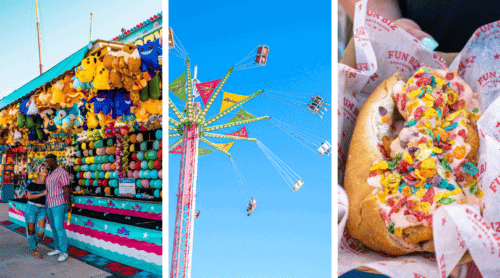 Last year, the Texas State Fair had 2.2 million people walk through the gates at Fair Park, and it isn't hard to see why! Although there is a debate with Minnesota that their State Fair is the largest one in the country, ours does last a whopping 24 days! This year, you have from September 30th until October 23rd to eat all the fried fair food, ride all the rides, and enjoy all of the FREE fun there is to have at the 2022 Texas State Fair.
Most importantly, the Texas State Fair is a non-profit organization whose profits go back into the community by supporting local business owners and funding other community initiatives. So, if you're debating about coming out to the 2022 Texas State Fair, maybe this fact will convince you it's well worth it!
Things to Know Before You Go
Tickets can be purchased both online and in person. However, unless you buy a premium admission ticket, you are only able to redeem your ticket on the day you chose at check-out (if purchased online), so be sure to double and triple check your schedule!
Coupons are one dollar each and these are what you will use to purchase food/drinks and get on rides. To play any of the games, you'll have to purchase a Big Tex Game Card. You can find them at the booths and kiosks near the gaming areas.
Coupons can also be purchased online with your admission ticket and in person. There are booths all across Fair Park if you run out and are looking to stay a bit longer.
For a map of Fair Park and directions to some of the booths and fun fair food items mentioned below, you can pick up a physical copy of the Texas State Fair's Visitor Guide just inside the gates or pull it up on your phone.
There are 12 gates through which you can enter into Fair Park. For a full map, check out the 2022 Texas State Fair Visitor's Guide.
There will be animal encounters, parades, and free live musical performances, as well as a chance to see the Budweiser Clydesdales, to drive a Corvette, and to witness a butter sculpture. See the official Visitor's Guide for more information and a comprehensive list of all of the FREE, family-friendly activities going on during the 2022 Texas State Fair.
Wednesday mornings (10am to 1pm) are sensory-friendly and there is even an itinerary available to help you make the most of these three hours at the Texas State Fair. The Midway will also have its lights and music/sounds turned off from noon until 1pm on Wednesdays.
There are days throughout the week offering various discounts on admission tickets, food/drinks, rides, and parkin. You can read more about them in our guide on how to save money at the Texas State Fair!
What to Eat at the 2022 Texas State Fair
We visited five major areas of Fair Park and several food vendors within each of those areas. We tried to be as accurate as possible in our descriptions of these areas to help you navigate the maps portrayed inside the official 2022 Texas State Fair guide.
Note that we came in through Gate 6, where our Lyft/Uber dropped us off at the intersection. However, we were picked up at Gate 1. Also, although there are dozens and dozens of food items to try, below are the ones we were able to get to and that we highly recommend you try as well!
First Avenue
If you enter Gate 4 or Gate 8 and walk straight ahead, you'll end up walking along First Avenue where you'll find tons of food stands, the Bud Light Stage, a lake with swan boats, and "cheep" beer at the Beer Barn. You'll also find a bunch of picnic tables and games where you can win prizes!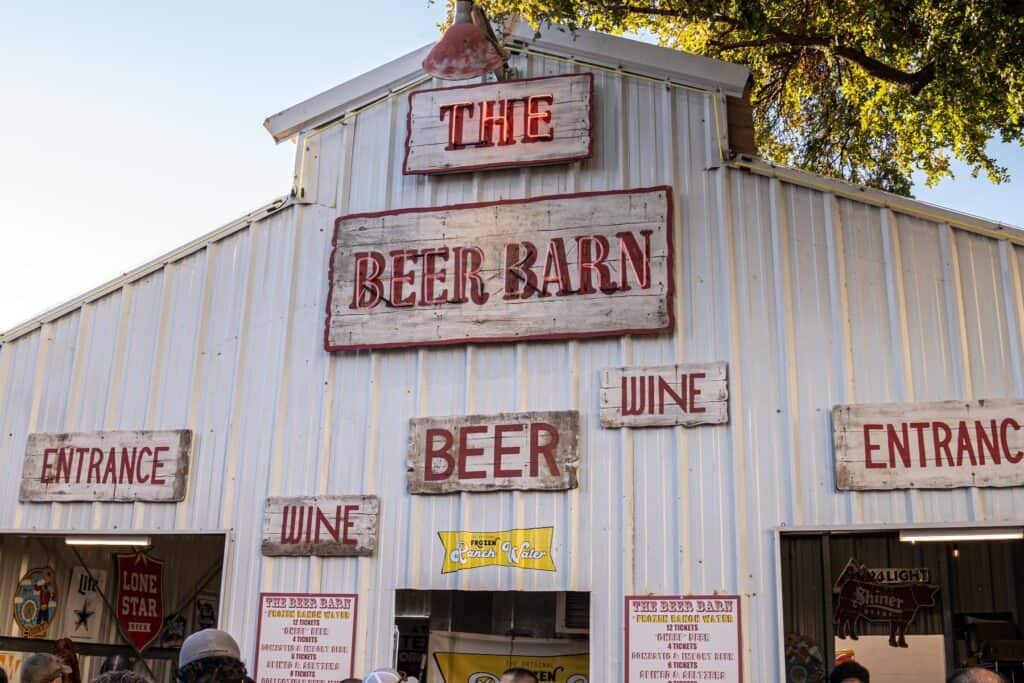 Fishbowl Cocktail at Gulf Coast Grill – While your group is waiting in line at the Beer Barn, consider sending someone to the Gulf Coast Grill for a Fishbowl Cocktail. Or order one after taking a ride in the swan boats. It is big enough that two people could easily share it. Keep in mind, the swan boats do cost coupons.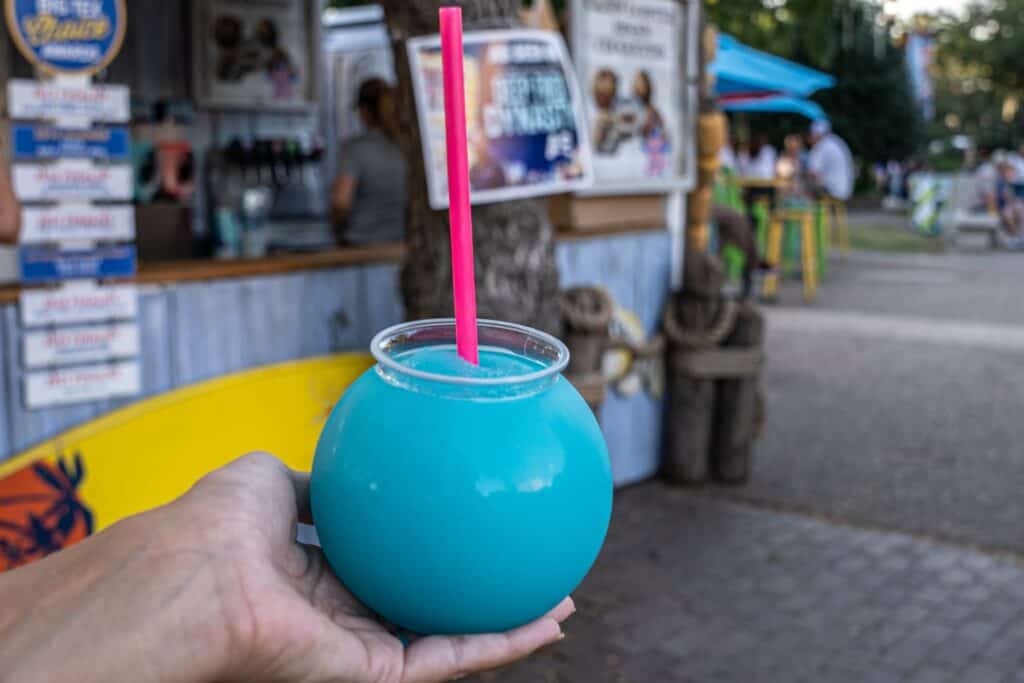 The Grand Area
Along First Avenue, you'll come across the Grand Area. There is everything from shopping at the Grand Place to the Magnolia Beer Garden where you can hang out, rest your feet, and enjoy your funnel cake or one of the 2022 Big Tex Choice Award finalists from Holy Biscuit. Gate 5 is right at the entryway of the Grand Area (on Grand Avenue).
Fernie's Funnel Cake Factory
Fernie's Funnel Cake is returning to the State Fair for their 53rd anniversary! In 2021, their Fried Toffee Coffee Crunch Cake was a Big Tex Choice Award finalist. It is composed of cake donuts, toffee pieces, and coffee whipped cream. No wonder it was voted the 2021 Favorite Fair Food by D Magazine!
Funnel Cakes – Fernie's is known to be the creator of the original Texas State Fair funnel cake and we couldn't leave the State Fair without grabbing one!
Funnel Cake Chicken Sandwich – A sweet spin on a favorite, this chicken sandwich is made up of a country-fried chicken breast filet in between two 5-inch Fernie's funnel cakes, which is then refried, drizzled with your choice of honey or syrup, and topped with powdered sugar.
Funnel Cake Shake – This creamy shake is made up of funnel cake flavored ice cream, whipped cream, rainbow sprinkles, a cherry, and a mini Fernie's Funnel Cake.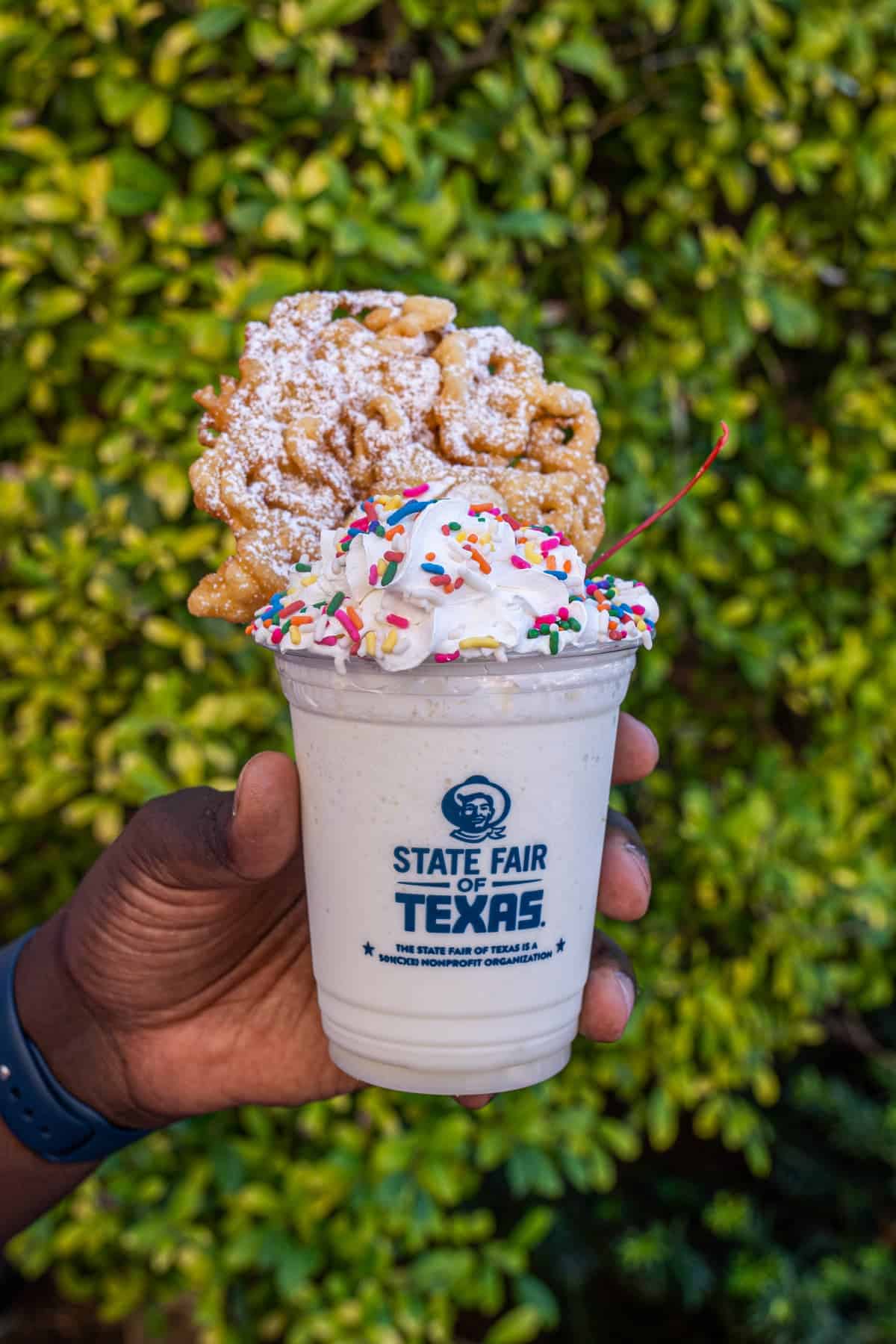 The Tower Building Food Court
Right behind the Grand Place is the Tower Building Food Court, an indoor eating area with numerous food stands and a ton of larger tables. If you're looking to snag some of the more unique fair food items, this is the place to be!
Chicken & Waffle Sliders at Darlin's Chicken and Waffles – Yet another sweet spin on a classic, these sliders are composted of a piece of fried chicken sandwiched between the two, cutest waffles with LOTS of powdered sugar and syrup on the side.
Deep Fried Pop Tart at Holy Biscuit – Covered in whipped cream, you'll get this chocolatey, fried pop tart fresh out of the fryer. Although it isn't the prettiest, it's a spin on a childhood favorite that I loved!
Rainbow Brite Sundae at Candy Pickle Factory – Grab one of these, among other food items, at a discounted price on Thrifty Thursdays!
Bacon Apple Pie Egg Roll at Baconation – We loved the mix of sweet and savory of this creation! It is a wonton wrap filed with apple pie filling, bacon bits, and cinnamon sugar, topped with whipped cream and drizzled with caramel sauce and powdered sugar.
You'll also find one of the Smokey's John's Bar-B-Que booths here! Scroll to the bottom for our recommendations from them.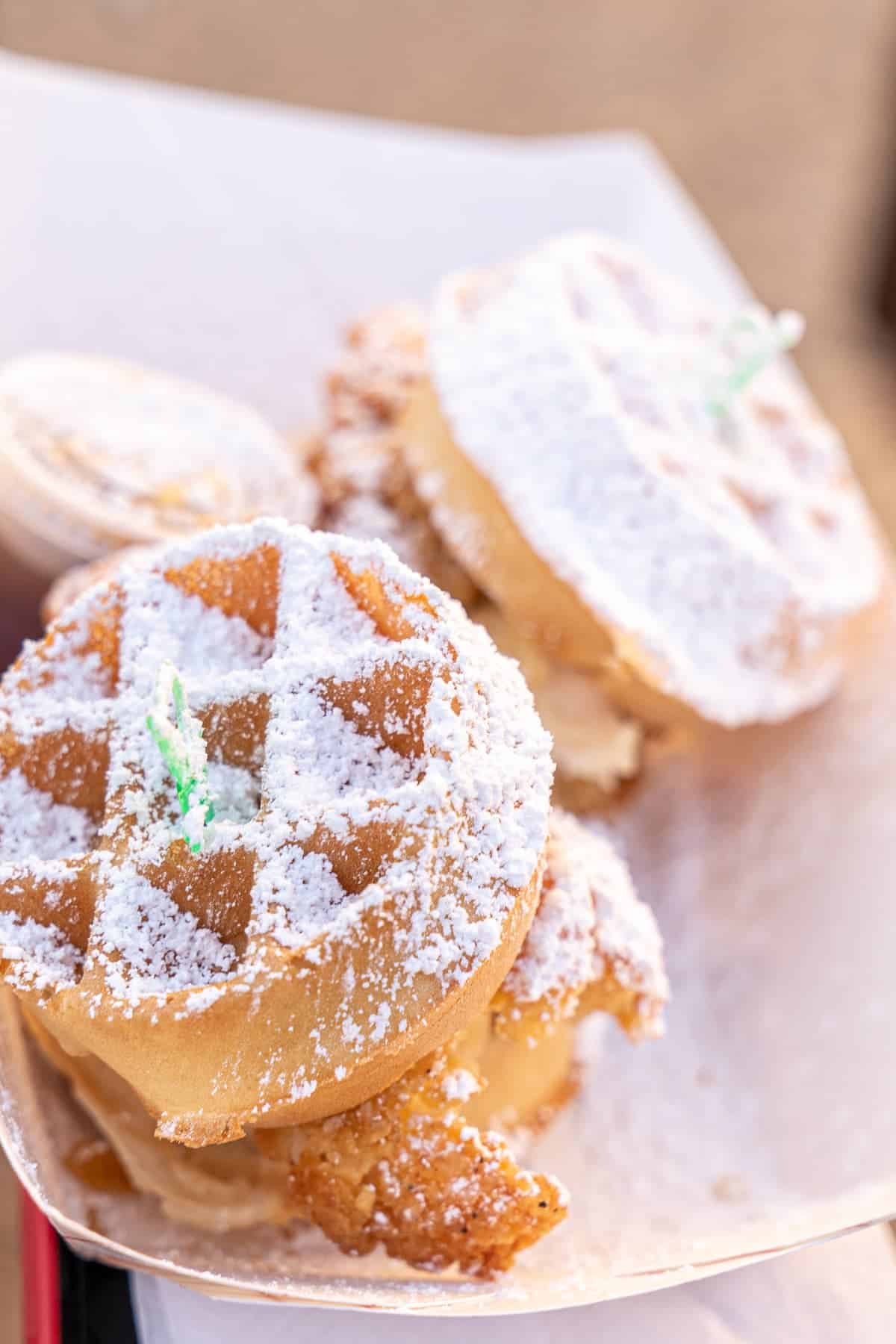 The Funway, Midway & Kidway
If you enter in through Gate 6 and continue to walk straight ahead, you'll come across the Funway, which is also clumped together with the Midway and the Kidway (here, you'll find rides for children 2 years and under). You'll also find a wide array of food stalls, additional rides, games, and the iconic Texas State Fair Ferris wheel. Along the way, you'll see Big Tex's little brother, Neon Tex.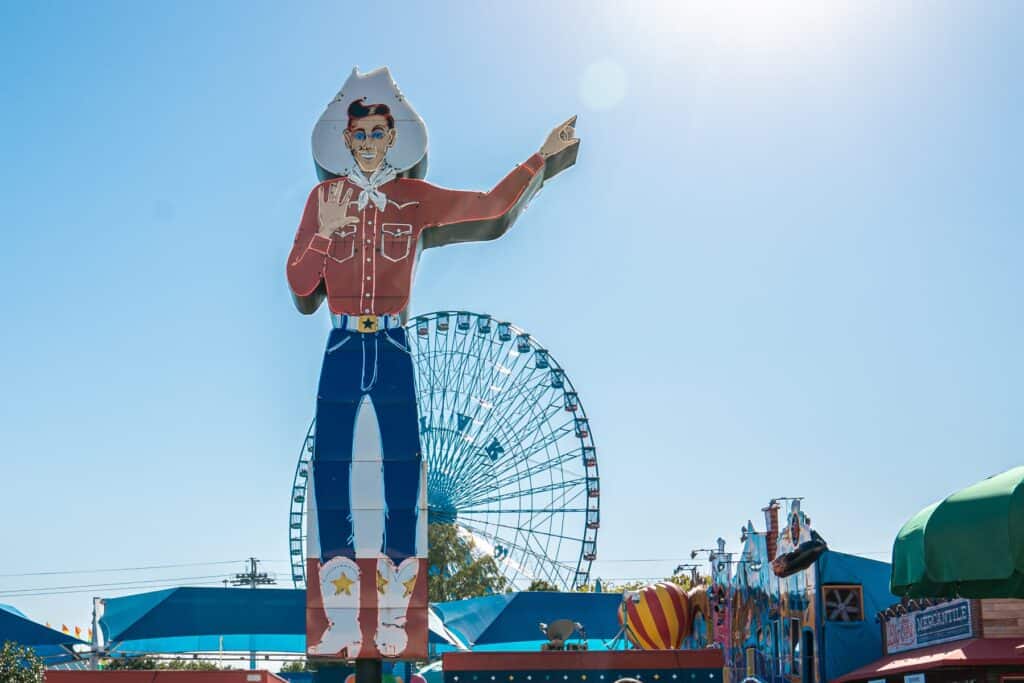 Dirty Sodas at Stiffler's Moms Cookie Factory – Take your pick of the many flavor combinations and indulge in a refreshing sweet treat as you roam the Texas State Fair. Choose from soda or sparkling water and add in cream, flavored syrup, and fresh fruit.
Chef Cassy's Booth
Chef Cassy Jones has always loved to cook. She grew up surrounded by great cooks and spent time cooking with love for her 5 children. When her daughter went off to college, Chef Cassy went to culinary school, began working in catering, and was encouraged by a customer of hers to apply to be a vendor at the Texas State Fair. And the rest is history! She has been a vendor at the Texas State Fair for the last 9 years and actually got her booth after her first application!
You can find her at the base of the Top O' Texas Tower (the tallest ride at the Texas State Fair) at the end of the Midway. Look for a sign that says, "Fried Collard Greens."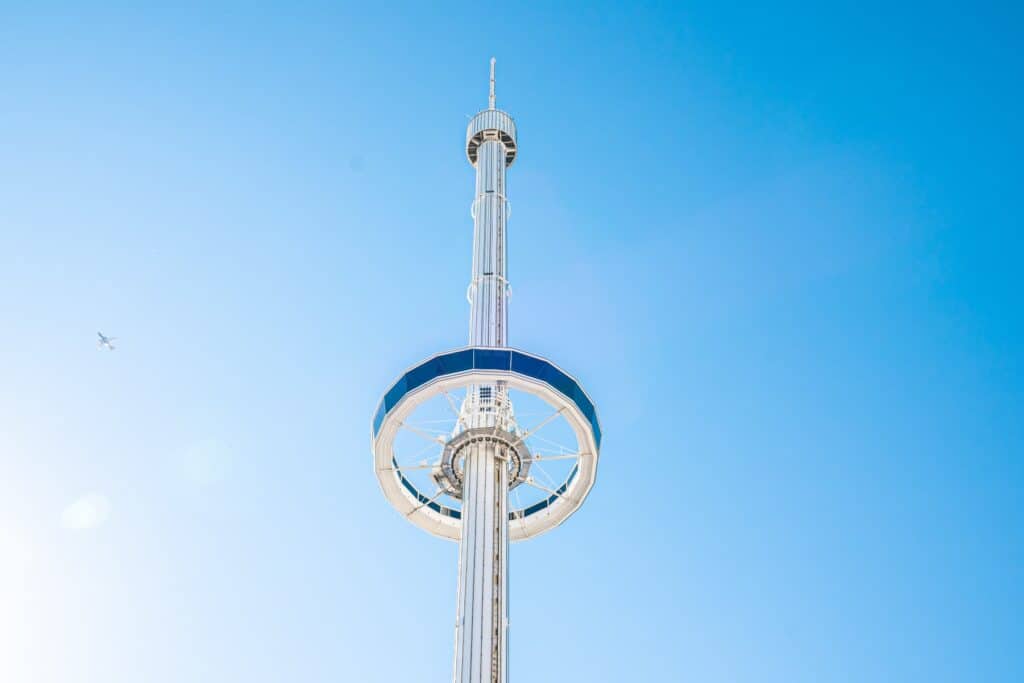 Fried Collard Greens – I beg of you, please try these! Chef Cassy mixes collard greens with cream cheese before wrapping them in wonton wrappers and frying them. She says to think of them like egg rolls, but instead of being filled with bland cabbage, they have tasty, seasoned greens inside.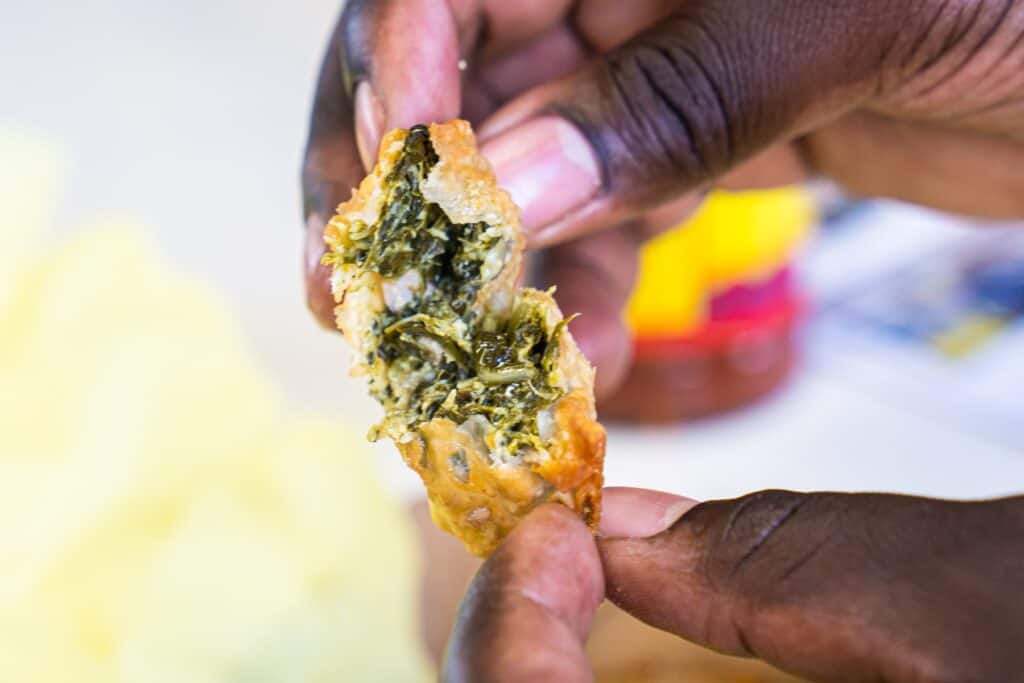 Honey Pecan Wings – Chef Cassy takes her fried chicken wings and drizzles them with her handmade honey pecan sauce. She also offers fried chicken wings plain, with buffalo sauce, OR drizzled with her unique peanut butter and jelly sauce!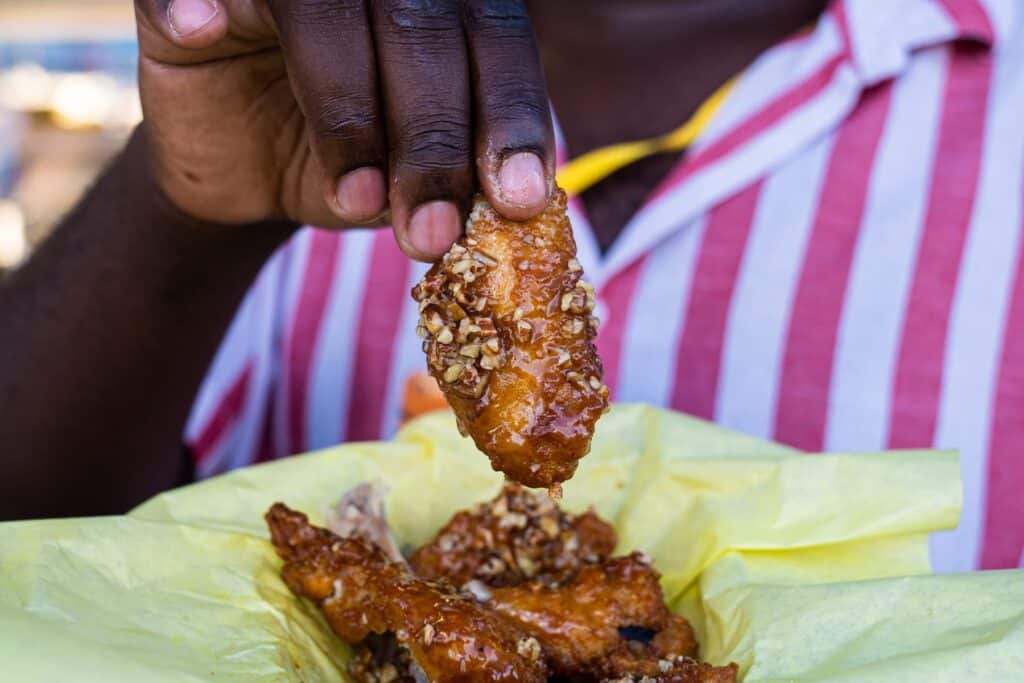 Fun Biz Fair Food is a family run business that travels across the country, contributing to the childhood joy that fairs, like the Texas State Fair, bring us every year. Their emphasis is on locally sourced goods that have never been shipped or frozen, including their meats, dairy products, and produce. You'll find two of them, Get Fried and Spud Ranch, along the Midway. Spud Ranch is right next to the haunted house ride, while Get Fried is further down towards Cotton Bowl Plaza.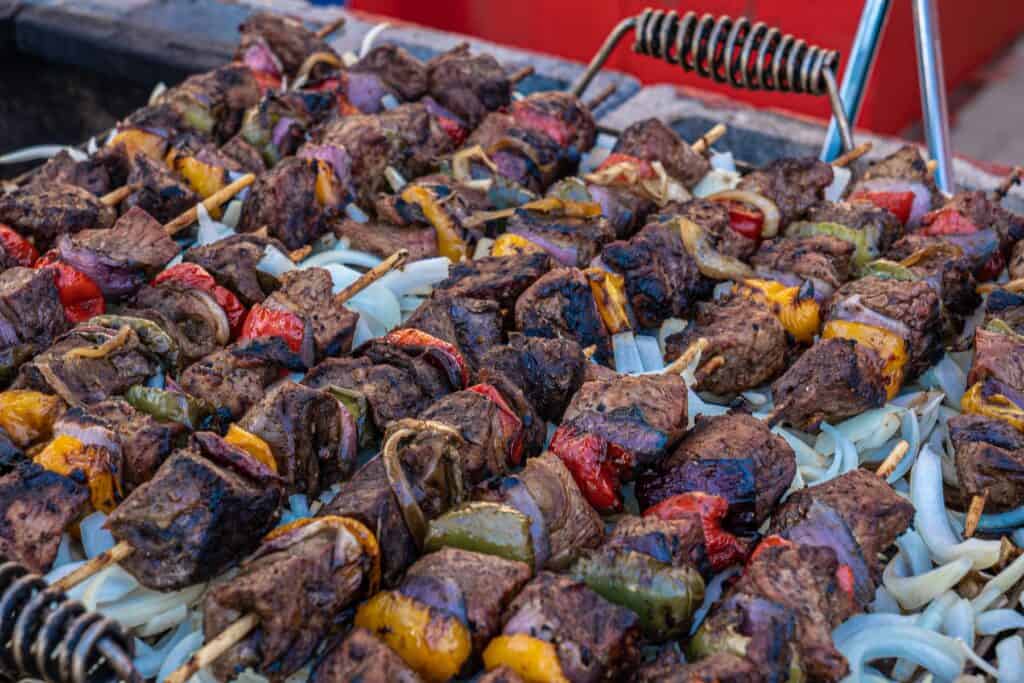 Fruity Pebble Shrimp Po'Boy at Get Fried – This wacky creation was pleasantly tasty! The creaminess and slight kick from the sauce (mayonnaise + hot sauce) mixed with the crunchiness of the fried shrimp went surprisingly well together. The fruity flavor from the Fruity Pebble cereal garnish added a fun splash of color and a subtle twist in the overall flavor of the Po'Boy.
Fried Pickle Chips at Get Fried – These pickle chips were to die for! They were perfectly seasoned and generously breaded. Pair it with the creamy ranch they give you on the side and you'll fall in love!
Turkey Legs at Get Fried – Made fresh-to-order without any added enzymes, these turkey legs will be some of the best you've ever had. They are constantly being roasted right in front of you and the smell alone will stop you in your tracks.
Potato Twister at Spud Ranch – Serving all varieties of baked potatoes with tons of toppings, including options like brisket, alfredo, and chili, Spud Ranch is Fun Biz Fair Food's newest vendor. We tried their classic Tater Twister, which you can also add seasoning, dipping sauce, and bacon to if you like!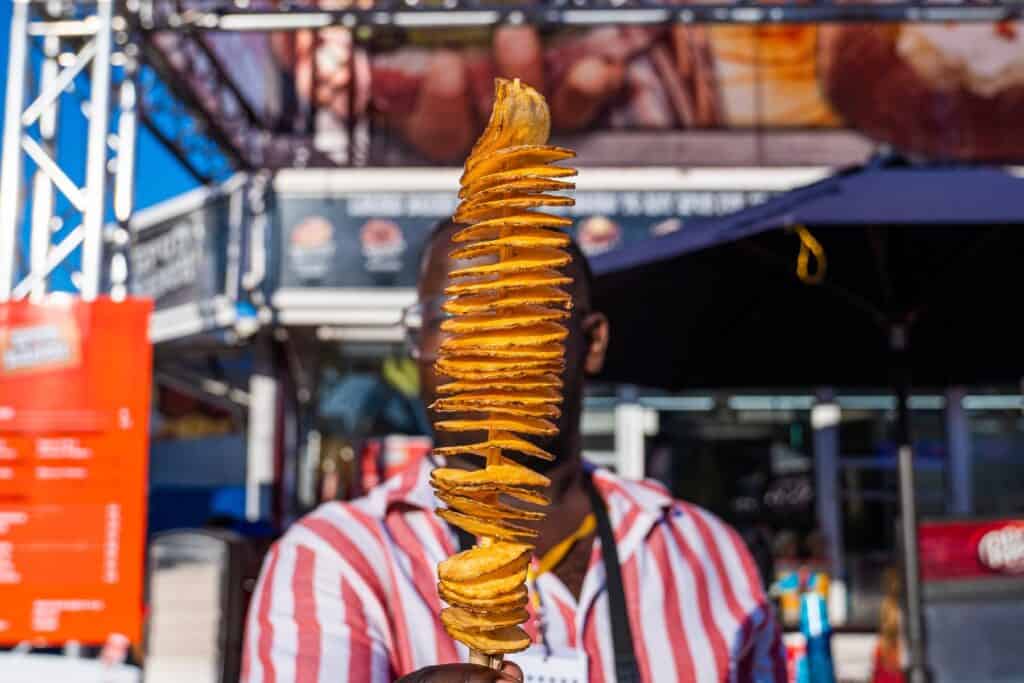 Nimitz/Nimitz Circle
At the entrance of Nimitz Circle is the Chevrolet Main Stage where you can enjoy an extensive line-up of live bands! Just behind the stage is also where you'll enter/exit if you decide to take a Lyft/Uber or Taxi (at Gate 1).
Nimitz Circle is home to several food stalls and vendors. If you continue walking, you'll also encounter the Texas Wine Garden, the Yuengling Stage, which features stand-up comedians and the cutest courtyard that is lit up with string lights at night, and FREE samples of Yuengling beer.
If you're not much of a beer fan, you'll also find a bunch of FREE samples being offered at the Go Texan Pavilion, including Texas brands like Desert Door Texas Sotol from Driftwood! For other freebies, check out our guide on how to save money at the 2022 Texas State Fair.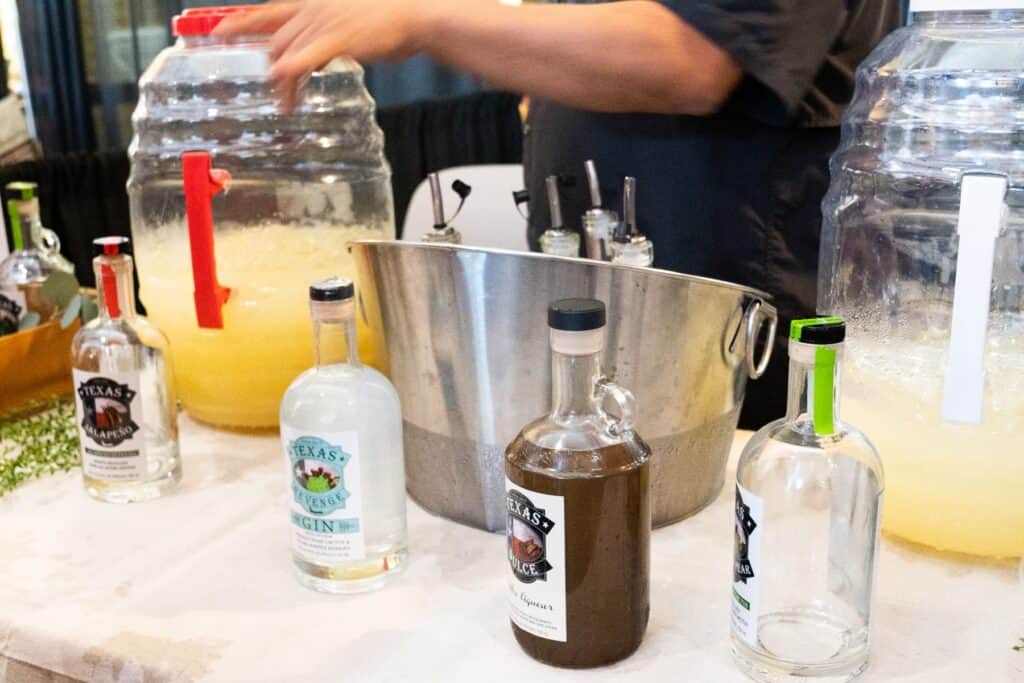 Chismosas at Garza Ranchero Fajitas – Thanks to the Garza family, they'll have a mimosa on-hand for you, day or night, at the 2022 Texas State Fair. The Chismosa is a frozen mimosa with a Chamoy and Tajín rim.
Fried Lemonade & Pickle Margaritas at Stiffler Family Concessions – I wasn't sure what to expect with the Fried Lemonade, but what we got was so tasty! Make sure to take advantage of that lemon sauce at the bottom of the cup. Perfect for the fall season, you'll also find Fried Pumpkin Pie on the menu!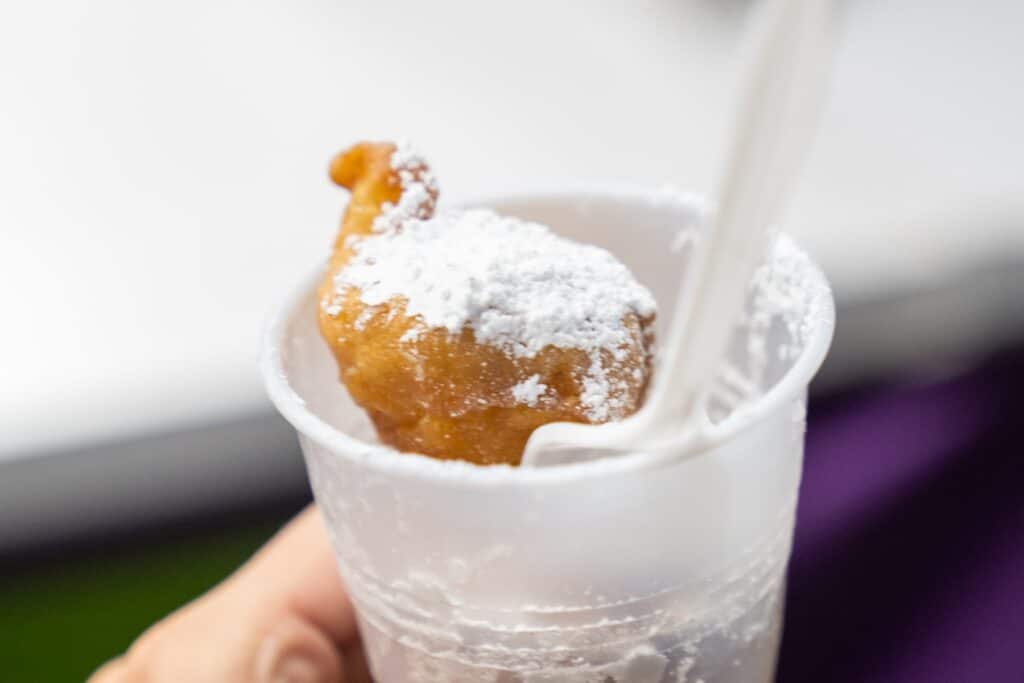 2022 Texas State Fair Food Stands with Multiple Locations
Vandalay Industries
Chef Abel, who we discovered has earned the nickname "Fried Jesus," has created so many amazing, original creations over the years, like the Fried PB & J, which was the first winner of the Big Tex Choice Award winner and continues to be their best seller!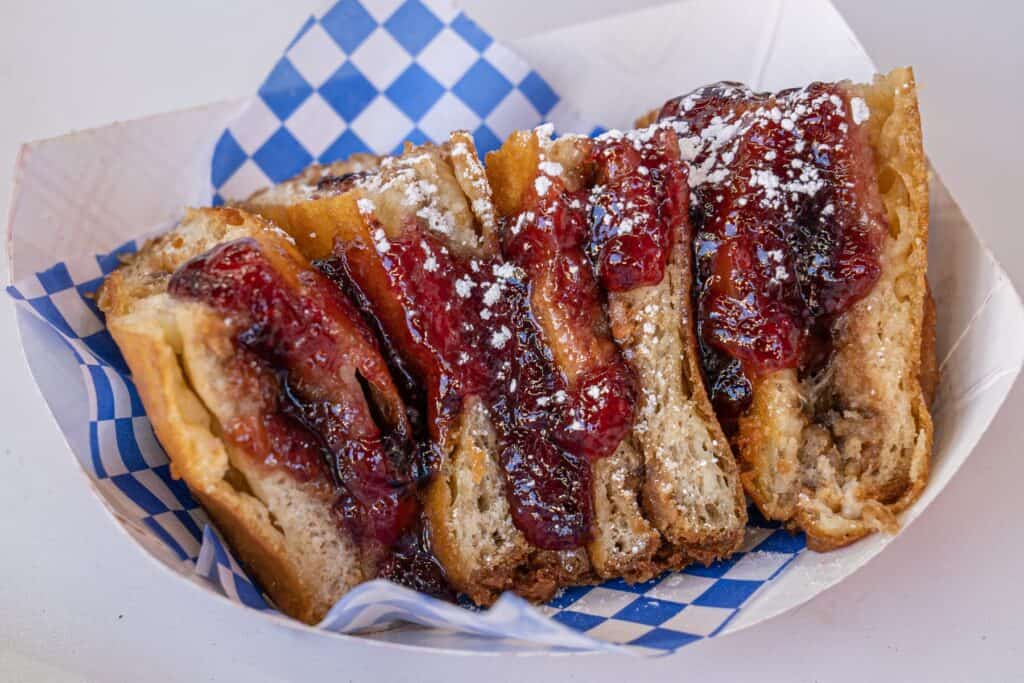 We highly recommend trying these Texas State Fair food items at the Vandalay Concessions booth (in Nimitz Circle and along the Funway) that we absolutely loved:
Fried Butter – The butter and fried dough mixture actually tastes cheesy, so if you're intimidated to try it, this is your sign that it is beyond amazing!
Fried Cookie Dough – Make sure to rip into this piece of heaven and get it on video (if you can wait that long).
The Doh-Muff – This Texas State Fair food item is a yeast doughnut battered in Banana Nut Muffin batter that is deep fried, stuffed with Bavarian Cream, and topped with a Pecan Butter Glaze, fresh bananas, and strawberries.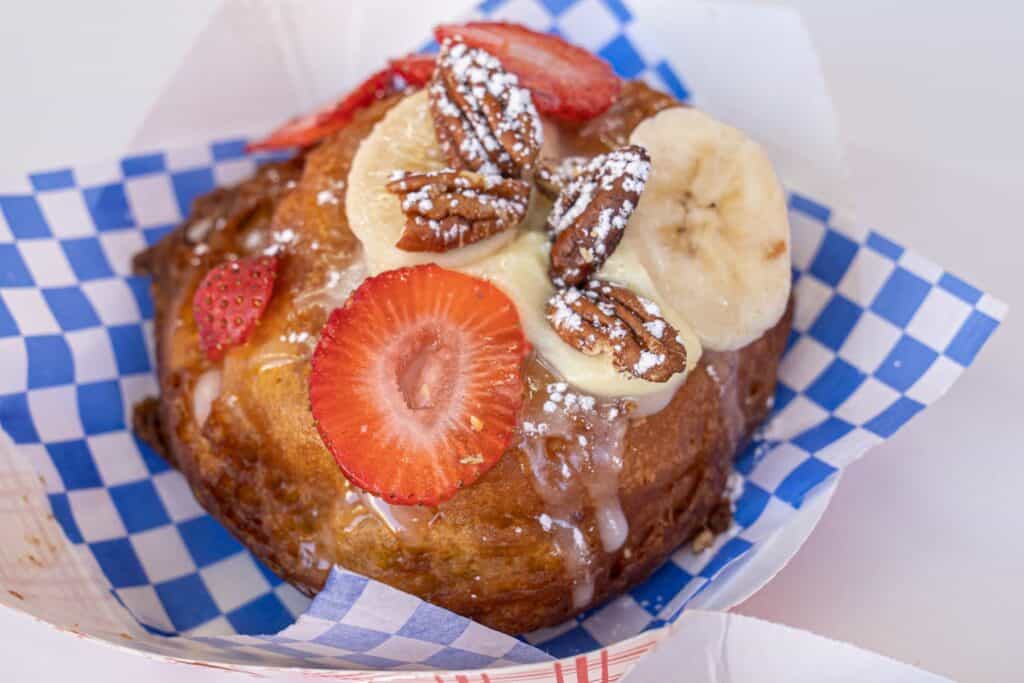 Fried Lobster in Champagne Gravy – Although this is one of the pricier Texas State Fair items, it comes with a side of fries, and everything is so tasty!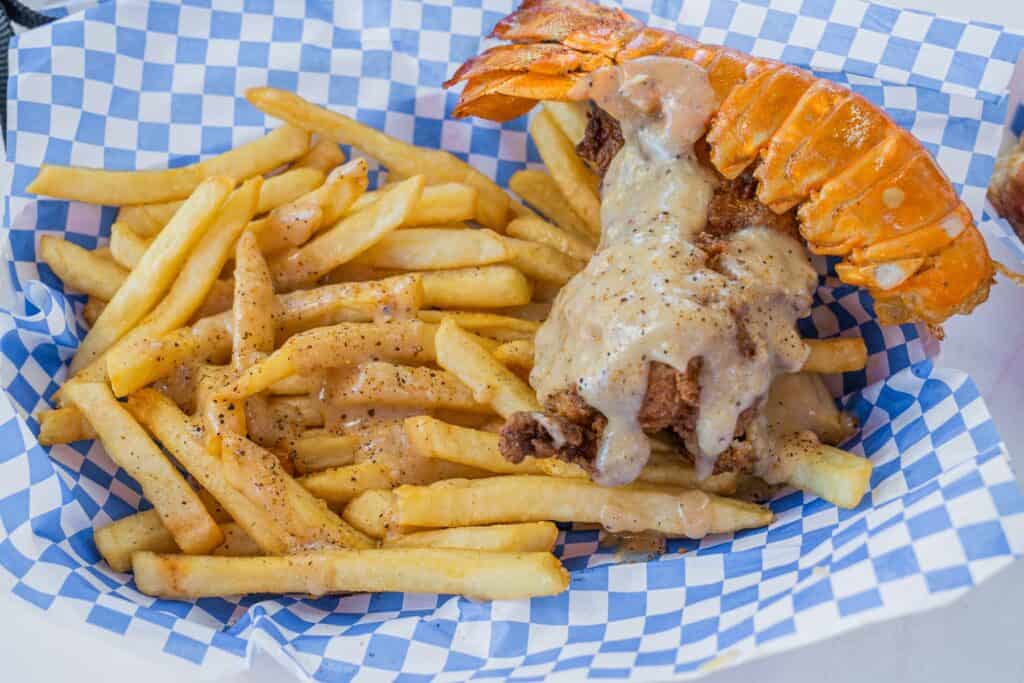 Some of Chef Abel's other original creations that we wish we had a chance to try are:
Fried Jambalaya
Fried Lobster
Fried Coke
Fletcher's Original Corny Dogs
Of course, when you're at the Texas State Fair, you have to get a corn dog from Fletcher's Original Corny Dogs! We were thoroughly impressed, since we've unfortunately never had one, and we especially loved that they also offer all-beef and vegetarian options. On Thrifty Thursdays, you can try their all-turkey Fletcher's Bird Dog for a discounted price! Find more deals inside our guide on how to save money at the 2022 Texas State Fair.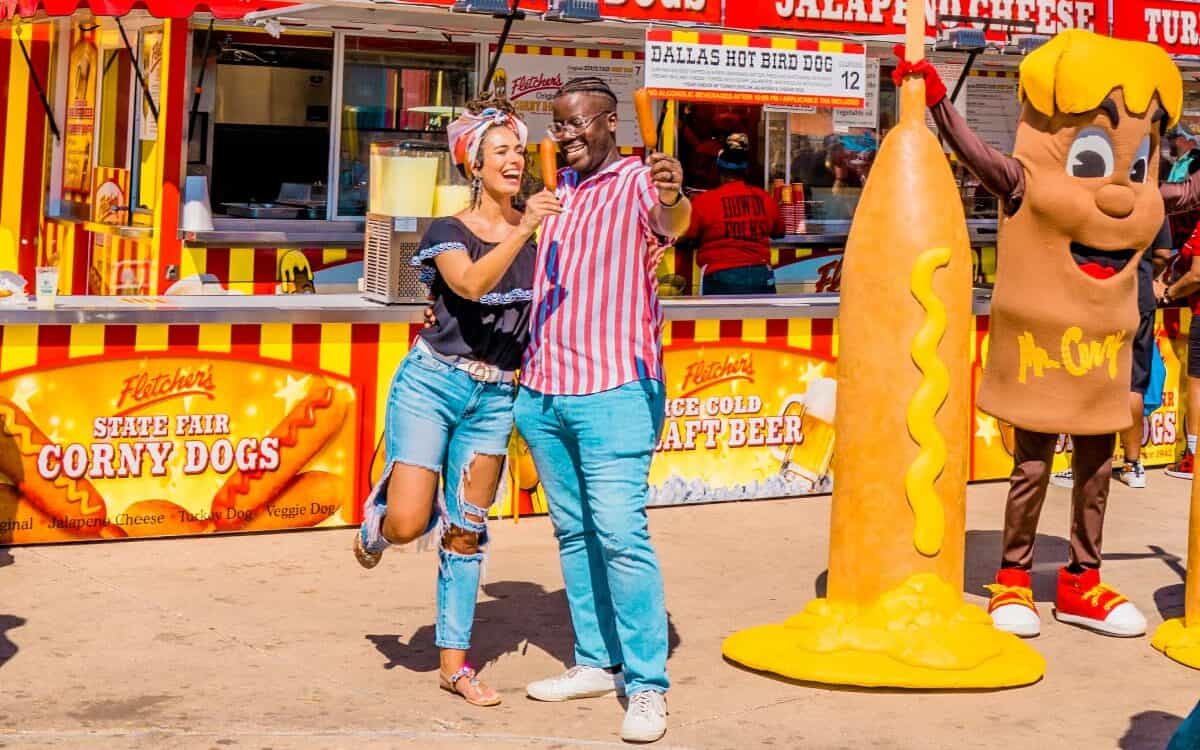 Or try their newest menu item, the Fletcher's Dallas Hot Bird Dog, a turkey corn dog dipped in a special fiery batter, and stuffed with mac and cheese, fried jalapeños, and drizzled with hot sauce.
Nevin's Concessions
Nevin's Concessions, a women-owned business, has been a vendor at the Texas State Fair since 1949 and is known as State Fair royalty around these parts. You can find their three booths near the Chevrolet Main Stage, behind Cotton Bowl Stadium near Nimitz Circle, and near the Grand Place (inside the Grand Area).
Fried Charcuterie Board – This 2022 Best Taste Savory Winner is stuffed with salami, mozzarella cheese, and green apples, fried inside a wonton wrapper, drizzled with honey, and served with a side of olives and goat cheese.

Fun Fact: The Fried Charcuterie Board's Creator, Josey Nevins Mayes, is the youngest concessionaire to win a Big Tex Choice Award!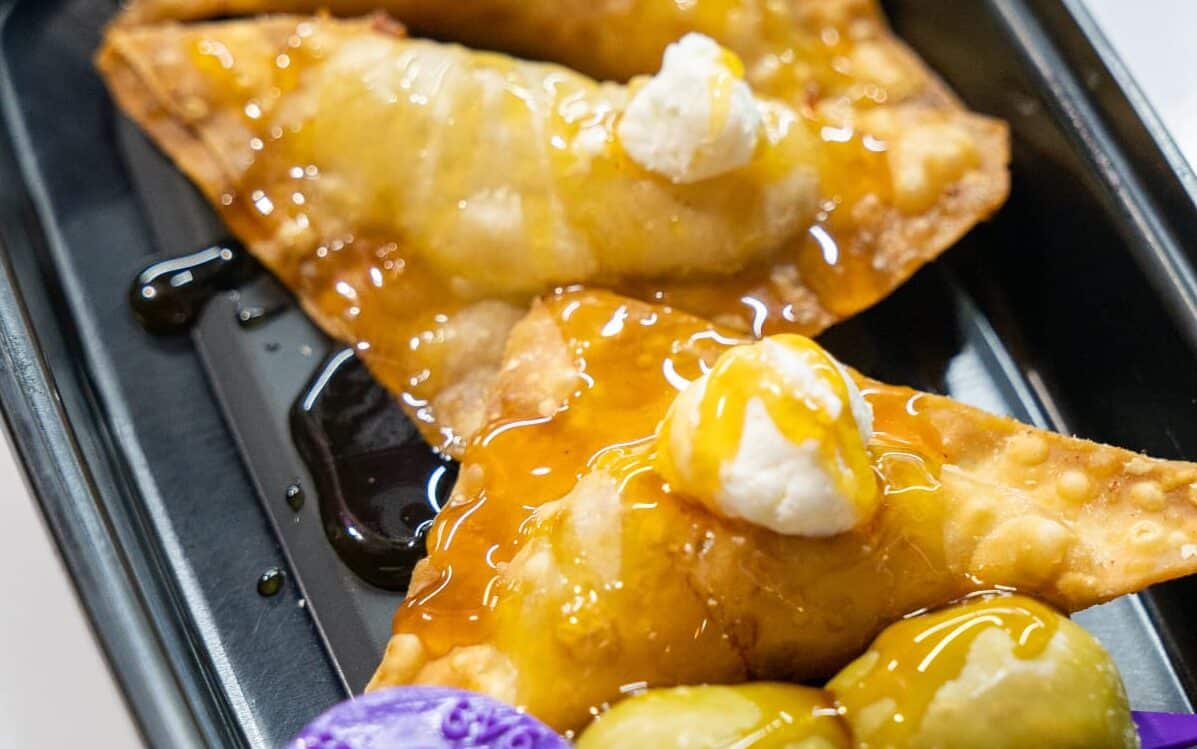 The Stuffed Pig – Food on a stick is a common occurrence at the Texas State Fair, from corn dogs to chicken on a stick. Now we can add Stuffed Pig to the list: pieces of pork wrapped in bacon and covered in a Bourbon Glaze.
Texas Ranch Hog Wings – These pork wings are flash fried, tossed in their secret spicy ranch salt, and topped with their homemade sauce, Lil Red's Damn Serious Sauce, and fresh chopped chives. It was also a 2022 Big Tex Choice Semi-Finalist!
Smokey John's Bar-B-Que
Notorious for their fresh smoked turkey legs and homemade peach cobbler, not to mention their BBQ, Smokey John's Bar-B-Que is a notorious BBQ joint we love here in Dallas, so we were so excited to see them at the Texas State Fair again this year! This family-owned and minority-owned business has been a loyal vendor at the Texas State Fair for the last 40 years! You can find them inside the Tower Building Food Court and inside Nimitz Circle.
Following the reputation of their mouthwatering peach cobbler, they created the Ultimate Brookie Monster, which was actually a 2022 Big Tex Choice Awards Finalist! It is made up of fresh baked chocolate chip cookies, Oreos, and marshmallows that are covered in triple chocolate brownie batter, which is then battered and deep fried.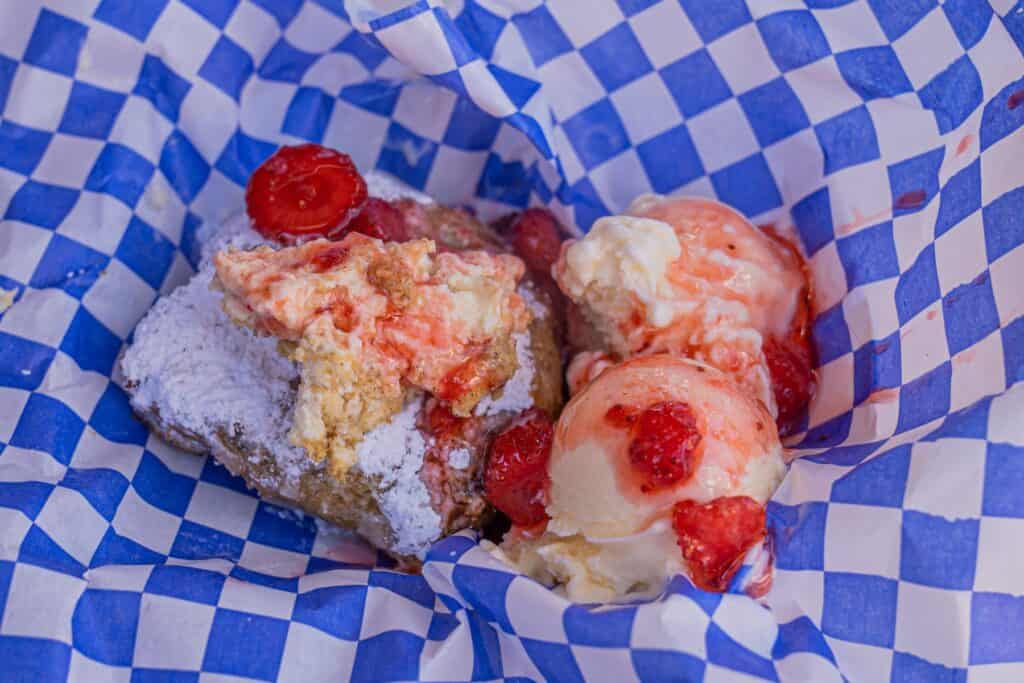 We also had to get their Deep-Fried Reese's with ice cream because why not?!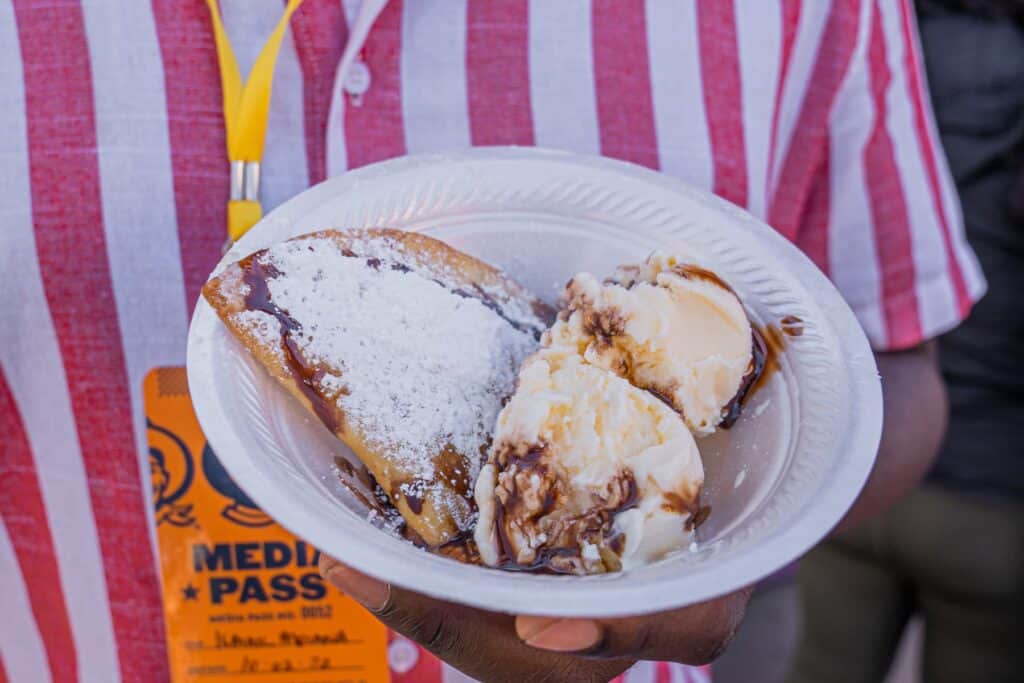 A Guide to the 2022 Texas State Fair: Final Thoughts
We tried to be as descriptive as possible while writing this guide to the 2022 Texas State Fair, but just be sure to come prepared with your admission ticket, money for coupons, and a sense of adventure because there is a lot to see (and taste)! To save you and your family/friends a few bucks, don't forget to read our guide on how to save money at the Texas State Fair this year!