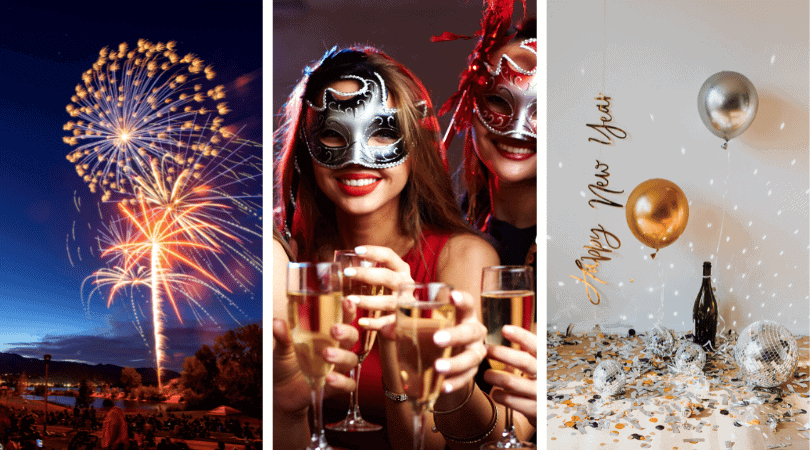 It's time to ring in the New Year in San Antonio which is why we're sharing the best places to celebrate New Year's Eve including where to see fireworks, rooftop views, and great package deals! Please note some ticket prices might change at the door.
Maggiano's Little Italy
Ring in the New Year with an open bar, three-course dinner, party favors, music, and a midnight toast. 17603 Interstate Highway 10. 8PM to 12AM, $125. Purchase your tickets online.
Howl at the Moon
Choose from an entire table for your party, a seat, or standing room on the dance floor. Everyone will be gifted a drink voucher but, depending on the package, you will also have access to an Italian appetizer buffet, party favors and/or a champagne toast with certain packages, all along the San Antonio Riverwalk. 111 W. Crockett Street, St. #201. Begins at 7PM, ticket prices vary. Purchase your tickets online.
On the Rocks Pub
Looking for an affordable, fun way to celebrate New Year's Eve? Your wristband for the San Antonio NYE Bar Crawl will allow you access to 4-6 of San Antonio's downtown bars, along with drink tickets, an appetizer buffet, drink and food specials, plus a champagne toast and a viewing of the ball drop. 270 Losoya Street. 6PM to 2AM, $30. Purchase your tickets online.
Hyatt Regency San Antonio
Experience several fireworks shows all at once, including at the Tower of the Americas, from the rooftop of the Hatt Regency. There will also be small bites, a full top-shelf bar, music, and party favors with a toast at midnight. 123 Losoya Street. 10PM to 12:45AM, $275. Purchase your tickets online.
Fredericksburg Hot Air Balloon Event in Fredericksburg
Come play a little polo, ride in a tethered hot air balloon (depending on the weather) or take a helicopter ride! There will also be a full bar, food, polo matches (4PM to 5:30PM), and vendors. Keep in mind that parking and helicopter/hot air balloon rides are an additional cost and NOT included with general admission. Grapetown Winery & Fredericksburg Polo Club (8142 Old San Antonio Road). Dec. 31, 2022, 4PM to 8PM, ticket prices vary. Purchase your tickets online.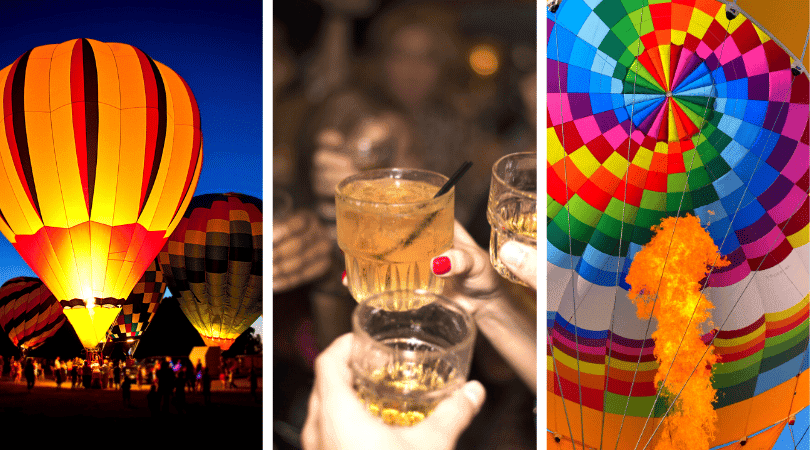 Celebrate SA: San Antonio's Official NYE Celebration
Experience live concerts at the South Alamo Main Stage and the Arneson River Theatre along the Riverwalk. There will also be a carnival at the corner of S. Alamo Street and César E Chávez Blvd. in addition to food, local artisans, beer and wine (with all proceeds benefiting county parks), and fireworks at midnight! South Alamo Street | Villita Street | Arneson River Theatre. 6PM to 11:59PM. Free.
The Moon's Daughters Celestial Ball
Attend a luxurious rooftop cocktail party and get dressed up so you feel your best at the beginning of 2023. There will be an open bar from 10PM to midnight, small bites, live entertainment, and more! 115 Lexington Ave. 10PM to 2AM. $300+ with food and beverage included. $175 ticket excludes food/drink. Purchase your tickets online.

Landrace New Year's Eve Dinner
Grab dinner before scoping out the downtown fireworks with a three-course dinner by James Beard Finalist, Steve McHugh. Child's tickets are also available for an additional charge. 111 Lexington Ave. 7PM. $210 (wine pairing is extra). Purchase your tickets online.
Doc Watkins and his Orchestra at Jazz TX
Along with a fantastic show, there will also be a three-course dinner and a midnight champagne toast. 312 Pearl Pkwy, Bldg. 6, Ste. 6001. 9PM, prices vary. Purchase your tickets online.
New Year's Eve House Party at Carriqui
Hosted inside the historic Carriqui house, this 70's themed party will include appetizers, entertainment, a dance party, a midnight champagne toast, and a late-night breakfast taco. 239 E. Grayson St. 10PM to 2AM, $25. Purchase your tickets online (sold out).
NYE at the Good Kind
Take advantage of a great view of the iconic Tower of the Americas along with a welcome cocktail, a swag bag, and free champagne at midnight with each ticket. 1127 S. Saint Mary's St. 9PM to midnight, $20. Purchase your tickets online.
NYE Party at the Skyline
Party the last night of 2022 away at San Antonio's newest downtown venue. Ticket costs include live entertainment, a rooftop DJ, appetizers, and full bar. Come dressed up and have a great time! 707 Dawson St. 9PM to 1AM, $250. Purchase your tickets online.
NYE at Pat O'Brien's
Indulge in a premium open bar, heavy Hor D'oeuvres, a dessert table, a champagne toast, a DJ, and more to be revealed the night of! 121 Alamo Plaza. 9PM to 2AM, $100. Purchase your tickets online.
Fire and Ice NYE Event at Westin Riverwalk
In accordance with their theme of "Fire & Ice," come dressed in red and a masquerade mask (although it's not required) and enjoy live entertainment, ice displays, hors d'oeuvres, an open bar, a champagne toast, and sparklers on their heated, outdoor patio. If weather requires, the event will be moved inside. 420 W. Market St. 9:30PM to 12:15AM, $200. Purchase your tickets online.
Midtown Lounge NYE Celebration
Come listen to live entertainment from international recording artist Dominique Hammons (12PM) accompanied by a complimentary brunch spread and mimosas. There will also be a separately ticketed, nighttime event with a show at 10PM, as well as a champagne toast, hors d'oeuvres, and party favors. A dress code will be enforced: business casual at brunch and evening wear at dinnertime. 2014 E. Houston St. Brunch 10:30AM to 2PM. NYE celebration 8PM to 2AM, $60-$80. Purchase your tickets online.

Classic New Year's Eve Celebration
Enjoy live music by 80's cover band Lon Duk Don! 9:30Pm -11:30pm and then DJ Magic Mike all night! You'll get party Favors, champagne Toast, and a Balloon Drop at Midnight! Cash Bar. all night long. And know your party is giving back with a portion going to Rey Feo Education Foundation and the Woodlawn Theatre Academy for the Performing Arts. 1906 Fredericksburg Rd 1906 Fredericksburg Road 9:30PM -11:30PM, $100. Purchase your tickets online.
2023 New Year's Eve Party at Tapatio Springs
Enjoy a refined Hill Country party with passed hors d'oeuvres and a dinner buffet with dessert. Dance with live music from TwoTen Band and then celebrate at midnight with a champagne toast and balloon drop. Open bar and cash bar options available. Tapatio Springs Hill Country Resort. 6:30PM, $129. Purchase your tickets online.
Affordable New Year's Eve Party in Selma
Celebrate with two DJ's including guest performance by DJ Lil B. Free champagne toast at midnight plus a balloon drop inside and outside. Blue Bonnet Palace 17630 Lookout Rd. Selma 8PM, $10 online or $20 at door. Purchase tickets online.
Noche Veracruzana at Casa Hernan Cantina (Southtown New Year's Eve Party)
This panoramic rooftop promises firework views, a dinner buffet, a midnight champagne toast and Arlin DJ plus a performance by Toro Flores Trio & Ballet Folklorico Sol de San Antonio. Parking is limited so best to arrange transportation. 411 E Cevallos St 8:30PM – 2AM, $55. Purchase tickets online.
J. Holiday Live at Ash Riverwalk
J. Holiday will be performing live at the Riverwalk with lite bites and heavy passed hors d'oeuvres from 7:30 pm – 9:30 pm. Enjoy a complimentary champagne toast at midnight and have a great view of the Tower of Americas fireworks. Dress code heavily enforced. Ash Riverwalk 212 $40, 7PM-2AM. Purchase your tickets online.

Midnight Madness
This San Antonio New Year's Eve Party includes a dinner buffet, belly dancers, robot dancers, and a huge ballroom dance floor. Enjoy music by DJ SID and they even have babysitting options. Phoenician Ballroom 7:45PM – 1AM, $75. Purchase your tickets online.
NYE Dinner & Stand-Up Comedy Show at Unmberto's Italian Grill
Enjoy a relaxed New Year's Eve started with a delicious Italian dinner followed by laughs with a comedy show featuring Scott White. Unmberto's Italian Grill 7 7PM, $55. Tickets sold out.
Stepping into 2023 at Upstage Comedy Lounge
Enjoy food, fun, laughs, music, and prizes. There will be 3 live bands and 2 comedians plus adult games. Upstage Comedy Lounge 9PM-1AM, $30. Purchase tickets here.
New Year's Eve Bash at a Vineyard
Celebrate New Year's Eve at the Cibolo Creek Vineyards where you can enjoy a 3-course meal as well as a complimentary glass of wine and complimentary glass of champagne. Eat, drink, sing, and dance into the New Year! Cibolo Creek Vineyards 7PM-12AM, $55. Purchase tickets here.
A Metal New Year's Eve
Have a metal New Year's Eve with Grammy Award Winning Bassist David Ellefson and his childhood band TOZ, James Rivera in Metal Asylum, and Santa Oscuridad! There is also an option for a VIP dinner. Fitzgerald's Bar 7PM-2AM, $25. Purchase your tickets here.
New Year's Eve K Pop style
This New Year's Eve party will include K Pop themed vendors, performances, and fandom themed drinks. The Jewel at Eleven O Two 9PM-1AM, $10. Purchase Your Tickets.