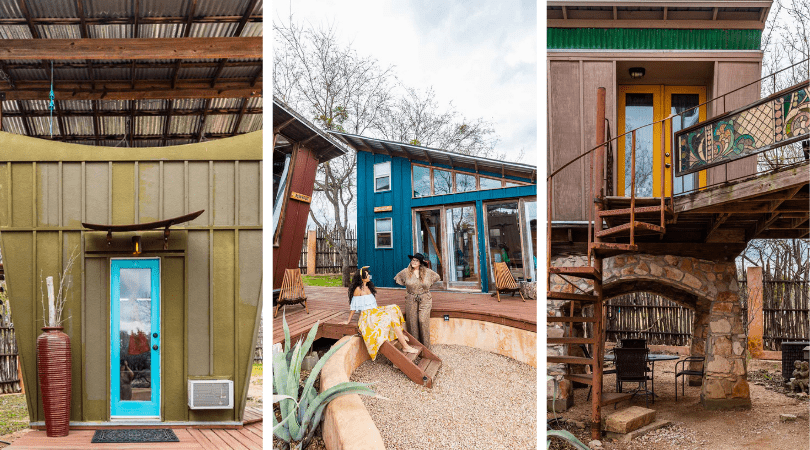 If you love nature and are looking for another iconic place to stay, these funky Texas eco-cabins where the Colorado River joins the Pedernales River are a great choice! They are earth-friendly and offer plenty of adventures on-site. You can choose to relax or trek through the wilderness that surrounds these funky eco-cabins. About an hour from Austin and Spicewood, and even closer to Pedernales Falls State Park, you'll have plenty of things to do on your next Texas-filled trip and use my Hipcamp referral link for a discount when you book an eco-cabin!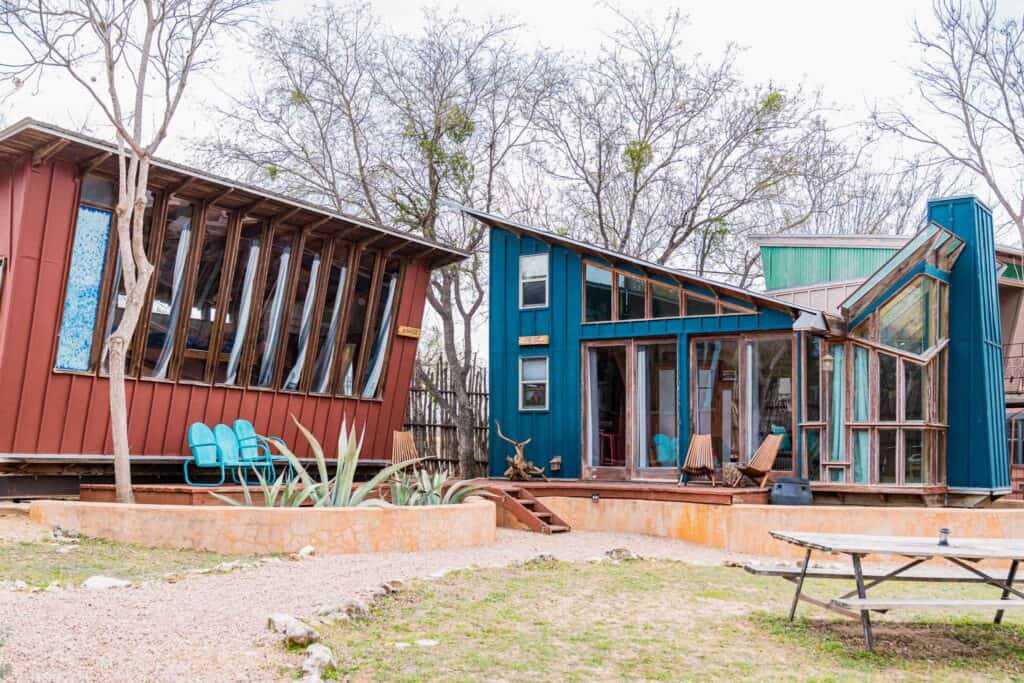 The Funky Blue Loft
One of the lodgings on-site, the Funky Blue Loft Eco-Cabin, is surrounded by peaceful greenery and sleeps up to four people: perfect for couples or small families. The cabin is equipped with a loft that is accessible by a ladder with a full-size bed, a sleeper sofa just below it surrounded by the open views from the living room's floor-to-ceiling windows, as well as AC, a fireplace, kitchenette, games, and DVD's.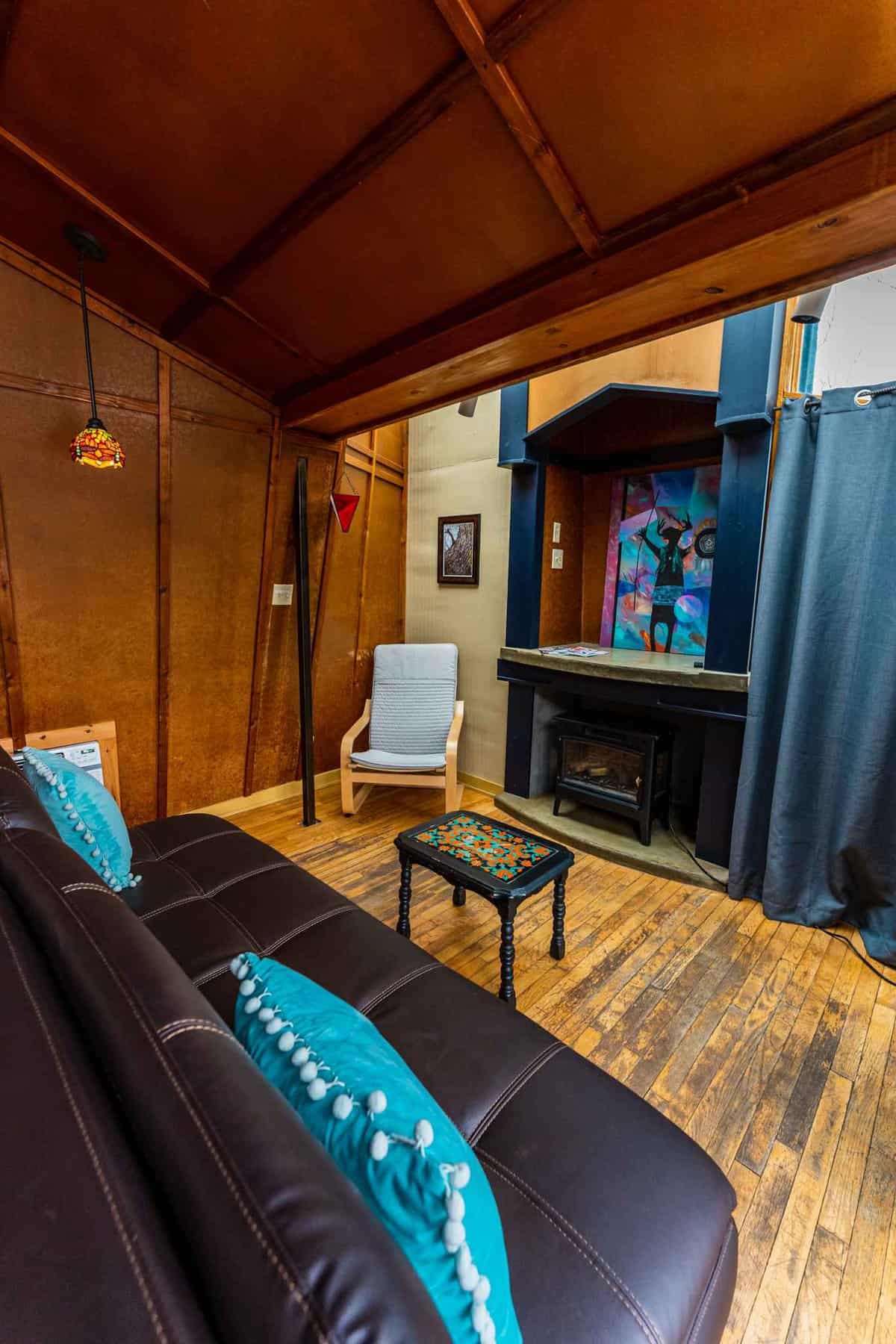 Venture out to the air-conditioned floating cabin on the lake and take full advantage of the floats, kayaks, and paddleboards available, courtesy of your host. At night, use the firepit, relax in a hammock, and admire all of the visible stars.
The Romantic Red Room
This eco-cabin offers the perfect setting for a couple's getaway. There's a garden tub, a queen-size bed, and a detached master bathroom with complimentary robes. Enjoy your morning coffee out on the deck; cuddle up and watch TV or venture out into the great unknown and do something new together. You share a love of yoga? There's an outdoor pavilion on-site just for you! Make sure to spend some time out on the lake or on your private wine deck as the sun sets and set the mood for the rest of the evening.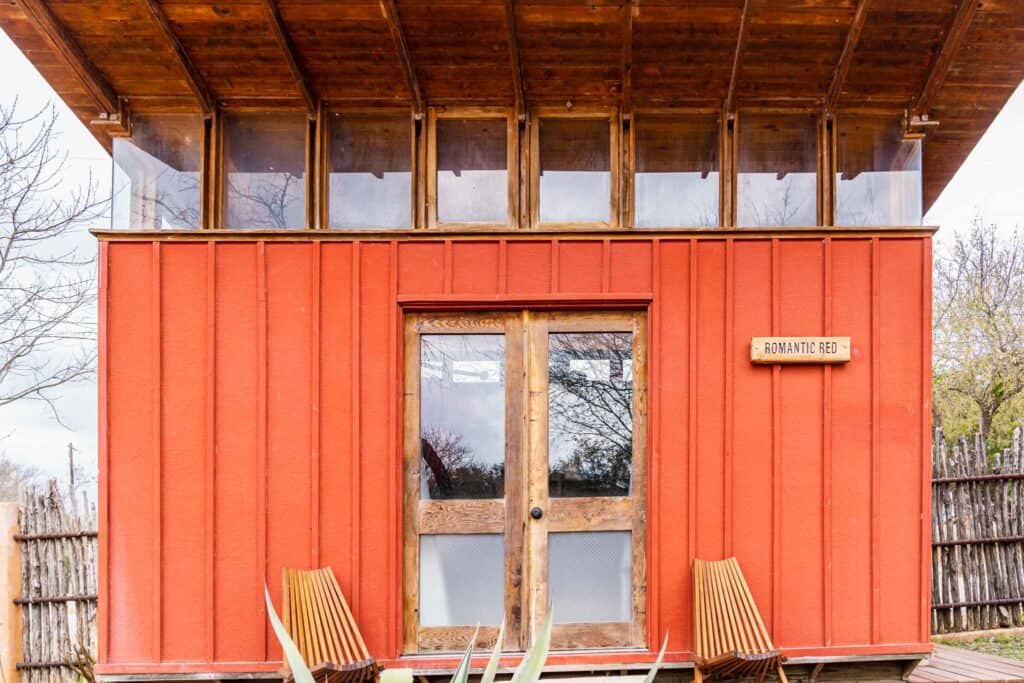 The Bunk Eco-Cabin
Equipped with four small bunk beds, slanted windows that look out over the property, a small patio with the cutest blue chairs, plus AC/heat and a bathroom with a standing shower, this eco-cabin offers enough space for a maximum of four people. Its condensed size is perfect if you are planning to spend majority of your time on-the-go, whether that is exploring Pedernales State Park, spending time out on the water, or exploring the things to do nearby. You might even spot some native wildlife, like deer!
The Luxury Villa
This elaborate home near the eco-cabins would be a perfect setting for an intimate bachelor/bachelorette party, a family getaway, a honeymoon, or an elaborate vacation. It can house a maximum of four guests, with two having to sleep on an air mattress provided by the hosts.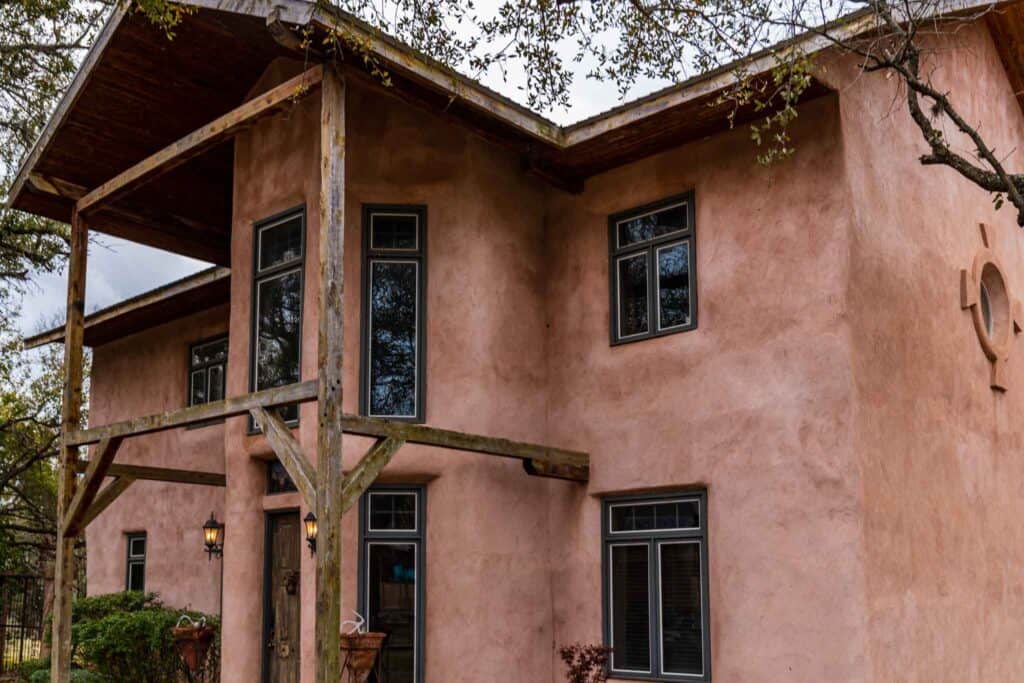 There's a gorgeous, covered porch with a corner fireplace, hanging plants, and cobblestone floors. A few feet away are some sunning chairs under the towering trees and a tiny fireplace for your comfort if you find your way out there on a cooler evening. Out back, among the foliage and several tiny waterfalls is a private hot tub overlooking the lake, feet from an expansive, covered grilling pavilion area with yoga mats.
The full and extravagant kitchen has all the bells and whistles you could want in a luxury home, plus a huge dining room with plenty of seating if you happen to make friends with your eco-cabin neighbors. The living area has yet another fireplace, a flat screen TV, and towering ceilings.
You'll find the main bedroom has a connected study and a private bathroom with a huge tub and another fireplace on the second floor. On the third floor, the meditation room is filled with native art and cushioned red benches, connected to an upstairs deck with a telescope for you to observe the stars at night.
Things to Do Nearby the Texas Eco-Cabins
The eco-cabins make it easy to enjoy swimming, paddleboarding, kayaking, and fishing with the lake just steps away from your front door. Meet your neighbors under the floating cabin on the lake and enjoy some AC without leaving the water. As you trek to the lake, don't miss the tiny waterfall!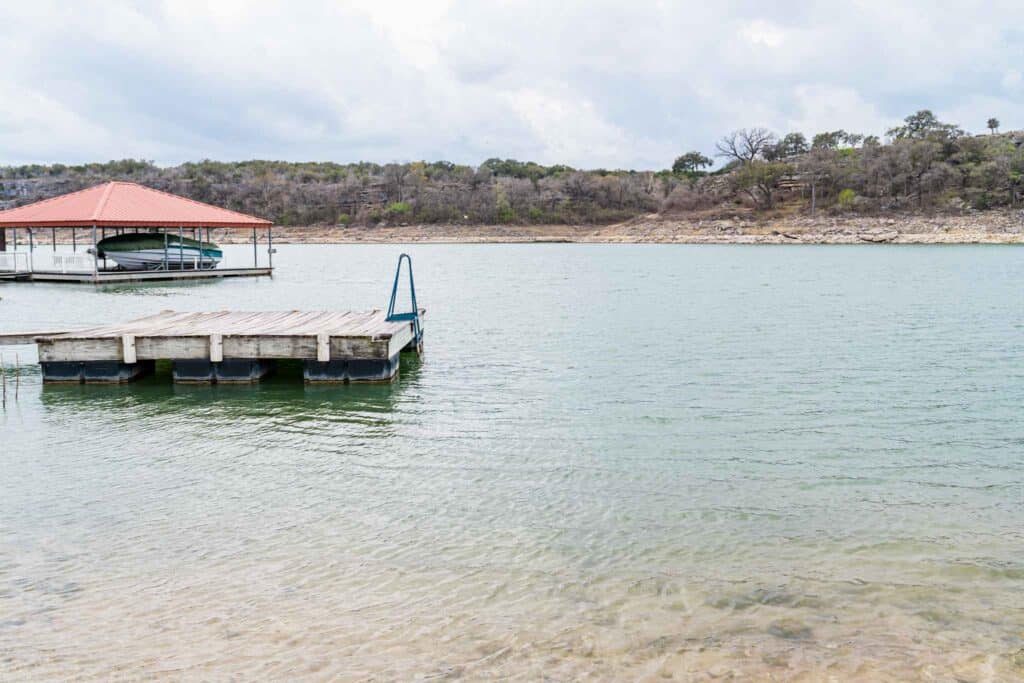 Yoga classes and massages are offered on-site. Nearby is the Stone House Vineyard, a local spot where you can participate in a wine tasting and pick out a bottle (or two) for later. The staff can recommend activities as well, like Cypress Valley Canopy Tours, ziplining, nearby restaurants, and the Hamilton Pool, just 45 minutes from the property along scenic backroads. Make sure to inquire about any packages that may be available during your stay!
Austin and Spicewood are only an hour away, with Pedernales State Park even closer (just 13-miles away).
Things to Keep in Mind During Your Stay
Take this as an opportunity to unplug and recharge, since there isn't Wi-Fi available. There are DVD's and games in the Funky Eco-Cabin, as well as a TV inside the Romantic Red Room, but consider bringing your kiddos' favorite toys if you have to keep them entertained indoors due to weather, etc. If you're wanting to stay mostly on-site, bring groceries with you. The Funky Eco-Cabin has kitchen appliances and dishes for you to use, while the Romantic Red Room just has a microwave and coffee maker.
Additionally, the property uses potable water, but because it comes from an on-site well, it's possible you may encounter a sulphureous odor. If you're traveling with smaller children, it may be useful to bring your own drinking water. Reservations for all three eco-cabins are for a minimum of two nights.
Funky Texas Eco-Cabin: Final Thoughts
These funky eco-cabins make for a great family vacation, a romantic getaway, or a trip with friends, as it makes it easy to put away your technology to take in the glories of nature and each other's company. Be sure to visit both Austin and Spicewood, only one-hour away (but totally worth it), for more adventures!