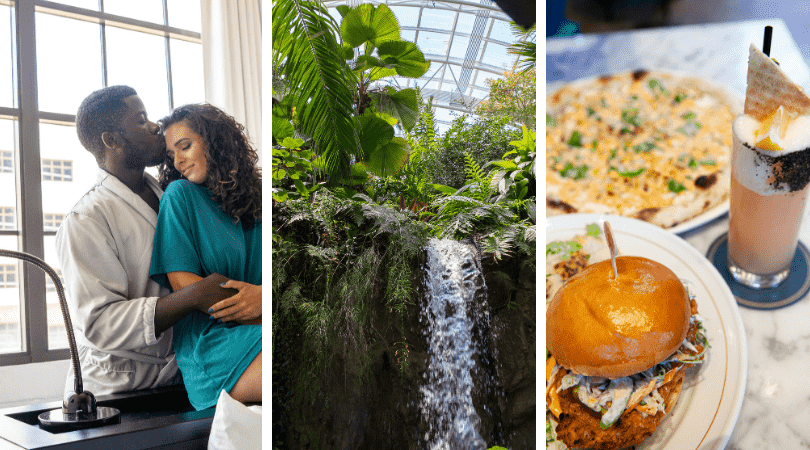 Thank you Hotels.com for making this article possible. As always, all opinions are my own.
Oklahoma City is such a beautiful place with so many fun & romantic things to do for couples! They have luscious romantic gardens and even fun thrills for that couple who likes more adventure. There really is something for every kind of couple. Keep reading to see all of the fun and romantic things to do in Oklahoma City and plan an OKC date night of your own!
One of my favorite things to do when planning an incredible date or couple adventure is to book a hotel and truly feel like we've gone far away. Sometimes it's not about going somewhere far, but doing a few small things to feel like you've gone far away to make things romantic. Oklahoma City has some unique and romantic hotels that have their own special experience for a romantic date for couples that can last all weekend!
P.S. Don't forget to check Groupon for savings on your OKC date!
OKC Date Ideas for Couples
1. Sleep in a Wagon – For a truly unique experience to bond over fun memories, including starry nights over a campfire roasting marshmallow, check out Orr Family Farms where you can enjoy quality time together as a couple in Oklahoma City and make one-of-a-kind memories. Find memorable stays like this and others for a romantic getaway!
2. Go for a Stroll in the Botanical Gardens – Just walking through a crystal greenhouse with greenery and flowers all around makes for a romantic date idea in Oklahoma City. Plus, check for special events!
3. Go White Water Rafting – If you're a couples who enjoys more adventure, then urban white-water rafting at Riversport adventures will make for the perfect OKC date!
4. Try Different Craft Beers – If you're into unique foodie experiences and craft beer, then head over to Bricktown Brewery for a fun date night in Oklahoma City. Bricktown Brewery is Oklahoma's first brewery, and they have so many unique brews from Wiley's One-Eyed Wheat to a blueberry ale that they even add a blueberry too.
5. Have a Picnic – Grab a blanket, some sandwiches from Stitch, and find a spot along the river at Martin Park Nature Center for a fun and romantic date idea.
6. Feed Parakeets – at the OKC Zoo and so much more! The OKC Zoo is such a great place with so many things to do for couples where you can pet stingrays, feed giraffes and parakeets, watch fun shows, and more.
7. Ride the Ferris Wheel – The Wheeler District in general is such a great spot for couples! They of course have the Ferris wheel, but they also have hammocks to relax in, food trucks, lawn games, and fun things going on any time!
8. Play Beach Volleyball – The Bricktown Beach is open during the warmer seasons and is the closest you'll get to a beach experience in OKC! But with sand volleyball, regular DJs, and popsicles to beat the summer heat, it makes for a fun date spot!
9. Go on a Cocktail Cruise – Watch the sunset over the water with a cocktail in hand. It doesn't get much better than that! Oklahoma River Cruises hosts special cruises including cocktail cruises for the perfect date!
10. Go Thrift Shopping – Pick a theme, a budget, and where you plan on wearing your thrift shop finds and see who finds the best pick! Head over to Plaza District which has so many cool thrifts finds or checkout your local Goodwill.
11. SMO 21 – The Science Museum of Oklahoma isn't just for kids! Enjoy adult science experiments, drinks, and a kid friendly museum at the fun themed SMO 21 nights. But let's be real, even during regular admission hours, this museum is still fun for couples!
12. Third Thursday's – At the Oklahoma City Museum of Art. While this is another fun place to go anytime, every third Thursday consists of live music, a rooftop terrace to enjoy food and drinks, and plenty of added activities.
13. Go for a Hike – I love discovering different trails and areas because it's a great active, and often free, date idea for couples! Some great places to go hiking in OKC include Bluff Creek Park, Stinchcomb Wildlife Refuge, and the Martin Park Nature Center.
14. Get Your Thrills – at Frontier City Six Flags Amusement Park. They've got all the adventure rides for those who want as much thrill as possible, and some more tame but just-as-fun rides and shows! The great thing about Frontier City is you can spend a whole day there or buy a season pass for multiple dates!
15. Enjoy Funky Museums – like the Banjo Museum, Skeleton Museum, Railway Museum, American Pigeon Museum, Motorcycle Museum, Toy and Action Figure, the Gymnastics Hall of Fame, Museum of Women Pilots, Horseshoeing Tools, Rattlesnake Museum, Telephone History, and Porcelain Arts Museum. You could spend weeks just exploring all the different museums!
16. Play Zombie Paintball – and visit the pumpkin patches at Orr Family Farm! There's nothing like love in a zombie apocalypse, right? In Fall you can enjoy fun activities and cute couples pictures at the pumpkin patch, and then go for something a little creepier as the sun sets. Are you the type of person to defend your loved one in the apocalypse to the end, or will you use them as bait to save yourself? Could be a true relationship tester!
17. Check out the Art Galleries – at Paseo Arts District where there are so many great, and often free, galleries, featuring local artists including the Art Hall, Little D Gallery, the Paseo Plunge, and many other art galleries!
18. Rock Out – with Michael Murphy's dueling pianos, a rock show that will get you involved in the fun and singing along together!
19. Go On a Bikes and Brew Tour – with RideOKC where you can enjoy the great beer and restaurant scene, get active, and learn about the history, art, and architecture of the city!
20. Look for Deer – at bluff creek park where there are miles of trails alongside a lake and stream and where wildlife is all around! In the spring there are also many pretty floral trees!
21. Recreate a Masterpiece – at the Contemporary Arts Center! They have a main gallery as well as regularly rotating galleries so you can see something new every time you visit. Take your OKC date night up a notch by choosing an art piece you can recreate either through photos or with products you have at home!
22. Visit the Lighthouse – There's something so romantic and sweet about a lighthouse, and at the East Wharf you can watch the sailboats pass by while sitting on a bench overlooking the water with a beautiful view.
23. Explore the Wonders of the World – Just a little drive outside of OKC (long enough to feel like an adventure, but short enough that you 're not far away) is the Sam Noble Museum where you can explore the 30,000-year-old history of those Native to Oklahoma, see world cultures, look at the world's largest Apatosaurus, and discover so many other unique finds!
24. Go on a Braum's Ice Cream Tour – Tour the farm to see where ice cream is made and watch them in the process creating all those sweet goodies. Then enjoy a tasty treat together!
25. Escape the Room – Escape Rooms are often done in groups which make for great OKC double dates, although there are some you can do in groups of two! Escape Rooms are also great because they are all about problem solving and working together under pressure which are essential in a relationship! The Escape OKC has affordable options for couples wanting to escape together as well as group options. Red Door Escape is also another really great one that feels immersive because of all the work they put into decorating the set!
26. Mini Golf at Bricktown – Brickopolis is a fun little spot in OKC where you can challenge each other to mini golf and the winner gets to choose which happy hour spot on the river walk the couple can visit after! Make it even more fun with a little challenge or task for the loser at each hole!
27. Catch a Show, Ballet, Symphony, etc. – OKC has an incredible performing arts scene that you don't want to miss out on! Nutcracker is always a favorite ballet during Christmastime, but don't skip out on the lesser-known performances that are always a surprise and with their own unique features! There's even Broadway shows that can be seen right in OKC! Even if the symphony isn't on your list, you might want to check out some of the unique performances such as movies in concert like Star Wars, the music of Queen, and Cirque la Symphonie, a cirque-du-soleil styled show that goes on while the orchestra performs music to accompany it!
28. Fly – If you're up for a little thrill without the risk, try indoor skydiving at iFly! Now if you're the couple to go skydiving together, then by all means go for it! For me, I'll stick to doing flips in the air just a few feet above the ground rather than falling from thousands of feet above!
29. Throw Some Axes – Bad Axe throwing is a cool new spot where you can learn a new skill, enjoy a beer, and try all different cool kinds of axes!
30. Enjoy a Day at the Spa – Sweet Mimosa offers couples massages for a chance to relax and unwind together!
31. Visit a Vineyard – Wandering through vineyards and trying different varietals of wine is my kind of OKC date! There are several different vineyards and wineries around so you can space them out or rent a car service and pretend you're in Napa Valley! Make sure to check out Strebel Creek Vineyard, Water's Edge Winery, Put A Cork in It, and Coal Creek Vineyard.
32. Find the Speakeasies – Yeah. I could tell you where they are and how to get in, but that would ruin part of the fun!
33. Shakespeare in the Park – Outside of the Myriad Gardens, you can enjoy an outdoor performance of Shakespeare during different parts of the year.
34. Go Bowling – Challenge each other to see who can get a strike first, come up with your own silly rules like you can only bowl backwards, and enjoy that good old bowling food for this OKC date night.
35. Catch a Game – Oklahoma City is home to the OKC Thunder (basketball), Oklahoma City Barons (ice hockey), and OKC Dodgers (baseball). Plan a sports date night catching a game. Even if you're not normally a fan, you might find yourself cheering your team on! Or try watching something a little difference like the OKC Victory Dolls Roller Derby!
36. Watch a Comedy Show – Head over to Bricktown Comedy or the Loony Bin Comedy Club to laugh together. Both places feature local, as well as national, talent and even open mic nights if you want to try your hand at comedy.
37. Horse Riding – Enjoy time spent together by riding through beautiful trails and along the river with Honey Lee Ranch.
38. Dave & Busters – Games are always a good idea for a fun date idea! Challenge each other to see who can earn the most tickets, race each other in those cars, and go back to those days of simply playing!
39. Try Stand Up Paddle Boarding – at River Sports OKC! Will you both be able to stay standing or will someone fall into the water?
40. Play Arcade Games – We've already established that games are fun, but let's go back in time with those games at Flashback RetroPub where you can enjoy drinks and free play of some of the classics like Mortal Kombat, Pac-Man, and other 80s arcade games!
41. Go for a Food Tour – Explore OKC together through taste! Find a place to start off with for appetizers, jump to another for a meal, and end in a final spot with dessert.
42. Go on a Dinner Cruise – Enjoy a romantic Oklahoma City date with drinks in hand while watching the sunset over the water.
43. Get Crafty – With one of the art workshops at ArtSpace Untitled. They provide the type of art classes you might not find anywhere else like etching, fiber arts, and other unique skills.
44. Kayak on the River – At Riversports OKC you can have an active date while enjoying nature!
45. Zip Through the Air – Get your heart racing by ziplining across a river and even race each other ziplining at the Overholser Boat House.
46. Go Wake Boarding – Learning to wake board might be harder than you think, and it's a fun way to stay active and maybe laugh at the other face planting.
47. Go to a Blues Bar – Enjoy some nice blues music while sitting out on the patio overlooking the canal.
48. Catch the Best Views – at O Bar and grab a drink together with the best rooftop bar in OKC!
49. Paint Some Pottery – Enjoy doing something creative together where you can take your creation home as a memory of your OKC date. Paint'n Station lets you come in and paint all sorts of cool items from mugs, figurines, and other fun trinkets.
50. Make Stained Glass – Or learn a new skill like stained glass art over at Prairie Arts Collective in the Paseo District.
51. Watch a Movie – But rather than Netflix and chill or just heading to the movie theater, drive on over to Winchester Drive-in for a drive-in movie theater experience!
52. Rock Climb Silos – Can you climb to the top of the 90-foot silo at Summit Climbing?
53. See the Animals – Meet kangaroos, tigers, lemurs, and all kinds of other animals at the Tiger Safari.
54. Learn Parkour – It's always fun to learn together! Oklahoma Parkour is a gym where you get to jump and climb all over things!
55. Go Ice Skating – You'll have to hold hands to stay warm while circling the rink. There are multiple skating rinks in OKC to enjoy including Devon Ice Rink and the Blazers Ice Centre.
56. Dance Like It's The 1920s – Swingout OKC has dance lessons and socials to learn the Lindy Hop, the Charleston and other forms. Swing dancing is always a very lighthearted and social environment where people of all skill levels come together. You don't have to worry about having two left feet as it's a judgement-free zone.
57. Go Golfing – You can go golfing but without the task of having to retrieve the ball and while enjoying food and drinks at Top Golf! They have different kinds of games from trying to hit the targets, who can hit the ball the farthest, virtual golf courses, and more.
58. Salsa Dance – Salsa OKC has a whole list of Latin nights including classes, socials, and Latin clubs to enjoy a romantic evening of dancing together!
59. Fly in the Sky – Get the best views of OKC from the air by taking part in a hot air balloon ride at Free Spirit Balloons during the cooler seasons.
60. Join the Circus – The Circus Warehouse has all sorts of great classes for couples in Oklahoma City looking to learn a new skill! From flying trapeze, ropes, contortion, and other circus skills! There's a lot of trust involved when you get to the stage of duo flying trapeze and you have to catch the other!
61. Learn Glass Blowing – Blue Sage Studios has glass blowing date nights where you get to create an ornament or flower that you can take home.
62. Attend One of the Amazing Festivals – There's always something going on in OKC from film festivals, the Oklahoma State Fair, Red Earth events, and so much more. Make sure to check their website to see if there's anything going on that would make for a fun date!
63. Turn it Into a Staycation – Make your OKC date night even more special by booking a hotel. The great thing about staycations is that you don't have to worry about the long drive, but still feel like you've gotten far away. Plus, OKC has so many unique and romantic hotels that have their own special experience.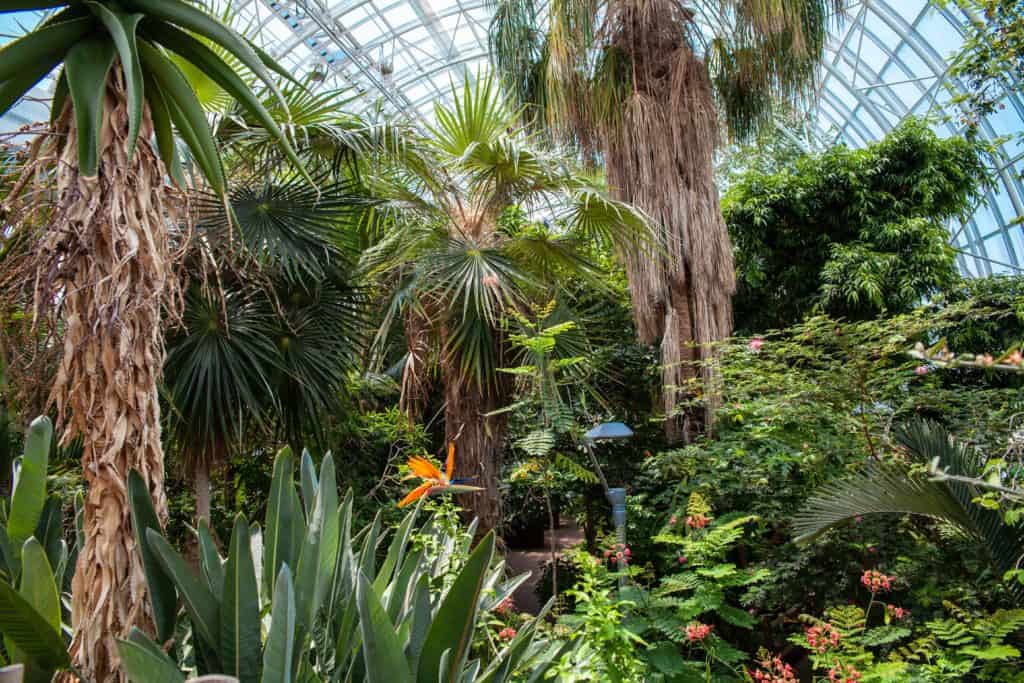 There really is no shortage of fun, romantic, adventurous, and budget-friendly date ideas in Oklahoma City! Feel free to pin this for later so you can hold onto it! Did we miss any note-worthy Oklahoma date spots? Leave a comment so we can add it in!