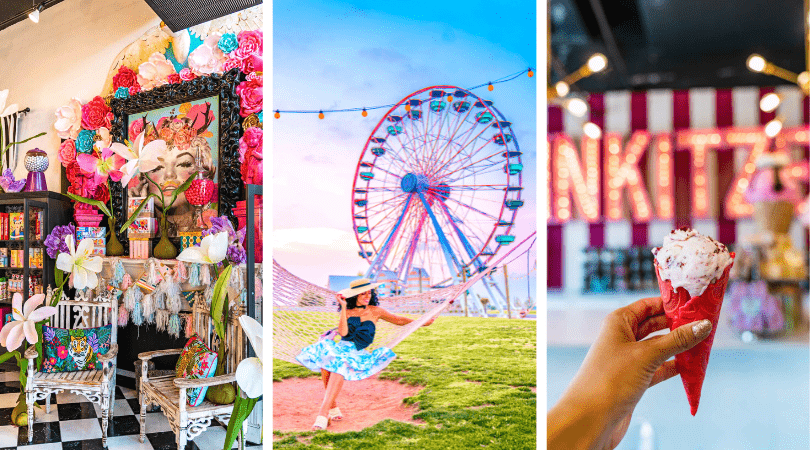 If you're headed to Oklahoma City anytime soon (or are looking for the perfect weekend getaway), this 3-day OKC itinerary is for you! Take an urban whitewater rafting trip, eat pancakes shaped like Oklahoma, or relax with an Old Fashioned at a 7th-story penthouse bar. From delightful restaurants and bars to engaging museums and activities, there are so many fun things to do in beautiful OKC! Here's a curated 3-day itinerary featuring some of the best spots in town for the perfect weekend in Oklahoma City.
Day 1 in OKC
10:30am: Breakfast at Harvey Bakery & Kitchen
Harvey Bakery & Kitchen is the perfect spot for breakfast and offers delicious toasts, sandwiches, coffee, and more. Breakfast is served until 11am, and on Fridays and Saturdays they serve brunch all day! You'll love grabbing a bite to eat in this restaurant's welcoming atmosphere.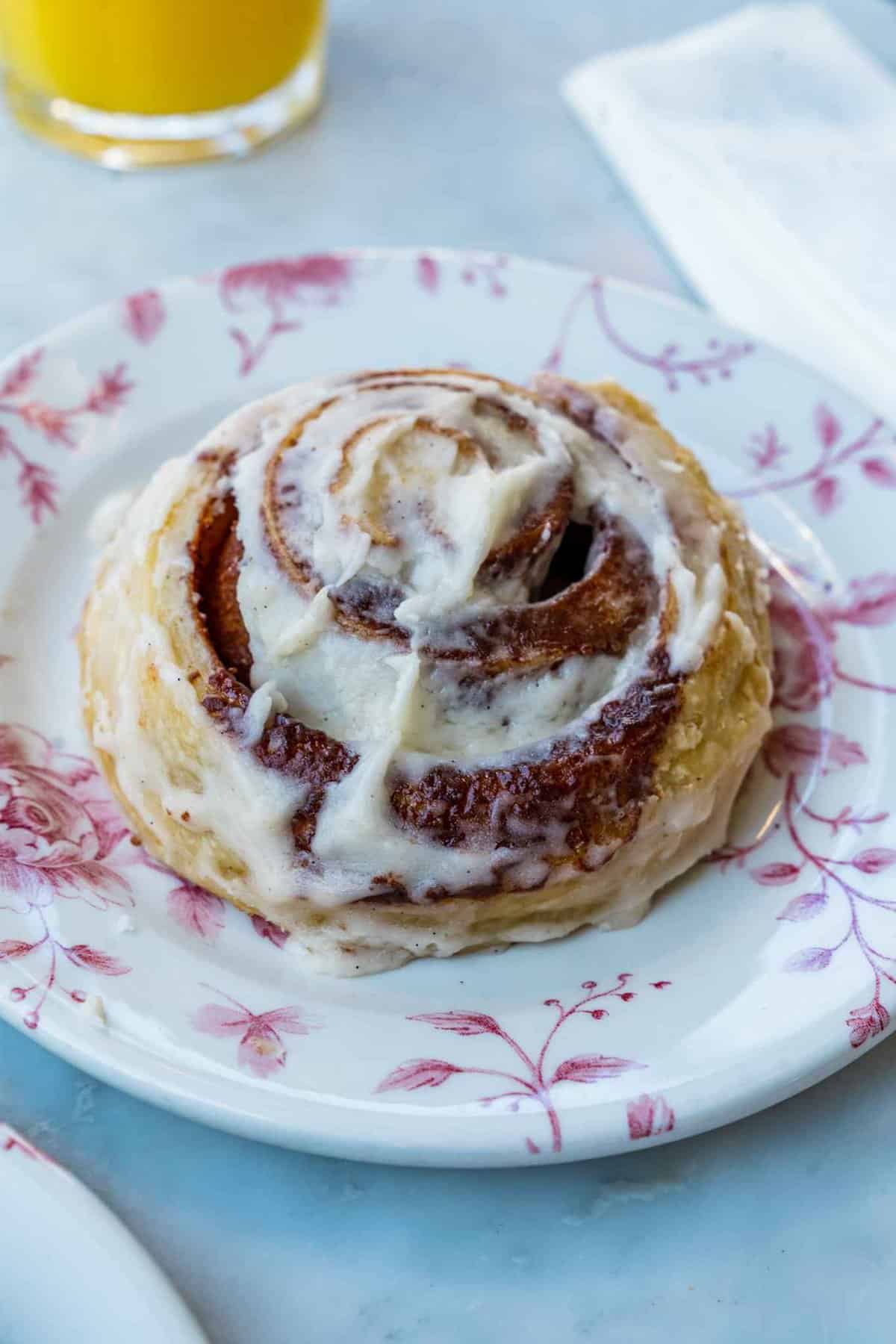 12pm: Water Rafting & Indoor Skiing at Riversport OKC
Plunge into adventure at Riversport OKC where you can take a class II-IV urban whitewater rafting trip or hit the infinite ski slope that can go from a blue run to a black run within seconds! No matter what you choose, you're sure to catch an adrenaline rush on your weekend in Oklahoma City.
4pm: Visit the First Americans Museum
Many Native people were brought to Oklahoma by force as part of centuries of cruel colonization. The First Americans Museum takes you through the atrocities, past and present, the distinct cultures of the 39 tribal nations, as well as the artifacts and stories of those who have lived here for thousands of years. You'll leave with a greater appreciation for the expansive diversity and history of the area.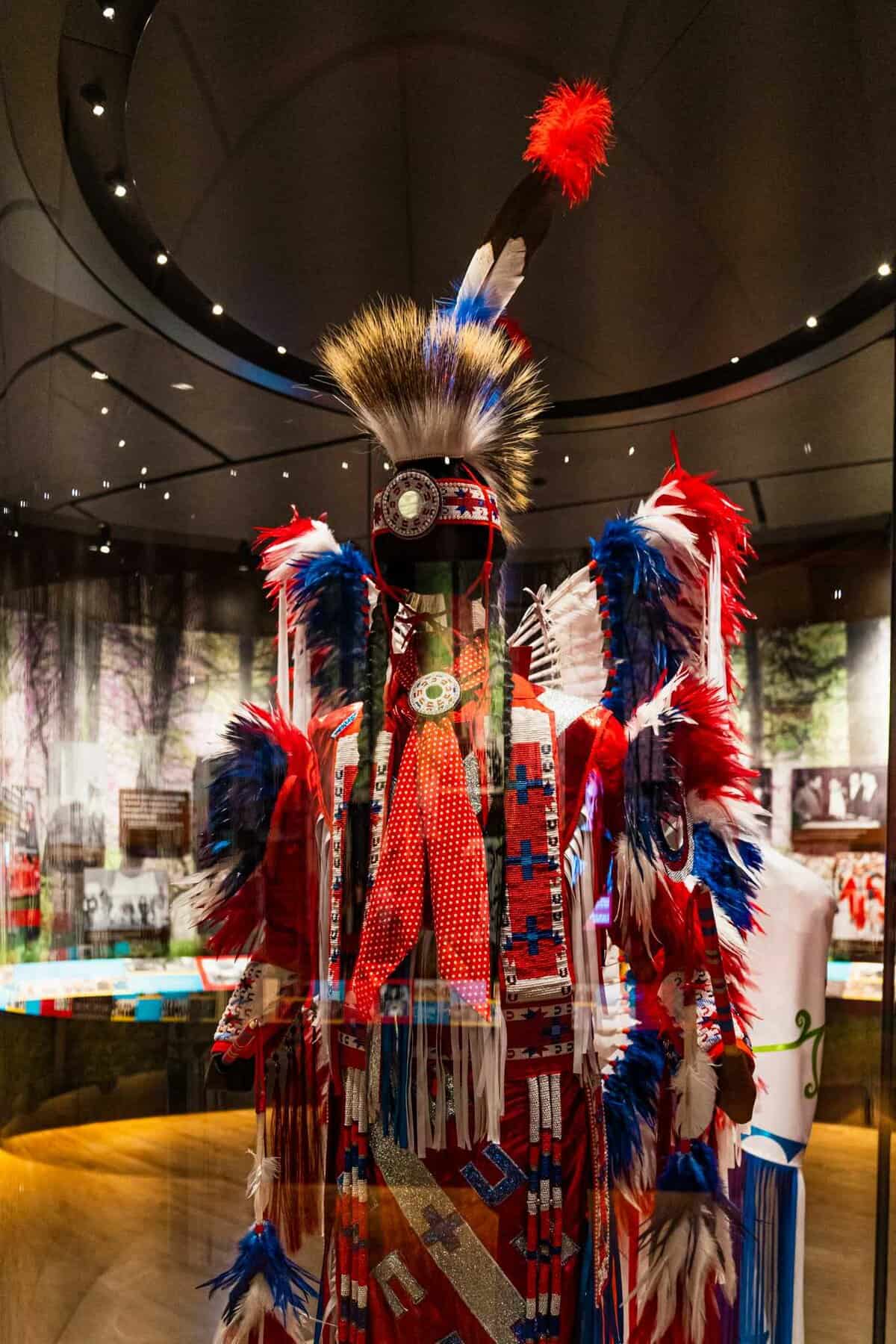 5pm: Drinks & Games at FlashBack RetroPub
Transport yourself to the '80s at FlashBack RetroPub! This nostalgic, '80s-themed spot offers signature drinks like the Moonwalker (vanilla vodka, Kahlua, and half-and-half), and delivers plenty of entertainment. You can purchase drinks or pay an admission fee and get access to all of the different games, like Atari, Tekken, original PlayStation games, and more!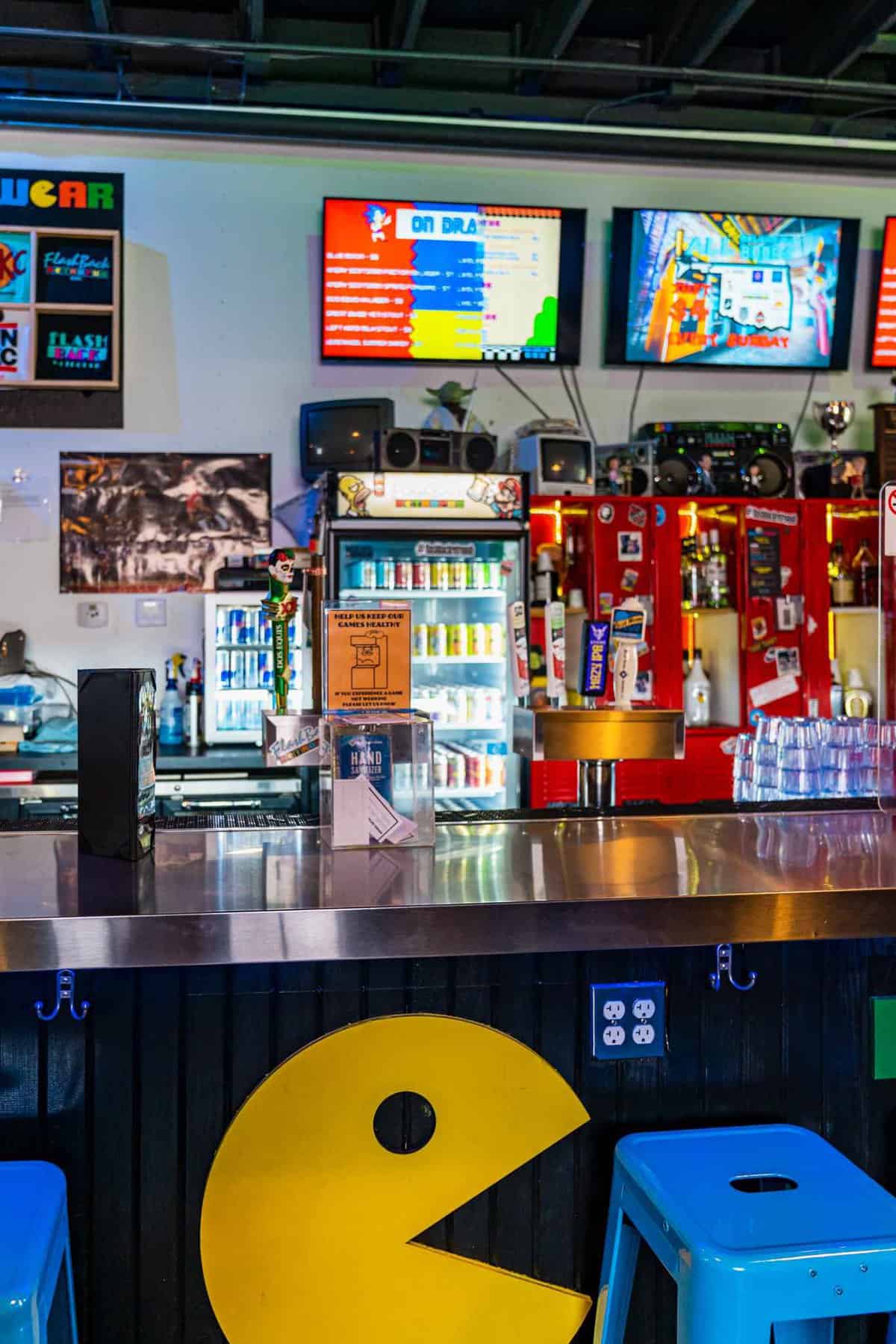 6pm: Dinner at Barrios Fine Mexican Dishes
Barrios Fine Mexican Dishes serves delicious food in a stylish, vibrant atmosphere. Try the Lamb Barbacoa Tacos (soft hand-pressed shell, Cotija cheese, salsa verde, and fried onions) or the Spicy Peanut Kale Salad (kale, spicy peanut crumble, sun-dried cranberries, Cotija, harvest vinaigrette, and crispy tortilla strips). And don't forget to order an Old Fashioned "Cheech & Chong," served tableside in a smoked skull bottle with skull-shaped ice!
Across the street from Barrios, there is a park with free bocce ball to close out the first day of your perfect weekend in Oklahoma City.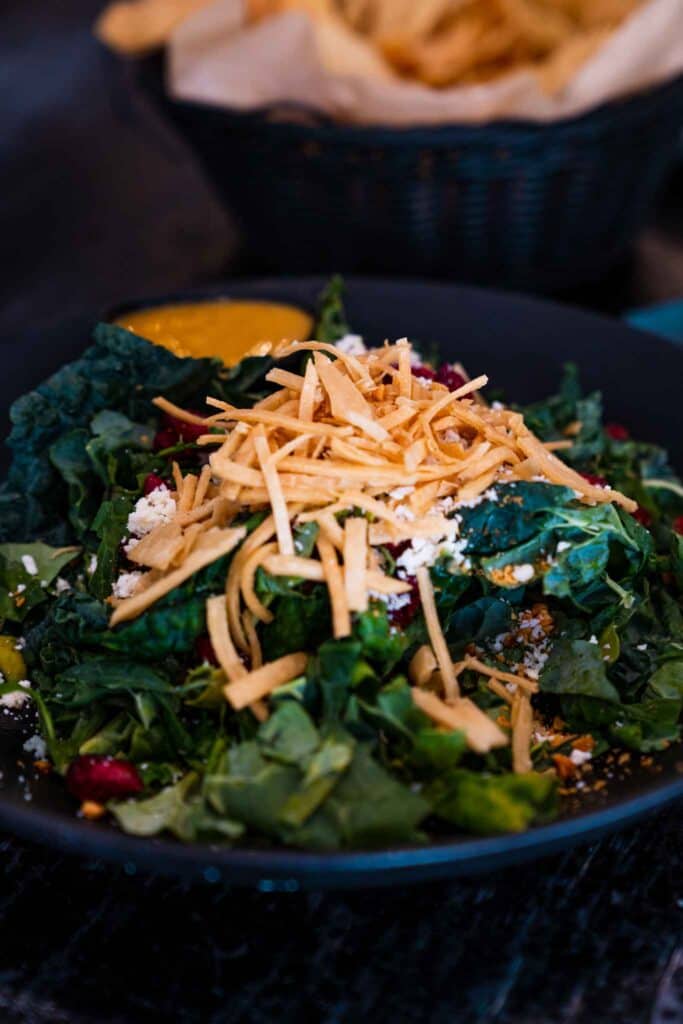 Day 2 in OKC
9am: Breakfast at Café Kacao
For a Guatemalan and Latin-themed breakfast, head over to Café Kacao, known for being one of the top 100 restaurants in the U.S. Once you take your first bite, it is easy to see why. They have a rotating list of decadent pancake flavors, including their Mango Pancakes (mangos, berries, Lechera sauce, and blackberry bourbon sauce), and other items like the "Tikal" Plate (scrambled eggs, grilled flank steak, and Longaniza, along with sides). If you need a little pick-me-up, you can also try the Tortoise Chai, the Abuelita Latte, or choose from family recipes like motuleños, pupusas, and more! Keep in mind Café Kacao does not take reservations, but they do have a waitlist through Yelp.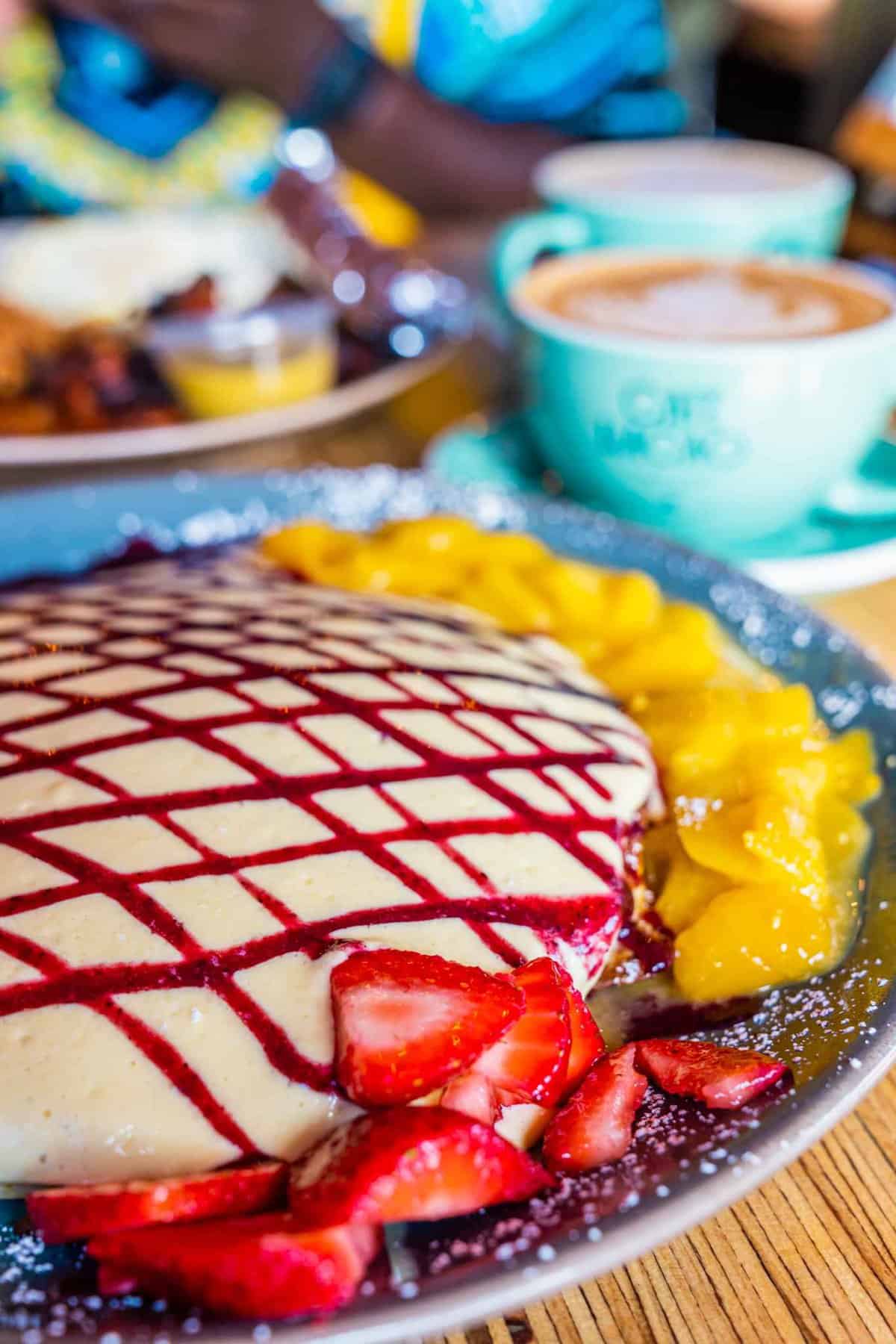 12pm: Lunch at Bradford House
Bradford House is a vibrant and stylish boutique hotel with an all-day cafe open to guests and the public, upon reservation. Savor the Caprese Breakfast Sandwich (30th Street Market Focaccia, basil pesto, marinated tomatoes, and everything bagel farmhouse cheese), sip on the "Original Dragon Well" (green tea served in Imari Reserve Tea Pots), and choose from unique pastries like cherry danishes, monkey bread, chocolate babka, and Kardemummabullar (a Swedish cardamom bun) at this lovely spot in Oklahoma City.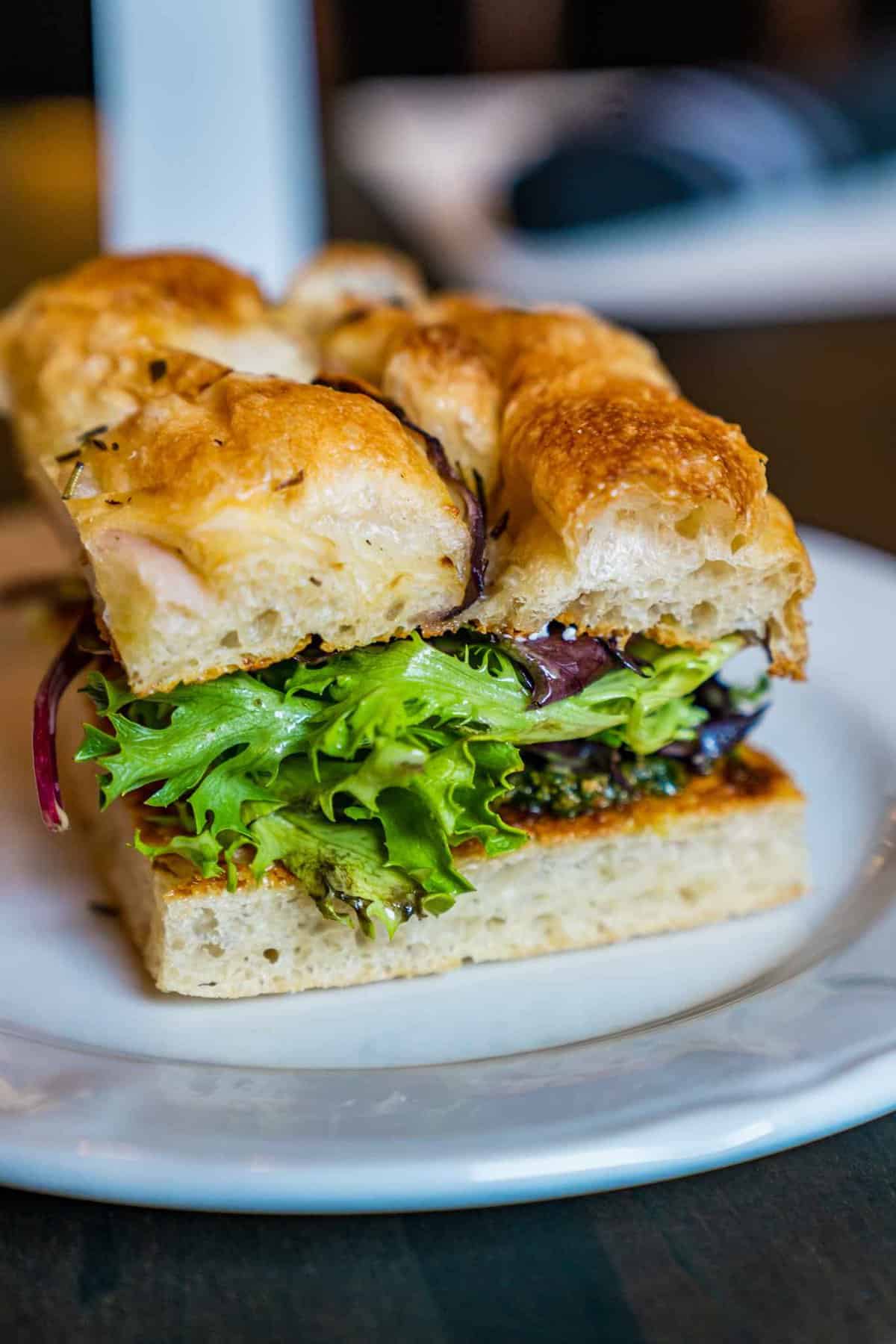 1:30pm: Ride the Bricktown Water Taxi
Bricktown Water Taxi is a fun and unique way to explore downtown OKC! In charming yellow and green colored boats, you can take a narrated boat ride that relays the history of the area and provides for plenty of fun through the picturesque canals of the Bricktown Entertainment District. You can also hop on the water taxi to get to your next stop, the Myriad Gardens, which is only a short, 5-minute ride!
2pm: Visit the Myriad Gardens
The Myriad Botanical Gardens is an expansive garden and urban park located in downtown OKC. Free and open to the public, the garden provides a variety of plants, vegetation, and interactive features to explore. The grounds are full of fun things to do, including a carousel, water fountains, and a children's garden, perfect for families.
3pm: Eat Sweets at Pinkitzel
You'll find pink everywhere at Pinkitzel! It'll satisfy any sweet tooth with pink cupcakes, candies, handmade macarons from France, cotton candy, and more! They even have pink ice cream, ice cream cones, and sparkling pink lemonade that is just as refreshing as the store's colorful and eccentric vibe.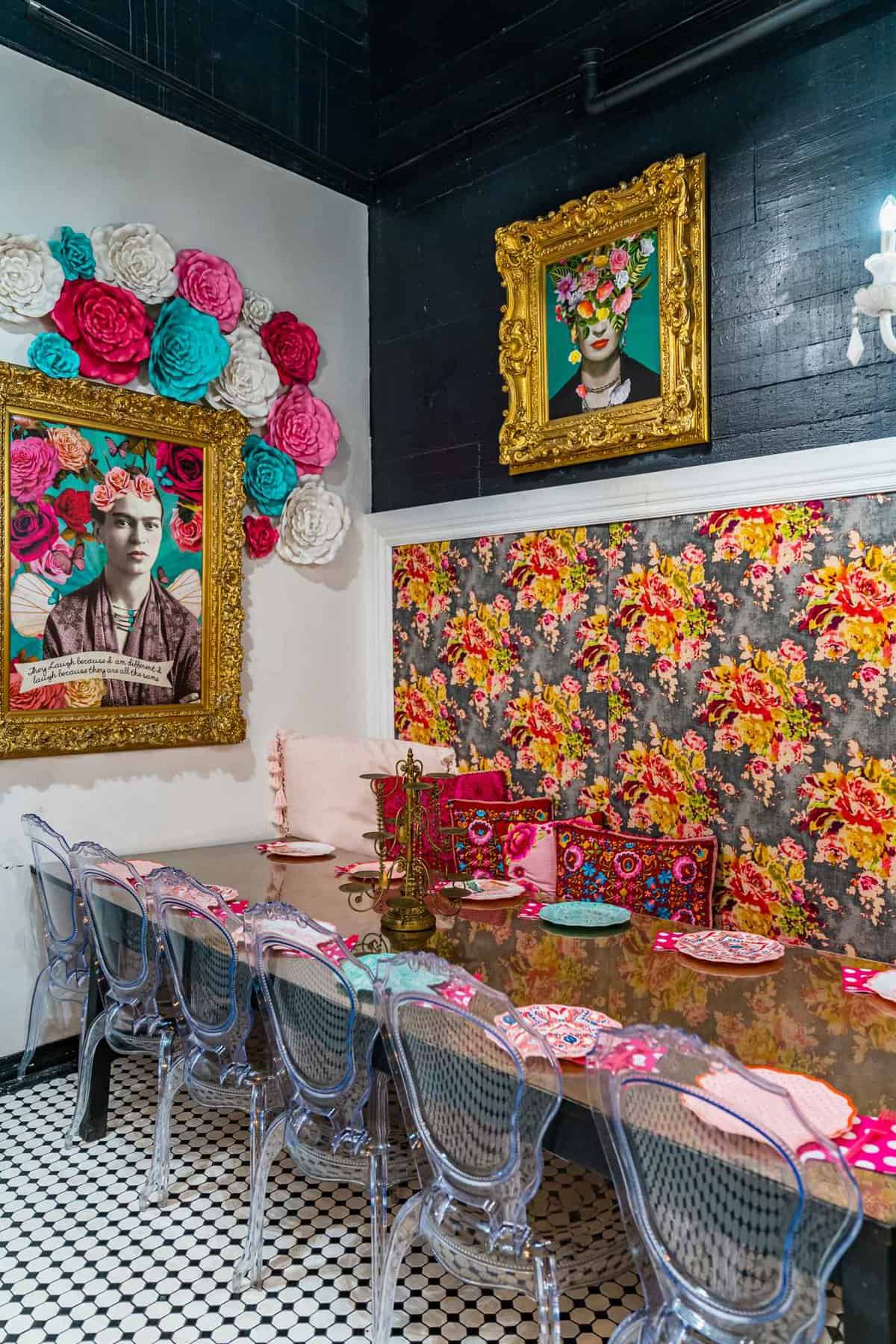 3:30pm: Visit the 21c Museum Hotel
The 21c Museum Hotel encompasses a boutique hotel, restaurant, and a striking contemporary art museum with numerous exhibits and art installations that seek to inspire during your weekend in Oklahoma City. The museum offers free tours to the public every Tuesday at 6pm (upon reservation) or you can take a self-guided tour any time.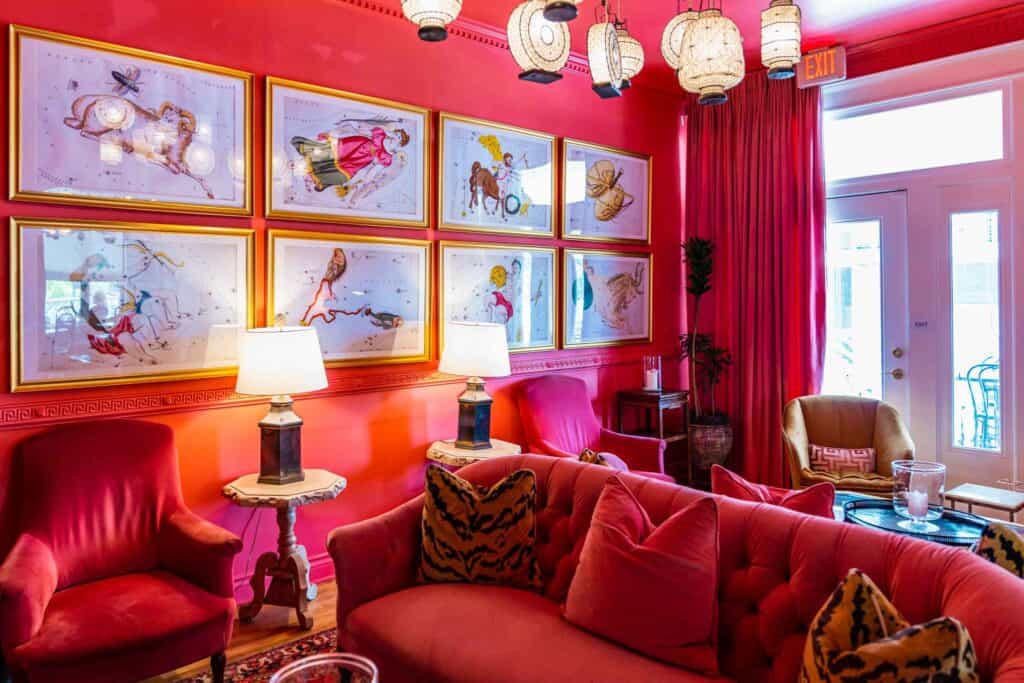 5:30pm: Dinner at La Brasa
La Brasa serves up delicious Peruvian cuisine and craft cocktails in a whimsical, bohemian atmosphere. Try the Tuna Ceviche (AAA grade Saku Tuna, green onions, avocado, roasted garlic, fried onions, jalapeños, Peruvian spiced ponzu, and plantain chips) or the Peruvian Ribeye (grilled 12 oz Black Angus ribeye, Parmesan whipped potatoes, egg, and plantains). Pair the Lychee Old Fashioned (rye whiskey, lychee syrup, cherry, orange, bitters, and garnished with lychee fruit) or the Mezcal Old Fashioned with your appetizing meal.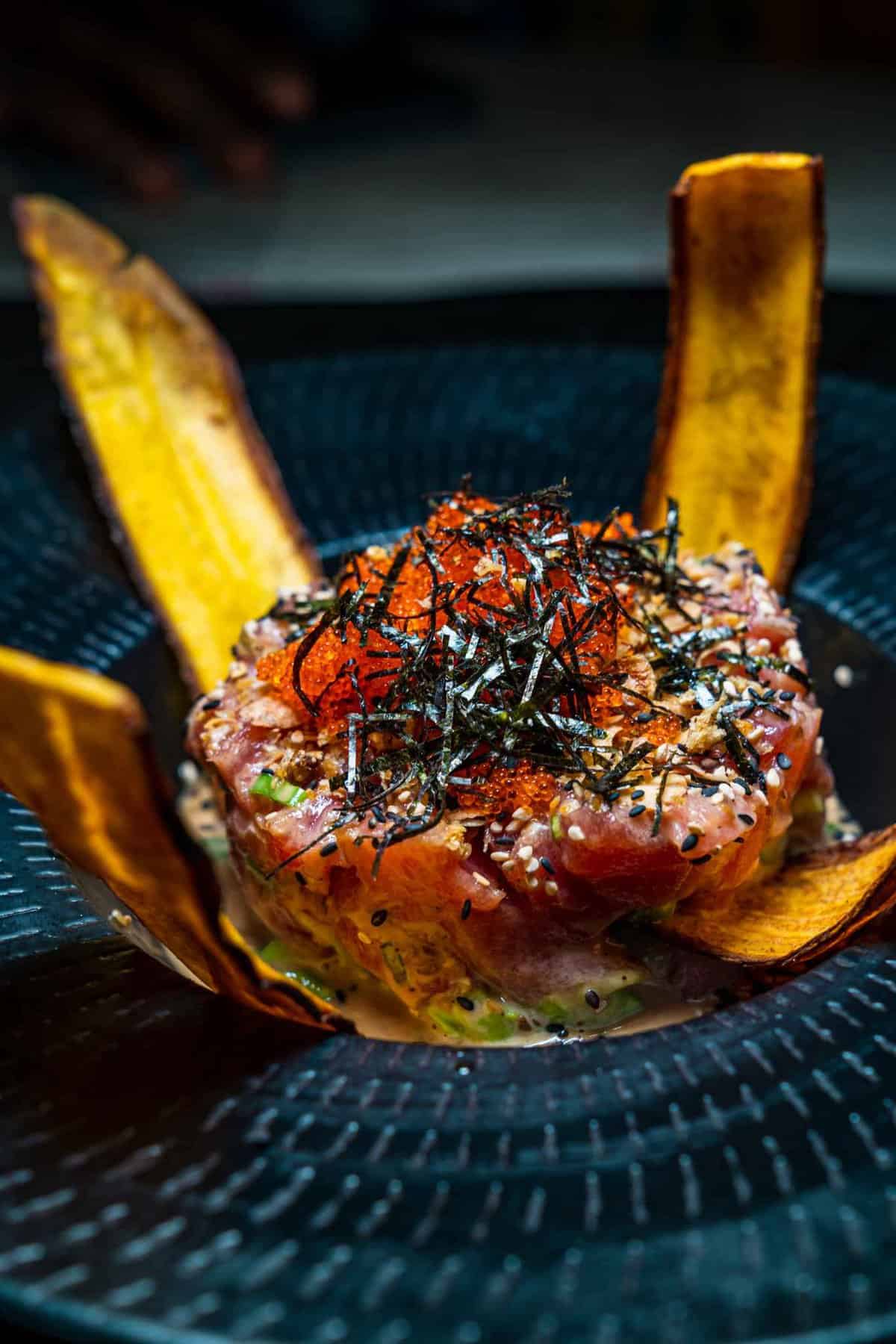 7pm: Have Drinks at O Bar
Located on the 7th-floor of the Ambassador Hotel and boasting dazzling city views, O Bar serves drinks in an elegant and stylish atmosphere, making it a great itinerary item on your list of things to do in Oklahoma City. Enjoy the Casa Azul (tequila, St. German liqueur, lime juice, simple syrup, Crème de Violette, and cardamom bitters) or the Lawrenceburg Old Fashioned (pecan-infused Wild Turkey 101 Bourbon, honey syrup, cinnamon bitters, and orange bitters) while you take in the sunset.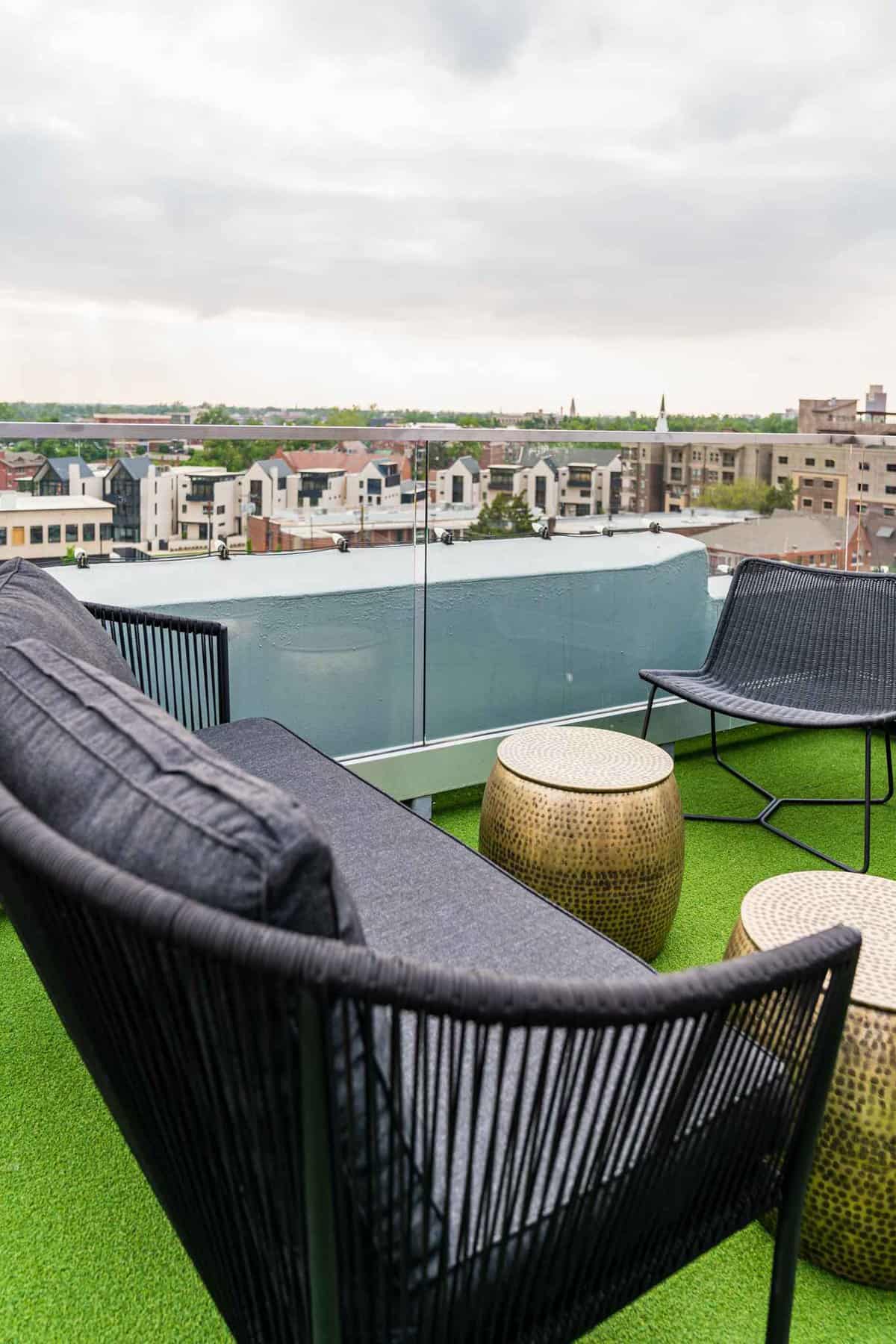 8pm: Ride the Wheeler Ferris Wheel
The Wheeler Ferris Wheel, a 100-foot-high Ferris wheel originally from Santa Monica Pier, provides stunning views of the city and the Oklahoma River. Open 4pm to 9pm, you can appreciate the way the sun looks as it sets; a great way to end another day in OKC!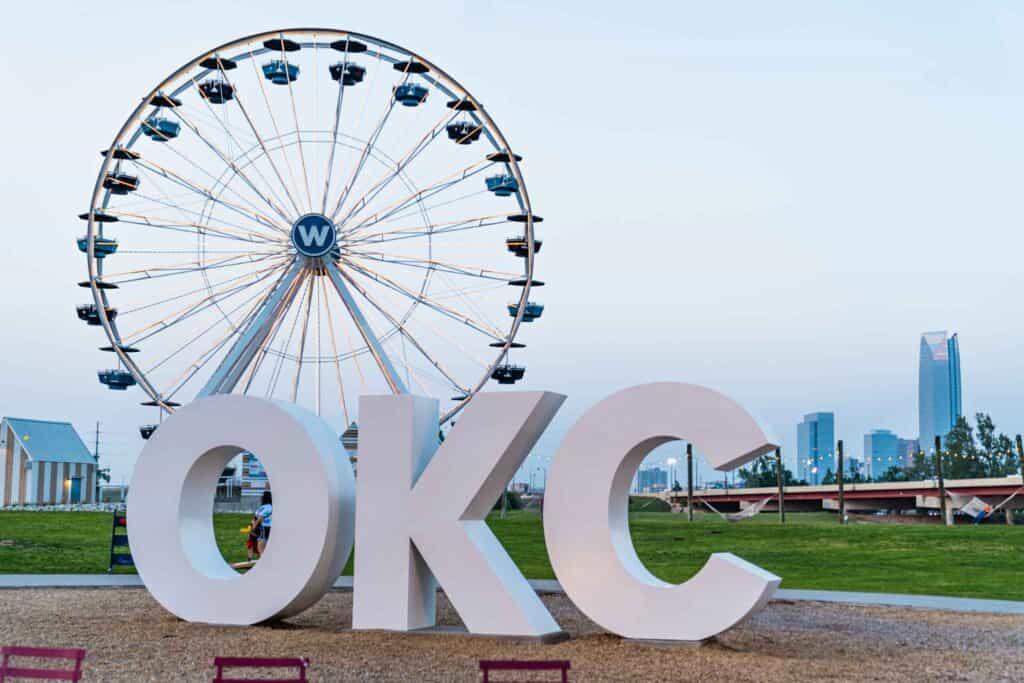 Day 3 in OKC
9:30am: Breakfast at Hatch Early Mood Food
For a breakfast you won't forget, head over to Hatch Early Mood Food. In this vibrant, modern restaurant, sip on the Frigid Baboon Coffee Cocktail (Skrewball Peanut Butter Whiskey, Bailey's Kahlua, and an espresso shot with cream) while you savor the Coyote Omelet (grilled Duroc ham, chorizo, sautéed peppers and onions, smoked cheddar, Christmas Sauce & Cotija cheese). Or butter up the Famous PanOKCake (a pancake made with a sweet cream batter, bacon, local pecans, a bourbon maple glaze & mascarpone butter), which comes in the shape of Oklahoma!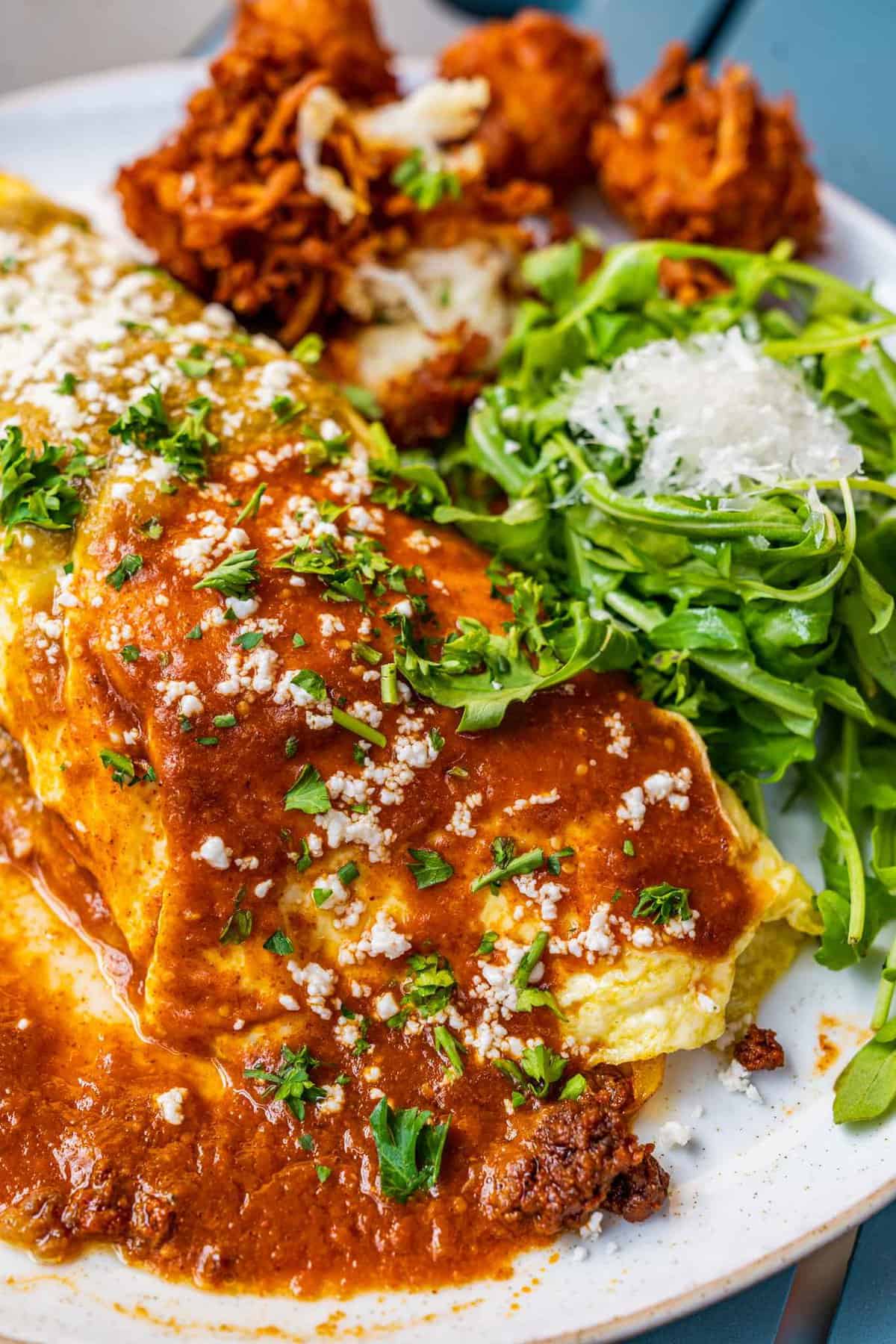 11am: Check Out the Factory Obscura
The Factory Obscura is colorful, bold, and has something new at every turn! This collection of local art features numerous engaging installations and exhibits that immerse you in art. During your perfect weekend in Oklahoma City, don't forget to use the diffraction glasses provided to you for an even more exciting and colorful experience!