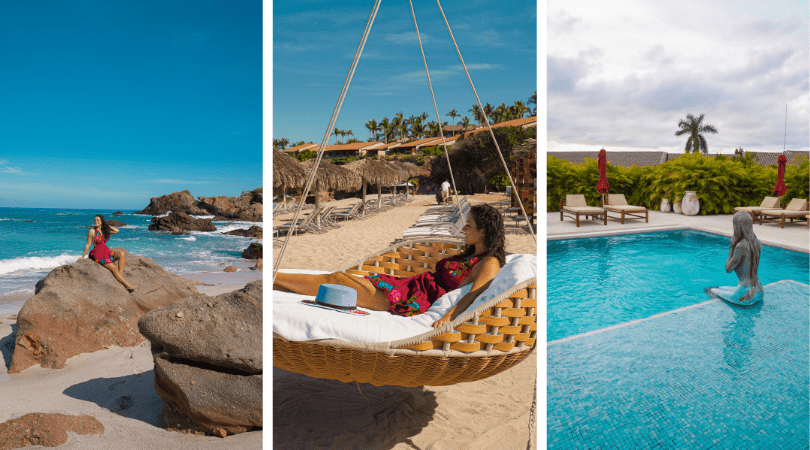 The Four Seasons Resort Punta Mita is located on a 500-acre, private peninsula on the northern end of Banderas Bay (see the difference between Punta Mita and Punta de Mita here). Additionally, it's only 10 miles from Puerto Vallarta and the nearest airport, Puerto Vallarta International Airport, is just 50 minutes away.
Although the Four Seasons is secluded, the hotel has done a great job of providing attractions and entertainment to hotel guests that showcase the area's culture and traditions.
When we saw all the Four Seasons had to offer, we signed up for activities like releasing sea turtles into the wild, blending our own tequila, learning about Huichol art, cooking classes, kayaking, relaxing in the lazy river, and more! While there, make sure to also explore all of the amazing things to do in Punta Mita.
Want to be more prepared before your trip? We've been using the Rosetta Stone app! It has 5-10 minute lessons all on your phone with visual and audio cues to help you learn quick! Join Rosetta Stone now and get 50% off your lifetime subscription!
The Welcome
As soon as we stepped foot inside the Four Seasons in Punta Mita, we realized we were in for a treat. The staff handed us complimentary Mango Chamoy drinks with an optional complimentary tequila while we waited in the lounge for the front desk staff to check us in.
The lobby would have been a good indication of how impressive our room was going to be, with the oceanfront property, palm trees, outdoor swimming pools, and beach lounges, and yet we were still blown away once we reached our room.
The Rooms
We stayed at the three-bedroom Ocean Residence, which was a dream brought to life! We can only describe the residence as spacious. Even though it was just us two, the place would've been comfortable for an entire family.
The condominium, for lack of a better word, was spacious and modern, decorated with contemporary, Mexican, coastal artifacts and regional Huichol art. It featured two master bedrooms, one regular bedroom, a living room with plenty of seating, a dining room, and a full kitchen. Additionally, we had a private terrace and a private plunge pool.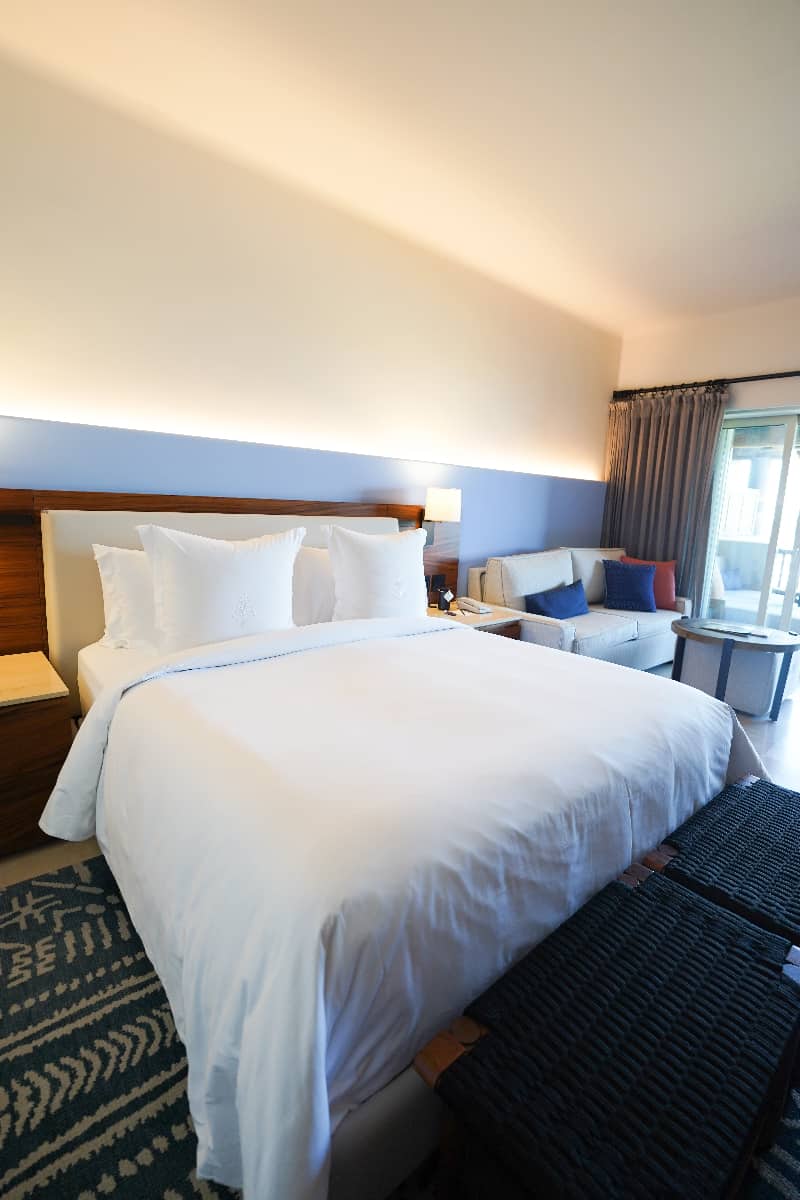 We took the master bedroom with a king-size bed and an ocean view, which we took full advantage of in the mornings, when we watched the sunrise from our bed with a cup of coffee in hand. The guest rooms also had beautiful ocean and garden views.
There were also three, full ensuite bathrooms with tubs, large enough for two people, and outdoor showers. All the private bathrooms had L'Occitane toiletries, waffle-weave bathrobes, and hair dryers.
The rooms had complimentary wifi, flat-screen satellite TVs with cable channels in each bedroom, air conditioning, a safety deposit box, a clock radio with iPhone docking station, room service access, a private refrigerated bar, and a coffee machine and tea maker.
The Oceanfront Views
Let me tell you more about that view! The oceanfront view at the Four Seasons is unique; rocks line the shore, and you can hear the waves crash all day and night. This is heaven for those who need a sound machine to sleep at night, and for those who don't like to be tossed and turned around in the ocean, there is a private infinity pool perfect for skinny dipping at night (wink-wink)!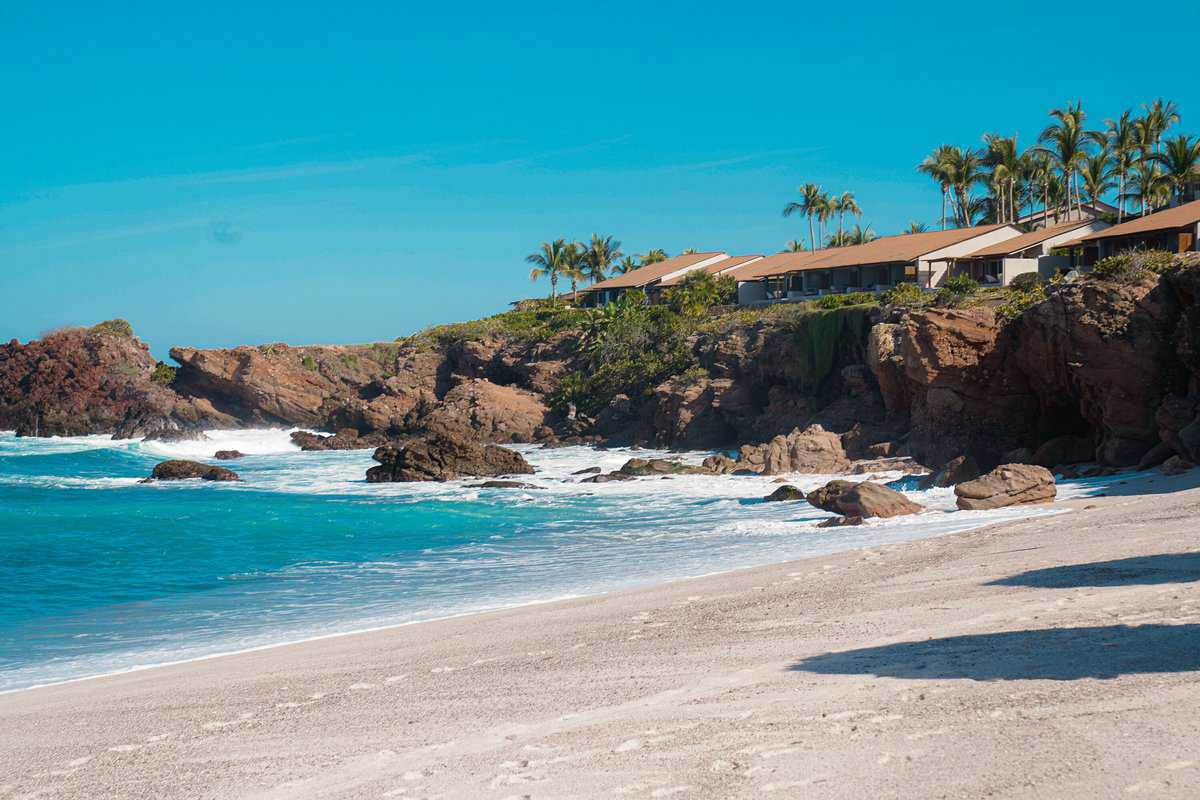 A Few of Our Favorite Things
Our favorite things about our condo were the complimentary margarita kit and tequila, a recipe book for drinks and all the fixings needed to make your own drink, a small doll known as a Quitapena, or a Worry Doll, handmade bracelets, and the Huichol art. They even had cute tote bags and umbrellas we could bring to the beach and pool for convenience. Everything was so well thought out!
Our booking also included 24/7 access to the front desk, cultural classes, snorkel gear, kayaks, sunscreen at all beaches and pools, access to the pools and lazy river, an afternoon ice-cream cart, transfers between the resort and the golf clubhouse, bicycle rentals, and personal use of a six-person golf cart for easy transport.
The Beach
One side of the Four Seasons with beach access is rocky. The waves are a bit rough, but that's the nature of the Pacific Ocean; you can still swim there or lay back in the sand.
On the other side is Playa Manzanilla, which has some rocky areas and is not ideal for swimming. However, it's an excellent spot for pictures, where the water is so clear! It's incredible! Bring water shoes if you want to explore the rocks!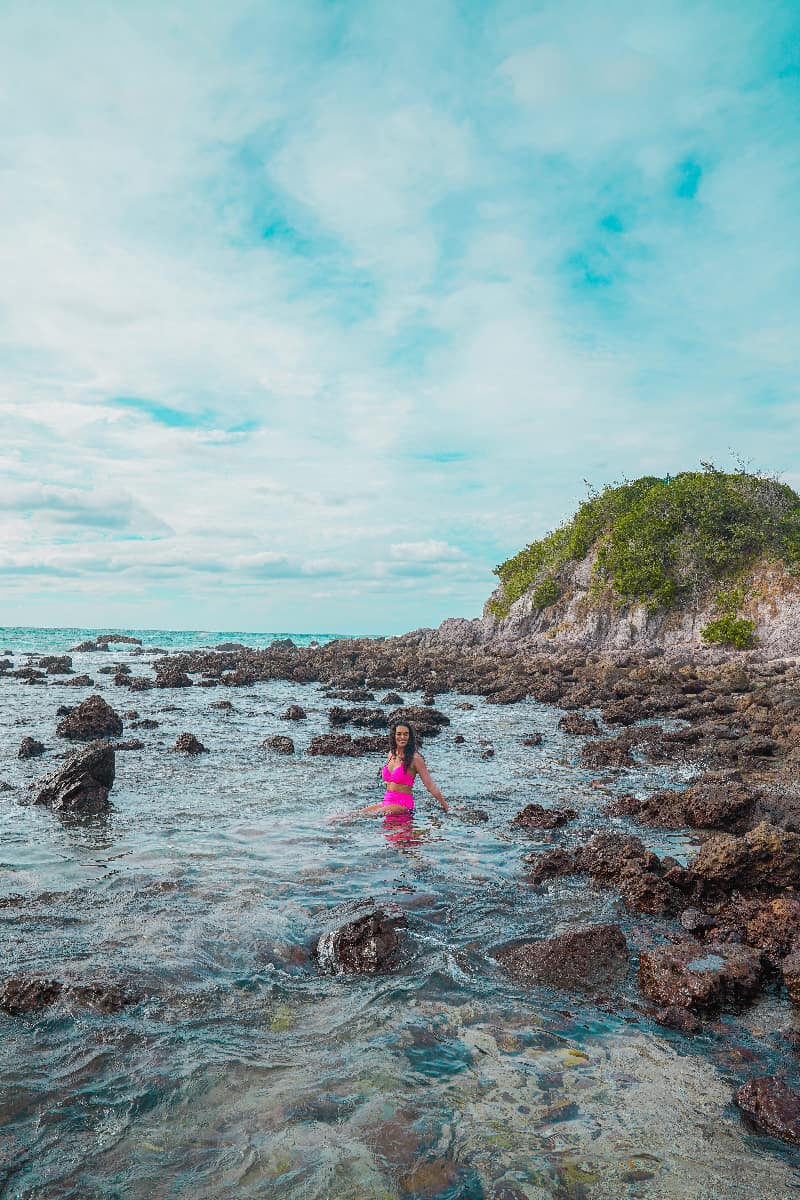 There are many sunchairs and cabanas to relax in on both sides, and the staff is friendly and attentive. However, the cabanas and other services are not included, so you'll need to pay for them.
The Pools
Just like at the beach, there are plenty of places to lounge at the pools and even private areas for rent. There is a towel service and a sunscreen and suntan service.
It's almost hard to choose which pool to use because the Four Seasons has so many options!
Let us start with the Nuna Pool, the main infinity pool. It has three sections from which you can overlook the beach, with spectacular ocean views of the Pacific. The bartender came to take our orders from our loungers and had several suggestions for us. Since I had had a lot of fruity cocktails during my Punta Mita trip, I asked for an alcoholic coffee drink and got the Sexy Frappuccino. I highly recommend it!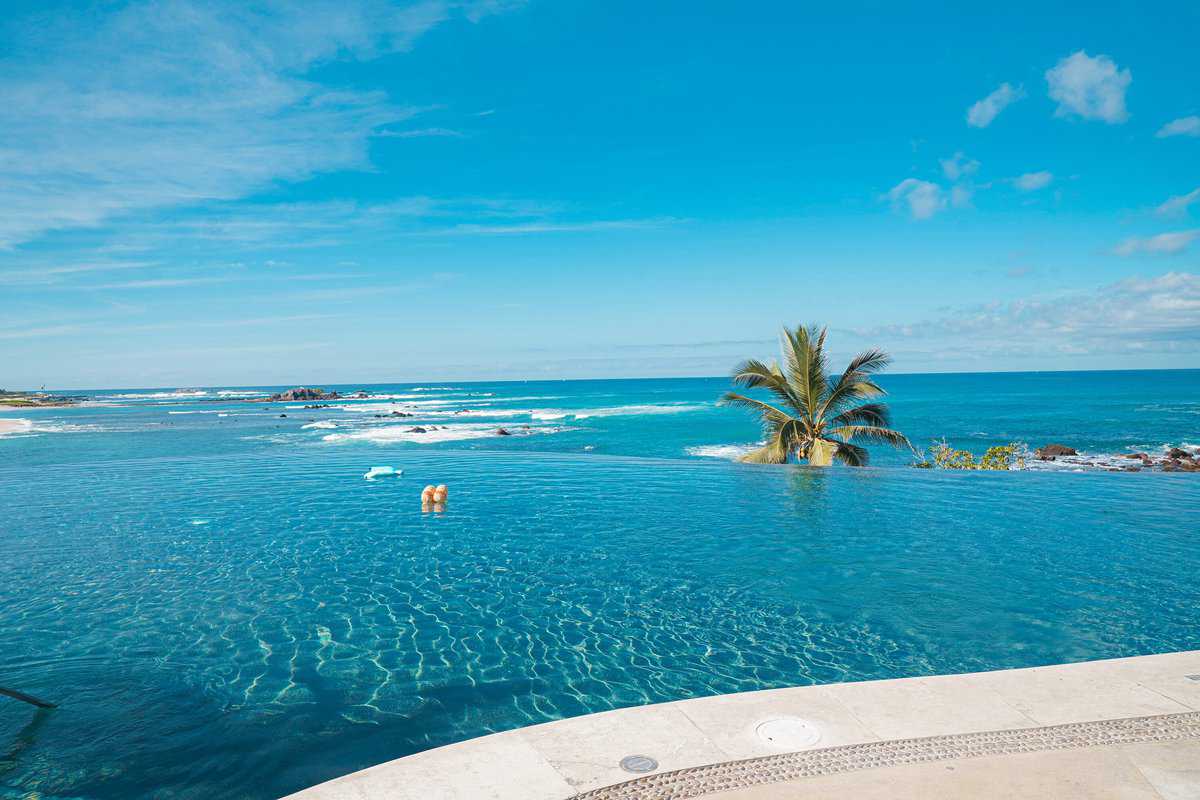 We also had some excellent, fresh seafood tacos by the pool. The staff was attentive and caring, and we got two complimentary popsicles while we sunbathed. We also discovered a Mexican sake fusion cart near the beach, which was a pleasant surprise.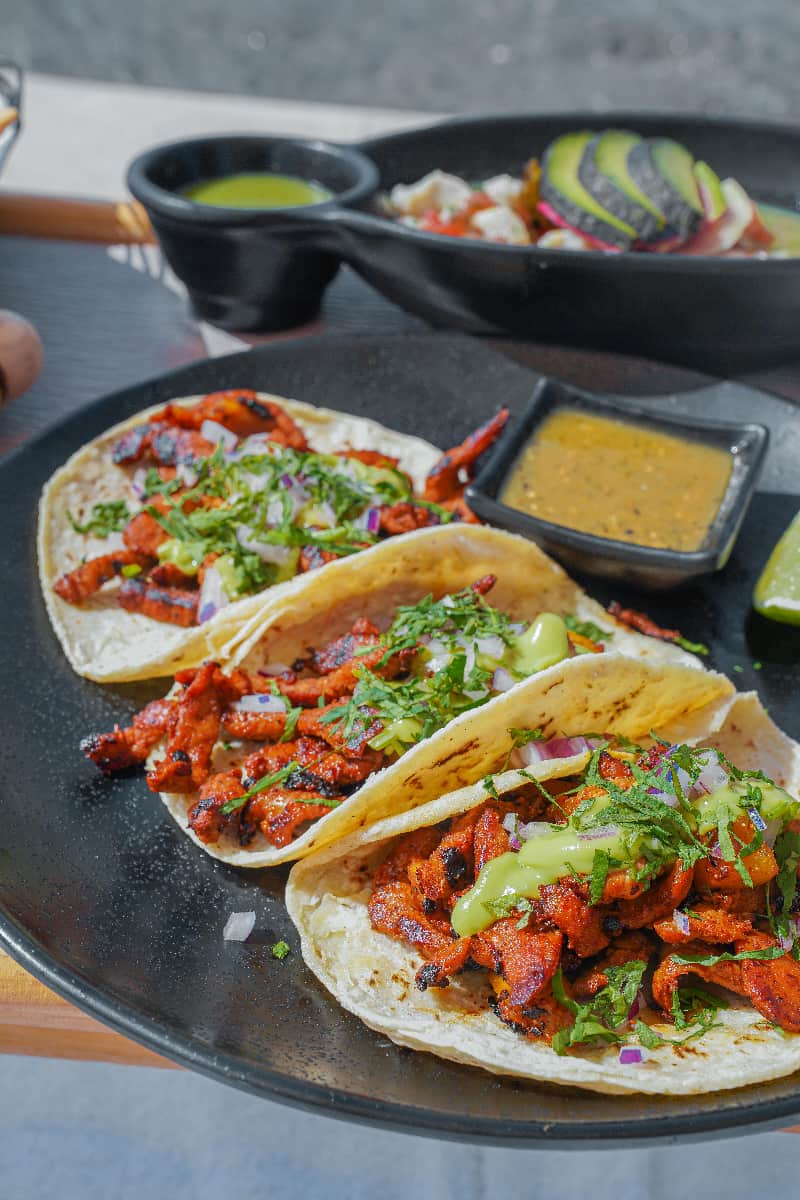 The Tamai Pool Oasis is an adults-only area in a separate part of the hotel. There are three pools and a hot tub, which is perfect for chilly evenings. This area has its own bar, restaurant, and private cabanas that you can rent.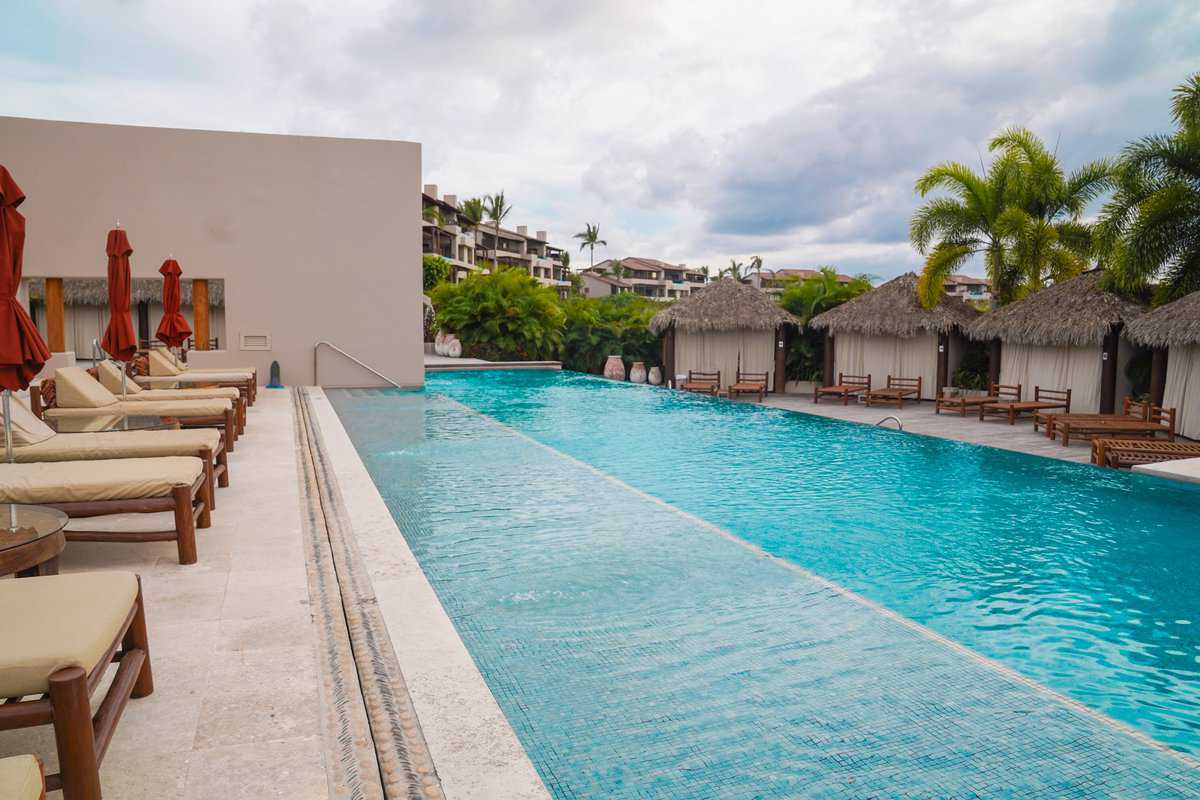 Another favorite of ours was the family-friendly lazy river, surrounded by tall palm trees and vegetation that give this ride an Amazonian feel without the life-threatening creatures and whatnot! This pool also has a bar and restaurant. You can even ask for pool toys, like floaties.
The Fitness Centre
The Four Seasons' fitness and wellness programs include services like Reiki, yoga, meditation, wellness classes, sound healing and Hatha yoga. If fitness is your thing, there are strength and cardio rooms, plus classes like Aqua Forza, Ocean View Spin, Beach Trunk Camp, HITT, and more!
AQUAFORZA is a class that is done in the pool with paddleboards, where you use your own body weight and balance to strengthen your muscles and improve core stability.
Spinning enthusiasts should check out their intense one-hour spin classes on the sun terrace with an ocean view.
The hotel also has a CrossFit program for all levels and with all the equipment you need to finish your WOD with a refreshing plunge into the water.
Hire one of the personal trainers to help you achieve or maintain your weight and strength goals during your vacation.
The hotel also offers HIIT workouts for all levels, like Beach Boot Camp, which is conducted with light equipment to work all muscles and improve balance and endurance.
Yoga lovers, this one is for you! Participants are guided by an instructor from one pose to the next while maintaining awareness of the beauty around and breathing in the intoxicating ocean breeze.
Be sure to book a tee time at one of Punta Mita's Jack Nicklaus signature golf courses, the Punta Mita Bahia Golf Course, or sign up for golf lessons on their top-rated golf course. There are also perfectly manicured tennis and basketball courts surrounded by the area's natural beauty.
The Activities
One of the things that drew us to the Four Seasons was the long list of activities for guests.
There is a daily schedule of various activities to choose from; some are free, and some are for an additional charge. So, if you are one of those people who can't just relax on the beach, then check out all that the hotel has to offer!
Activities We Tried
Due to our limited time, we only participated in the sea turtle release program. It was a magical experience for us! The resort is committed to protecting sea turtles and educating their guests about these creatures. They have a strict system in place to ensure you have an enjoyable experience but rest assured that turtle care is their top priority. Their program allows them to have a higher survival rate than in the wild.
If you want to discover more of the natural beauty of Punta Mita, the hotel can organize an excursion to explore the beaches in the area so you can find your favorite. First of all, you have the more famous beaches, such as Anclote Beach, Hidden Beach, Lover's Beach, Bucerias Beach, and La Lancha Beach, along with lesser-known ones like Litibu Beach, Sayulita Beach, and Careyeros Beach.
Other Activities
Adrenaline junkies can sign up for horseback riding, canopy adventures, ATV and RZR tours, sailing, surfing, sailing, and exploring the Marietas Islands.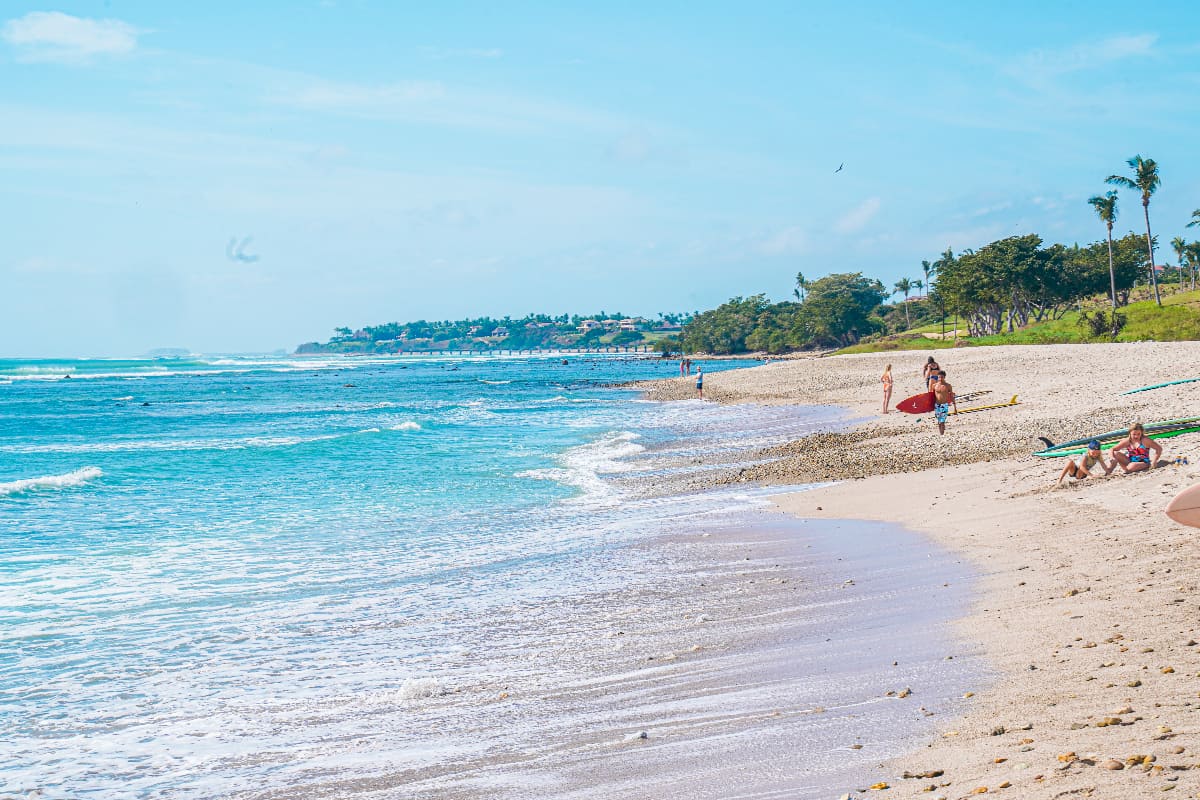 The chocolate classes looked like fun! We saw people make hot chocolate from scratch until it got foamy and ready to drink, as well as lots of tasting opportunities.
For art and culture lovers, the hotel offers workshops like a Huichol art workshop and lecture, a dream catcher workshop, a xocolatl (chocolate) workshop, and a mezcal testing, where you can learn all about local culture and traditions. There are even outdoor lectures on the history of Punta Mita and Spanish classes.
Follow the guidance of a shaman at the "rock" as you perform intentional rituals and discover a new perspective on the world where you can better appreciate all the culture around you.
Discover the flavors of the Rivera Nayarit in their coffee with Mexican cafeteros and learn the stories of local coffee farmers while sipping on authentic coffee from the region.
Sample famous Mexican wine under the guidance of a sommelier and learn about wines from the northern regions of Coahuila, Querétaro, Aguascalientes, Zacatecas, Baja California, Durango, and Sonora.
Expand your tequila knowledge at Tequila Blend with a private class led by cultural concierge Enrique Alejos. At this workshop, you can blend your own personal tequila to take home.
For those who want to light the fire of romance, there is a sunset cruise, private dinners, and private cabanas for rent.
Even if you're spending most of your time unwinding at the resort, there are so many additional things they sprinkle in to enrich your experience! For instance, while sitting at the pool, there was a car nearby giving out Mexican Japanese sake fusion for people to try.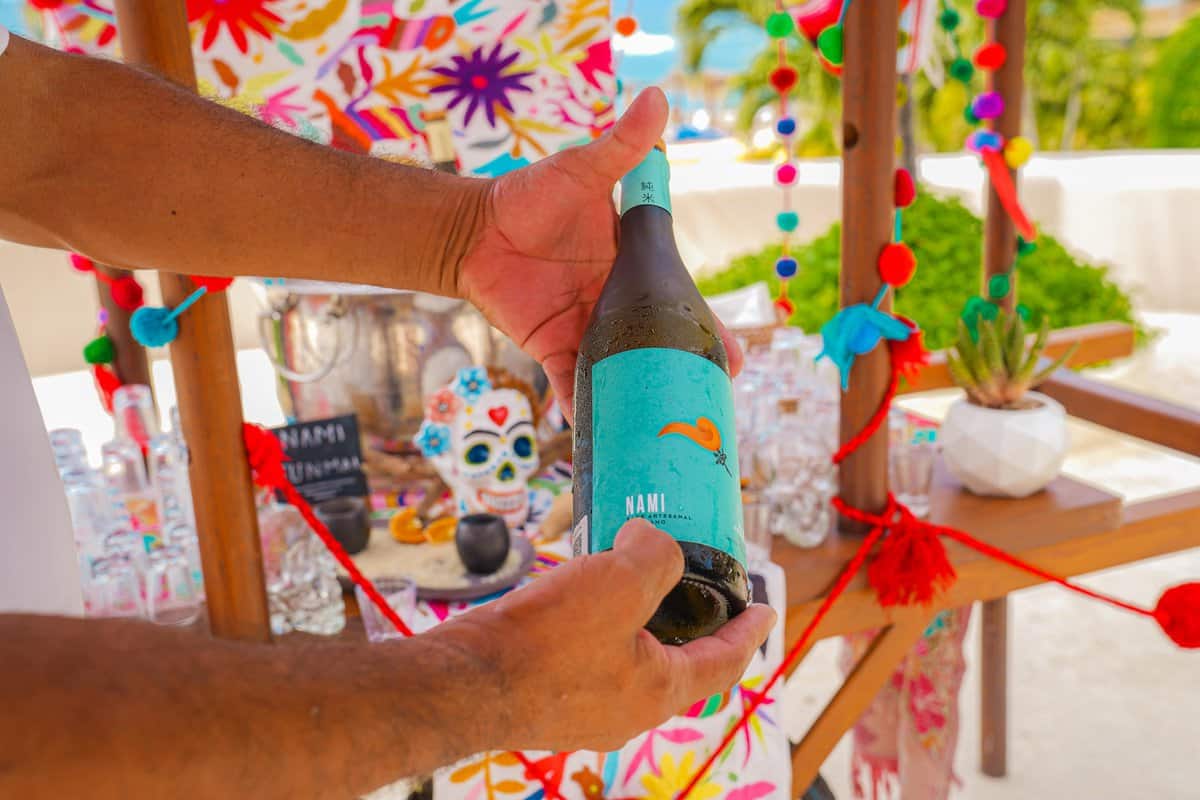 Activities for the Whole Family
There are catrina workshops, xocolatl workshops, and piñata parties for the kids. In addition, there is a game room with free wifi for teens and a playroom for kids. The hotel also offers babysitting services for parents so that you can take a breather during your vacation!
If you are traveling with children, the front desk or concierge service can help you plan a day trip to Aquaventuras Park; a water park with toboggans, ten different water slides, lazy rivers, a sea lion show, and the chance to swim with dolphins!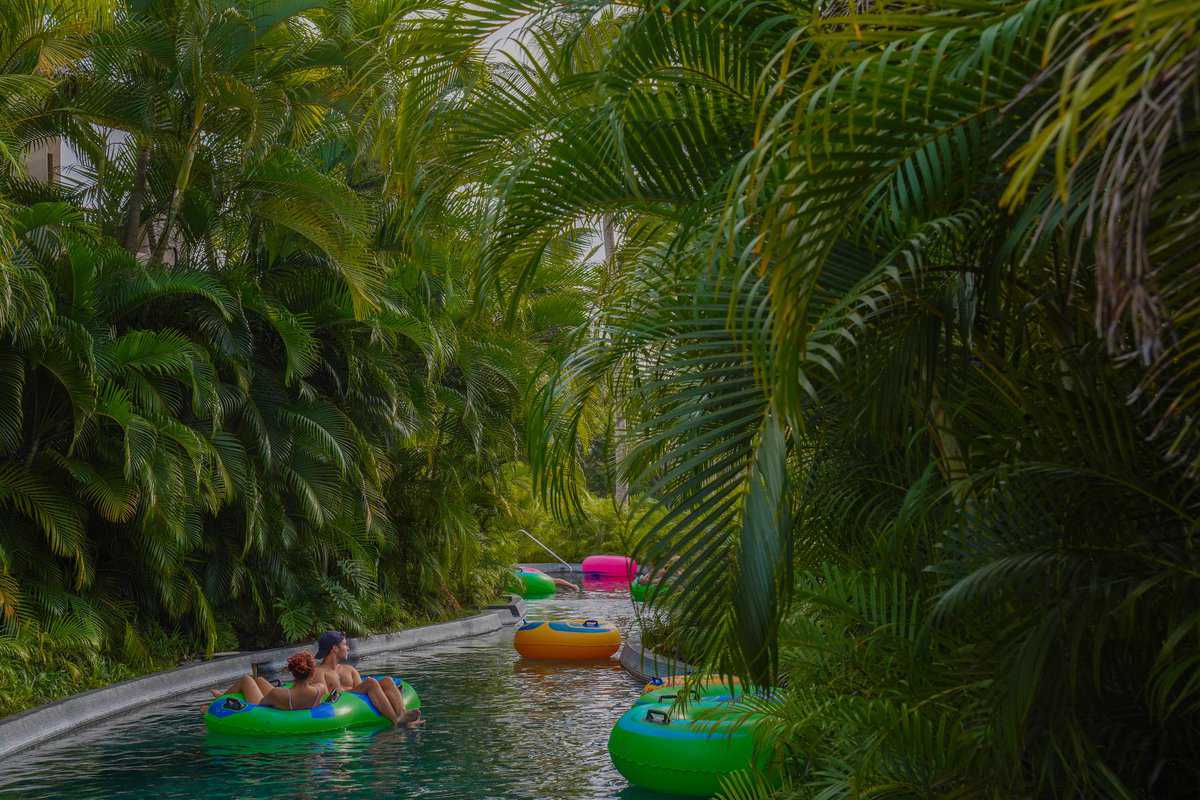 If you're vacationing during the holidays, you don't have to miss out on what makes Christmas at home so great. The hotel will decorate your suites with Christmas decorations and even Santa Claus stops by with gifts. There is even a Christmas dinner!
The Food at the Four Seasons
This is a paradise for foodies! There are many activities centered around food that you never would've thought possible!
Check out the "Octopus Catch and Cook" program, where you go on a guided hunt for your own octopus and then participate in a workshop where you learn how to prepare it in different ways, and of course, eat your catch!
There is a "Catch of the Day" service, where you choose from the local fishermen's catch and have it prepared to your liking.