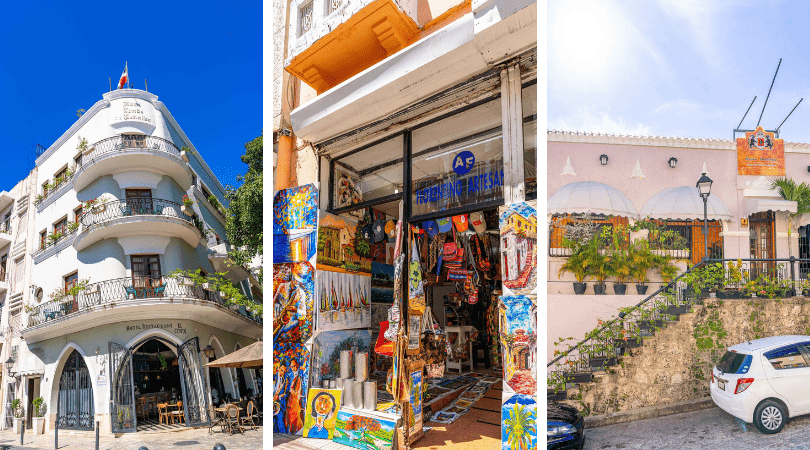 Santo Domingo is the capital of the Dominican Republic. Furthermore, it is recognized as the Colonial City or La Zona Colonial (the Colonial Zone). This historic district was not only the landing place of Christopher Columbus but also where the colonization of what was known as the Indies commenced.
Santo Domingo has been preserved and cultivated by the Dominican people for hundreds of years. Its historic churches, landmarks, colonial homes, cobblestone streets, and gorgeous beaches witnessed Spanish colonization. As a result, this part of the Caribbean is one of the best places to visit.
It is rich in culture, history, art, local cuisine, and natural wonders. With so many things to do and places to visit in Santo Domingo, you will never be bored.
In combination with all the things to do and places to visit in Puerto Plata, the Dominican Republic is a tropical wonderland that you have to visit!
Want to be more prepared before your trip? We've been using the Rosetta Stone app! It has 5-10 minute lessons all on your phone, with visual and audio cues to help you learn quickly! Join Rosetta Stone now and get 50% off your lifetime subscription!
Travel Back in Time in Santo Domingo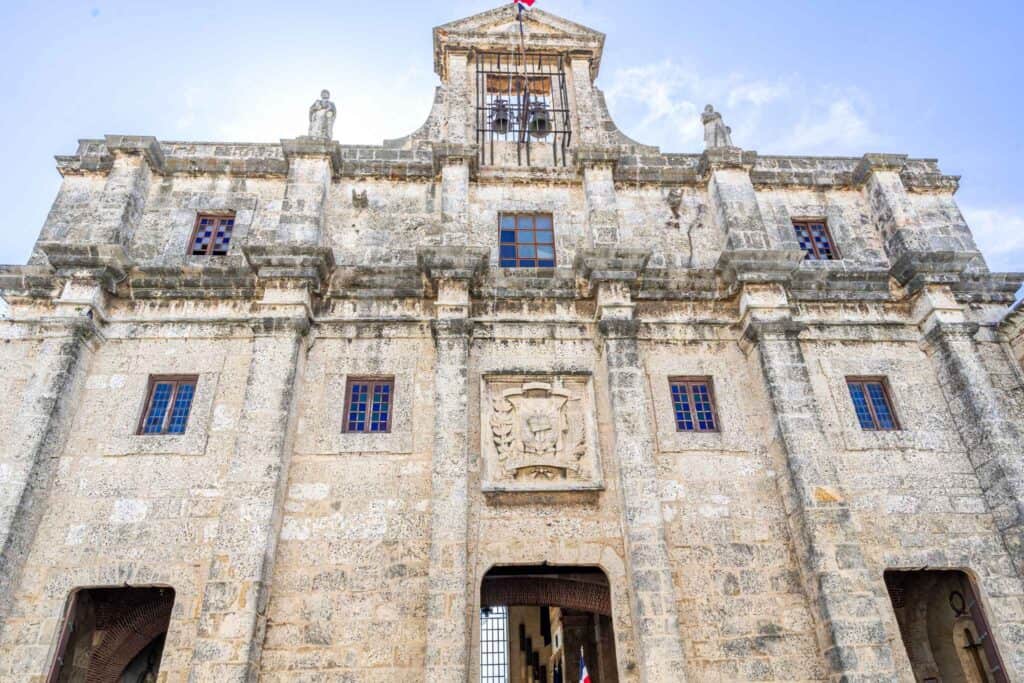 1. Ciudad Colonial – Ciudad Colonial is located in Santo Domingo, the Dominican Republic's capital. Once an old European settlement, this enchanting city has since transformed into a lively place. It is now filled with restaurants, museums, parks, and beautiful architecture along its cobblestone streets.
2. Calle Las Damas – Strolling along the oldest paved cobblestone road in the Americas is a journey into history. Known as Calle Las Damas, this street earned its name, the "street of ladies," primarily because it was frequented by noble women like Maria de Toledo. In the evenings, streetlamps bathe Calle Las Damas in a warm glow. This highlight the buildings, trees, and fronds that line its path. Situated within the Colonial Zone, this street stands out as a must-visit for tourists eager to walk in the footsteps of the past.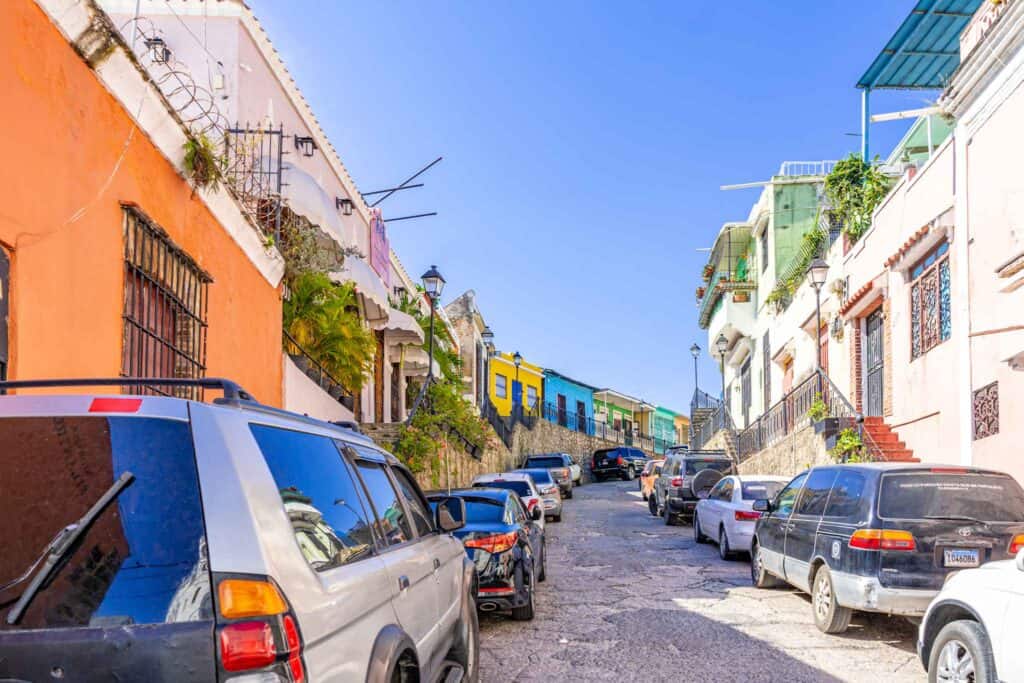 3. Gazcue – Bordering Zona Colonial (the Colonial Zone). Gazcue proudly showcases its historic buildings, hotels, and restaurants that line the streets. Furthermore, it holds the distinction of being one of the oldest neighborhoods in Santo Domingo. Owing to its enriched architecture, Gazcue undoubtedly presents itself as a picture-worthy place for visitors to meander through.
4. Iglesia de los Dominicos – The Iglesia de los Dominicos is otherwise known as the Dominican Convent. It is one of many churches located in Santo Domingo's Colonial Zone. Visitors can participate in a half-hour-long audio tour of this historic building.
Its gothic style and ornate interior are filled with statues, alcoves, and stunning vaulted ceilings. It is one of the Colonial City's historic wonders that you should visit when you are in the Dominican Republic.
5. Catedral Primada de las Américas – Standing as an iconic landmark in the heart of the colonial city, the Catedral Primada de las Américas has gained fame as the location where Christopher Columbus's remains were unearthed in the nineteenth century. Upon embarking on a tour of the world's oldest cathedral, visitors are greeted with an impressive collection of artworks, arched ceilings, and hidden rooms.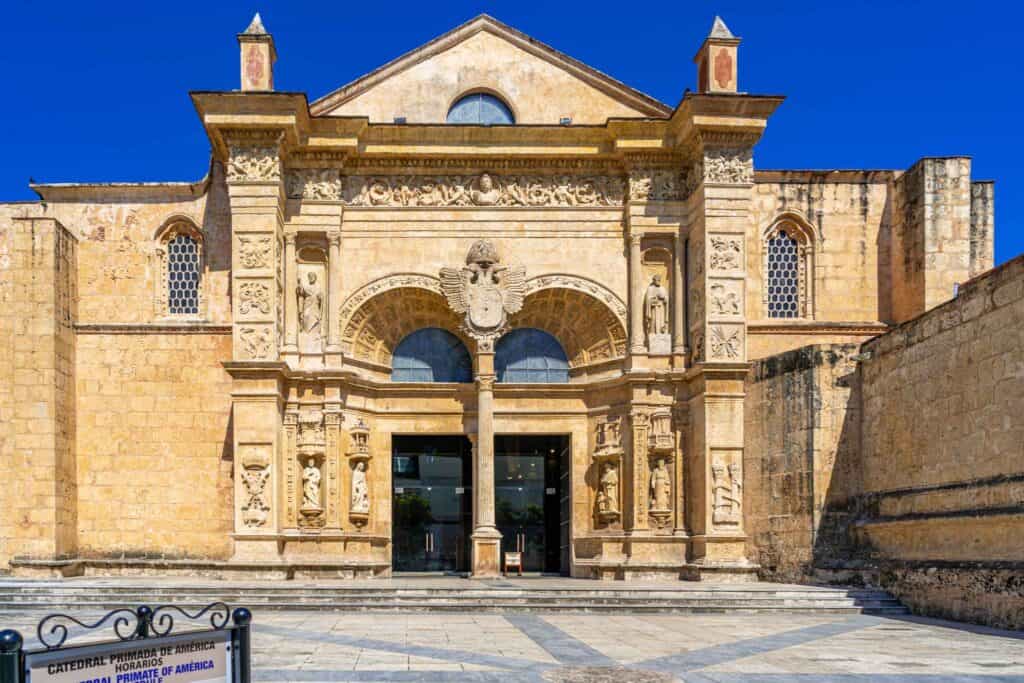 A Walking Tour of Santo Domingo's Colonial Quarter
6. Capilla Nuestra Señora de Los Remedios – Also known as "The Chapel of Our Lady of Remedies". Notable for its Gothic style, it is at the end of the famous Calle Las Damas street. Notable private chapel where important Spanish people would get together.
Visitors can now see and learn about Capilla Nuestra Señora de los Remedios on guided trips.
7. Convento Regina Angelorum – The Convento Regina Angelorum was constructed in the 16th century. It was the first convent in the Dominican Republic where nuns could gather. The Convento Regina Angelorum also spent a brief time as an educational institution for women before it was converted back into a convent.
You'll see art indicative of the beginnings of the Baroque period intertwined with the common Gothic style of these historic churches. Now, it is a place where visitors can roam and admire the art that is reminiscent of its rich history. 
8. Iglesia Nuestra Señora de Las Mercedes – is one of the many significant churches located in Santo Domingo's Colonial Zone. The church was initially built to spread Catholicism throughout the Dominican Republic. In the present day, it is a historic tourist attraction you shouldn't miss.
9. Cathedral of Santa María la Menor – Regarded as the oldest church established in the New World. This sacred edifice once held the remains of Christopher Columbus, albeit for a brief time. Moreover, it now safeguards several historic wood-carved relics. For those visiting, touring the grounds offers an opportunity to admire its radiant limestone walls, which bestow upon it its bright hue, as well as its resplendent silver altar.
10. Monasterio de San Francisco – Explore the ruins of Monasterio de San Francisco. Its crumbling walls, once a monastery, now serve as a place of exploration as well as a concert venue.
Guide to the Most Historic Venues in Santo Domingo
11. Palacio Nacional – Remember to add the Palacio Nacional to your list of places to visit in the Dominican Republic. This magnificent building is home to the Dominican Republic's executive branch and is considered one of the most elaborate in Santo Domingo.
Furthermore, it was designed by the renowned Italian architect Guido D'Alessandro in the nineteenth century and is known for its classical architecture style and dusty peach color.
12. Parque Independencia – Parque Independencia is one of the best places to visit in Santo Domingo, Dominican Republic. This sacred landmark houses a mausoleum of the Dominican Republic's founding fathers, and its walls stand high above the surrounding area.
Moreover, Parque Independencia is a popular gathering place for locals and tourists alike. On any given day, you can find people strolling through the park, sitting on benches to enjoy the shade, or simply taking in the sights and sounds of this vibrant city.
Whether you're interested in history, culture, or simply enjoying a beautiful day in the park, Parque Independencia is a must-see destination on your trip to Santo Domingo.
13. Puerta del Conde – Puerta del Conde is an arched entryway to La Ciudad Colonial. It was where one of the Dominican Republic's founding fathers raised a flag marking the nation's independence.
14. Hospital San Nicolas de Bari – Despite its crumbling appearance, this hospital is still an incredibly interesting historic site to visit. It is known to be one of the oldest hospitals in Santo Domingo.
Go Shopping in Santo Domingo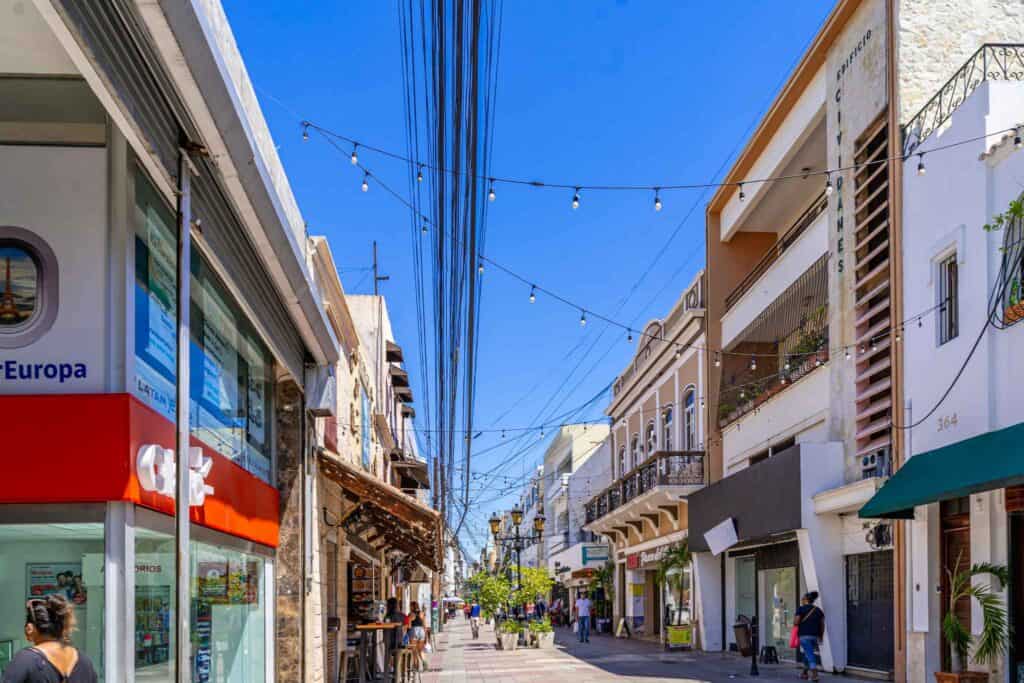 15. The Kahkow Experience – It welcomes visitors to learn a part of the history of the Dominican Republic's profitable cocoa industry. Additionally, visitors can savor the rich flavors of chocolate through an immersive museum and factory tour all in one.
16. Chinatown – Chinatown is located on the outskirts of Santo Domingo, north of the Colonial Zone. It is a vibrant neighborhood teeming with Chinese culture and cuisine, which is evident in the colorful storefronts and festive decorations that line the streets.
17. Mercado Modelo – Stroll through the stalls of Mercado Modelo, a large market near Colonial City. A place filled with vendors selling a variety of commodities like delicious fruits, jewelry, handmade crafts, and more.
18. Calle El Conde – A couple of blocks long in Santo Domingo's Colonial City. Calle El Conde is a bustling street lined with restaurants and shops. A lovely place to stroll in this historic city.
See a Show in Santo Domingo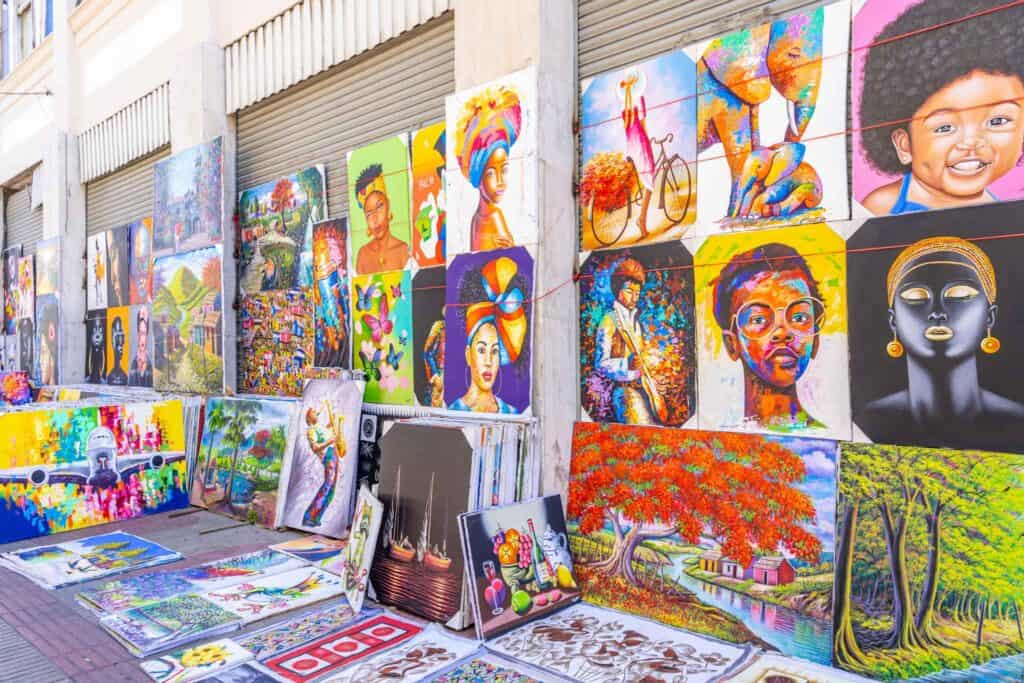 19. Teatro Guloya – Don't forget to stop by Teatro Guloya, a small independent theater dedicated to putting on plays and hosting workshops for all to enjoy.
20. Casa de Teatro – One of the most prominent cultural centers in Santo Domingo. Casa de Teatro is a wonderful place to check out and explore art exhibitions, live music performances, and more.
21. Teatro Nacional Eduardo Brito – Relax in classic red velvet seating at a theater inside Plaza de la Cultura. Teatro Nacional Eduardo Brito hosts plays, live orchestra events, and performances.
22. Centro Dominico-Aleman – The Centro Dominico-Aleman is a cultural center filled with German-Dominican culture. It is located in the Colonial Zone, where cultures mingle. This center exudes a welcoming atmosphere, hosting festivals, concerts, art exhibitions, and much more.
23. Palacio de Bellas Artes – Experience the splendor of the Palacio de Bellas Artes. A home to many artistic functions, plays, ballet performances, and concerts. Its gardens encase the classical architecture in a beautiful array of elegance and grandeur.
Breathe in the Caribbean Air in Santo Domingo
24. Parque Mirador Sur – A large stretch of greenery cuts through the cityscape of Santo Domingo, forming Parque Mirador Sur. Winding paths snake up and down the expansive area, making it a wonderful place to slow down and take in some fresh air. The park is complete with outdoor activities like an outdoor gym, a place to bike ride, and even boat rides along the man-made lake.
25. The Dominican Republic National Aquarium – Located in Santo Domingo, along the Caribbean Sea, the Dominican Republic National Aquarium is a great place for families with young ones to explore.
This small-scale aquarium offers its guests a nice place to relax and peruse the aquarium exhibits. In addition, this charming aquarium offers its guests an outdoor space for kids with a playground and picnic area that overlook the serene ocean.
26. Parque Nacional Submarino La Caleta – You can't leave the Caribbean without seeing its underwater marvels! Located about 12 miles from Santo Domingo, Parque Nacional Submarino La Caleta is a great way to experience an underwater park where visitors can scuba dive and explore the depths of the sea and find hidden underwater caves, caverns, reefs filled with vibrant aquatic life, and even shipwrecks that litter the sea floor.
27. Chu Chu Colonial – Chu Chu Colonial awaits to take patrons to and from the winding streets of the Colonial City. Its little white cart or train exterior provides tourists with an interesting mode of transportation and a break from walking.
28. Malecón de Santo Domingo – View the seashore along Malecón de Santo Domingo, an avenue pier bustling with people walking back and forth from hotels, restaurants, and shop-filled walkways. This city's seafront awakens deep after sunset, as people mill about, biking, walking, and exploring the recreational parks within the avenue.
Discover the Best of the Caribbean in Santo Domingo
29. Parque Colon – In the center of the hustle, Parque Colon, a lively outdoor square, resides. Crowds meander throughout the small square, savoring the occasional music and the colonial architecture surrounding the square. Located on the south side of this square, you can also find the Catedral Primada de America, also known as the First Cathedral of the New World.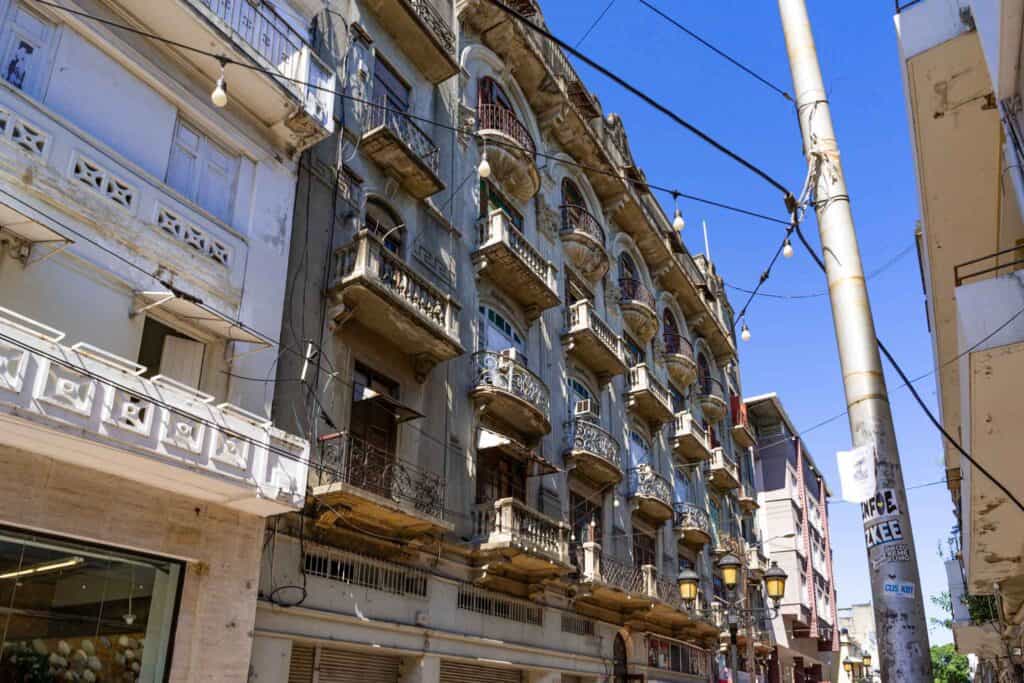 30. Parque Duarte – Parque Duarte is but another square filled with life. Trees dot the space, creating shade for onlookers to relax on the benches, and listen in on the music that begins to play later in the evenings. Parque Duarte makes for a good spot to rest and enjoy the surrounding air.
31. Parque Iberoamérica – Parque Iberoamérica is a sprawling park in the heart of the city. Parque Iberoamérica is a great place to hike, walk, exercise in its outdoor gym, and play with your kids.
32. Plaza de Espana – Don't forget to visit Plaza de Espana, a well-known and stunning plaza where events, concerts and shows take place, permeating the air with culture and music. This cultural hub definitely deserves a spot on your list of places to visit.
33. Plaza de la Cultura – Plaza de la Cultura is a spread of museums, including the Museo del Hombre Dominicano, the Museum of Modern Art, and the Museum of Natural History. There are also various theaters that make up the plaza itself.
34. Plaza Maria de Toledo – named after Diego Columbus's wife, is a small, paved courtyard fixed with a fountain and palms, making for a great place to sit and re-energize.
35. Teleferico de Santo Domingo – Get a bird's-eye view of the Isabela and Ozama Rivers as you take the Teleferico de Santo Domingo cable car. Avoid traffic and enjoy the sights of the city below.
Party Dominican-Style in Santo Domingo
36. Santo Domingo Pride Parade – Come join the annual Santo Domingo Pride Parade, where music, dancing, and singing converge on the cobblestone. Crowds gather throughout the city of Santo Domingo to show support for the LGBTQ+ community and have fun!
37. Carnaval Dominicano – In an explosion of colors, dance, and music, the Carnaval Dominicano is a staple Dominican festival and an essential part of Dominican culture.
Parades line up and down the streets all over the cities of the Dominican Republic every Sunday during the month of February. All of the festivities conclude in the capital, Santo Domingo, where everyone can join in, dance, and experience the splendor of culture in the air.
Visit Museums in Santo Domingo
38. Alcázar de Colón – Diego Columbus, Christopher Columbus' eldest son, and his wife Maria de Toledo once lived here.
Full of gothic architecture, the history of Alcázar de Colón marks it as one of the many places to visit in Santo Domingo. It is a city that proudly boasts of being the oldest European settlement in the Americas and home to a UNESCO World Heritage Site.
39. Museo del Larimar – A museum located along Calle Isabel la Católica. It showcases an arrangement of artisan crafts, including jewelry and various objects made of Larimar stone, a special variety of stone found in Barahona.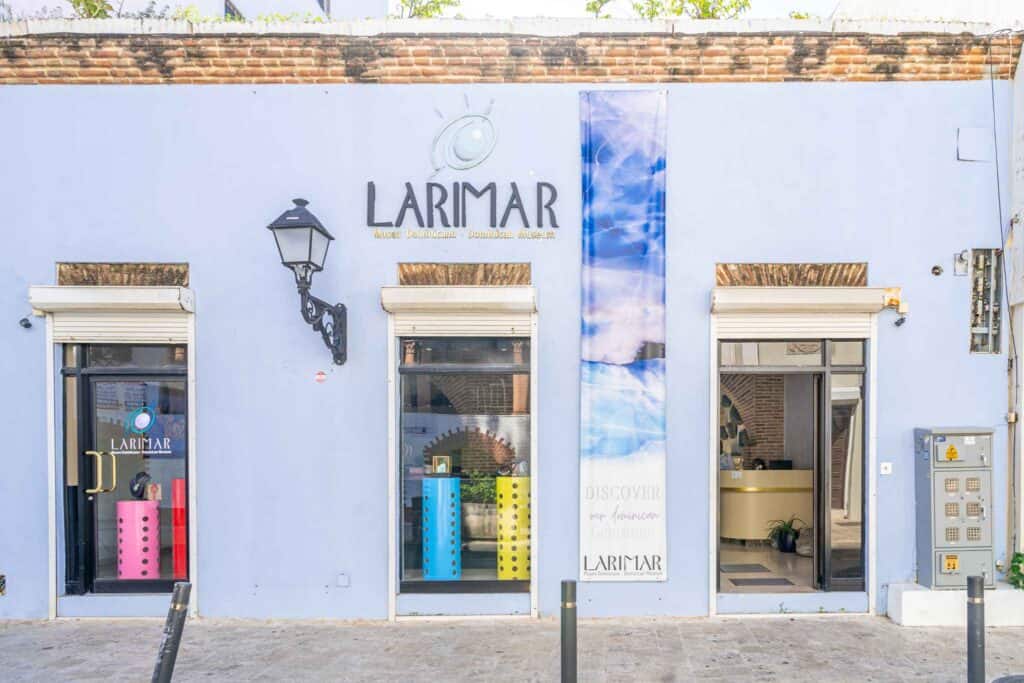 40. Casa de Tostado – Once a colonial home, Casa de Tostado is now a place where visitors can step back in time and view the middle-class life of Dominican families in the 19th century. Guests tour the space, viewing displays like a tea lounge and a sewing room.
41. Centro Cultural de las Telecomunicaciones – One of the newest museums brought into this deeply enriched historic city. The Centro Cultural de las Telecomunicaciones displays the history of media in the Dominican Republic, starting from the radio all the way to the present day.
42. Faro a Colon – Translated as "Columbus' Lighthouse," it houses Christopher Columbus' remains and serves as a museum and mausoleum.
43. Fortaleza Ozama – Grassy lawns flank Fortaleza Ozama, a 16th-century military structure built by the Spanish. Book a guided tour that takes you around the grounds and learn the history of this military fortress that marked the start of Spanish colonization in the Dominican Republic.
44. Museo Bellapart – One of the many museums in the Colonial Zone, where notable paintings, sculptures, and artwork are arranged on the white walls. The art pieces were created by artists from the Dominican Republic throughout the 19th and 20th centuries.
Explore the History and Culture of Santo Domingo
45. Museo de Arte Moderno – Located in the Plaza de la Cultura, the Museo de Arte Moderno dedicates its space to contemporary art from the Dominican Republic. Its close proximity to many other museums in the Plaza de la Cultura makes it hard to miss it on your list of things to do in Santo Domingo.
46. Museo de Cera Juan Pablo Duarte – An intriguing wax museum, the Museo de Cera Juan Pablo Duarte showcases the life of one of the founding fathers of the Dominican Republic, Juan Pabla Duarte.
47. Museo de las Atarazanas Reales (MAR) – A beautiful white building near the Alcázar de Colón. The Museo de las Atarazanas Reales is housed within. The Royal Shipyards Museum houses an extensive collection of underwater archaeology, including historic shipwrecks discovered along the Dominican coast.
48. Museo de las Casas Reales – The Museo de las Casas Reales, translated to "The Museum of Royal Houses," is a large part of Dominican history. Once hosting the Spanish court in the 16th century, it's now a museum showcasing Dominican culture and history.
49. Museo del Hombre Dominicano – The Museo del Hombre Dominicano is a great place to further engross yourself in the history and roots of the Dominican Republic. Here, the museum goes further, divulging the history of early settlers and Spanish conquistadors.
50. Museo Mundo del Ambar – The Museo Mundo del Ambar displays its collection of stone artifacts and treasures. This educational museum also offers a free tour guide to illuminate the history behind many of the relics and exhibits within the museum.
51. Museo Infantil Trampolin – The Museo Infantil Trampolin is a great place for families to learn in a fun, interactive way. The museum showcases subjects like ecology, earth systems, and Dominican culture.
52. Museo Memorial de la Resistencia Dominicana – The Museo Memorial de la Resistencia Dominicana preserves the artifacts of revolutionaries who died in the Dominican Republic's struggle for democracy between 1916 and 1978. Initiated by the mother of Freedom Fighter Tony Mota Ricart, it's an important piece of history to many and continues to educate the younger generation from all backgrounds.
53. Panteón de las Patria – Panteón de las Patria was once a Jesuit church. It is now converted to a mausoleum for the remains of Dominican heroes like Maria Trinidad Sanches. She was a heroine of the Dominican War for Independence.
Take a Day Trip to the Beach from Santo Domingo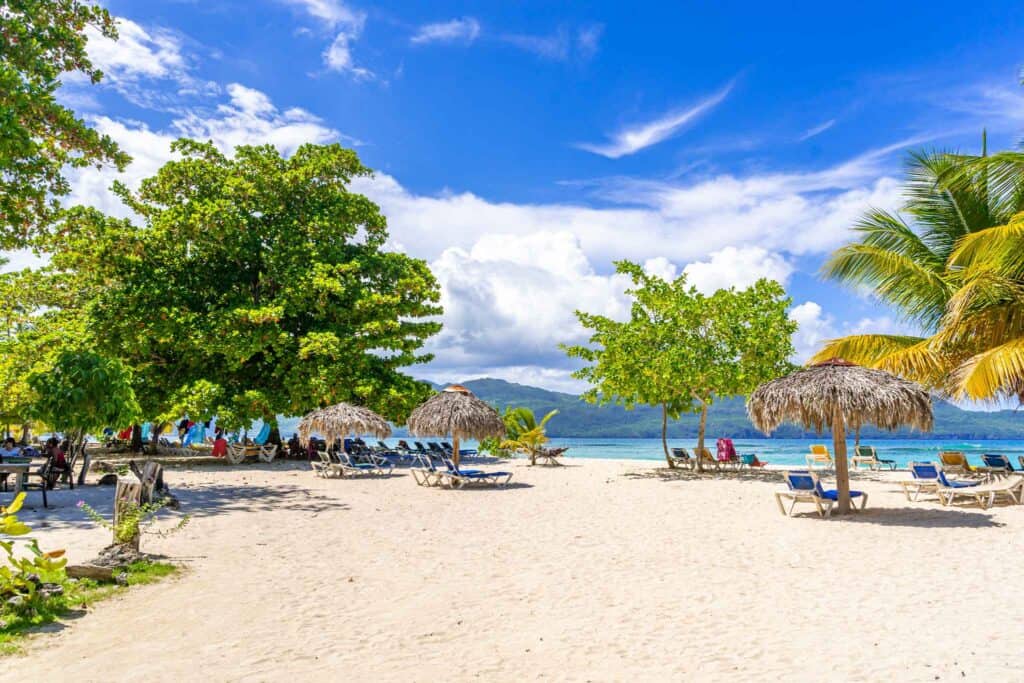 54. Boca Chica – Just east of Santo Domingo resides Boca Chica, a sandy beach town filled with hotels and restaurants. Relax, splash around, and enjoy the view of the expansive ocean.
55. Juan Dolio Beaches – A beach town located east of Santo Domingo. Juan Dolio Beaches has bars and restaurants along the shore. It provides the perfect backdrop for photos of all the delicious food and refreshing beverages.
56. Macao Beach – Macao Beach is located in the Dominican Republic's eastern region, two hours from Santo Domingo. It's one of the largest beaches in the Dominican city of Punta Cana. It's a great place to soak up the sun, relax on the white sandy shore, and swim in the shallow, calm waters.
Places to Eat & Drink in Santo Domingo
57. Desiree Cepeda Restaurant & Art Studio – Part restaurant, part art studio, Desiree Cepeda is a popular place to grab a bite and enjoy the unique art pieces and lush greenery that adorn the space. Add this destination to your list of places to visit in Santo Domingo for a spin on the traditional dining experience in the Dominican Republic.
58. Paletas Bajo Cero – After hours of walking through the streets of Ciudad Colonial, a sweet treat is naturally a must. Located along Calle Isabel la Católica sits a unique ice cream and popsicle shop. Paletas Bajo Cero offers a variety of tasty flavors like chocolate, coconut, coffee, and fruity flavors, like strawberry. Try something a little different and order their avocado popsicle filled with dulce de leche.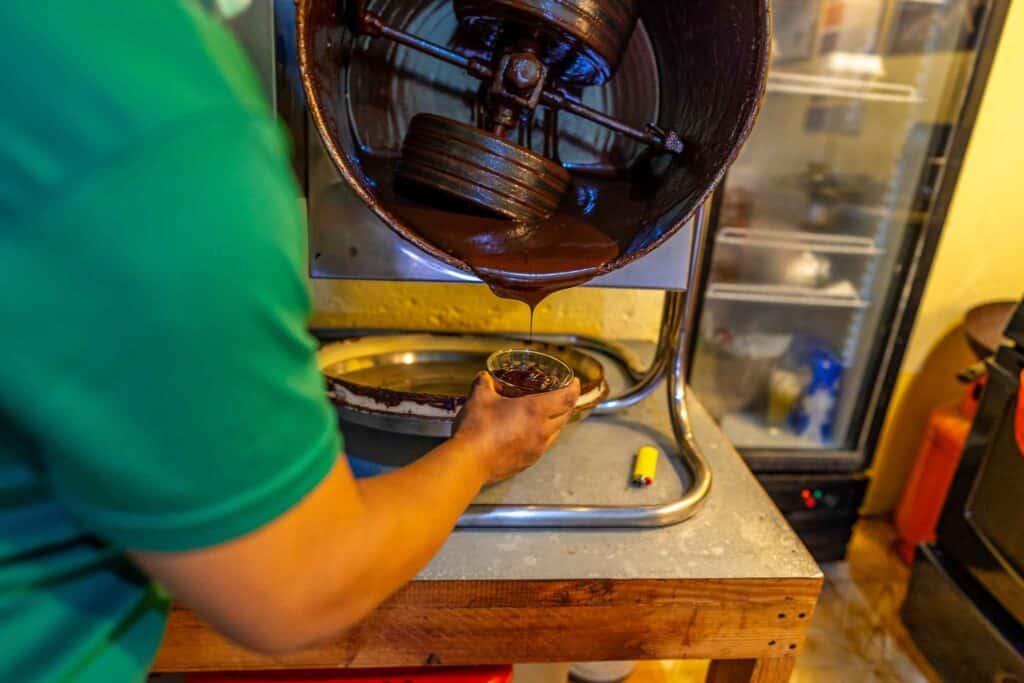 59. La Fábrica de Arte Contemporáneo – With its delicious Dominican food, fun creative workshops, and artistic events, La Fábrica de Arte Contemporáneo welcomes guests to unwind and enjoy the contemporary art throughout this fascinating space.
60. Papaupa – Specializing in vegetarian, Asian-style cuisine, customers can order mouthwatering veggie burgers, veggie dumplings, and veggie wraps. Its chic decor, lush with hanging vegetation and wooden seating, creates a cozy atmosphere.
61. Loretta Cafe Bistro – A French-style cafe that serves an array of international foods, such as steaks, paninis, and more. Loretta Cafe Bistro's relaxed ambiance, and its breakfast spread, make it a must on your list of things to do in Santo Domingo.
A Foodie's Guide to Santo Domingo
62. Adrian Tropical – Enjoy the beachside view from Adrian Tropical, a restaurant located along the Caribbean seaside serving a variety of local foods like Caribbean, Latin, and Dominican cuisine for everyone to savor.
63. Sabina Bar Zona Colonial – Sabina Bar Zona Colonial is a social bar bedecked with mementos of Spanish folk singer Joaquin Sabina. Locals and tourists alike gather and enjoy the positive energy, good music, and colorful drinks.
64. Zambra – The mood lighting and music fill Zambra, creating an ambiance of fun for customers to indulge and enjoy a selection of beers, wines, cocktails, and spirits.
65. 75 Grados Bar – A bar located in the Colonial Zone, 75 Grados Bar is alive with a mix of music, ranging from American music to hip Latino music, paired with frozen drinks.
66. Buche Perico – Enjoy the immersive atmosphere of Buche Perico, a lavish restaurant exploding with greenery. Along "Calle El Conde," the first commercial street in the Colonial Zone, this opulent space offers an enigmatic, jungle-like atmosphere for guests to enjoy Caribbean cuisine.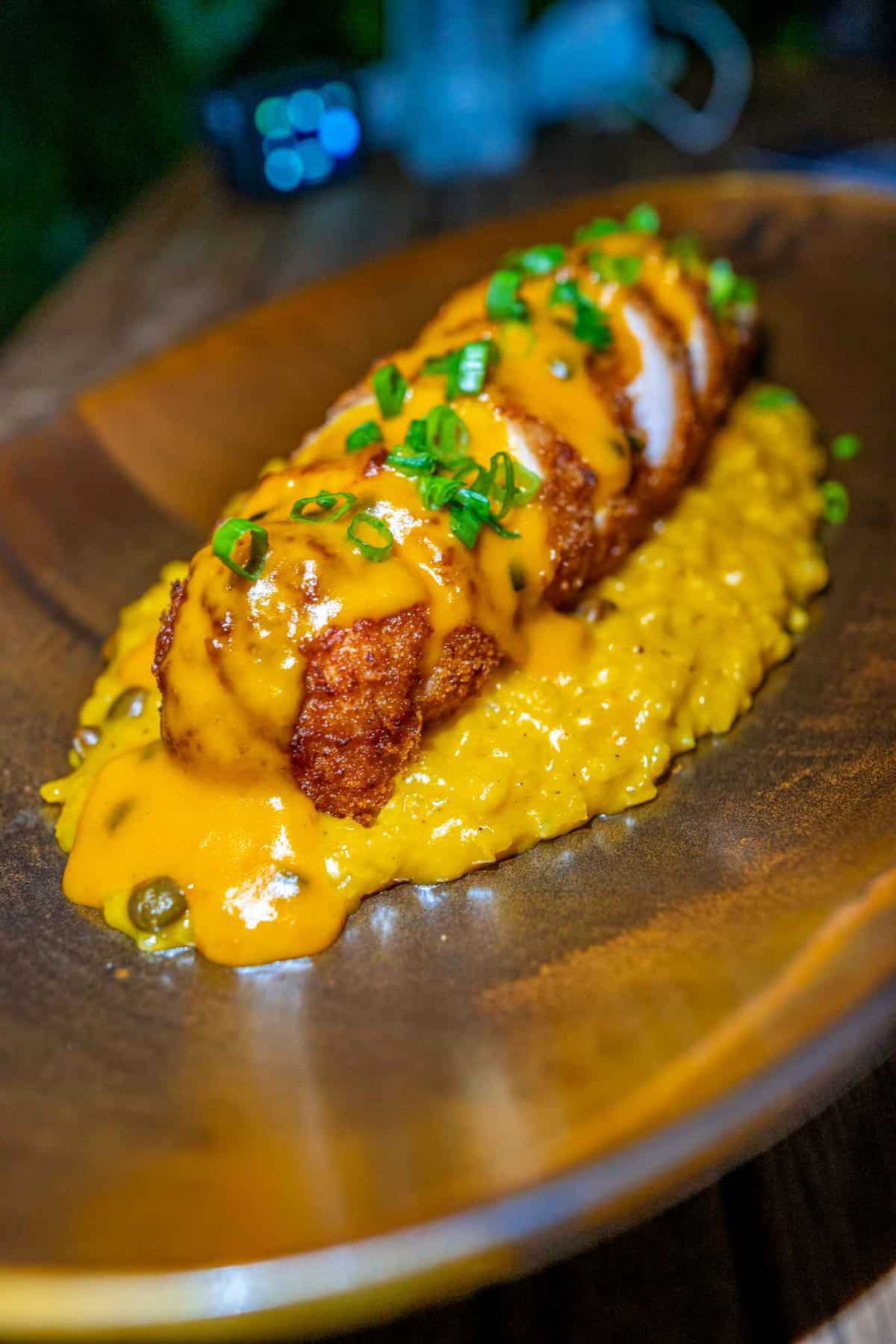 67. VIP ROOM – VIP ROOM is a nightclub alive with electric lighting, great drinks, and lively music.
68. Onno's Zona Colonial Bar & Restaurant – Take a look at Onno's Zona Colonial Bar & Restaurant right away! After ordering a burger and a drink, you can enjoy the patio or the VIP area while dancing to the live DJ.
69. Arturo Fuente Cigar Club – Join Arturo Fuente Cigar Club for an elegant, upscale evening. Its interior and modern decor create an atmosphere of luxury and foster conversation among drinks and appetizers.
70. Mamey Librería and Cafe – Stop in for a cup of coffee and a good book at Mamey Librería and Cafe. A bookstore and cafe enriched with artwork from local artists housed inside one of the historic buildings of the Colonial Zone along Calle Mercedes.
Places to Stay in Santo Domingo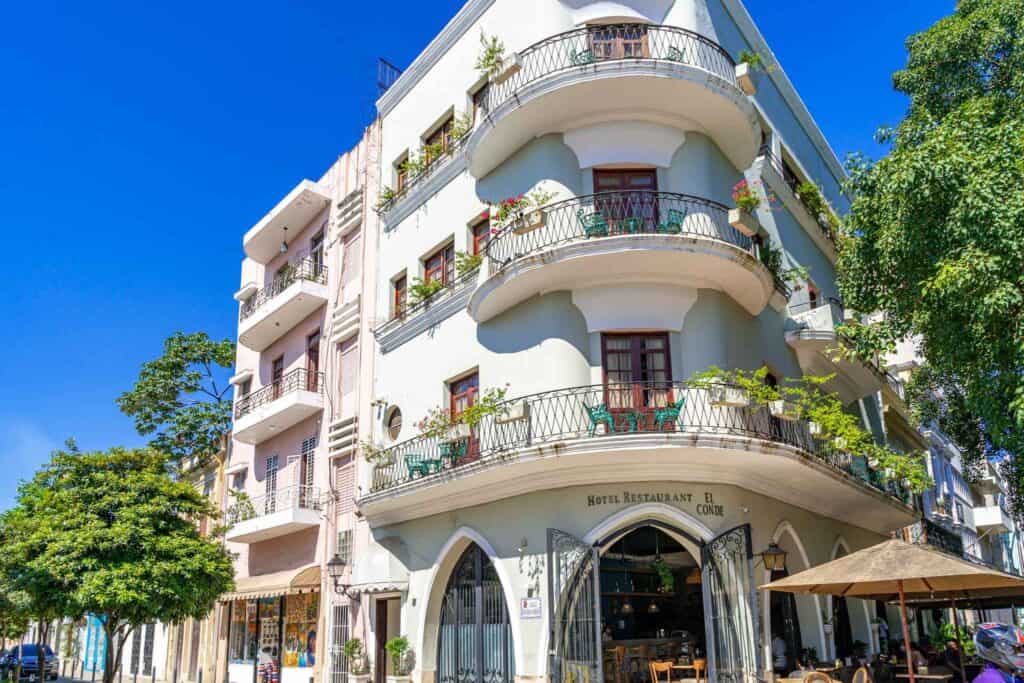 71. The Billini Hotel – The five-star amenities of the Billini Hotel, which include an outdoor pool, fitness center, three restaurants, and a cafe, provide guests with a sense of wondrous comfort in the Ciudad Colonial.
72. Hodelpa Nicolas de Ovando – This fancy hotel on Calle Las Damas used to be the home of a Dominican governor. The hotel has a restaurant, bar, gym, and swimming pools. It also has views of the Ozama River, lovely gardens outside, and simple bedrooms with stone walls, high ceilings, and Spanish-colonial accents.
Things to Do Near Santo Domingo, Dominican Republic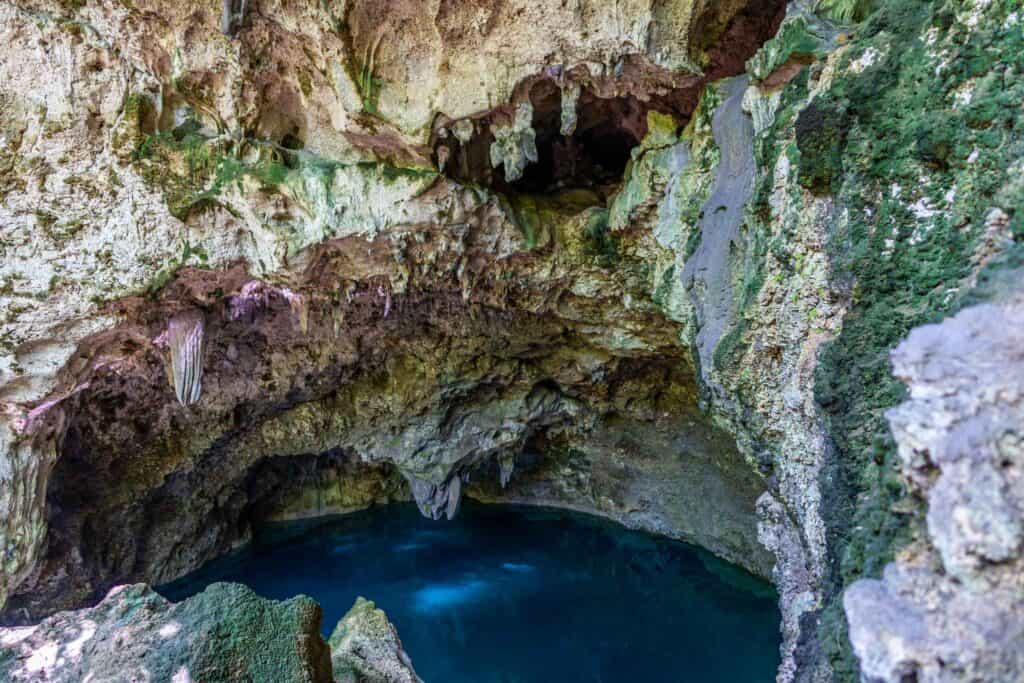 73. Ron Barcelo Rum Distillery – Another day trip from Santo Domingo which is only an hour aways is Ron Barcelo Rum Distillery. They offer tours of their rum museum and allows you to experience Dominican rum firsthand.
74. VegaFina Cigar Factory – Visitors can learn about how tobacco leaves are grown and hand-picked to make their famous cigar brand's products by exploring their land, which has both a museum and a factory.
75. Zipline Park – Visit Zipline Park, an outdoor adventure park where you can try ziplining and jump into an exciting journey. Other things to do at Zipline Park include shooting, a climbing wall, and the Zip Fuan, a ride where people can fall freely.
76. Jardin Botánico Nacional – Take a walk along the paths of Jardin Botánico Nacional, a botanical garden stretching over 400 acres. Every inch is alive with plants, native trees, palms, flowers, and birds of various species.
77. Round Mountain – From Santo Domingo, your next destination should be Round Mountain. It is situated a comfortable two and a half hours away. Consider joining a guided tour that will whisk you to the mountain's summit, allowing you to savor breathtaking views of the bay below. Many of these tours even include added perks like lunch, games, and additional excursions. It makes an enticing addition to your list of must-visit places in Santo Domingo
78. Parque Zoológico Nacional – The Parque Zoológico Nacional is a wonderful place for families to see and learn about the 82 species of animals housed there, ranging from local to exotic and endangered. It also has two rare mammals, one of which was thought to be extinct until it was discovered again in the 1960s. A zipline is even available!
79. Los Tres Ojos National Park – Also known as The Three Eyes National Park, is a hidden gem that is right in the middle of Santo Domingo. This beautiful natural attraction is made up of a network of limestone caves that are all linked by lakes that are turquoise and very clear. In English, "Los Tres Ojos" means "The Three Eyes," which is what the name of the caves' three main lakes mean. With its beautiful rock structures and lush plants, it's a place where you can go back in time.
Things to Do and Places to Visit in Santo Domingo, Dominican Republic: Final Thoughts
If you are planning a trip to the Dominican Republic in the Caribbean, get ready to be amazed by how many things there are to do and see in Santo Domingo. Many of the city's modern businesses and attractions are housed in its oldest buildings, which have been mostly left alone to protect the country's past.
Its landscape and beaches are unparalleled, perfect for selfies and group photos with the best of backdrops. Keep our list of the best things to do and places to visit in Santo Domingo (and our list of things to do in Puerto Plata) handy to make your trip to the Dominican Republic as enriching as possible.
OTHER THINGS TO DO IN DOMINICAN REPUBLIC
Taste the Culture – Enjoy authentic Dominican cuisine at any time in your bungalow or chalet.
Gallop Along the Beach – Whatever your skill level, horseback riding along the beach next to crystal-clear water should definitely be on your list of things to do in the Dominican Republic.
Stay in a Jungle Bungalow – Samana Ecolodge is the perfect place to relax and rejuvenate in the heart of the Dominican rainforest. It is the ideal destination for couples, families, and solo travelers alike.
TEMPORARILY CLOSED
Lulu Tasting Bar – An elegant bar located in Ciudad Colonial. Lulu Tasting Bar is a wonderful indoor and outdoor space with hanging plants, warm lighting in the evenings, and a menu of various tapas and drinks for a luxurious experience.