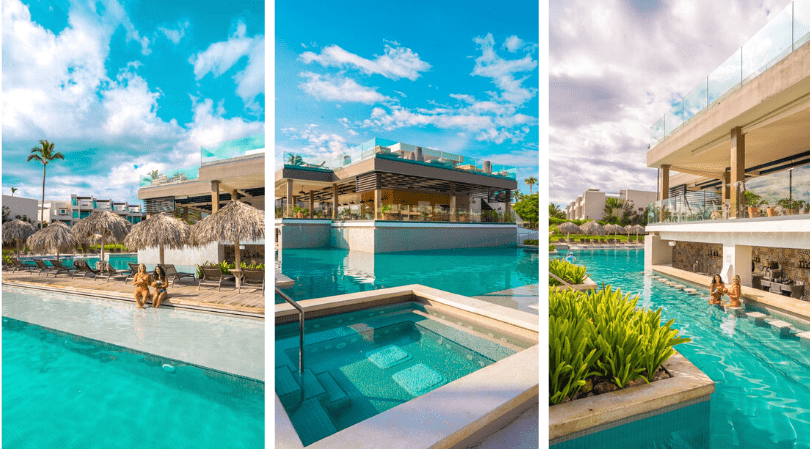 The Dominican Republic makes for the perfect vacation filled with a mixture of adventure and relaxation and one of the things that the DR is most known for is their all-inclusive resorts. With so many options, it can be hard to choose where to start. Recently we got to stay at the Excellence El Carmen in Punta Cana, DR and were blown away with how wonderful our experience. We had everything we needed for a refreshing vacation. Read all about our experience with our Excellence El Carmen review below.
Want to be more prepared before your trip? We've been using the Rosetta Stone app! It has 5-10 minute lessons all on your phone with visual and audio cues to help you learn quick! Join Rosetta Stone now and get 50% off your lifetime subscription!
Excellence El Carmen Review: Resort Overview
Having already been familiar with the high quality of the Excellence brand and the attention to detail it comes to service, we couldn't wait to arrive! The staff were so helpful to get us into vacation mode with a welcome drink and carrying our bags for us. Throughout our entire stay, the way the staff were so energetic to make every moment special made such a difference.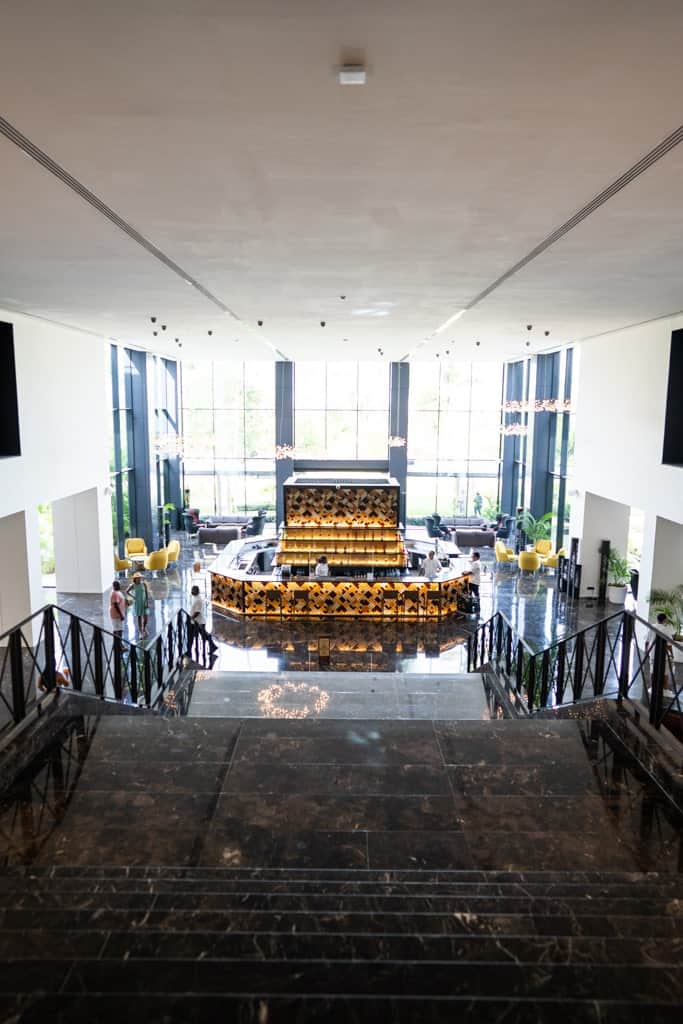 The resort itself is modern and huge. They have two main areas: one where are all the entertainment/activities/restaurants are and the other with the pool and several bars/restaurants. The rooms are spread out across the property, but it's always a quick walk to the main areas.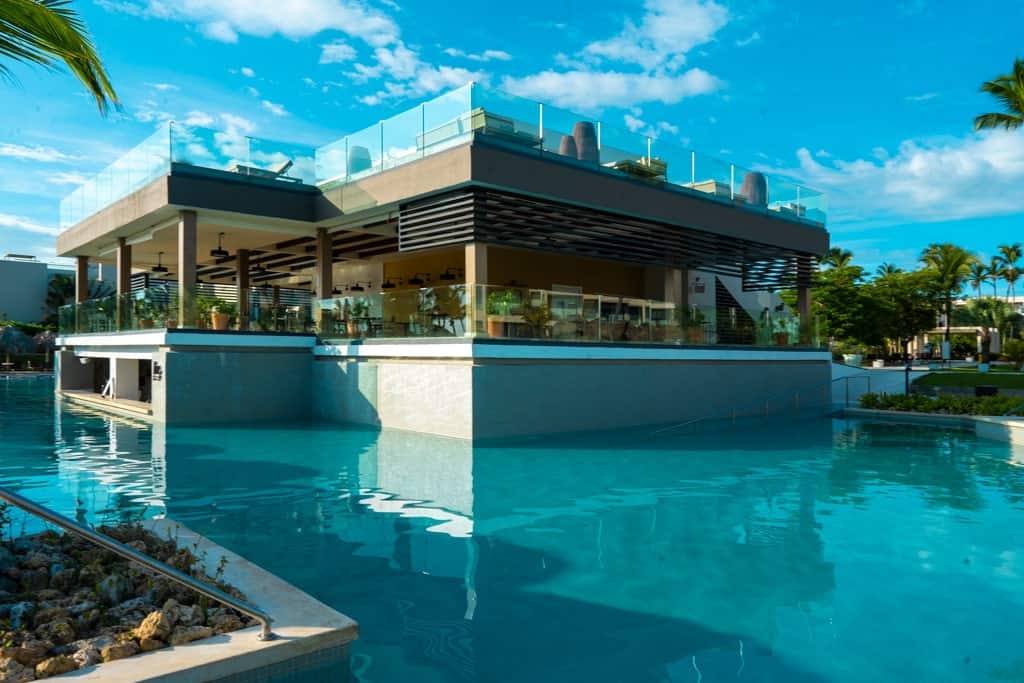 Excellence Punta Cana Review: The Rooms
One thing that we loved about the Excellence El Carmen was the layout. There were different blocks of buildings with suites and pool that went down so that you had a more secluded pool area just for your small group. We spent so much time out at the pool and still didn't see anyone which made it feel so private. We spent most days floating in the water and the staff would come by so we could order drinks even though we weren't close to the bar.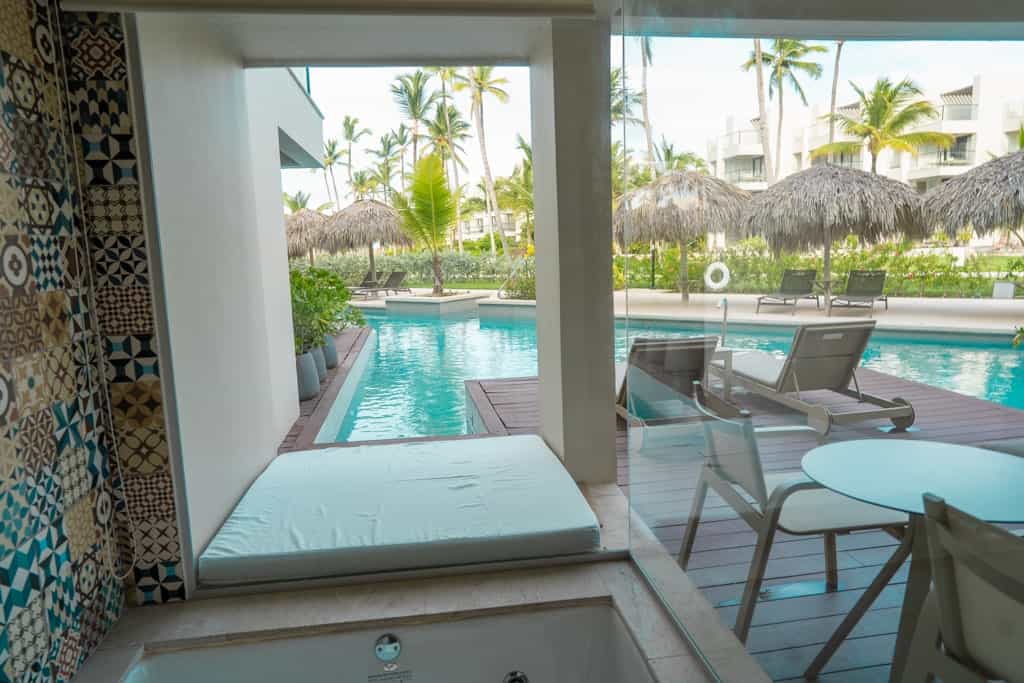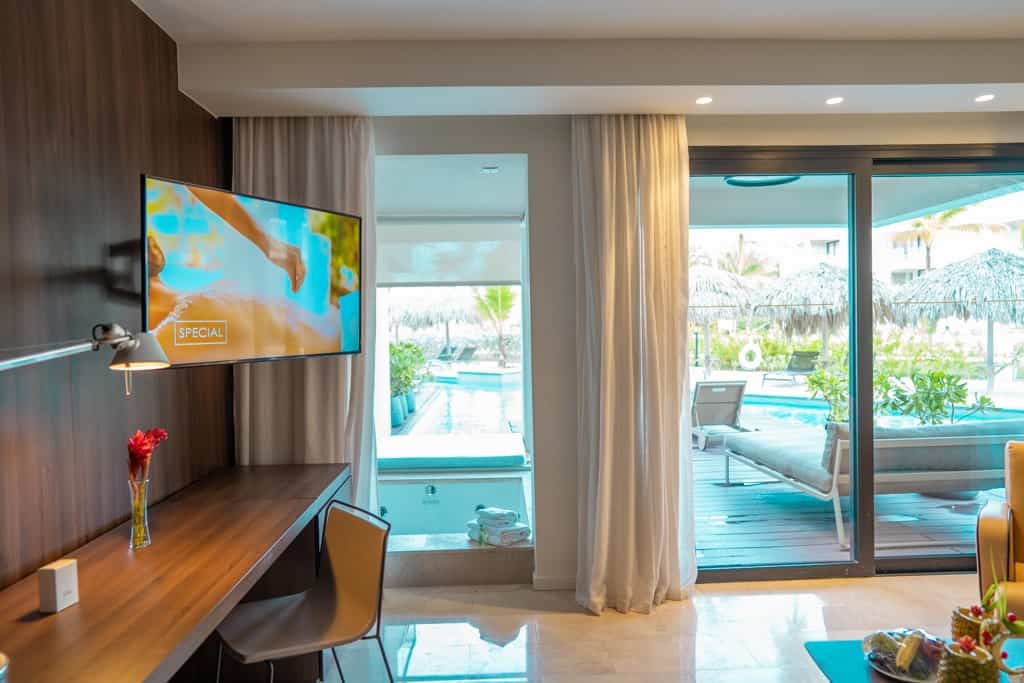 The suites themselves are so patient with a large walk in closet! The highlight for me had to be the giant tub that looked out into the pool. One evening my husband even asked if they could put rose petals to make it romantic. Our room was always clean and if we needed something, they always went beyond to accomodate it. If you don't want to go to one of the bars for a drink, they have bottles of Johnny Walker, Barcelo, Don Julio, etc to enjoy complimentary in your room. When we didn't want to walk to the restaurant we could call complimentary room service. My favorite thing was ordering room service for breakfast by the pool which we ended up doing every morning.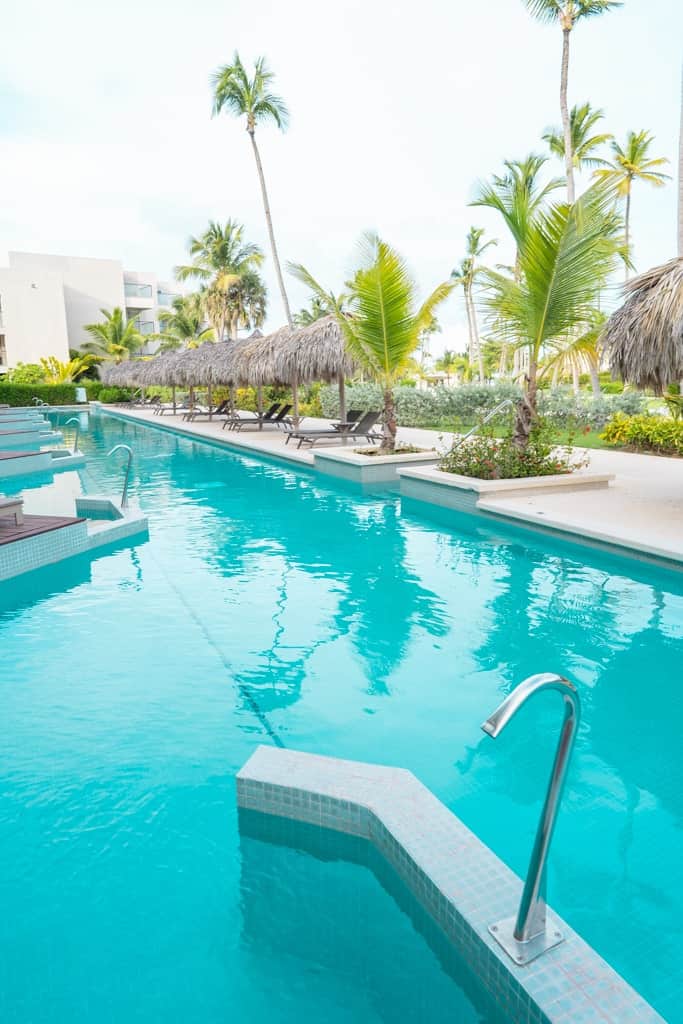 Excellence El Carmen Review: The Dining Experience
I feel like the food at all inclusive resorts can make or break an experience and so we were excited to know that the Excellence El Carmen had 15 different included options for dining including around the world flavors. From casual grills to romantic steak dinners, coffee shops with pastries, and a sports bar, you almost have to book enough days just to experience everything! One thing about dinner is that they work hard to keep it an upscale experience and so guests are required to dress up. No t-shirts, flip flops, etc allowed. Each menu has a large vegetarian section with several vegan options to make sure everyone could find something they enjoy.
One of my favorite restaurants ended up being Agave, their Mexican restaurant, with fresh aguachile, mahi mahi wrapped in banana leaves, and beef served with mole.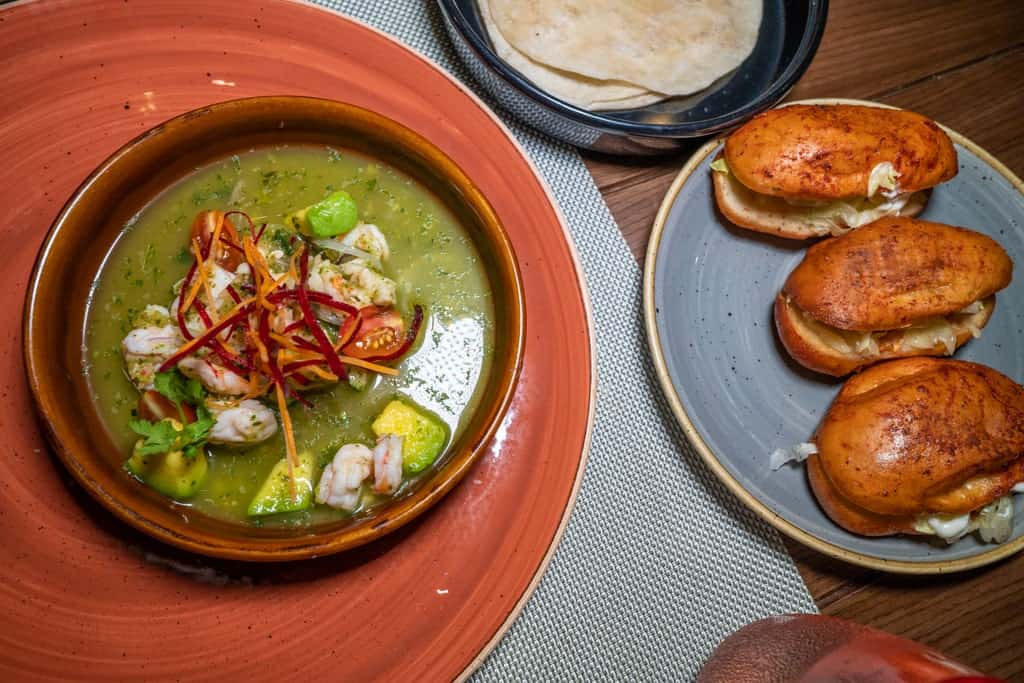 Another restaurant we really enjoyed was Flavor Market with Spanish tapas. It was so fun to order a little bit of everything and get to try so many different items like albondingas (meatballs), different cheeses, gazpacho, and other flavorful dishes.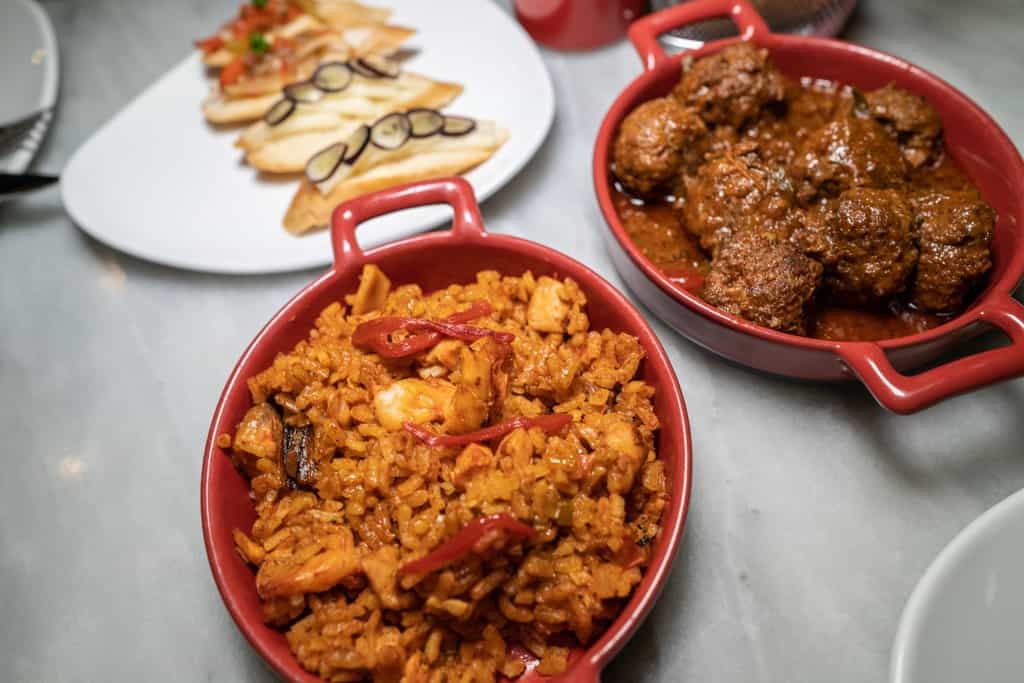 We did get to try Chez Isabelle (French food) and Spice (Pan Asian cuisine) while at their sister property, Excellence Punta Cana and believe that both resorts have very similar dining experiences even if the decor is a little different. Head over to our Excellence Punta Review to read about those restaurants.
Excellence El Carmen Review: The Activities
There was no shortage of activities when it came to staying at the Excellence El Carmen. Simply relaxing by the pool or walking along the beach would have been enough, but they also had a large list of activities that varied day to day from archery, pool games, dancing lessons, live bands, and more. There is an app for the resort which was so convenient because you could pull it up at any given time to see what was going on.
Every night they had a different show. We got to see the Dominican Show which showcased the vast dance styles and cultures across the country and across time. They also had fire shows and other unique offerings.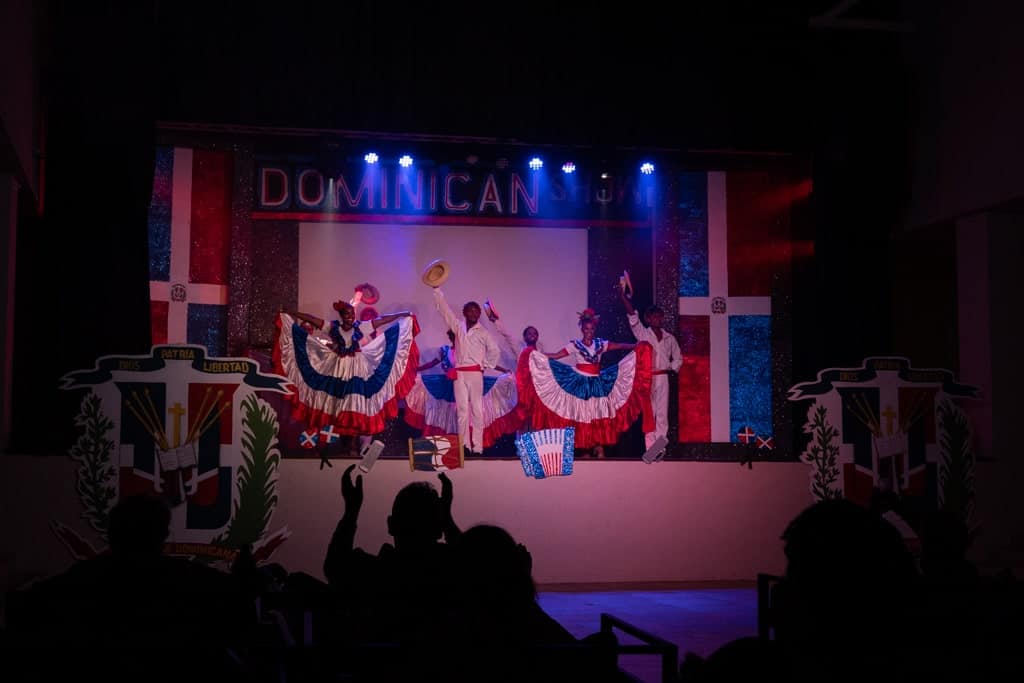 At the pool we saw a water spin class that looked like a party. We ended up opting for complimentary massages, but I just loved how unique the things they came up with were.
How Does the Excellence Punta Cana Compare to Excellence El Carmen?
We had the pleasure of not only staying at the Excellence El Carmen, but also Excellence Punta Cana (and honestly if you have the time, it's a fun way to switch things up). Both hold the same quality that the Excellence brand is known for but have their own slight difference. In the end I found that both resorts were equally wonderful, but it's all about what exactly you're looking for.
The Excellence Punta Cana felt more tropical with more open air bars and a design that made the resort blend in with the island life. All of the pools were connected to the main one so you had serenity, but could always get to the swimming spot/activities with a short little swim. Excellence El Carmen was bigger and more modern. There are a few more restuarants and you walk to the main pool area where all the action was. Many rooms also have their own little pool that you share with the other guests in your row, but it feels more private since there are so many.
For us I felt like we had two different experiences at each resort that were equally fun. I found myself at the main pool area with all the attractions at Excellence Punta Cana for all the excitement fairly often while at Excellence El Carmen I would spend a lot of time going out to our more private pool and relaxing there.