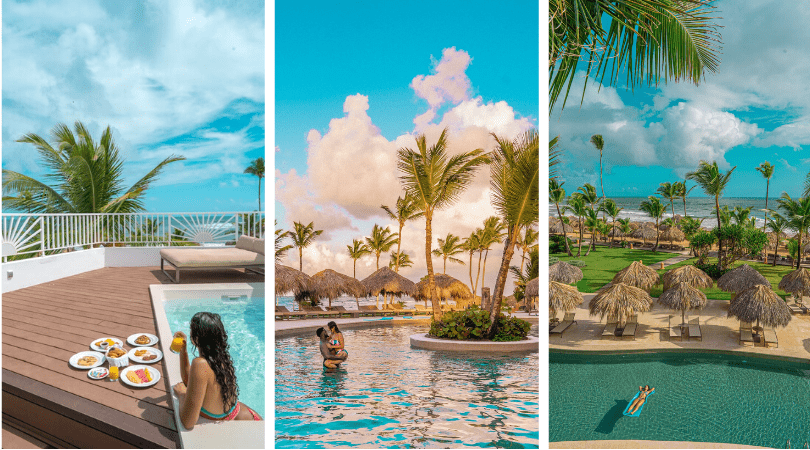 With so many all-inclusive resorts to stay in Punta Cana, Dominican Republic where do you even begin to start? We recently had the pleasure to stay at the Excellence Punta Cana and enjoyed every minute of it. From a beautiful room overlooking the ocean, an unlimited amount of dining options, a beautiful pool, and a wide range of different activities, Excellence Punta Cana offers it all. Keep reading all about our experience for our Excellence Punta Cana review.
Want to be more prepared before your trip? We've been using the Rosetta Stone app! It has 5-10 minute lessons all on your phone with visual and audio cues to help you learn quick! Join Rosetta Stone now and get 50% off your lifetime subscription!
Excellence Punta Cana Review: Resort Overview
As soon as we arrived at the Excellence Punta Cana, we knew it was going to be an incredible stay. The staff were so accomodating and friendly to make sure that our stay was the absolute best it could be. The resort itself is gorgeous with so many tropical plants and decor and a beautiful garden. The attention to service was one of the biggest attractions that stood out.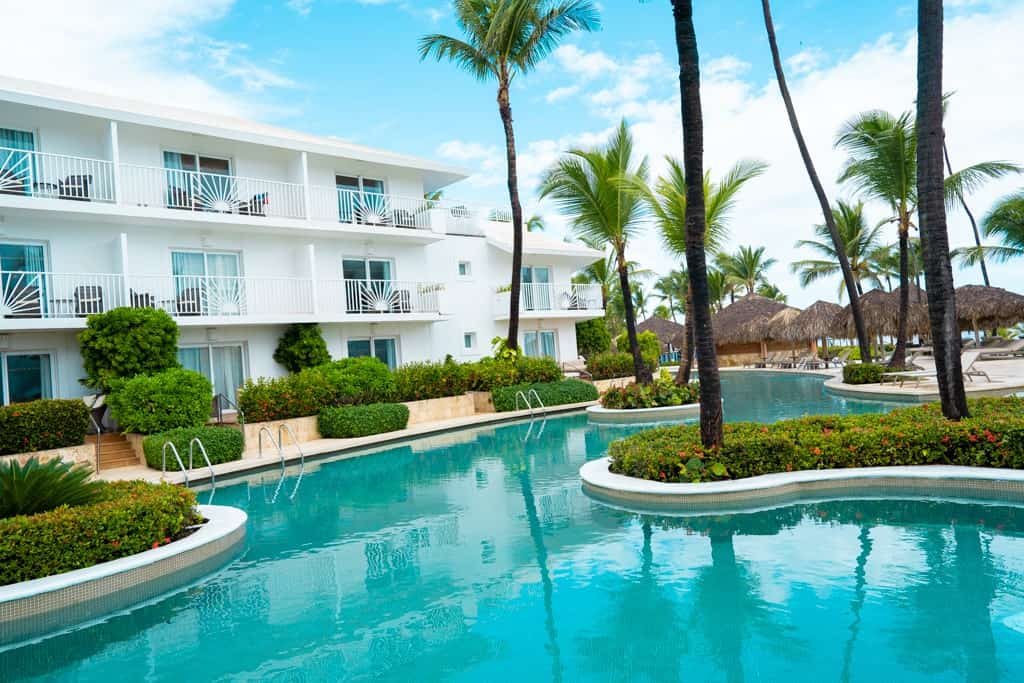 Another great aspect of Excellence Punta Cana was the layout of the resort. Their pool weaved around the resort in a way that made it seem endless and serene while also having a main section when you wanted to be around all of the action. Excellence Punta Cana is also an adults only hotel which was what we were looking for!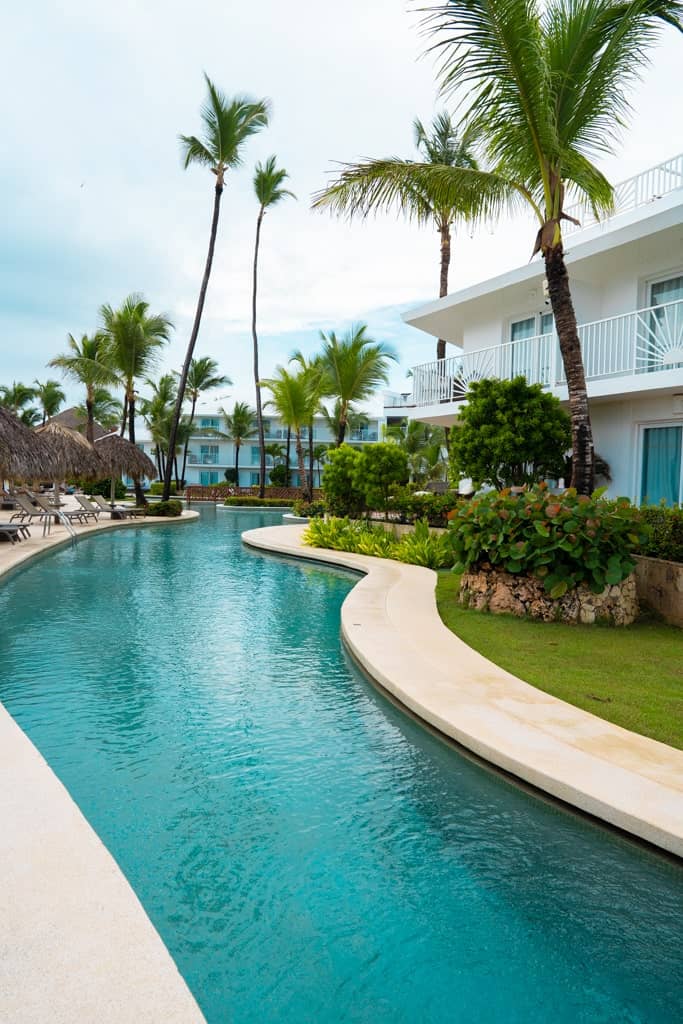 Excellence Punta Cana Review: The Rooms
I have come to realize that the less effort I have to take to achieve relaxation, the better. For me that means being able to be in the water in a moments notice. The Excellence Punta Cana has it's own rooms with private plunge pools that made all the difference. My favorite thing was getting breakfast delivered to our room and then jumping in the pool right after. There are also several different rooms where you can walk right into the pool from your door.
All of the rooms are spacious with a giant soaking tub perfect for the evenings when it gets too cold for a swim. The service here exceeded my expectations. Our room was always clean and if we needed something, they always went beyond to accomodate it. If you don't want to go to one of the bars for a drink, they have bottles of Johnny Walker, Barcelo, Don Julio, etc to enjoy complimentary in your room. And room service is a complimentary service as well. It really is all inclusive here.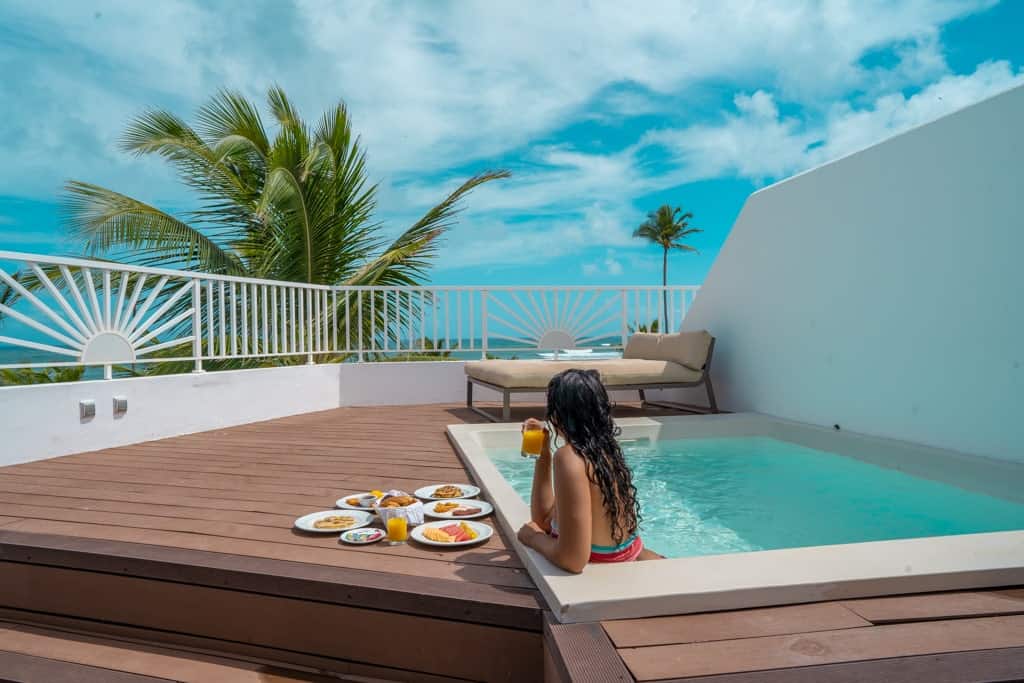 Excellence Punta Cana Review: The Dining Experience
Having a good dining experience is so important to me for the all inclusive resorts. My husband and I are quite the foodies and are always looking to try new things. Fortunately, the Excellence Punta Cana did not lack in options. There were so many different bars with a wide selection of drinks or the bartender can make your favorite. There was a coffee shop during the day serving lattes, sweet treats, and gelato, as well as so many themed restaurants. We tried to visit as many as we could! One thing about dinner is that they work hard to keep it an upscale experience and so guests are required to dress up. No t-shirts, flip flops, etc allowed. Each menu has a large vegetarian section with several vegan options to make sure everyone could find something they enjoy.
We found a little bit of France at Chez Isabelle featuring enticing French dishes like foie gras, escargot, seared scallops, tenderloin steaks, and more. The decor transported yout to a French restuarant and really set the mood.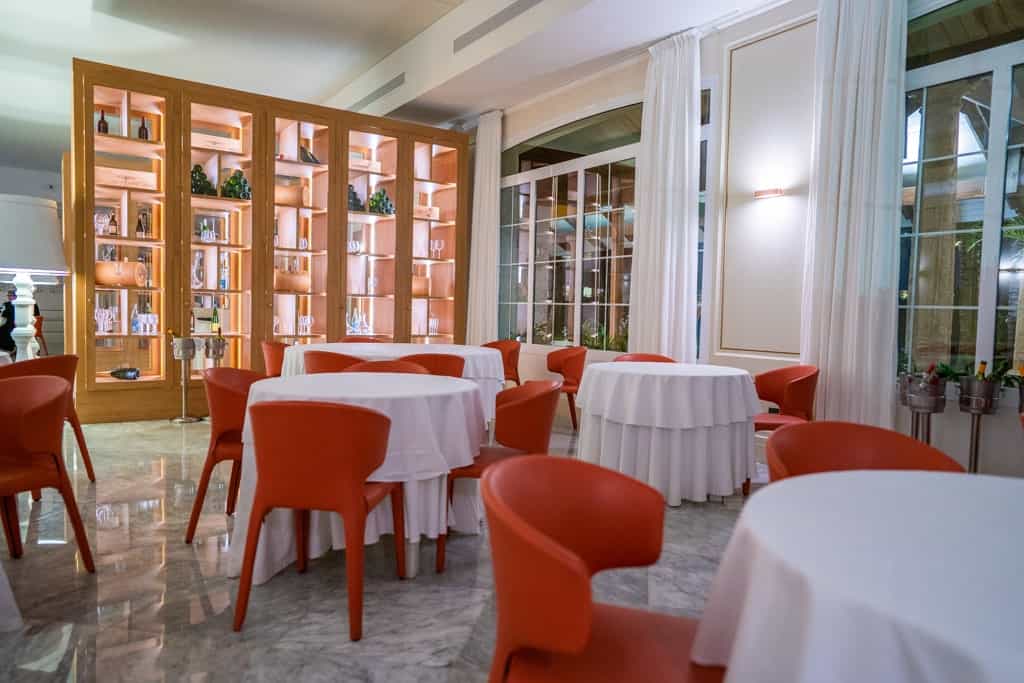 For a more exciting and entertaining dinner we went over to Spice, their Pan-Asian restaurant. You can get sushi, Balinese dishes, curry, and more. They even had a hibachi experience for an entertaining dinner and a show with plenty of sake.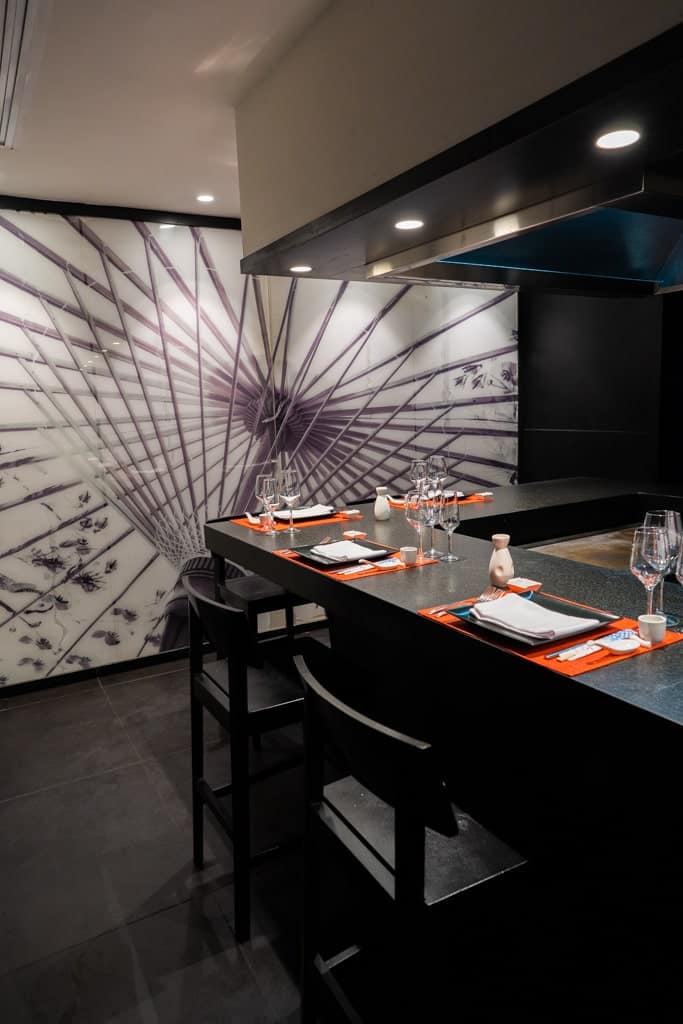 We did get to try Agave (Mexican food) and Flavor Market (Spanish cuisine) while at their sister property, Excellence El Carmen and believe that both resorts have very similar dining experiences even if the decor is a little different. Head over to our Excellence El Carmen Review to read about those restaurants.
When not enjoying fine dining dinners, there was no shortage of options for breakfast and lunch including a massive buffet. For us, we took full advantage of included room service to our rooms. I loved having their Dominican breakfast and I loved their take of mozerella sticks.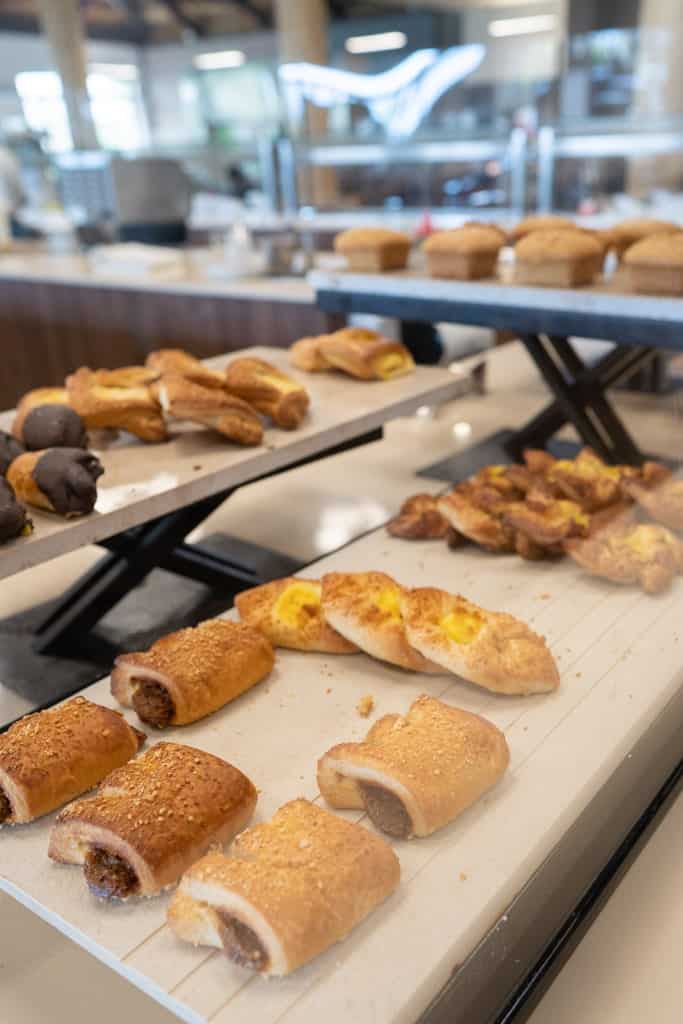 Excellence Punta Cana Review: The Activities
Enjoying all that Excellence Punta Cana had to offer was easy! For us, just the unlimited beautiful pool time would have been enough, but they also had so many extra itinerary items for a full day of fun. They have a new itinerary every week and you can pick and choose what you want. There's actually an app for the resort which made everything so conveient. You could tell what restuarants were open at any given time as well as pull up the itinerary to see what's going on.
Even without the itinierary you have the option to stroll through the gardens where you might come across a friendly parrots or even flamingos you can feed.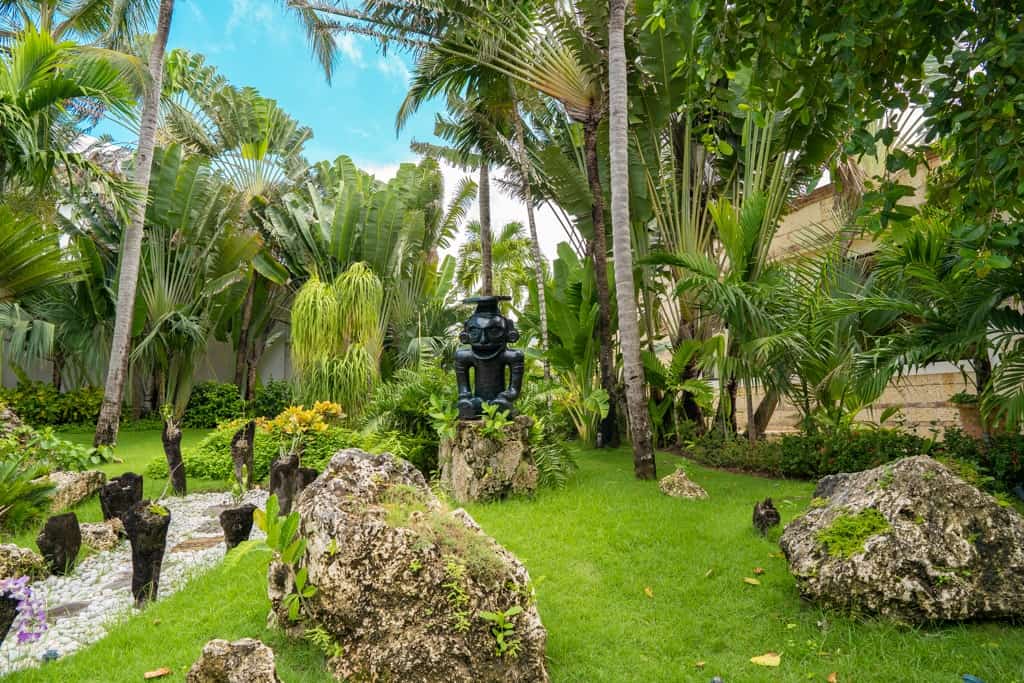 There's such a wide range of activities from relaxing yoga to energetic dance and fire shows. Throughout our stay we got to enjoy so many activities. We got to play bingo, have a kayak race in the main pool, get competivie during some pool volleyball, and dance the night away at a silent disco. And we even barely scratched the surface of Spanish lessons, dance lessons, archery, cooking classes, and more.
Excellence Punta Cana Review: The Spa
The spa at the Excellence Punta Cana was the perfect way to round out our vacation. You can book facials and massages or you can try their hydrotheraoy which is a semi self-guided experience through saunas, cold/hot plunge pools, massage jets, and a light massage.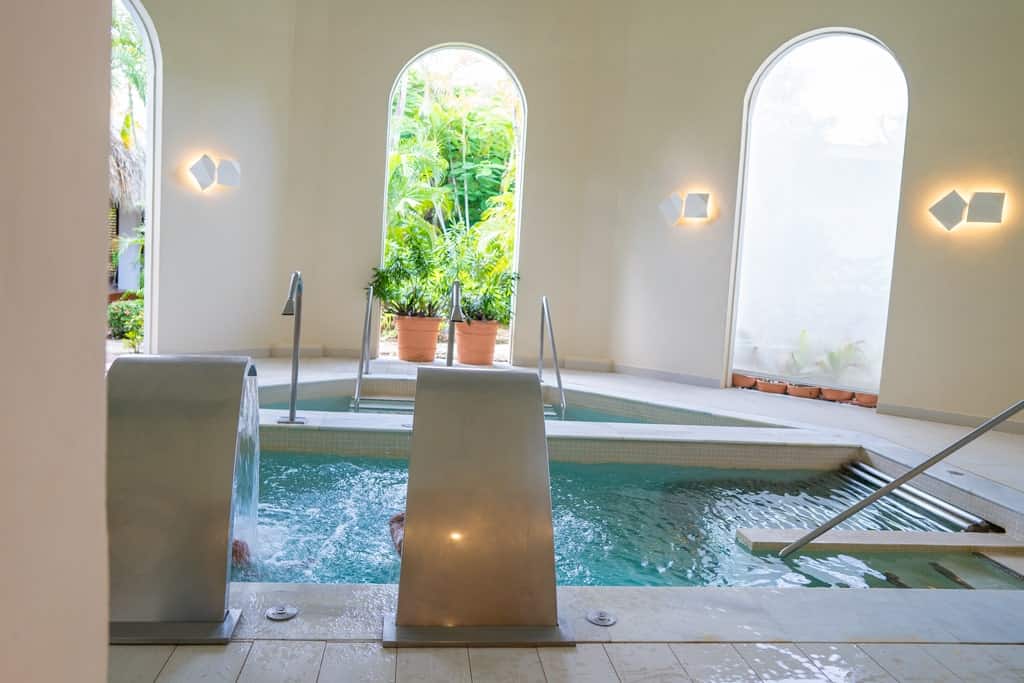 How Does the Excellence Punta Cana Compare to Excellence El Carmen?
We had the pleasure of not only staying at the Excellence Punta Cana, but also the Excellence El Carmen (and honestly if you have the time, it's a fun way to switch things up). Both hold the same quality that the Excellence brand is known for but have their own slight difference. In the end I found that both resorts were equally wonderful, but it's all about what exactly you're looking for.
The Excellence Punta Cana felt more tropical with more open-air bars and a design that made the resort blend in with the island life. All of the pools were connected to the main one so you had serenity but could always get to the swimming spot/activities with a short little swim. Excellence El Carmen was bigger and more modern. There are a few more restaurants and you walk to the main pool area where all the action was. Many rooms also have their own little pool that you share with the other guests in your row, but it feels more private since there are so many.
For us I felt like we had two different experiences at each resort that were equally fun. I found myself at the main pool area with all the attractions at Excellence Punta Cana for all the excitement fairly often while at Excellence El Carmen I would spend a lot of time going out to our more private pool and relaxing there.