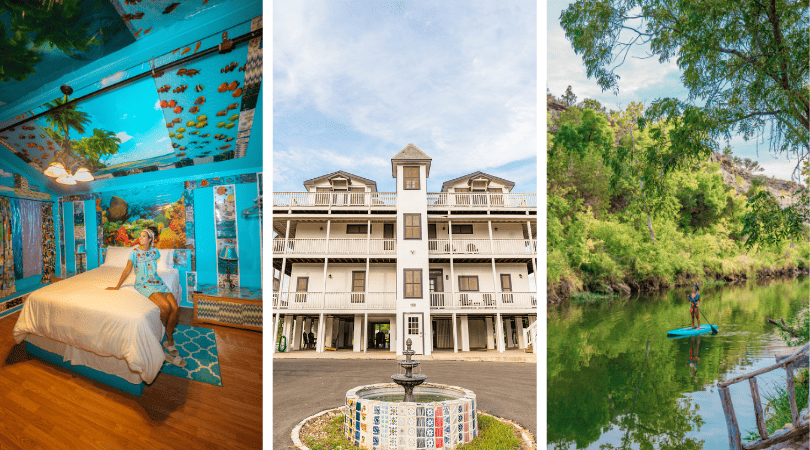 Situated on 18 acres in the small town of Liberty Hill TX, the River Ranch Inn is so delightfully eccentric, it refuses to let you take life too seriously (and that's what getaways are all about, right?). Its atmosphere is truly irreplicable!
Before we dive into all the quirky details, here is a little insider info. A former Austin resident, Jenna Radtke, designed Liberty Hill's River Ranch Inn, the same creative genius behind Austin's famous former costume shop "Lucy in Disguise with Diamonds." You'll see panels repurposed from her collections of old fabric all over the inn, inspiring each unit's standout theme.
Radtke purchased the 18 acres in 1992. She moved her first home, the Casa Rio de Colores, from behind her shop in Austin to the property. In 2000, she moved a Victorian-style home from Lexington, Texas and named it the Inn at the Blue Hole. It was later renamed the River Ranch Inn in 2021.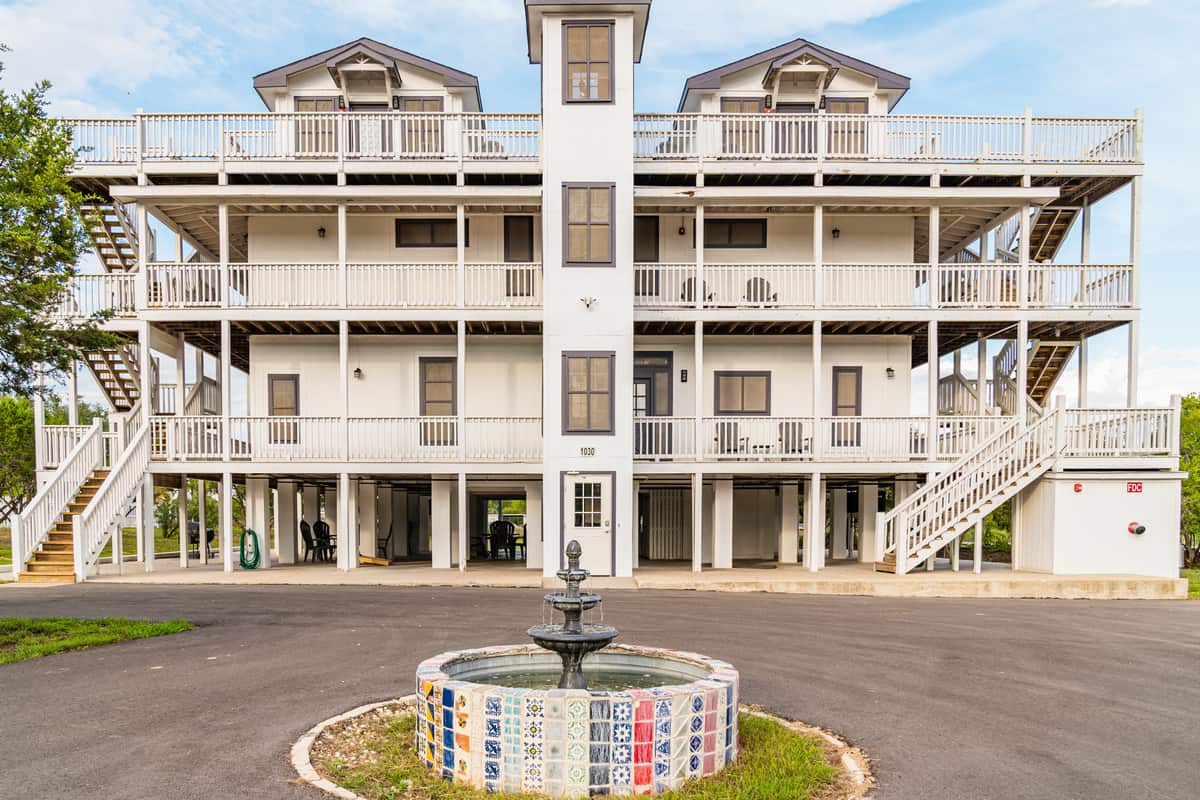 Although the property exchanged hands from Radtke to Amber and Grady Daniel in 2021, all the decor is original, aside from some cosmetic changes like new mattresses, linens, and some new furniture.
The River Ranch Inn is a piece of Austin in the middle of Liberty Hill and we're here for it!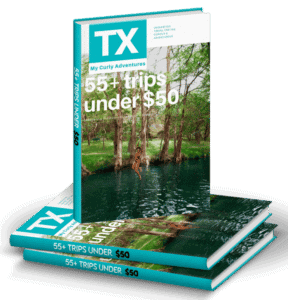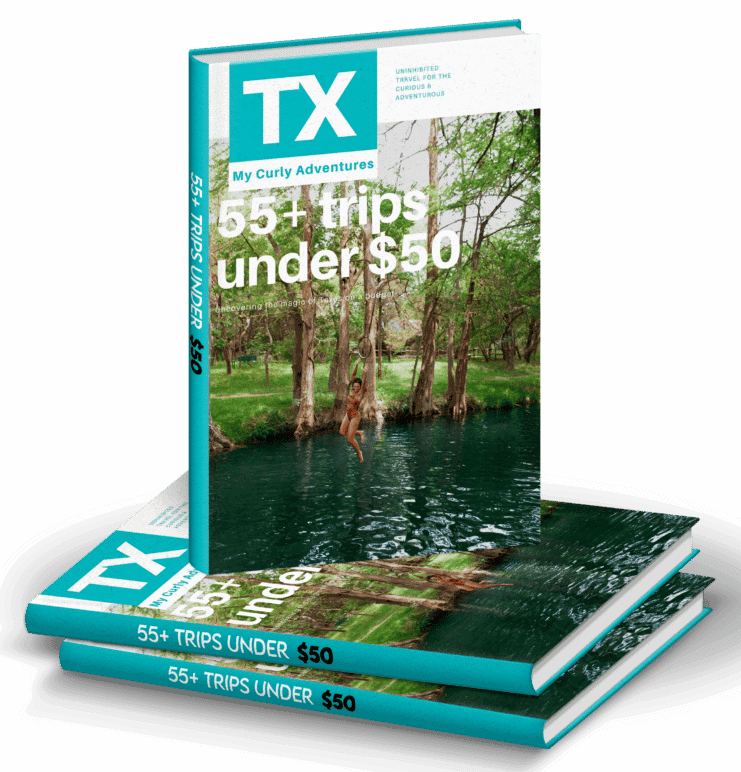 With our latest edition of our Texas Travel Guide, you can take an exciting vacation every weekend without breaking the bank and still have more to do! And in just one trip, the guide pays for itself! You'll be amazed at all the hidden gems, international influence, and wacky attractions you'll find all over Texas!
Not ready to purchase quite yet? We wanted to make this guide as accessible as possible, so we've shared our 1st edition of our guide, 50 Texas Trips Under $50. Click the button below to get yours for FREE!
River Ranch Inn's Private River Access
River Ranch Inn is between Leander and Liberty Hill TX, a mere 45-minute drive from downtown Austin.
The River Ranch Inn also offers access to the Blue Hole, a section of the South San Gabriel River. Because of it's location on the hotel's private land, you'll have exclusive access to this oasis during your stay. There are even showers and restrooms nearby so you can rinse off before heading back to your room.
You're free to kayak (kayaks are provided for free by River Ranch Inn), paddleboard, swim, float, or use their charcoal grills and picnic tables during your stay. Don't forget to bring your fishing poles, bikes for the nearby walking trails of Williamson County, and s'mores for the fire pit, surrounded by a natural bamboo forest.
You can access the water via the ladder or rock stairs. There's even a picturesque waterfall built by Radtke herself!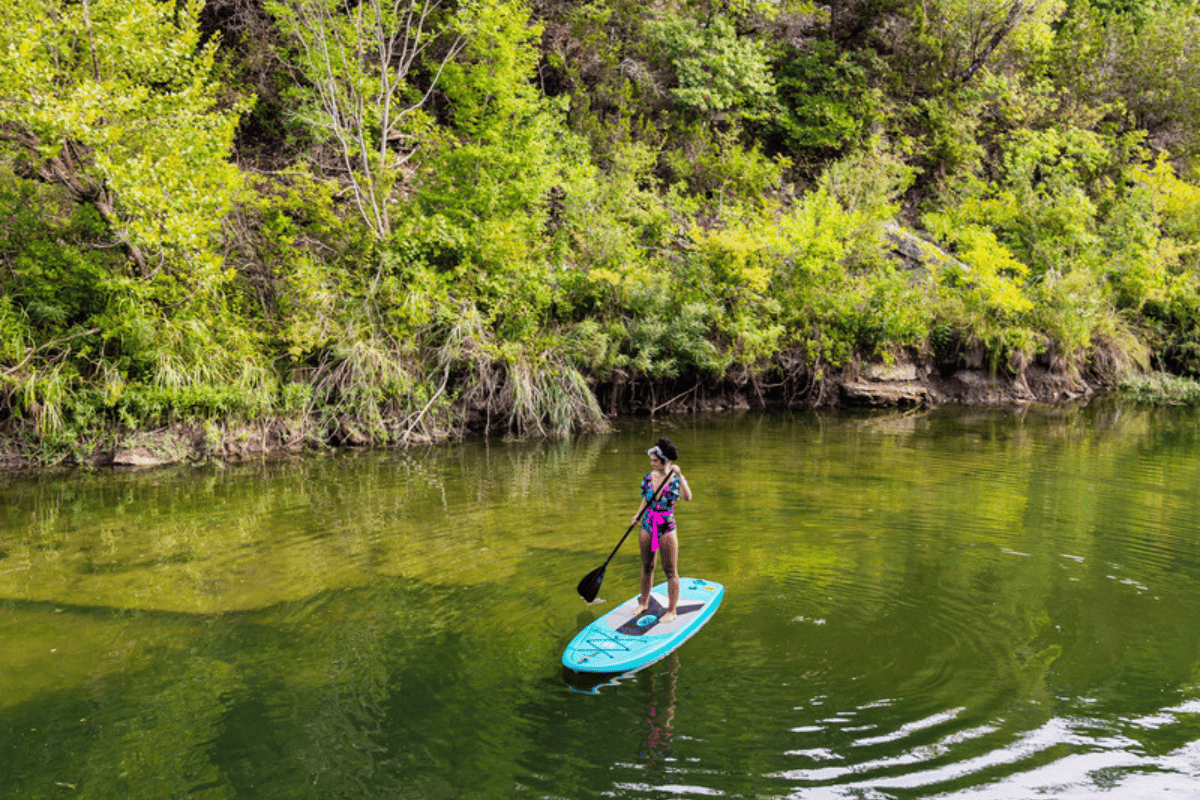 The Eight Units at the River Ranch Inn
The River Ranch Inn's eight, individually designed units truly set it apart from other hotels. Each one has its own captivating theme and character. Plus, two bedrooms, a full bath, kitchenette, and adjoining dining area. It's the perfect set-up for families, friends, or couples looking to escape to the Texas Hill Country.
These are not your ordinary hotel rooms; they're vibrant, whimsical, and downright magical. And, of course, they all come with private access to a stretch of the South San Gabriel River! What could be better?
The Kitchenettes
Each kitchenette has its own unique decor and is filled with modern appliances like an Air Fryer, coffee maker, microwave, refrigerator, silverware, and cutlery. If you're not looking to adventure around Liberty Hill or nearby Leander (but we highly recommend you do), it's convenient to cook in the comfort of your unit.
If you prefer a change of scenery, the outdoor common area beneath the inn's beams features additional seating, a grill, and yard games. Enjoy your morning coffee outside, gather with friends, or make new ones!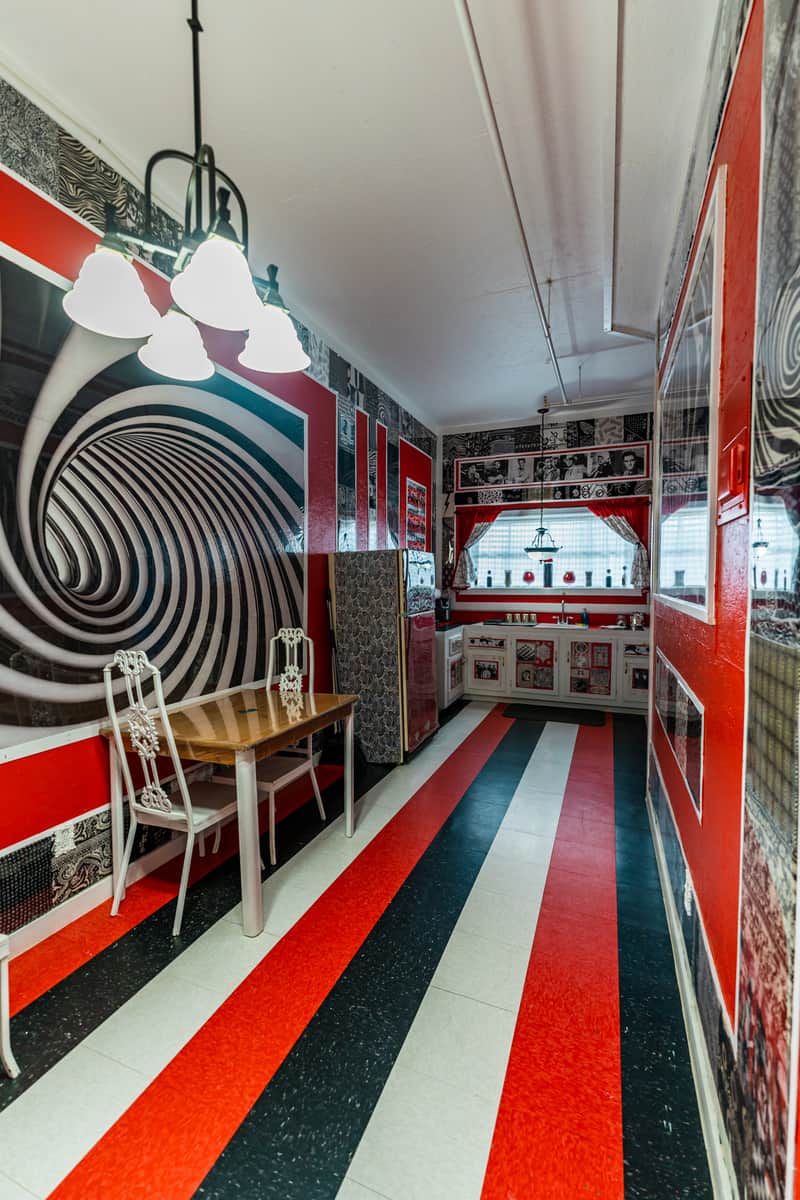 This unique unit offers a delightful fusion of colors, from the main bedroom's tropical theme and the second bedroom's delightful mix of blues and purples. Both rooms are furnished with a queen-size bed.
The full bathroom features high fashion, grayscale decor that adds a playful, but aesthetic touch to the Revière.
Its proximity to the river means you're in for beautiful views any time of day!
The Orion's king-size bedroom is decorated with light and airy Moroccan-inspired décor, featuring both a dresser and TV. The second, queen-size bedroom is covered in different shades of red and intricate patterns.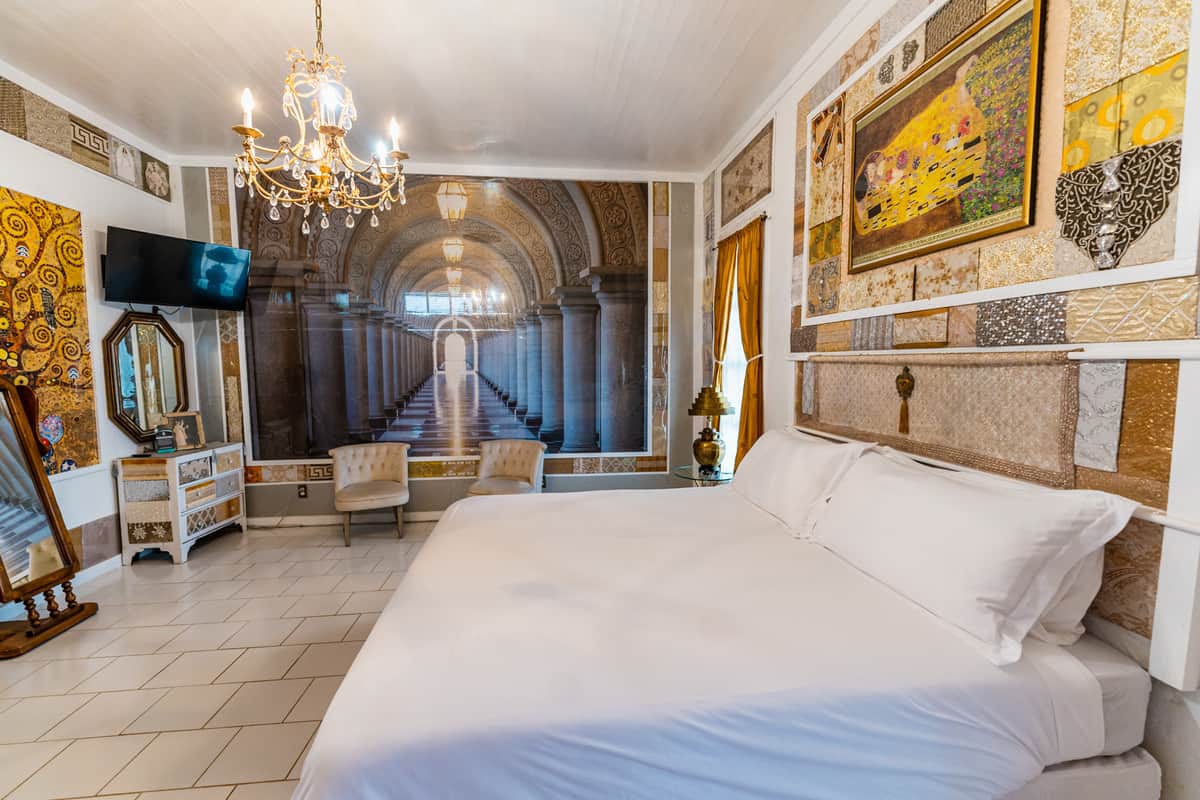 Even the bathroom and kitchenette feature eye-catching pieces of art and vinyl, including the refrigerator and cabinetry.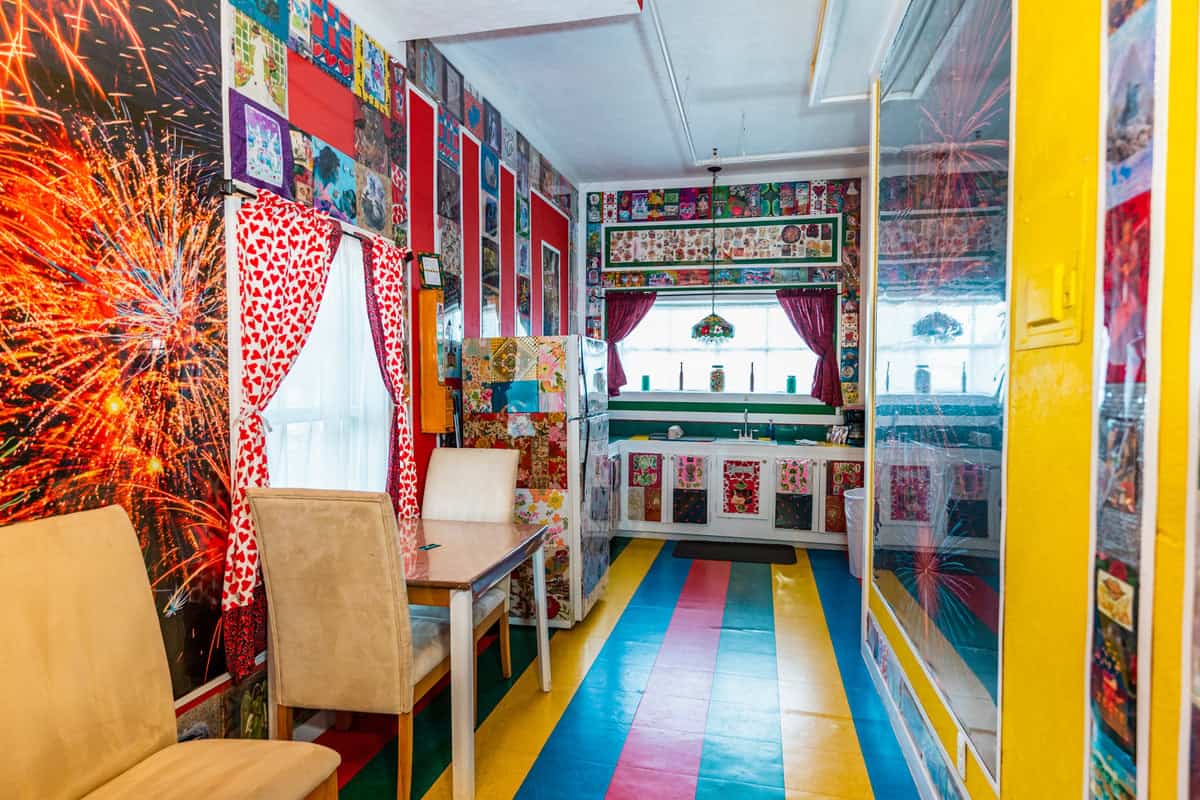 The Allegra features two queen-size bedrooms. The first is adorned in calming shades of green and matching, elaborate patterns. The second, known as the Unicorn Space, features playful decor, like a giant portrait of a pink unicorn, and a beautiful stained glass chandelier. It's not just for kids; it's for the young at heart, too.
When it's time to freshen up, the full bathroom maintains the fun with wildlife decor and clean towels.
Named after the fictional character from "Beauty and the Beast," Belle promises a stay that is as beautiful as it is exciting with views of the South San Gabriel River.
One of the two queen-size rooms highlights the majesty of your favorite large cats, like tigers and cheetahs.
The second bedroom features a giant peacock painting with rainbow stripes on the floor. Plus, more vibrant colors and intricate patterns.
The unit also features a rock-and-roll-themed bathroom with splashes of bright red and a stocked, Western style kitchenette.
The kitchenette looks like something out of Alice and Wonderland, with more beautiful art, stripes on the floor, and red everywhere. Every inch of this space is decorated to impress!