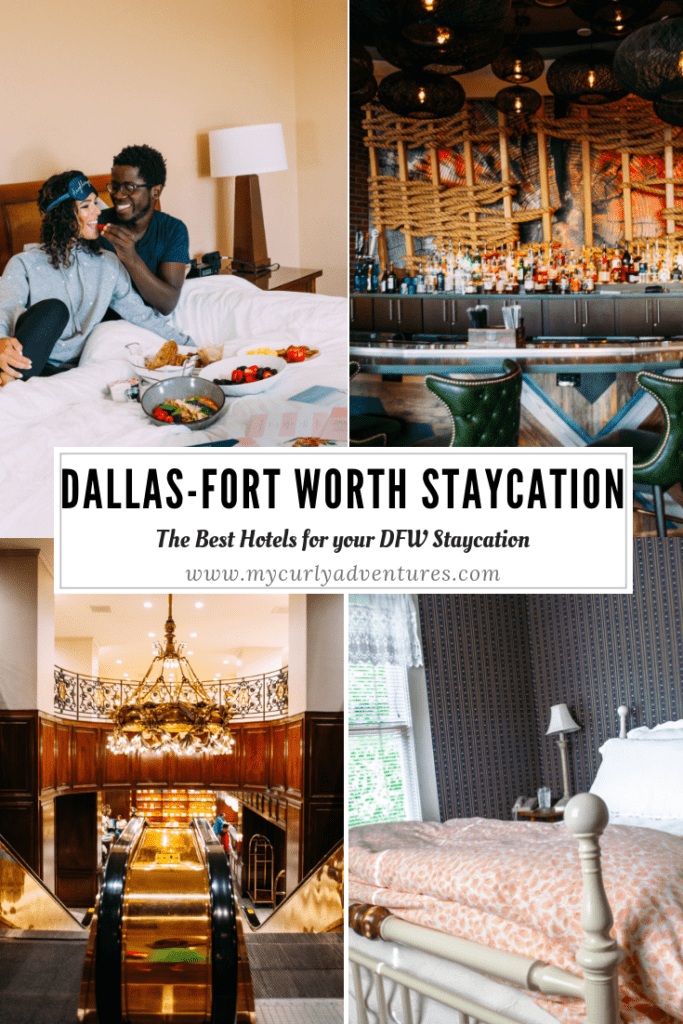 Planning a staycation in Dallas-Fort Worth is a lot of fun. You don't have to worry about driving far, but you can still unwind and get that vacation feel. There are so many places in the Dallas-Fort Worth Metroplex to meet your staycation needs whether you are looking for something budget-friendly or you want somewhere you can completely indulge. Whatever you are planning for you Dallas-Fort Worth staycation, there's hotel that meets your needs!
Dallas-Fort Worth Staycation – Luxurious Resort
If you're looking for full on indulgence, you have to check out the Four Seasons Dallas in Las Colinas. This resort has everything so that you can truly indulge without even leaving the hotel. In addition to just about the most stunning pool, the Four Seasons has gourmet dinners, and incredible bar, and plenty of options to keep you full. Not a fan of the standard gym when working out? You can take fun fitness classes such as dance classes, MMA classes, aerial yoga, and more. Of course, when we are travelling one of our major goals is to unwind. The spa at Four Seasons Dallas is incredible including my personal favorite: the Alpine Arnica Deep Tissue massage. To read more about a luxurious staycation in Dallas-Fort Worth at the Four Seasons go here. You can also book your stay here.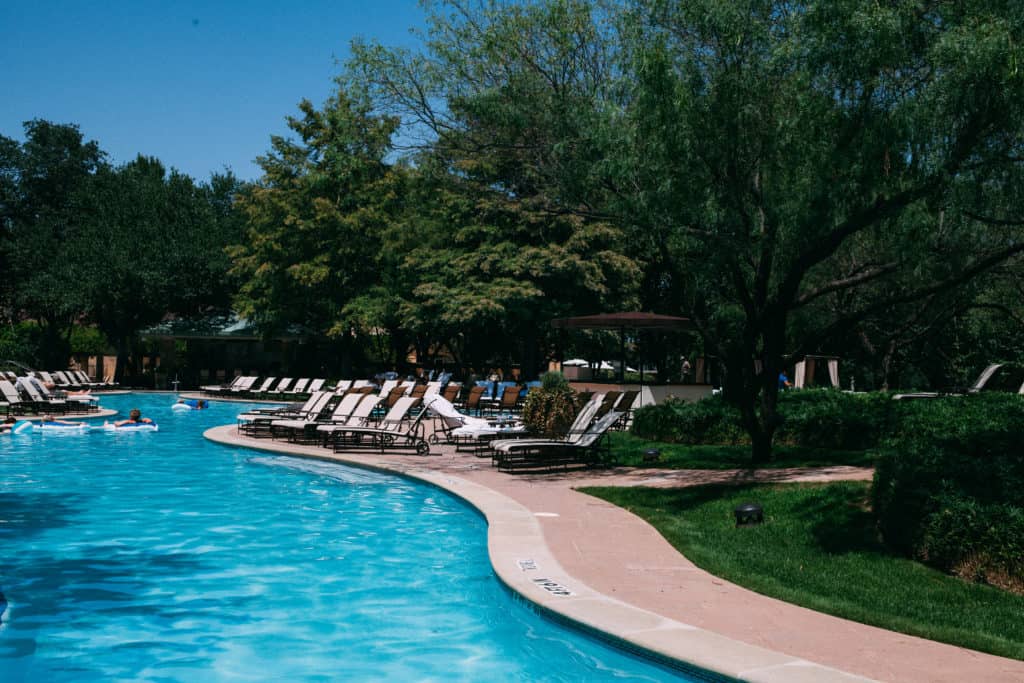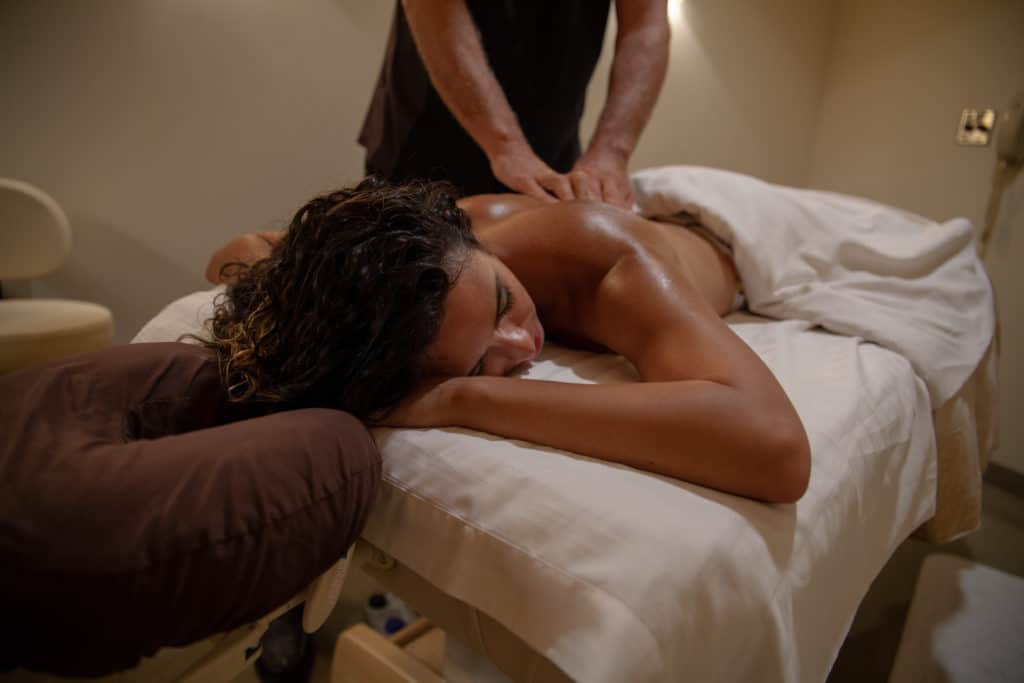 Dallas Fort-Worth Staycation – A Relaxing Retreat
The little town of Glen Rose is about an hour West of Fort Worth but makes for the perfect getaway if you want to go somewhere else without being too far away. As a town once known for its healing springs, Glen Rose invites you to relax and clear your mind while still offering plenty to do to keep you busy. Inn on the River embodies all of this in a similar way! You can stay all day enjoying the softest bed and lounging in the chairs overlooking the river or you can walk over to the historic downtown square and plenty of places for a romantic dinner. The rooms are each uniquely decorated with vintage wallpaper and my favorite part is breakfast! Inn on the River offers a complimentary multi-course breakfast. We started every morning in a peaceful state of mind this way! For people looking for romance on a budget they even have a room under $100! To read more, head here and book your stay here.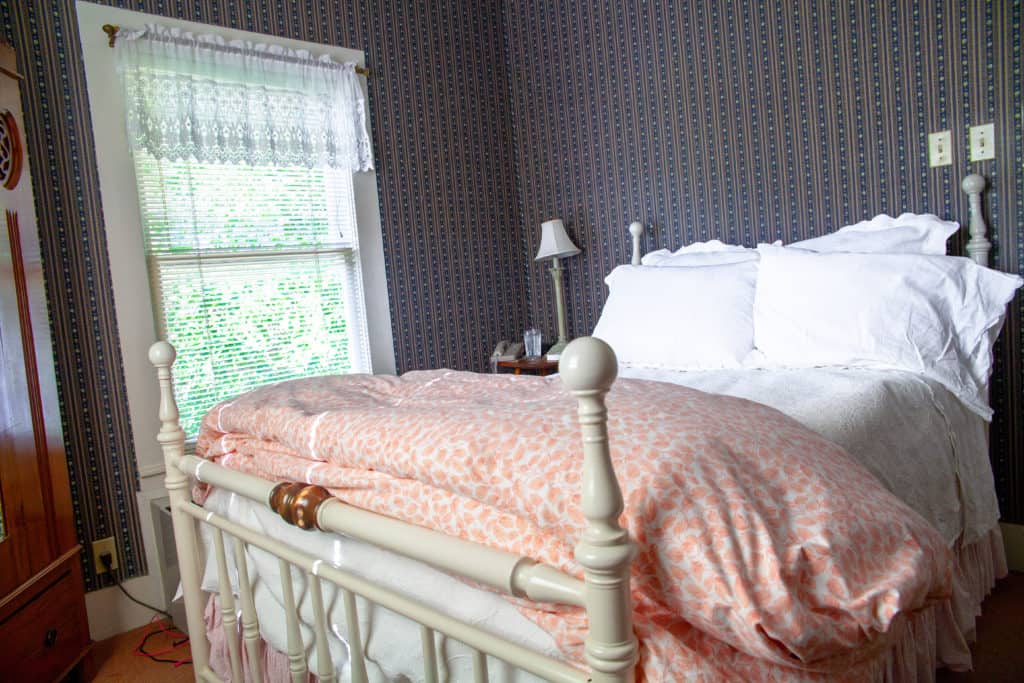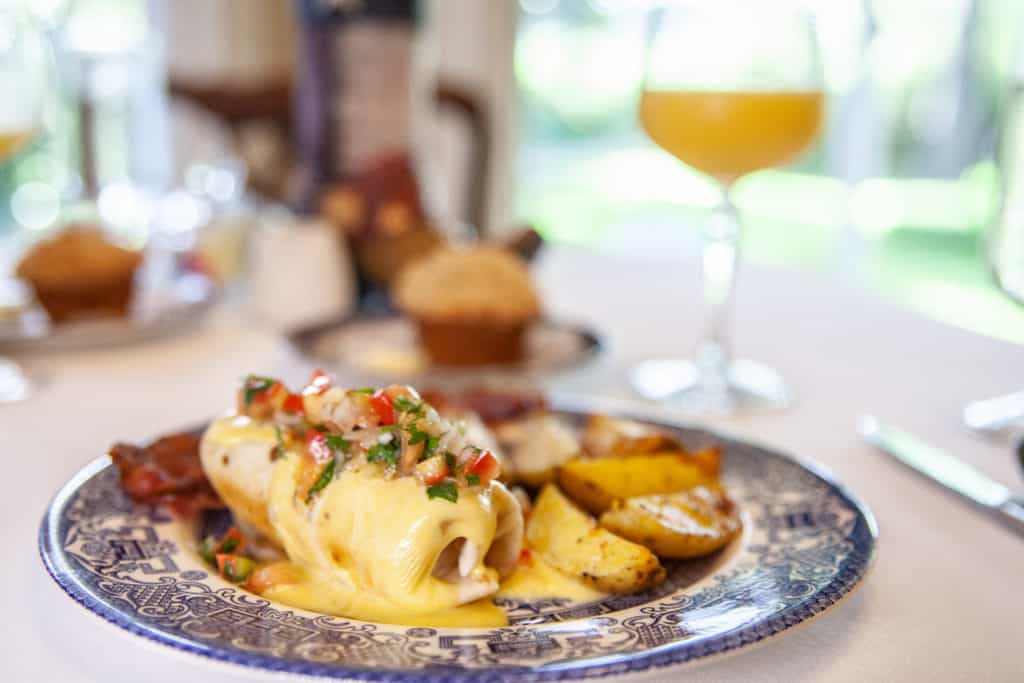 Dallas-Fort Worth Staycation – Funky & Budget-Friendly
I love Hotel Indigo Frisco for its fun colors and unique decor. As soon as we walked into the lobby of the hotel, I was immediately stunned with the gold foiled walls, the gorgeous bar, and fun pool! Hotel Indigo is perfectly for people who are looking for a hotel with personality, who are on a budget, or who want to get out and explore. Hotel Indigo is fun for lounging around with a good drink (they have the prettiest indigo colored drink). You'll definitely want to take time to relax in their infinity style pool which looks even more amazing at night. Hotel Indigo is also perfect for people who want to get out since there are so many things to do in Frisco. To read more, head here.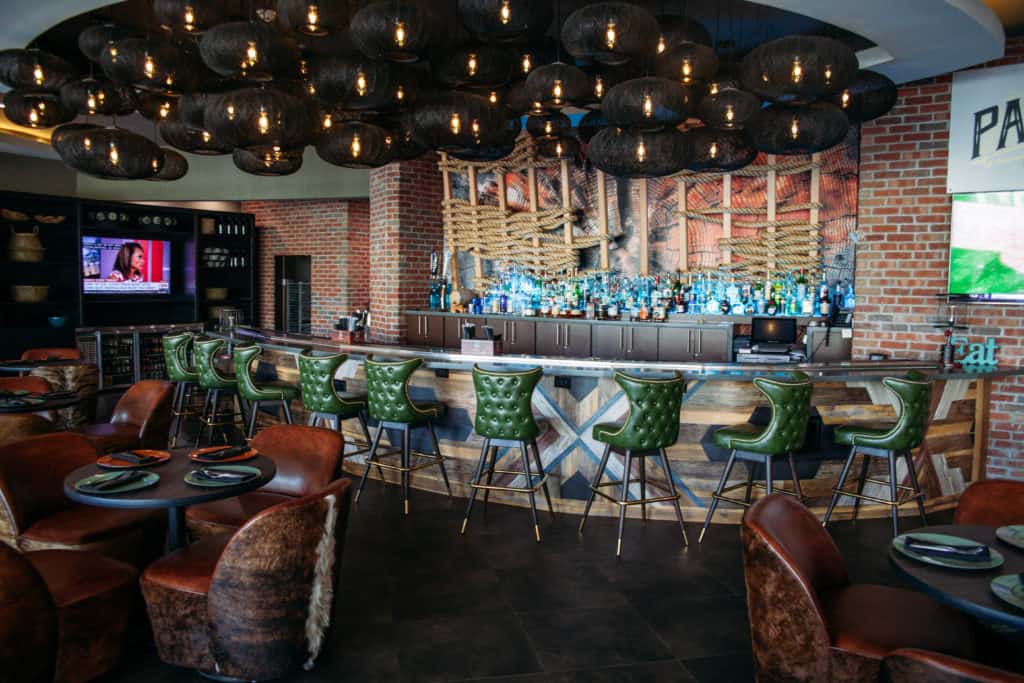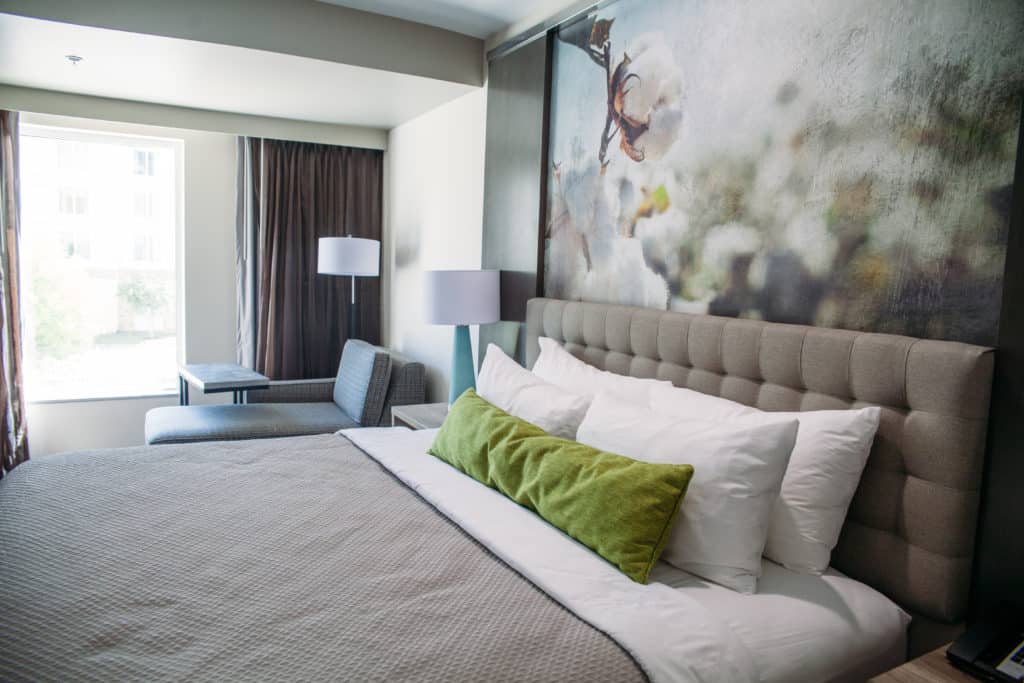 Dallas-Fort Worth Staycation – Historic Elegance
Walking into the Adolphus Hotel is like walking into another century. Perfectly located in downtown Dallas, this historic hotel immediately captivates you with its 100 years of luxurious history (minus all the stuffy parts). There's something so timeless about the Adolphus Hotel that I've always loved! My husband and I were first captivated by this hotel when we came for a romantic Valentine's dinner, and it has been one of our favorite spots since. Walking through the multiple rooms and lobbies is an experience of its own with all of the beautiful decor and attention to detail. Plus, with some gourmet food options, a rooftop pool, a funky barber shop, a spa, and a regular list of activities, there's no reason to need to leave the Adolphus! to read more, head here and book your stay here.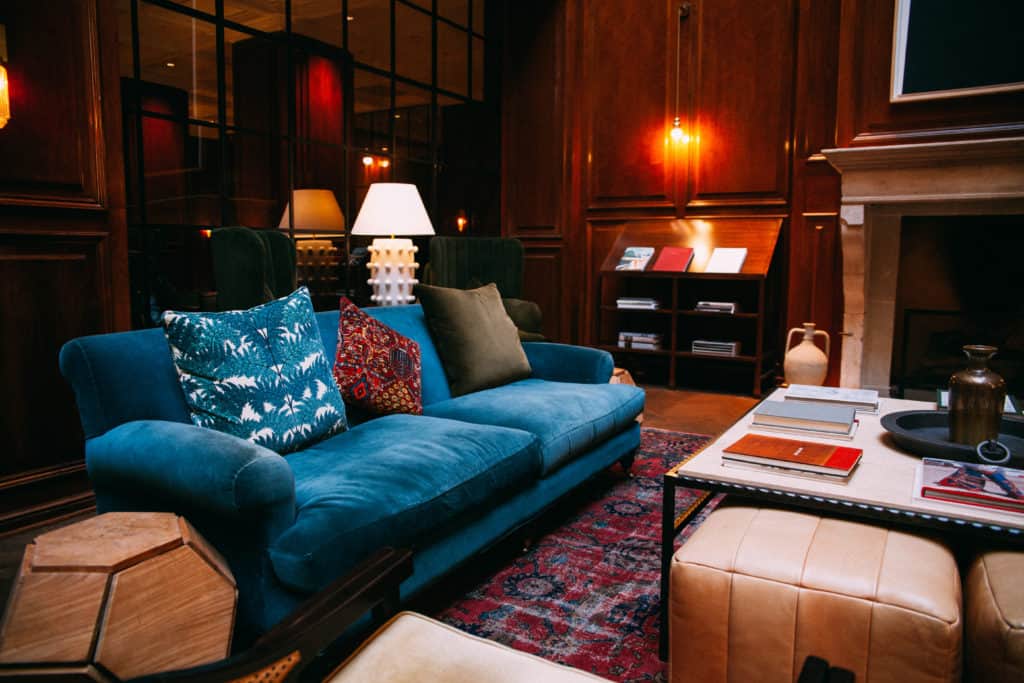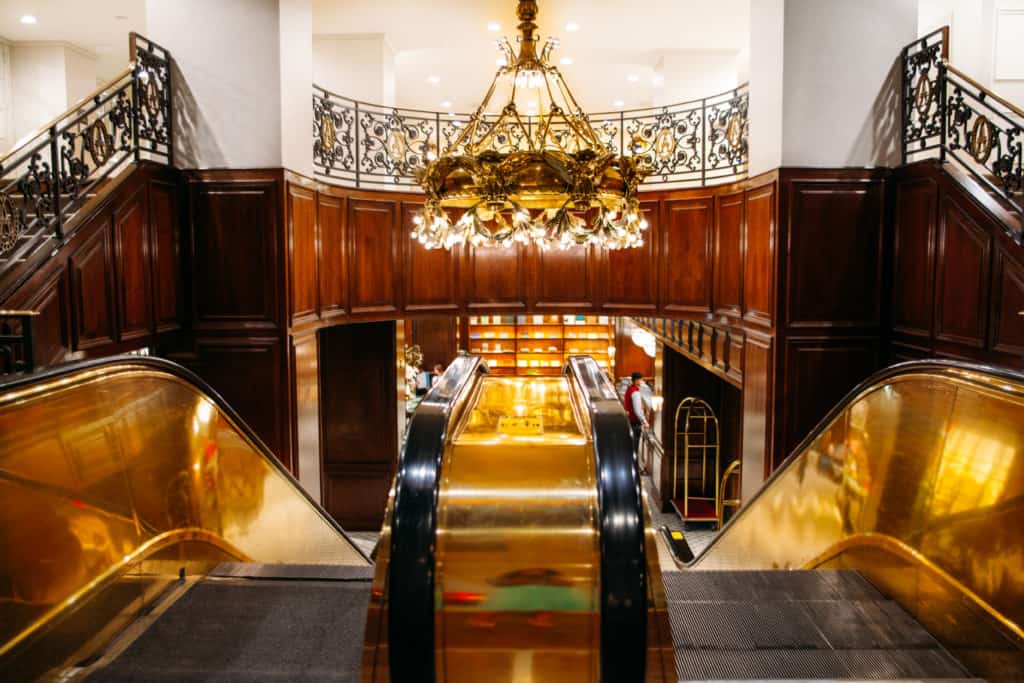 Dallas-Fort Worth Staycation – Finding the Best Deals
No matter where you stay, I always want to make sure you find the best deals! I used to think that just Google and the deal finder websites would give me the best savings, but I soon found out otherwise after being introduced to these sites. Below are some of the best hotel saving websites I have that might help you book your next Dallas-Fort Worth Staycation!
Trip Hop Travel – Trip Hop travel has been amazing! On top of their already amazing savings, you get PayPal money back (someone tell me if this works well for corporate travel).
Last Minute Travel – Last Minute Travel is perfect for your last-minute destinations and they have a pretty large list of different hotels.