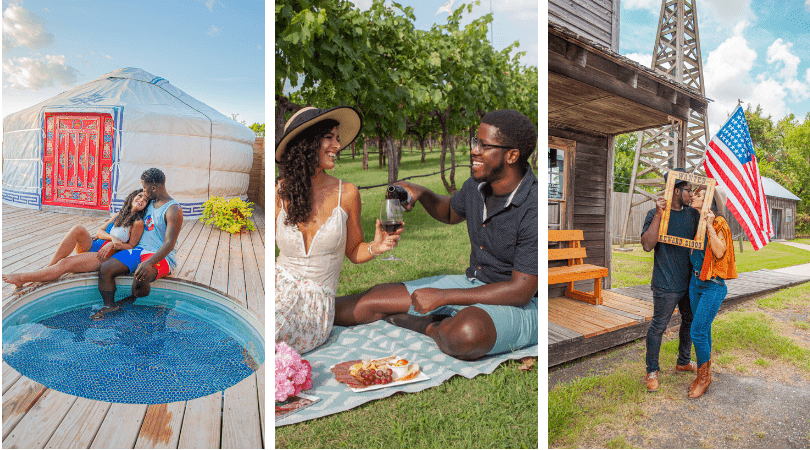 Looking for a romantic getaway close to San Antonio? With so many great local destinations, couples don't need to travel far for some great bonding time. All of these romantic getaways near San Antonio for couples are just a few hours away so that you have more time for your trip and less time flying or driving.
Austin
Austin not only has a lot of options (too many to mention here) for a romantic weekend getaway, but you can break weekend getaways into themes. For a more sophisticated romantic weekend, experience the opera, savor the flavors of a fancy 7-course meal, tour one of the local wineries, and spend some time being pampered at the spa together. Looking for a little more flare for you and your love? Rent a Vespa and tour the shops and bistros, take a helicopter ride to get amazing views from above, and maybe even catch a music festival. For those nature-lover couples, maybe you'd prefer a picnic and a stroll through one of the many beautiful Austin parks, or hike McKinney Falls State Park, relax in the Austin Salt Cave, and book a sunset cruise. Have fun together in Austin, either by theme, or mix it up and experience a little bit of it all!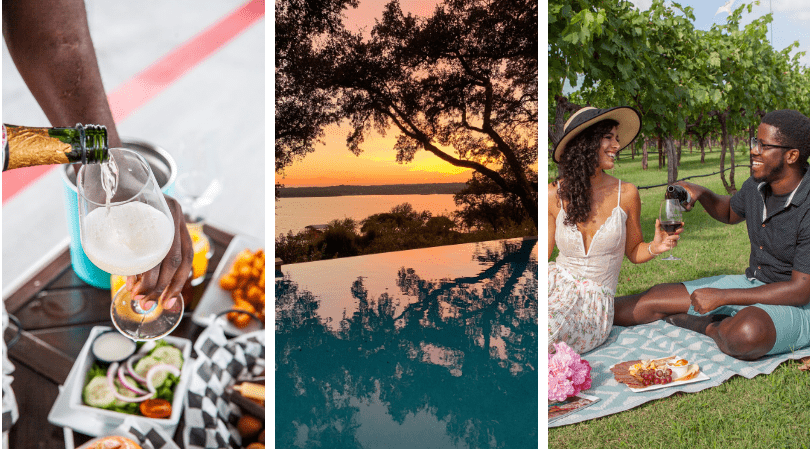 Bandera
Bandera is a magical place with a cowboy flare that is perfect for a romantic weekend getaway! Hold hands while taking a drive through the hill country where you'll take in some amazing views. You can also get closer to nature and the views with a horse-back trail ride or bike ride, sure to bring you and your loved one closer with the experience. For a different view, but just as fun, go kayaking on the Medina River. When you're ready to take it indoors, there are several museums and shops to discover together. In the evenings, you can dance the night away, or have a nice romantic dinner with some local wines. Oh, and don't forget the rodeo!
Beaumont
This fun Southeast Texas town makes for a budget friendly and fun romantic weekend getaway for couples near San Antonio. In Beaumont you can stroll through the beautiful and free rose gardens, have fun camping in some of the most scenic state parks (or on the beach), and indulge in some delicious Cajun food. Just a little outside of town you might even feel like you've been transported to Europe.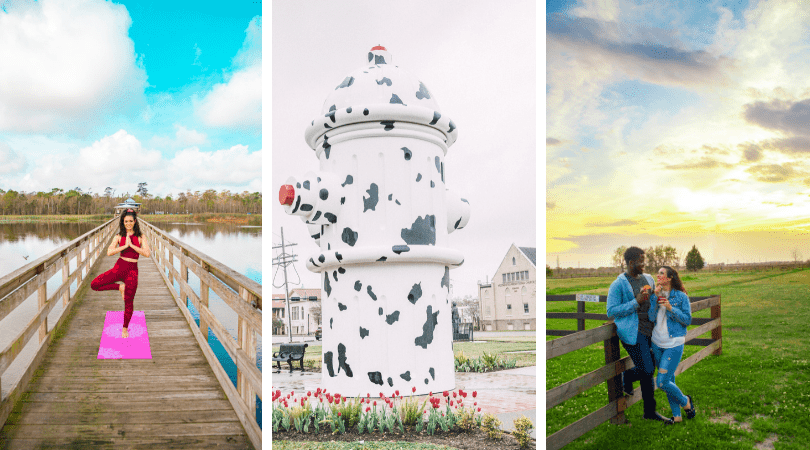 Boerne
There is no limit to the fun and enchantment you'll find in Boerne, TX. I'll try to stick to the "romantic" things to do, but there is just so much to do that you'll have to keep coming back to experience it all in this "small town."
First of all, wine is romantic. Period. And there is a whole list of wineries that include quiet patios, beautiful views, tastings, food pairings, tours, live music and more. How about a mystical trip through the caves of Cascade Caverns or the Cave Without a Name? Put a little giddy-up in your relationship with some horse-back riding and rodeo action to bring out the cowboy/cowgirl in each of you. Relax together with some pampering at a spa or salt cave. Dinner and a show, your typical date, does not have to be so typical. Watch a performance at the Boerne Community Theater or with Boerne Performing Arts, then dine with some comfort foods and craft beers at one of the local breweries.
Castroville
Can't get to France? Then Castroville will do just fine! This French Alsatian town has history, charm, and nature – a perfect combination for a romantic Texas weekend getaway!
Book your stay at the Hillside Boutique Hotel or Landmark Inn. Both have unique features that will provide a cozy, relaxing stay. Grab some coffee at the Magnolia Filling Station, which used to be an old gas station, but now is a cute little coffee shop, and stroll through the antique shops and boutiques in downtown Castroville. Hike the trails at the Castroville Regional Park – the views are amazing! Don't forget to grab some treats from Haby's Bakery – they're delicious and great to save for a midnight snack or breakfast in bed!
Spend an afternoon with the one you love in Paradise! Paradise Canyon, that is! Pack a picnic lunch, take a short drive north, and spend the afternoon lounging in the sun, playing in the water, or just exploring the area of Paradise Canyon.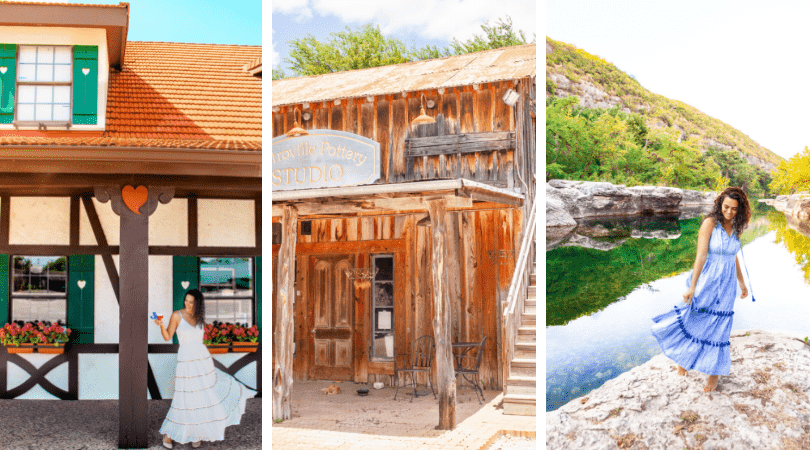 Corpus Christi
Corpus Christi is the place for your romantic beach retreat for couples! Book a few nights at the Omni Corpus Christi for some great amenities, including a beautiful beach view! Spend some time on the sand, walking hand in hand, and dreaming together while you watch the water. Stroll together through the aquarium or visit a local museum. Grab coffee and pastries at one of the cute coffee shops, have a yummy lunch at one of the local eateries and then have a romantic dinner at the top of the Omni, at the Republic of Texas.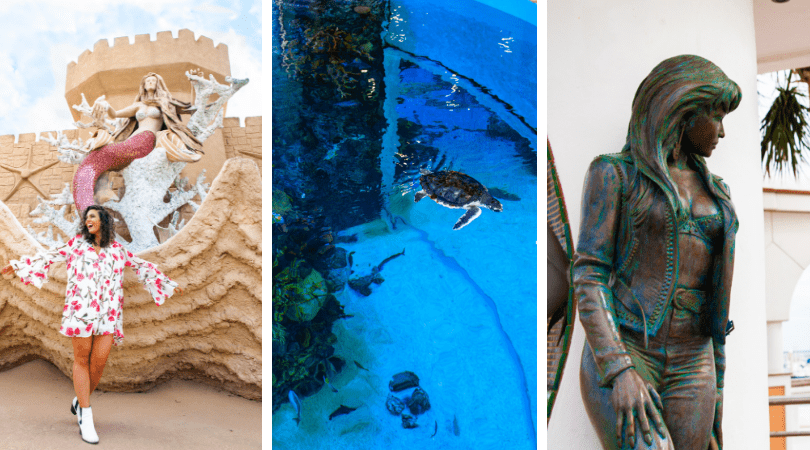 Dripping Springs
Get away from the big city and find romance in the small-town of Dripping Springs. While it may be a small town, there's lots of room for fun and romance! There are some amazing, and out-of-the-ordinary, things to do and see, such as a Vietnamese Courthouse. Explore the charming boutiques and thrift shops in town where you can find some fun items to remember your trip by. Take a tour of the olive trees at Texas Hill Country Olive Company, and then have lunch at the café, and try some of the fun olive oil items. Check out the many wineries and distilleries for tastings and tours and take your favorite wine back to your bed & breakfast, fairy tale cottage, safari cabin or yurt. Yes, Dripping Springs also has some romantic and charming places to stay!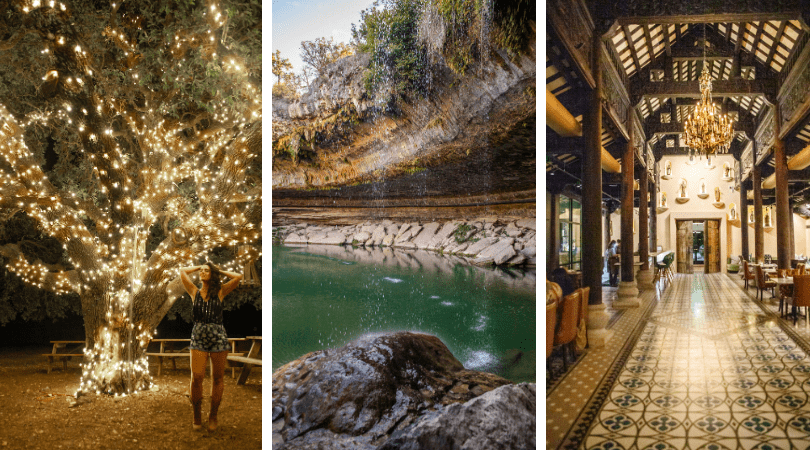 Georgetown
Start your romantic weekend at Georgetown with a little energy boost by going on a biking adventure along the trails. Then cool off while exploring the mystical caverns. For a slower pace, check out the museums, antique stores and ice cream shop. You may want to spend the next day on the water with a rental boat, or maybe just catch a sunset at Georgetown Lake. Georgetown is known for poppies, and there is poppy art throughout the town. Challenge each other to find the most poppy art pieces throughout your stay. The winner gets to choose the final dinner venue. (There are some great food finds here, so you both will win!)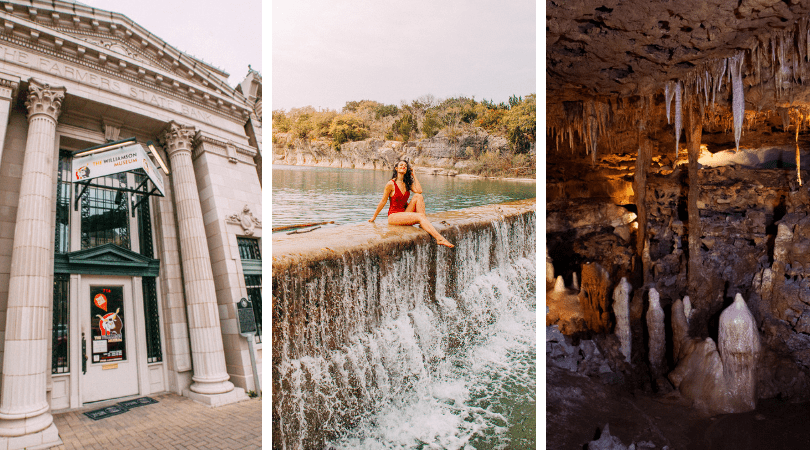 Treehouse
While creating your romantic weekend itinerary, check out Hipcamp to help you find the perfect romantic lodging. You could stay in a retro airstream – it's like camping old-school, but with modern amenities. How romantic would it be to stay in a hobbit treehouse? Very cozy with a lot of character! Tipis, trains and tiny homes – how fun!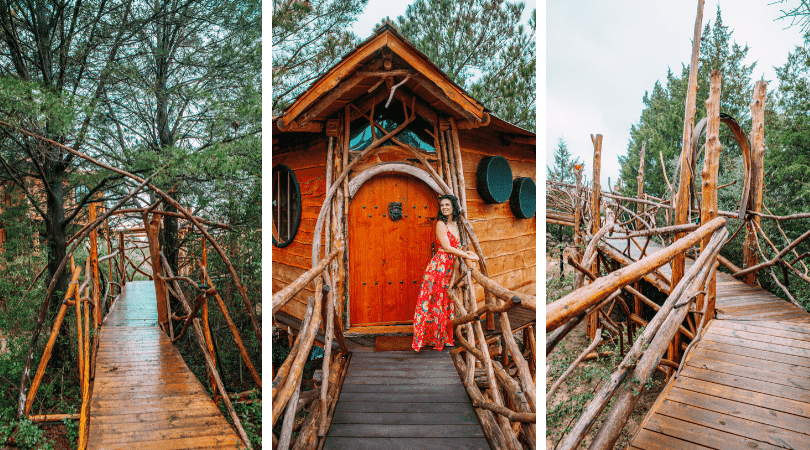 McAllen
McAllen is a great spot for a romantic weekend for those who love color and culture! Imagine being serenaded by a mariachi band, while dining among beautiful Mexican architecture, or catch a concert at the tropical Landmark club and dance close. During the day, Charming Picnics will set up a romantic picnic for you with personal touches just for you and your mate. Visit McAllen during one of its fun festivals, such as the Tamale Fest. Or visit the wild side with a hike through Santa Ana Wildlife Refuge. Take home some colorful, fun finds from local shops to remind you of your romantic trip to McAllen.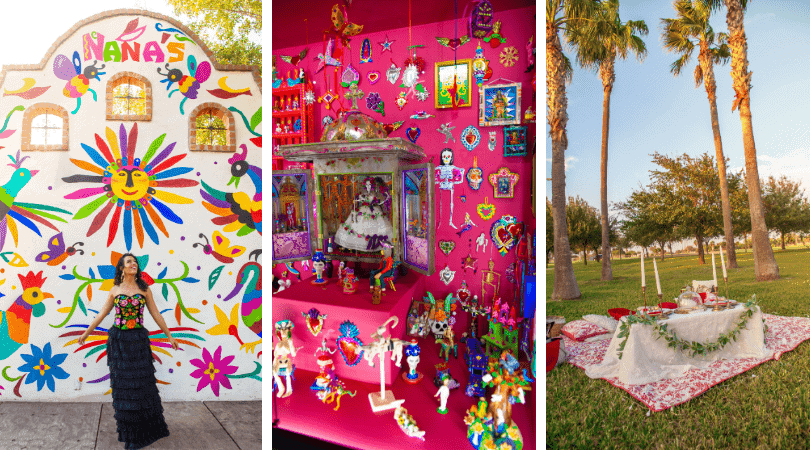 New Braunfels
Romance comes in many forms – including playing like kids, and dining like adults. You can have both in New Braunfels, Texas! There are some great lodging options including the Victorian Gruene Mansion Inn.
Have fun together sliding down the chutes at Schlitterbahn, showing off at Texas Ski Ranch, and splashing in the Comal River on a tubing adventure. Of course, there's plenty of adventure out of the water too. Drive through the Wilderness Safari, explore the Natural Bridge Caverns, check out the railroad museum, and stroll through Landa Park. In the evening, have a romantic dessert experience at Oak Valley Vineyards Restaurant, then take in some two-stepping and slow dancing at Gruene Hall. And these are just a few suggestions – there are so many fun and romantic things to do in New Braunfels for couples, you're going to want to come back again!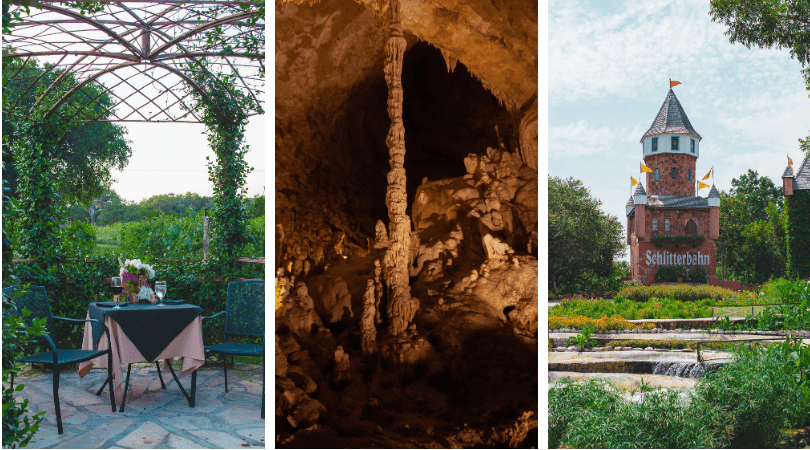 Port Aransas
Another great beach getaway for romance near San Antonio is Port Aransas. Escape to the private island of San Jose Island, via ferry, and relax as you watch the waves. Try some relationship building while building a sandcastle. Rent bikes and discover the area while discovering each other. Laugh together on a pirate ship cruise. From quiet to exciting, Port Aransas has it all for your fun, yet romantic weekend.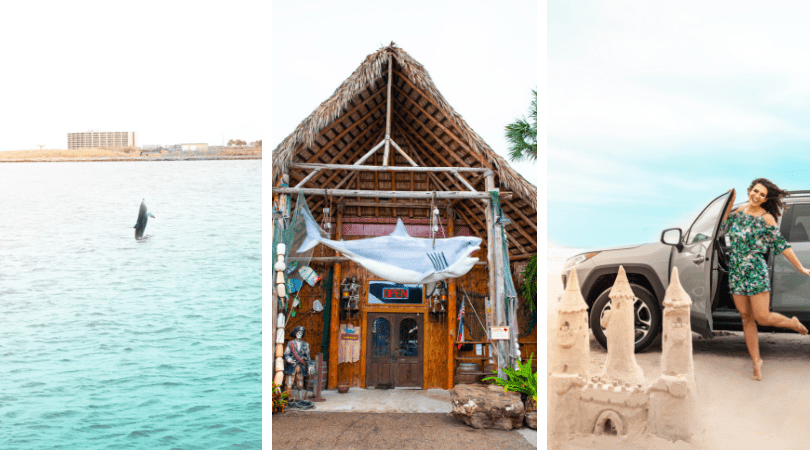 San Antonio
While there are tons of things to do in San Antonio, and some are very typical such as visit the Alamo, there are some romantic weekend getaway ideas that you might not have thought of. Stroll through one of the botanical gardens. Get ideas for your own garden or use it as a time to reflect on and grow your relationship. Cocktails and jazz are a great way to unwind and relax together. Take a couple's massage class – a great way to continue the art of touch beyond your getaway. Visit the planetarium to sit together under the stars – no matter what time of day. And of course, the San Antonio Riverwalk is a romantic must, especially in the evening with lots of lights, music and smells from the fabulous restaurants.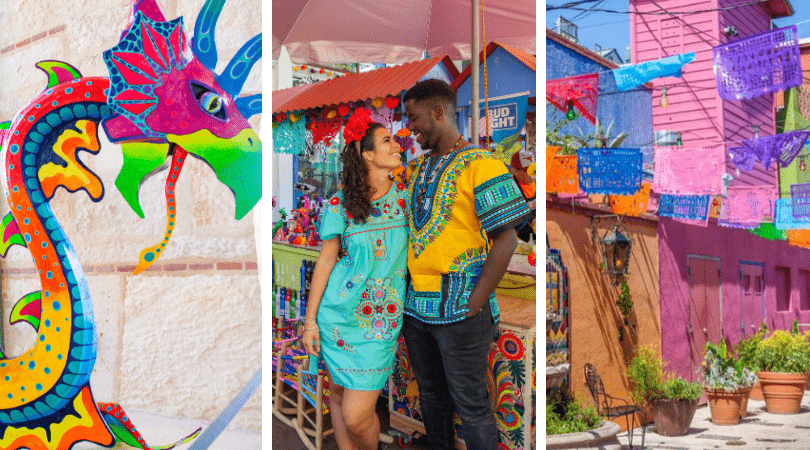 San Marcos
San Marcos has plenty to do for the couple wanting to get away for some romance. But sometimes that includes lots of sports for active fans. In San Marcos, you can enjoy all kinds of sports action! Play some traditional golf, mini golf or try disc golf. Cheer on the teams during a game of baseball, softball or soccer. Feel the rush of a fast car on a race track. Grab some wheels and try your skills at the local skate park (or just sit back and watch the fun.) Explore nature via kayak, canoe, stand up paddle board, or just a hike. There's even a paintball course for some fun and entertainment. After all of the sports and adventure, wind down the nights with some good food and night life.
Seguin
Fast or slow? You can have both on a romantic weekend trip to Seguin! Share some thrills at ZDT Amusement Park where you can race each other on go-karts or up a climbing wall, then feel the thrill as you experience the parachute drop and roller coasters. Huddle close as you explore a haunted house. Then spend a slower-paced day discovering Seguin's history with museums, antique shops and boutiques, a pecan farm, and even a bee farm. For an even more peaceful time together, just take it easy relaxing by the water at Son's Blue River Camp or Geronimo Creek Retreat. There are plenty of ways to enjoy a romantic weekend in Seguin, and many great meals to be shared. Check out things to do in Seguin for more ideas to inspire you.