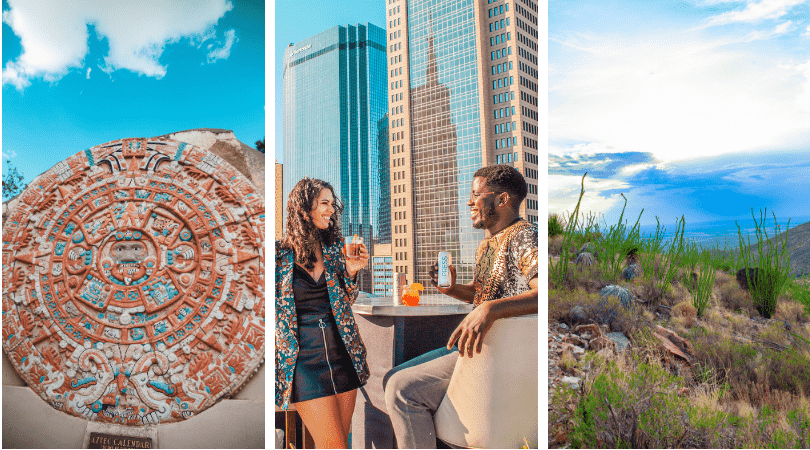 Thank you Hotels.com for making this article possible. As always, all opinions are my own. During these unprecedented times it's important to stay safe and to follow local guidelines. Many activities also offer online and virtual opportunities to have a great date.
Whether you're a couple escaping to El Paso for a romantic couple's vacation, or a local couple looking to change things up, there are so many fun things to do for the perfect date idea in El Paso. Depending on what kind of date you want, there's a little bit of something for everyone. And even if you don't have a date, these ideas make a good list of things to do in El Paso in general, couple or not.
And to make that date night extra special, you can also check into any of the wonderful hotels that El Paso has to offer. From cute boutique hotels, historic hotels, and opportunities to hang out at the pool, this makes for a way to turn date night into a date weekend.
Romantic Things to Do in El Paso for Couples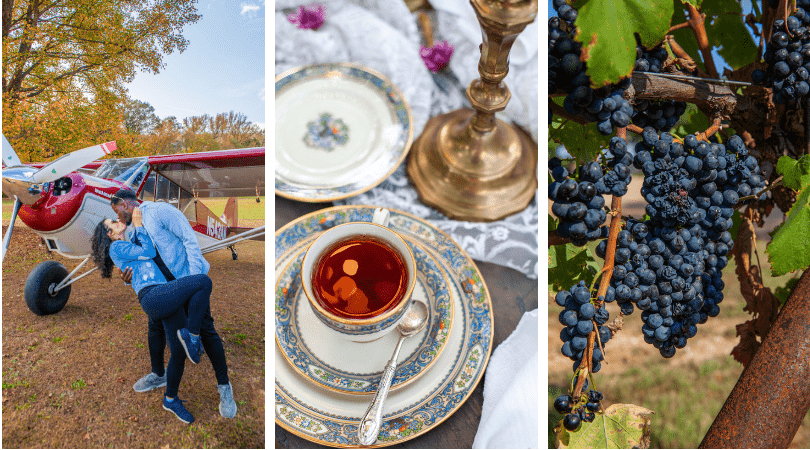 Bring out the roses and chocolates, because I'm sharing all the most romantic, and maybe even proposal-worthy, El Paso date night spots!
1. Have a spa day – Couples looking for a relaxing couple's day can book a service at the Woodhouse Day Spa where you can book massages, mud wraps, and other spa treatments perfect for couples.
2. Catch a show – From Broadway, music performances, and other acts, the Plaza Theatre is a great place for regular dates for couples since they always have something new.
3. Enjoy a romantic dinner – After a great date at the Plaza (or at any other spot or on its own), Pot Au Feu is the perfect spot for a romantic dinner with French cooking!
4. Drink some wine – While you do have to drive a little out of El Paso for this date idea, there are several wineries and vineyards including La Vina Winery, Sombra Antigua, Sunland Winery, and Zin Valle Vineyards that make for a fun couple's day trip.
5. Go out for high tea – Enjoy pastries and over 50 tea selections in a 90-year-old house at Caffe Fioretti.
6. Relax in a float tank – or with the Vichy Showers at Blush Skin! With some unique treatments it's the perfect way to unwind and clear your mind for a day of relaxation for couples.
7. Indulge in ancient Thai techniques – at Unknot Thai Spa where you can get different treatments like a Ashiatsu Massage, Unknot Table Thai, and other signature massages unique to this spa.
8. Visit the symphony – Get dressed up for a concert at the El Paso Symphony.
9. Explore El Paso from the skies – Take the date night up high with Vertical Limit Aviation where they can do sunset tours, evening star tours, and other scenic tours that set the perfect stage for the perfect romantic evening in El Paso for couples.
10. Listen to some jazz – There's something about jazz that makes it so romantic. Grab a classy cocktail and a glass of wine while listening to some live music at different places around El Paso including Coco Bar, International, Black Orchid Lounge, and Speaking Rock.
11. Take a staycation – Take yourself on a vacation without having to worry about the commute or flight. Sleep in, order some room service, explore the unique spots each hotel has to offer, and hang out at the pool. Staying at hotel is just as much a part of the experience!
Free Things to Do in El Paso for Couples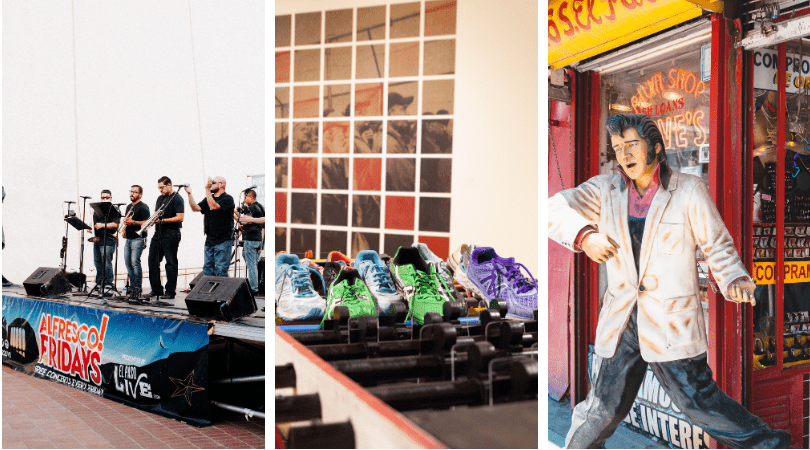 Going on a date doesn't have to be expensive. In fact a quality couples date doesn't have to cost anything. Keep reading below for some great free El Paso date ideas that won't break the bank and let you focus on what matters, the relationship!
12. Catch a concert – Al Fresco & Cool Canyon Nights both make for fun and free date nights featuring music, dancing, and a great atmosphere for plenty of fun.
13. See some art – The El Paso Art Museum is always a great idea for a free date for couples as they have regularly rotating exhibits, and the art is captivating and makes for great conversation.
14. Climb Cristo Rey – Almost like Rio de Janeiro, you can hike up to the Christ statue for a fun and free hike.
15. Check out this unique hike – A hike to the El Paso Tin Mines is perfect for the adventurous couple and is such a fun place to visit.
16. Cross over to Jaurez – While not completely free, for less than $1 you have access to street performers, fun vendors and beautiful sites to explore
17. Stop and smell the roses – At the El Paso Municipal Rose Garden you can view over 400 different types of roses for a romantic and free El Paso date idea!
18. Learn about the Chuchuahuan Desert – Don't discredit a good museum date idea such as at the Centennial Museum where you can learn about the history of the desert and the people who lived there.
19. Then explore the desert – The Chihuahuan Desert Gardens showcase a beautiful array of different plants around Mexico and the US. You can also see the Lhakhang, a gift from the people of Bhutan!
20. Explore more museums – There is definitely no shortage of museums and interactive opportunities to learn and then have discussions over at the El Paso Museum of History, El Paso Museum of Archeology, and so many more!
21. See the sculptures – Couples can wander through the Ho Baren Sculpture Garden with all sorts of unique sculptures to see for an easy and free date in El Paso.
22. Wander through the art galleries – El Paso has such a great art scene for couples to see. Support local artists and wander through a maze of different galleries including Agave Rose Gallery, Creative Kids Inc, the Glass Gallery, and so much more! A quick google search will bring up an almost endless list!
23. Explore the art house – Casa de Azucar is such a fun date for couples where you can see the most colorful and artistically decorated home in all of El Paso.
24. Discover Mission Trail – There are six stops along the Mission trail which include Mission Ysleta, Socorro Mission, Presidio Chapel of San Elizario, Los Portales Museum, San Elizario Old County Jail, and the San Elizario Historic Art District. That's pretty much a whole bunch of free fun for couples in El Paso!
25. Find some treasures – Dave's Pawn Shop is more than just your typical pawn shop, and if anything, is more of a quirky museum full of oddities. It's free to enter and browse through all the strange things.
26. Catch a free event – El Paso is always putting on an array of free events so make sure to check out their different experiences.
Active El Paso Date Ideas for Couples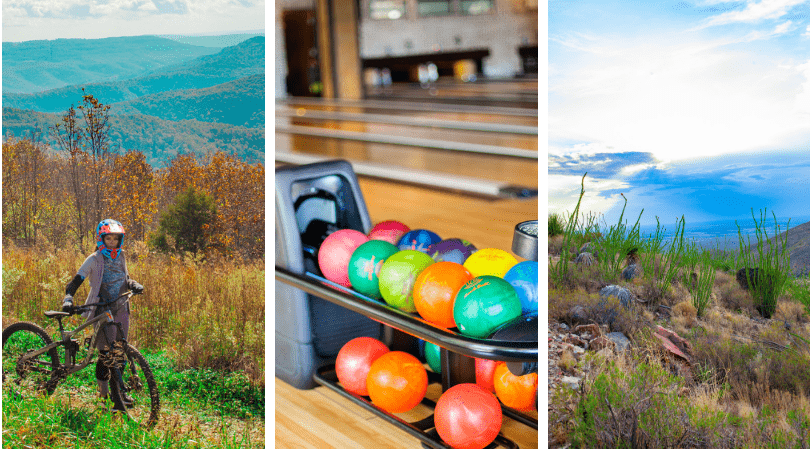 Get the heart pumping, maybe even break a sweat, and enjoy a challenge with some of these great active things to do for couples in El Paso.
27. Go for a hike – Hike Franklin Mountains State Park is an array of endless possibilities for couples hoping to get outdoors! Explore caves, go on sunset hikes, and in the Spring see the mountains covered in wildflowers.
28. Go rock climbing – Break a little sweat and maybe try something new for this fun fitness-based date idea at the Cave Climbing Gym where they have different rock-climbing courses.
29. Search for pictographs – Hueco Tanks State Park is a great spot for couples to go hiking and rock climbing but also to see over 3000 paintings. There are certain parts of the park that are for limited use and can only be used with a tour guide so couples can look into visiting multiple times and seeing new areas in this El Paso Park.
30. Throw some axes – I heard it's active and relaxing. Or at least that's what I think with a name like Relaxe Axe Throwing.
31. Go on a Juarez Walking Tour – Cross the border and find all the best spots for food and drink and learn about the town!
32. Go on a UTV adventure through the sands – Check out the beautiful red sands while going on and off-road adventure. You can book a UTV through Rent a UTV for a full day of couple's fun!
33. Go horseback riding – El Paso Trail Rides and Chihenne Ranch has so many great options for an active date that can be as casual or as romantic as you want. They will take you through trail rides, cater meals, create custom rides, and even do horseback riding lessons if you want to ramp up your skills!
34. Shoot paint at each other – For the competitive couple you can either work as a team to defeat others or compete against each other at American Eagle Paintball.
35. Go canoeing – Ascarate Park is a great date idea to just walk along the board walk and enjoy the water. You can also rent out canoeing or paddle boats for another way to explore the water.
36. Throw some balls – There's something so nostalgic about a bowling date complete with bowling alley food and slightly questionable shoes. Bowl El Paso makes for a great date for couples who are looking for something casual while still moving around a bit.
37. Play some games – Shoot hoops, dance it out, ride motor bikes, and even discover virtual reality at Dave & Busters in El Paso.
38. Go flying – iFly is a great option for couples who like the idea of sky diving but not jumping from a plane thousands of feet in the air! You get that cool sky diving experience, but without the fear! You still leave with your heart pumping!
39. Skate in circles – Another one of those nostalgic dates involves going around in endless circles hand in hand at Roller Bomb.
40. Skate in circles on ice – Much like skating but on ice, and you get to bundle up and have more of an excuse to keep each other warm! The El Paso Hockey Association has public skate options available for couples looking for this date idea.
41. Play golf – Except you don't have to go chasing after the ball! Top Golf is a much more laid-back option with good drinks and food and different styles of golfing games. Even if golfing isn't your style, this is a fun option!
42. Or play mini golf – Bobo's is a spot couples can go, not only for mini golf, but go karts, games, and laser tag!
43. Go on a scavenger hunt – Scavenger hunt.com has all sorts of different scavenger hunts that take you through a history tour, art tours, food tours, and more on a self-guided hunt through the city.
44. Learn to dance – Gain a new skill and then get ready to take those skills out on the dance floor! El Paso Ballroom offers all sorts of different classes including Roomba, Cha Cha, Bolero, Country Western, Waltz, Tango, and so much more!
45. See the city by bike – El Paso has b bikes all over! It's a great way to cover more distance and see more of the city together.
46. Go salsa dancing – Dance El Paso has Friday salsa socials as a chance for couples to get out and meet others while improving their salsa skills.
47. Try swing dancing – El Paso Dance Works hosts Friday socials once a month as well as weekly lessons for couples who want to get some practice in first.
El Paso Foodie Date Nights for Couples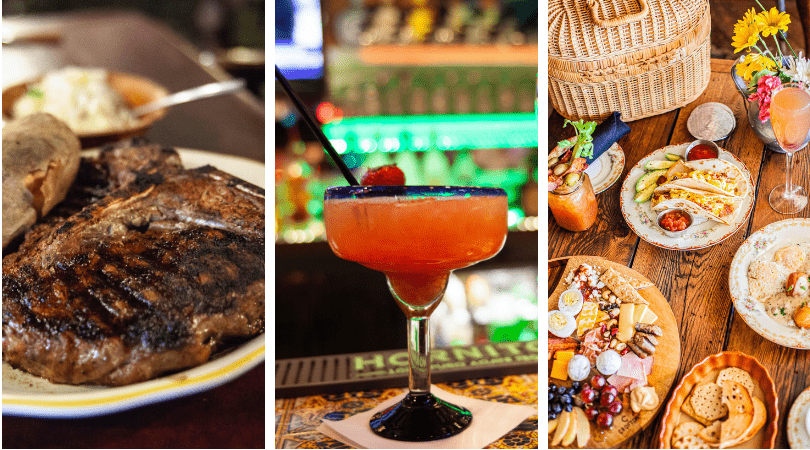 Food is always a great way to bond. But rather than just your regular dinner date, check out all of these amazing foodie things to do for couples.
48. Eat a giant steak – No trip to El Paso is complete without a trip to Cattleman's Steakhouse where they have a 2 lb. porter house T-bone! After filling yourself on all of their food head outside where they have different animals all around, movie sets, longhorns, a maze, and more.
49. Cross to Jaurez – Just crossing the border, it's amazing how much the food scene changes. Check out some local restaurants or try the different food stands! I can never miss out on the elote!
50. Try the original margarita – While in Juarez, check out Kentucky Bar and Grill which is actually home to the original margarita!
51. Take some cooking classes – Bonding over food is always a great idea for a date idea. Plus, you go home with a new skill for even more dates! Fronteriza Food has cooking classes once a month to make tamales, salsas, and other dishes. Orange Peel also has cooking classes and tastings.
52. Brewhouse and a movie – Flix Brewhouse is a little different than your dinner and a movie date in that they have a luxury theatre and an on-site brewery!
53. Check out the local breweries – El Paso has a growing craft beer scene and it's an easy date idea to check out some of the local spots including El Paso Brewing and DeadBeach Brewery.
54. Visit a speakeasy – Now I could tell you where they are, but there's no fun in the speakeasy for that.
55. Attend a dinner theater – UTEP Dinner Theater hosts murder mysteries, comedies, and other fun performances all while dinner is being served.
56. Enjoy a wine and liquor tasting – Did you know Specs & Total Wine offer specific classes where you can try different types of whiskies, beers, wine, and other spirits to learn more about the complexities of each drink?
57. Follow the Margarita Trail – El Paso has some great margarita spots including the oldest family run joint, spots where you can share a 16 shot margarita, and more. Follow the margarita trail to find your favorite one.
58. Go on a taco tour – It's El Paso! Choose a few spots you've never tried, order a taco from each one, and compare! I love taco tours as easy foodie date ideas because tacos are so cheap, but you get to try a lot.
59. Have your food cooked in front of you – At Hayashi El Paso you get more than just dinner. They cook the food right in front of you and provide a little bit of a show at the same time!
60. Cook your own food – Typically you go to restaurant for them to cook your food for you, but at Korea House Restaurant, they bring out a hot plate for you to grill your own meat.
Fun El Paso Date Ideas for Couples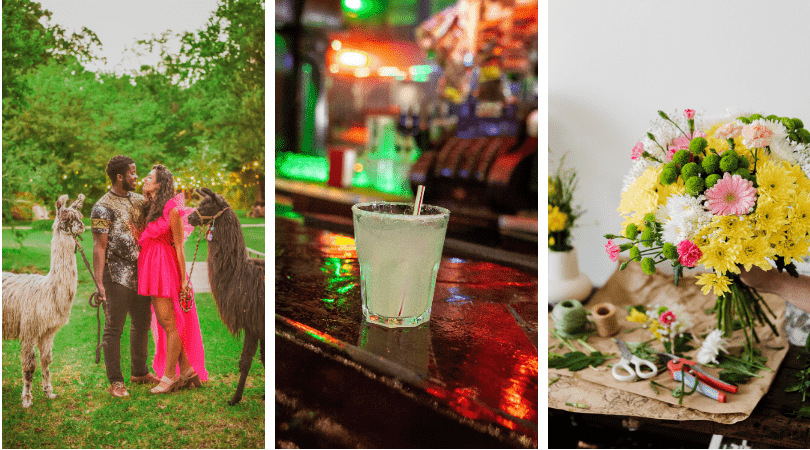 Whether you're looking for a good laugh, want to be silly together, or are even looking for something that's a bit quirky, these fun things to do for couples give you a little bit of everything and guarantee a good time!
Clearly there is no shortage of great options for things to do in El Paso. Think we missed something that should be added? Let us know!
61. See the animals – The El Paso Zoo is perfect for a fun date idea where you can see animals from Africa, the Americas, and Asia.
62. Search for ghosts – El Paso Ghost Tours takes you around the most haunted spots where you might come in contact with the paranormal.
63. Ride & wine tours – The Miller Farm Tours will take you horseback riding to a nearby winery.
64. Escape the room – Red Door Escape Room has so many different interactive rooms from fairy tale themed ones, a casino themed one, one where you actually break in, and so many others. They do such a great job with immersing you into the experience! Plus, with so many themes you have multiple date nights in one!
65. Visit the only jail Billy the Kid ever broke into – Usually it seems like Billy the Kid was trying to break out of jail, but here at the Billy the Kid Jail is the only one where he broke into in order to save a friend.
66. Have a day of fun – Why stop at one activity when you can have a little bit of everything in one place? Adventure Zone has go-karts, water bumper boats, mini golf, an arcade, and escape rooms. Let out that inner kid for this fun El Paso date idea!
67. Visit a stash house – This might be a little bit of a quirkier date, but for those who enjoy history a stop at the Pancho Villa Stash House might be an interesting stop!
68. Get a good laugh in – Comic Strip Comedy Club brings in a mixture of local talent as well as top headliners with a constantly rotating schedule.
69. Sing your heart out – Find a great couples tune and get up on stage as everyone cheers you on a star at Duets Karaoke Bar. Are you the couple who knows how to steal the show or the couple who rocks the bad singing together? What does one do when one person is a good singer and the other can't carry a tune?
70. Go shopping – Want to find all the best spots and local gems for shopping? Si! El Paso tours takes you to all the best wholesalers for shopping.
71. Go to the petting zoo – With camels, donkeys, llamas, and other cute animals, this is more than just your typical kiddy petting zoo. Visit Licon Dairy for the petting zoo, and then check out some of their in house made cheese and dairy products.
72. Sip & paint – Create a masterpiece you can proudly hang in your home while sipping wine at I Painted That!
73. Attend a fun concert or festival – Plan for one of the really cool festivals that are going on plus keep on the lookout for regular concerts and other special events. There's always something going on in El Paso.
74. Find dinosaur tracks – Insights will take you on a tour to see dinosaur tracks and giant fossil beds.
75. Be a nerd – At Nerd Night they show how STEM can be fun through different interactive activities at local bars, breweries, restaurants, etc.
76. Join the circus – Learn a new skill together at the Academy of Aerial fitness. They have so many different classes including aerial yoga, silks, hoops, parkour, and more.
77. Go on a bar crawl – Check out the best spots in El Paso and learn about the night life with Let's Roam.
78. Visit the Tigua Indian Cultural Center – Here you'll find a museum, a restaurant, gift shop, and performances each weekend.
79. Sing along – If you've never been, dueling piano bars are such a fun and unique idea where two pianos duel it out and the crowd gets into it, and sings along. Howl at the Moon is a great spot in El Paso for couples.
80. Have a pool day – Resort Pass gives you access to hotel pools and amenities without having to actually stay overnight.
81. Catch a game – With so many different sports teams like the El Paso Locomotives, the Rhinos, Diablos, and others you can find a new favorite team to cheer on!
82. Cruise in a cool car – Turo lets you rent out all kinds of unique and luxury cars to cruise around town in.
83. Go on a vintage hunt – You can make a whole date around thrift shopping whether you want to set out with a budget and see who comes up with the coolest outfit or set a theme or just see who can be the most outrageous and then go on a date with it.
84. Get a good massage – You don't have to get a full-on massage, sometimes a foot massage is just what's needed.
85. Create a bunch of cool stuff – Makerspace has all sorts of cool items for engraving, 3D printing, sewing, and workshops for endless date ideas.
86. Get crafty – Mini Artbox has all sorts of craft kits and classes for couples who want to create something together.