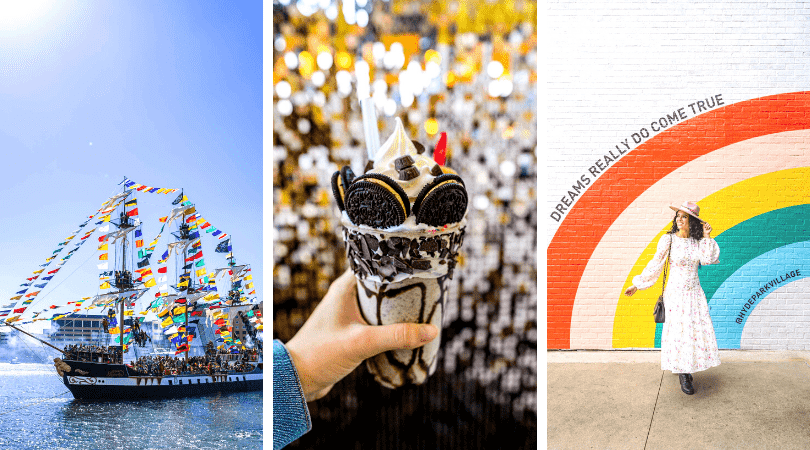 Filled with rich Latin-American, European, and Native American culture, history, and remarkable landmarks, Tampa is the perfect destination for unforgettable adventures. With delicious food, stunning views, diverse wildlife, and an abundance of recreational activities, the city is brimming with things to do for couples. We've curated a list of creative date ideas and must-see places in Tampa for couples to immerse themselves in this lively coastal city. And if you want to explore just a little beyond Tampa, check out our things to do in St Pete.
Things to Do in Tampa
1. Explore the Tampa Bay Boardwalk- The bay area is centered around a lively boardwalk that frames the Gulf Coast, complete with world-class dining destinations, aquatic adventures, outdoor activities, and breathtaking art experiences. The excitement never ends! Peruse around the stunning waterfront while taking in centuries of Cuban American culture.
2. Feel What It's Like to Soar Through the Sky- iFly Tampa offers the best indoor skydiving experience in all of Florida. iFly's state-of-the-art wind tunnel technology allows flyers to enjoy all the thrills of free-falling without leaving the safety of the iFly building.
3. Discover the Outdoors- Encompass yourself in the lush beauty of Tampa and explore its many rivers and state parks. Hike, bike, and picnic along the vista of Little Manatee River State Park, Hillsborough River, Mobbly Bayou Wilderness Preserve, and Lettuce Lake Regional Park.
4. Get a Taste of the Local Scene- Formerly the center of cigar manufacturing in America and Tampa's Latin Quarter, Ybor City offers a variety of culturally enriching ventures, art exhibits, coffee shops, unique vintage shops and diverse eateries that can all be explored through numerous walking tours provided throughout the city. At night, the city transforms into a high-spirited playground as the bustling entertainment scene attracts an influx of diverse crowds to the city's bars and clubs. Ybor City serves as the only neighborhood designated as a National Historic Landmark District on Florida's west coast, incorporating its history with a modern twist.
5. Get Down and Dirty- Experience a unique twist on the typical date by challenging your partner to a dirt bike race at Adventure Family Motorsports' private ranch. Sessions are personalized to every group's needs and include safety gear and training in every package.
6. Discover the Riches of Old Tampa- Tampa is home to a plethora of cultural landmarks. Take a trip to the Henry B. Plant Museum and learn about the elegant 1891 Tampa Bay Hotel surrounded by the actual furnishings of the early guests who stayed there.
7. Learn About Maritime History- East of the Tampa Bay Hotel is the American Victory Ship & Museum. Board the world-class maritime ship that served in World War II, the Korean War, and the Vietnam War and learn about its history, including the story of the men and women who served aboard SS American Victory.
8. Shop and Dine with a View- Right along Tampa Bay's downtown waterfront sits Sparkman Wharf. You'll find that this Tampa attraction hosts live events and is home to dining gardens, a biergarten, and outdoor recreational activities. You can easily plan a date where you take in views of the water as you shop, then make plans to grab lunch or dinner, maybe ice cream, and a game or two out on the lawn.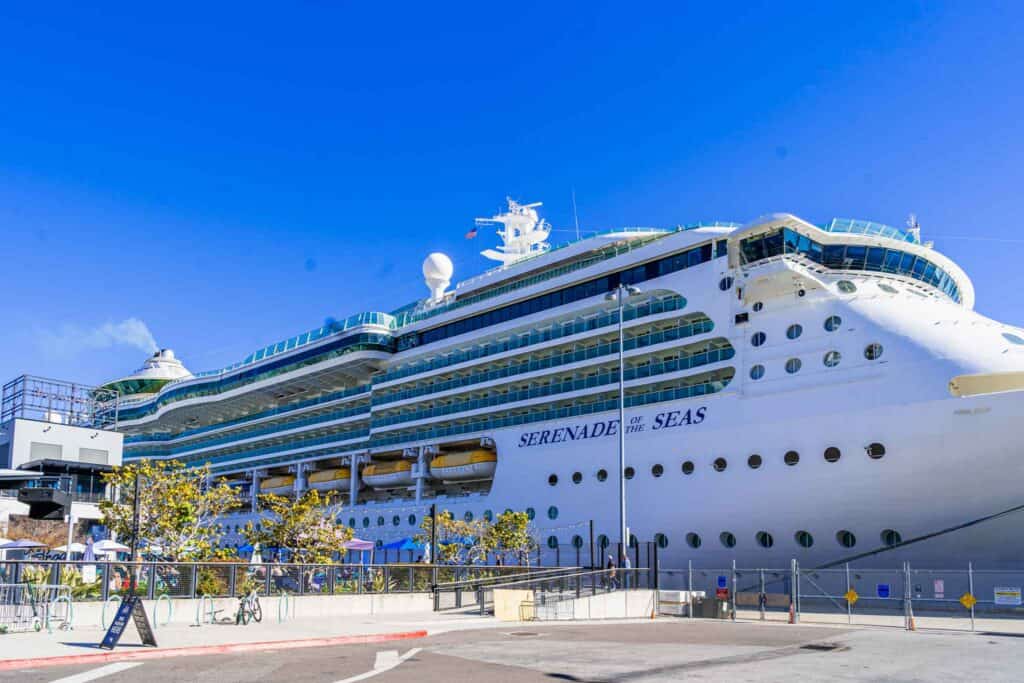 9. Stroll Through an Iconic Museum- The Florida Museum of Photographic Arts is a gallery featuring a collection of diverse historic and contemporary photographic pieces. Showing works from around the globe, art museums make for an excellent romantic date idea.
10. Go Racing- Adventure is calling, and motorsports is at the top of the list. With over 15 acres of fun and thrills, Grand Prix Tampa equips riders of all skill levels with a day of excitement. Engage in friendly competition as you navigate the diverse tracks and games offered in an innovative indoor-outdoor setting.
11. Catch a Game- Whether it's a sporting event or a concert, Tampa is filled with multipurpose arenas that will host the perfect date night. Amalie Arena and Raymond James Stadium present a variety of activities that couples can enjoy, so be on the lookout for upcoming events.
12. Go Horseback Riding- Horsepower for Kids is a sanctuary that serves as a nonprofit farm that allows for interaction with animals and horses that have been rescued and are being rehabilitated. Go for a romantic horseback ride, a cozy hayride, or a fun train ride.
13. Sail the Florida Coastline- StarLite Cruises offers everything from dolphin watching to cruising on a yacht. For a more casual setting, boats like the 65-foot, triple deck Calypso Queen offer lunch, dinner, and special event cruises with dancing, a buffet, and all-inclusive drinks. Absorb the gorgeous ocean views from the top deck with a drink in hand and your partner on your arm.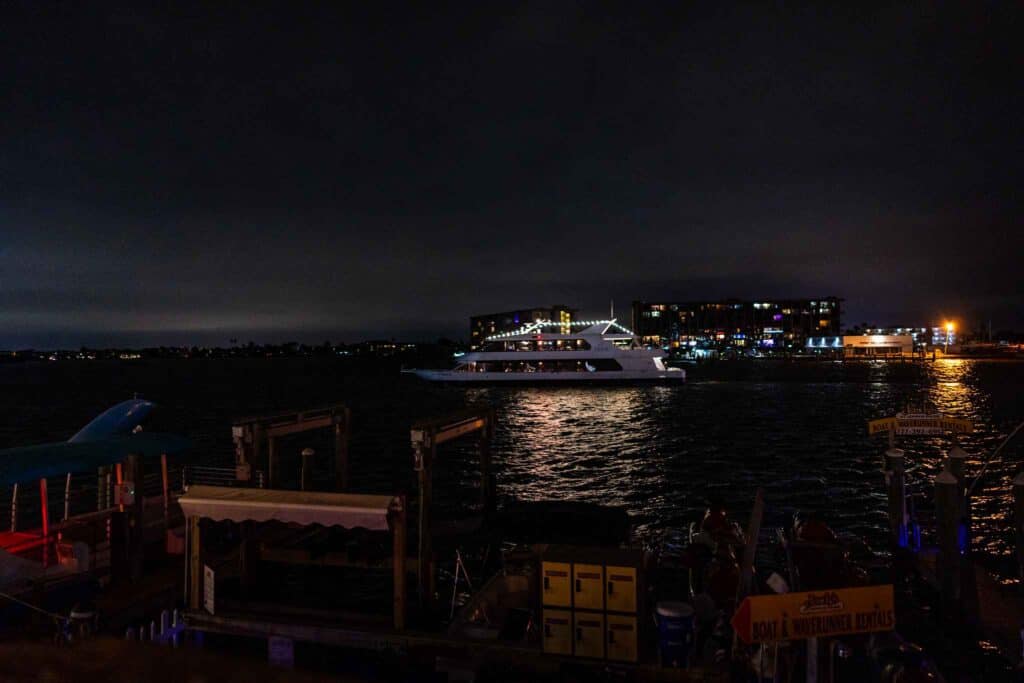 14. Board a Magical Train- Just an hour and a half drive from Tampa is a real-life Hogwarts Express that will take you through the magical world of Harry Potter. You can take the train from Diagon Alley to Hogsmeade, as well as between two different parks within Universal Studios. What could be more romantic than sitting close together and sharing your child-like wonderment?
15. Unwind at Armature Works- Situated in the historic neighborhood of Tampa Heights, Armature Works combines luxury and leisure in an innovative way. The fully restored urban village consists of upscale lounges, event spaces including a roof-top deck that overlooks the Hillsborough River and downtown Tampa, a grab-and-go food court with options for full-service dining, and the Heights Public Market, much like what you would see in a port town near the docks, but indoors. Armature Works is guaranteed to make the perfect date night. If you're staying nearby, try to plan to attend one of their events, such as Happy Hour Yoga or Trivia Tuesday. Check their website for a full calendar.
16. Eat in Florida's Oldest Restaurant- Savor the drinks and vibrant atmosphere with a fancy date night at the Columbia Restaurant. Owned and operated by the same family since its opening in 1905, the family has expanded into other parts of Florida over the years while maintaining the name of the largest Spanish restaurant in the world. Columbia offers guests an incredible dining space reminiscent of the style and grace of the early 1900's as they relish the Spanish and Cuban cuisine.
17. Visit Tampa Breweries- Enjoy some one-on-one time sipping exclusive beers at some of Tampa's best craft breweries. Savor the taste of locally inspired drinks at Tampa Bay Brewing Company, Coppertail Brewing Co., Cigar City Brewing, Southern Brewing and Winemaking, Fat Rabbit Brewing Co., Hidden Springs Ale Works, and Magnanimous Brewing. You can also check out amazing options like 7venth Sun Brewery, Rock Brothers Brewing, New World Brewery, Zydeco Brew Werks, Bastet Brewing, Woven Water Brewing Company, Bay Cannon Beer Company, and Barrie Haus Beer Co. for some of the best drinking experiences in Florida.
18. Release Your Stress with Axe Throwing- Experience a fun twist on date night and throw a hatchet at Stumpy's Hatchet House. Axe throwing can be a great bonding activity as you learn something new together or for those seeking a thrill.
19. Enjoy a Night Out on the Town- Explore some of Tampa's best distilleries as you tour the city with your date. Stop at local favorites like Tampa Bay Rum Company, Florida Cane Distillery, 82° West Distilling, and Dark Door Spirits.
Top-Rated Destinations
20. ZooTampa at Lowry Park- Home to a vast collection of animals from all over the globe, ZooTampa at Lowry Park is a nonprofit zoo recognized as the center for wildlife conservation and biodiversity in Florida. The numerous exhibits and attractions, including camel rides and giraffe feedings, make the zoo a perfect date destination for couples to bond over their love for animals.
21. The Florida Aquarium- Just outside of downtown Tampa is the Florida Aquarium, home to over 20,000 aquatic animals, plants, and local animals. Rated among the best aquariums in the nation, the Florida Aquarium introduces visitors to a wide variety of unique aquatic species. Stroll around the breathtaking facility as you learn about marine life and their conservation efforts, like restoring the Florida Reef Tract.
22. Clearwater Marine Aquarium- Feed your inner marine life infatuation with a visit to the Clearwater Marine Aquarium. Situated right on Florida's Gulf Coast, the aquarium aims to rescue and rehabilitate marine life for release back into the wild through profound conservation efforts. The Clearwater Marine Aquarium is known for its rescue of a baby dolphin named Winter, which was featured in the Dolphin Tale movies.
23. Busch Gardens Tampa Bay- Go on an African safari adventure at Busch Gardens Tampa, where the exhilaration of a theme park is combined with the marvels of a zoo containing over 300 different species.
24. Museum of Science and Industry (MOSI)- Immerse yourself in a world of technology and science in a setting that offers unique interactive experiences. MOSI encourages visitors to get creative through innovative activities like astronomy shows at the Saunders Planetarium, riding the famous "High Wire Bike," or challenging yourself with their suspended, outdoor ropes course (only open Fridays, Saturdays, and Sundays, with weather allowing). Check their website for attire requirements if you plan on giving the ropes course a try.
25. Downtown Tampa- Spend the day shopping and strolling the scenic riverwalk downtown in Tampa's central business district. It's known for its hip art and culture scene with historic performance spaces, lively bars, and nifty shopping experiences.
26. Sunshine Skyway Bridge- Bask in the architectural wonder of humankind at the Sunshine Skyway Bridge, previously known as the Bob Graham Sunshine Skyway Bridge. Surrounded by the beauty of nature and amazing views of the Gulf of Mexico, take a romantic afternoon stroll hand-in-hand. Maybe even have an impromptu photo shoot!
27. Tampa Adventure Island- If you're looking for an all-day affair in the sun, Tampa Adventure Island is a must. Located in northeast Tampa, the waterpark features over 30 acres of thrilling water rides, pools, dining options, and shopping that will be sure to entertain fun lovers of all kinds.
28. Glazer Children's Museum- Pay a visit to the Glazer Children's Museum and engage with their interactive learning laboratory Tampa's Waterfront Arts District. If you want to include a little one on this outing, this will keep them engaged and entertained, allowing for an equal amount of quality time between the three (or more) of you.
29. Tampa Bay History Center- Take a deep dive and learn about everything from conquistadors and the prominent cigar empire to maritime history and pirates. Home to a collection of over 80,000 historical artifacts, the museum entices visitors with the rich culture and extensive history of Florida.
30. Curtis Hixon Waterfront Park- Savor Tampa with a date in the park. Curtis Hixon Waterfront Park is a green oasis surrounded by some of Tampa's towering buildings with easy access to the Glazer's Children Museum, the historic monument trail, and the Tampa Museum of Art. There are also splash pads, open fields to play catch, and a dog park. Have a picnic or grab grub at Four Green Fields Irish Pub. This park is the perfect place for a leisurely date.
31. Straz Center for the Performing Arts- Catch a show and enjoy world-class entertainment at Straz Center for the Performing Arts. Beforehand, can grab a themed meal at Maestro's Restaurant reflecting the performance you'll be seeing, a snack at Maestro's Cafe, or light fare with a cocktail accompanied by views of the Hillsborough River at Maestro's On the River.
32. Water Works Park- Enjoy a picnic on Water Works Park's open lawn, catch a show at the amphitheater, or watch the dogs play at the dog park.
33. Hyde Park Village- This historic neighborhood combines the modern and antique elements of Florida. It is filled with vintage homes and bungalows but is also accompanied by a contemporary outdoor shopping center equipped with dining, entertainment, and high-end retailers.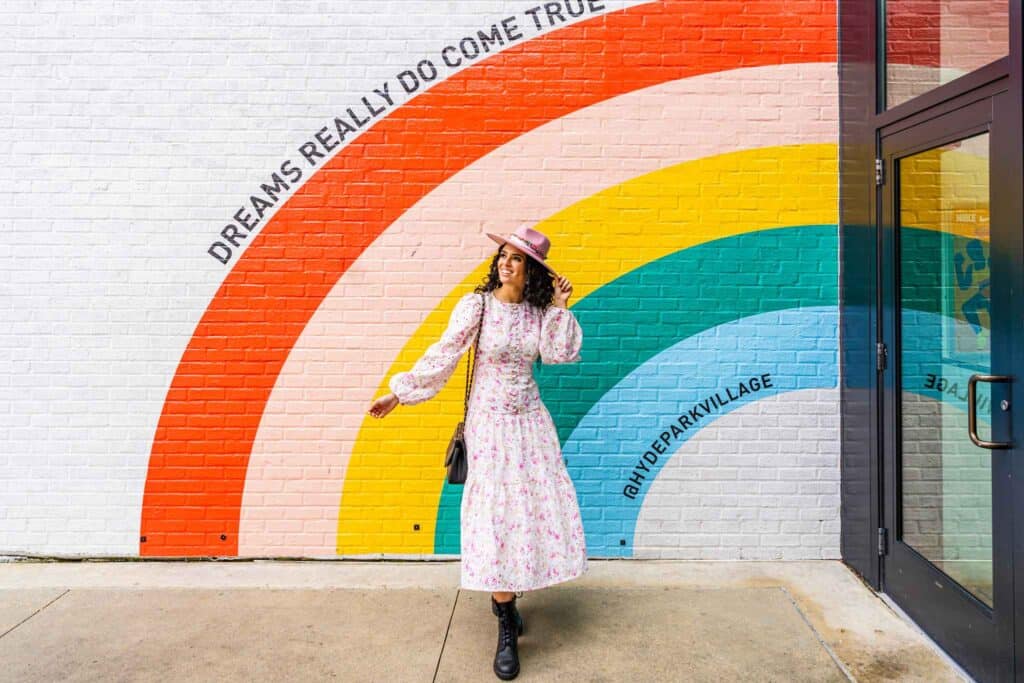 34. Ulele Restaurant- Ulele's menu is inspired by the Native Americans that once inhabited Florida, as well as its European influences. Their dishes are carefully crafted by local chefs with native, in-state ingredients. Where modern and rustic vibes meet, Ulele is filled with commissioned and collectable art, from stained glass windows to statues. Other aspects of the restaurant were actually handcrafted by locals too! Savor house-brewed beers and hand-crafted spirits, beautiful art, and exclusive meats at this lovely eatery and brewery combo on your next date in Tampa.
35. Tampa Bay Downs- Live a day of fun and excitement at Tampa Bay Downs, where horse racing is paired with poker and golf, providing endless entertainment for everyone.
36. Tampa Museum of Art- The Tampa Museum of Art features Roman, Greek, and Etruscan relics and artifacts, as well as modern art in a variety of mediums that will amaze you and your date. Nearby other museums and the Curtis Hixon Waterfront Park, you can plan an activity-filled afternoon or evening together.
37. The Hindu Temple of Florida- Immerse yourself in the culture of the growing Indian community by visiting the Hindu Temple of Florida that overlooks the vistas of north Tampa.
38. Seminole Hard Rock Hotel and Casino– Unwind with a good time at Seminole Hard Rock Hotel and Casino in Tampa. Try your luck at a game of poker, book an appointment at the spa, experience fine dining, do some shopping, or soak up the Florida sun at their three pools. Stay the weekend together at their Four Diamond-rated hotel so you have a chance to enjoy everything.
39. Caladesi Island- Accessible only by boat, Caladesi Island is complete with palm trees, white sand, nature trails, and a bayside mangrove forest. This state park serves as a pristine and well-kept vacation destination to escape the busy beach life during your visit to Tampa.
40. Honeymoon Island State Park- A short drive from Tampa, Honeymoon Island is the perfect place for couples to revel in the amazing water vistas and take romantic strolls down four-miles of white, sandy beaches. Brimming with history, nature, and educational resources, the island is a great active date destination for soaking up the sun, a romantic picnic, swimming, hiking, biking, and many other activities that make it an ideal getaway. You can also take the ferry to Caladesi Island from here. If you have a fur baby, they are welcome too at Honeymoon Island State Park.
41. Clearwater Beach- Embark on a leisurely getaway at Clearwater Beach for an escape filled with beautiful blue waters, parasailing, paddleboarding, and gorgeous sunsets. The calm waters will relax you while the surrounding area of Clearwater will keep you busy and excited to be in Florida.
42. Dinosaur World- Learn more about prehistoric life at Dinosaur World. Conveniently located between Orlando and Tampa, Dinosaur World allows visitors to view life size replicas of dinosaurs in a realistic outdoor setting, complete with boardwalk paths and oak trees. Even your fur baby is welcome!
43. The Prehistoric Museum- On-site at Dinosaur World is their indoor Prehistoric Museum. It is accompanied by a small fossil museum and animatronic dinosaurs. Have a kiddo in tow? There are also interactive exhibits that feature things like panning for geodes and excavation. Make sure to pick up souvenirs at the gift shop for the dinosaur-obsessed in your life waiting for you at home!
44. University of South Florida Botanical Gardens- Take a romantic stroll through the gardens as you and your date take in the beauty of nature in an arboretum that is home to over 3,000 species of plants.
45. Skatepark of Tampa- Dabble in the skater life whether you're a beginner or a little more experienced. Skatepark in Tampa is known as one of the top skateboarding venues on the East Coast and is acclaimed for its annual hosting of Tampa Pro and Tampa Am competitions. There's even an on-site skate pro-shop!
46. MidFlorida Credit Union Amphitheatre- Check out a concert at this open-air venue in Tampa for the ultimate date: a night of live music and poetic ambiance.
47. Side Splitters Comedy Club- There's no better way to bond two people together than laughing together. At Side Splitters Comedy Club, local and nationally touring headliners are sure to provide the best entertainment for date night.
48. Pier 60- View the breathtaking water of the Gulf of Mexico at Pier 60, a public fishing pier and park with a plethora of entertainment options. Enjoy live music performances from local artists paired with shopping, dining, and fishing. You can rent equipment on-site as well if you didn't want to tote yours with you.
49. Altitude Trampoline Park- Bring out your inner child with a day of fun at Altitude Trampoline Park. With a variety of attractions like dodgeball, ziplining, obstacles courses, and high-flying trampolines, a visit to Altitude Trampoline Park is guaranteed to be filled with thrills and excitement.
50. Laser Ops Extreme Gaming Arcade- An arcade date night is guaranteed to be a substantial amount of fun, especially when it features laser tag, archery, virtual reality games, and a full liquor bar and grill for you and your date to refuel.
51. Smash Room Tampa- You've never known stress relief until you've been to Smash Room Tampa. With fully furnished rooms on deck, smash out your frustrations in a completely safe setting. Full protective gear is provided.
52. Tampa Bay Farmers Market- If you're on the lookout for local produce, the Tampa Bay Farmers Market offers a fresh assortment of regionally sourced goods, like seasonal fruits and vegetables from local farmers and vendors. They're open seven days a week!
53. Book a Salt Room- Plan a day of relaxation by visiting a salt room. The Tampa area offers a variety of salt rooms, including the Salt Massage Room, the Salt Room and Sauna, and the Salt Room South Tampa. These natural spas provide salt spa therapy, facials, and salt exfoliations that will have you leaving refreshed and replenished.
54. Port Tampa Bay- Take in the views of the expansive waterfront at Florida's largest port, Port Tampa Bay. The bustling port draws in visitors with its lively nightlife and fine dining that serve American-Caribbean fusion, while also serving as a boarding site for cruises.
Best High Tea/Picnic Company
55. Whistle Stop Gardens Tea Room- Reserve a table at Whistle Stop Gardens Tea Room offering options that include over 20 loose leaf teas from around the world and food items like salads, quiches, chicken salad croissants, scones, and desserts of all kinds. This tearoom only takes reservation for tables Friday through Sunday, with other days reserved for larger groups.
56. The Empress Tea Room & Bistro- Afternoon tea at the luxurious Empress Tea Room & Bistro is an elegant and opulent date idea, serving options like unlimited tea, soup, sandwiches, pastries, desserts, and champagne.
57. TeBella Tea Company- The TeBella Tea Company has four locations across Florida, with two in Tampa. The original Davis Islands location offers a collection of over 115 varieties of loose-leaf tea. Here you can shop for teas to take home with you, other locally made items, and fresh baked goods. You can also order a cup of tea to enjoy either inside or outside.
58. Oxford Exchange- The Oxford Exchange houses amenities like an on-site restaurant, a champagne bar, a bookstore, a coffee shop, and another TeBella location, an amazing afternoon date idea for couples. Afternoon Tea takes place inside the Oxford Exchange on weekends. Check their website for more information.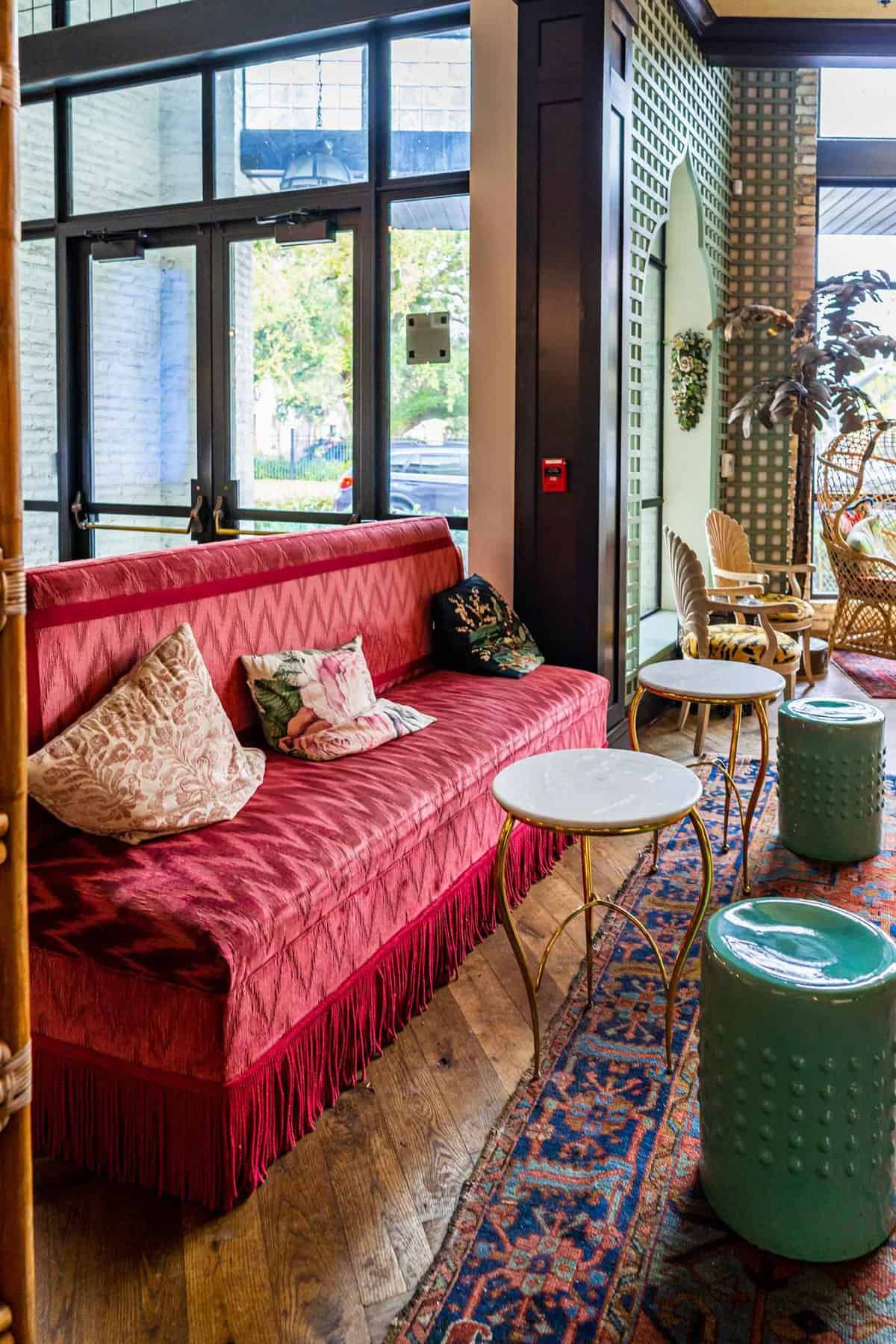 59. Victorian Grace Tea Room- Labeled as one of the finest tea rooms in Florida, Victorian Grace Tea Room is decorated with extravagantly patterned curtains and richly painted walls, pairing well with the seasonal, fresh menu items, the intricate tea sets, and the ambiance that make the tea room an intimate date idea unlike any other.
60. The White Heron Tea and Gifts- Located in the historic river town community of New Port Richey in North Tampa, White Heron Tea and Gifts serves tea from Driftwood Tea Company, their own brand of high-quality tea. They offer a walk-in tea room inside their gift shop, no reservation necessary, and even a Happy Hour menu with cucumber sandwiches, homemade chicken salad, and fresh scones. Additionally, you can order macaroons and artisan chocolates within the Tea Parlor.
61. Joseph's Tea Room- This beautiful tea room is decorated in gold and baby blue, offering seating options from tables to bar stools. Joseph's Tea Room offers traditional and deluxe afternoon tea experiences that provide multiple courses, including vegan and gluten free customizations, several tea options, and additions like champagne and chocolate-covered strawberries.
62. Bula Kavananda Kava Bar & Coffee House- Known for their signature Kava, a holistic solution made from the root of the kava plant, Bula Kavananda's name is a mix of the Fijian and Sanskrit languages, which inspired their menu. They serve fine teas, specialty coffee drinks, and even incorporate the use of tonic elixirs and herbs.
63. William Dean Chocolates- You'll be amazed at the rows of gorgeous, finely crafted chocolates within the shop of William Dean Chocolates. They are made by hand, in small batches, and without preservatives. You can also order online through their website.
64. Plan the Perfect Picnic Without Lifting a Finger- Tampa offers many services that specialize in luxurious bohemian style picnics, such as InstaPicnic & Co, The Perfect Picnic Co, Brown Sugar Event Co, Table Manor, The Picnic Social, Picnic by the Bay, and Tampa Picnic. providing set-up options unique to the client's needs, you can plan a fabulous date in Tampa with ease.
Free Things to Do in Tampa
65. Immerse Yourself in Literature- For a quaint and intimate date idea, visit the Tampa-Hillsborough County Public Library. The library houses a collection of over a million books and digital resources, so immerse yourself in literature within the beautiful walls of the library.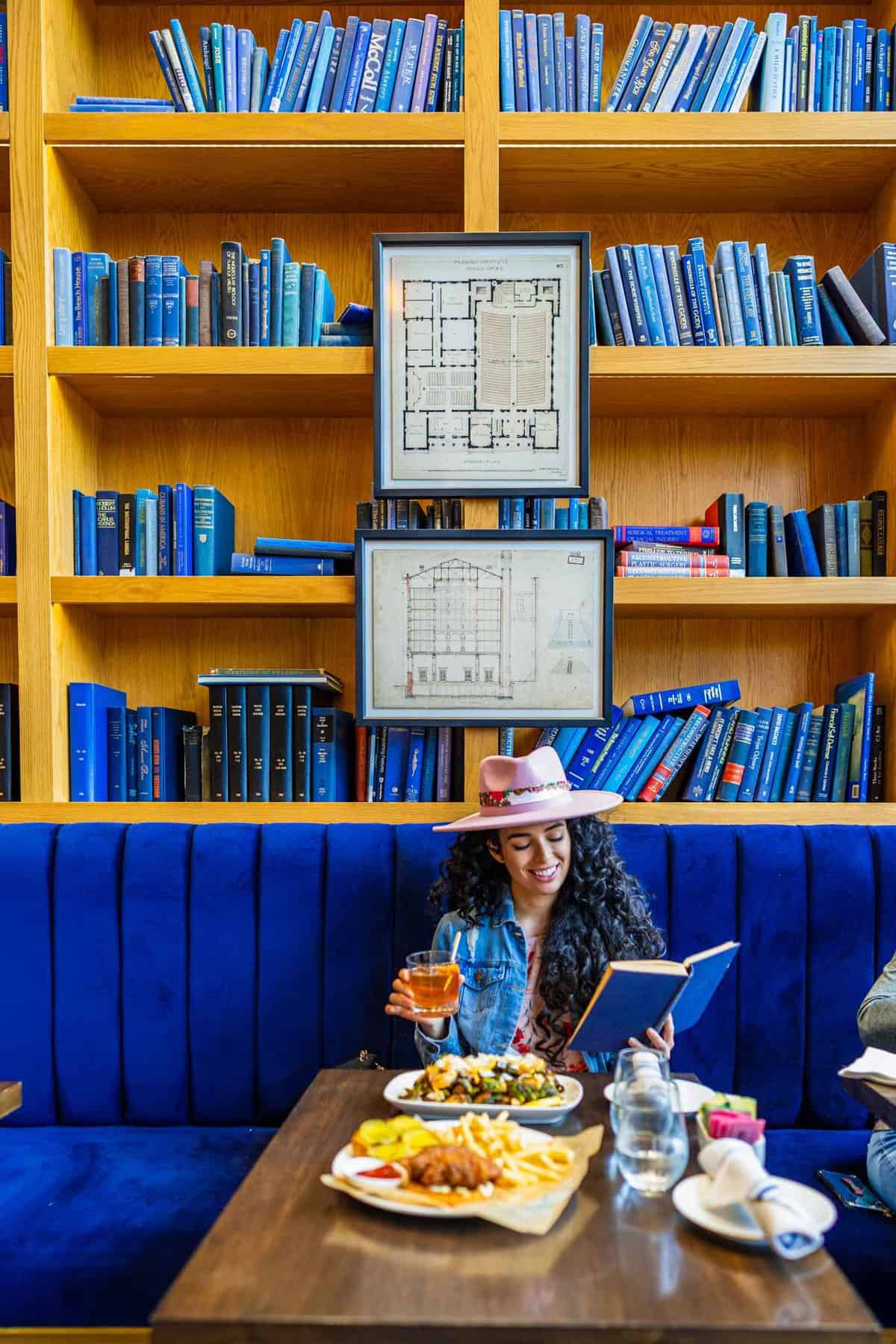 66. Bask in the Beauty of Nature- What better way to explore Tampa than through its abundance of outdoor destinations? The coastal city is home to a variety of parks, piers, and trails, including the Tampa Riverwalk, Courtney Campbell Trail, Bayshore Boulevard, Ballast Point Park and Pier, and Tampa's Picnic Island Park. Take in the natural wonders of the city and participate in the recreational activities that they offer.
67. Learn About What Makes Tampa Great- Tampa is a city rich in culture and history. Discover how the city came to be by visiting some of the city's best museums and historical landmarks, including the Tampa Firefighters Museum, Heritage Village, the Ybor City Visitor Center, the J.C. Newman Cigar Company, the Sulphur Springs Museum and Heritage Center, and the Tampa Police Museum.
68. Take a Day for Fun in the Sun- Enjoy a day on the beach at Ben T. Davis Beach. Spend the day biking, swimming, and looking out across the gulf.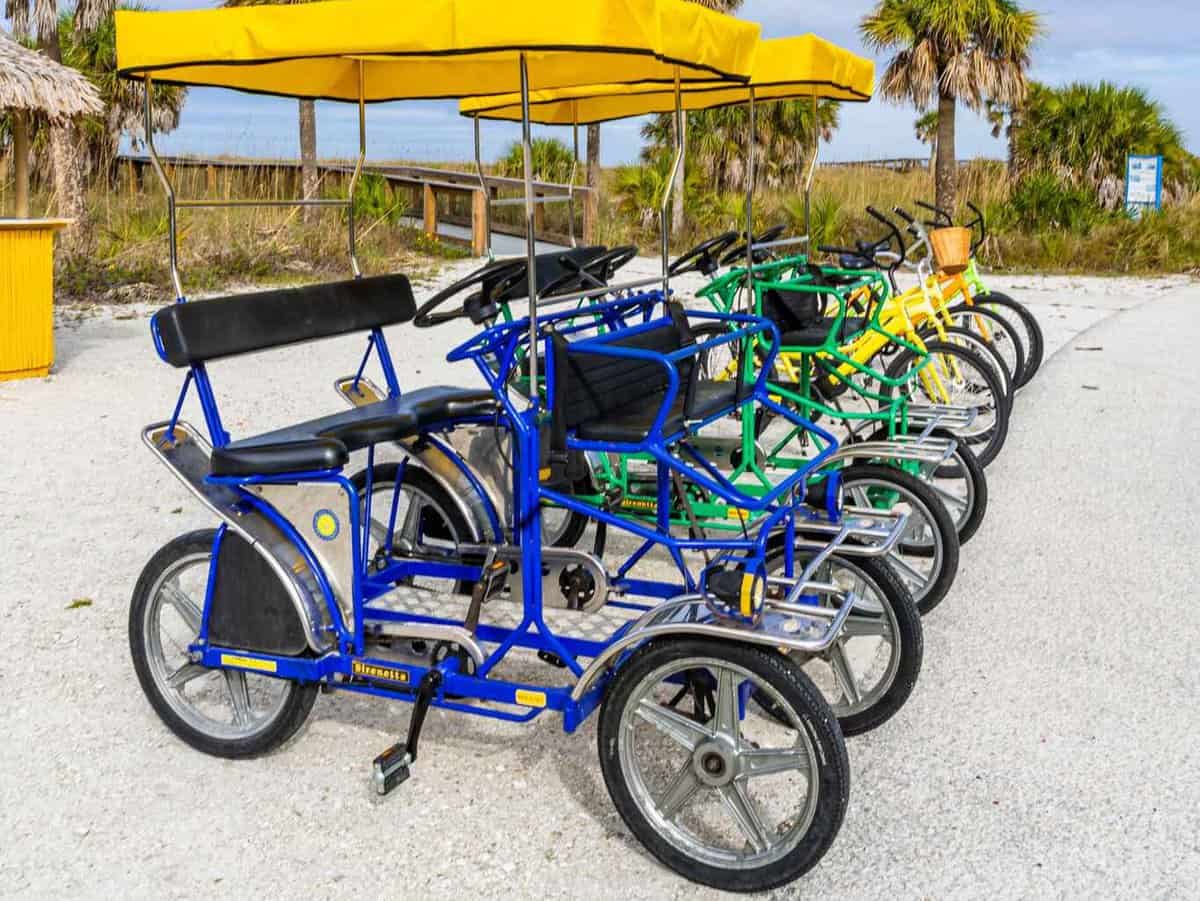 69. Stroll Around the Gardens- Measuring 182 acres, the landscapes at the Florida Botanical Gardens are breathtaking! The gardens contain over 10,000 native and exotic plant species and serve as an ideal destination for appreciating Mother Nature's beauty.
70. Witness Marine Life- If you're in the Tampa area during the winter, you must stop by the Manatee Viewing Center and observe some of Tampa's most remarkable marine life. The sanctuary provides vital refuge for the manatees from the cold weather and is the perfect spot to learn more about them while in the company of your date.
71. Attend a Festival- Tampa's festival scene is poppin' and alive with several must-see events. For an enriching cultural experience, be on the lookout for events like the Raymond James Gasparilla Festival of the Arts, Gasparilla Pirate Fest, and Fourth Fridays.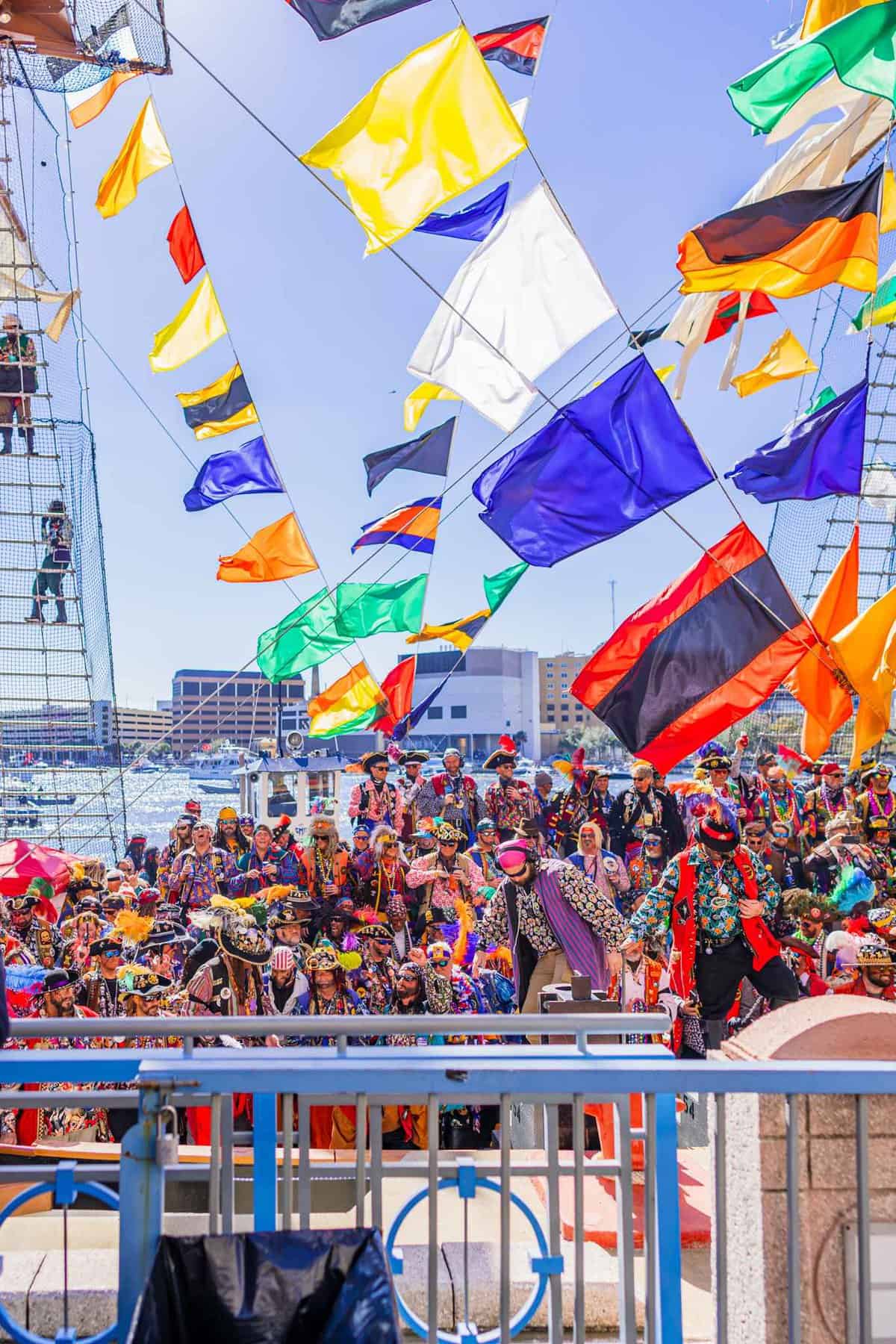 More Things to Do in Tampa for Couples
72. Ride Pirate Water Taxi- Explore the waters of Tampa aboard the Pirate Water Taxi. With the purchase of a day pass, visitors can hop on and off the taxi all day as it stops at top-rated attractions, including museums, restaurants, and parks.
73. Game at Park & Rec- Looking for a date night filled with fun? Park & Rec allows visitors to play retro arcade and giant lawn games while sipping on cocktails and beers in true beach bum fashion.
74. Grab Unique Bites- Tampa offers a plethora of unique eateries and cafes to try. Luv Child is a tastefully decorated lounge serving homemade, on-tap sangria and Mexican-Cuban fusion. They also host drag brunches! Aubi & Ramsa serves alcohol infused ice creams made with wine, all kinds of liquor, and even a champagne sorbet and vegan ice creams! The Attic Cafe is a tastefully moody, rooftop coffee shop, restaurant, and bar with vegan options, serving every meal of the day. Datz serves feel-good food, like their Nashville Chicken Sandwich Doughnut, plus mouth-watering breakfast/brunch items, vegan "chicken," mocktails, and an extensive list of craft beers and wine.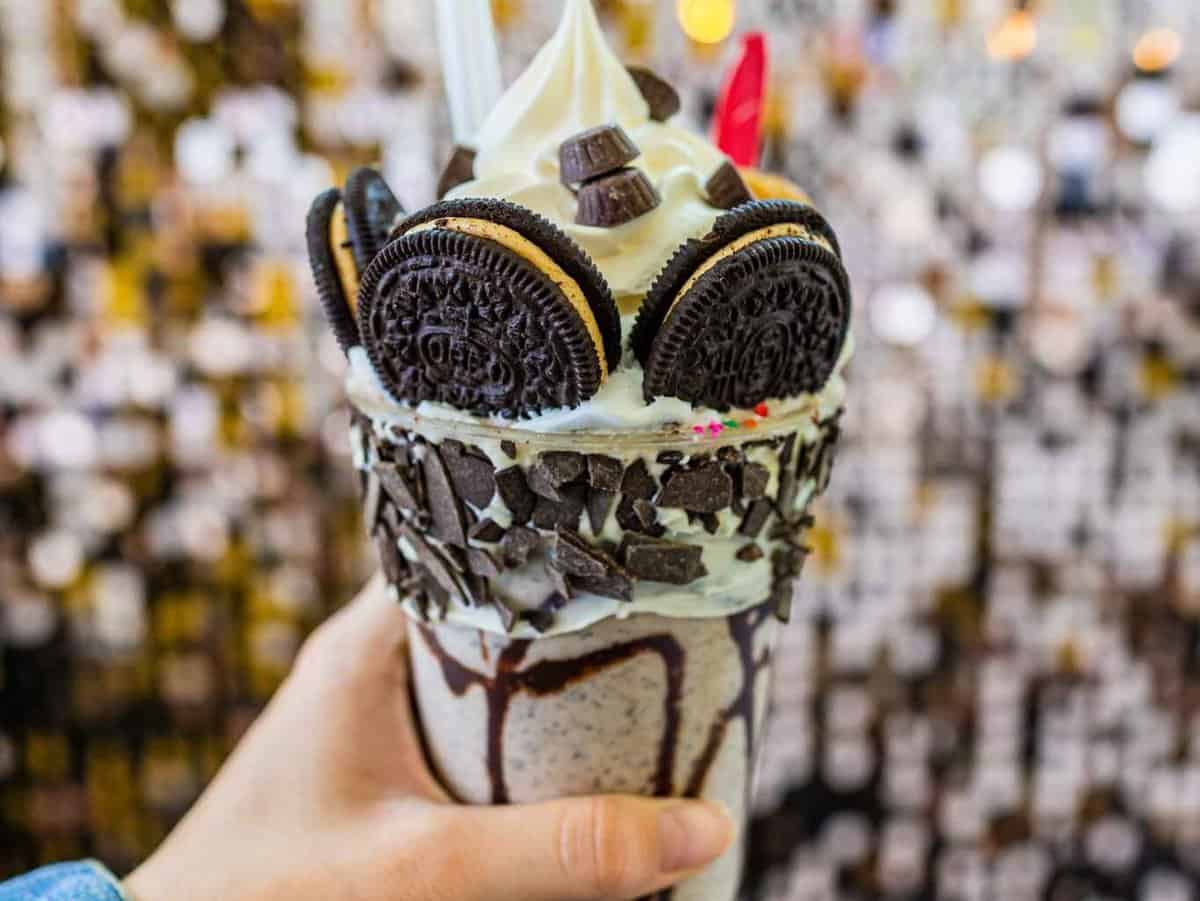 75. Relax at Woodhouse Day Spa- Leave behind your worries with a day of unwinding at Woodhouse Day Spa, a short 20-minute drive out from Tampa in the beautiful coastal city of St. Petersburg. Enjoy carefully crafted treatments for exfoliation and hydration in the calming atmosphere of Woodhouse Day Spa.
76. Visit the Water Street Tampa Art Exhibit- British artist Lucy Sparrow invites you into her world of creativity: the new immersive art installation Lucy Sparrow's Tampa Fresh Foods. Located right on Water Street, the exhibit showcases over 50,000 hand-crafted pieces that mimic a grocery store. Every item is available for purchase, so grab a basket and take home a souvenir.
Romantic Things to Do in Tampa for Couples: Final Thoughts
The beautiful city of Tampa has a way of bringing people together; a diverse melting pot of cultures that enrich the city with history and tradition. Overflowing with good food, music, fun-filled attractions, and natural wonders, you'll never run out of fun things to do. Navigate your way around Tampa, explore the many experiences the city has to offer and plan a romantic date for the books!