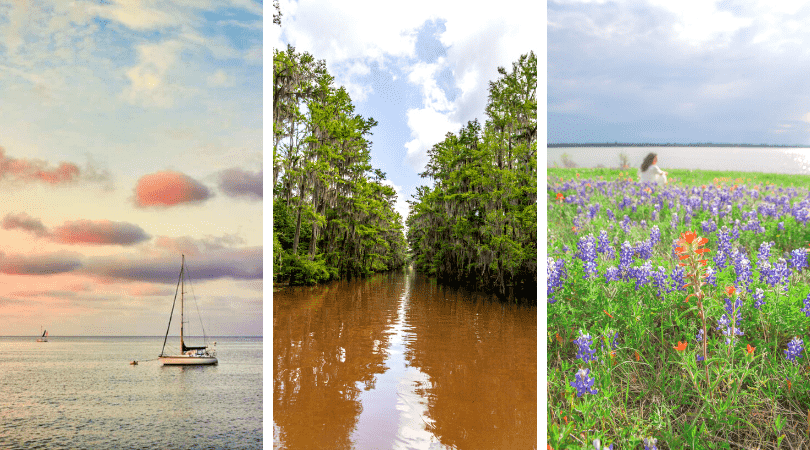 Looking for a lake getaway to cool off this summer? Want some time in the great outdoors? Or need an escape from the hustle and bustle of everyday life? Texas has a variety of beautiful, refreshing, and fun-filled lakes that you will love! From tiki party boat cruises and lively marinas to quaint houseboat cottages, places to swim, and nearby things to do, these 28 lake getaways in TX will make your next vacation, whether it's short or not, the best you've ever had!
Lake Conroe
Lake Conroe is the perfect place to have fun in the sun! In addition to swimming and fishing, you can rent jet skis, kayaks, pontoon boats, and even a tiki party boat to cruise around on the water. There are also plenty of nearby activities such as dining, wine-tasting, and shopping in Conroe, or book a room at Margaritaville – a destination unto itself – right on Lake Conroe.
Belton Lake
Featuring a sixty-foot waterfall, Belton Lake offers boating, watersports, fishing, swimming, and hiking. The lake's waterfall is best accessed by boat and is an ideal spot to cool off and take pictures. Explore the city of Belton, with its small-town charm, home to Texas' oldest state park, plus local shops, and tasty restaurants.
Lake Travis
Lake Travis transports you to the Caribbean, boasting clear, blue waters. In this setting, just northwest of Austin, you have the chance to swim, boat, fish, and more. Boat rentals are available, including a houseboat if you want to stay on the water the entire time you're there. You can also enjoy an ample number of restaurants, bars, museums, and parks in eccentric downtown Austin.
Lake Buchanan
Lake Buchanan, also northwest of Austin TX, offers fishing, boating, camping, hiking, nature watching, and a beautiful waterfall. You can also take a scenic cruise with Vanishing Texas River Cruise to further appreciate the lake's wildlife and scenery. Or stop by the quaint towns of Llano and Burnet, to enjoy wine-tasting or a historic train ride through the Texas Hill Country.
Lake Ray Hubbard (Rockwall Lake)
An ideal setting for a summer getaway, Lake Ray Hubbard (also known as Rockwall Lake) is just east of Dallas, where you can swim, boat, fish, bike, and hike. You can also book a catamaran cruise with Sail with Scott. Or check out the beautiful waterfront mall, the Harbor Rockwall, in adjacent Rockwall with restaurants, shopping, live music, and even a movie theater. If you need a place to stay, the Hilton Rockwall Lakefront offers a beautiful respite that overlooks the water.
Lake Texoma
Lake Texoma, which borders Eisenhower State Park, is one of the largest reservoirs in the U.S. and offers 550-miles of shoreline and several islands to explore! You have the chance to swim, boat, fish, camp, and hike, in addition to visiting any of the 20 marinas around the lake. To make all your plans of exploration a little easier, rent a kasita right on Lake Texoma. Just off the water in Pottsboro TX, there are a variety of restaurants and bars to enjoy, and Denison has several museums and parks you can visit.
Canyon Lake
Canyon Lake is located in Comal County, north of San Antonio, boasting a variety of summer activities! At this lake, you can camp and picnic in its numerous parks, plus swim, fish, and boat in the lake. There is also a par 72 golf course if you feel like hitting the green. You can easily plan a weekend of activities in nearby San Antonio, enjoy wine-tasting in New Braunfels, or visit the Heritage Museum of the Texas Hill Country in the city of Canyon Lake.
Devil's Waterhole
Surrounded by unique rock formations, Devil's Waterhole is located in Inks Lake State Park and is a beautiful place to take a dip. Featuring swimming, fishing, kayaking, hiking, and camping, there's plenty here for everyone. In neighboring Burnet, you can visit museums and parks. And just a short drive away, you can also enjoy the downtown scene of Austin, with a myriad of restaurants, shops, and activities.
Caddo Lake
Caddo Lake is a lake and bayou, known for having live alligators, situated in Caddo Lake State Park. At this diverse lake, you can boat, fish, camp, picnic, and geocache. If you need a place to stay, check out the charming Hodge Podge Cottages in Uncertain, where you can sleep in "Shipwreck #7" – a cheery houseboat cottage that sleeps four and provides lakeside views! There are also several other cottages to choose from. In nearby Jefferson, and Marshall, you can also enjoy a variety of restaurants, shops, and museums.
Lake B.A. Steinhagen
Lake B.A. Steinhagen, bordering the Martin Dies Jr. State Park, offers plenty of fun in the sun! You have the chance to swim, boat, fish, camp, hike, picnic, and see Texas wildlife. If you're visiting in October, don't forget to check out Jasper, where on the first Saturday in October, the city holds its annual Butterfly Festival! Jasper also has a variety of local restaurants and shops to visit.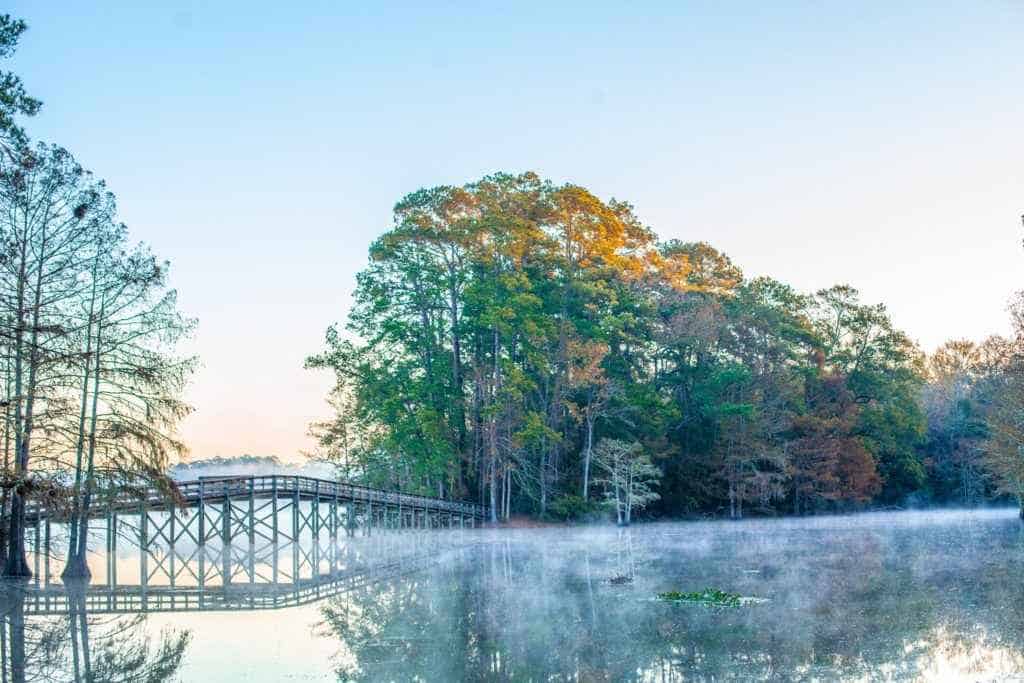 Burgers Lake
With amenities as unique as its name, Burgers Lake is a lifeguarded, spring-fed lake that includes a slide, diving boards, beaches, surrounding playgrounds, and plenty of swimming! You can also take advantage of several picnic areas and rent inner tubes for more water fun. The lake is located in Fort Worth, where you can also check out the zoo, museums, and numerous restaurants and shops.
Boerne Lake
Boerne Lake also boasts a wide range of activities for everyone! This lake features a 9-hole disc golf course, covered playground, volleyball court, and butterfly garden. You can also enjoy swimming, non-motorized boating, fishing, and plenty of walking and hiking trails. For even more adventure, check out Boerne, where you can take a tour of Cascade Caverns, a limestone cave!
Lake Bryan
Lake Bryan is located in its namesake, Bryan, offering plenty of activities in the great outdoors – swimming, fishing, boating, biking, hiking, camping, and plenty of picnic areas. If you're craving the city, check out the Lake Walk, a bustling hub of business and leisure in Bryan-College Station. Here you can find restaurants, shops, and other activities. At the center, book a stay at the Stella Hotel, located just 15-minutes from Lake Bryan, which has beautiful rooms overlooking the waters of Lake Atlas.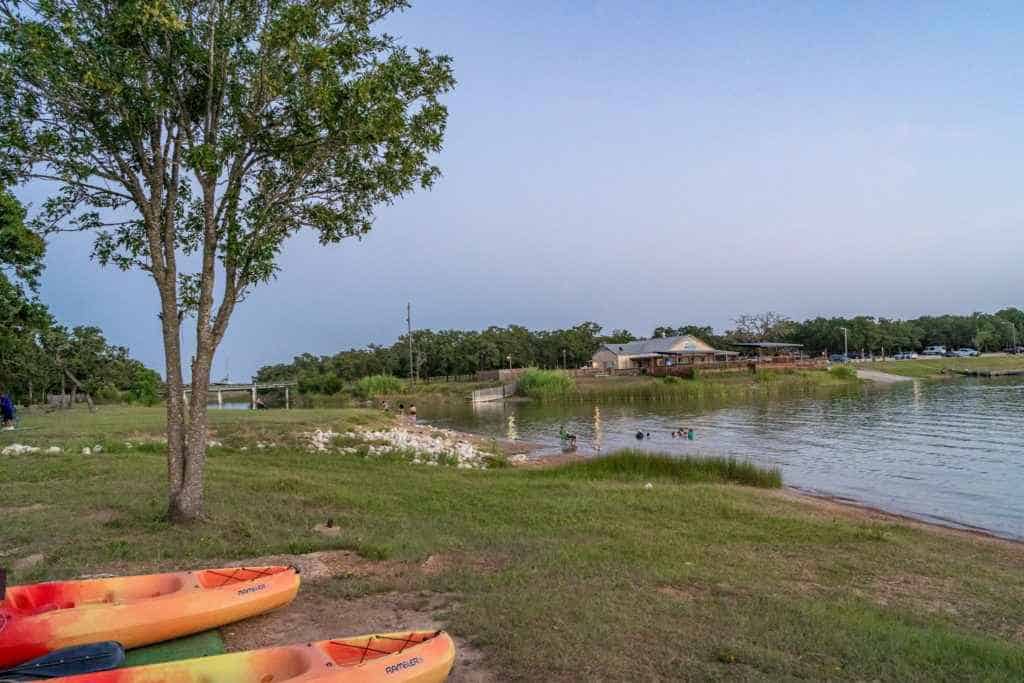 Wolf Creek Lake
With its own little waterfall, Wolf Creek Lake is a charming place to visit. Located in Palestine, this lake offers fishing, hiking, several picnic areas, and a boat ramp for small boats. You can also enjoy numerous activities in Palestine, such as visiting the local parks and or checking out the Texas State Railroad Palestine Depot.
Lake Tyler
Lake Tyler is a great place to relax and play! You can swim, boat, waterski, fish, and hike, in addition to taking in the beautiful views. You can also camp at the Boulders Campground which includes a renovated fishing barge and boardwalk. Tyler also offers plenty to do with its zoo, museums, gardens, and restaurants.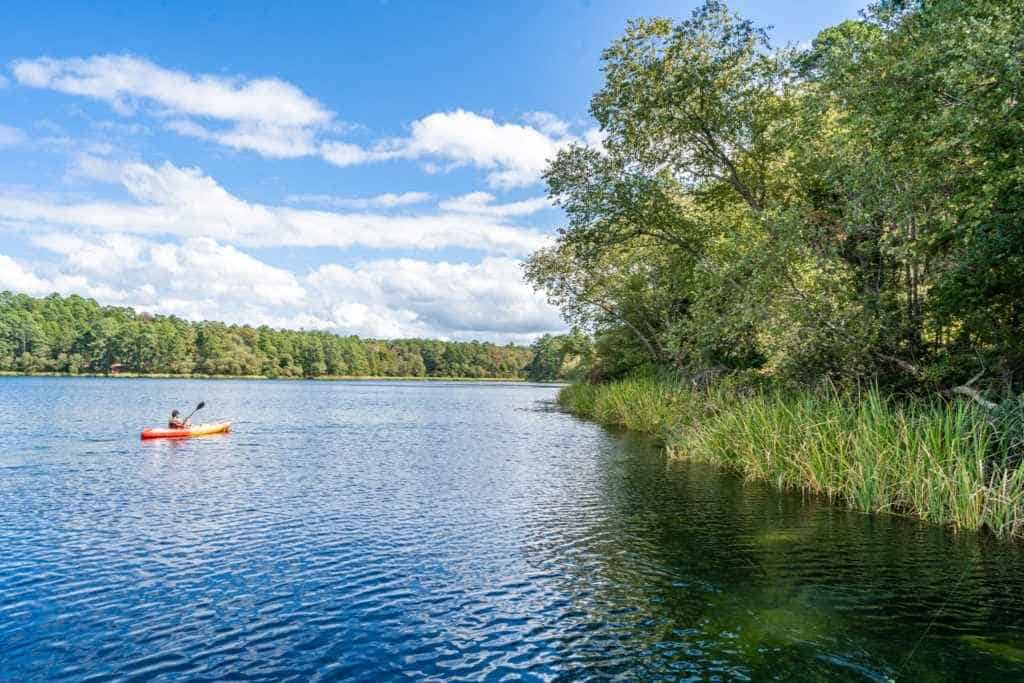 White Rock Lake
White Rock Lake is just five miles from downtown Dallas, making it easily accessible for some summer fun! With kayaking, boating, hiking, birdwatching, biking, picnic areas, and a dog park, there's something for everyone. There's also loads of activities, restaurants, and shops to enjoy nearby in Dallas.
Bardwell Lake
Another excellent place to cool off this summer: Bardwell Lake in Ellis County. You can choose from swimming, boating, fishing, picnicking, camping, and watching the surrounding wildlife. If you're into auto racing, don't forget to check out nearby Ennis, where you can take in the sensations of a drag race at the Texas Motorplex!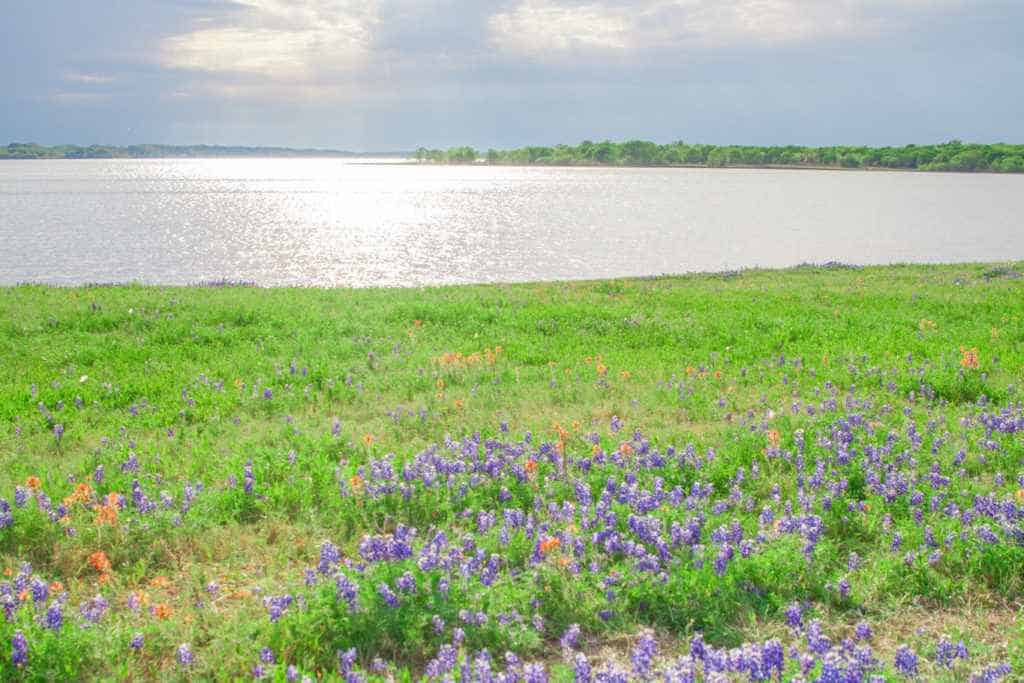 Salmon Lake Park
Salmon Lake Park is a two-acre, spring-fed lake that offers swimming, camping, and even an "old west" town! In this setting, you can also hike, take a ride on a miniature train, and enjoy the beautiful scenery. If you need a place to stay, reserve one of the many cabins, RV sites, or campsites. In Grapeland, you can continue the adventure at Grapeland Safari or Mission Tejas State Park.
Lake Livingston
Located within Lake Livingston State Park, Lake Livingston gives you the chance to fish, swim, boat, hike, camp, and geocache – a great place for a getaway! Make sure to bring along your hammock because the trees make the perfect place to set up for a nap or some afternoon reading. In Livingston, you can also enjoy the bowling alley, tennis courts, golf course, museums, and parks.
Grapevine Lake
Grapevine Lake is an 8,000-acre lake with 60-miles of shoreline, and there's plenty of activities to go around! At this lake, you can boat, swim, fish, bike, hike, camp, and take your kiddos to the numerous playgrounds. When you need to refuel, grab a burger at Big Daddy's at the Scott's Landing Marina on the south side of the lake! Also, Grapevine has a variety of activities to enjoy such as the Legoland Discovery Center, the Grapevine Aquarium, the Grapevine Vintage Railroad, and the urban wine trail.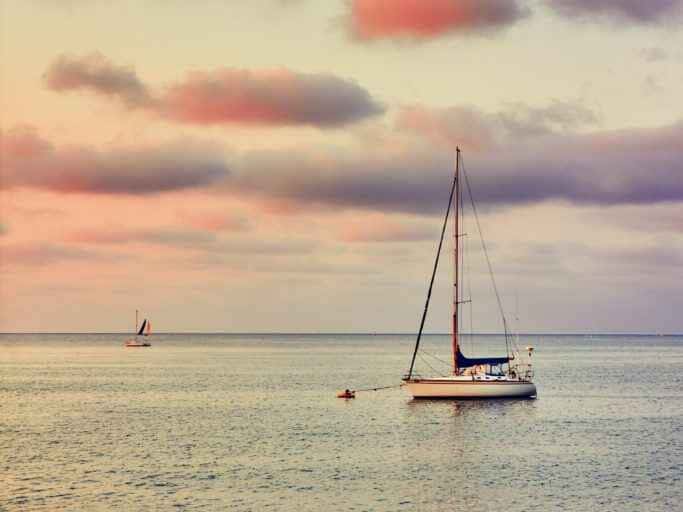 Joe Pool Lake
Joe Pool Lake is the perfect place to spend time in the great outdoors. Surrounded by Grand Prairie, Cedar Hill, and Mansfield, this lake features several beaches for swimming, fishing, boating, waterskiing, and kayaking. You can also camp, hike, bike, and take in the beautiful landscape. There are even three state parks nearby – Cedar Hill State Park, Lloyd Park, and Lynn Creek Park. At Lynn Creek, dine on the water at Blue Sunshine Patio Bar & Grill. Or check out Grand Prairie with its historical downtown and additional dining options.
Lake Lewisville
Formerly known as Garza-Little Elm Reservoir, Lake Lewisville offers 233-miles of shoreline for fishing, waterskiing, boating, and swimming. There are also an ample number of beaches, plus camping, biking, and hiking, numerous marinas, and opportunities to rent boats and reserve cabins. In Lewisville, you can also check out the nature preserves, restaurants, and city parks.
Cedar Lake
Cedar Lake within Cleburne State Park is unique given that it's a no-wake lake – providing for peaceful waters and a quiet respite where you can canoe, kayak, swim, and fish. At this lake, you can also hike, camp, bike, geocache, and nature watch. To explore the local area, check out the museums, parks, and restaurants in nearby Cleburne.
Lake Brownwood
Lake Brownwood is located in Lake Brownwood State Park and is an ideal setting for a summer trip! You can boat, fish, swim, geocache, and hike, in addition to using the volleyball court and softball field. If you have a large group, you can also reserve the Group Hall – complete with a lakeside dance pavilion – for your next reunion or event. Brownwood also has a historic downtown with museums and dining waiting for you.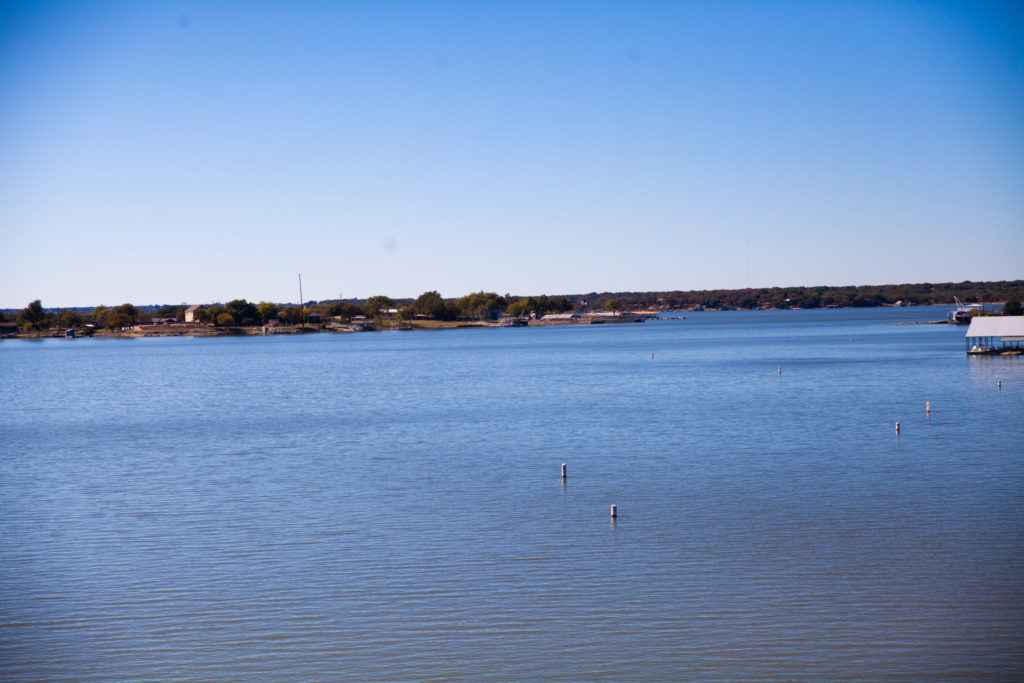 Lake Georgetown
Lake Georgetown boasts swimming, boating, watersports, fishing, and picnicking. You can also camp and enjoy wildlife as you immerse yourself in the great outdoors. To continue the adventure, check out the activities in Georgetown, such as Inner Space Cavern (a karst cave), Blue Hole Park (a beautiful lagoon), and many museums and restaurants.
Lady Bird Lake
Flowing through the center of Austin, it looks like a river, but it is actually Lady Bird Lake! While swimming isn't allowed, you can kayak, paddleboard, and enjoy other no-wake boating. In fact, you can rent a donut boat (a round boat complete with an umbrella and a table that fits ten people), a swan pedal boat, or even a fun retro-looking boat. There's also plenty of walking/running paths at Zilker Park to take in the lakeside views. If you are looking for a place to swim, nearby Barton Springs Pool is your answer! Or check out the Congress Avenue Bridge bats for a nighttime extravaganza.
Waterloo Lake
Waterloo Lake, excellent for families, features kayaking, paddleboarding, fishing, and even a pool to take a dip in! You can also walk and bike, in addition to visiting the baseball field or playground with your kiddos. To see more of the area, check out Eisenhower State Park or pay a visit to the Homestead Vineyard and Winery in Denison.
Lake Jacksonville
Lake Jacksonville is a 500-acre lake surrounded by scenic pine wood views and wildlife with recreational activities like swimming, skiing, and boat ramps if you have a boat in tow. Cast your line and you may get lucky and catch a bass or a bluegill! There are seven campsites fully equipped with water and electricity, as well as ten RV pads. Grab a picnic table for a meal nearby this tranquil East Texas reservoir as a resting place for the afternoon or your regular dinner spot if you're staying for multiple nights. Drop into Jacksonville and explore their quaint downtown while you're there too!
Best Lake Getaways in TX: Final Thoughts
There's nothing better than a day out on the lake or a camping trip with one nearby to cool off in when it gets a little too hot. TX lakes offer a variety of water sports, activities, and natural landscapes. Their proximity to unique towns and various state parks makes it so you can do more on your next lake getaway in TX.