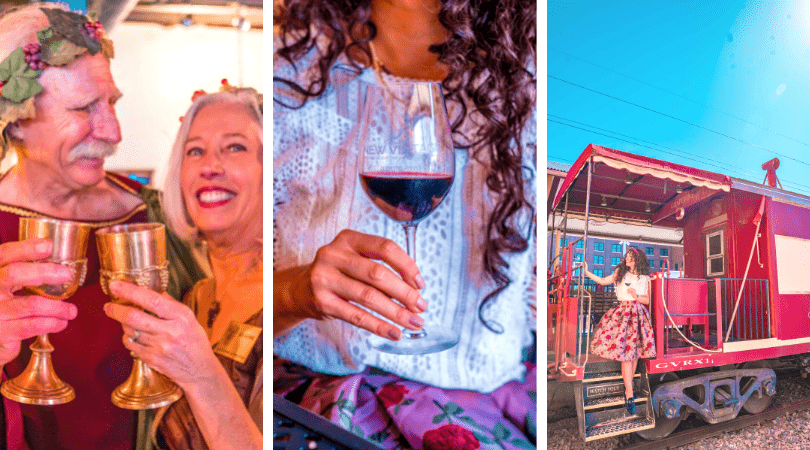 Did you know Texas is the 5th largest wine-producing state in the U.S? We are home to over 300 wineries and vineyards! As you could probably tell by its name, Grapevine is notorious for its involvement in the wine industry. Home to the Urban Wine Trail, a concept that gained popularity in the 1960's and 1970's, downtown Grapevine incorporates its love for its local businesses with its passion for wine. Up and down Main Street you'll find seven tasting rooms from across Texas spread among restaurants, boutiques, and art galleries. Not to mention there are dozens of things to do in Grapevine no matter who you choose to go adventuring with!
*Travel Hack: Hop on the Grapevine Visitors shuttle at the Gaylord Texan Resort and get dropped off right on Main Street. For a limited time, shuttle rides are complimentary. Make sure to check Grapevine's website for shuttle updates and more information.
Bingham Family Vineyards
Grapevine is home to the first of Bingham Family Vineyards' tasting rooms, which opened in 2015. Housed inside a historic farmhouse that closely resembles a castle, and complemented by the Giddens Art Gallery next door, this tasting room offers wine flights, snacks, and small batch Askinosie Chocolates made from internationally sourced, fairly traded cocoa beans. Reservations are recommended for groups of four or more, as well as on Saturdays.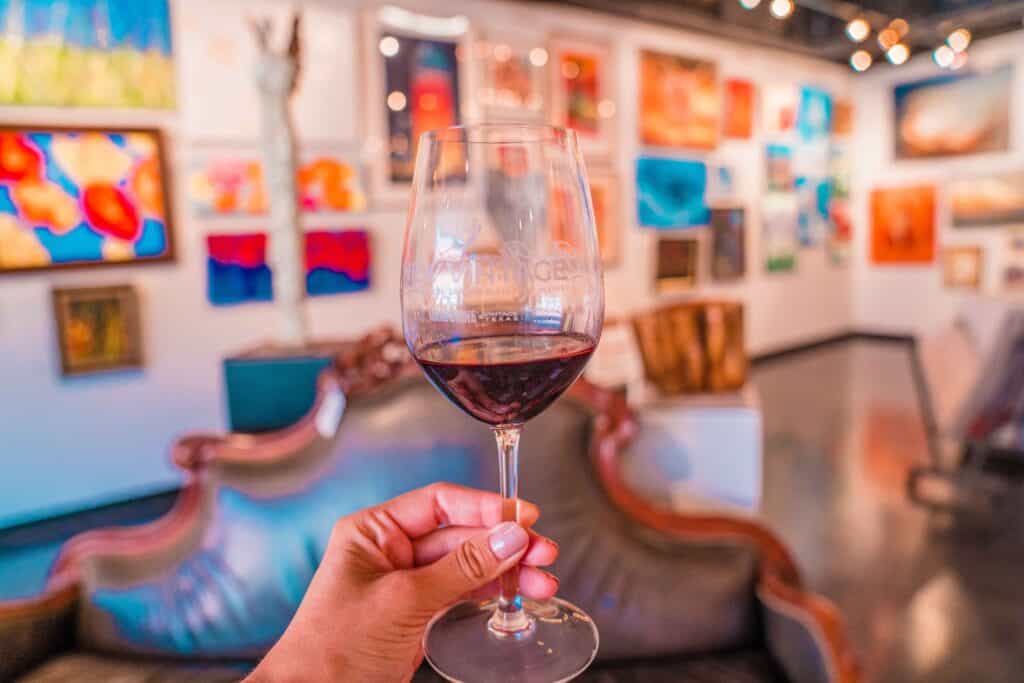 Bull Lion Winery
If you're looking for a pet-friendly and/or kid-friendly stop along Grapevine's Urban Wine Trail, the Bull Lion Winery's tasting room has an outdoor patio with climate control and patio games. Their on-site deli makes homemade desserts and Italian cheese trays with weekly specials. What originally began as a working ranch, Bull Lion Winery brought their Italian, wine-growing roots to Texas. The high concentration of minerals in the soil are the perfect home for grapes that are typically grown abroad in countries like Spain and Italy, making Bull Lion wines 100% Texas-grown and crafted, but with old-age flavor.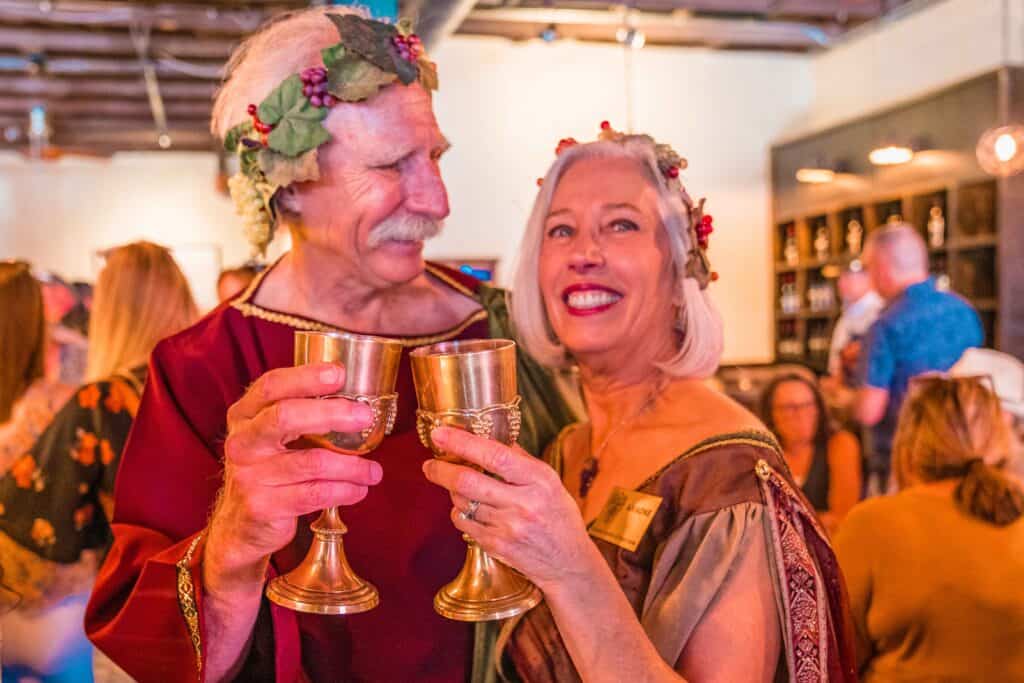 Cross Timbers Winery
Cross Timbers Winery is housed inside one of the five oldest structures in Grapevine: The Historic Brock Family Farmhouse built in 1874. Their services include wine tastings, wine by the glass, by the bottle, or by the case. You can snack on a Charcuterie board, a cheese and meat tray, hummus and spinach dip served with pita chips, or salmon cream cheese pinwheels. Serving 11 varietals and featuring wines from the oldest winery in the western hemisphere, Casa Madero, Cross Timbers Winery offers both indoor and outdoor seating, surrounded by Texas Oak and Pecan trees. This tasting room isn't as close to the other stops along the Urban Wine Trail, so prepare for a bit of a longer walk. No reservations necessary.
Grape Vine Springs Winery
Make your own custom wine or drop in for the Night Watchman Ghost Tour at the Grape Vine Springs Winery tasting room. They offer daily wine tastings with 32 different wines in production.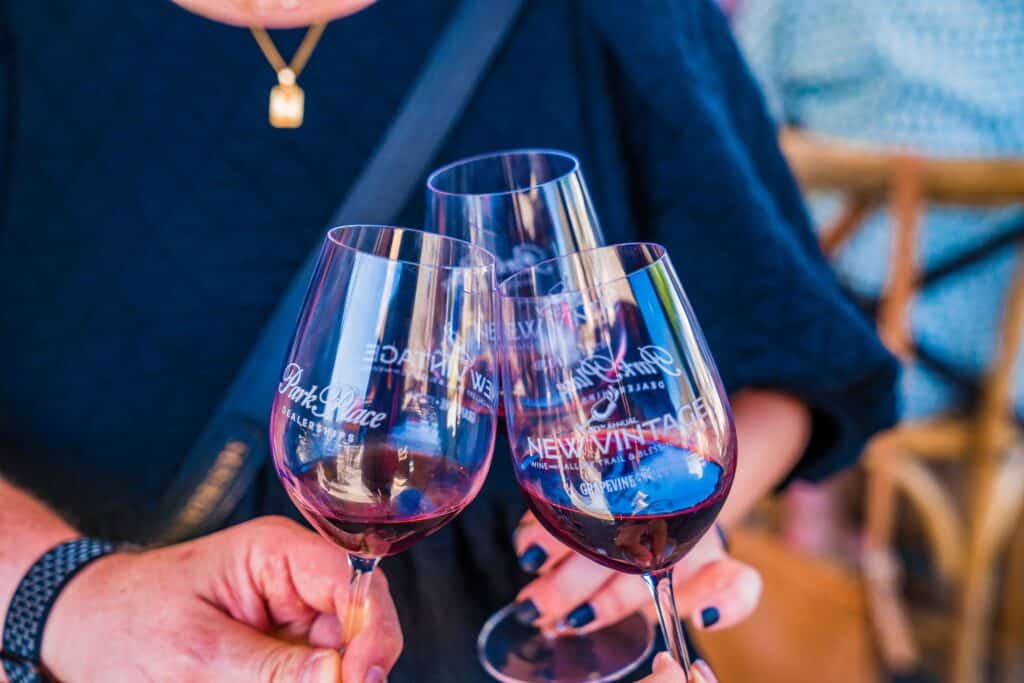 Landon Winery
What began as founder Bob Landon making wine in his Kansas City basement in 1989, Landon Winery is now the 9th largest winery in Texas. Their Grapevine tasting room hosts wine glass painting classes, a fun activity to break up your time so you can rest your feet along the Grapevine Urban Wine Trail.
Messina Hof Grapevine Winery
A family-owned winery, Messina Hof's Grapevine location is one of four tasting rooms in Texas. Choose from 50+ wines, 28 different varietals, cheese, and Charcuterie boards with rotating wine on tap. Inside a replica of the Wallis Hotel, an early railroad hotel built in 1891, you can sip on wine in their lounge or on the balcony that overlooks downtown Grapevine. You can also book a private tour and tasting or grab a souvenir from their gift shop!
Sloan & Williams Winery
Offering a pet-friendly patio, seasonal wine flights, and a menu with flatbreads, tapas, and desserts, Sloan & Williams Winery serves seven varietals and three blends.
The Grapevine Urban Wine Trail: Final Thoughts
With two pet-friendly patios, as well as activities, wine tastings, historic architecture, and opportunities to support local Grapevine businesses and Texas wineries, the Grapevine Urban Wine Trail makes for a fun weekend activity, all-day date idea, or time with friends and family. Many of these wineries have tasting rooms outside of Grapevine too, so check their website to see if there is a location closer to you if Grapevine is too far of a drive.
Keep a look out for news of Grapevine's seasonal wine trails as well and check out our comprehensive list of things to do in Grapevine (no date required).