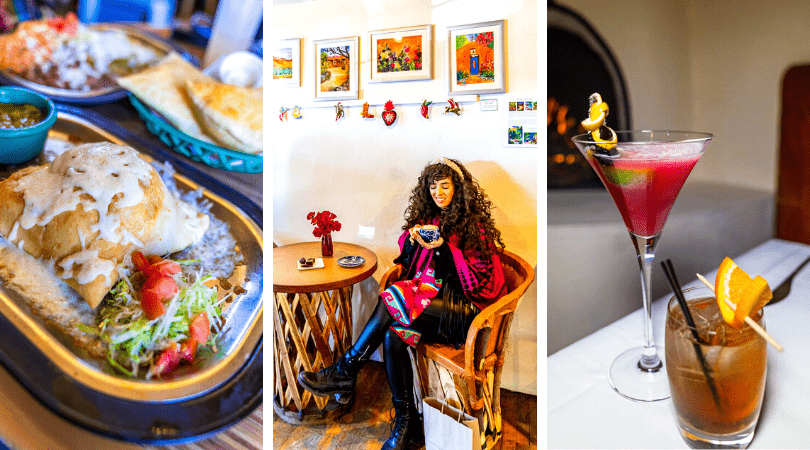 Santa Fe is home to a whole world of traditional and creative dishes that highlight fresh, locally grown ingredients and the array of cultures brought in along the Santa Fe Railroad. While you're here, make sure to explore stops along the Margarita and Chocolate Trails as you choose where to eat in Santa Fe, but don't forget to plan to try out all the fun things to do in Santa Fe too!
Where to Eat in Santa Fe for Authentic Oaxacan Cuisine
The menu at Fiesta Oaxaca showcases traditional Southern Mexican food shaped by the region's colonial history and Aztec culture. The Mexican city of Oaxaca is known for its variety of mole, a thick sauce that is often used as a marinade. The variety of native ingredients that are cultivated in the region have allowed for mole to take on many flavor profiles, and Fiesta Oaxaca has them on their menu for you to enjoy; like Mole Amarillo de Yucca, Mole Oaxaca, Mole Verde, Mole Rosada, and Mole Tamarindo. Aside from their bright, festive interior, another great thing about Fiesta Oaxaca is their vegan menu, including their house-made vegan meat!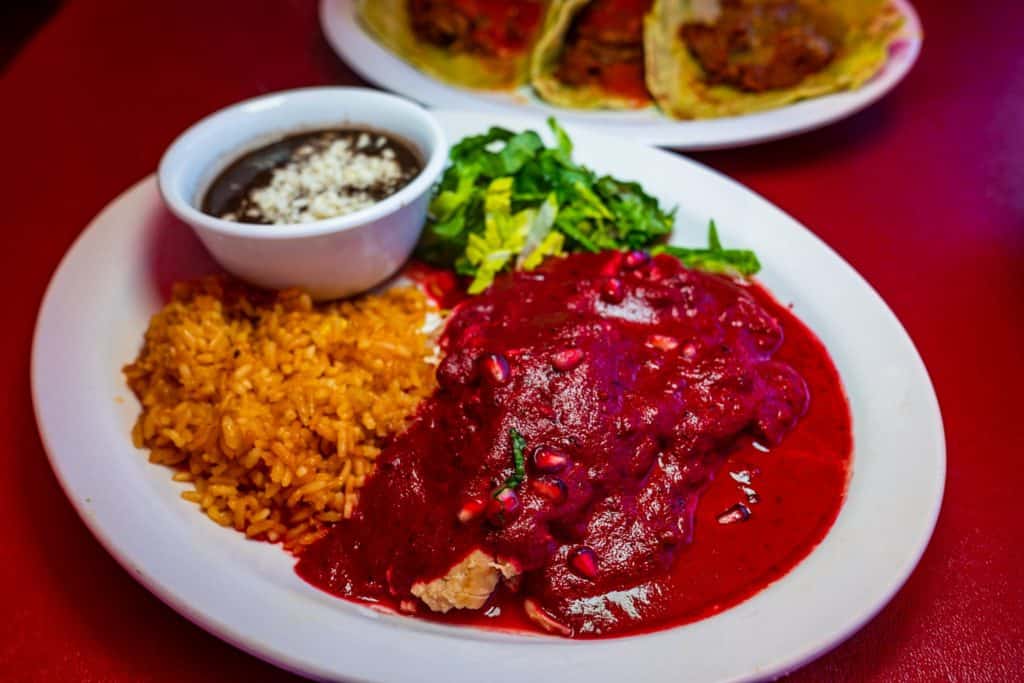 Where to Eat in Santa Fe to Experience Puebloan Culture
Geronimo celebrates Puebloan culture and adds a little New Mexican flare to your fine dining experience. You'll enter a 1765 adobe home where you can sit next to the kiva fireplace, snack on chile bread, and sip on a complimentary glass of New Mexican bubbly. Choose from delightful dishes like the lobster smothered in chile sauce, the elk tenderloin (people around town rave about this dish), or the 72 Hour Sous Vide Short Ribs with fresh Italian truffles. Their desserts are works of art: their apple dessert looks like an apple on the outside, but once sliced, is filled with roasted apples, cinnamon crumbs, and white chocolate mousse. Or try their elegant carrot cake with cream cheese mousse. Voted one of the top 100 restaurants in the country, this a place you have to try while you're visiting Sante Fe.
Where to Eat in Santa Fe for an Artsy Market Experience
Modern General Feed and Seed was made with health in mind, from stoneground flour and fresh eggs to organic produce and superfoods. The bright colors of its interior lure you in, but it's the gourmet biscuit breakfast sandwiches, savory mod cakes (or mod pancakes) with green chile, and curated market that keep you coming back. In art-focused Santa Fe, this restaurant is a work of art itself.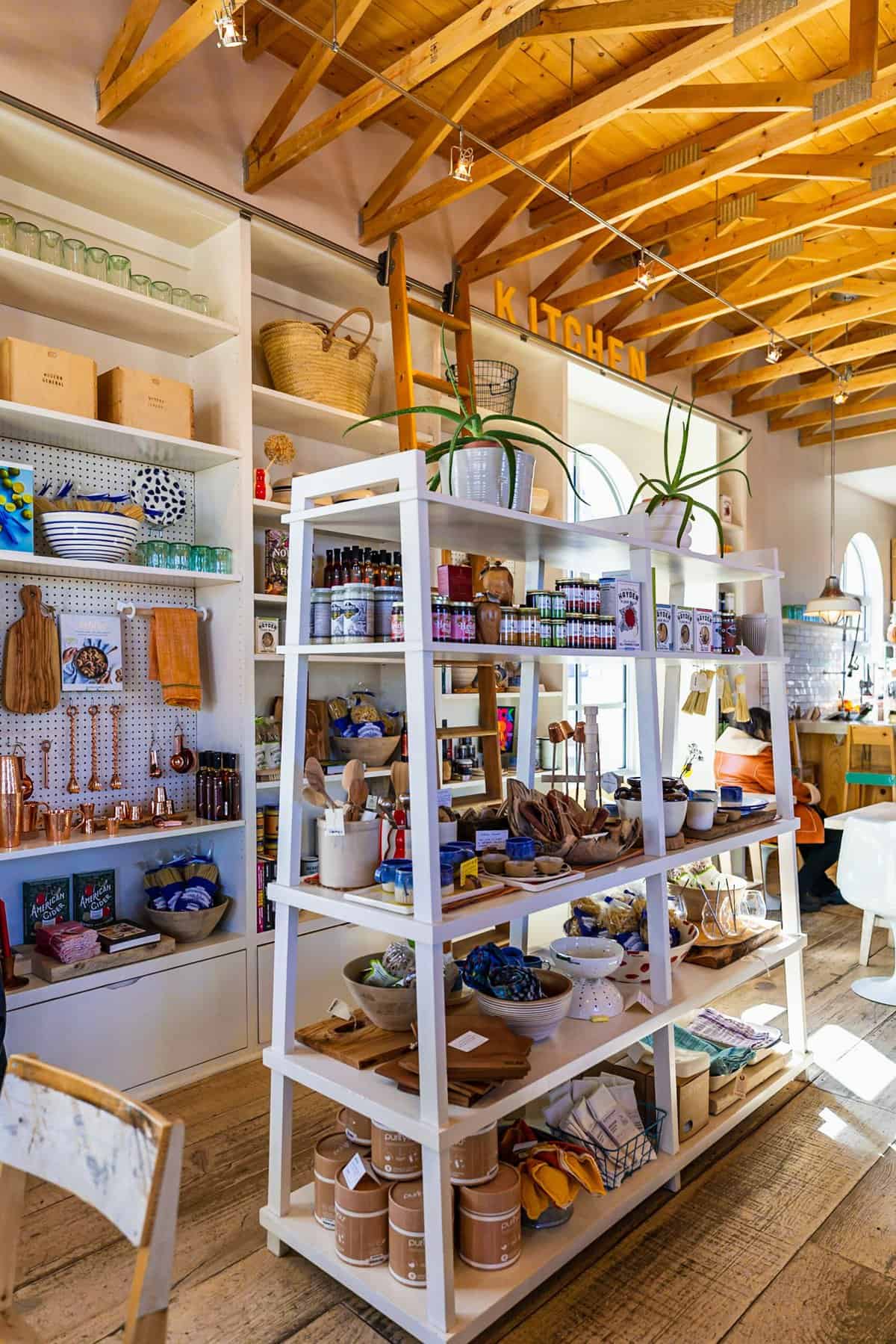 Where to Eat in Santa Fe for a Nine-Course Meal
Sazón is popular for its moles, which are served as a sampler as soon as you walk in. They have traditional dishes, such as huitlacoche (corn truffles that are a delicacy in Mexico) and chapulines (roasted and seasoned grasshoppers), as well as dishes with unique flavors unconventional to our typical palate that provide a transformative exploration of tastes that make you want to try everything. For example, their Cholulua is Chef Olea's interpretation of Chiles en Nogada (stuffed poblano peppers). Simply choose a protein, your favorite mole, and they will create a plate for you.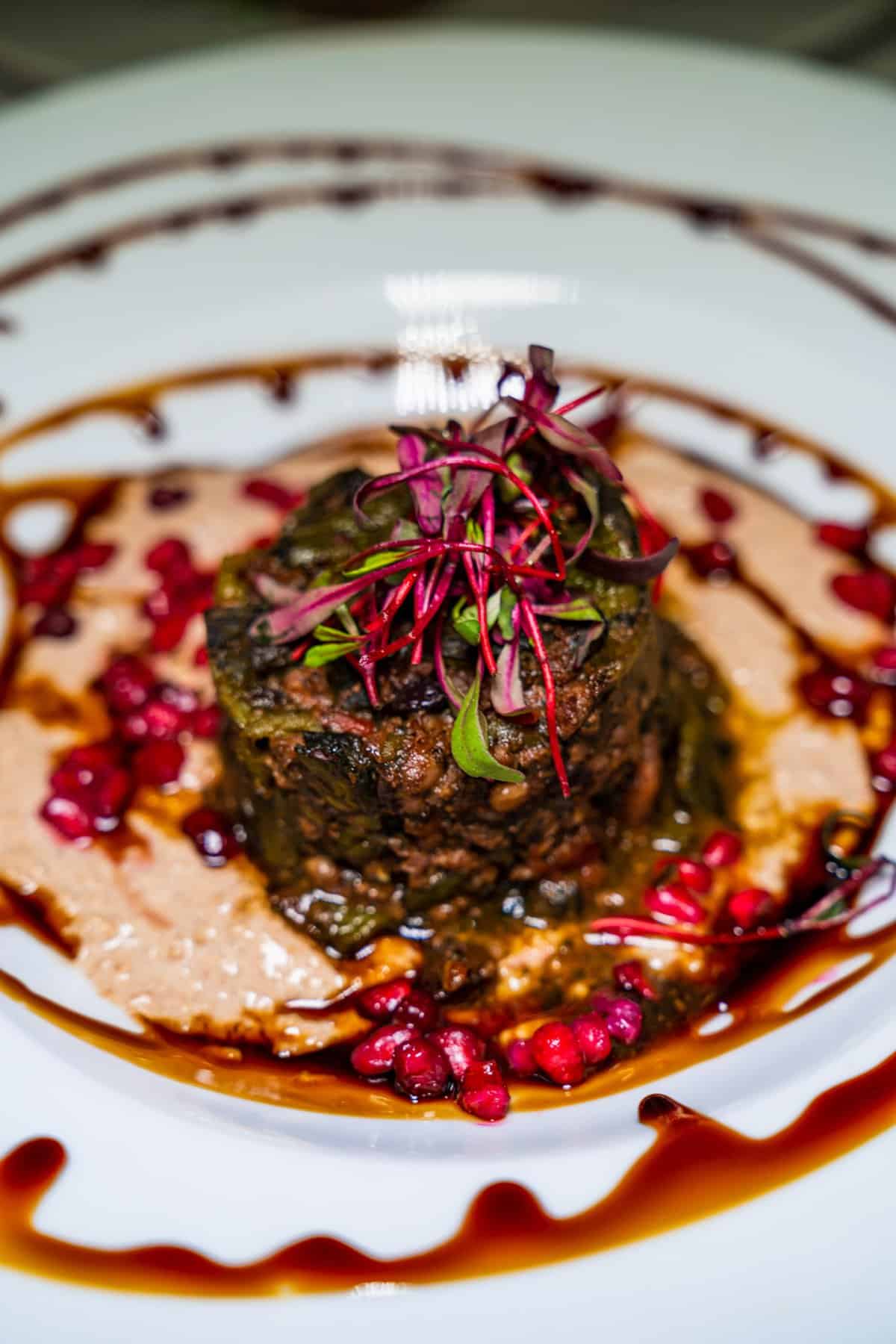 Not to mention an extensive menu of mezcals and tequilas with flight options or you can order one of their custom margaritas, like the Flor del Desierto, a vibrant pink margarita featuring Exotico Blanco Tequila. If you can attend one of their public tequila tastings you're in for a treat!
For dessert, the Dulce Sinfonia is a layered desert that is a secret until the first bite when the staff explains all the complex ingredients that combine together to form a different taste from when you initially take that first bite, all the way to the lingering spice. The Helado de Mole Poblano combines sweet and savory flavors for a treat that isn't overwhelmingly sweet.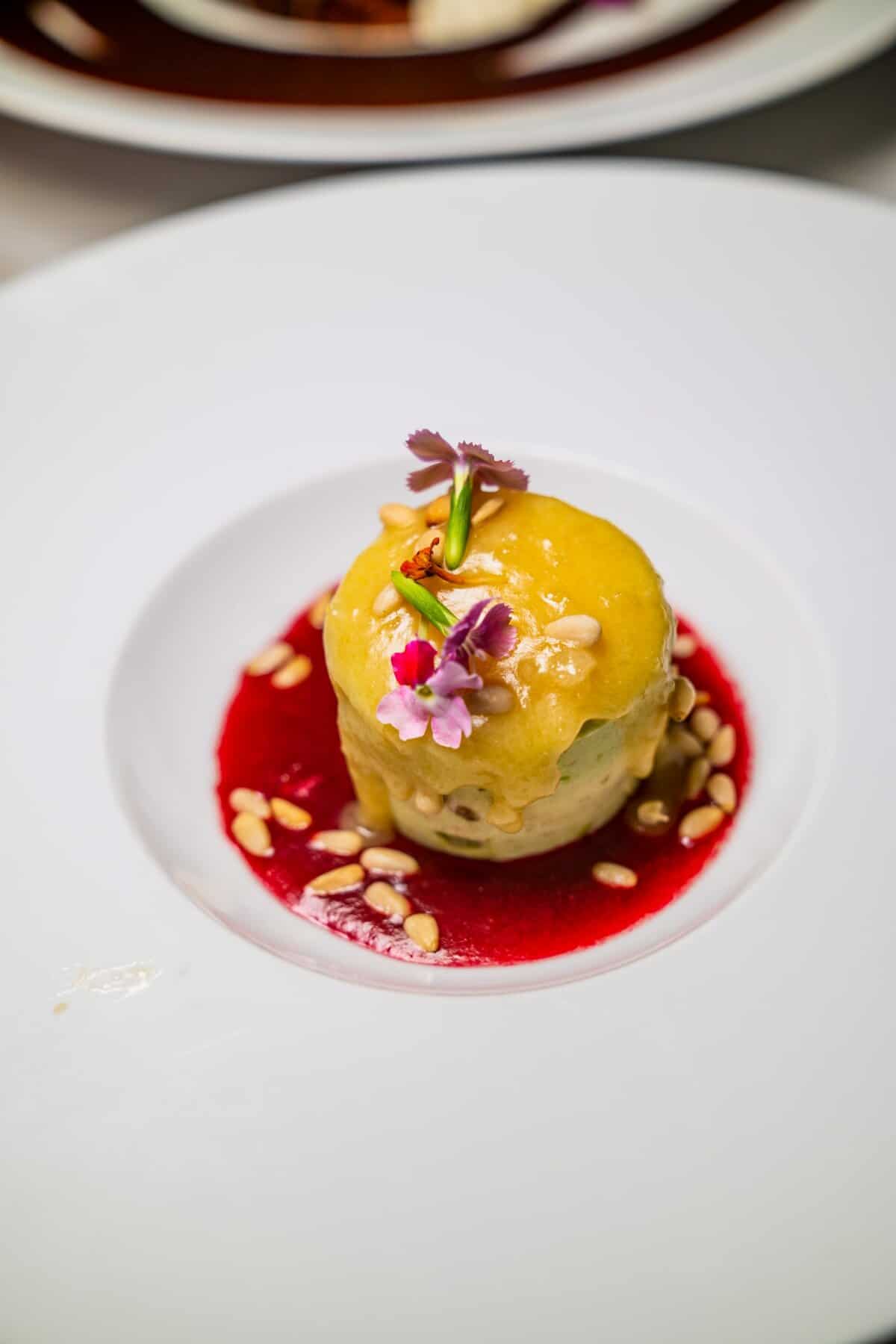 If Sazón is a priority on your Santa Fe itinerary, make sure to bring an outfit that fits their smart casual dress code. You can choose from their nine-course meal experience curated by Chef Olea himself, which you must call ahead for to reserve a table, or their delicious dinner menu.
Where to Eat in Santa Fe for an Iconic Breakfast Burrito
If there's only one breakfast place you visit in Santa Fe, it has to be Tia Sophia's simply for all of the history it holds. Ever wondered where the words "breakfast burrito" may have come from? Tia Sophia's claims to have been the first eatery to have put these words on its menu in 1975. It has been open for over 50 years and has been voted best in town for 25 years!
Additionally, if you've ever heard the term Christmas for the half green/half red sauce served on your burrito, it was termed by a waitress here after people couldn't decide what sauce they wanted so they chose both! It's like sitting at a historic place in culinary history. Not to mention the Christmas Breakfast Burrito and Blue Corn Pancakes provide a hearty breakfast! It's the perfect fuel before your day trip to the Jemez Mountains, which we lay out for you here!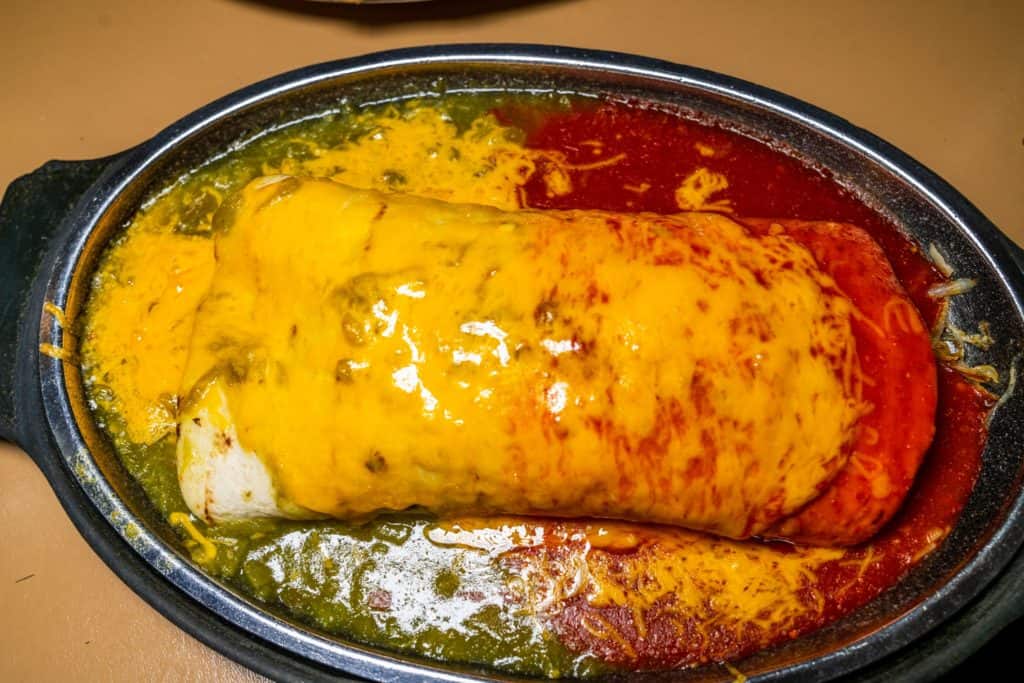 Where to Eat in Santa Fe for Carefully Concocted Coffee
Stop at CrashMurderBusiness for coffee like you've never had before. With specialty drinks made with unique ingredients like black pepper in the Streak of Tigers, house-made syrups, locally roasted espresso beans, and organic spices, there is something for everyone on the menu. This coffee shop also creates "elixirs," which are like cocktails made with bitters, but without the alcohol.
Get the Glory of Unicorns, a steamed drink, which we added a shot of espresso to. Even better, they top it off with edible glitter to give you the full whimsical effect. Whether you want to try something different, you're looking for a warm cup of tea that creates a complete sensory experience as you sip, or you're a fan of pumpkin-flavored drinks (in that case, order the Rafter of Turkeys), CrashMurderBusiness is definitely the vibe.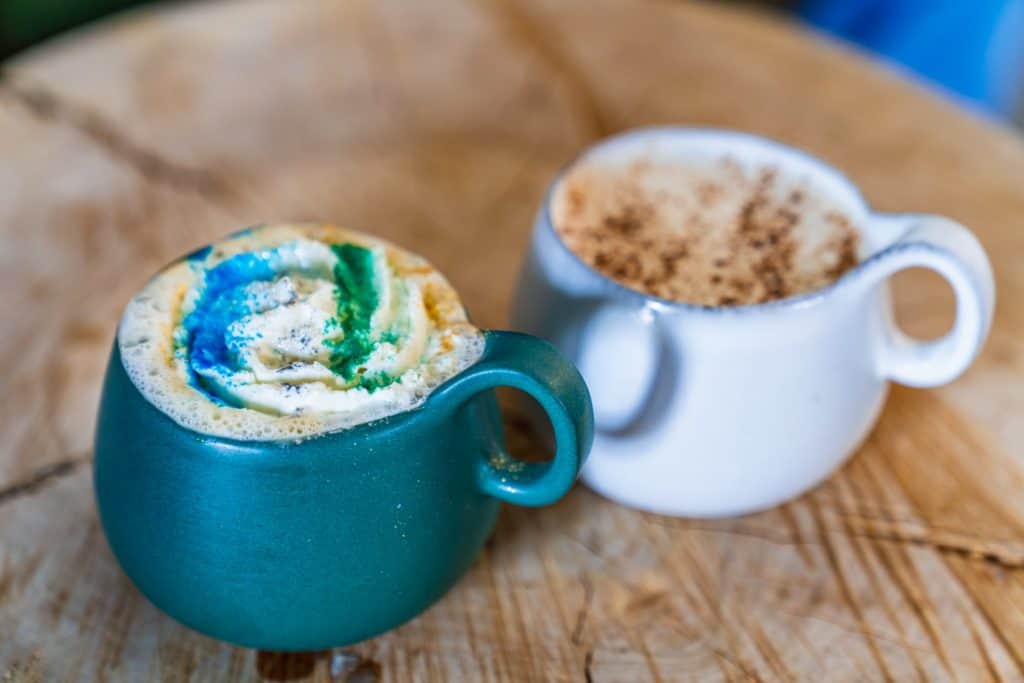 Where to Eat in Santa Fe for Fresh, Organic Chocolate
Right next to CrashMurderBusiness is Chocolate+Cashmere, offering hand-loomed cashmere garments, organic chocolates sweetened with monk fruit made fresh daily, and vibrant artisan products made by locals. Click here to read about more of the gorgeous shops in Santa Fe.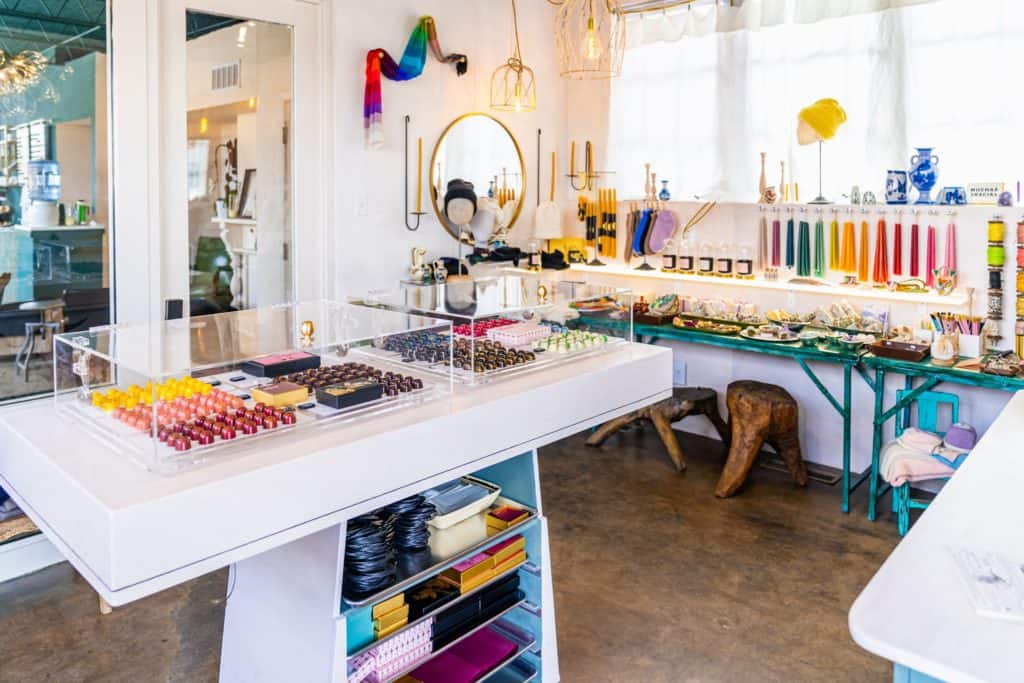 Where to Eat in Santa Fe for African-Caribbean Fusion
Jambo Café specializes in African & Caribbean cuisine, specifically the unique culture of Lamu Island off the coast of Kenya. Try the Jerk Chicken Wings and the Cinnamon-Dusted Plantains, both served with a pineapple curry sauce, or the Banana Leaf-Wrapped, Island-Spiced Mahi Mahi served with wild black rice, sauteed baby Bok Choy, and a mango tamarind coconut sauce. If you want to diversify your palate but you aren't sure what you might like, order the combination plate where you can choose 3 different curries, like the Moroccan Lamb Stew over curried couscous, the Caribbean Goat Stew with carrots and potatoes, and the Island-Spiced Coconut Peanut Chicken with basmati coconut rice.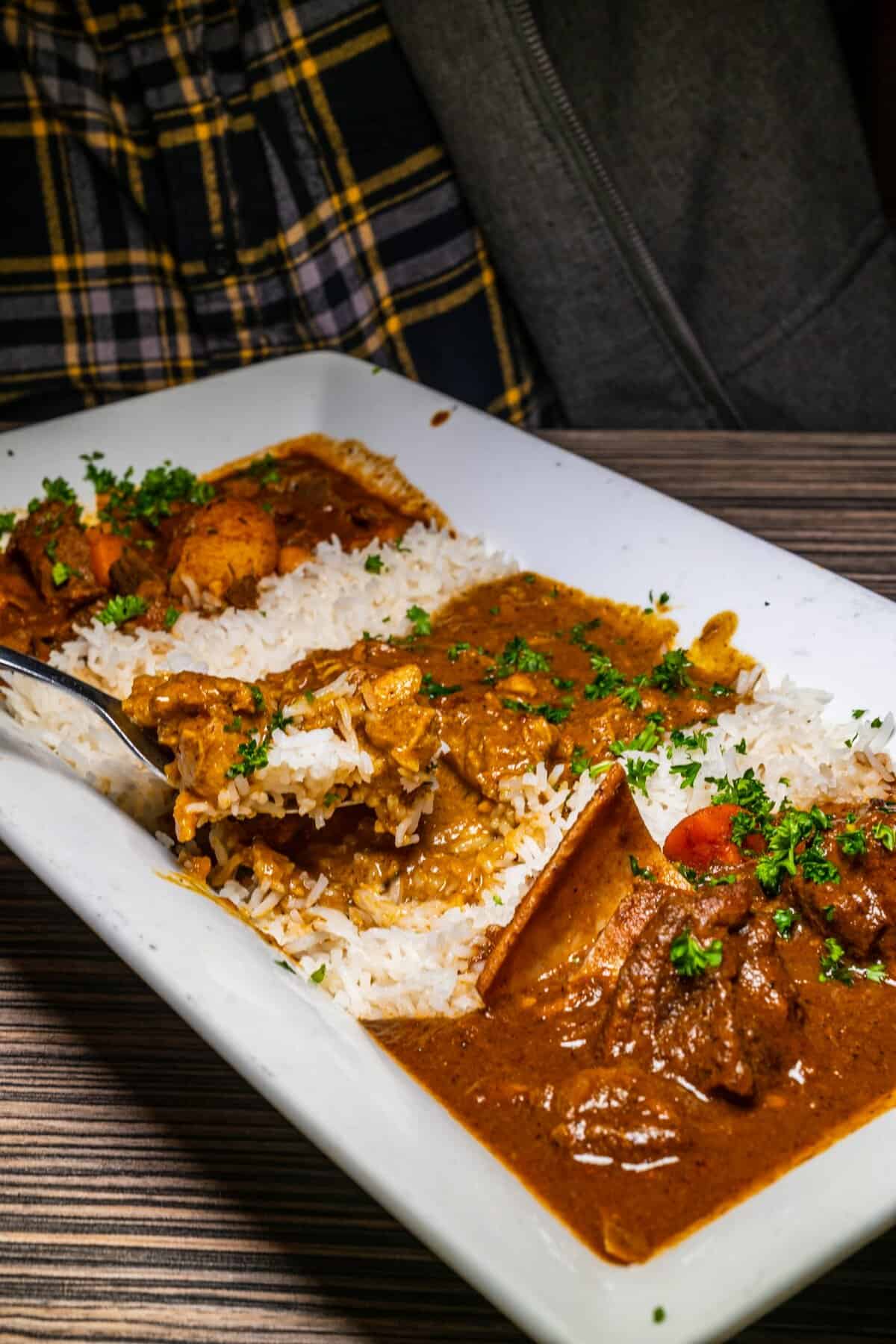 Where to Eat in Santa Fe for Spicy Coffee Drinks
New Mexico is known for incorporating chiles in everything: chocolate, wine, cookies, and just about anything you can imagine. So, it's no surprise Teahouse created their Spicy Santa Fe Mocha with Chimayo red chiles in it. For non-coffee drinkers, they have a large tea selection from all over the world. They were even named one of six finalists at the 2018 World Tea Expo for Best Retail Tea Shop.
Stop in for breakfast or lunch and try one of their many types of eggs benedict you may never have the chance to try again, baked goods, and paninis with toppings like truffle honey, roasted pears, brie, and roasted eggplant.
Where to Eat in Santa Fe for Slovakian-Style Brunch
Pop into Dolina Bakery & Cafe and experience this unique spin on brunch with items that combine Slovakian and New Mexican flavors, with items like Langos, savory fried bread that is typically served in Slovakia as street food, the Orechovnik (walnut swirl bread) French Toast, and Slovakian pastries including Makos Dios, Tvaroh Pockets, and Polish tea cookies. For lunch, order their freshly baked pies and homemade soups.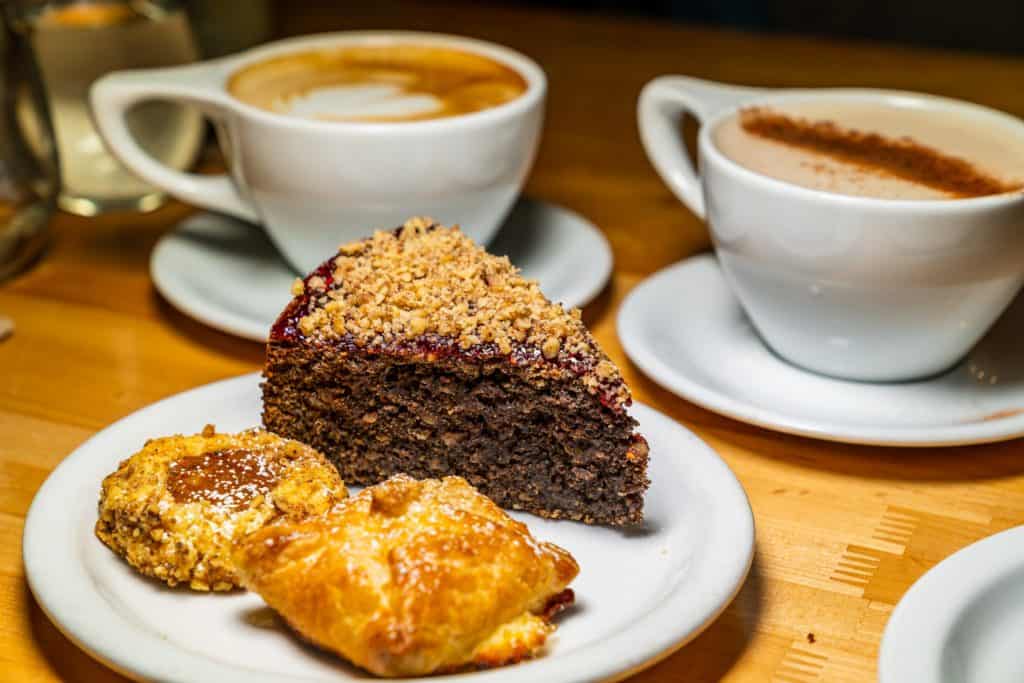 Where to Eat in Santa Fe for Gluten-Free Pastries
Iconik Lupe Coffee Roasters serves gluten-free, house-made pastries, as well as chef-prepared breakfast and lunch items. Try their tasty Grainbow Bowl made with hummus, gluten-free tabbouleh, and fresh vegetables; their Gorgonzola Prosciutto Sandwich on organic Sourdough with a red wine fig spread, or their Japanese-style Waffle Okonamiyaki with cured pork, cabbage, a poached egg, and a tangy Japanese mayo and sweet soy sauce. With its cute, outdoor patio and a warmly painted interior that emphasizes the way the sunlight flows in from its many windows, this is the perfect place to stop in whether you need a quick bite before you hit the trails or you want to hang out and enjoy a slow-paced afternoon.
Where to Eat on the Santa Fe Margarita Trail
You can enjoy a meal at the Inn & Spa at Loretto, home to the Luminiaria Restaurant & Patio with cozy nook-like booths to invite you in. A Strawberry-Jalapeño Margarita as part of the Sante Fe Margarita Trail is an easy choice and you can't go wrong with their award-winning Loretto Green Chile Cheeseburger that comes with candied red chile bacon, white cheddar, cilantro-lime aioli, and avocado. That red chile bacon really is something special!
Where to Eat in Santa Fe for Traditional Teepee Dining
Amaya can be found inside Hotel Santa Fe Hacienda & Spa, the only Native-owned hotel in Santa Fe. In this casual setting, you can try dishes highlighting local Pueblo and New Mexican influences, including Poblano with Almond Chile Ancho Mole and Blue Cornmeal-Crusted Ruby Trout. Check out their seasonal, traditional-style teepee dining experience and their glass-enclosed patio for a unique dining experience while you're in Santa Fe. Click here to read about our stay at Hotel Santa Fe.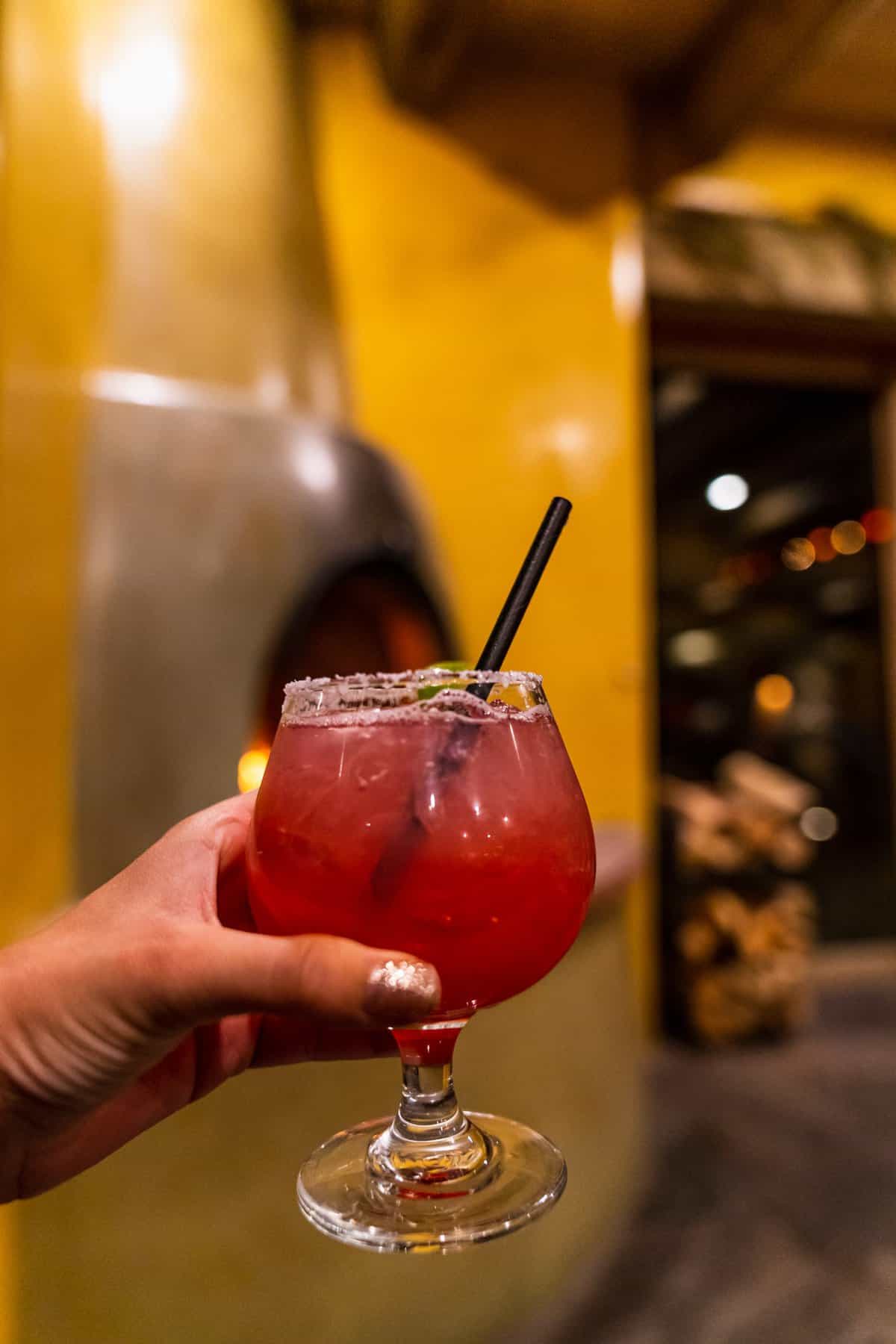 Where to Eat in Santa Fe for French Crêpes
Mille French Café & Crêperie whips up sweet and savory crepes (with the optional green chile of course!) with fun combinations including fig and chevre. They even have a gluten-free, buckwheat-flour crêpe! Their Monte Cristo topped with powdered sugar and raspberry jam is delightful and they even offer brunch for two which includes a tiered platter with baguette & jam, croissants, and quiches! For lunch, order one of their traditional French sandwiches and be prepared for how wonderfully the buttered breads, authentic cheeses, and meats melt in your mouth. You'll definitely leave satisfied, and maybe even tempted to order another.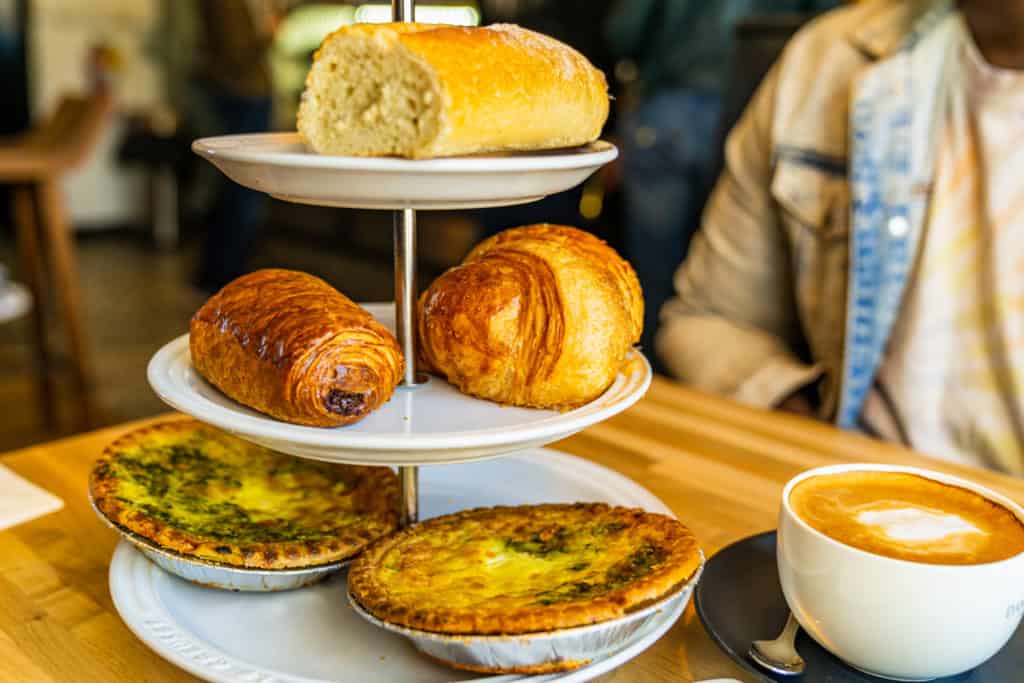 Where to Eat in Santa Fe for Chile-Topped Pizza
Upper Crust Pizza in Downtown Santa Fe has defined New Mexican Pizza and you'll be so thankful for them after you eat a slice (or a whole pie because you'll love it that much). Choose from prepared pizzas with red chiles and chorizo or pepperoni and green chiles. You can also build your own pizza, with toppings like pineapple, Canadian bacon, artichokes, sausage, salami, and of course red and green chiles, plus options for traditional, whole wheat, and gluten-free crusts. There is a second location, El Dorado, that offers exclusive desserts, specials, and micro beers exclusive to the store. Upper Crust Pizza is also included on the New Mexican Flavors Santa Fe tour, which you can read more about alongside more things to do in Santa Fe here.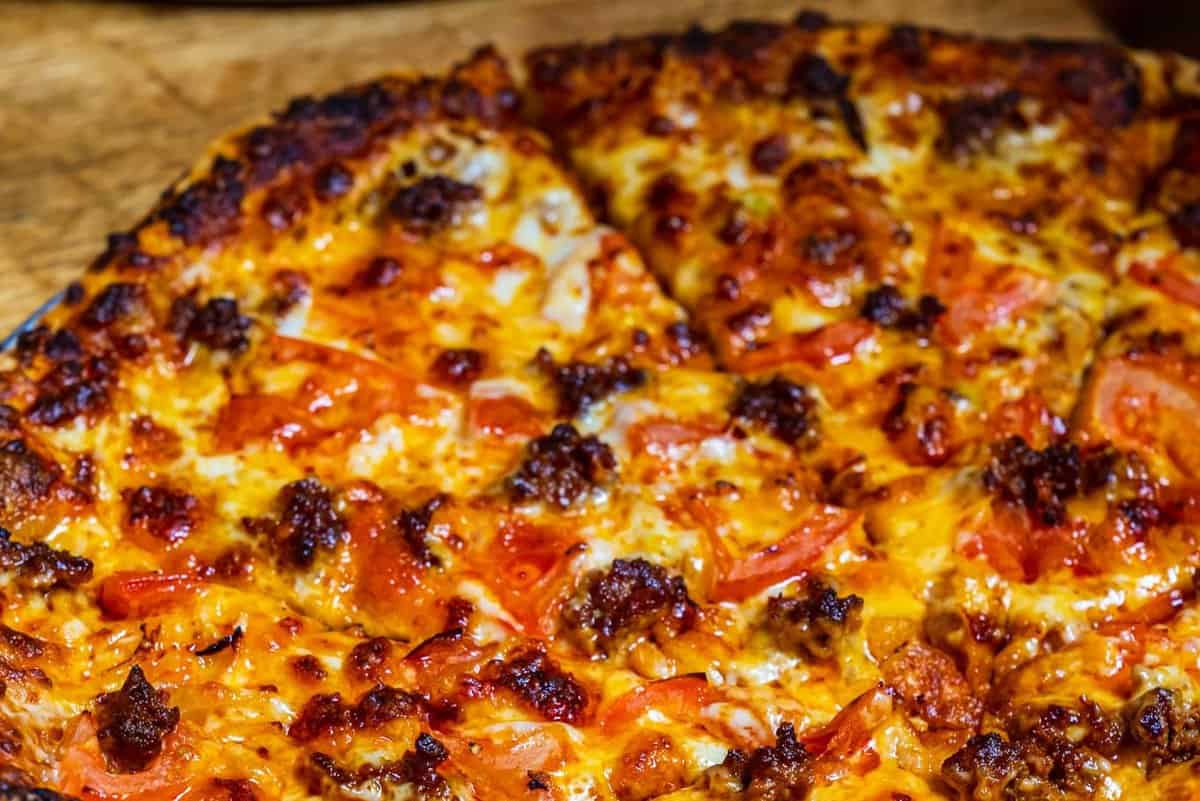 Where to Eat in Santa Fe for Small Batch Chocolates with Chiles
Santa Fe is known to being home to the Santa Fe Chocolate Trail. Understandably so since the first traces of chocolate in North America were found on 1,000-year-old pottery found in Chaco Canyon in Northwestern New Mexico. One stop along this heavenly trail is Señor Murphy's, a fourth generation candymaker who has been serving Santa Fe since 1973. His small batch, hand-made chocolates come in all different textures and incorporate New Mexican ingredients like chiles and piñon nuts.
Where to Eat in Santa Fe for Homemade Truffles
You can sample Mesoamerican, Mayan and Aztec drinking chocolate elixirs with rich dark flavors at Kakawa Chocolate House. Even as a person who doesn't typically enjoy whipped cream, their homemade whip was good enough to eat on its own and was the perfect addition to the richness of the elixirs. Their homemade truffles, including their Mezcal Truffle, Green Chili Margarita Truffle, Prickly Pear Truffle, and Chocolate-Covered Chiles are just as divine. They even make their own homemade ice creams!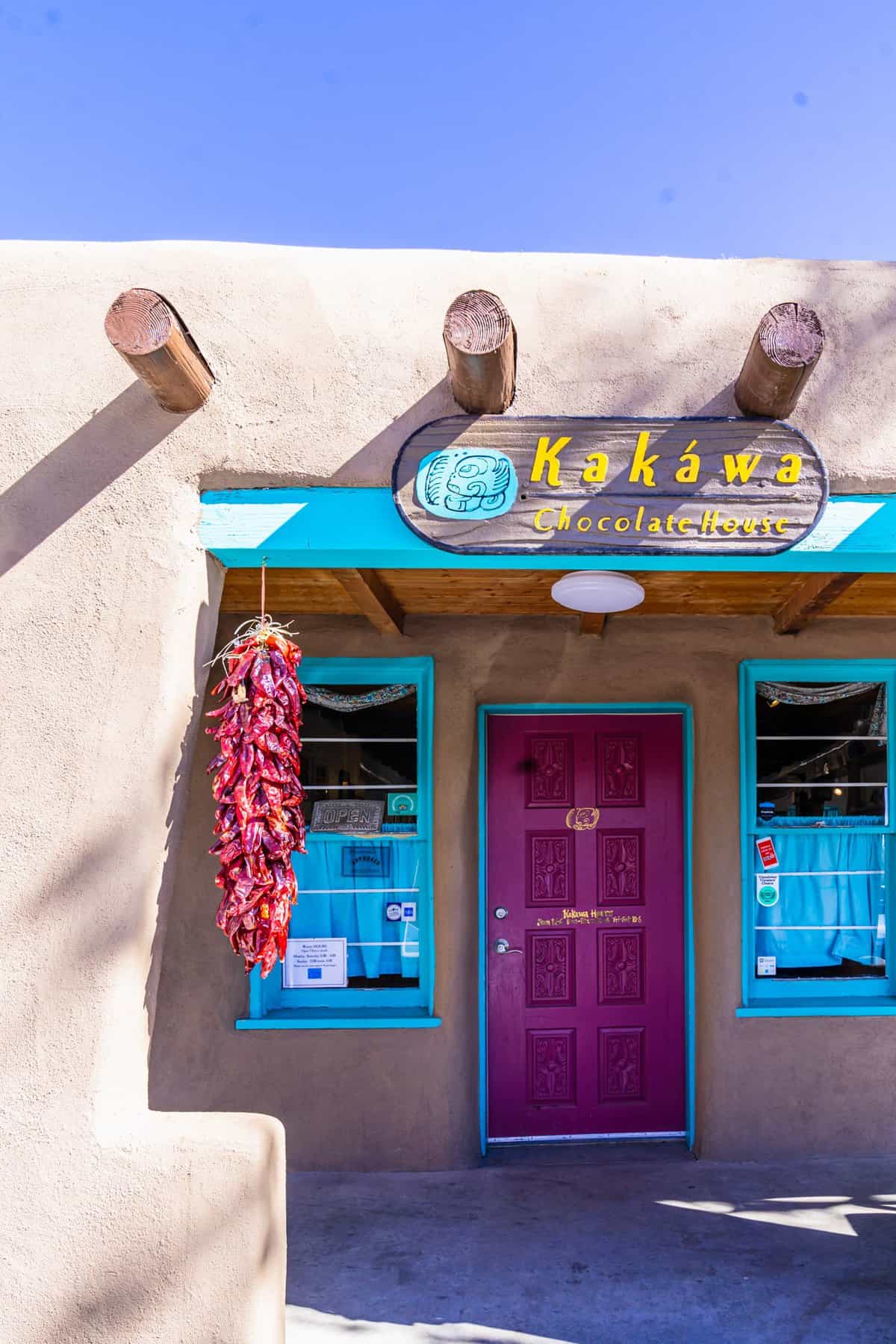 Where to Eat in Santa Fe for Tapas
Liu Liu Liu offers small plates, one-at-a-time in a tapa-style where you get to try a large range of carefully crafted dishes. First start with the liver mousse with taro honey and fry bread dusted with red chile or black sesame hummus. One of the chef's combines her memories of Taiwanese street food and her own interpretation, with options like popcorn chicken with truffle or goat grilled on a Japanese brazier that you can even cook yourself if you're sitting outside.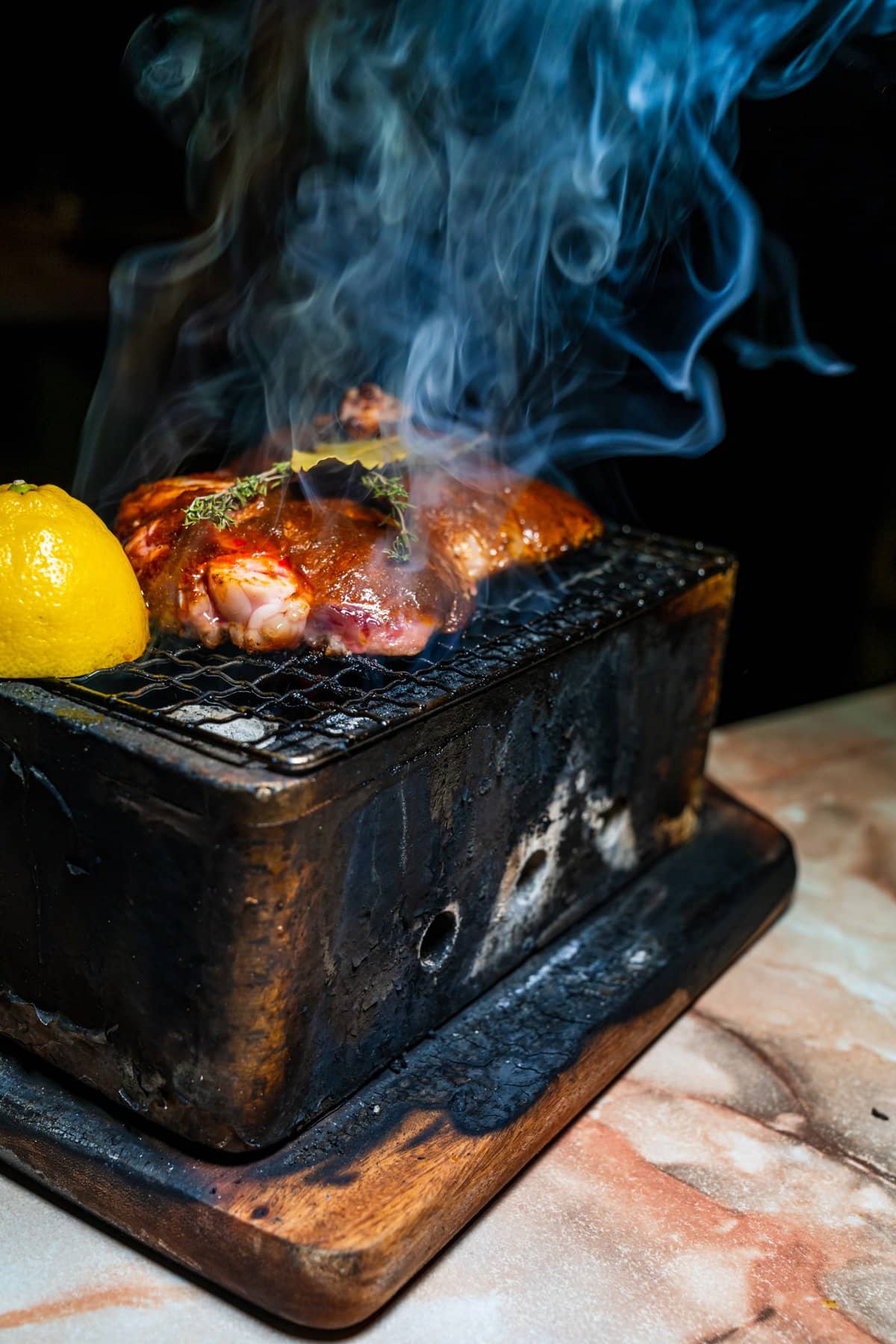 Where to Eat in Santa Fe for New Mexican & Mexican Food
At Café Pasqual's, you have wide variety of choices for any meal of the day, from Southern-style cooking with a New Mexican twist and Mexican food to seafood dishes, tender meat, and plenty of vegetarian, vegan, and gluten-free options/substitutions. If you're looking for more opportunities to taste the gems of Santa Fe, they also have mole enchiladas and green or red chiles incorporated in dishes across the menu.
Where to Eat in Santa Fe for Locally Grown Ingredients
Housed inside the historic Guadalupe Station along the Santa Fe Railroad is Tomasita's Restaurant. A local favorite founded in 1974, Tomasita's rightfully boasts their use of humanely raised beef, chiles from local farmers, and non-GMO food products. Another tidbit about Tomasita's, they are famous for their frozen margaritas and only use tequila comprised of 100% agave. They are also the proud owners of the exclusive, barrel-aged Patron Añejo tequila.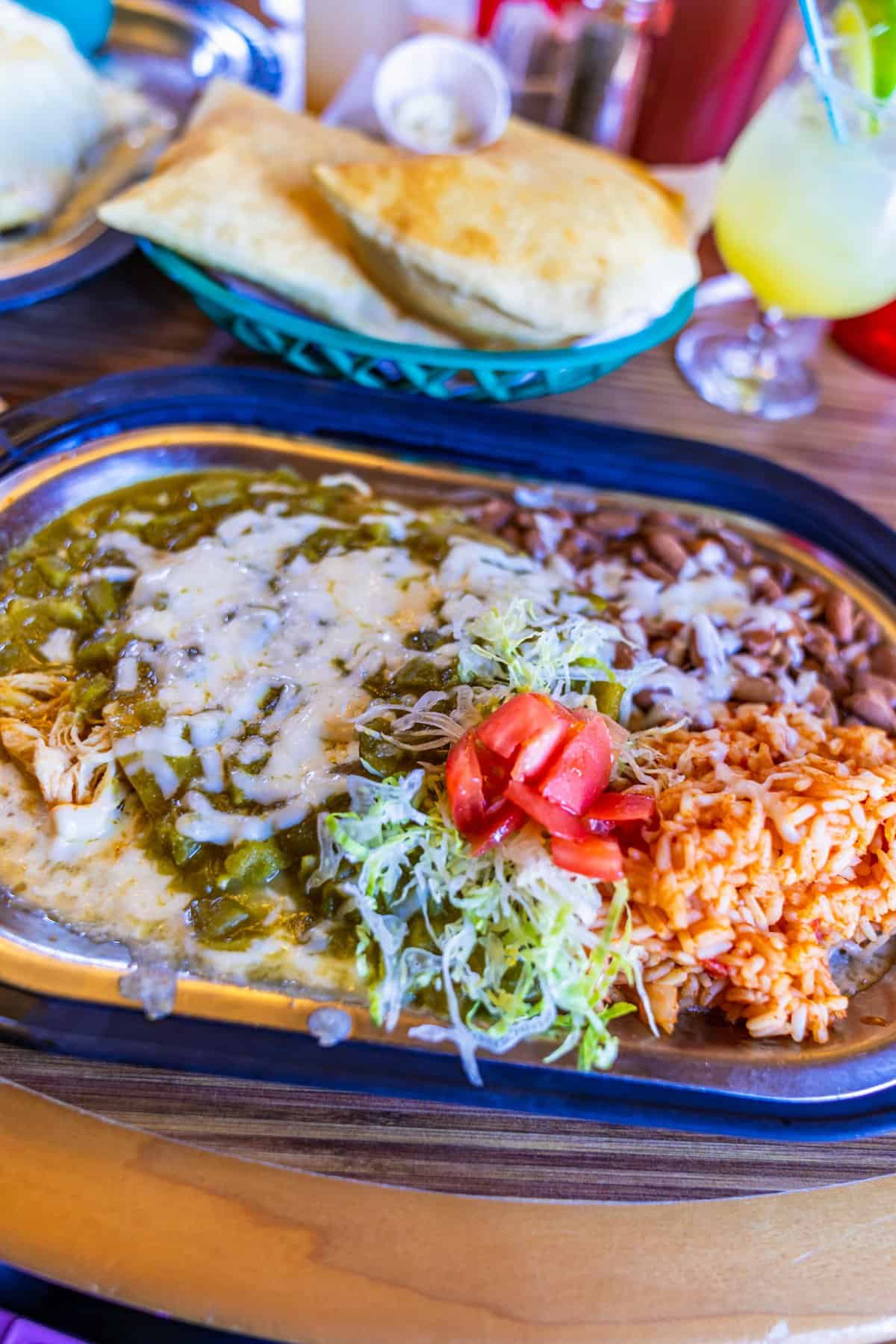 Where to Eat in Santa Fe: Final Thoughts
Santa Fe has a love for its community of local growers, its Native culture, its Mexican heritage, the iconic red and green chiles, and food as art in its purest forms, whether that's with non-GMO, gluten-free, or organic ingredients. No matter your diet preferences or your background, New Mexico welcomes you to try something new, like a traditional dish or a New Mexican twist on something you love. Work up your appetite and also check out all the things to do in Santa Fe here.