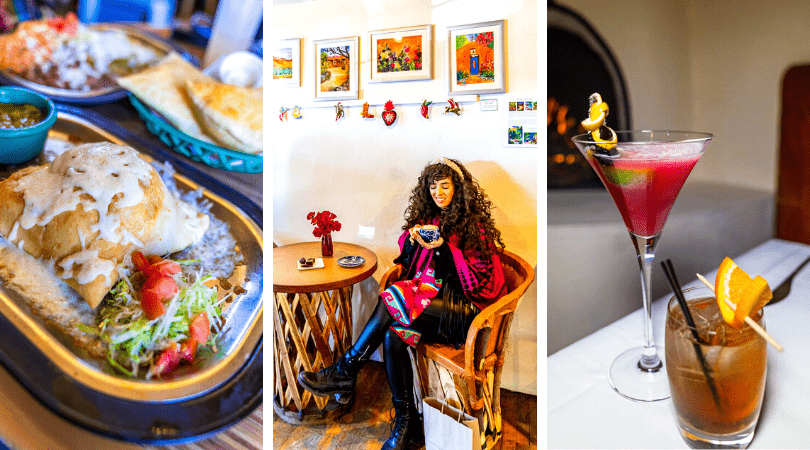 Santa Fe is home to a whole world of traditional and creative dishes that highlight fresh, locally grown ingredients and the array of cultures brought in along the Santa Fe Railroad. While you're here, make sure to explore stops along the Margarita and Chocolate Trails as you choose where to eat in Santa Fe, but don't forget to plan to try out all the fun things to do in Santa Fe too!
Where to Eat in Santa Fe for Authentic Oaxacan Cuisine
The menu at Fiesta Oaxaca showcases traditional Southern Mexican food shaped by the region's colonial history and Aztec culture. The Mexican city of Oaxaca is known for its variety of mole, a thick sauce that is often used as a marinade. The variety of native ingredients that are cultivated in the region have allowed for mole to take on many flavor profiles, and Fiesta Oaxaca has them on their menu for you to enjoy; like Mole Amarillo de Yucca, Mole Oaxaca, Mole Verde, Mole Rosada, and Mole Tamarindo. Aside from their bright, festive interior, another great thing about Fiesta Oaxaca is their vegan menu, including their house-made vegan meat!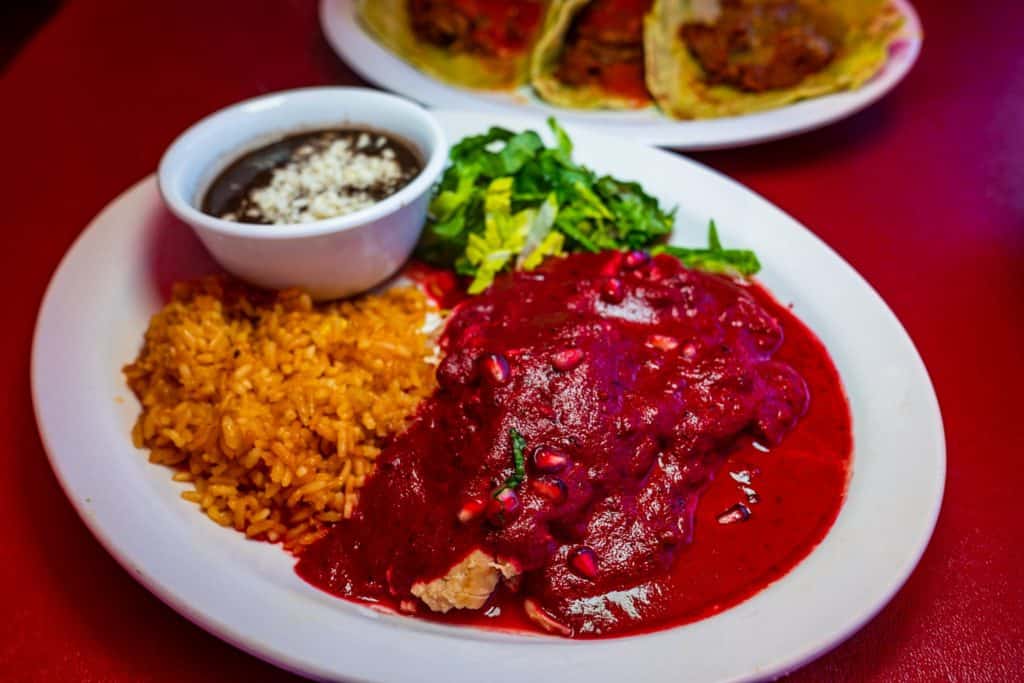 Where to Eat in Santa Fe to Experience Puebloan Culture
Geronimo celebrates Puebloan culture and adds a little New Mexican flare to your fine dining experience. You'll enter a 1765 adobe home where you can sit next to the kiva fireplace, snack on chile bread, and sip on a complimentary glass of New Mexican bubbly. Choose from delightful dishes like the lobster smothered in chile sauce, the elk tenderloin (people around town rave about this dish), or the 72 Hour Sous Vide Short Ribs with fresh Italian truffles. Their desserts are works of art: their apple dessert looks like an apple on the outside, but once sliced, is filled with roasted apples, cinnamon crumbs, and white chocolate mousse. Or try their elegant carrot cake with cream cheese mousse. Voted one of the top 100 restaurants in the country, this a place you have to try while you're visiting Sante Fe.
Where to Eat in Santa Fe for an Artsy Market Experience
Modern General Feed and Seed was made with health in mind, from stoneground flour and fresh eggs to organic produce and superfoods. The bright colors of its interior lure you in, but it's the gourmet biscuit breakfast sandwiches, savory mod cakes (or mod pancakes) with green chile, and curated market that keep you coming back. In art-focused Santa Fe, this restaurant is a work of art itself.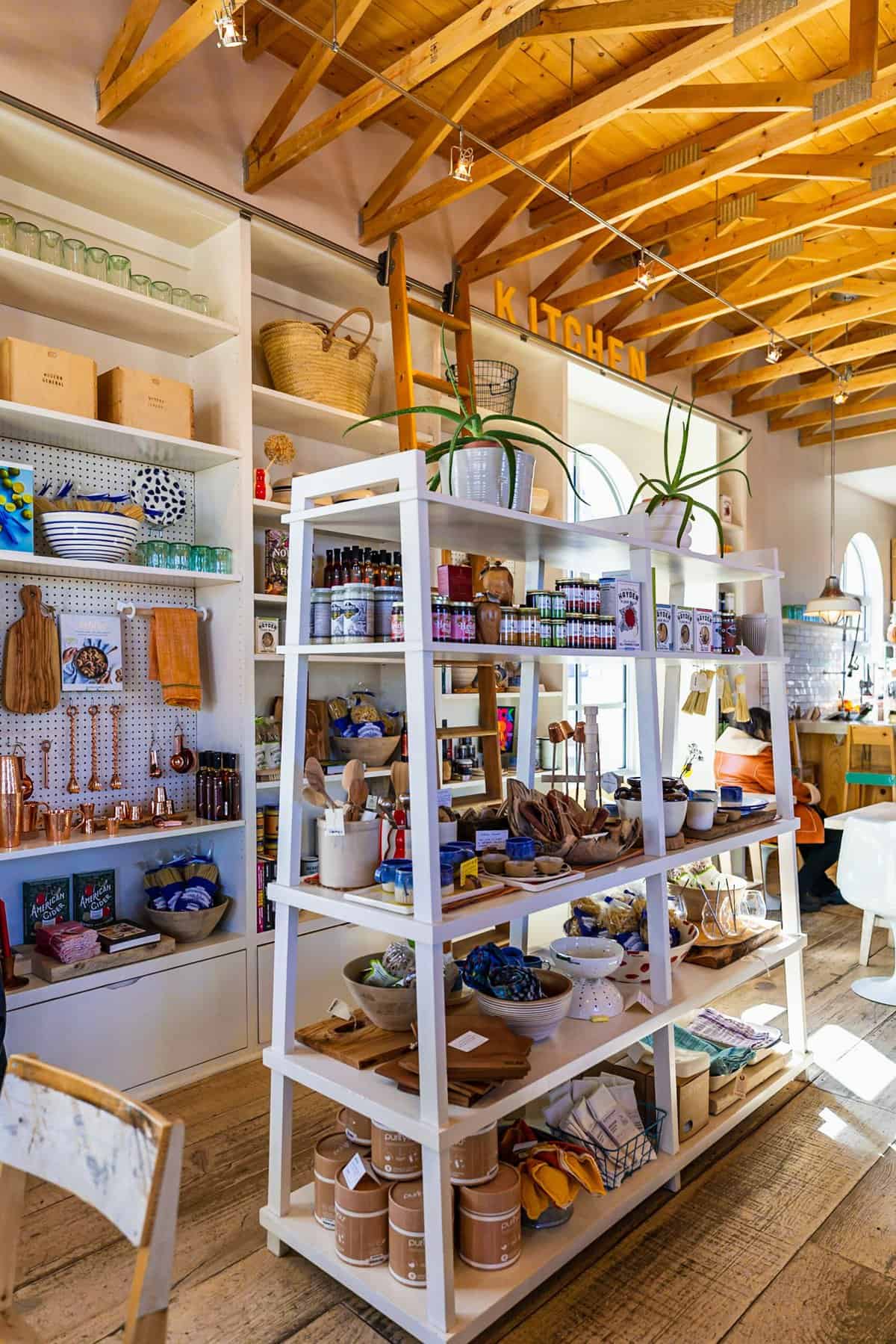 Where to Eat in Santa Fe for a Nine-Course Meal
Sazón is popular for its moles, which are served as a sampler as soon as you walk in. They have traditional dishes, such as huitlacoche (corn truffles that are a delicacy in Mexico) and chapulines (roasted and seasoned grasshoppers), as well as dishes with unique flavors unconventional to our typical palate that provide a transformative exploration of tastes that make you want to try everything. For example, their Cholulua is Chef Olea's interpretation of Chiles en Nogada (stuffed poblano peppers). Simply choose a protein, your favorite mole, and they will create a plate for you.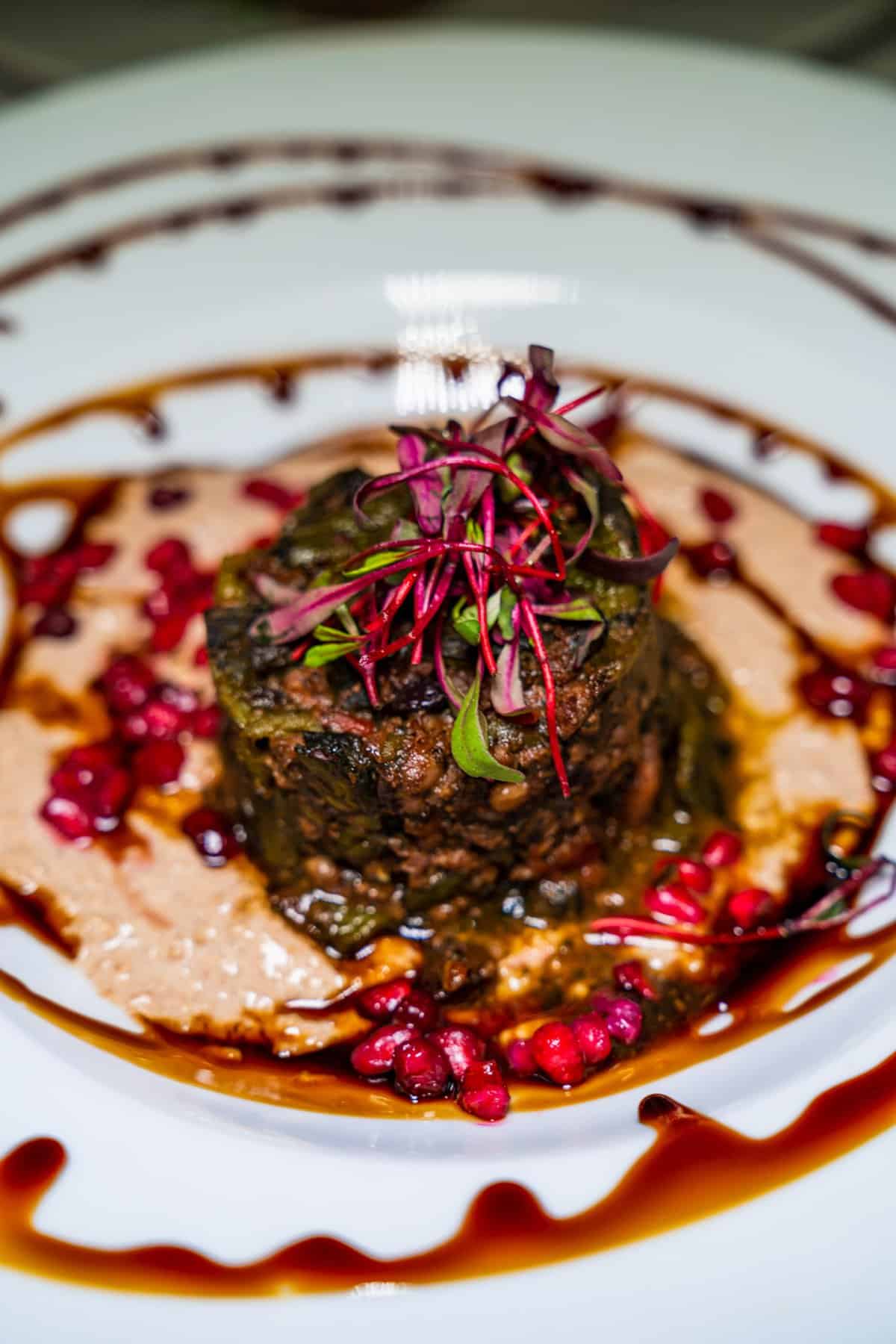 Not to mention an extensive menu of mezcals and tequilas with flight options or you can order one of their custom margaritas, like the Flor del Desierto, a vibrant pink margarita featuring Exotico Blanco Tequila. If you can attend one of their public tequila tastings you're in for a treat!
For dessert, the Dulce Sinfonia is a layered desert that is a secret until the first bite when the staff explains all the complex ingredients that combine together to form a different taste from when you initially take that first bite, all the way to the lingering spice. The Helado de Mole Poblano combines sweet and savory flavors for a treat that isn't overwhelmingly sweet.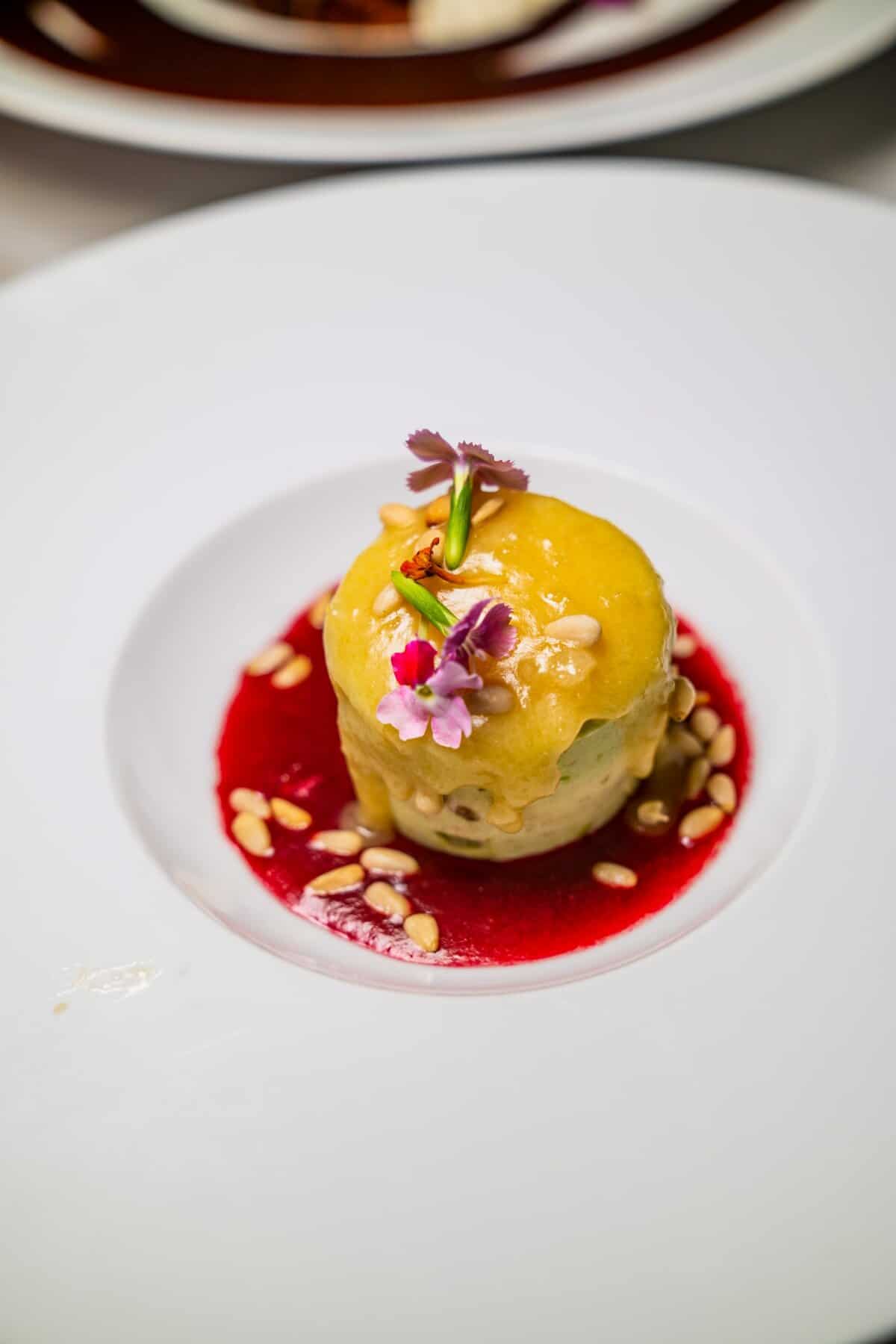 If Sazón is a priority on your Santa Fe itinerary, make sure to bring an outfit that fits their smart casual dress code. You can choose from their nine-course meal experience curated by Chef Olea himself, which you must call ahead for to reserve a table, or their delicious dinner menu.
Where to Eat in Santa Fe for an Iconic Breakfast Burrito
If there's only one breakfast place you visit in Santa Fe, it has to be Tia Sophia's simply for all of the history it holds. Ever wondered where the words "breakfast burrito" may have come from? Tia Sophia's claims to have been the first eatery to have put these words on its menu in 1975. It has been open for over 50 years and has been voted best in town for 25 years!
Additionally, if you've ever heard the term Christmas for the half green/half red sauce served on your burrito, it was termed by a waitress here after people couldn't decide what sauce they wanted so they chose both! It's like sitting at a historic place in culinary history. Not to mention the Christmas Breakfast Burrito and Blue Corn Pancakes provide a hearty breakfast! It's the perfect fuel before your day trip to the Jemez Mountains, which we lay out for you here!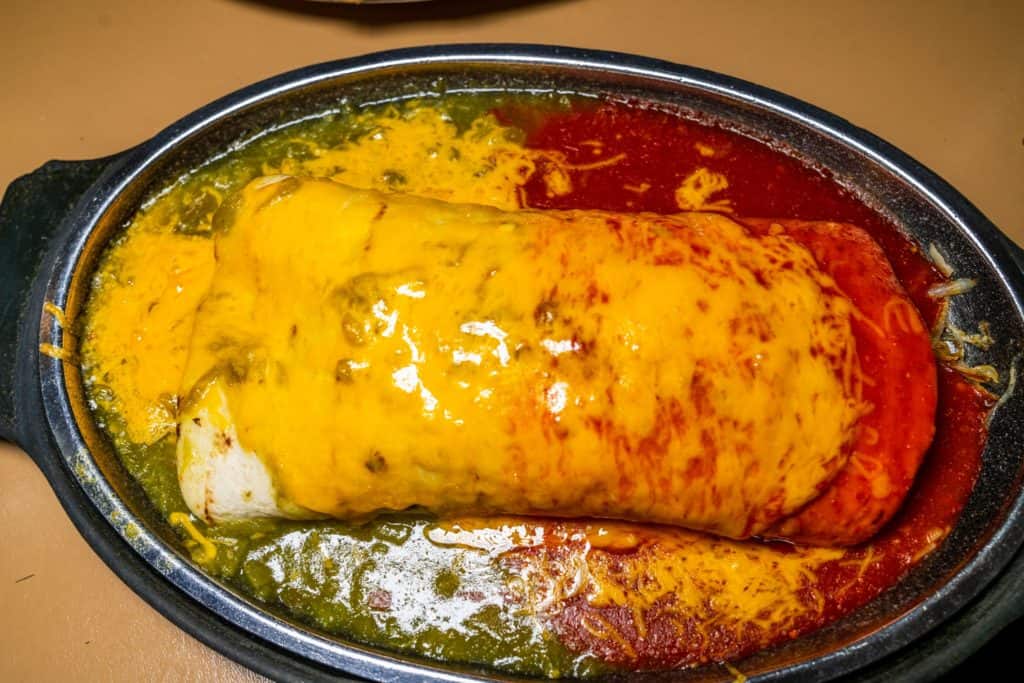 Where to Eat in Santa Fe for Carefully Concocted Coffee
Stop at CrashMurderBusiness for coffee like you've never had before. With specialty drinks made with unique ingredients like black pepper in the Streak of Tigers, house-made syrups, locally roasted espresso beans, and organic spices, there is something for everyone on the menu. This coffee shop also creates "elixirs," which are like cocktails made with bitters, but without the alcohol.
Get the Glory of Unicorns, a steamed drink, which we added a shot of espresso to. Even better, they top it off with edible glitter to give you the full whimsical effect. Whether you want to try something different, you're looking for a warm cup of tea that creates a complete sensory experience as you sip, or you're a fan of pumpkin-flavored drinks (in that case, order the Rafter of Turkeys), CrashMurderBusiness is definitely the vibe.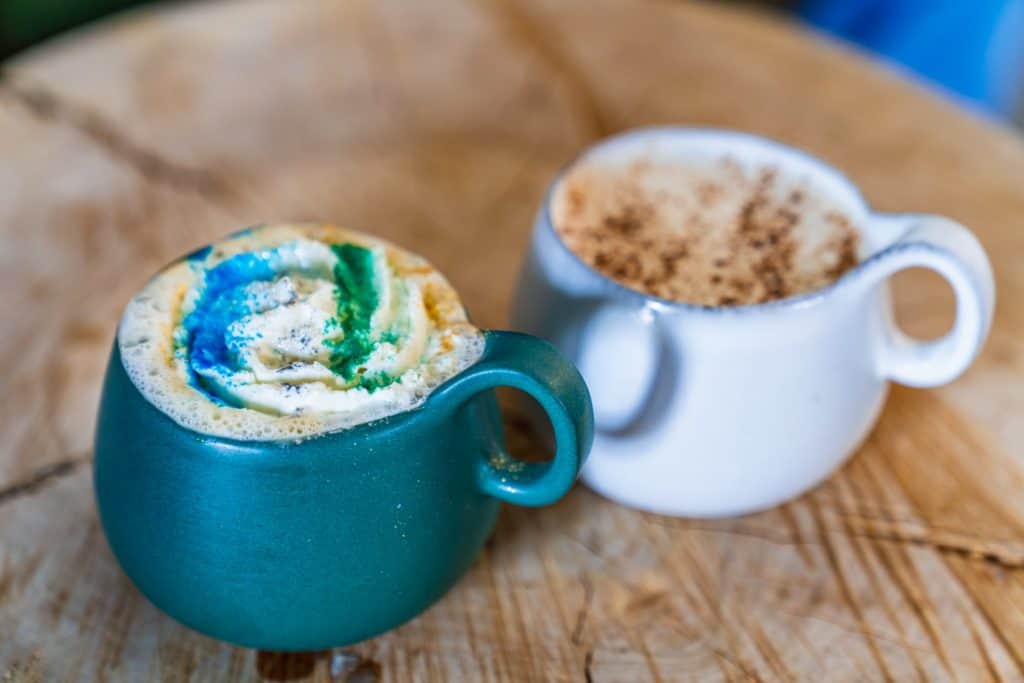 Where to Eat in Santa Fe for Fresh, Organic Chocolate
Right next to CrashMurderBusiness is Chocolate+Cashmere, offering hand-loomed cashmere garments, organic chocolates sweetened with monk fruit made fresh daily, and vibrant artisan products made by locals. Click here to read about more of the gorgeous shops in Santa Fe.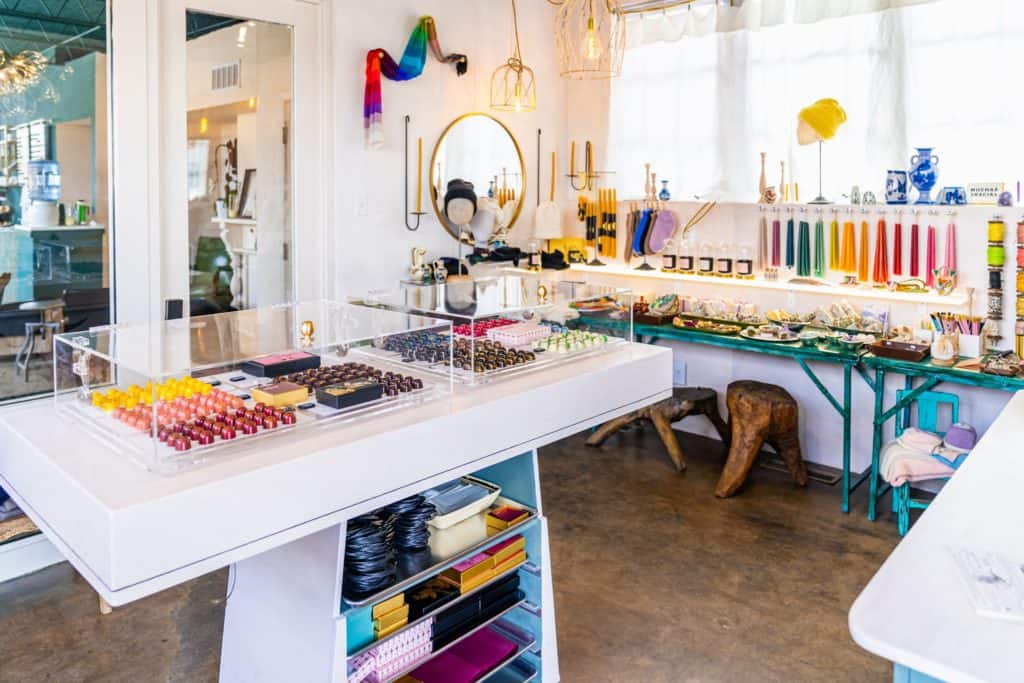 Where to Eat in Santa Fe for African-Caribbean Fusion
Jambo Café specializes in African & Caribbean cuisine, specifically the unique culture of Lamu Island off the coast of Kenya. Try the Jerk Chicken Wings and the Cinnamon-Dusted Plantains, both served with a pineapple curry sauce, or the Banana Leaf-Wrapped, Island-Spiced Mahi Mahi served with wild black rice, sauteed baby Bok Choy, and a mango tamarind coconut sauce. If you want to diversify your palate but you aren't sure what you might like, order the combination plate where you can choose 3 different curries, like the Moroccan Lamb Stew over curried couscous, the Caribbean Goat Stew with carrots and potatoes, and the Island-Spiced Coconut Peanut Chicken with basmati coconut rice.