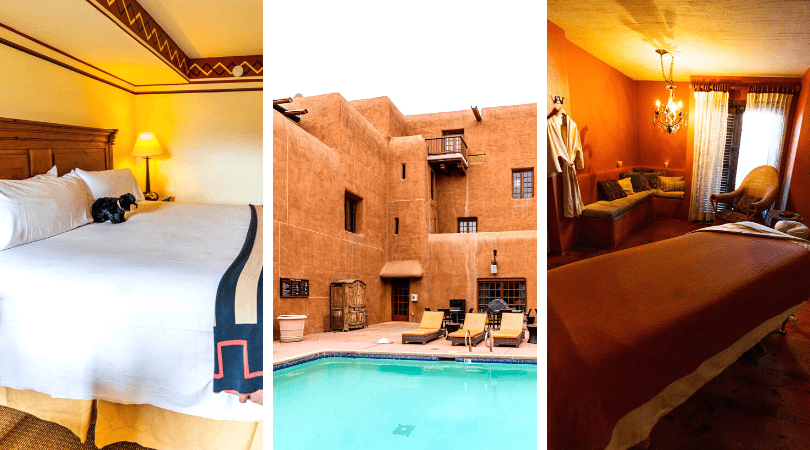 During your stay at the Inn & Spa at Loretto, their three on-site eateries, Southwestern-inspired spa treatments, and spacious rooms with views of Santa Fe's landscape will take wonderful care of you. While you're visiting Santa Fe, allow yourself the time to do as much as you can, because the Inn & Spa at Loretto will have everything you'll need to rest and relax without compromising on your opportunity to see all the amazing things to do in Santa Fe. Now, book your room and get to planning (with our help of course)!
Lodging at the Inn & Spa at Loretto
The Inn & Spa at Loretto offers every variety of lodging you could ever need: guest rooms with double and king-sized beds; options to add a balcony or a small seating area; their spacious one-bedroom and two-bedroom suites with a full living room and full bath, and their Santa Fe's Only Penthouse suite, which has luxury features like five outdoor terraces, an upstairs master bedroom, a large dining area, a spiral staircase, and more! Each room is decorated with warmly colored furniture and white sheets that complement the traditional, geometric accents tastefully placed throughout the room.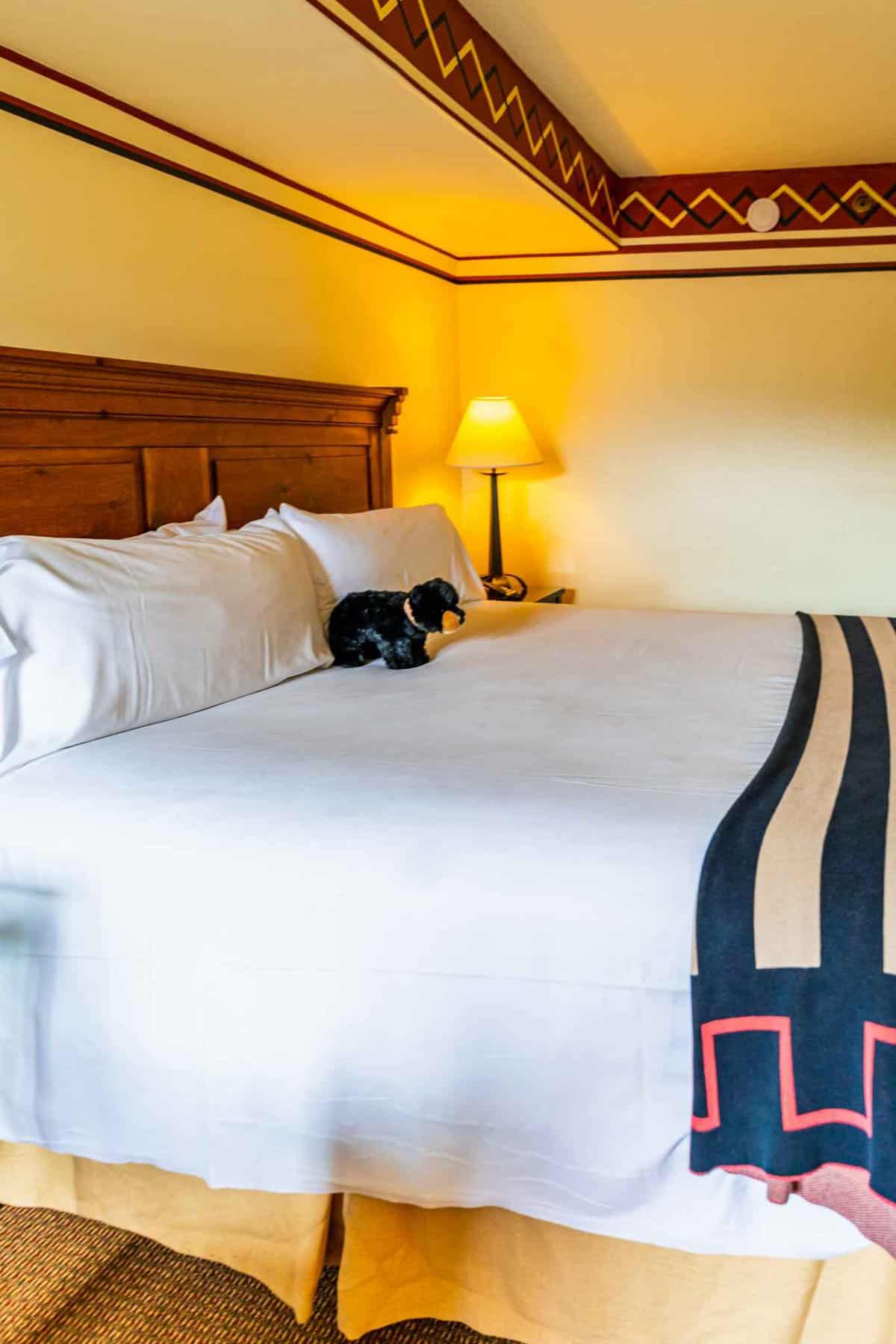 Where to Eat at the Inn & Spa at Loretto
The Crafted Café
The Crafted Café at the Inn & Spa at Loretto offers breakfast Friday through Sunday. Items like the apple crumble muffin and leek and parmesan cheese pocket croissant complement their coffee drinks, cups/pots of tea, and juices. The rest of the week, although they are closed on Mondays, they serve light appetizers from 3pm until 8pm. Try wines grown by New Mexican locals or a flight of their various types of adult beverages.
The Luminaria Restaurant
You can also enjoy a meal at the Luminaria Restaurant with cozy nook-like booths to invite you in. They are open for every meal most days out of the week and offer weekend brunch. On-site is the Loretto Chapel, the oldest church in the U.S., right next door to the restaurant's outdoor patio.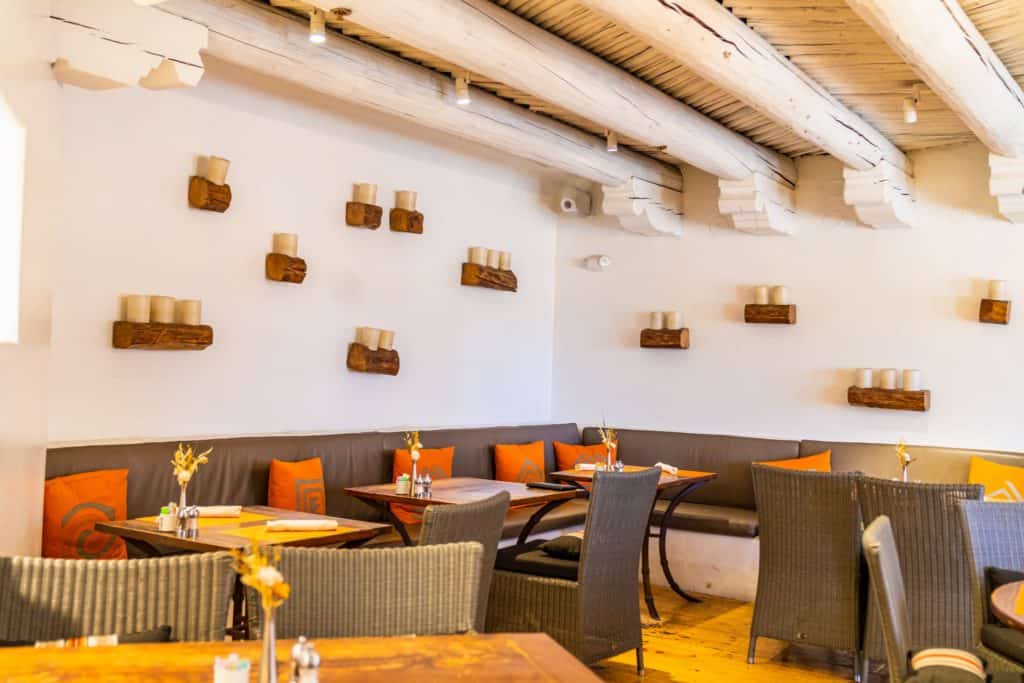 The Living Room Bar & Lounge
At the Inn & Spa at Loretto's on-site bar and lounge, The Living Room, you can catch live music Thursday through Saturday, as well as nightly Happy Hours. When it comes time to order, you have to try the Strawberry-Jalapeño Margarita, a palate-pitstop on the Santa Fe Margarita Trail.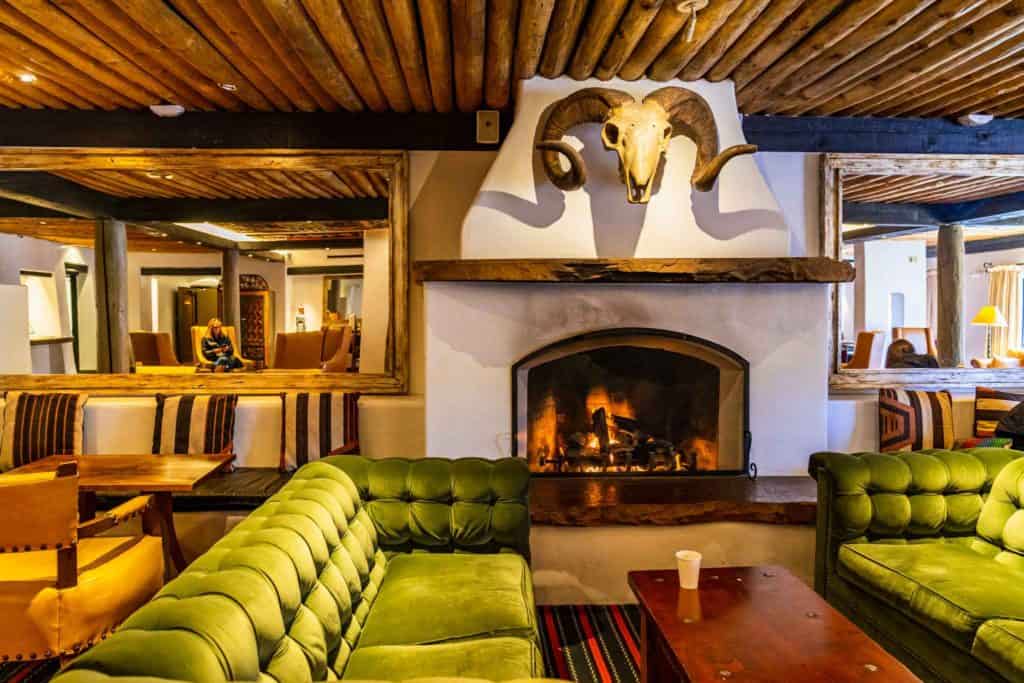 Not much of a margarita fan? Their cocktails are amazing! Choose from creations like their Coffee Royale, with amaretto and Irish Cream, or their barrel-aged Manhattan that they aged in-house! Pair it with their award-winning Loretto Green Chile Cheeseburger that comes with candied red chile bacon, white cheddar, cilantro-lime aioli, and avocado. That red chile bacon is to die for!
Amenities at the Inn & Spa at Loretto
Been needing a manicure, pedicure, or hair re-vamp? The Inn & Spa at Loretto has an on-site salon for whatever you may need to feel refreshed, even after your vacation unfortunately ends.
Feeling tense? Their spa treatments capture the essence of New Mexico with options like their 4 Elements Ritual, which starts with a Native American smudge blessing, continues with a spa bath infused with local Santa Fe lemongrass-white sage soaking salts, and a massage before ending with a Taos sage bundle and Native smudging prayer.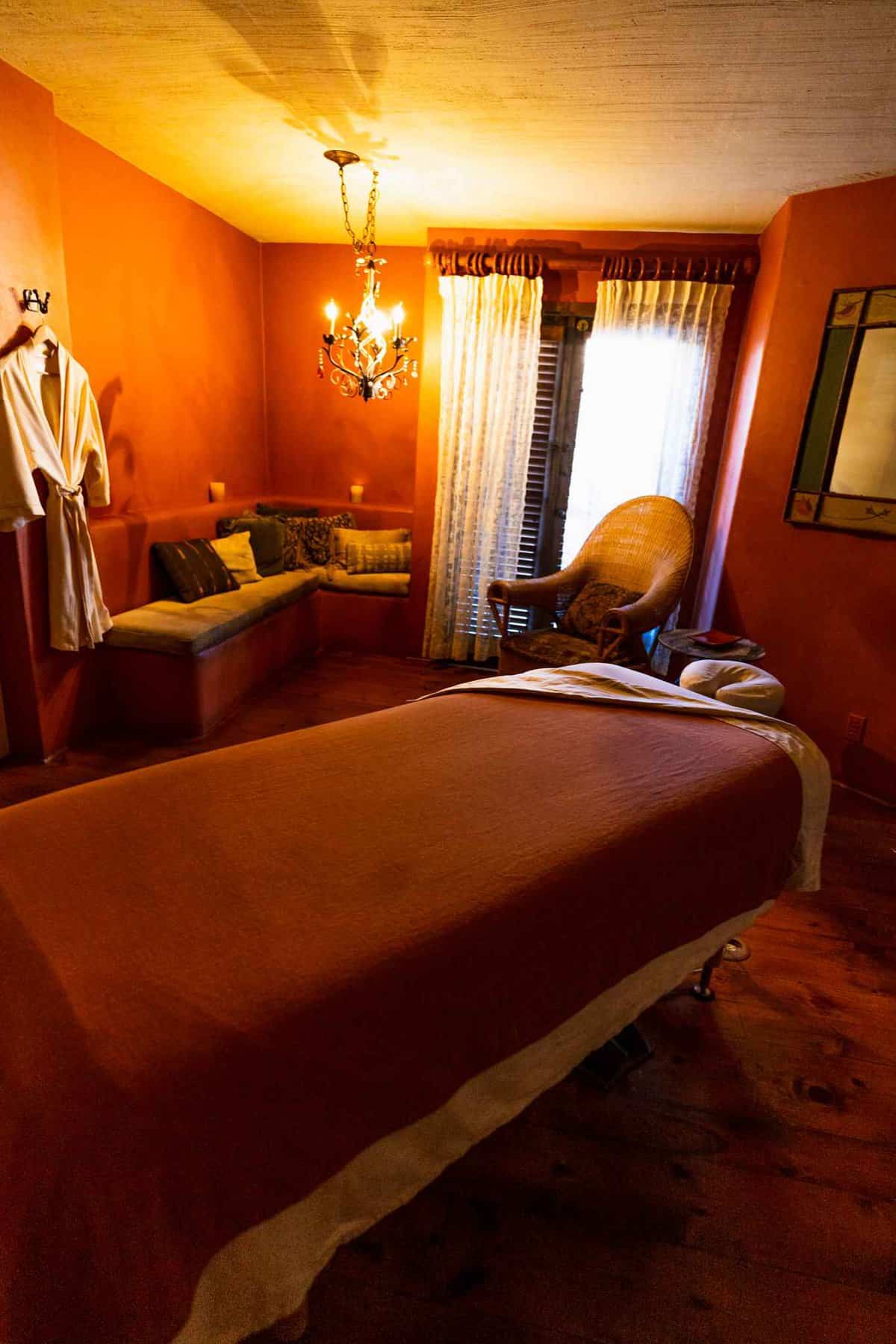 They also offer facials and massage enhancements like hot stones, CBD cream, and aromatherapy. The spas at Loretto even use their own essential oils that you can take home with you to help you relive your luxurious stay at the Inn & Spa at Loretto.
Things to Do Near the Inn & Spa at Loretto
Even though the Inn & Spa at Loretto has everything you could possibly need, including its own shops, galleries and people creating art in the lobby, it's also a great place to stay if you want to explore Santa Fe. Within walking distance of Santa Fe Plaza, several iconic museums, the Railyard District, and tasty places to eat, this beautiful, luxury hotel in Santa Fe makes it easy for you to venture into the mountain and city views framed by your room windows.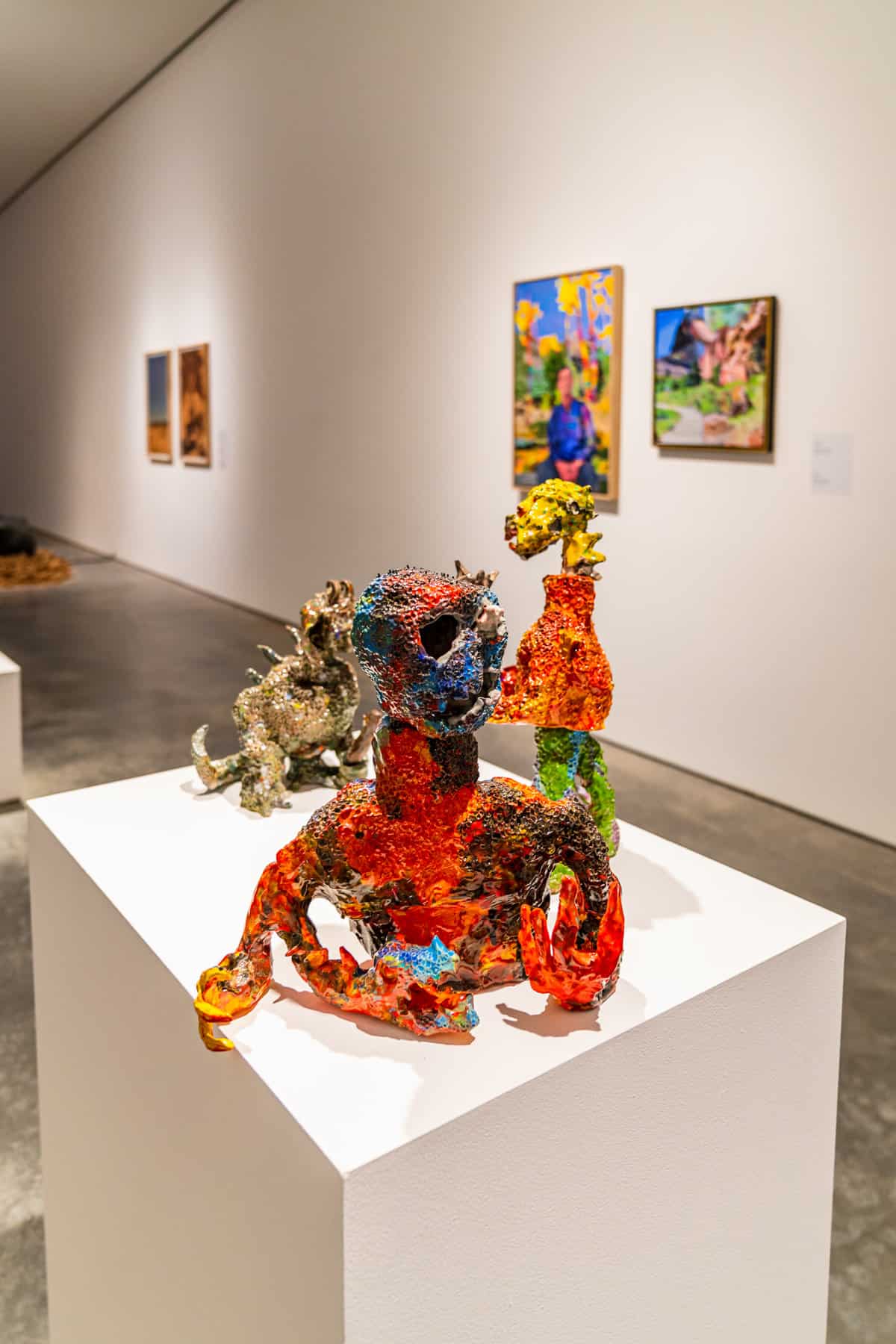 Review of the Inn & Spa at Loretto: Final Thoughts
The Inn & Spa at Loretto strives to take care of and treat their guests, much in the same way they've honored their New Mexican roots; from the room decor to the spa treatments and on-site cuisine. Staged in a prime location within Santa Fe, the Inn & Spa at Loretto sets you up to also check things off your list of things to do in Santa Fe. Its landscape, its architecture, the surrounding businesses, and museums hold an incredible amount of Native American history, both through its influence and its preservation within the community.