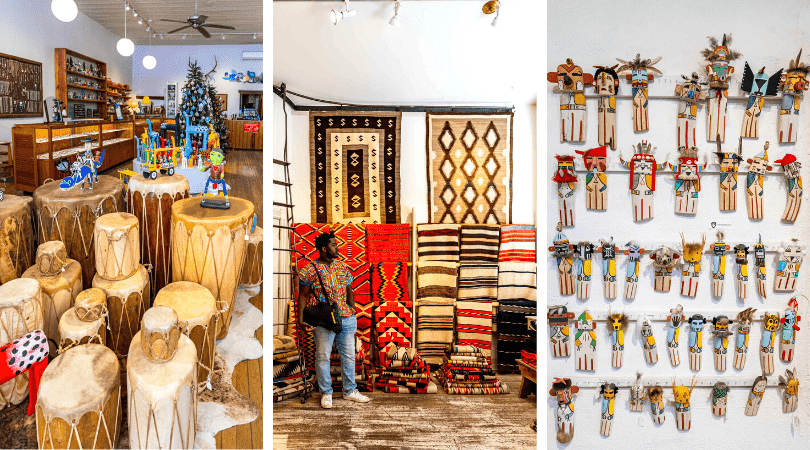 Santa Fe is home to many amazing Native American artists, galleries, and shops, all fit for a memorable trip. Being one of the largest cities in New Mexico, it's easy to get overwhelmed, but not to worry! Below is a list of the shops and galleries to visit near Santa Fe Plaza.
For further help, use the Santa Fe App, a tool that helps visitors navigate and select what places to visit on their trip. As you stop in to these amazing shops to visit in Santa Fe, don't forget to also check out all the things to do in Santa Fe for even more fun adventures. 
Explore Galleries & Shops
Sun Country Traders – Just off the Santa Fe Plaza, a locally owned shop welcomes visitors to peruse their wonderful selection of Native American items, both new and vintage. Sun Country Traders' collection consists of beaded pieces, handcrafted jewelry made from local artists, pottery and more! Friendly staff are more than willing to help you in your selection, sharing the stories behind the pieces to make your experience even more wonderful, so don't miss out on bringing home an item or two to commemorate your trip.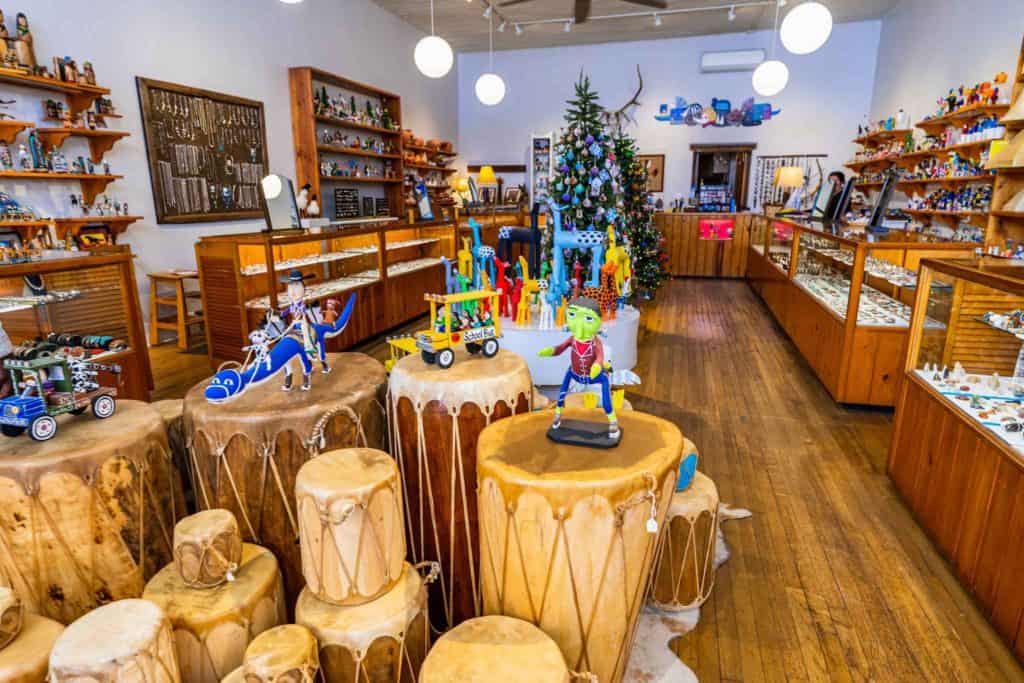 Native Sounds – Stop by Native Sounds, a lovely Native-owned shop filled with instruments, crafts, jewelry, and other amazing treasures. Visitors are able to browse and purchase from the collection of flutes and drums, finding the right musical instrument for them. Native Sounds' relaxing down-to-earth atmosphere makes for the perfect shop to visit in Santa Fe while enjoying the stories, culture, and music.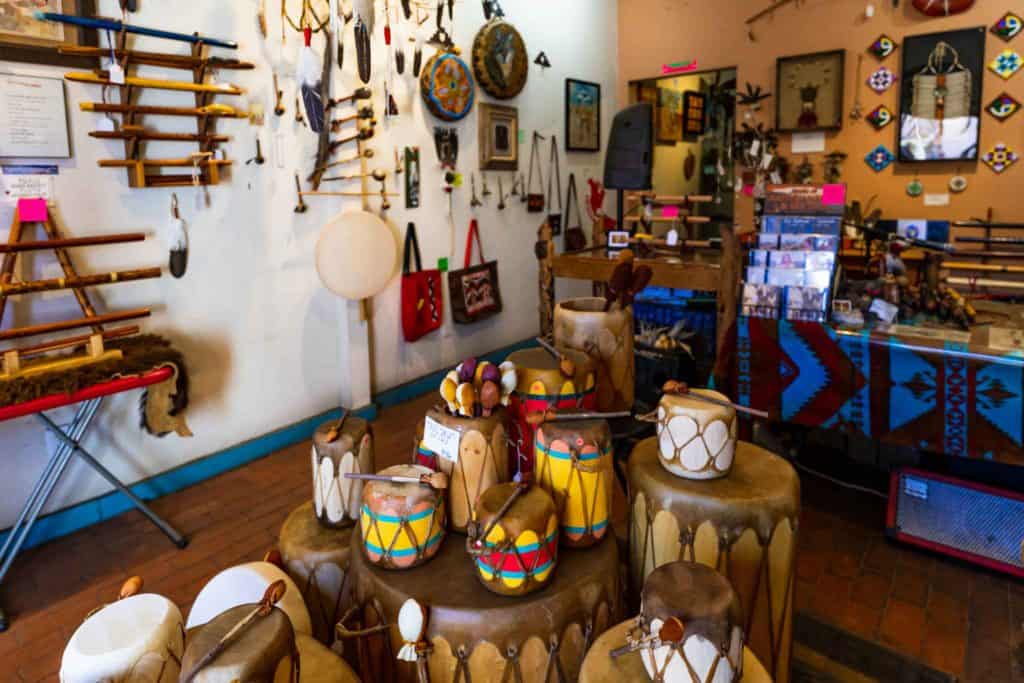 Shiprock – Located on the square of Santa Fe Plaza, Shiprock is a wonderful place for collectors or simple window shoppers looking to enjoy the culture and art made by Native American artists. This wonderful gallery has a variety of Native American goods like rugs, blankets, vintage jewelry, pots, and modern art and furniture. Click here for more information about the Native artists. Shiprock combines history and modern art styles, curating an amazing gallery for visitors to enjoy and learn more about Native American culture and art.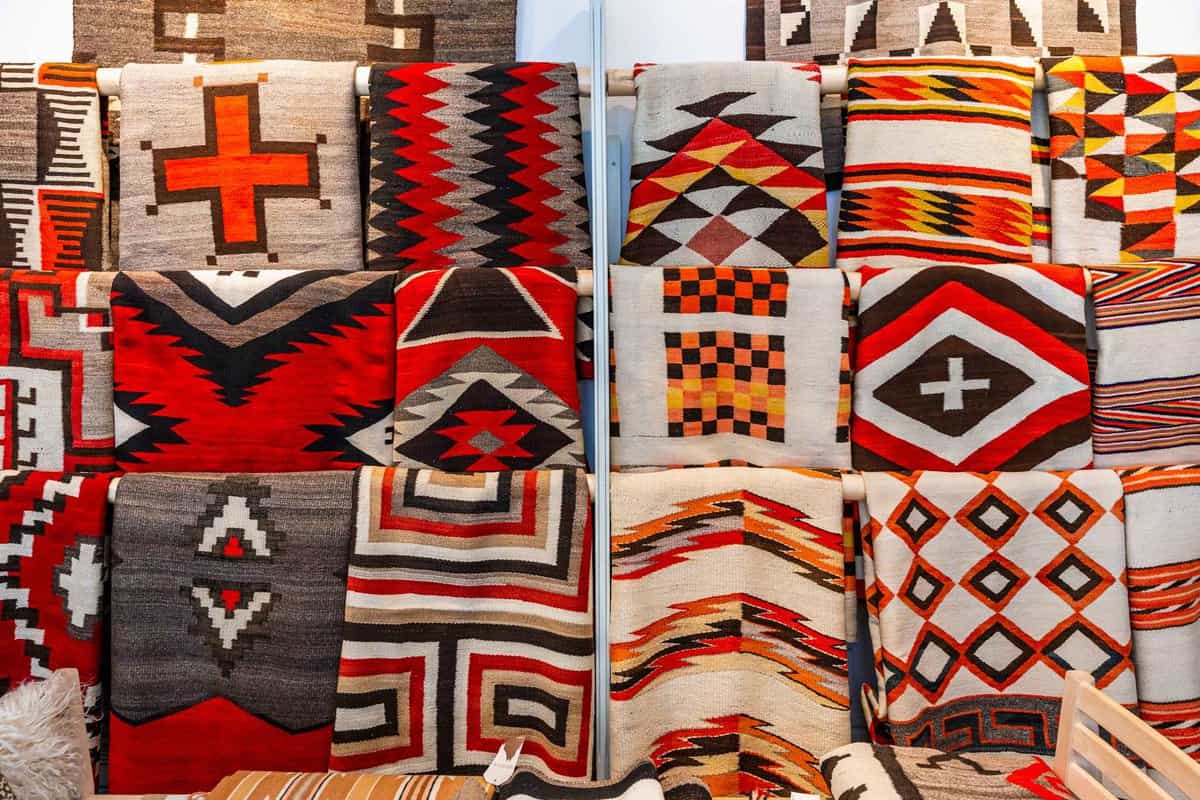 Rainbow Man – Just past the Santa Fe Plaza, a beautiful array of fun colors mark this eclectic little shop. This eye-catching kaleidoscope of colors is home to folk art pieces like wooden figurines, jewelry, and crafted pottery. Rainbow Man combines Native and Mexican art styles to create such awesome art pieces, great for souvenirs.
The Shop A Christmas Store – The Shop A Christmas Store is for Christmas enthusiasts looking to add another Christmas item to their collection or tourists looking for a unique item to remember their visit. Christmas decor and ornaments encapsulate the surrounding Native culture of Santa Fe. Some of the pieces in the shop are handcrafted by Native artists, so don't hesitate to stop by and support local artists!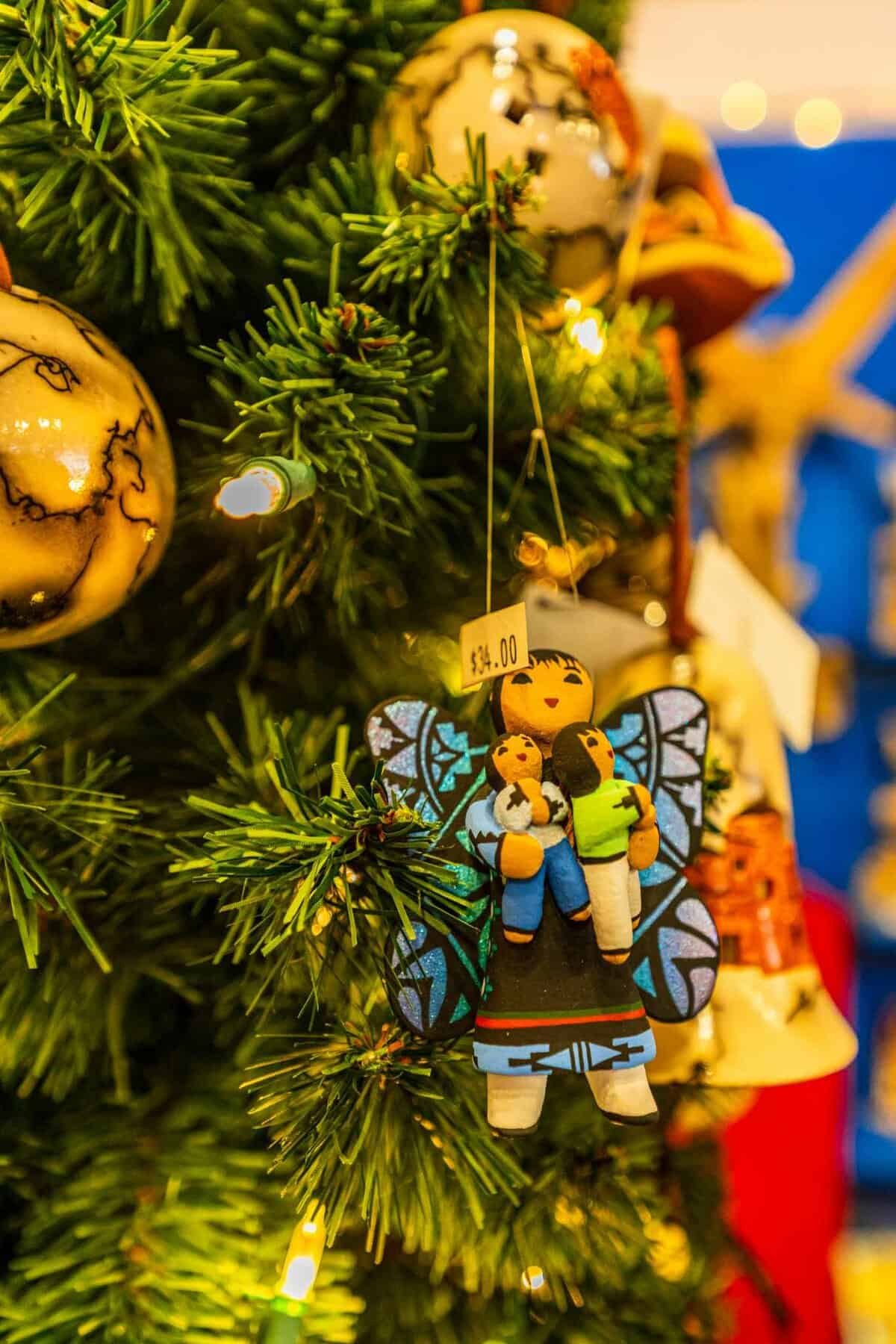 Susan's Christmas Store – Can't get enough of the Holiday cheer? Then make sure to check out Susan's Christmas Store for even more Christmas memorabilia. This small shop to visit in Santa Fe is located near the Santa Fe Plaza and it's the perfect place to feel that Christmas spirit, no matter the time of the year. Handcrafted Christmas ornaments hang from the walls and ceiling, making it a colorful winter wonderland, and attracting locals and visitors alike to come and enjoy time and time again.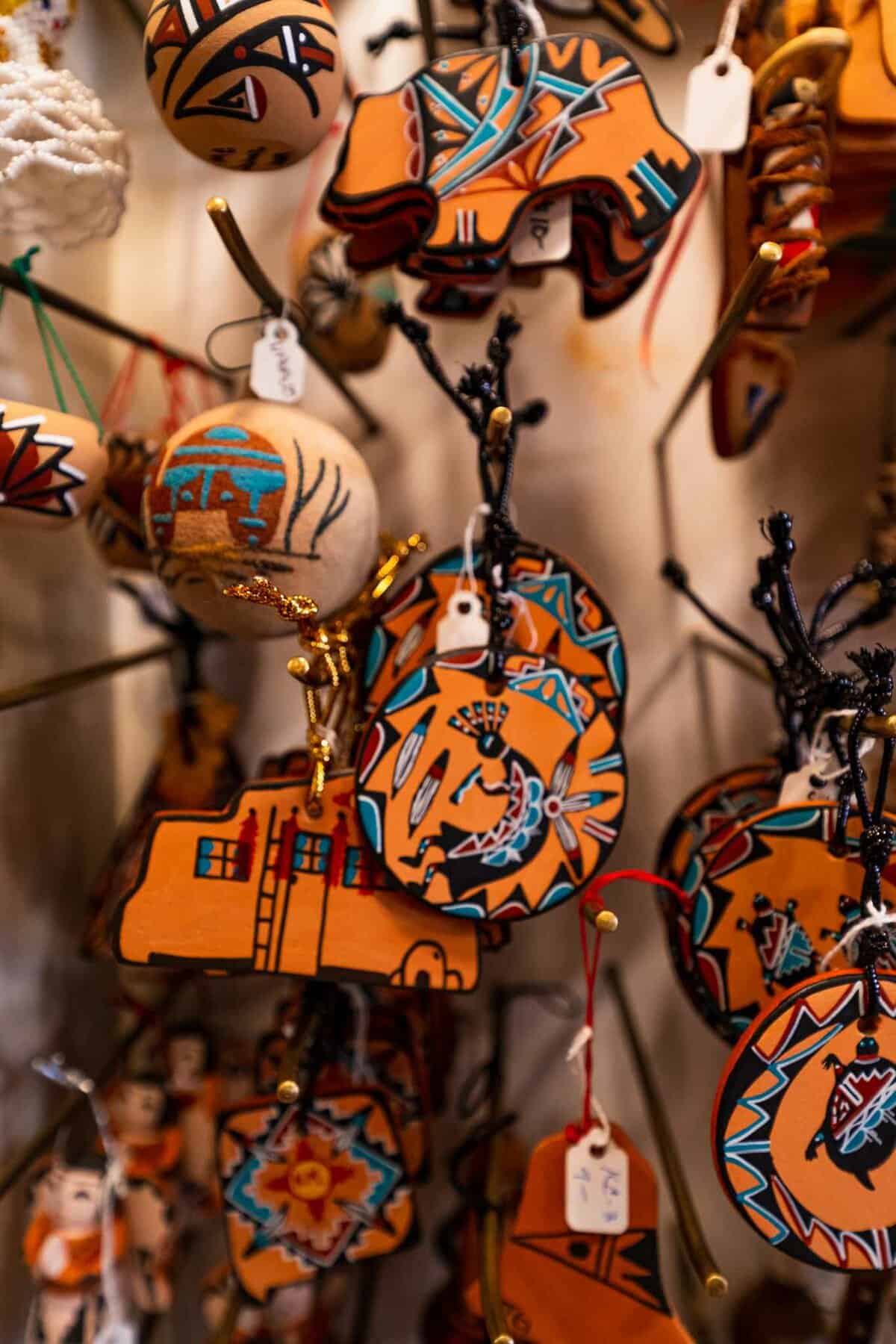 Kokopelli Gallery – Near the Santa Fe Plaza, Kokopelli Gallery is a beautiful shop filled with a variety of jewelry and treasures, beckoning visitors to come inside and browse. Their collection is made up of Native artwork, pottery, and handcrafted, silver jewelry speckled with turquoise accents. Finding the right piece of jewelry in the right price range can take some time, but at Kokopelli Gallery, its staff is more than willing to lend a helpful hand in your selection.
Bahti Indian Arts – Stop by Bahti Indian Arts for even more unique art pieces crafted by local artists. Bahti Indian Arts features carved wooden animals (fetish animals) and carved spirit figurines (Hopi Katsinas). Learn more about the art and artists behind them as you peruse their selection.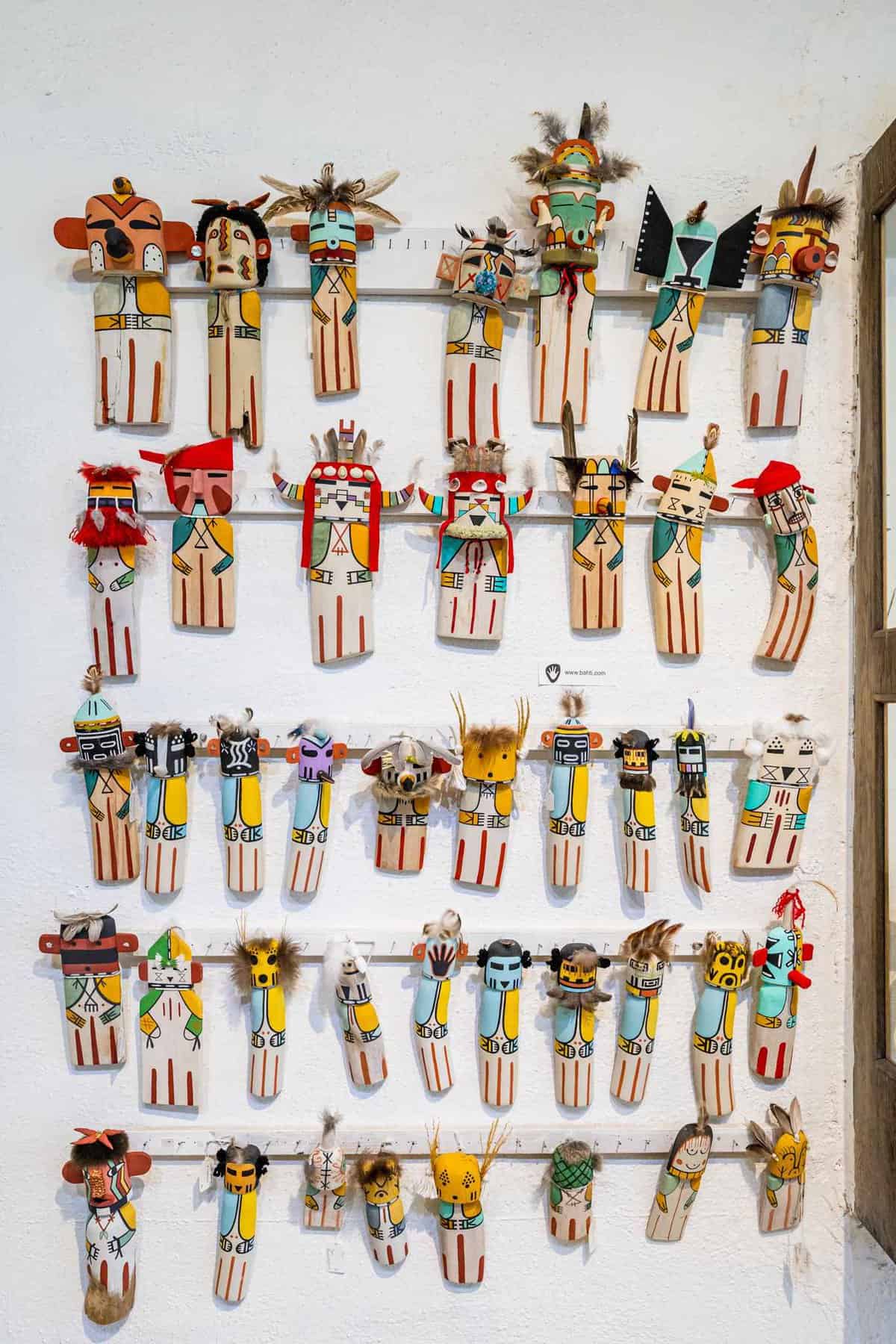 Shops to Visit in Santa Fe: Final Thoughts
As you're checking off things to do in Santa Fe on your itinerary, the city's 250+ galleries will leave you desperate to take a piece of them home with you, and everyone wants to bring souvenirs home with them for their loved ones and friends. Tackle both by exploring these 8 shops to visit in Santa Fe where you can simultaneously support local artists and celebrate Native American culture.