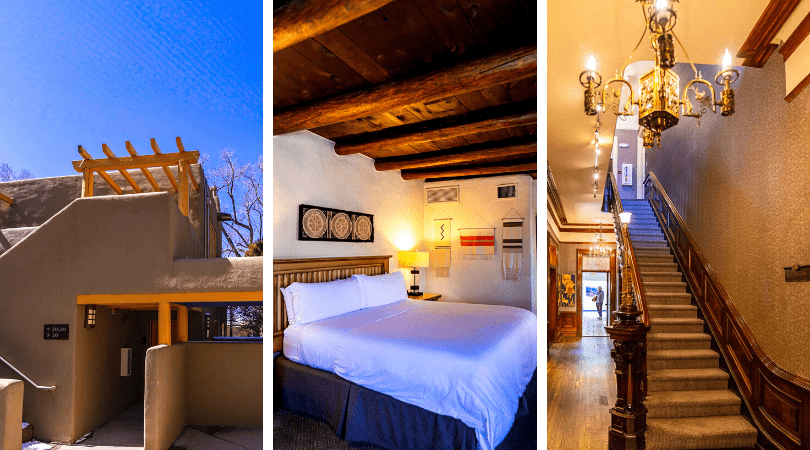 La Posada de Santa Fe, with its history of over 250 years, is a member of the Historic Hotels of America. Its land has been home to 18th century villagers, an art school, a hotel that was closed down in the 1950's, offices for the Santa Fe Railway in the 1960's, and it was even almost torn down in 1994. After undergoing a $12 million dollar restoration overseen by Allan Mion, it was reopened in 1997. To this day, his wife Tina paints in her studio upstairs and continues to oversee the hotel with Allan to this day.
Its interior, amenities, the on-site restaurants, and the art pieces around every corner have been crafted with such care. It proudly displays the history of the original village of La Posada, pays tribute to its previous owners and residents, and continues to be an oasis in the middle of the New Mexico desert. When you're looking for where to stay in Santa Fe, there's no question that you must book a room at La Posada de Santa Fe if you can. To add even more fun to your Santa Fe trip, click here for our list of things to do in Santa Fe.
Dine With a Ghost at La Posada de Santa Fe
In 1882, Abraham and Julia Staab built a three-story brick mansion in La Posada, then a village originally founded in 1755. Julia was a hostess to high society and dignitaries, the first hotelier of La Posada de Santa Fe before it came to fruition. She passed away in 1896, but it is said that her ghost has been sited within the hotel since the 1970's. As a tribute to Julia and the role she played in the resort becoming what it is today, the restaurants on-site at La Posada de Santa Fe pay tribute to her.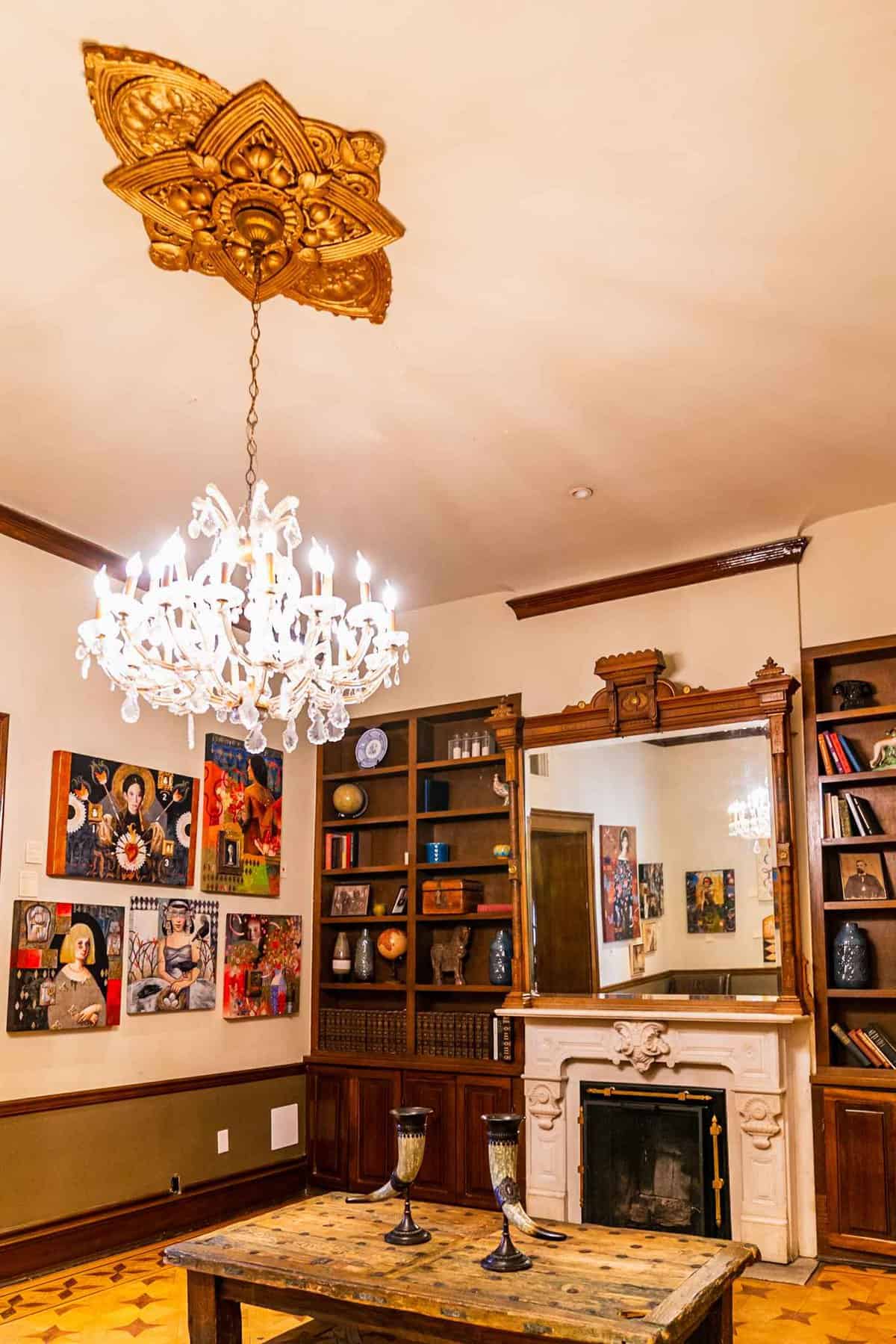 Julia – A Spirited Restaurant & Bar
The Julia Restaurant serves breakfast, dinner and cocktails seven days a week in a formal dining room. Seasonally, the restaurant opens its patio peppered with traditional kiva fireplaces. It's menu consists of the same dishes as the Julia Restaurant, but it's open for breakfast, lunch, dinner, and drinks!
The Staab House
The coziest bar in Santa Fe according to Travel + Leisure Magazine, the Staab House is decorated with a regal fireplace mantle, comfortable armchairs, and carefully curated artwork. Just through the double doors is a fully furnished patio if you're in need of some Santa Fe sunshine. Order a cocktail and graze over a light snack if you aren't feeling like venturing off property for lunch. Lucky for you though they are open all day, seven days a week, and offer daily Happy Hours with rotating selections, so stop by anytime!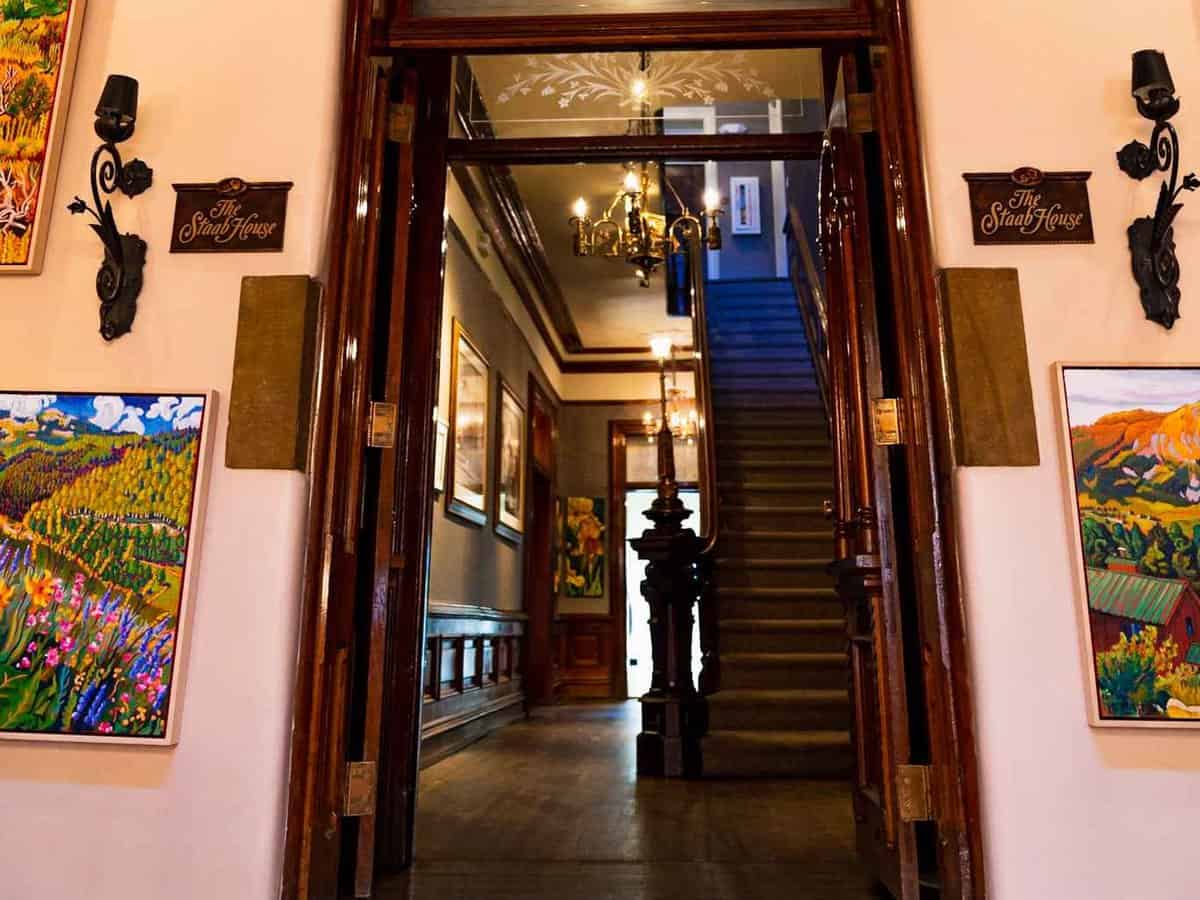 Julia's Social Club
A tapa-style bar, Julia's Social Club serves wine from all over the world, tequilas, mescals, and local craft beer. As a stop along the Margarita Trail, La Posada de Santa Fe is home to the famous Juliarita Margarita, named one of the 40 best margaritas in the world! It's crafted from homemade apricot liqueur, 100% blue agave tequila, and garnished with peaches from the original peach trees Julia planted in the 1880's.
Stay in Historic Casitas at La Posada de Santa Fe
In the 1930's, the property was bought by the Nason family. Casitas were built around the Staab Mansion and carriage house, utilized as long-term housing for students of what became a summer arts school. Because of this, La Posada was previously known as an art colony. The Queen Cozy Artist Studios were actually used as refuges for writers and artists of the day! It's currently known as the "Art Hotel of Santa Fe" due to its curated collection of American paintings and sculptures.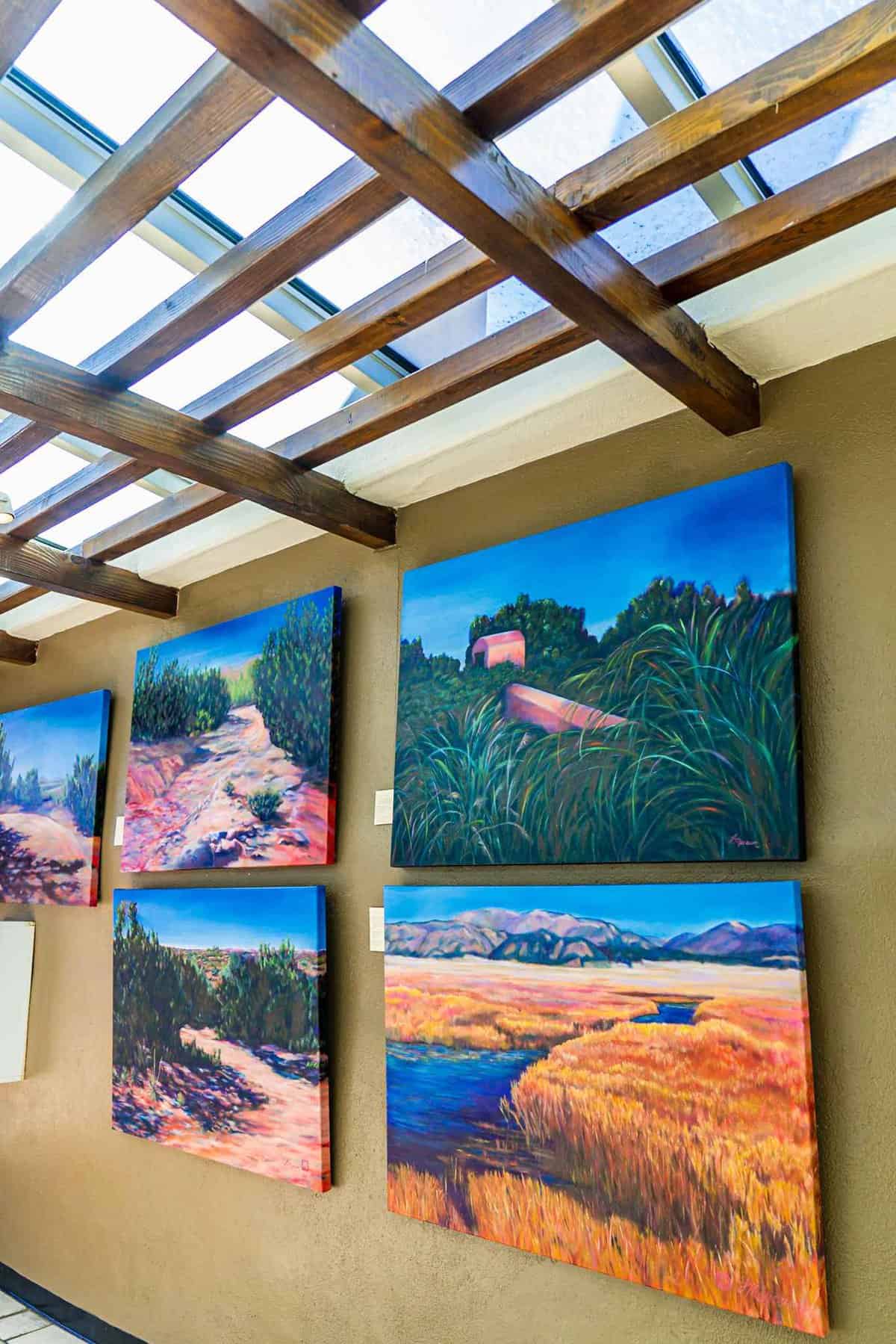 And the fun facts keep coming: Did you know that La Posada de Santa Fe was a hot-spot for celebrities in the 1930's as well? People like Albert Einstein, John Wayne, Shirley Temple, and Amelia Earhart stayed at La Posada in the days when it was simply a hotel. Now, the resort continues to provide services specific to the needs of Hollywood.
These Pueblo Revival-style adobe casitas are decorated with traditional adobe walls, exposed beams, and exposed wood slat ceilings. The accommodations at La Posada de Santa Fe consist of individual rooms, options for adjoining rooms, and suites that include touches like windows that gaze out over the garden, traditional kiva fireplaces, furnished balconies, and conveniences like proximity to their on-site spa. The Presidential Suite goes above and beyond with three kiva fireplaces, two full baths, a large patio, and more!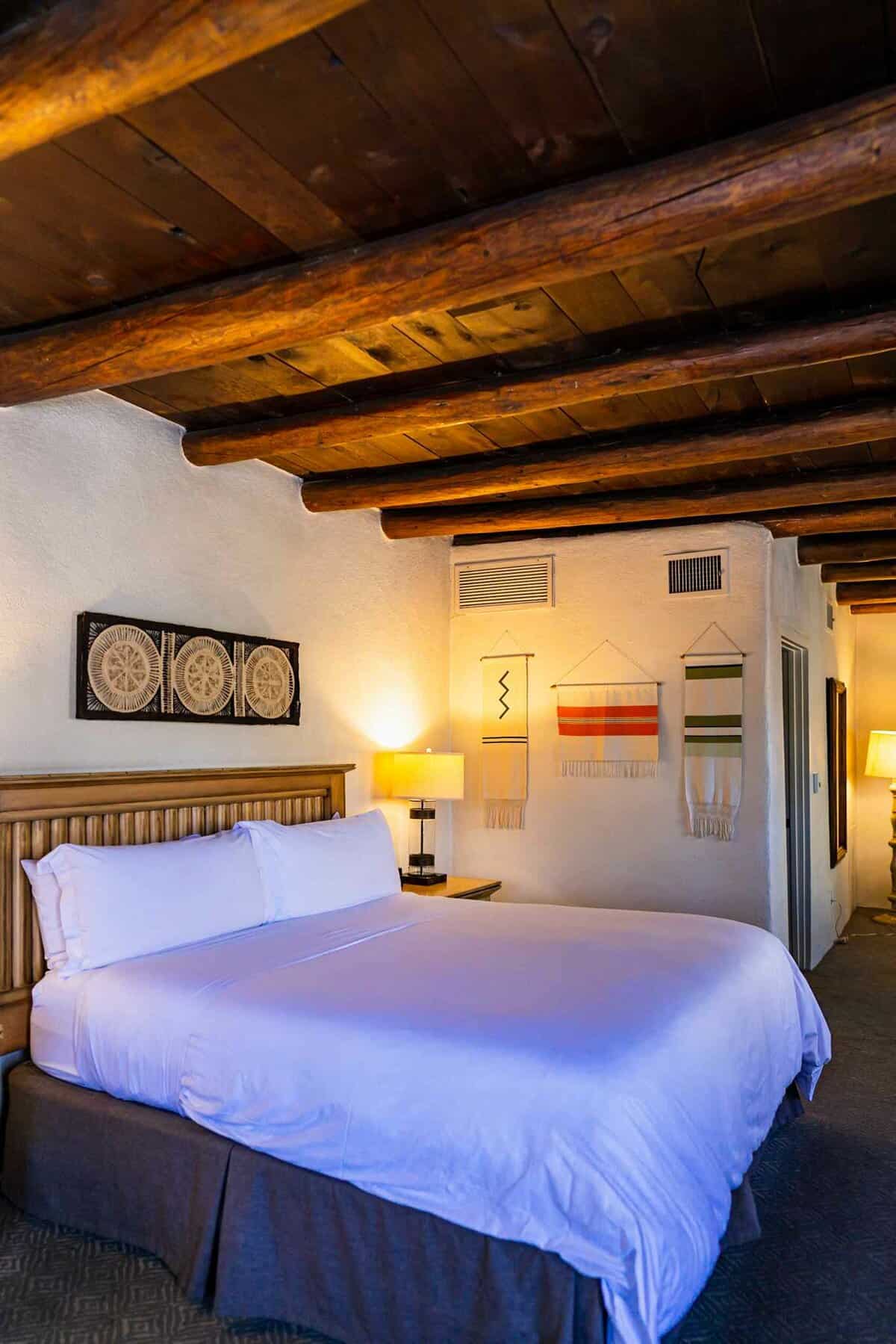 Pamper Yourself at La Posada de Santa Fe
The resort has a seasonally heated, saline pool and hot tub for communal use. After it's remodel in the 1990's, when it became the resort it is today, Spa Sage was added. It offers massages, facials, a full-service salon, 24-hour fitness center, and complimentary 60-minute yoga and Pilates classes on the weekends.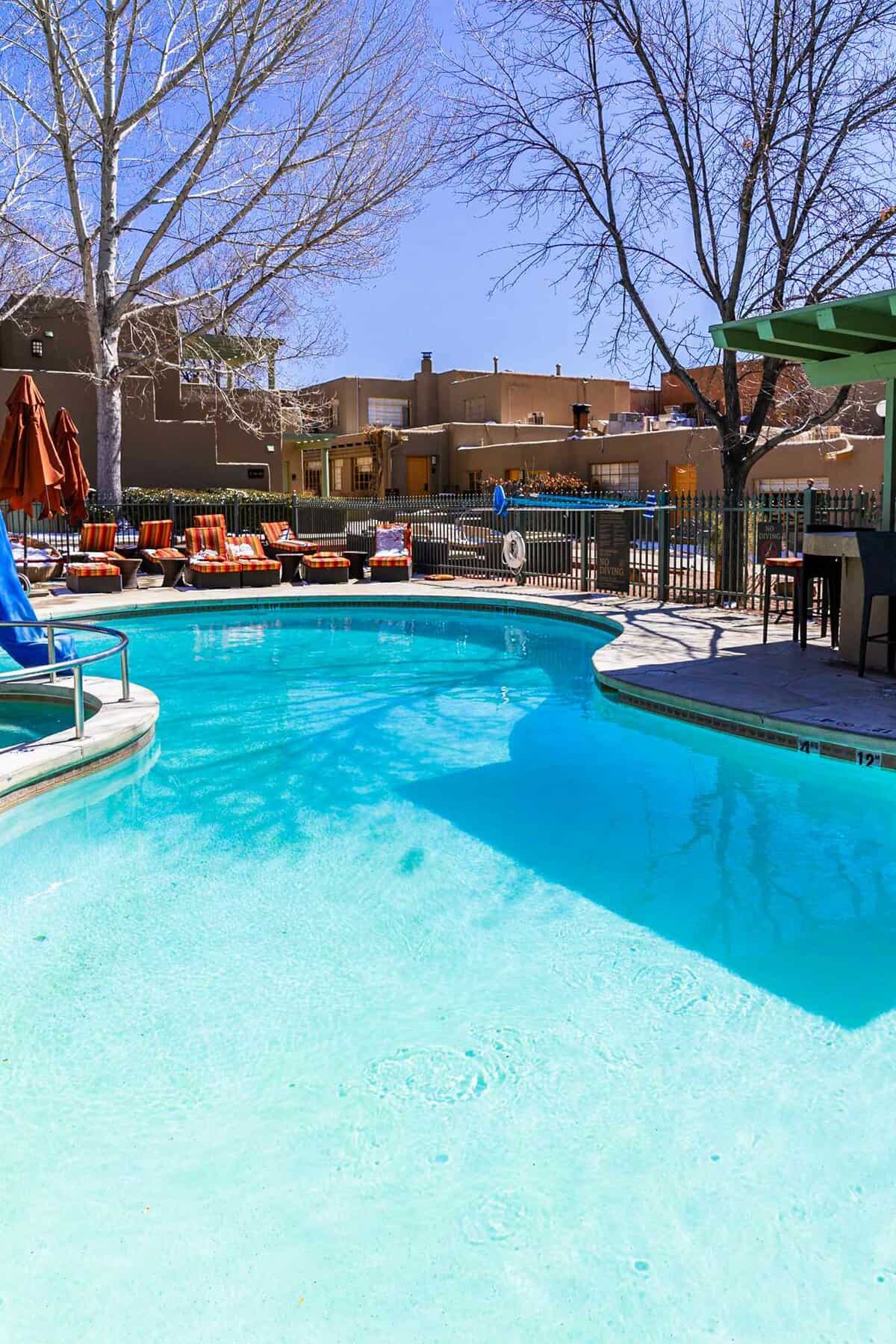 Things to Do Near La Posada de Santa Fe
La Posada de Santa Fe is close to the Santa Fe Plaza and Railyard District, with its abundance of museums, art galleries, shops, and tasty restaurants. There's also a free shuttle! Plus, La Posada de Santa Fe is only an hour from the Bandelier National Monument, a collection of Puebloan cliff dwellings with gorgeous views of the surrounding mountains and trees.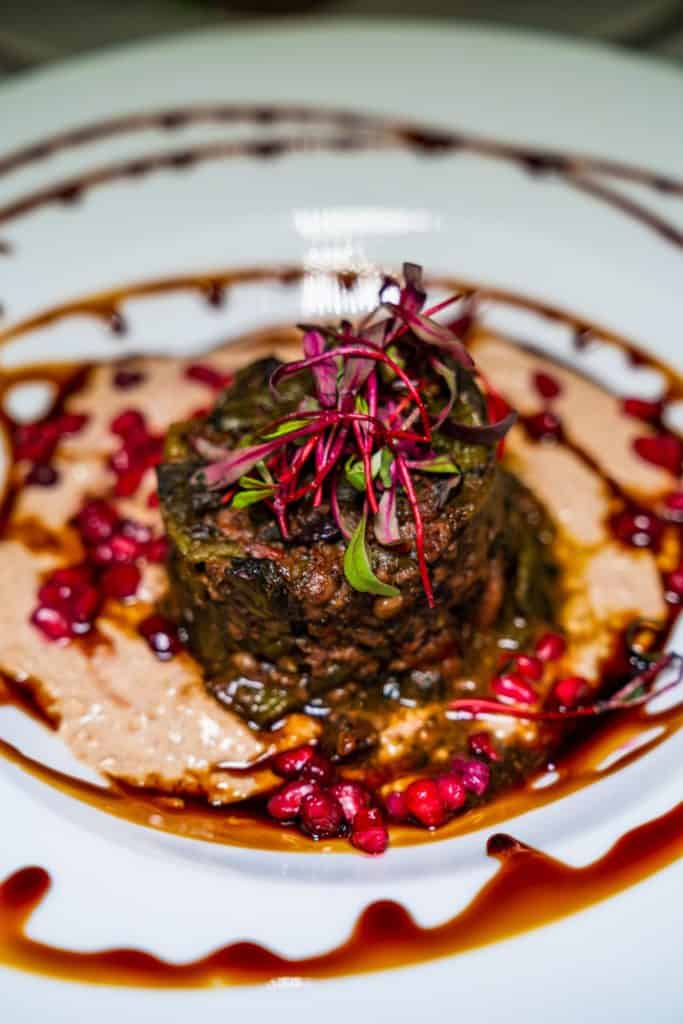 Review of La Posada de Santa Fe: Final Thoughts
La Posada de Santa Fe makes it even more apparent that you must stay in Santa Fe at least once in your life. This historic resort encompasses everything special about New Mexico. It offers guests tranquility, art, history, delicious bites, refreshing drinks, and it's locations near Downtown Santa Fe will make it easy for you to check off several of the most iconic things to do in Santa Fe.