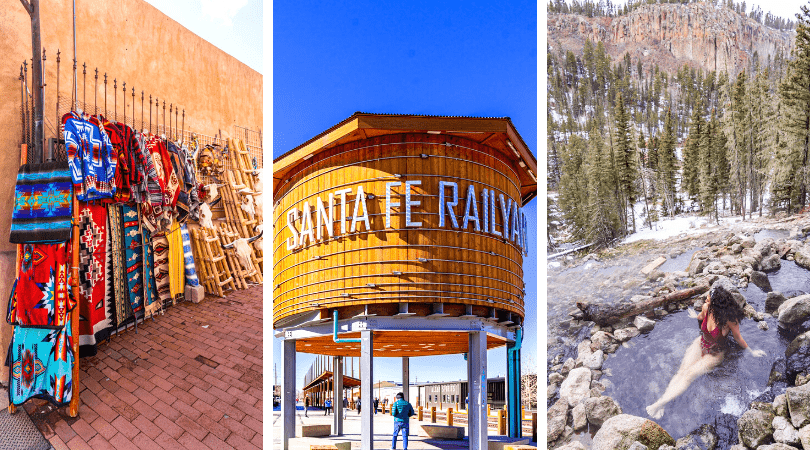 As we've discovered, the stereotypes of a state don't often coincide with what exists beyond its borders. Texas, for example, has all varieties of terrain and wildlife. Similarly, New Mexico is far more than just desert. There are so many things to do you may be totally unaware of. Santa Fe is dedicated to its Native American roots by way of its many museums and shops, its Mexican heritage through its many restaurants, its diversity brought by the Santa Fe Railroad, and its natural treasures, like the hot springs, mountains, and remaining homes of the Puebloan people.
Learn About Santa Fe
Santa Fe highlights Native American culture, history, and art all across the city at its many museums, listed below.
Pro Tip: If you plan on visiting multiple museums, save a little money with the New Mexico Culture Pass. This pass, however, does not include the Museum of Contemporary Native Arts or the Georgia O'Keeffe Museum.
Museum of International Folk Art
A collection of over 130,000 artifacts, you'll find an in-depth history of folk art from over 100 countries. You'll see art and historically functional items made from a wide variety of mediums, along with exhibits that cover regionally specific topics, such as fashion, history, music, and folklore. There is currently an exhibit on the role of face masks in self-expression during the COVID pandemic that you'll have until January 2023 to see.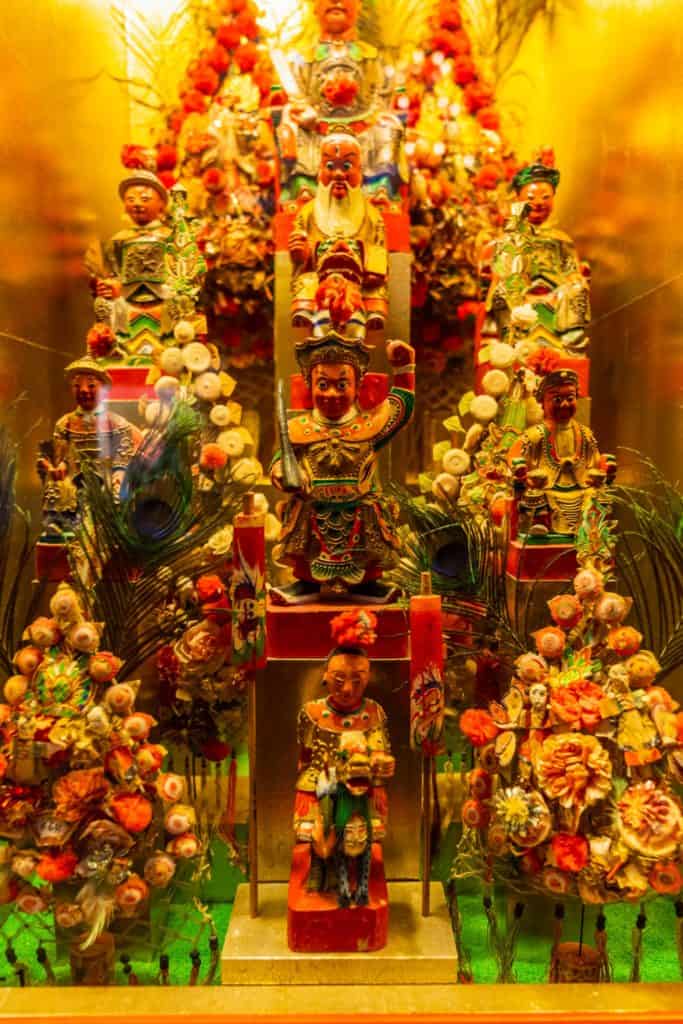 Museum of Indian Arts & Culture
Take a deep dive into Native American culture through artifacts from across the globe. Learn about the methodical creation of Puebloan pottery, the cultural significance of certain animals, and the reimagination of traditional Native American creations through art created by current artists. The museum also hosts events like talks, live demonstrations, and poetry sessions to create personal experiences between its visitors and influential members of the community.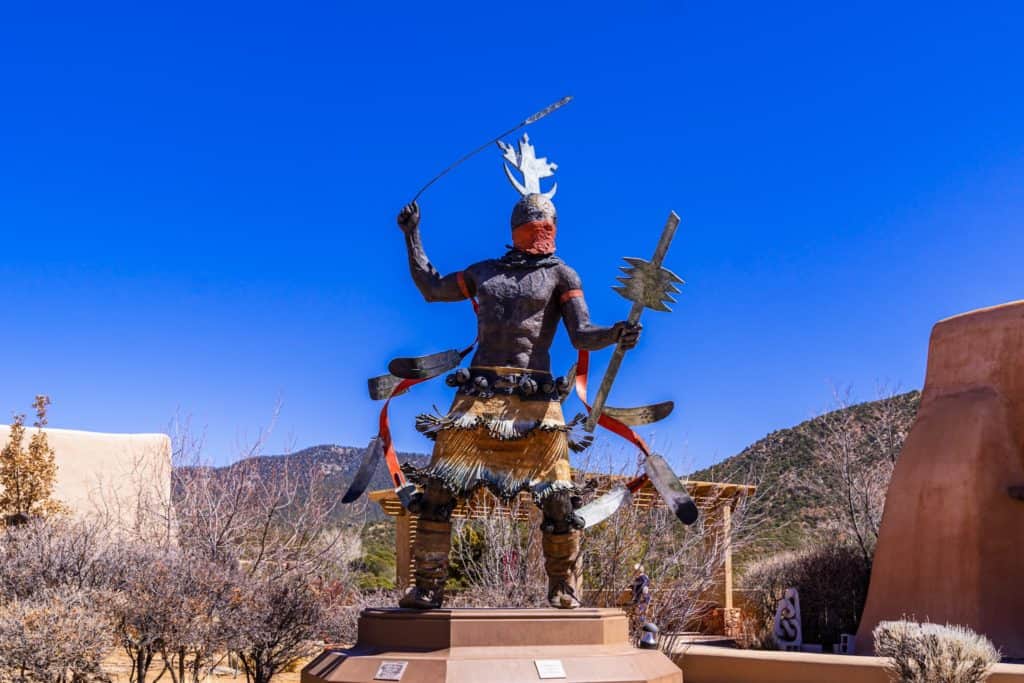 Museum of Contemporary Native Arts
This museum showcases progressive and contemporary Native artists, including current students at the Institute of American Indian Arts (IAIA)! Supported by IAIA's staff and trustees, you can find everything from murals and sculptures to informative exhibits and photographs.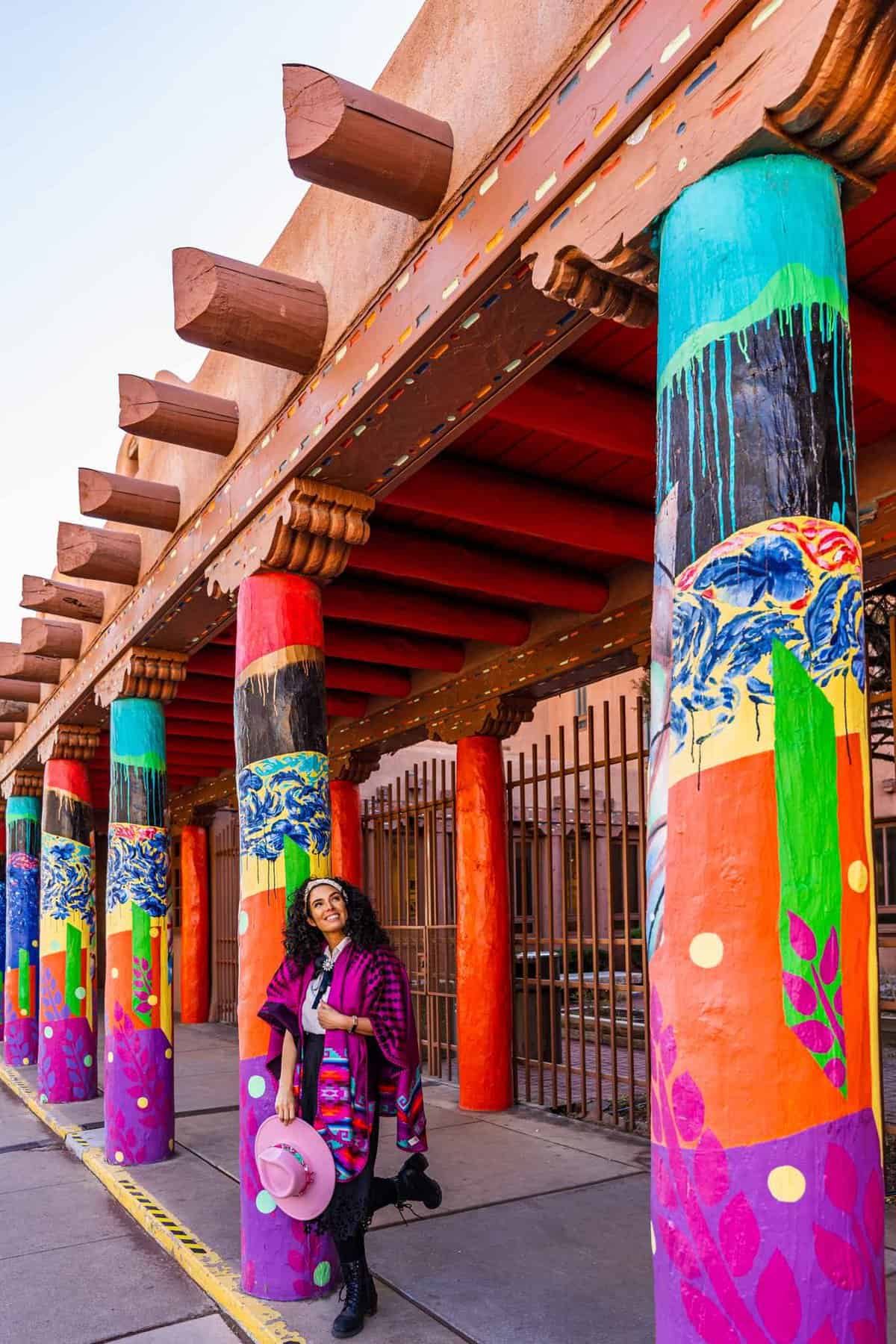 New Mexico Museum of Art
The Santa Fe Museum of Art houses one of the oldest Pueblo Revival structures with an impressive courtyard that inspires artwork of its own. With 20,000 works of art, there's plenty to see of the Southwest, the incredible New Mexico landscape, and Native American life. They even have rotating exhibits for something new every trip.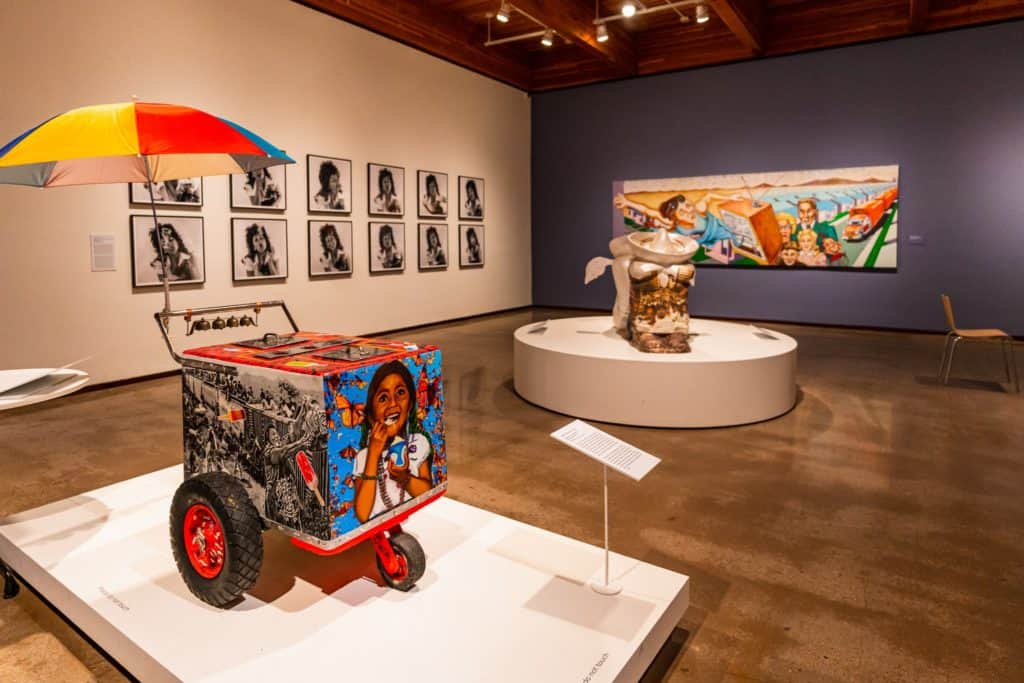 New Mexico History Museum
Get a glimpse of New Mexico's both rich and grim history. From the original indigenous people who lived here, the presence of colonizers who encroached on their way of life, to the devastating effects of Manifest Destiny, the New Mexico History Museum walks visitors through different points of history. Additionally, they have a large exhibit on the history and legacy of the Harvey Girls, as well as the exhibit, "Telling New Mexico: Stories from Then and Now" that shares personal stories from across the last 500 years that also make up New Mexico's history.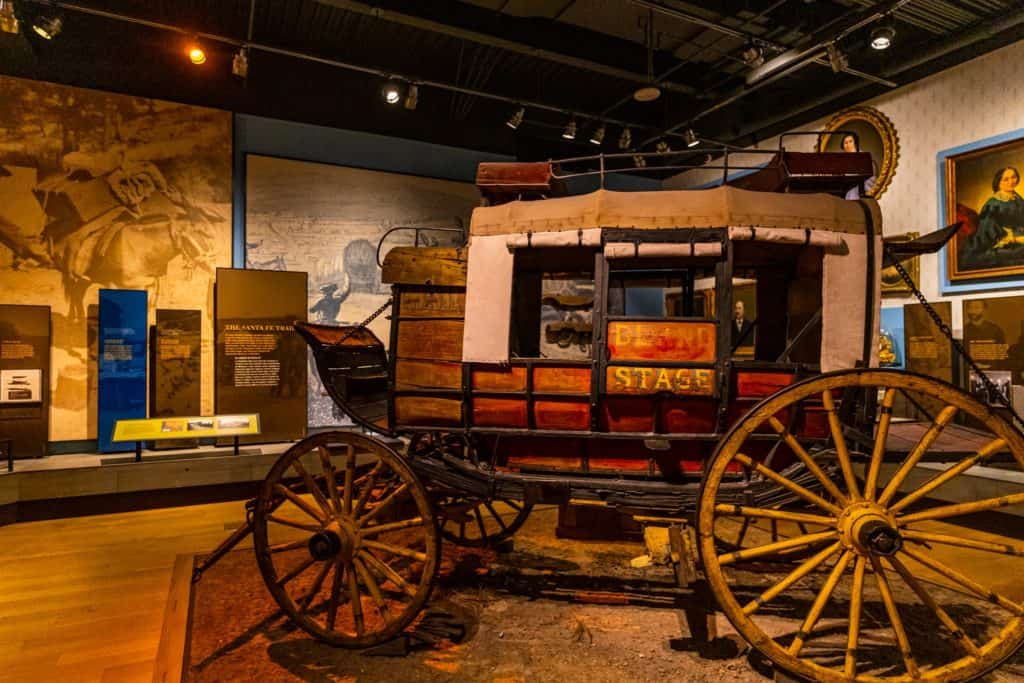 Georgia O'Keeffe Museum
You may not know much about Georgia O'Keeffe, but after visiting the Georgia O'Keeffe Museum and learning about her story, you'll be captivated by the way that Georgia played such a prominent role in the development of art. She was the first woman painter to gain respect in the art world of New York in the 1920s. Her abstract art of landscapes and flowers break down the essence of nature while capturing its most important aspects.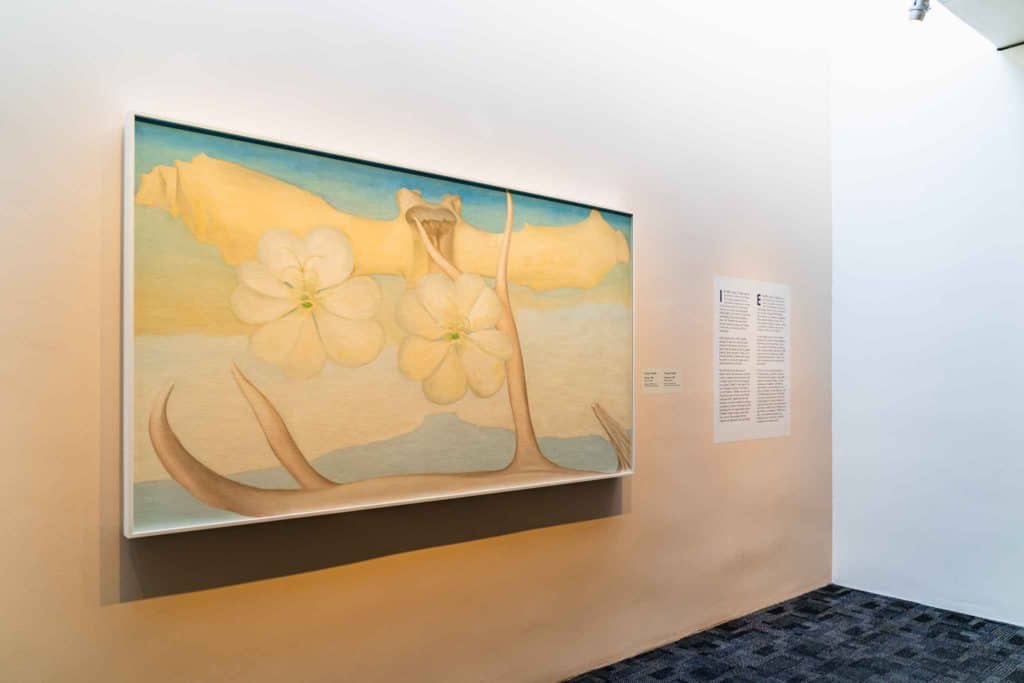 Take a Day Trip to Jemez Mountains
The Jemez Mountain Trail is a natural wonderland that showcases the iconic New Mexican red rock, Pueblo dwellings of the Bandelier National Monument, volcanic cliffs, and the water of Jemez River that flows through them. Despite what comes to mind when you think about the dessert, these trails also have an abundance of greenery and wildlife. If you're looking for an outdoor adventure that'll fill your day and give you a variety of activities, whether you're on land or soaking in the hot springs, then a day trip to Jemez Mountains is for you. Click here to read about our experience hiking through the Jemez Mountains.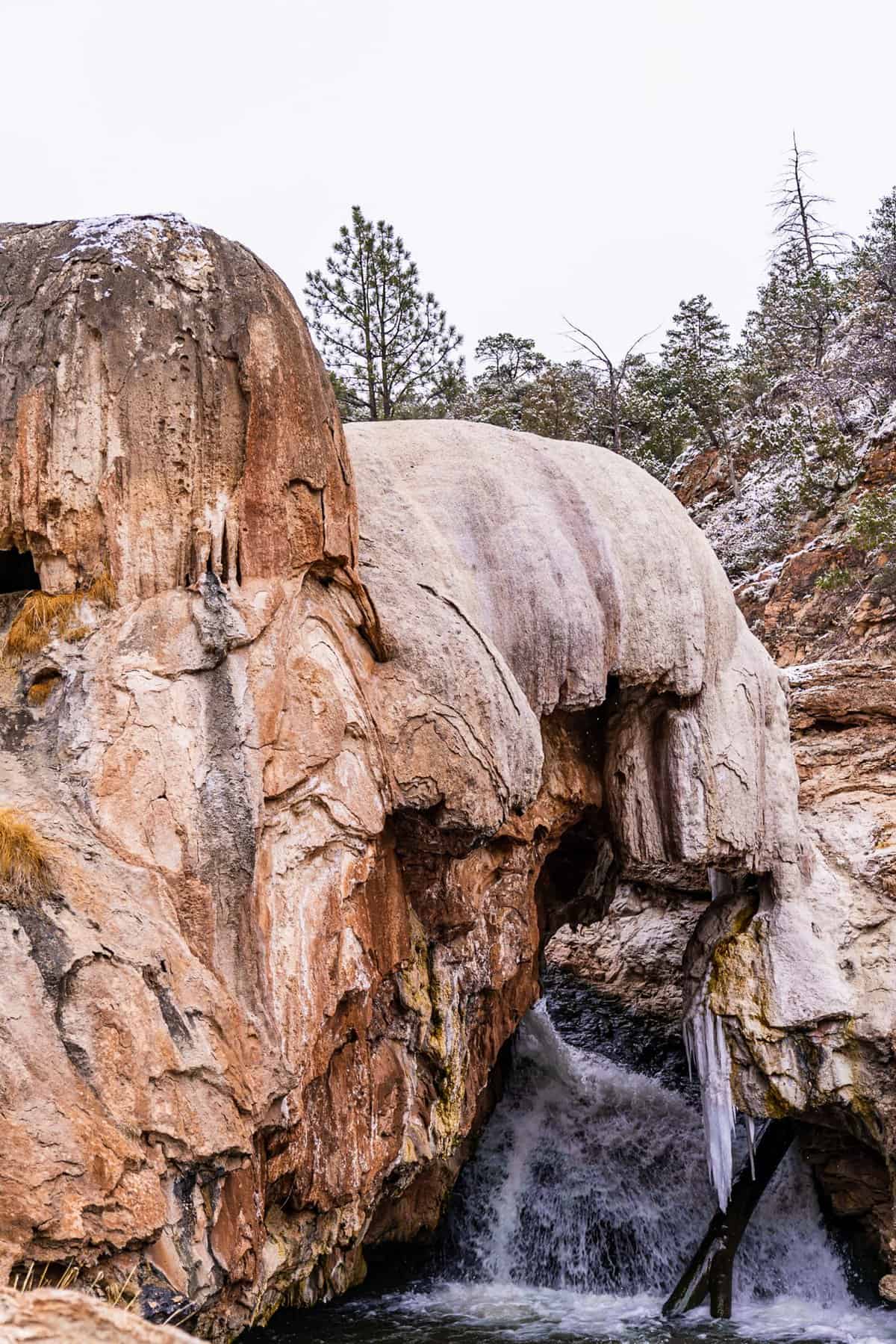 Take a Native American Cooking Class
As you're checking off all the things to do in Santa Fe, make sure this one is on your list: the Native American II cooking class at the Sante Fe School of Cooking. It's like a history lesson and cooking class in one. You'll learn about the effects of colonization on food, as well as how food crossed continents (fun fact: tomatoes didn't actually come to Italy until the 15th/16th century). You'll also learn about the magic eight: corn, squash, beans, chiles, tomatoes, potatoes, cacao and vanilla, which were only found in the Americas.
Best of all, you'll learn cooking techniques like trout baked in clay, have an incredible meal, and leave enlightened and nourished. If you're lucky, you'll also have the honor of witnessing a cultural moment with Native songs and drums. Afterwards, you can browse their store with all the different types of chile and chile-themed items like chile jelly, chile cookies, chile fudge, and more!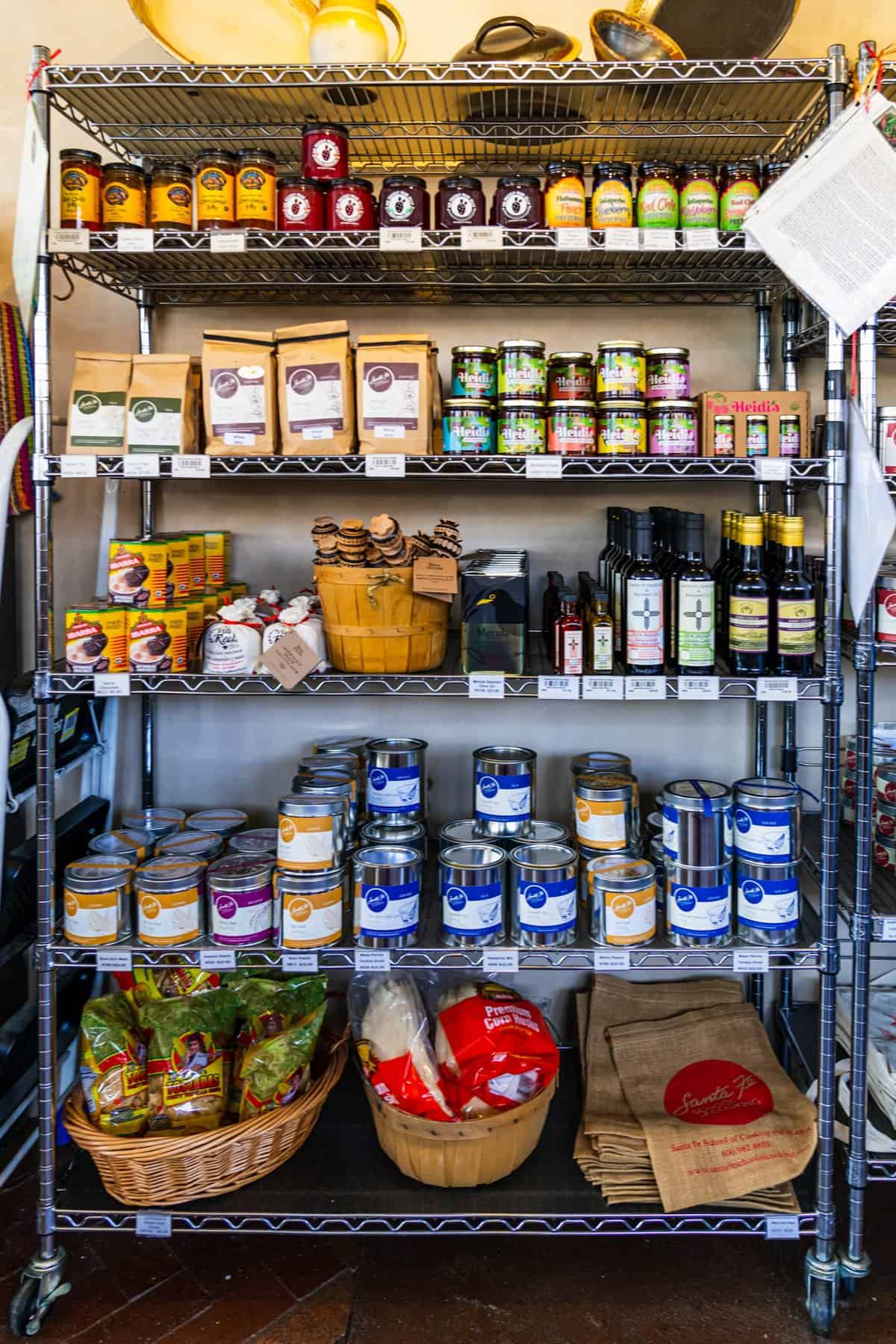 Stroll Through Santa Fe Plaza
Santa Fe Plaza can be enthralling and overwhelming due to its numerous galleries. The Santa Fe Art app is a helpful tool to build a list of art galleries you are interested in visiting beforehand with information about each one. Check out Santa Fe Art Tours to get a more in-depth perspective, perfect for newbies and experts alike.
You'll also find Native artists along the Palace of Governers in Santa Fe Plaza, as well as Native performers who share their traditions, dances, music, and stories.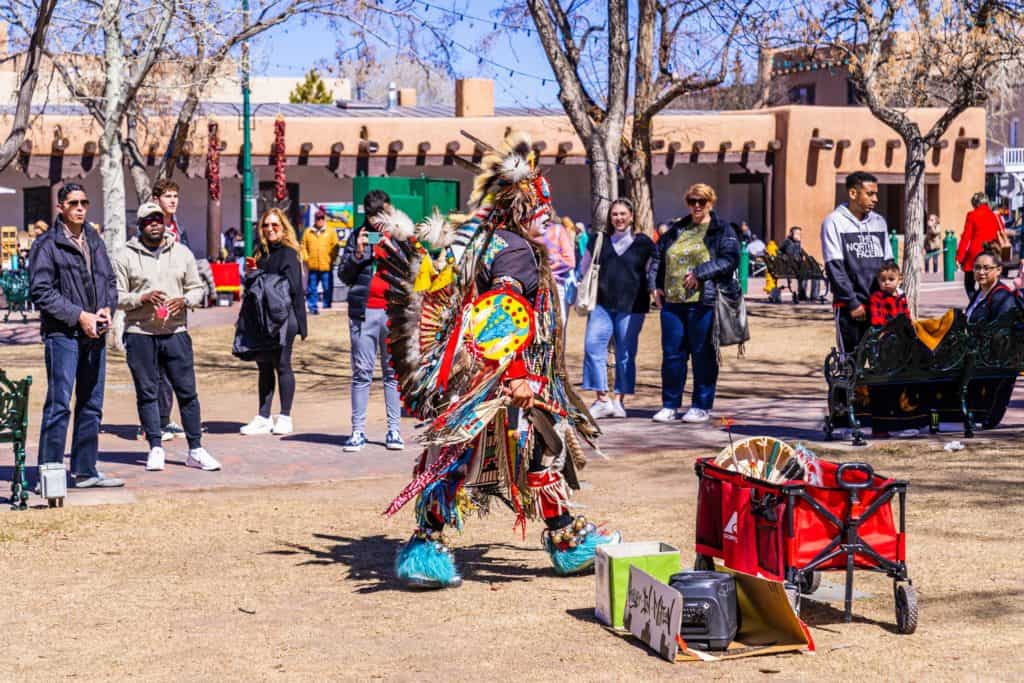 Try All the Great Food
New Mexico's flavor profiles have been shaped by its native history, the impact of colonization, and the influence of the Santa Fe Railroad. New Mexico is known as the chile capital of the world due to its warm climate and alternating periods of rain and drought that influence the heat of the peppers harvested here.
Santa Fe specifically is famous for its many types of mole, a thick marinade that is commonly seen on plates in Southern Mexican cuisine. Despite the prominence of traditional Mexican food, many dishes you'll find on the menus you come across during your visit will have a New Mexican flare or they'll be from a completely different corner of the world, like Scandinavia or the Afro Caribbean. Take a look at our list of where to eat in Santa Fe for an abundance of options, no matter your food preferences.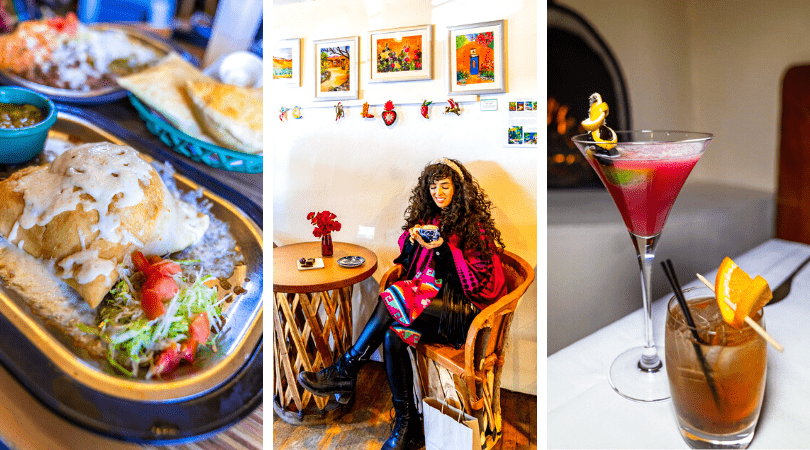 Enjoy New Mexican Wine
Many people are surprised to learn that New Mexico is actually the oldest wine country in the US. In the early 1500s, the monks were in need of wine for their religious services, so they smuggled vines from Spain to New Mexico (they didn't like the imported wine very much). While the commercial establishment of wineries is recent, the high, dry climate and rich soil make for some excellent wines!
Hervé Wine Bar is tucked away off the Santa Fe Plaza with a scenic tasting room and a large list of their own New Mexico-made wines. You can choose between flights, glasses of wine, and small bites.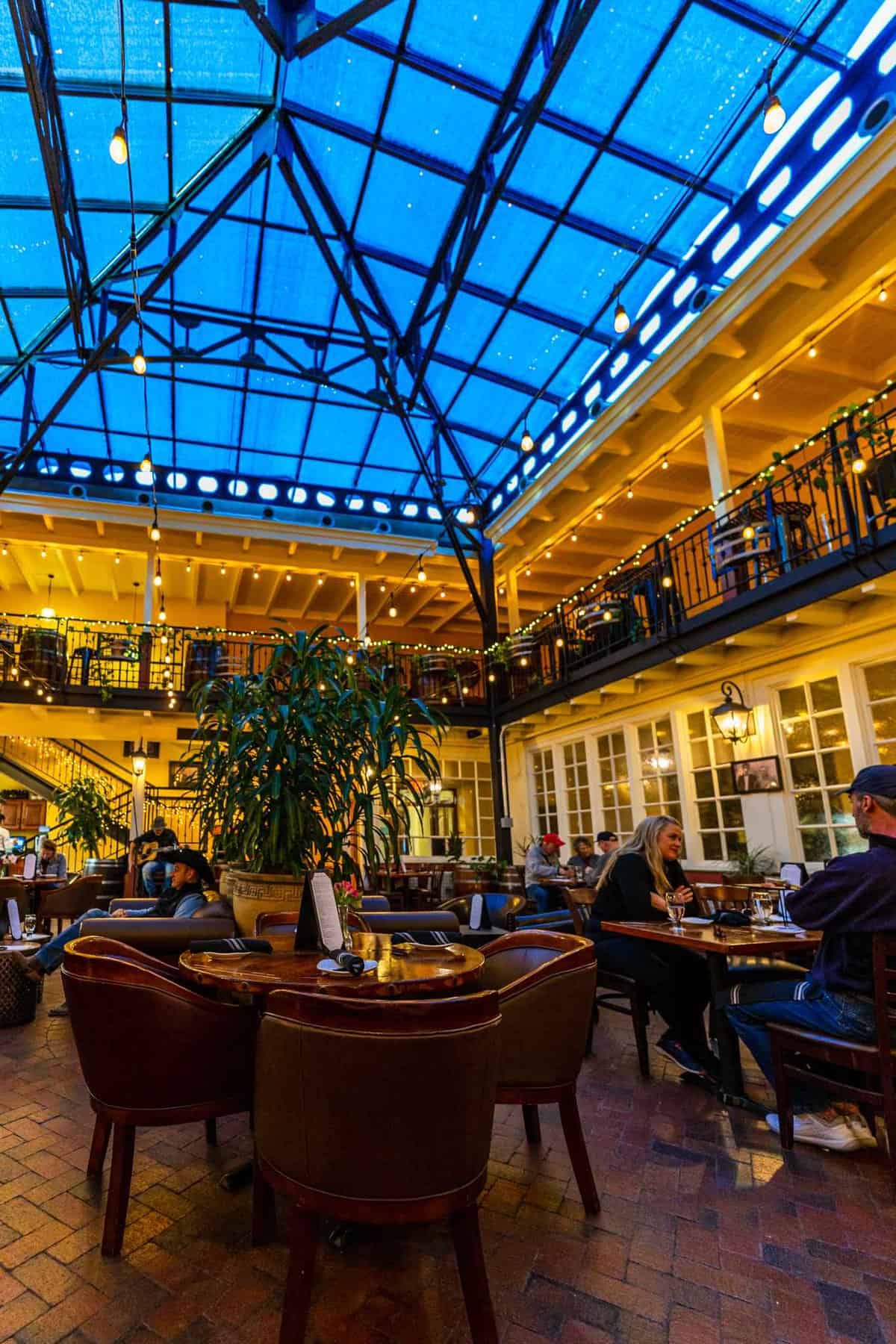 You can also attend brunch and tasting events at Gruet Winery, which specializes in sparkling and still wine made from grapes. Originally grown in France, the Gruet Family expanded their vineyards into New Mexico in 1984. Black Mesa Winery in Velarde, halfway between Santa Fe and Taos, produces small-batch wines and ciders made from fruit exclusively grown and hand-sorted in New Mexico.
Browse the Different Shops & Galleries
If you've had the opportunity to explore the many Native American-centered museums on your list of things to do in Santa Fe, there's no doubt you'll want to take that beauty home with you. Lucky for you, Santa Fe Plaza has so many shops that support Native American creators and artists, no matter your budget. You'll find instruments, art, modern furniture, pottery, jewelry, and more! Click here for a list of must-see shops in Santa Fe.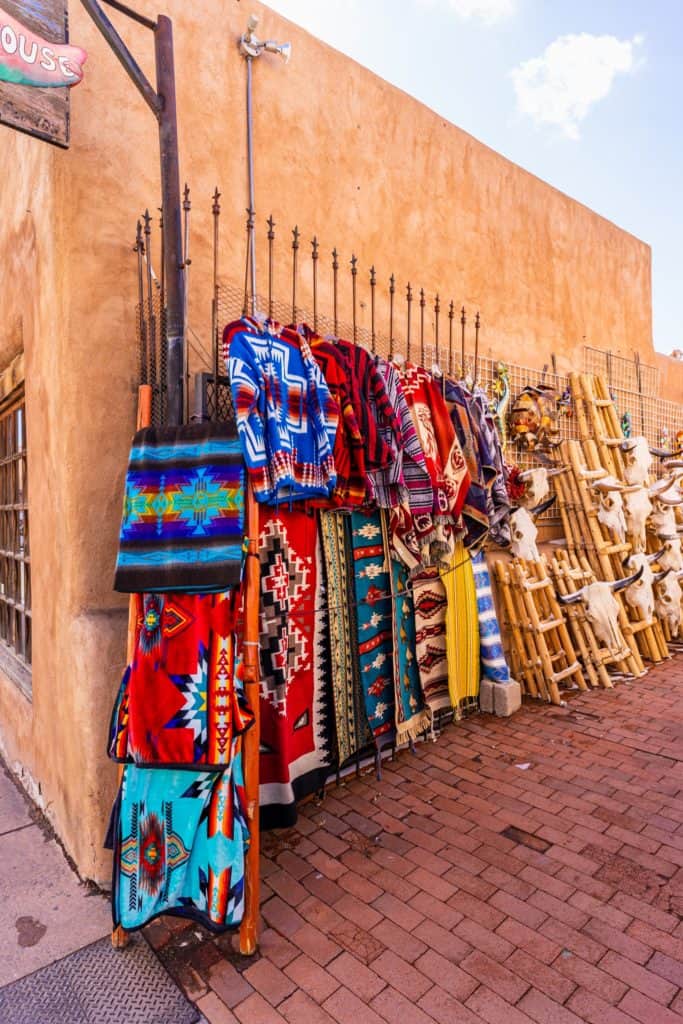 See Traditional Puebloan Housing
Make the most of your time in Santa Fe and stop at the Bandelier National Monument on your way to Jemez Hot Springs. These are the largest cliff dwellings in North America, and you can climb up the ladders in order to see inside. The amazing thing about mountain views is their duality; the often sun-kissed view on one side and the snow-capped mountains on the other.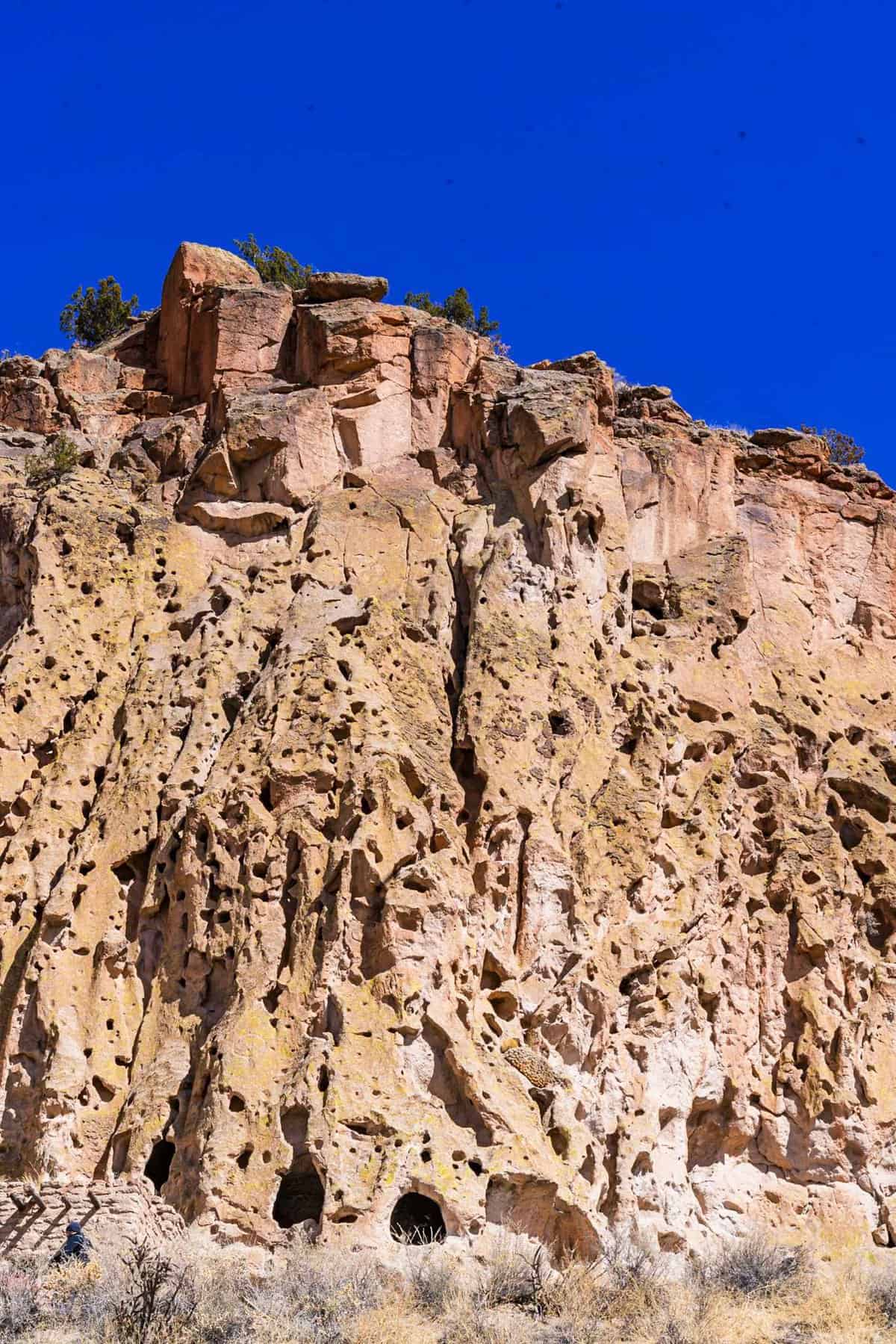 Soak in a Natural Hot Spring
One beautiful thing about Santa Fe is that there are so many great opportunities to relax in warm and healing waters. Whether you're looking to relax in luxury at one of the resorts like Ojo Santa Fe or Ten Thousand Waves or you're up for a hike to a place like San Antonio Hot Springs, there's something for everyone. Read about all the different hot spring options in and around Santa Fe you can visit.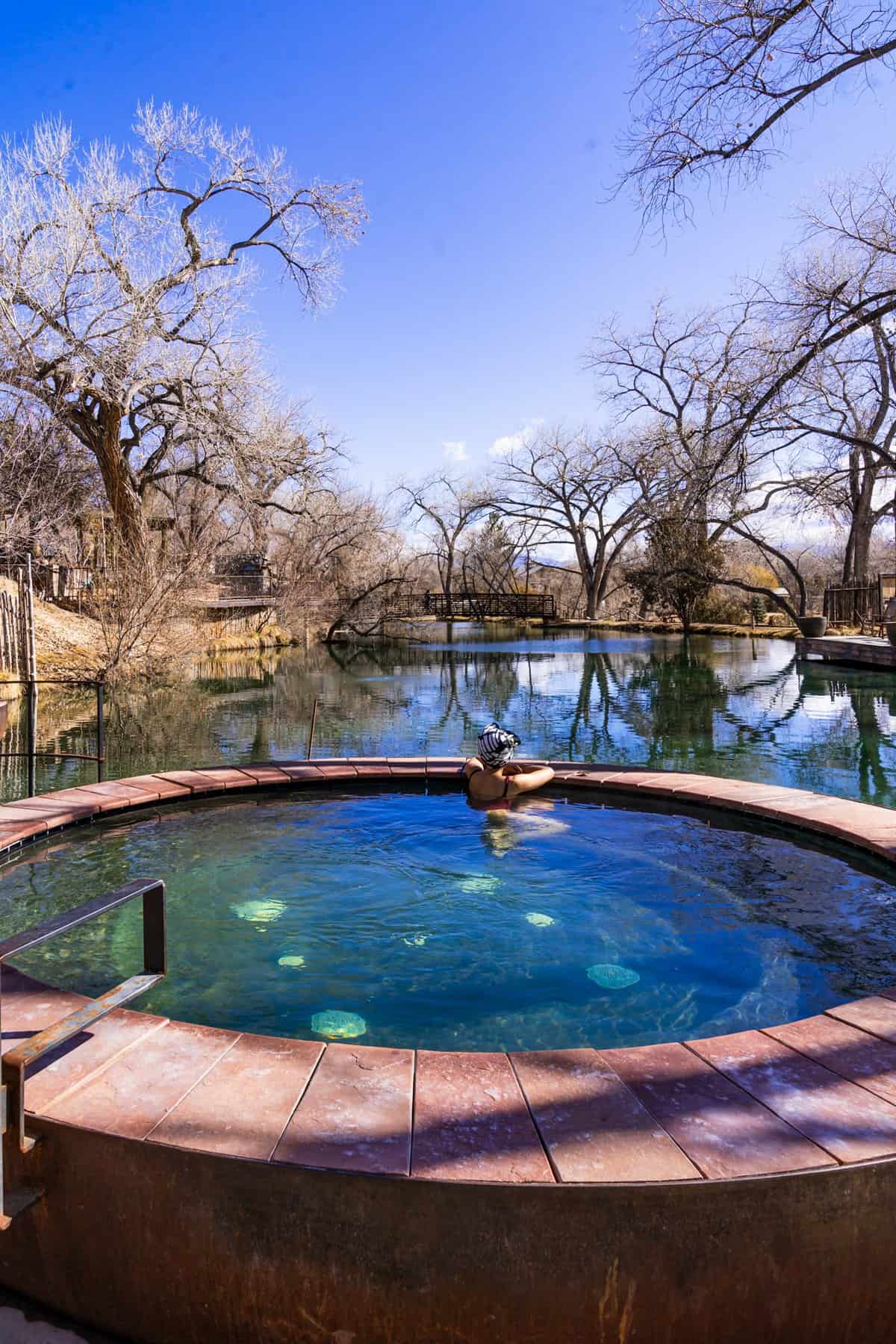 Experience an Adobe Arts District
Canyon Road is another cozier arts district in Santa Fe with small and low adobe buildings on either side of a narrow road. These home-y buildings have a large array of art, from fine art to international art. Hecho En Mano showcases Oaxacan and New Mexican artists while Cielo Handcrafted is a vibrant shop with New Mexican and Peruvian artists.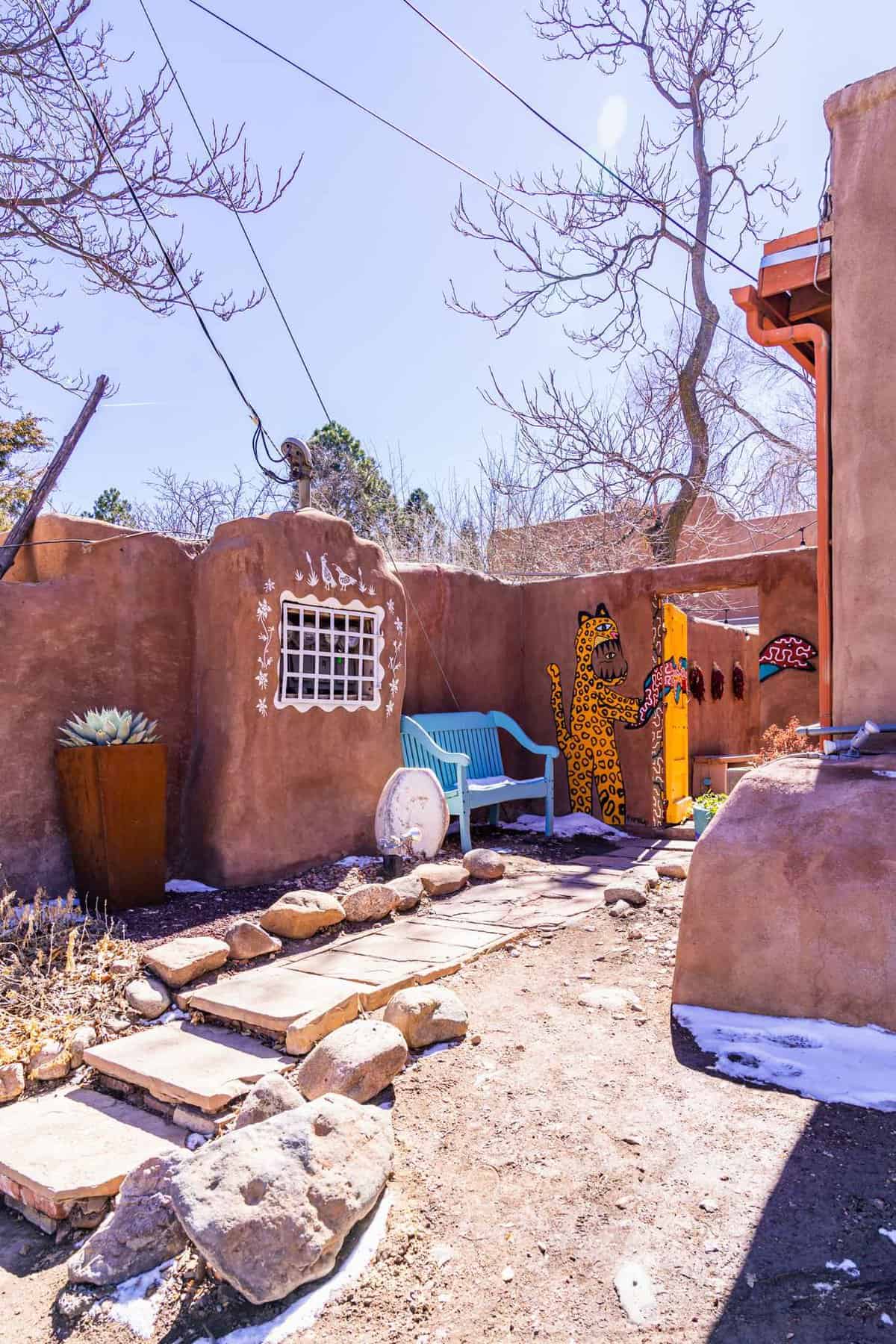 Pamper Yourself at a Hotel
Hotel Santa Fe and Spa is the only Native American-owned hotel in Santa Fe with majority Picuris Pueblo ownership. Here you'll find Native American art, handmade furniture, and different references to the Native culture. You might see a cultural performance, listen to a talk, or you can shop for hand-crafted items. You can even opt for a dinner in a traditional teepee. Plus, you have the convenience of complimentary parking and a free shuttle service, which is convenient since parking in the plaza and other tourist destinations can be difficult. Read our review of the Hotel Santa Fe here.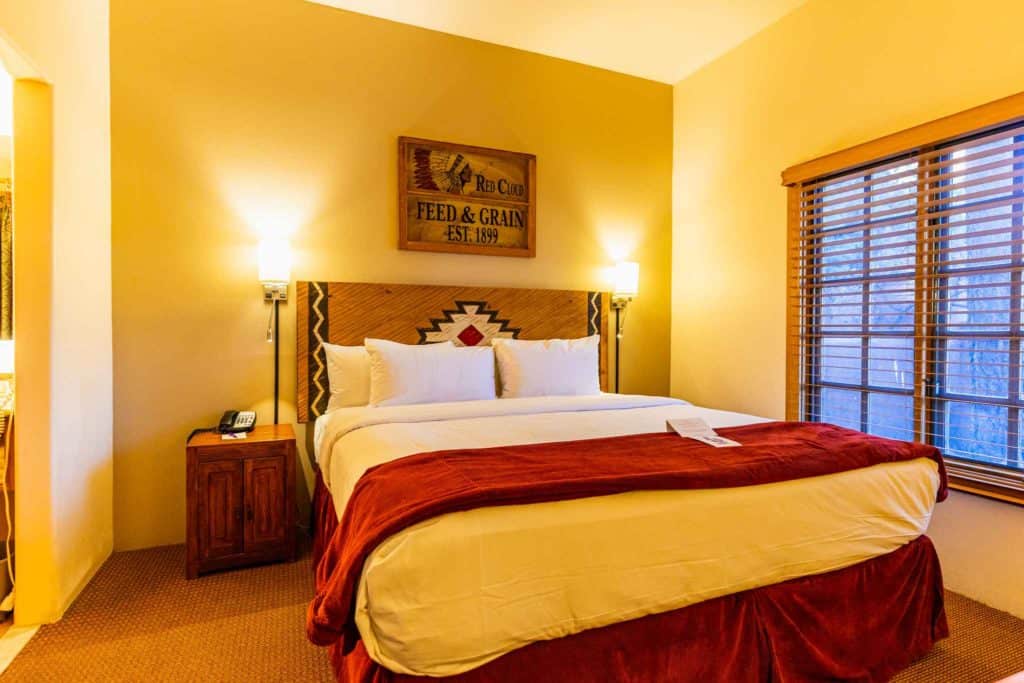 After all the exploring there is to be done in Santa Fe, it's important to take plenty of breaks and soak it all in! Visit the spa at the Inn & Spa at Loretto for some relaxation. The beautiful adobe interior is inviting, and they have spa treatments that capture the essence of New Mexico, with options like their 4 Elements Ritual which starts with a Native American smudge blessing, continues with a spa bath infused with local Santa Fe lemongrass-white sage soaking salts, and a massage. It then ends with a Taos sage bundle and Native smudging prayer.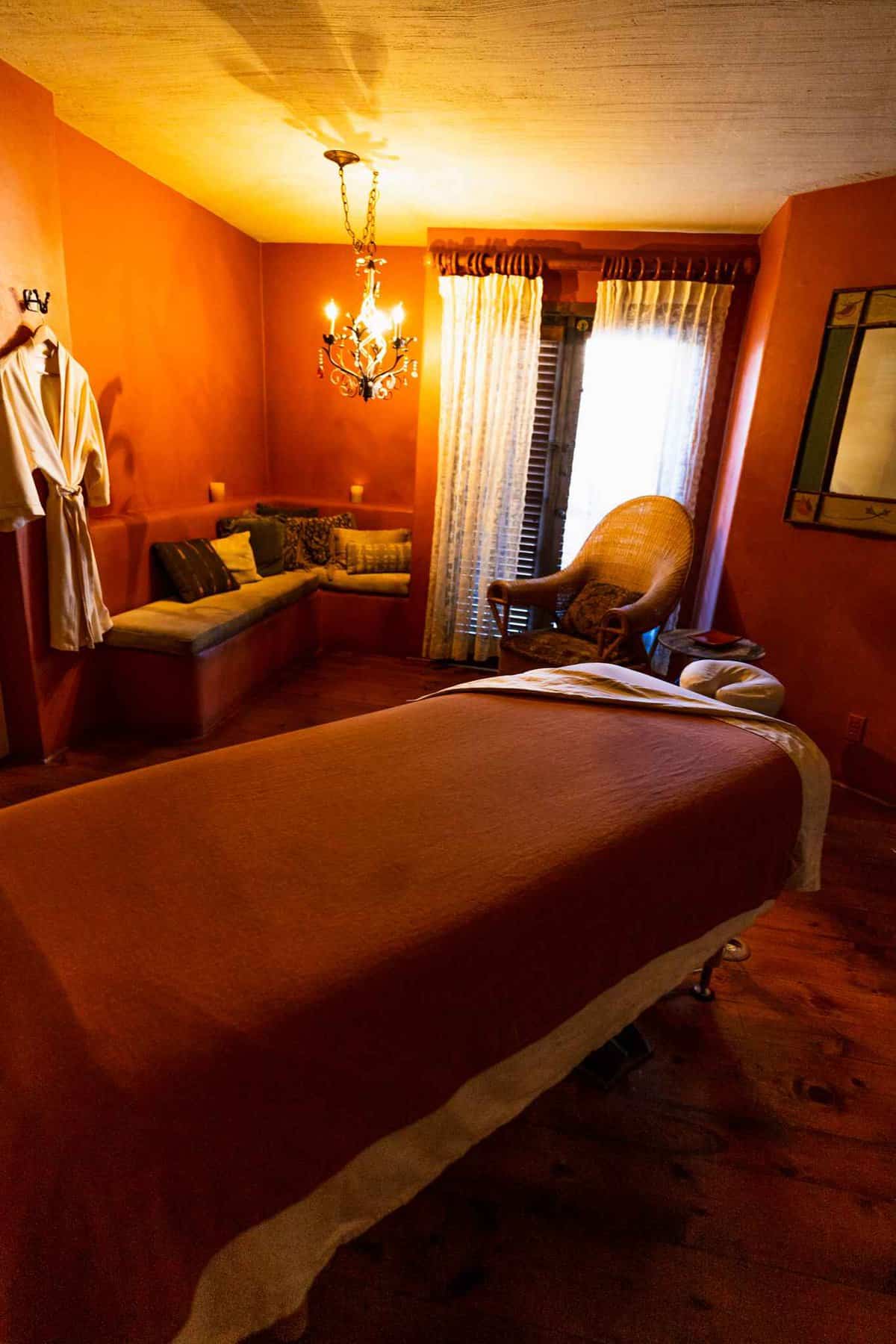 La Posada de Santa Fe offers an outdoor pool, a poolside bar, three on-site restaurants, a spa, and warmly decorated lodging options for you to choose from. It's also in close proximity to attractions like Santa Fe Plaza and Canyon Road! Click here to read more about La Posada de Santa Fe.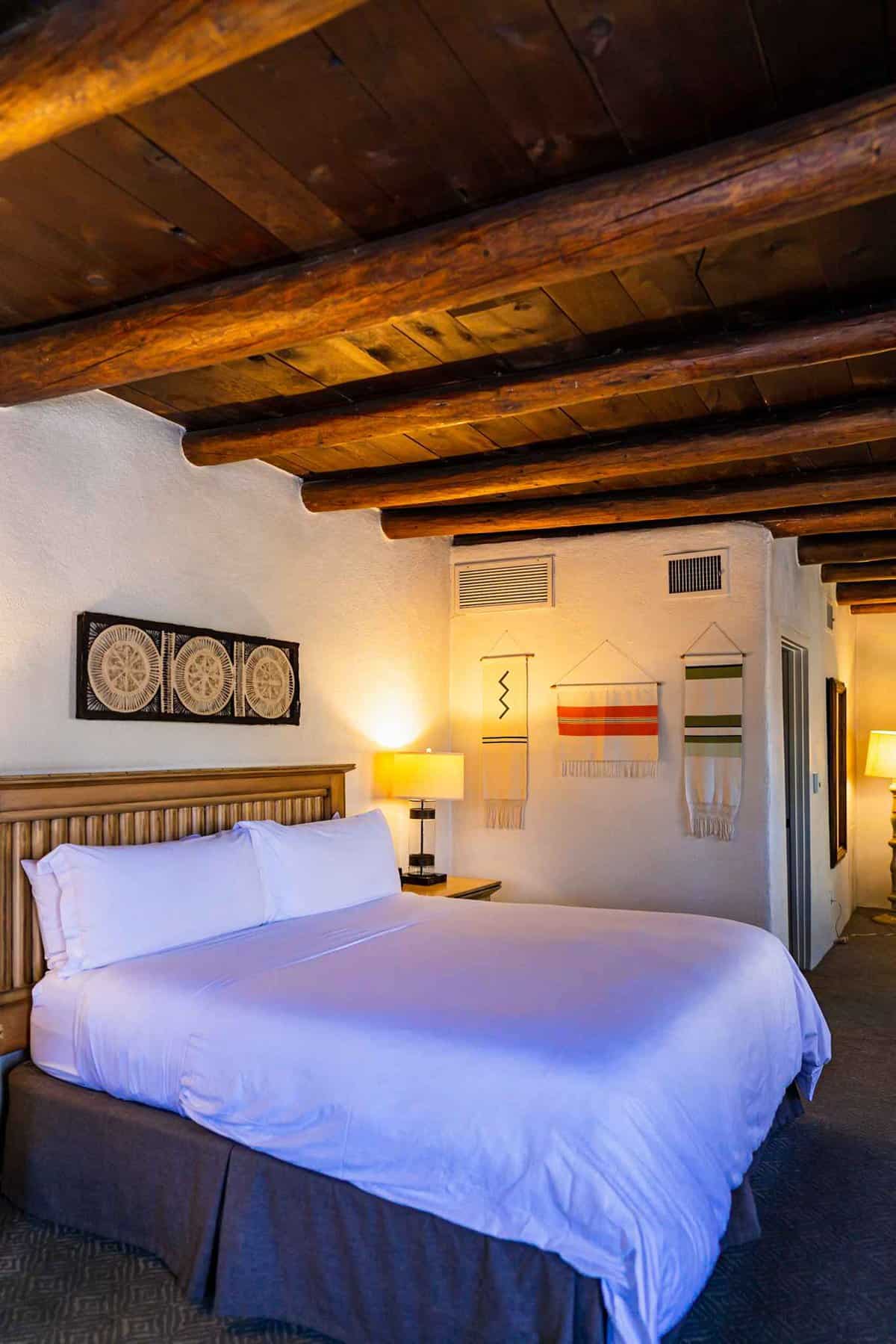 Wander the Railyard District & Park
If you happen to be in Santa Fe on a weekend, visit the Railyard District & Park where they have both an artisan's market and farmer's market. It's one of the best opportunities to find fun chile-infused sweets and baked goods. El Museo Cultural de Santa Fe Mercado is another market where you can find vendors selling art, antiques, clothing, jewelry, and more.
For a free art experience while you're roaming the Railyard District & Park, Visit SITE Santa Fe, which shares innovative art, new developments in the art field, and both permanent and rotating exhibits.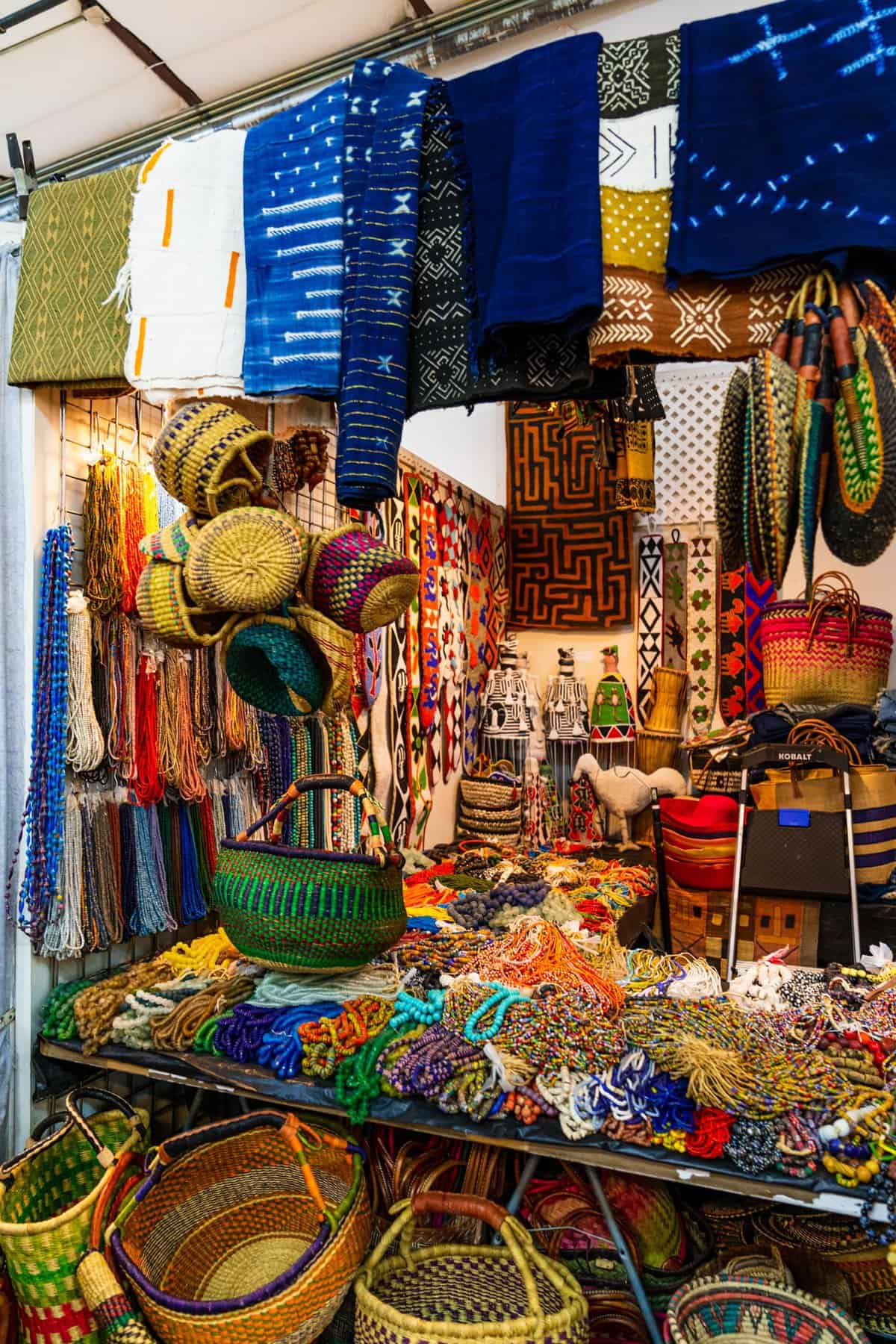 Explore All of New Mexico Through Taste
For a great way to learn about the history of Santa Fe through food, Food Tours New Mexico offers great insight and local expert guidance on a walking food tour of Santa Fe. Learn about the history of chiles, the difference between red and green, how the word enchilada came to be, and more. Not only that, but you'll learn about different historic sites, the oldest church in the United States, and the legend of the Loretto staircase that'll give you a good overview with some in-depth knowledge of the places you're visiting.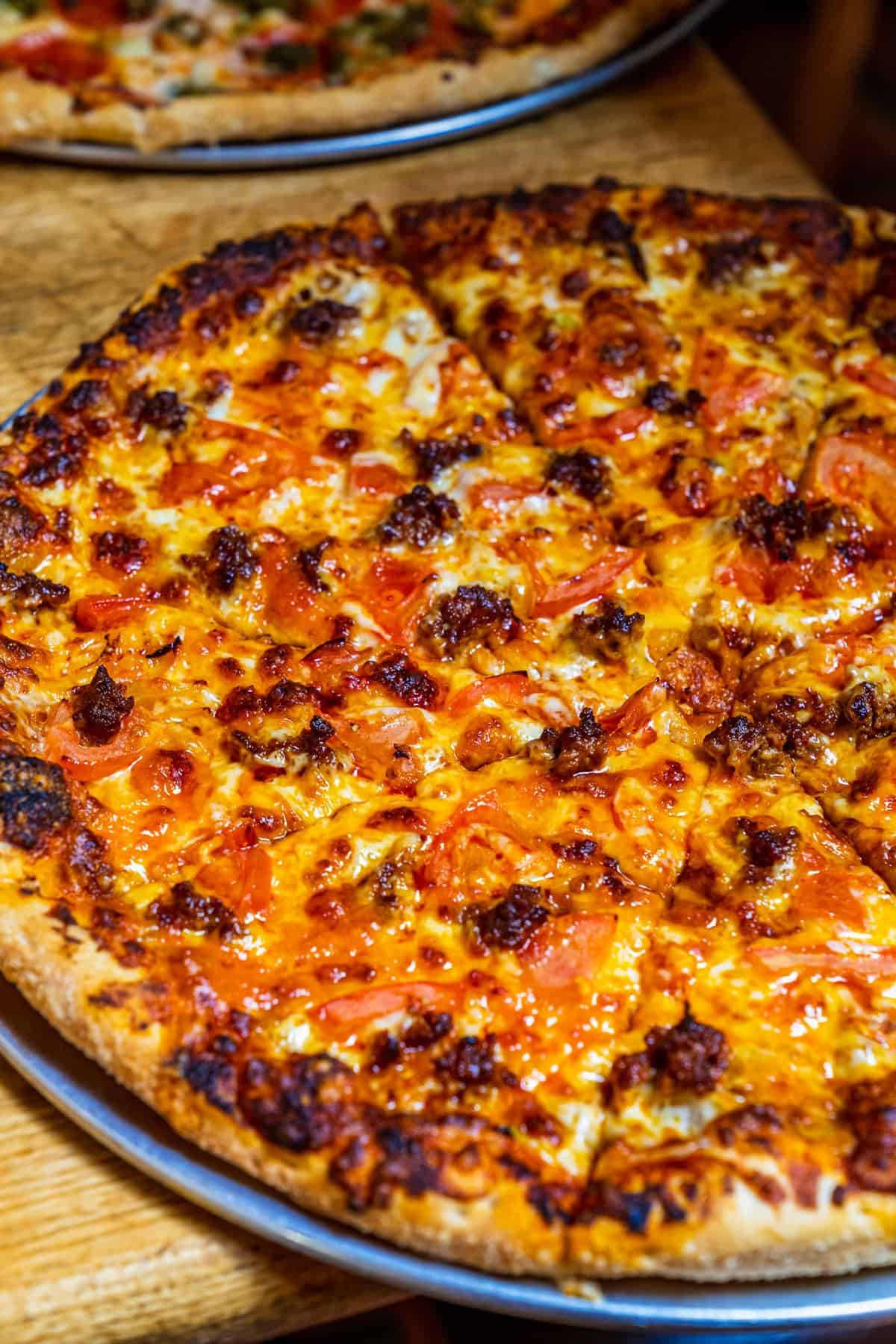 Of course, you'll also try different foods along the way! With so many restaurants to try in Santa Fe and not enough time, the food tour is a great option for trying specialty dishes and drinks at multiple eateries without having to order full plates or spend a lot of time waiting for each dish! Plus, at the end, you'll receive recommendations from an expert guide of all the best hidden spots.
Sip on Chocolate Elixirs
You can sample Mesoamerican, Mayan and Aztec drinking chocolate elixirs with rich dark flavors at Kakawa Chocolate House. Even as a person who doesn't typically enjoy whipped cream, their homemade whip was good enough to eat on its own and was the perfect balance to the richness of the elixirs. Their homemade truffles including their mezcal truffle, green chili margarita truffle, prickly pear truffle and chocolate covered chiles are just as divine. They even make their own homemade ice creams!
Travel Through an Artsy Universe
Meow Wolf is an immersive art experience created by over 200 artists with over 70 rooms! Visitors enter the multiverse and can either rifle through diaries in little crevices to solve the mystery or simply wander through a land of enchantment taking in all of the different exhibits and dimensions! It's hard to fully understand Meow Wolf without seeing it for yourself, but make sure to book tickets ahead of time, as they could sell out.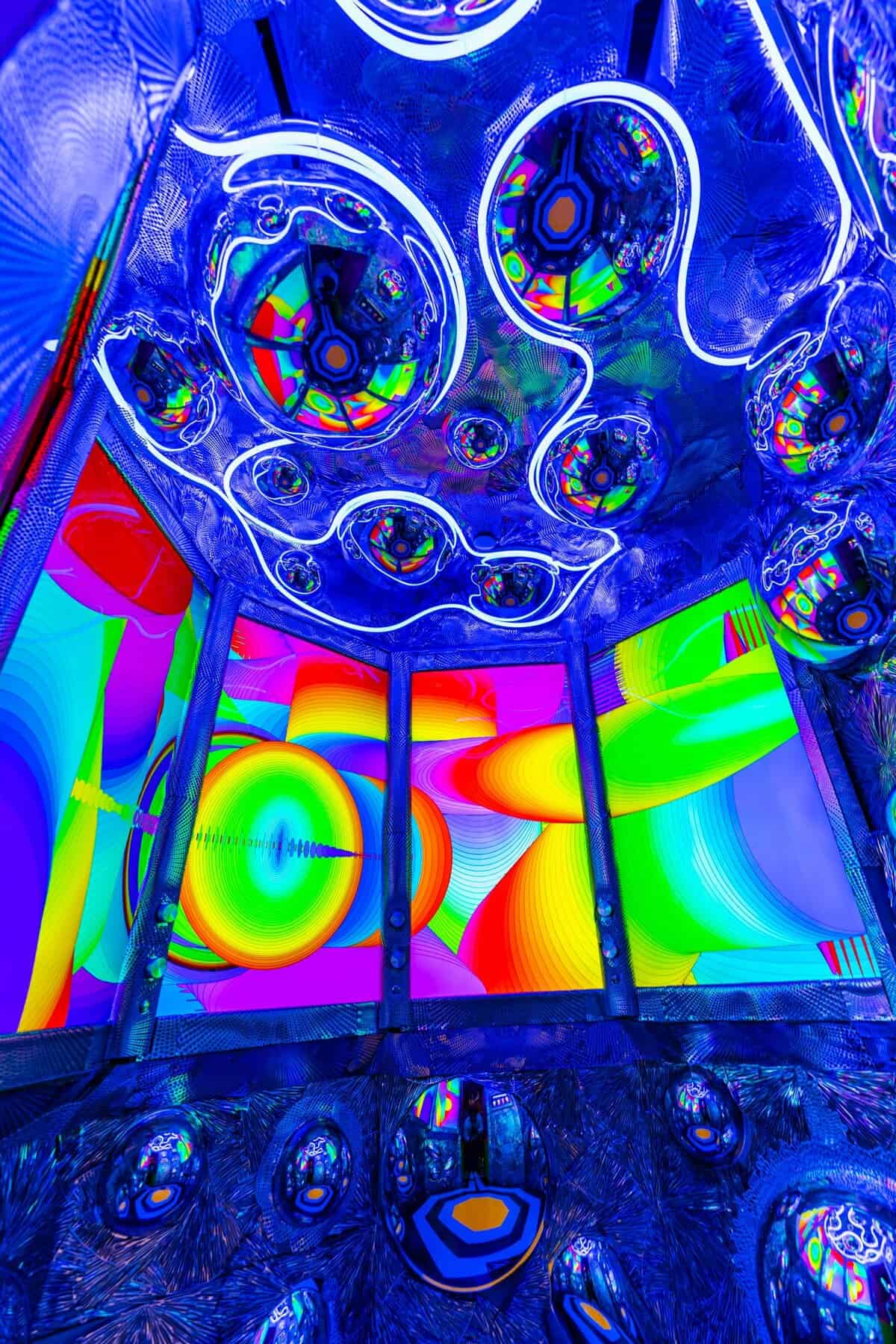 Hike to All Heights
Dale Ball Trails is a network of trails in the foothills of the Sangre de Cristo Mountains where you can take as long or as short of a hike as you'd like. There are options to hike several peaks, including Picacho Peak, which is a steap hike, but it's worth it for all the gorgeous views.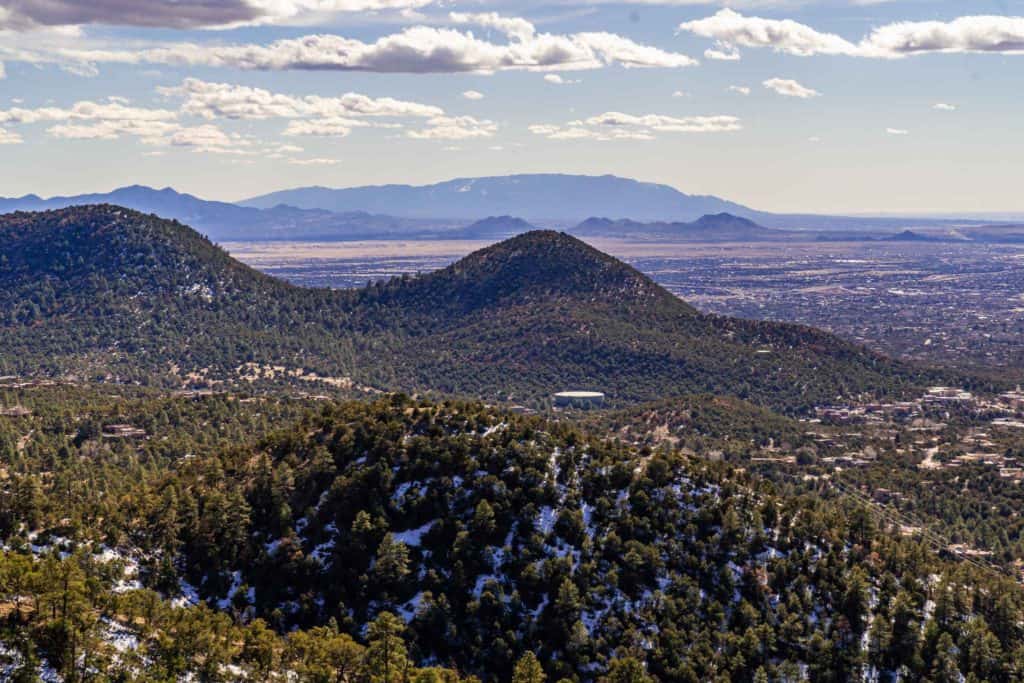 Trek the Santa Fe Margarita Trail
What's more fitting for the celebratory mood you feel while you're on vacation than a margarita? Santa Fe is home to the Margarita Trail. Make a stop at Sazón for their custom margaritas, like the Flor del Desierto, a vibrant pink margarita featuring Exotico Blanco Tequila; the Inn & Spa at Loretto's Luminaria Restaurant for their Strawberry-Jalapeño Margarita, and Tomasita's Restaurant where you can order a frozen margarita made with tequila comprised of 100% agave.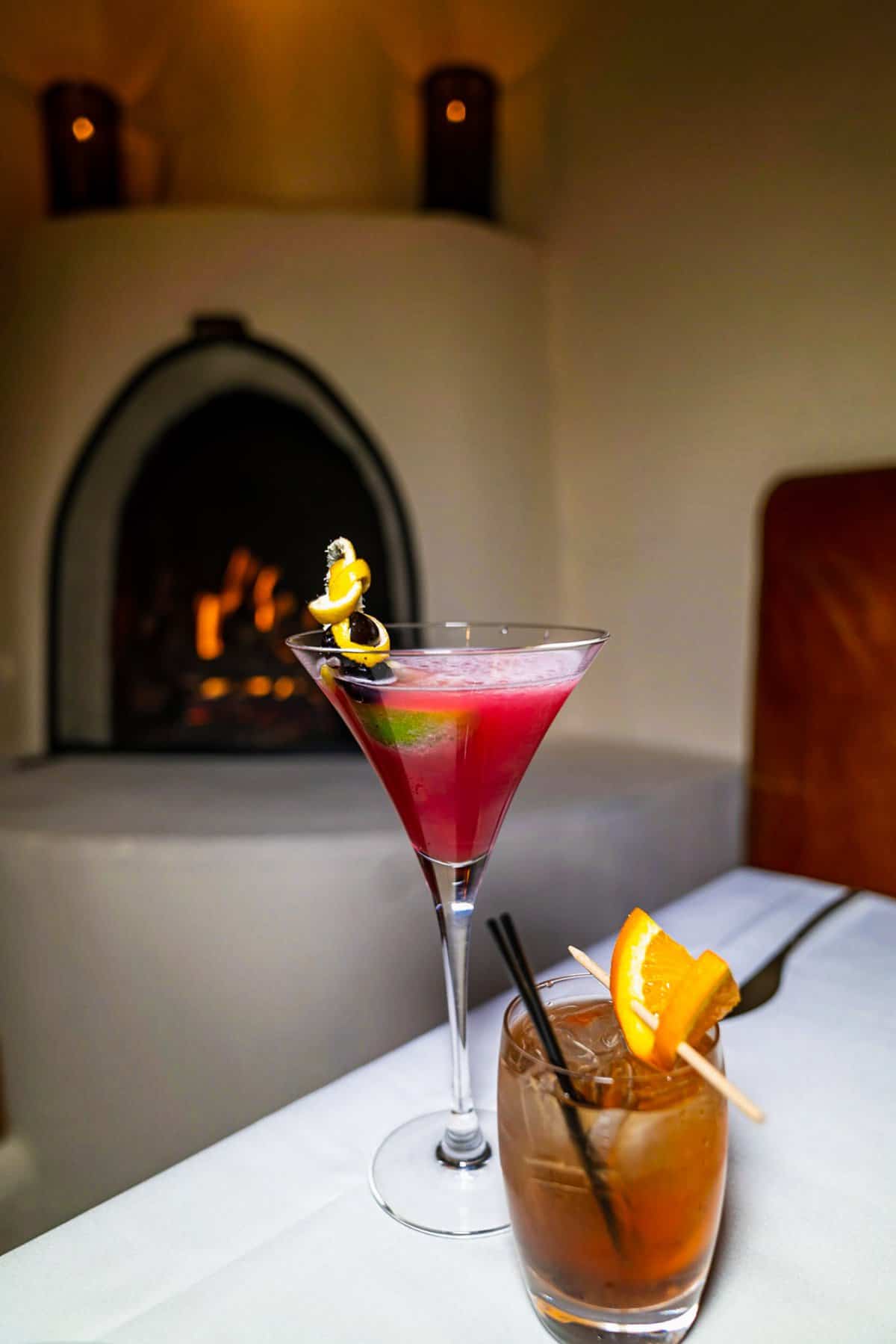 Things To Do in Santa Fe: Final Thoughts
No matter what things to do in Santa Fe you put on your calendar, no matter what time of year, anything you choose will highlight the natural wonders, the history, the beautiful culture of Native Americans, the evolving flavors, and the melting pot that was created by the Santa Fe Railroad. Whether you want to do some shopping, pamper yourself at a spa, venture through the mountains, visit museums, or experience New Mexican cuisine, you'll leave with a new appreciation for the city of Santa Fe.