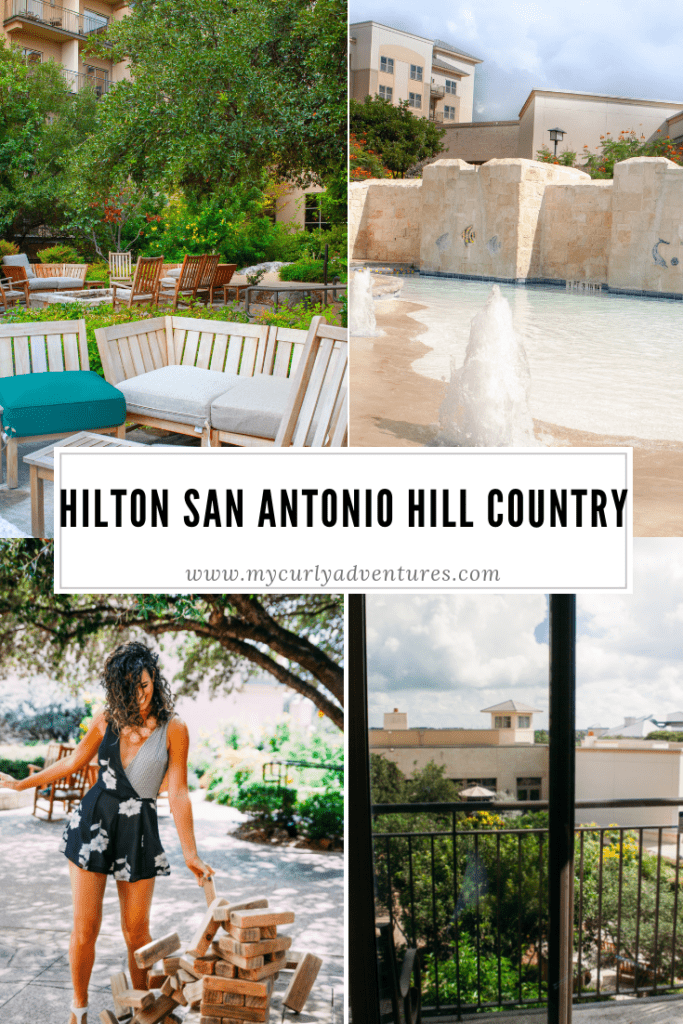 San Antonio is one of those cities that I continually come back to because of all there is to do! Last time I was in San Antonio, I came to explore the downtown area and take in a lot of fun activities. For this trip, I wanted to relax and have a simple itinerary. My husband and I decided to escape to the hill country and chose to stay at the Hilton San Antonio Hill Country. Staying here ended up being the ultimate refresher we needed to reset for the week ahead. Below is my Hilton San Antonio Hill Country review.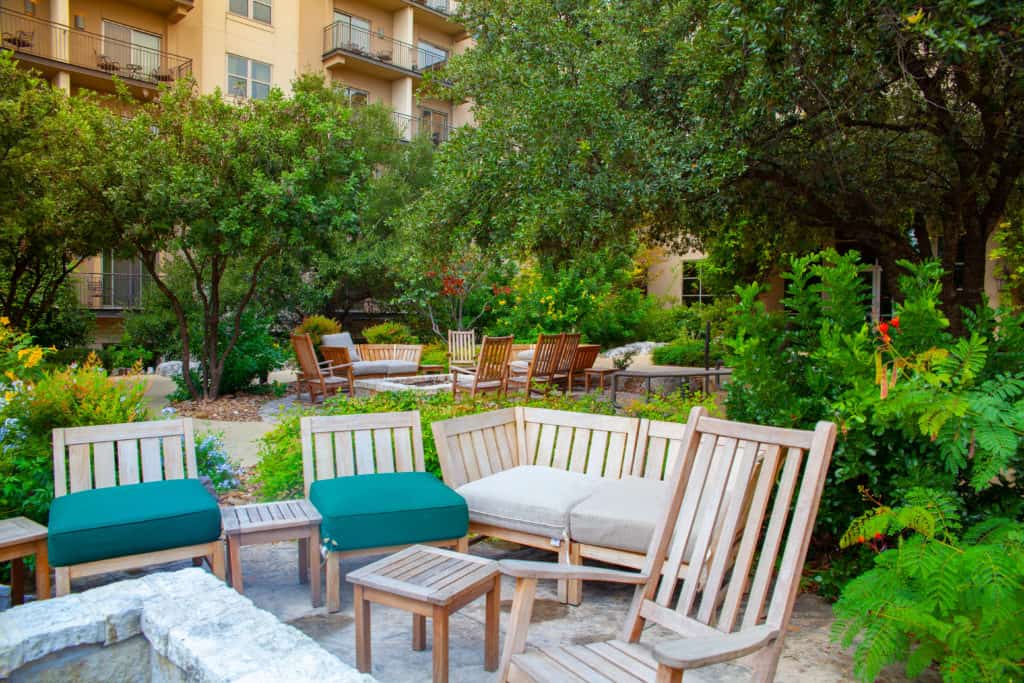 One of the things that immediately caught my attention, and was the highlight of our stay, was the lush courtyard. The Hilton was covered in vibrant flowers and greenery despite the Fall weather and was the oasis we needed to relax (plus wait until you see our view from our room!) The Hilton really put a lot of time into curating a beautiful outdoor space which is great for creating memories. We enjoyed playing giant lawn games such as Jenga, Chess, Connect Four, and Corn Hole as well as simply strolling through the gardens.
I ordered this designer romper from Rent the Runway for our vacation. You can click to get your own.
Enjoying a bottle of Adorada wine and this stunning Rent the Runway Dress!
When it got darker, we grabbed a bottle of Adorada wine and sipped rose by the fireside. They also have s'mores packs for marshmallow roasting!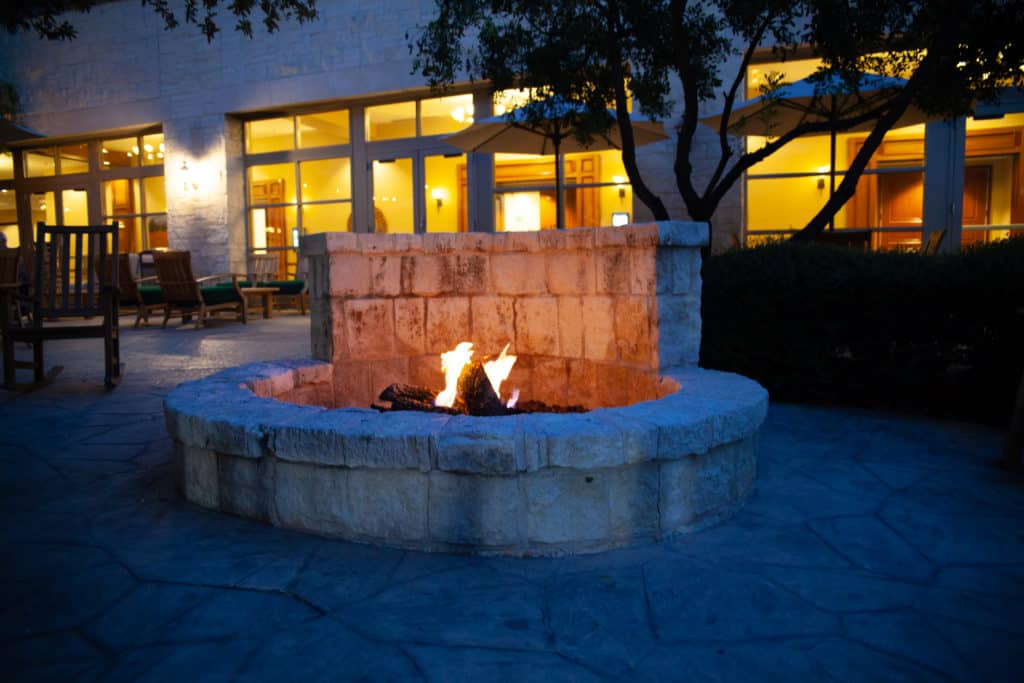 Hilton San Antonio Hill Country Review – The Rooms
That view! We enjoyed restful nights in the bed, and might have slept in a lot, but the best part for me was sitting out on the patio overlooking the courtyard. My husband and I spent hours staring at the view and talking about everything.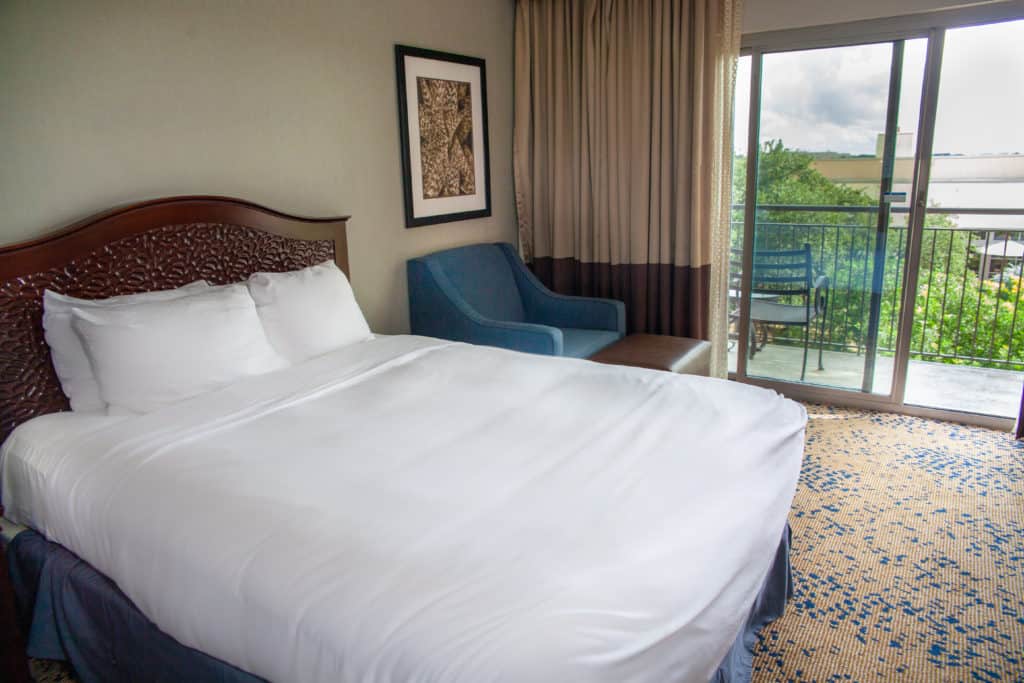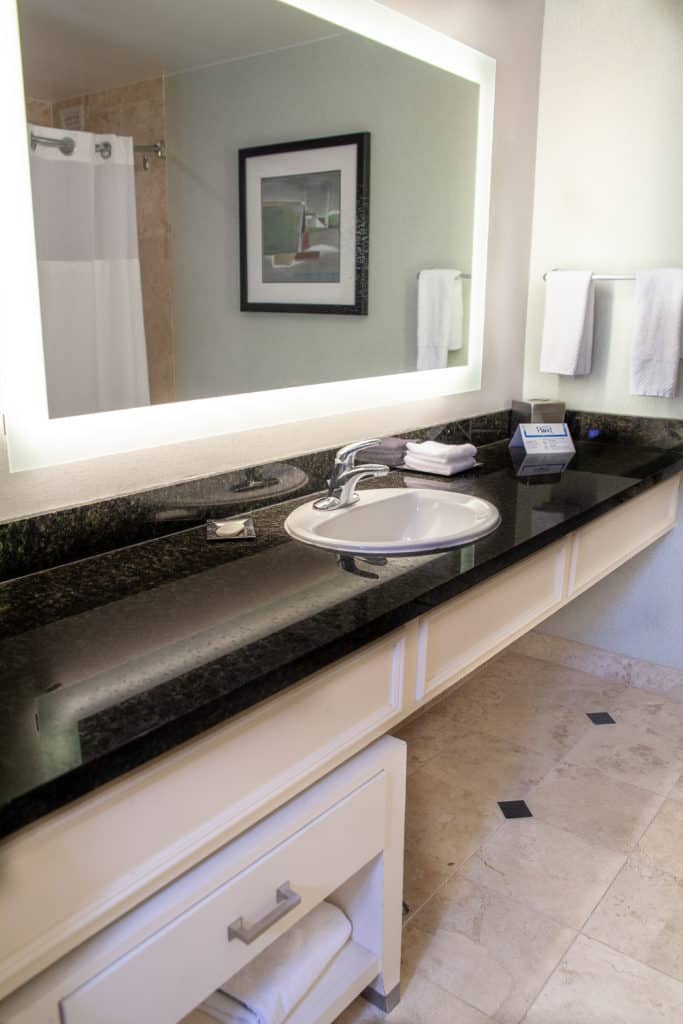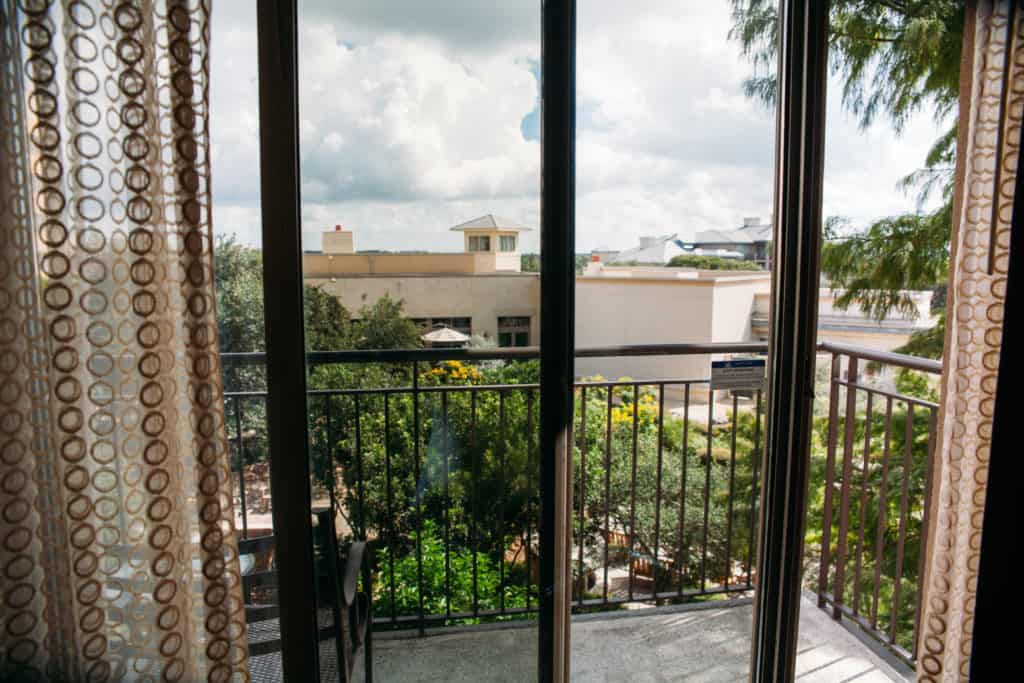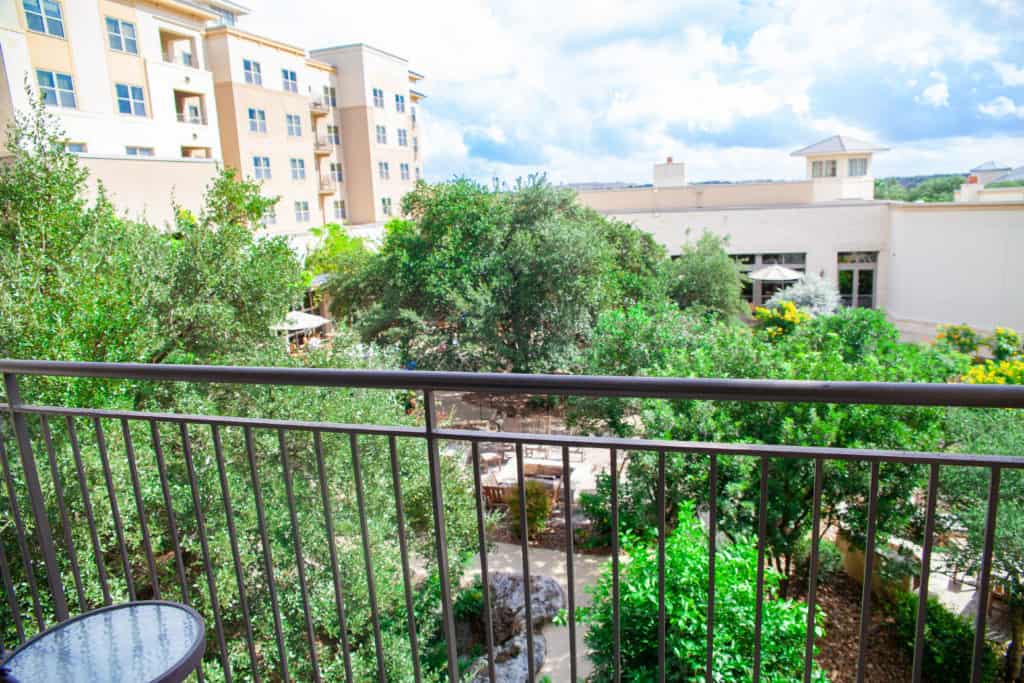 Hilton San Antonio Hill Country Review – Breakfast
The Hilton San Antonio Hill Country has an included breakfast option and it is highly worth it! I always like having the convenience of breakfasts at hotels, but am often underwhelmed by the basic options. However, I found myself looking forward to breakfast at the Hilton. Breakfast is served buffet style, but they also have people around to make sure you have your coffee constantly filled and to see if you need anything.
In true Texan style, they offered a taco bar with multiple salsas and toppings! Additionally, they had a fantastic parfait and oatmeal bar (we used some of the toppings for our waffles), a good selection of fresh fruits, fresh pastries, and Fredericksburg Farms Jams (you've gotta try the jalapeno peach one) on thick slabs of bread. They also have rotating items, and I'm still dreaming about their strawberry white chocolate french toast (not pictured).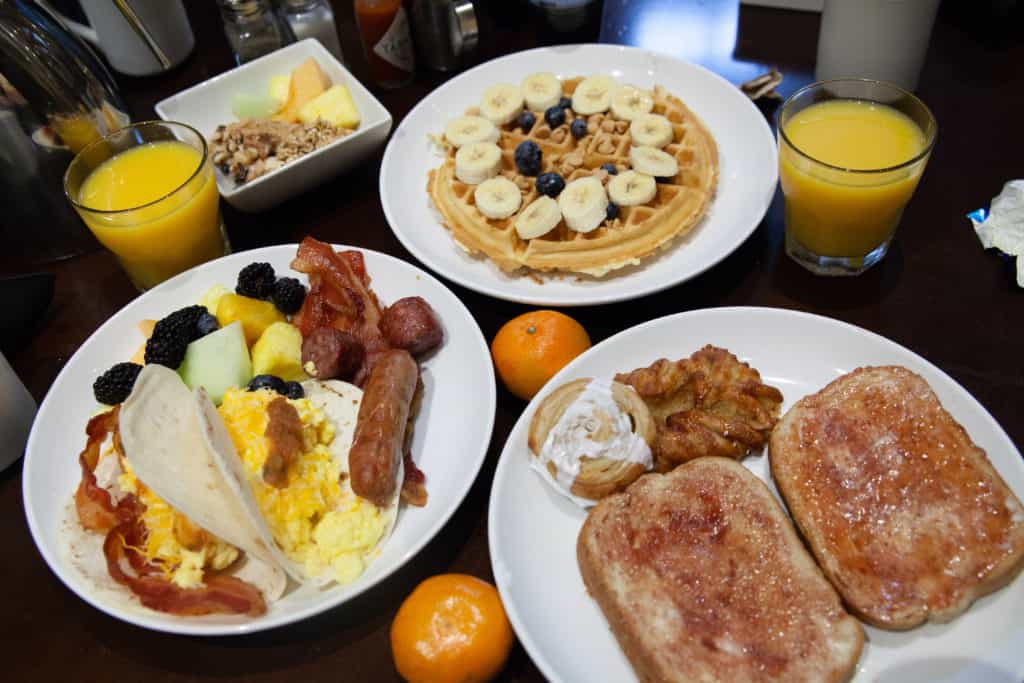 Hilton San Antonio Hill Country Review – The Pools
Yep that's multiple pools! The Hilton has multiple pools for swimming, doing laps, playing water basketball, and lounging. With so many options, there was always a pool that was empty. Luckily the weather was still warm enough to go swimming. However, even for cooler weather, they have heated pools and a hot tub!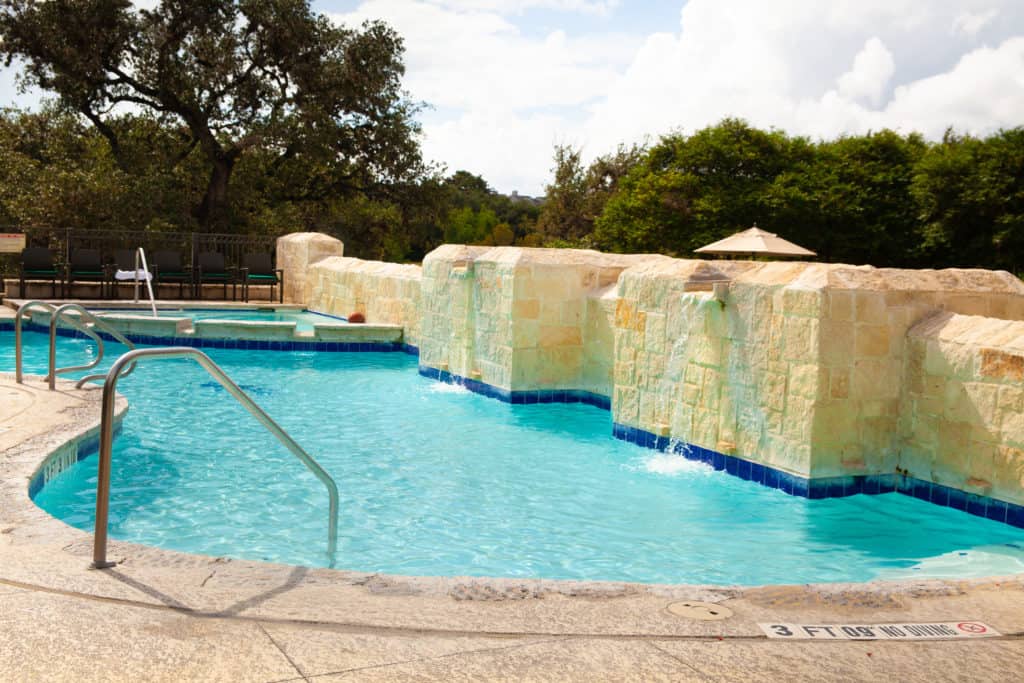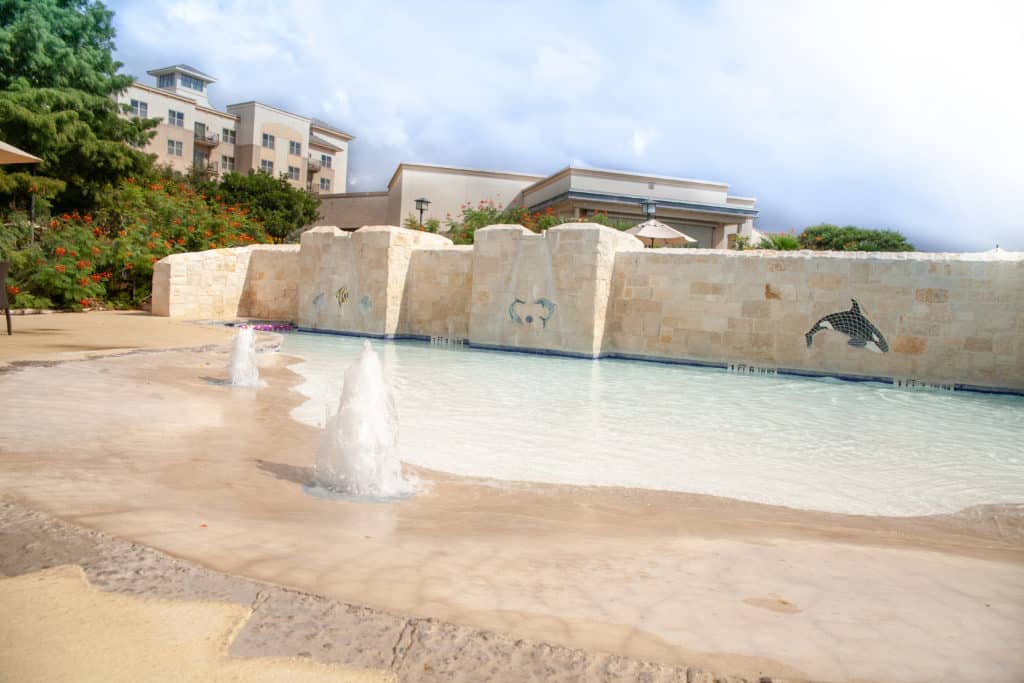 Halloween Fun
One thing I loved about staying at the Hilton San Antonio Hill Country is that once we arrived, we never had to get back in the car until we left! The Hilton offered a trolley to SeaWorld where we got to enjoy their Howl-O-Scream fun! You can book your stay at the hotel here.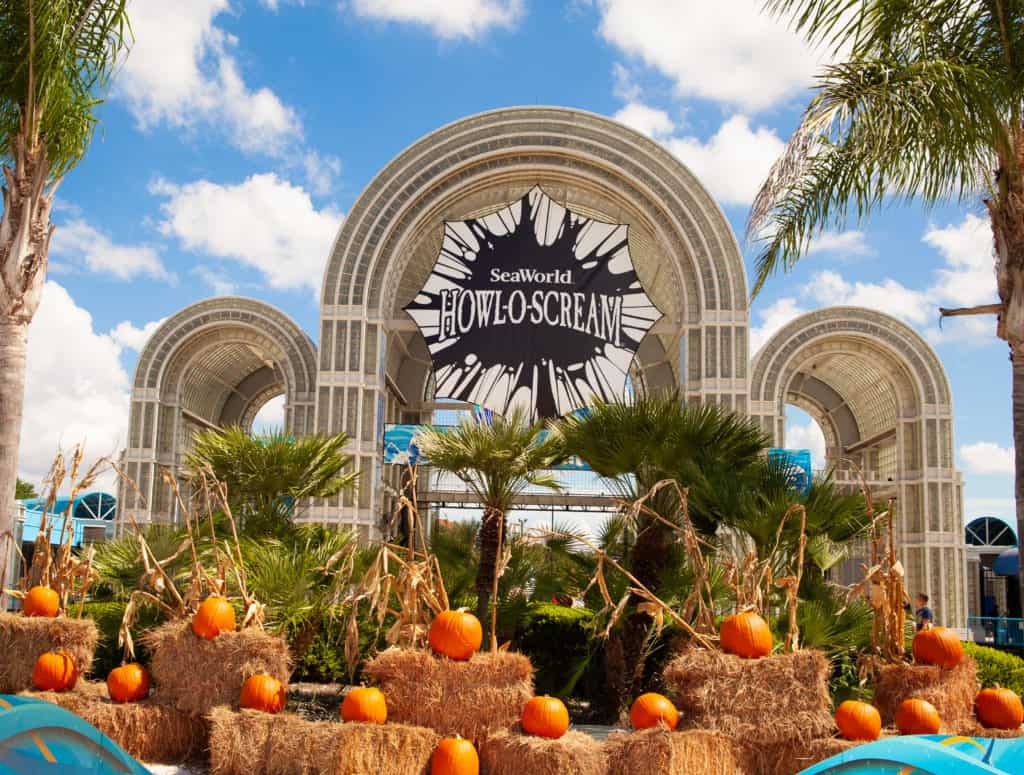 During the Fall, they have cute beer gardens throughout the park and fun/creepy decorations around. We attended the Fright Feast, which was a German style buffet and included cheese and crackers, German potatoes, grilled chicken, some savory mac and cheese, and plenty of delicious sweets.
While eating, they have different goblins that come out and perform a small show. You might even get pulled on stage for their funky costume contest and fight to the death! The Fright Feast is perfect for kids, and us adults enjoyed it as well!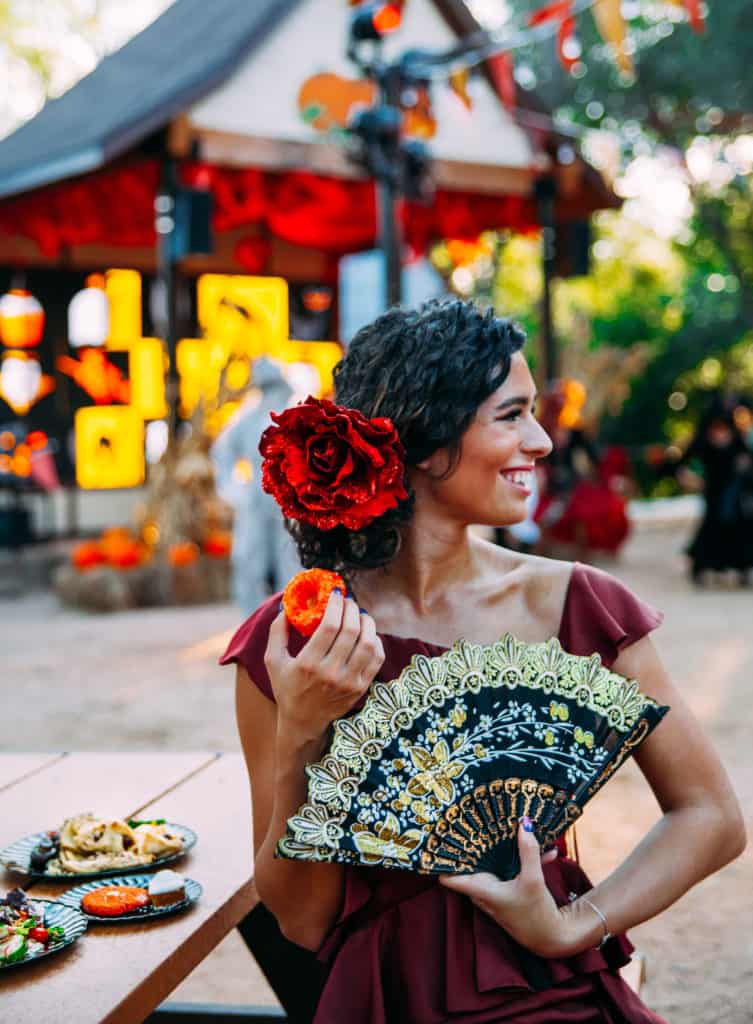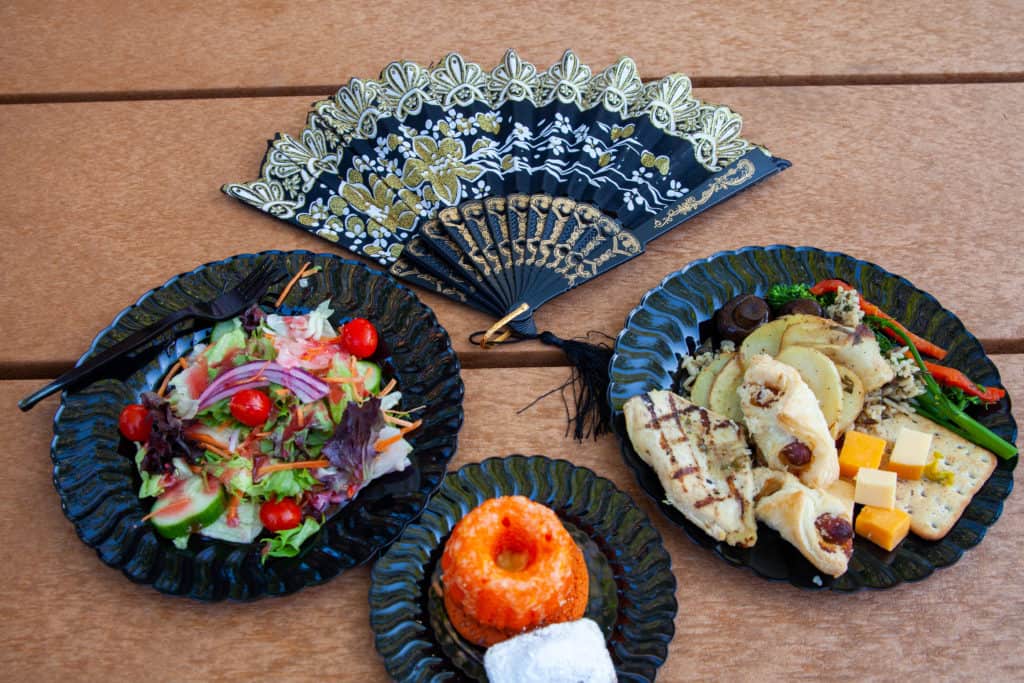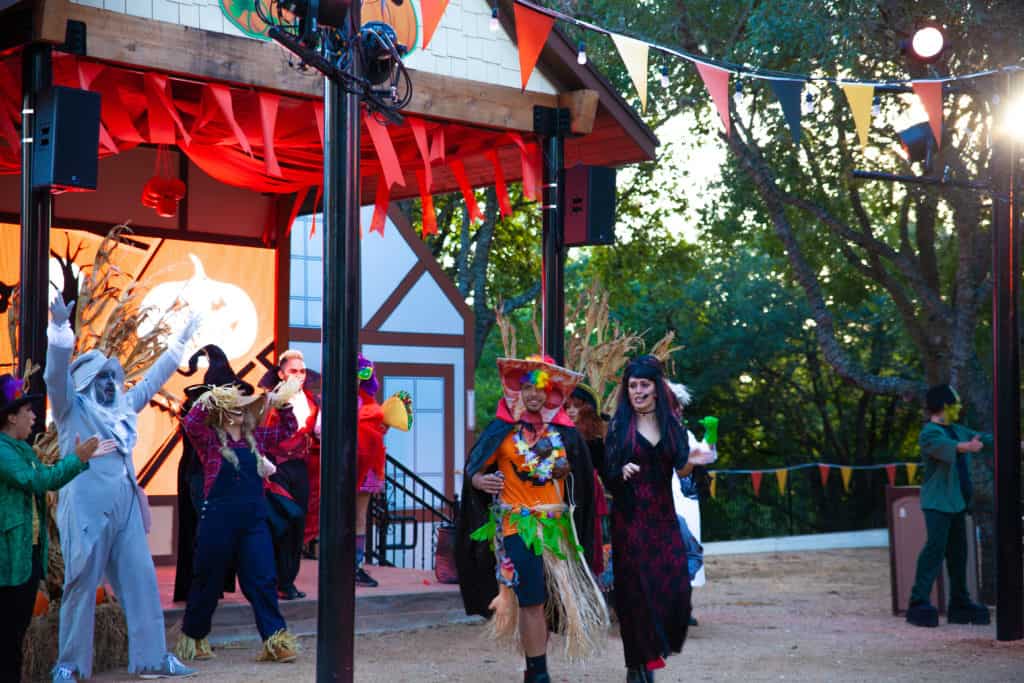 The best part is when the sun starts to go down and most of the park turns into a Halloween scare town. The least scary and probably coolest part is their Steampunk styled London full of a steam punk bar, London news stand, and dressed up characters. Funny enough, I kind of blended in with my Flamenco dress!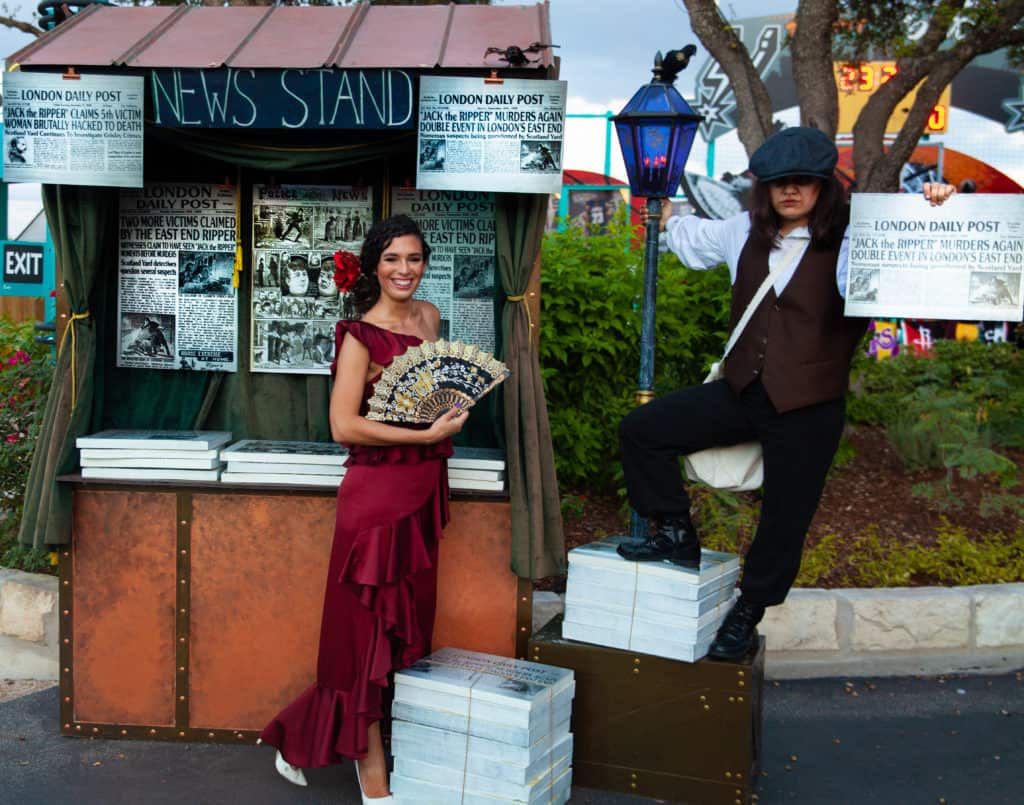 I wish I could have gotten more pictures, but it soon got dark! It's so much fun to walk around and see all of the different creatures. I used to work here (in the Halloween section!) and it's crazy to see how much things have changed! They have werewolves, people who creep up on you without you noticing, a giant snake you can carry, vampires, and plenty more scary creatures which all vary from creepy to absolutely terrifying. There are also more haunted houses including a creepy doll house and a zombie section. If you're not for scares, they also have some pretty phenomenal dance shows.