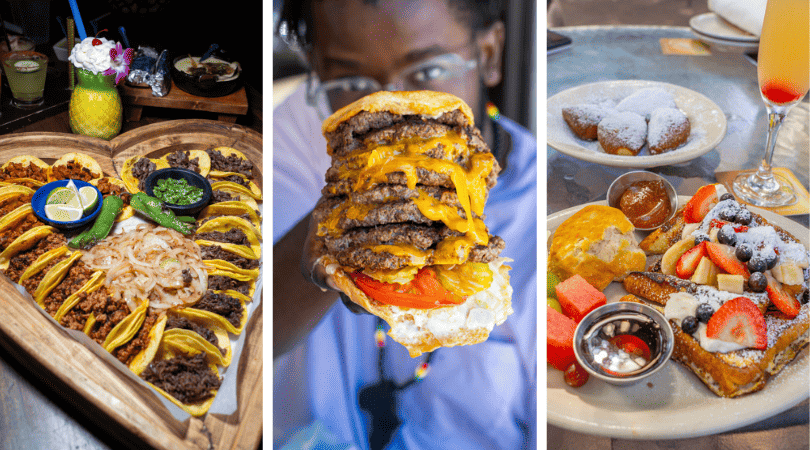 This charming city is not only known for its picturesque landscapes and vibrant culture but also for its great food. From authentic Tex-Mex flavors and sizzling barbecue to sweet treats, San Marcos has some of the best restaurants in Texas!
Join us as we embark on a journey to find the best places to eat in San Marcos! You're sure to stay fueled and hydrated as you explore San Marcos and all of its things to do, which you can read about here.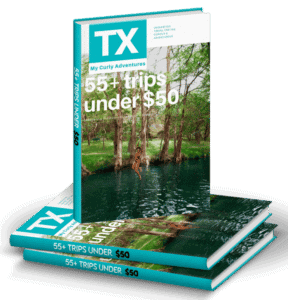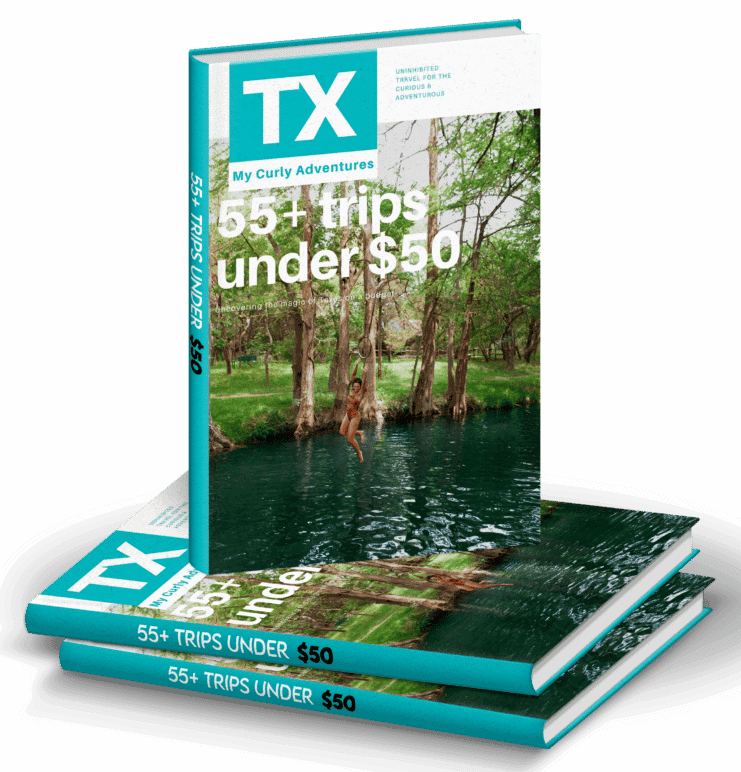 With our latest edition of our Texas Travel Guide, you can take an exciting vacation every weekend without breaking the bank and still have more to do! And in just one trip, the guide pays for itself! You'll be amazed at all the hidden gems, international influence, and wacky attractions you'll find all over Texas!
Not ready to purchase quite yet? We wanted to make this guide as accessible as possible, so we've shared our 1st edition of our guide, 50 Texas Trips Under $50. Click the button below to get yours for FREE!
Bars & Breweries in San Marcos
Roughhouse Brewing
When it comes to dining experiences in San Marcos, Roughhouse Brewing is a must-visit destination for food enthusiasts. Nestled in the heart of the city, this vibrant brewery and restaurant offers an inviting atmosphere and a delectable array of dishes. They have some of the best Tex-Mex snacks. With a variety of sandwiches, tacos, & BBQ (Th/F), Roughhouse Brewing has it all!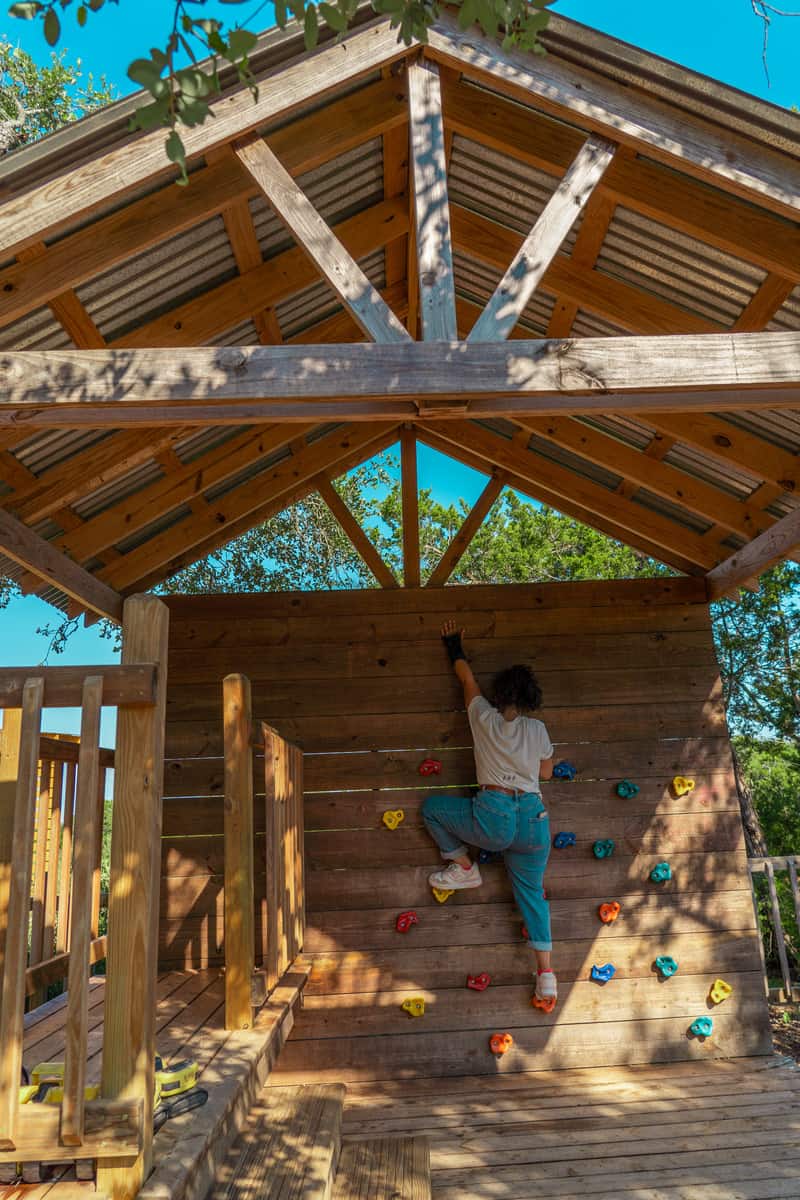 Of course, the highlight of the experience is their handcrafted beer selection. They even have their own beer that they brew in a cave! They also have a huge area for live music, a playground, and tons of picnic tables. Lastly, they are pet-friendly!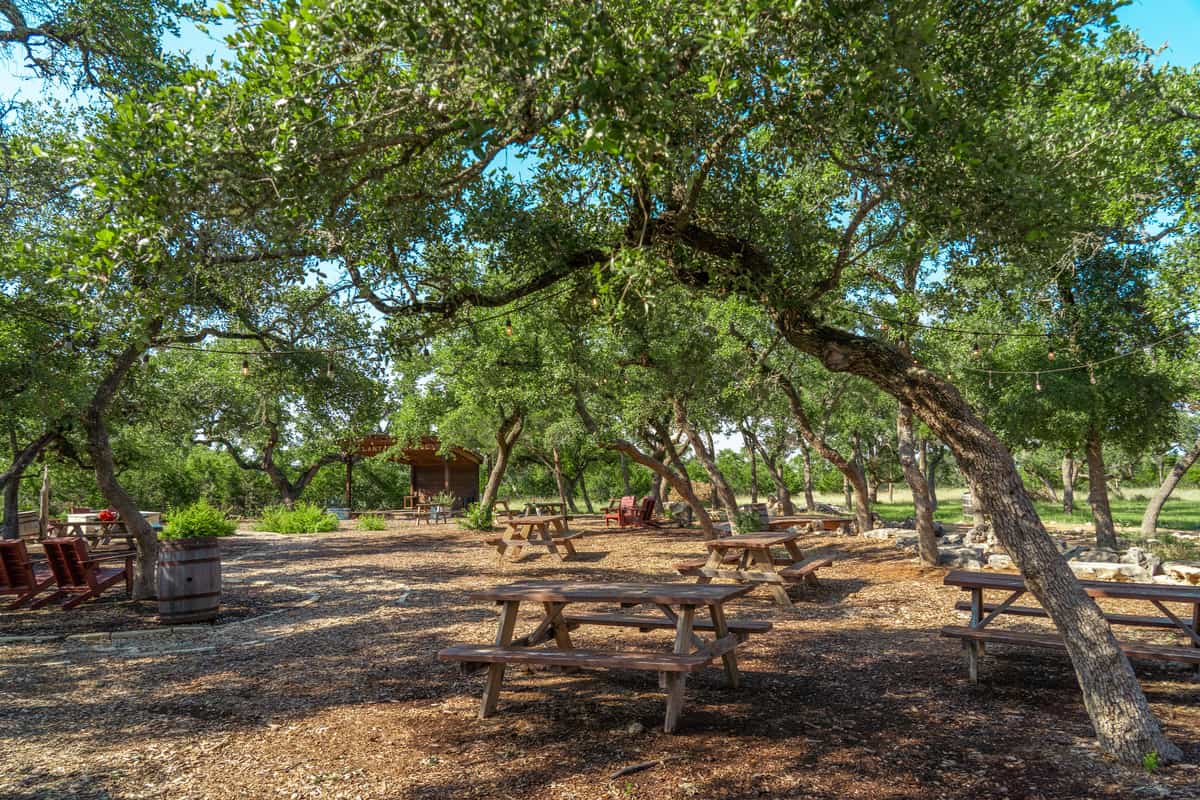 Red Bus Bar
As you enter the Red Bus Bar, you'll be immediately captivated by its quirky and vibrant décor, with red bus seats and eclectic artwork lining the walls. The bar itself is a focal point, boasting an impressive collection of craft beers, signature cocktails, and fine spirits.
The bartenders are skilled mixologists, ready to whip up your favorite drink or recommend something new to tickle your taste buds. Pop into Red Bus Bar if you're looking to relax, socialize, and enjoy your night out. In addition to its impressive drink offerings, the Red Bus Bar also hosts live music performances, trivia nights, and other exciting events throughout the week.
Zelicks Icehouse
Zelicks Icehouse is a local hotspot that combines laid-back vibes with a touch of quirkiness. Step inside, and you'll immediately notice their amusing and entertaining signs in the bathrooms, which will never fail to put a smile on your face.
But Zelicks is not just about the jokes; it's also known for its exciting monthly events from live music performances to trivia nights and themed parties.
As for the drinks, Zelicks offers an impressive selection of craft beers, creative cocktails, and refreshing beverages. And let's not forget about the food! Zelicks Icehouse boasts a mouthwatering menu, featuring delicious pub-style fare like the best burgers, crispy fries, and flavorful appetizers that pair perfectly with your drink of choice.
Ivar's River Bar
Nestled alongside the scenic San Marcos River, Ivar's River Pub is a true gem in downtown San Marcos. This inviting pub offers a relaxed and laid-back atmosphere, where locals and visitors can unwind and soak in the picturesque views of the river.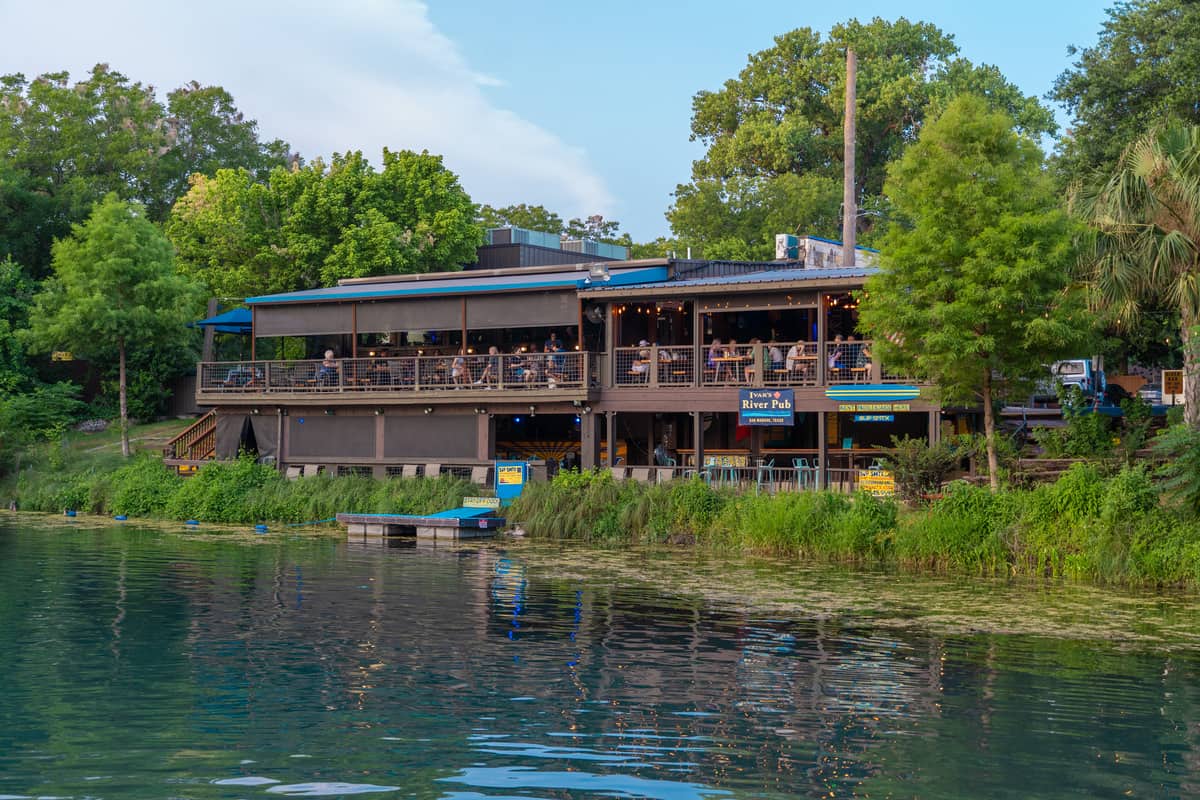 But it's not just the ambiance that sets Ivar's apart; their extensive selection of drinks includes ice-cold beers, handcrafted cocktails and specialty spirits. Pair your drink of choice with their mouth watering pub fare, featuring yummy burgers, hearty sandwiches, and savory appetizers. They also have fantastic happy hour menu specials as well as all-day breakfast for those breakfast fanatics (or those who like to sleep in).
Middleton Brewery
What sets this brewery apart is its pet-friendly policy, where visitors might even have the pleasure of meeting Banjo, the friendly dog who belongs to the owners.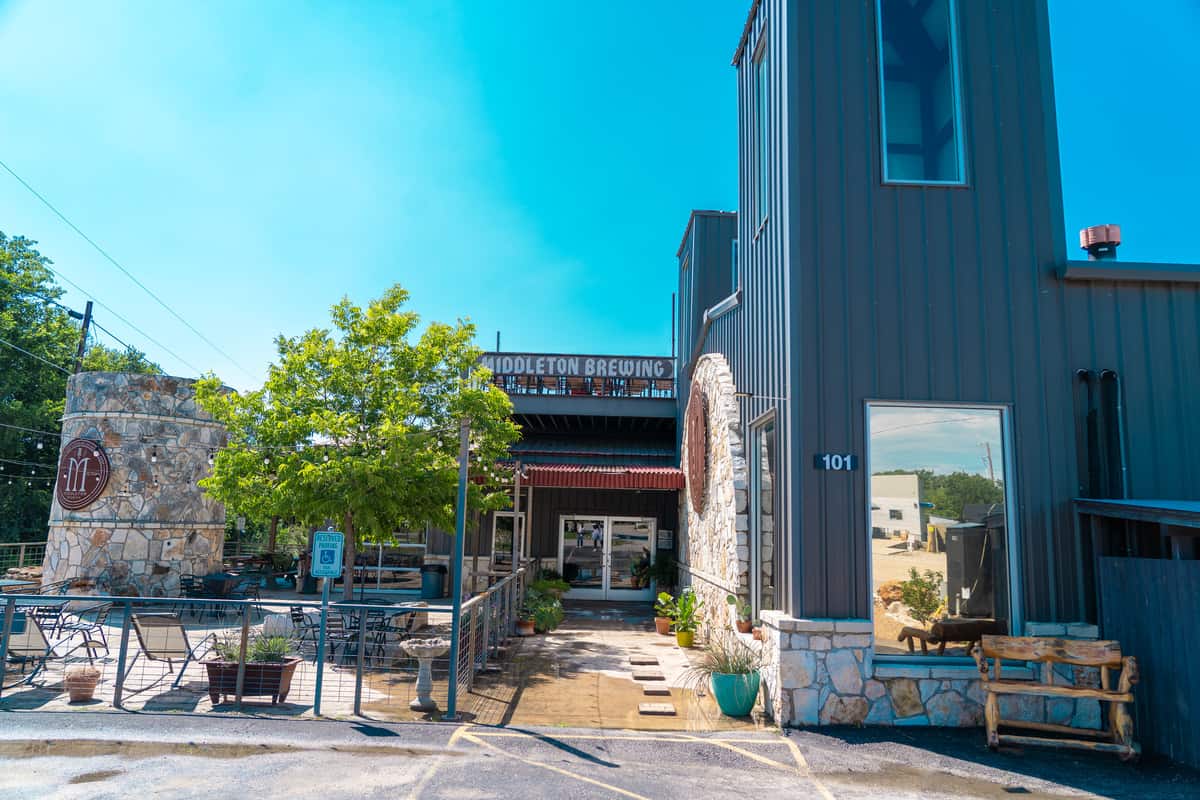 When it comes to libations, Middleton Brewery offers an impressive selection of craft beers, wines, and their signature micheladas.
Beyond the beverages, the brewery hosts a variety of events such as live music performances, trivia nights, and open mic sessions, ensuring there's always something entertaining happening. As a bonus, visitors can snack on complimentary popcorn while enjoying the festivities. To add to the fun, Middleton Brewery also offers lawn games like Jenga.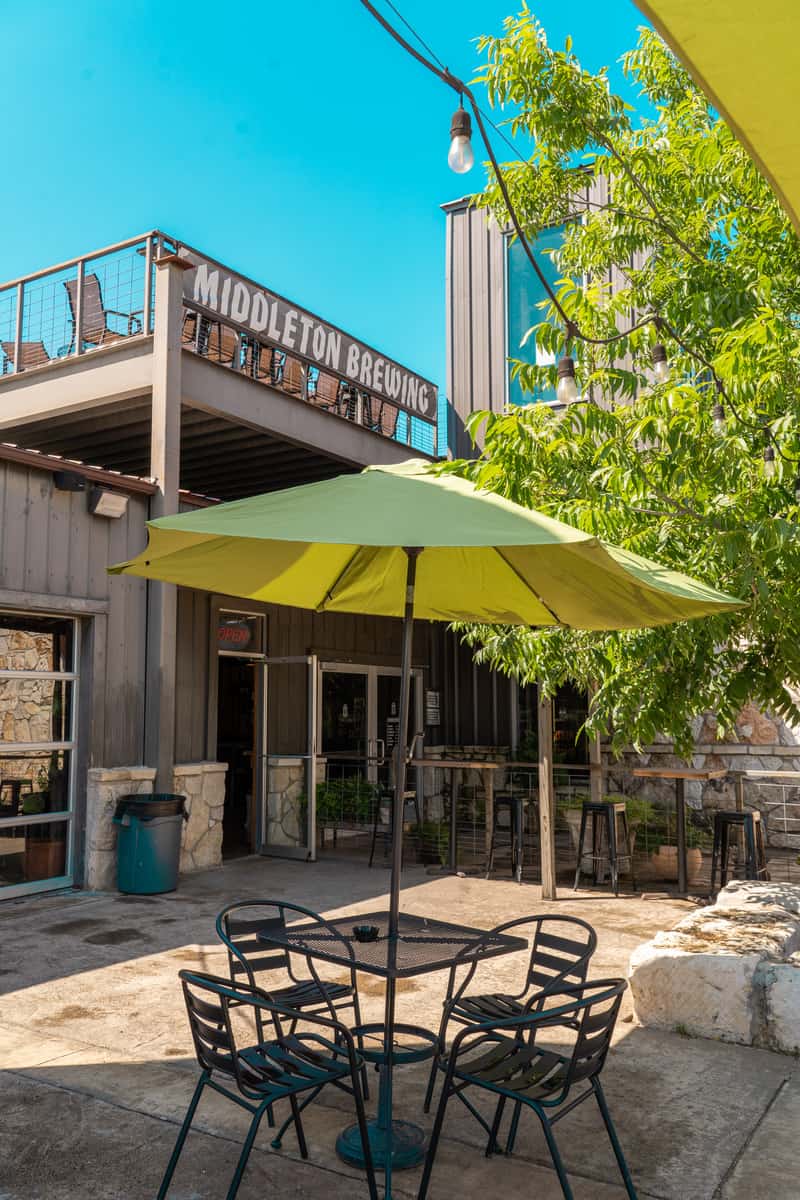 Bakeries & Coffee Shops in San Marcos
Dos Gatos Kolache Bakery
When you step into this charming bakery, you are instantly hit with the amazing smell of freshly baked goods. Although they have over 30 different flavors of delicious Texas kolaches & Czech pastries, their Cinnamon Loaf is a must! They sell out every day fairly quickly, so if you'd like to try one, make sure to get there early! You can also call the day before and have them hold one for you. This delightfully sweet and aromatic creation is a perfect mix of fluffy dough swirled with a generous amount of cinnamon and sugar. You can also buy the leftovers from the day before for a great price!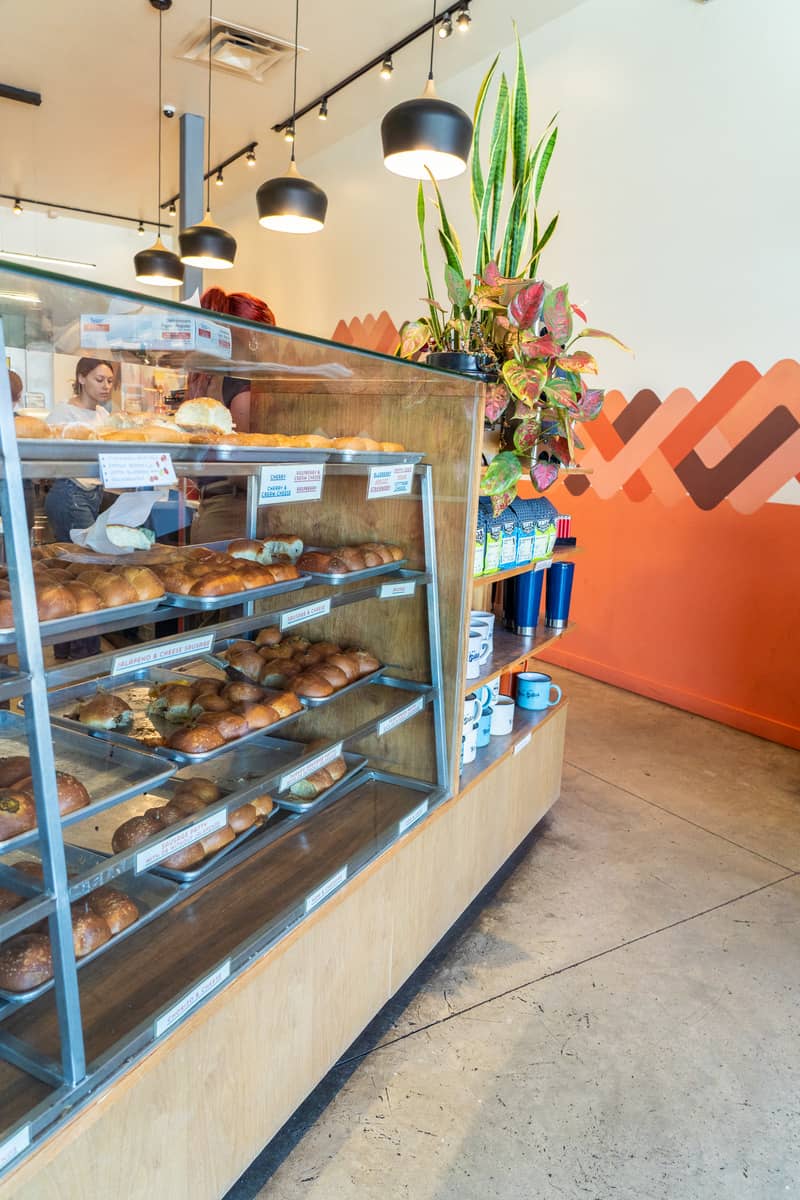 Babe's Doughnut & Coffee
From classic, glazed doughnuts to creative and unique flavors like Maple Bacon or Cookies and Cream, there's something for everyone! Babe's Doughnuts are made with care and attention to detail, ensuring a light and fluffy texture that melts in your mouth. Pair your doughnut with a cup of freshly brewed coffee for the perfect morning pick-me-up or a delightful afternoon treat.
Stellar Coffee
Located in the heart of San Marcos' bustling square, Stellar Coffee is a charming and inviting coffee shop that captivates locals and visitors alike. As you step inside, you'll be greeted with friendly service and the enticing aroma of freshly brewed coffee.
Stellar Coffee takes pride in its whimsical and adorable messaging, which can be found throughout the shop. From playful quotes on the walls to clever phrases on their menu boards, every detail exudes a delightful charm.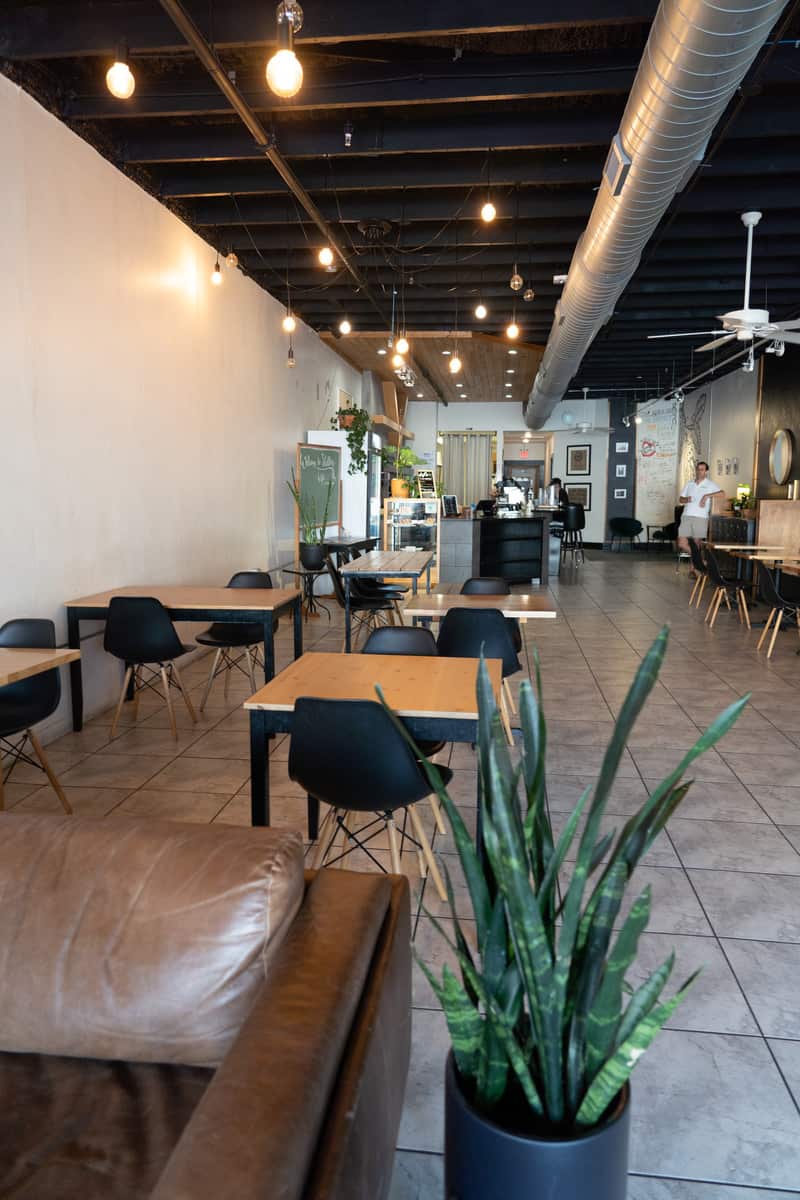 When it comes to the food offerings, Stellar Coffee doesn't disappoint. Whether you're in the mood for a flaky croissant or a mouthwatering breakfast sandwich, Stellar Coffee ensures that every bite is as satisfying as the last.
The Coffee Bar
This charming café embraces a minimalist aesthetic, with clean lines and a warm ambiance that instantly puts you at ease. Located on a bustling street, the Coffee Bar provides a peaceful respite from the outside world.
Whether you prefer a perfectly crafted espresso, a velvety cappuccino, or a refreshing iced latte, their skilled baristas ensure every cup is a work of art. In addition to its exceptional coffee, the Coffee Bar also offers a delectable selection of pastries and baked goods, providing the perfect accompaniment to your favorite beverage.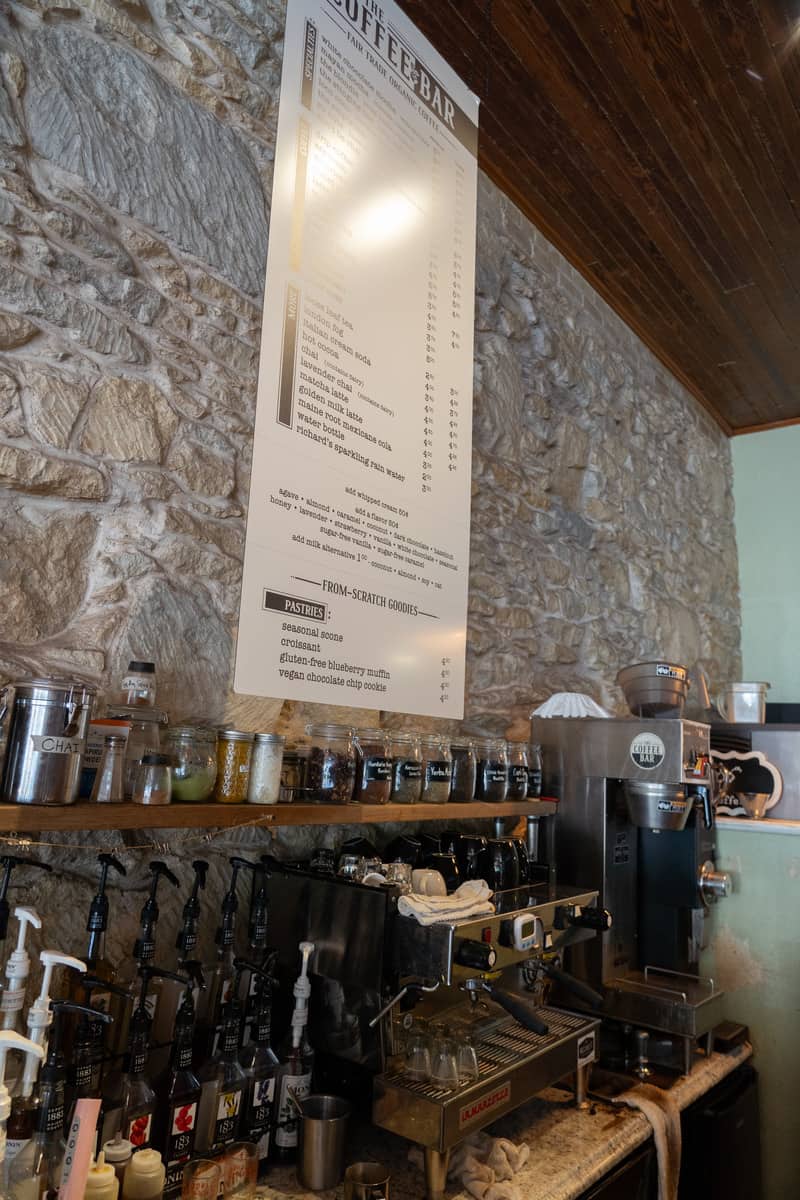 Best Restaurants to Try in San Marcos
Casa Maria Restaurant & Bakery
If you're looking for delicious, authentic Mexican restaurants in San Marcos, Casa Maria is definitely a spot you should check out. Their menu items include an array of traditional Mexican food, from sizzling fajitas to mouthwatering enchiladas and homemade tamales.
Not only are they known to have the best margaritas in Hays County, but they have a special item called "Taco Bout Love." It is 24 tacos perfectly plated into the shape of a giant heart that you can fill with the meat of your choice. Bring some friends and share or see how many tacos you can eat in one sitting! We also got to try their filled concha for dessert and it was so good!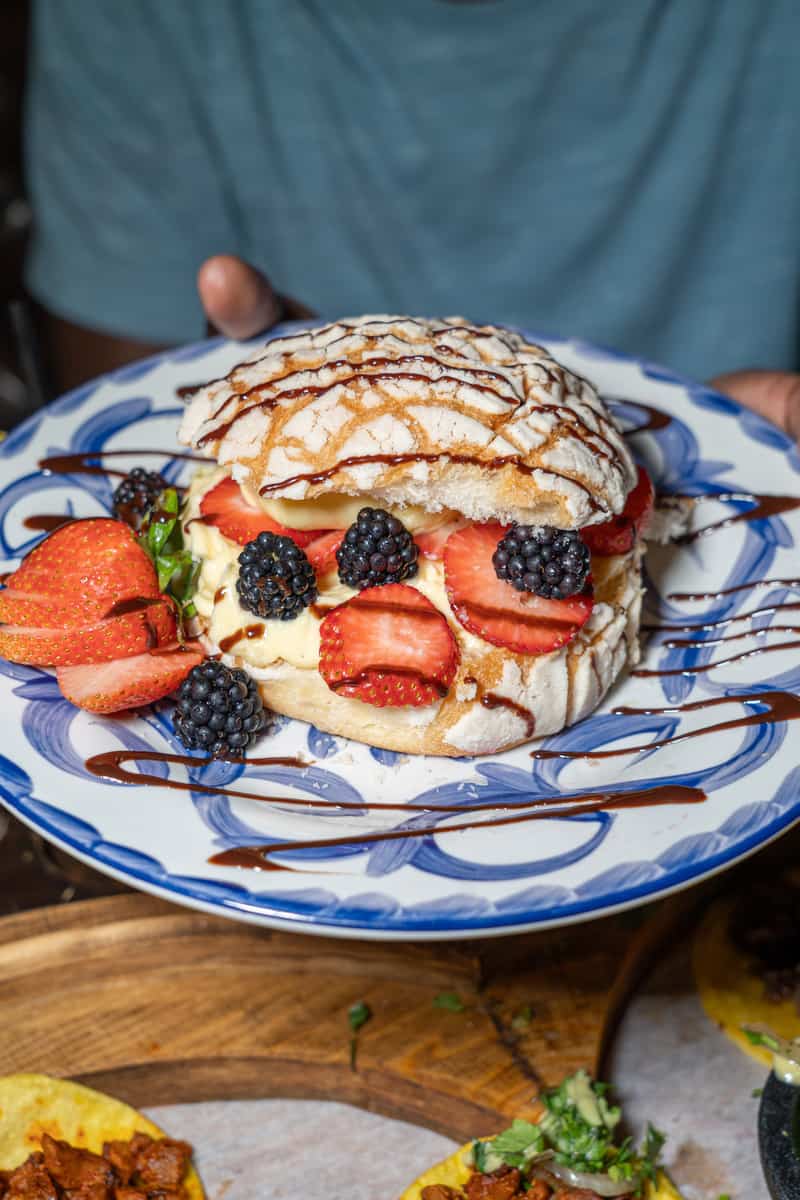 Besides their incredible food, the interior of the restaurant was elegant yet true to Mexican culture.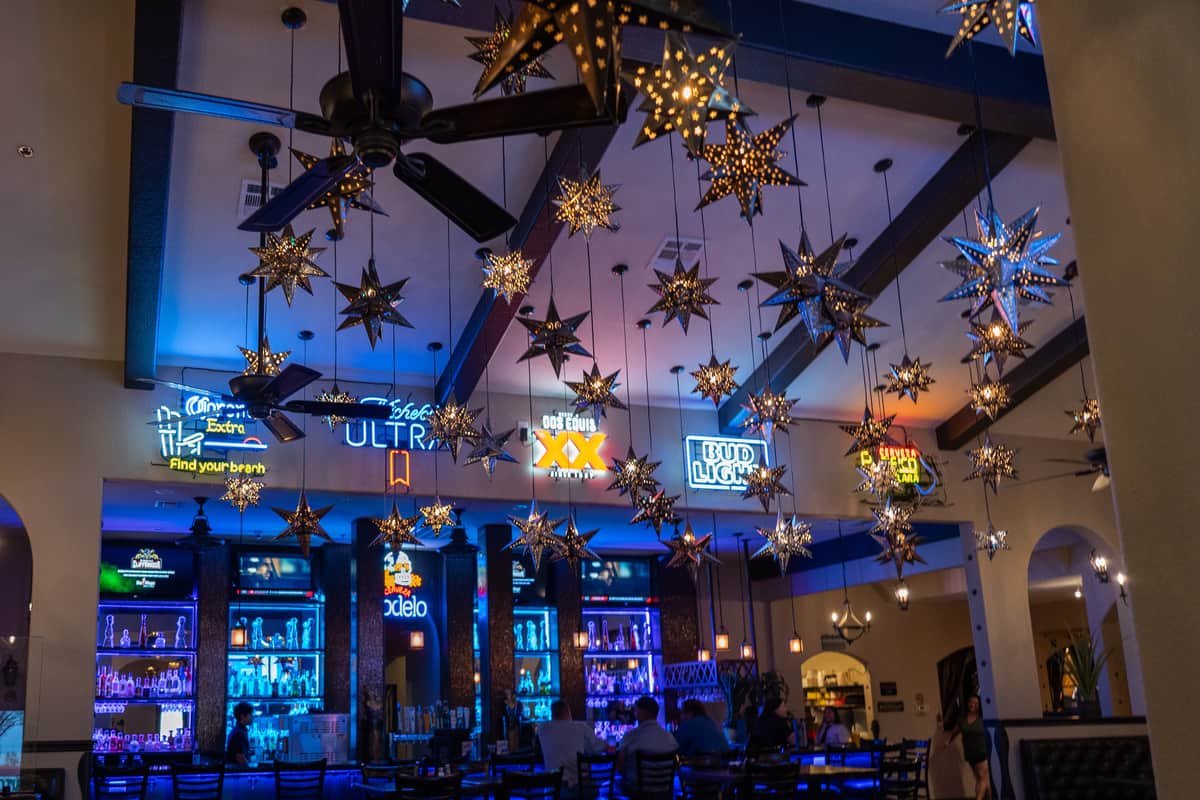 You also have to check out the bakery side where they have tons of authentic Mexican baked goods. Grab some on the way out or if you ever want a quick treat, you can always drop by.
Hays County BBQ
When we arrived in San Marcos, Hay Country BBQ was at the top of our list of restaurants to try. They have been on Texas Monthly's Top BBQ list for the last three years and we finally understand why! It was definitely one of our personal favorites.
Their brisket, sausage, turkey, and pulled pork are delicious! I was shocked by how amazing their pork belly was! They served it with a honey sriracha sauce and it was incredible! They also had huge beef ribs that were definitely worth the wait time. The beef ribs are only served on Saturdays so keep that in mind!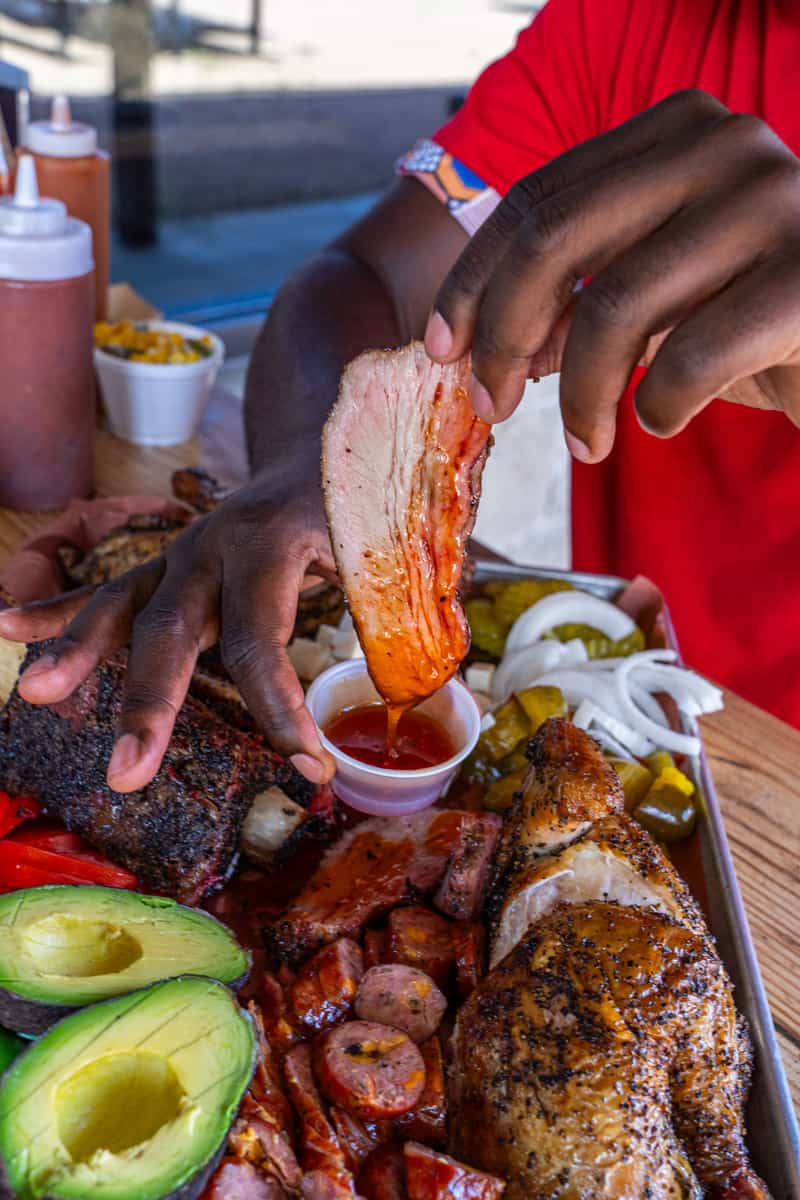 We got to speak with one of the owners, Michael Erin Hernandez, and you could tell how passionate he is about barbecue. He took us to the back and showed us all of the wood they use to make sure their meats are cooked perfectly. It was super hot back there! He also gave us a sneak peek of soon-to-come trays, like their BBQ Charcuterie Board with an array of meats, pickles, onion, tomato, cheese and sliced avocado.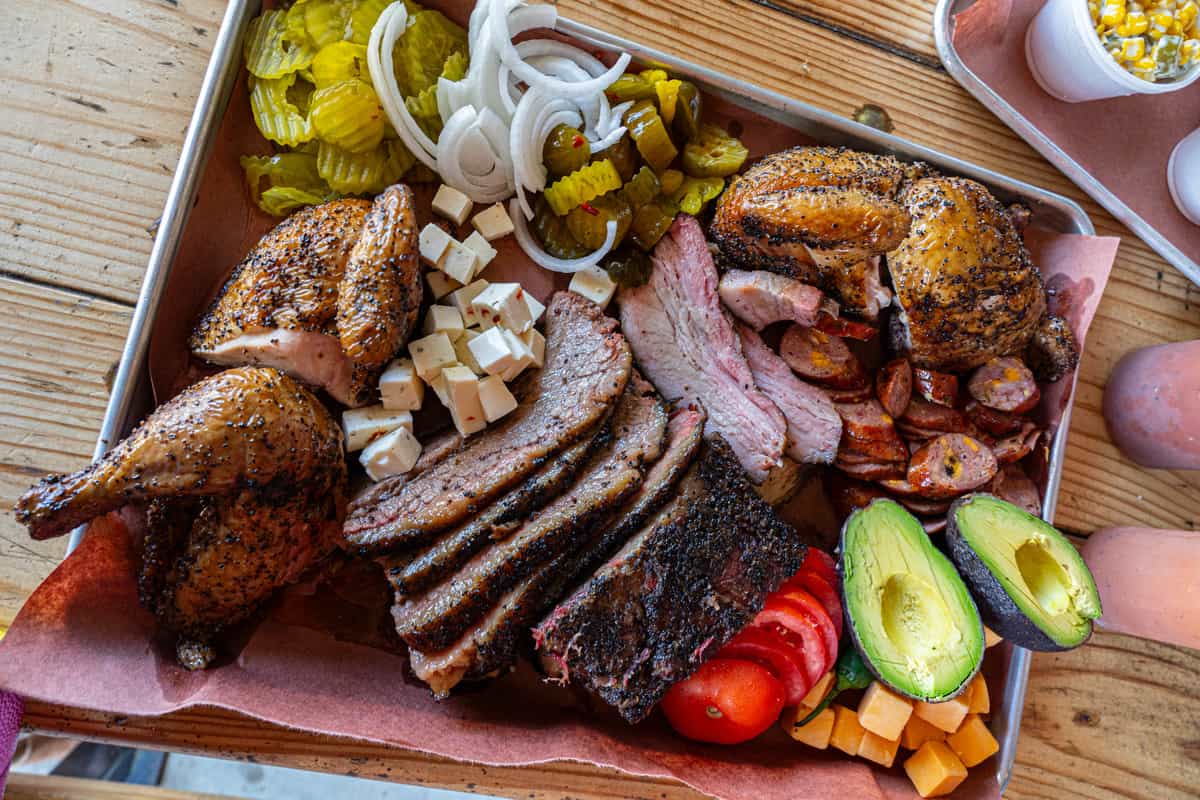 North Street Curry Shop
Located right next to Texas State University, this cozy restaurant offers a delightful fusion of Indian and Thai flavors. We had to start with the Curry Queso. It's a mix of the perfect Texas queso with curry spices and it was so good! It was filled with flavor and the best way to start our dining experience!
We knew we had to try their Curry Tacos, but specifically their "Forbidden Taco." They are filled with fried chicken tossed in a chili wing sauce, coco rice, red cabbage, lemon cucumber raita, and jalapeño crema and topped with their Curry Queso and avocado. It was the perfect mix of ingredients for some of the best tacos!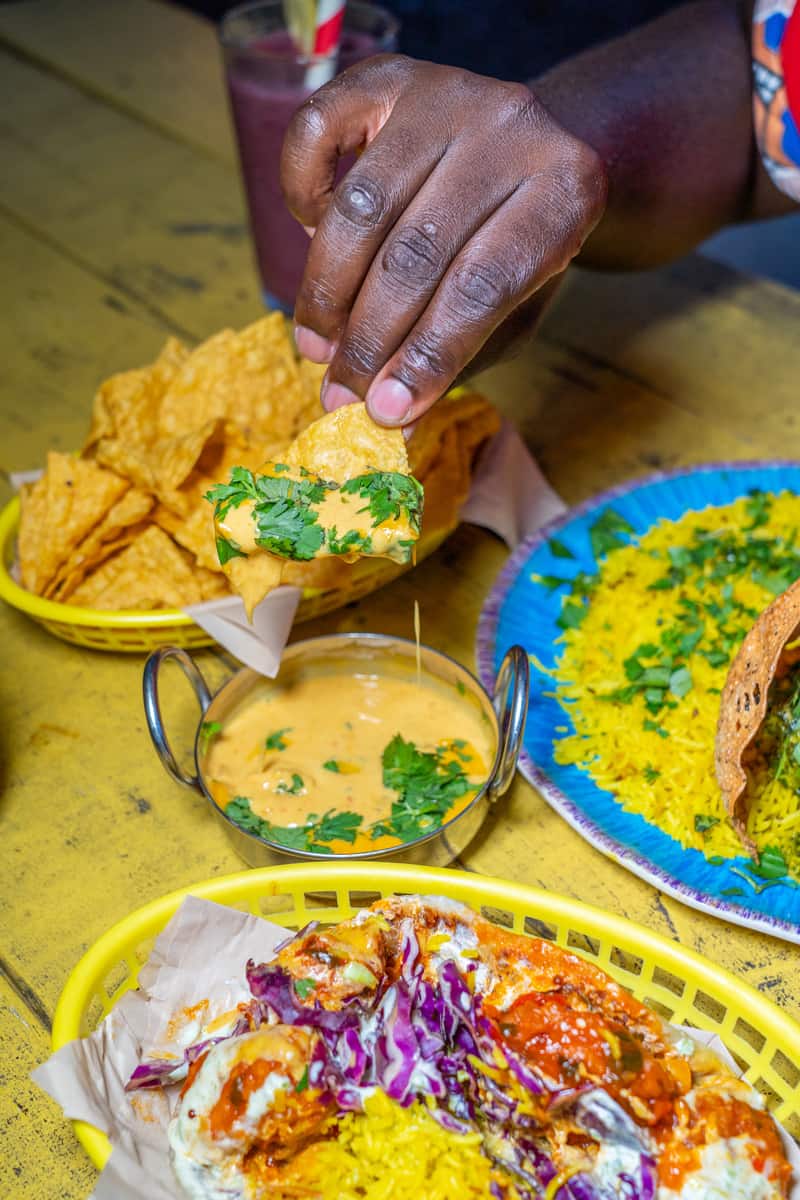 We also got their Sagg Paneer, a spinach dish with fried paneer cheese. Then, we washed everything down with their Mango/Mint & Lemon/Blueberry Lassi (these were their seasonal spring flavors). They were both flavorful and not too sweet.
The restaurant itself has cute indoor and outdoor seating with a section for your furry friend(s).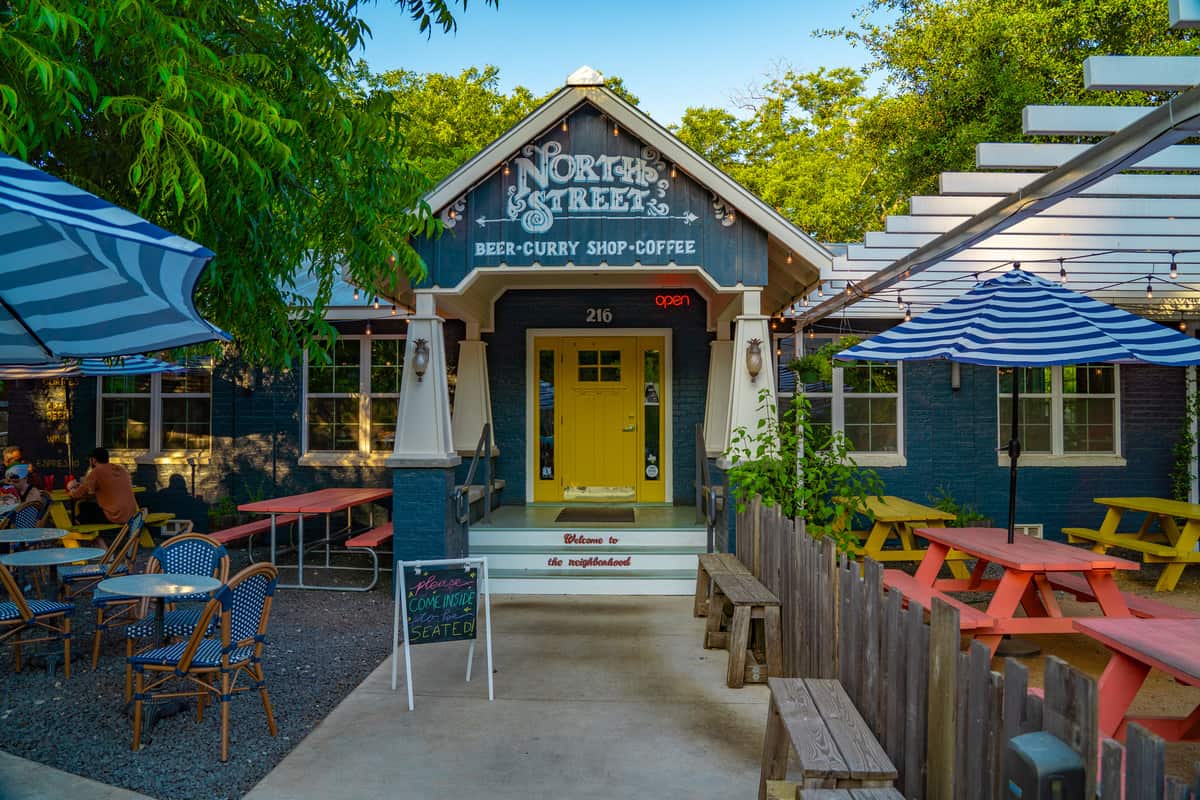 Gil's Broiler & Manske Roll Bakery
This beloved, local restaurant has been serving up delicious meals and delectable baked goods for decades. Gil's Broiler is the go-to spot for mouthwatering burgers and hearty American fare. Sink your teeth into their juicy, flame-grilled burgers, a variety of sandwiches, salads, and comforting sides that will leave you feeling so satisfied.
But Gil's Broiler isn't just about savory delights; it shares its space with Manske Roll Bakery, a true Texas treasure for those with a sweet tooth. Manske Rolls, a San Marcos specialty, are light and fluffy cinnamon rolls covered in an irresistibly sweet glaze. You can even add ice cream! Be sure to add this double threat to your list of the best restaurants to try on your next trip to San Marcos!
Quick Fix Cuisine
The concept behind Quick Fix Cuisine is simple: provide high-quality, made-to-order meals that are both convenient and tasty. From savory wraps and flavorful salads to hearty sandwiches and mouth watering burgers, their menu boasts a diverse selection of dishes to satisfy any craving. Whether you're in the mood for a classic cheeseburger or a fresh, crisp side salad, each item is prepared with attention to detail, using fresh ingredients and a creative touch.
Quick Fix Cuisine also caters to dietary restrictions. They offer vegetarian, vegan, and gluten-free options, ensuring that everyone can find something delicious to enjoy. What sets Quick Fix Cuisine apart is its commitment to quality and speed. Despite being a fast-food establishment, they prioritize using locally sourced ingredients and providing a made-to-order experience that doesn't compromise flavor or freshness.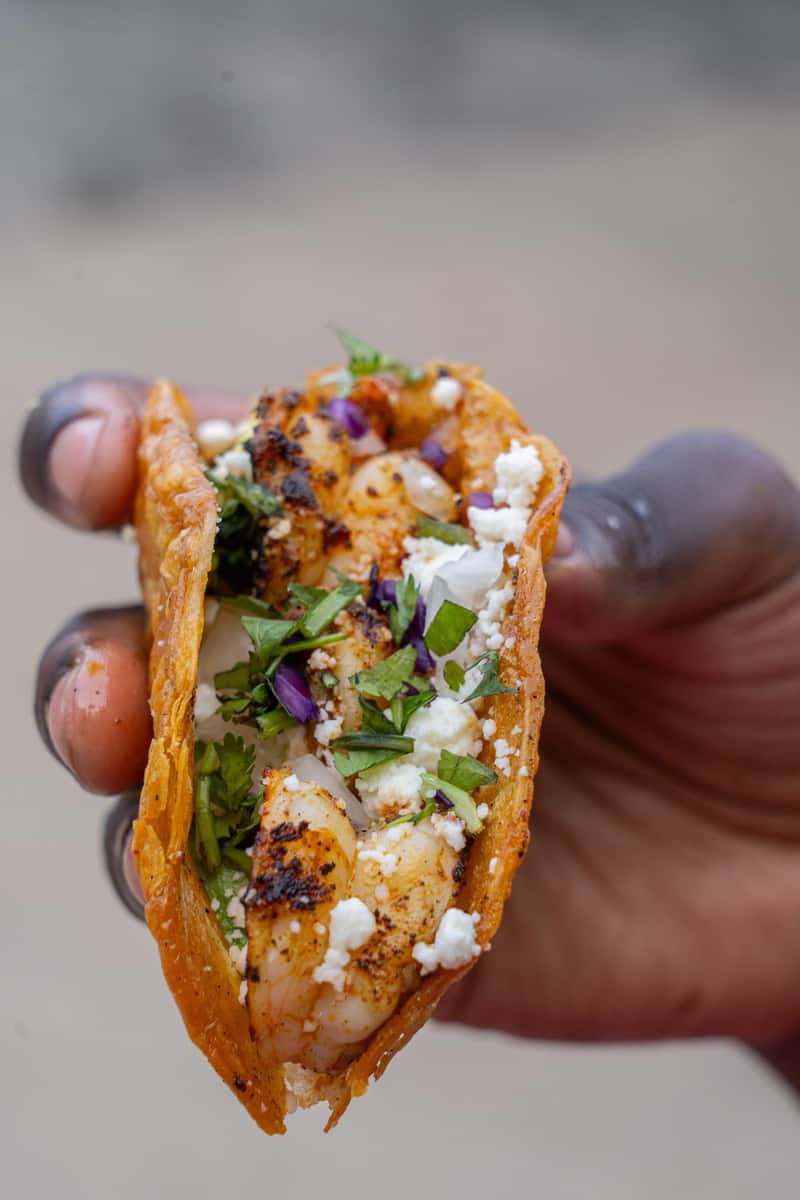 Italian Garden
The food at Italian Garden is a true celebration of authentic Italian cuisine, prepared with love and expertise. Choose from dishes like their mouthwatering veal piccata, plates of pasta, flavorful meat and seafood options, and wood-fire pizza with crispy crust and flavorful toppings. Each dish is carefully crafted using the freshest ingredients and traditional cooking techniques. When you eat here, you'll be transported to the streets of Italy.
Darrell's Board
The star of the show is Darrell's Special, a sandwich masterpiece that combines layers of grilled chicken, melted cheese, crisp bacon, and tangy sauce, all nestled between two slices of buttery Texas toast. Each bite is a flavor explosion that leaves you craving more.
But Darrell's Board doesn't stop there. Their menu offers a variety of other delectable sandwiches, from classic BLTs to hearty roast beef creations. The generous portions and affordable prices make it a favorite among locals and visitors alike. It's definitely a hidden gem!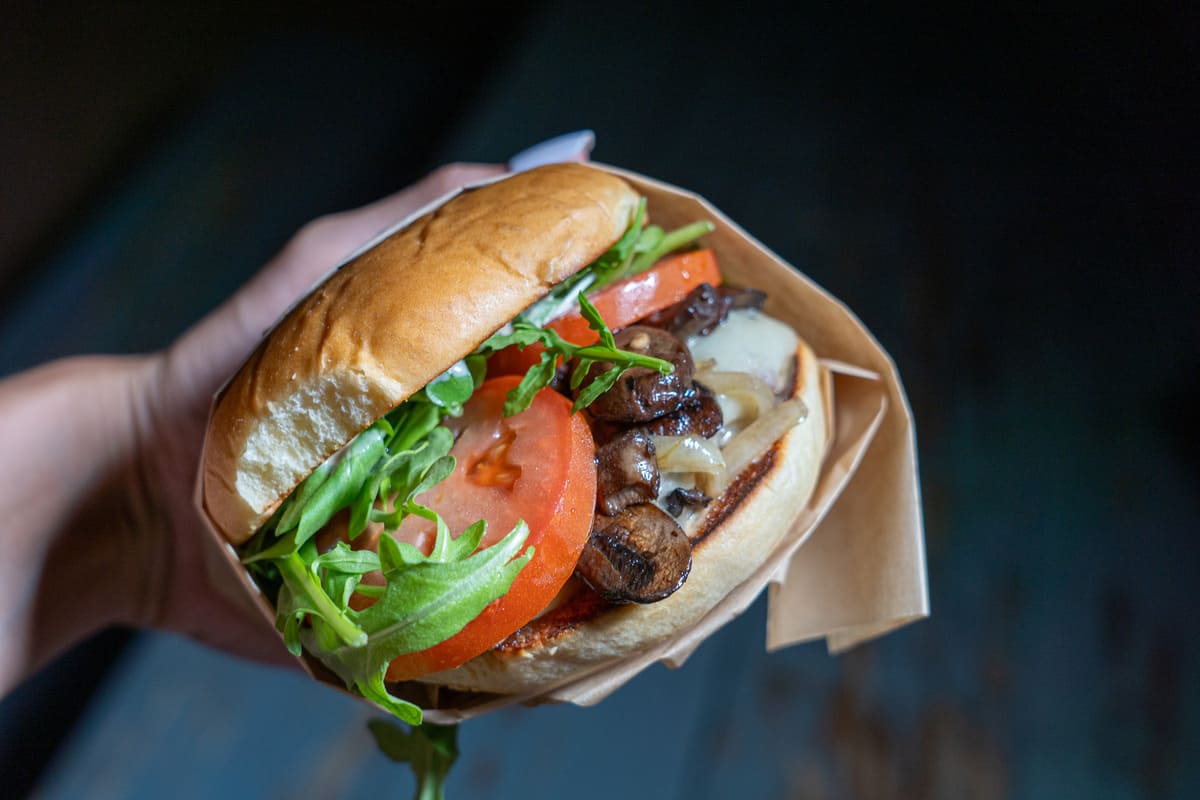 Industry
Housed in a renovated industrial building, Industry combines modern design elements with raw charm, creating a truly captivating atmosphere.
The moment you step inside, you're greeted by an eclectic mix of local art, craft beer on tap, and the buzzing energy of creative minds at work. The venue hosts a wide range of events, from art exhibitions and live performances to workshops and pop-up markets, making it a cultural epicenter in San Marcos.
From small plates and shareable bites to hearty mains and delectable desserts, their culinary offerings perfectly complement the vibrant ambiance. Whether you're grabbing a quick bite before an event or settling in for a leisurely dinner, Industry's food and bar options will surely leave you tummy satisfied and your spirit invigorated.
The Davenport
Davenport is a vibrant and inclusive destination that celebrates diversity and entertainment. This trendy venue is known for its lively atmosphere and its unique twist on dining in the city. They host events every day of the week such as movie nights & karaoke.
One of the Davenport's standout events is its drag brunch! Patrons can indulge in delicious brunch fare while watching spectacular performances by talented drag queens. These brunches create a lively and energetic environment that is both entertaining and inclusive.
Additionally, the Davenport also hosts Latin nights, where the dance floor comes alive with the pulsating rhythms of Latin music. This electrifying event invites locals and visitors to immerse themselves in a night of salsa, bachata, and merengue.
Blue Dahlia Bistro
This is a charming European-inspired eatery with a cozy ambiance and rustic décor for a delightful dining experience. The menu features freshly prepared dishes like tartines and salads that showcase local ingredients. Every bite is a testament to their commitment to quality, from savory bites to indulgent desserts. With fantastic service and a welcoming atmosphere, Blue Dahlia Bistro is a beloved destination for European cuisine in San Marcos.
Amalfi Cucina Italiana
With its warm and inviting atmosphere, this charming Italian restaurant creates a truly immersive dining experience. The menu at Amalfi Cucina Italiana showcases a wide array of authentic Italian dishes, from mouthwatering pasta dishes and delicious pizza to fresh seafood and indulgent desserts. Every bite will transport you to the picturesque coastal region of Amalfi. The skilled chefs use only the finest ingredients, both locally sourced and imported from Italy.
Breakfast/Brunch Restaurants in San Marcos
Palmer's Restaurant Bar & Courtyard
We were shocked by how insanely cute this restaurant was! From the moment you walk into this historic establishment, you'll feel the warm and elegant atmosphere. Palmer's boasts a beautifully designed interior, with exposed brick walls, soft lighting, and a welcoming bar area. My favorite part was their charming courtyard. With its lush greenery, cozy seating, and bubbling fountain, it provides an intimate setting for a memorable meal.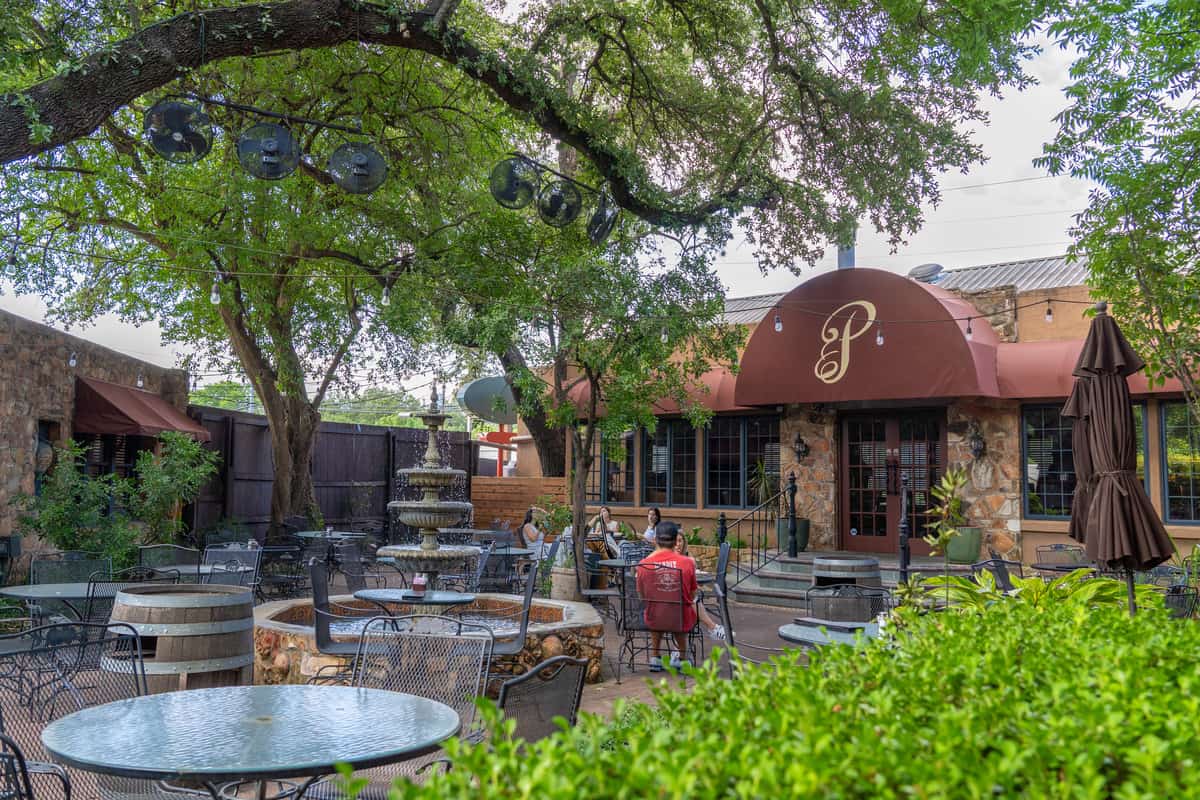 They have a very impressive drink menu with a selection of mocktails as well. We tried their virgin Hibiscus Mexi-tini and their Lilosa (a mimosa with grapefruit). They both paired very well with our San Antonio Benedict, pork tamales and Texas-style French toast. Definitely one of my favorite restaurants for a date night in San Marcos!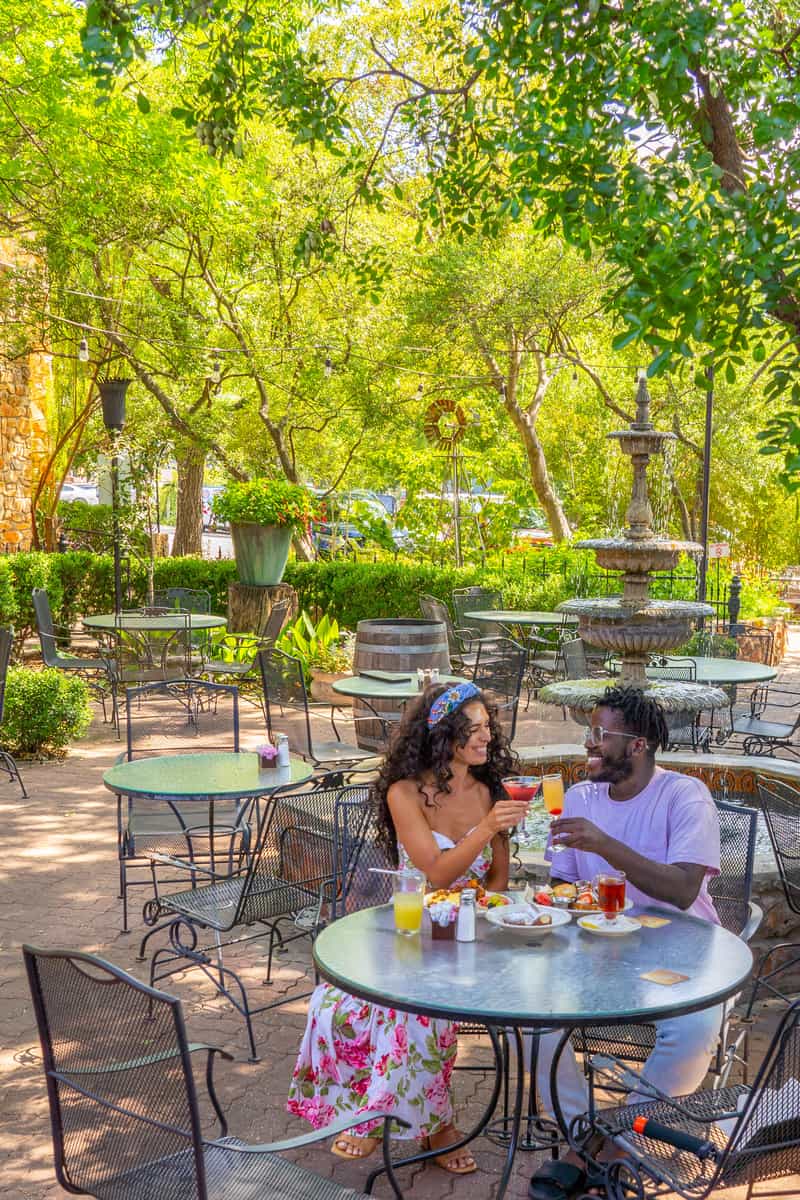 Loli's Café
The menu at Loli's Café is a testament to classic American cuisine with a Southern twist, from fluffy pancakes and hearty omelets to mouthwatering sandwiches and comforting soups. Whether you're stopping by for a leisurely breakfast or a satisfying lunch, Loli's Café has something to satisfy every craving.
Don't miss the opportunity to try their famous chicken and waffles, a delectable combination of crispy fried chicken and fluffy waffles drizzled with maple syrup. For dessert, indulge in one of their homemade pies or treats, baked to perfection.
Loli's Café captures the essence of a cozy neighborhood spot, with its warm and inviting ambiance, adorned with vintage décor and comfortable seating.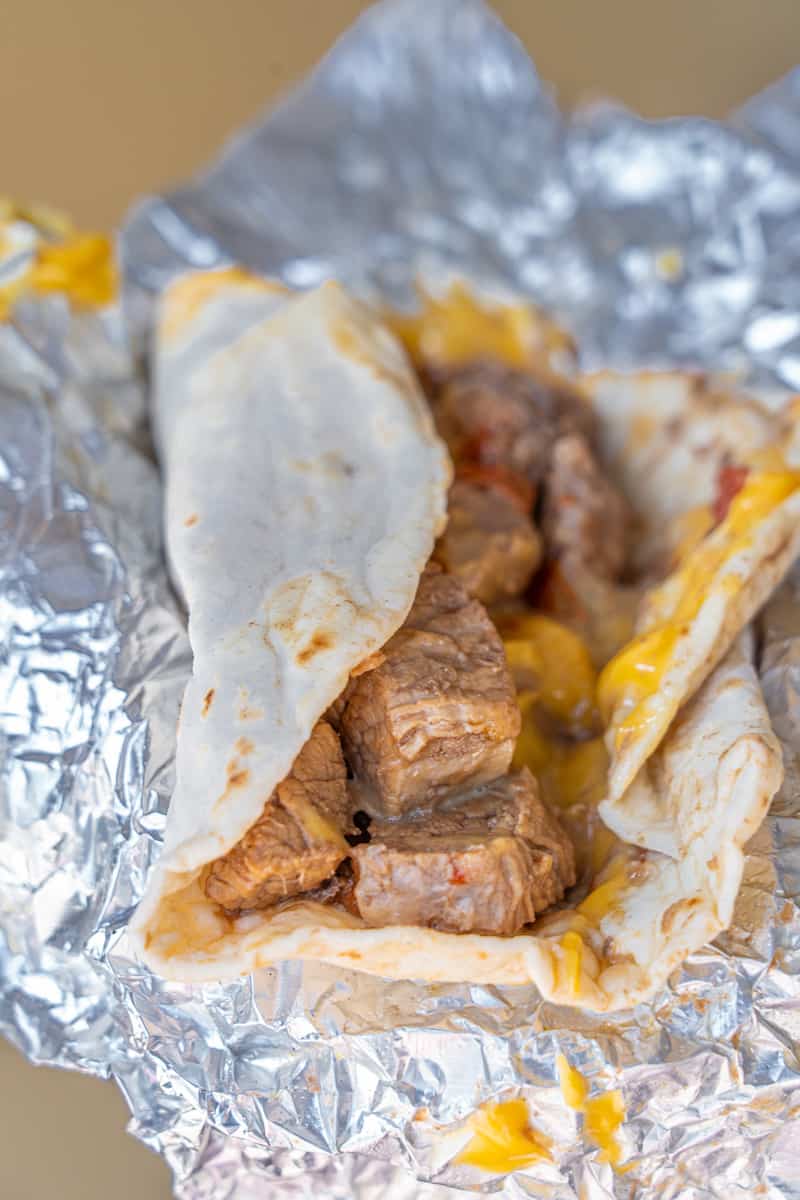 Root Cellar Cafe
Root Cellar Café takes pride in sourcing its ingredients from local farmers and suppliers, ensuring that each dish is crafted with the freshest and highest quality ingredients. The menu at Root Cellar Café is a celebration of seasonal flavors and inventive culinary creations. From hearty breakfast options, like fluffy pancakes and savory omelets, to flavorful lunch and dinner dishes, like gourmet sandwiches, innovative salads and flavorful entrees, there is something to please every palate!
The chefs at Root Cellar Café showcase their creativity by infusing traditional dishes with unique flavor combinations and unexpected twists that tantalize the taste buds.
In addition to the delicious food, the café offers a cozy and inviting atmosphere with its exposed brick walls, wooden furnishings, and soft lighting. It's the perfect place to enjoy a meal with friends or have a quiet moment of relaxation.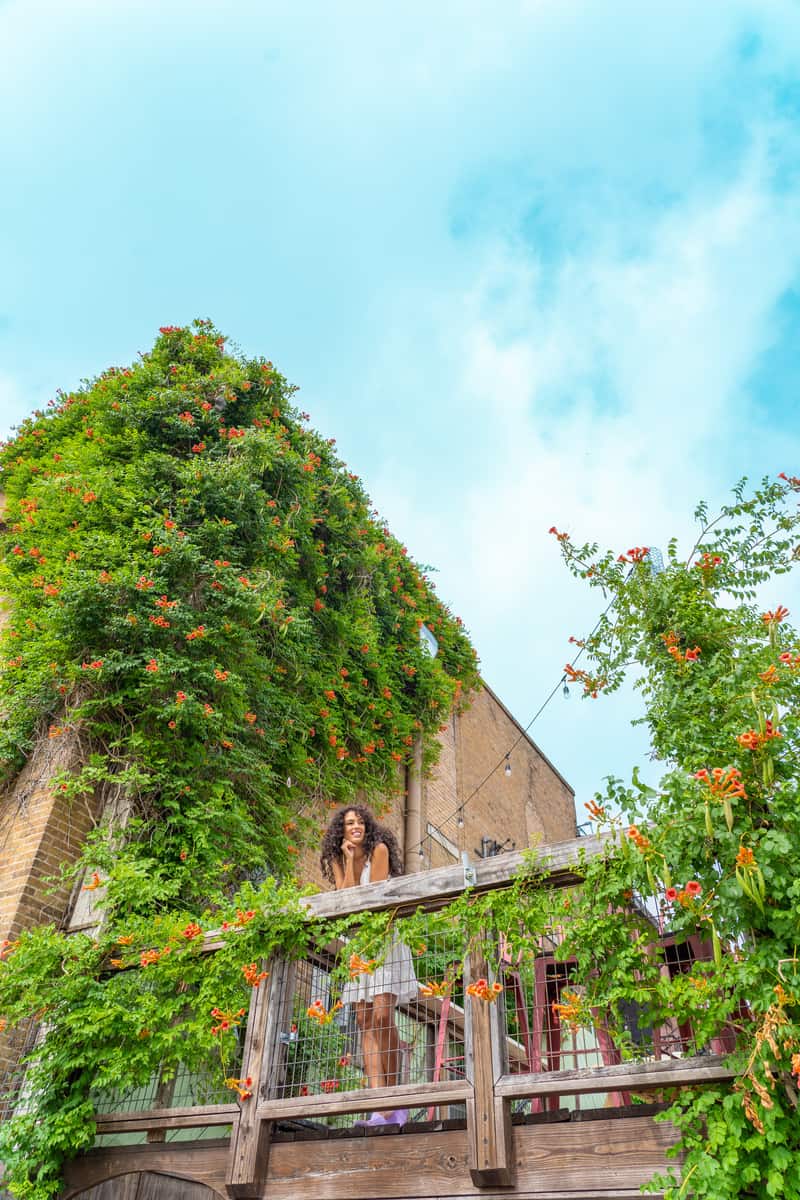 Best Restaurants & Places to Eat in San Marcos: Final Thoughts
San Marcos definitely doesn't have a shortage of high-quality restaurants! All of the local spots are delicious & have a super welcoming atmosphere!
San Marcos being a small city does not hinder its food scene whatsoever (or all of its fun things do). Additionally, many of the restaurants had outdoor areas, making them wonderful places to visit with your furry friends.