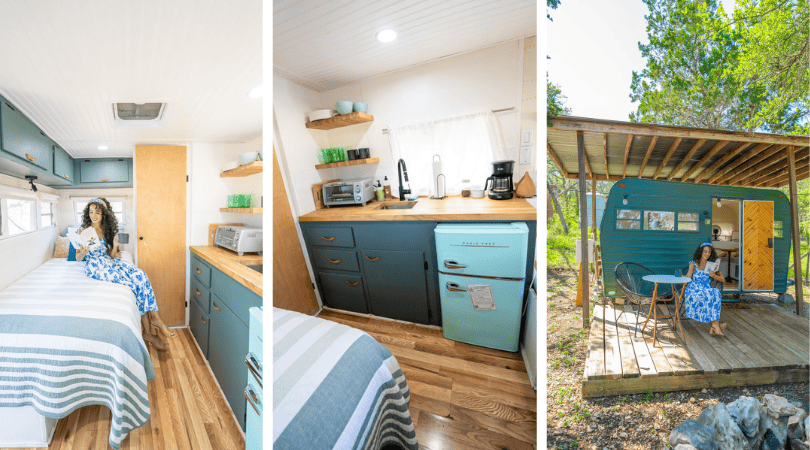 Nestled within the trees of San Marcos is a cozy glamping getaway inside Lula the Hill Country Glamper (click here to book). The owners of Mosaic Farms, who also own the renowned Great Hall at Downtown Abbey and the Bohemian Hill Country Cottage (click here to book), have created a unique glamping experience that allows guests to immerse themselves in nature while still being close to town.
One of their charming offerings is Lula, a comfy green camper that provides a perfect escape surrounded by the sounds of nature. Of course, while you're in San Marcos, make sure to check out all of the cool things to do and places to eat!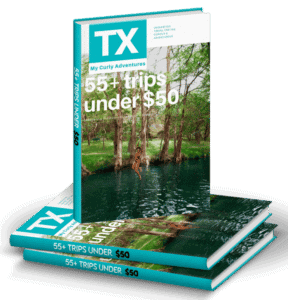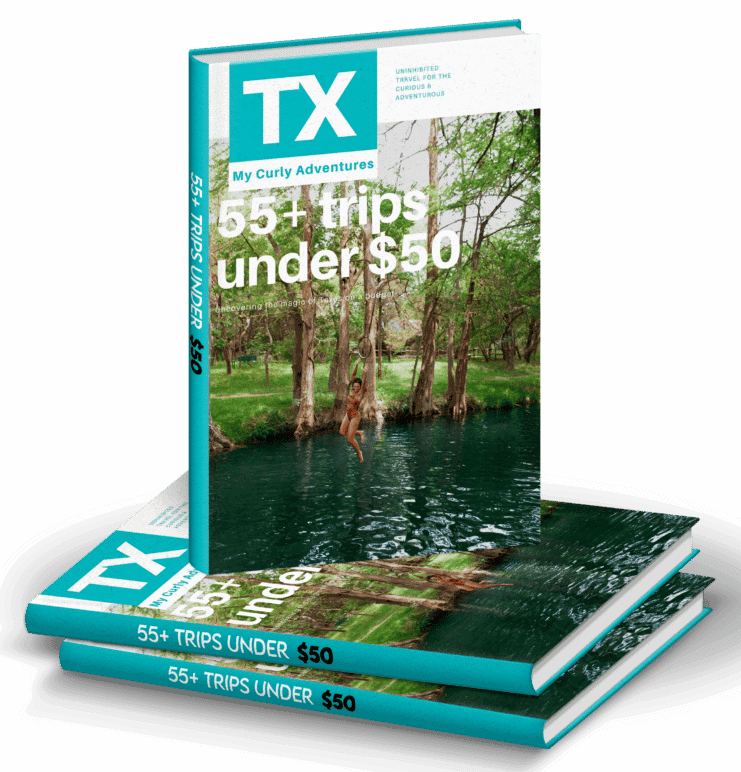 With our latest edition of our Texas Travel Guide, you can take an exciting vacation every weekend without breaking the bank and still have more to do! And in just one trip, the guide pays for itself! You'll be amazed at all the hidden gems, international influence, and wacky attractions you'll find all over Texas!
Not ready to purchase quite yet? We wanted to make this guide as accessible as possible, so we've shared our 1st edition of our guide, 50 Texas Trips Under $50. Click the button below to get yours for FREE!
About Lula the Camper
Immerse yourself in the serene and rustic surroundings of the Lula camper. Set amidst oak trees, this outpost invites you to reconnect with nature, allowing your mind to wander and your priorities to realign. Despite its seclusion, Lula is conveniently located just about 10 minutes from downtown San Marcos and the picturesque San Marcos River. Whether you desire a lively adventure or a tranquil escape, the options are endless.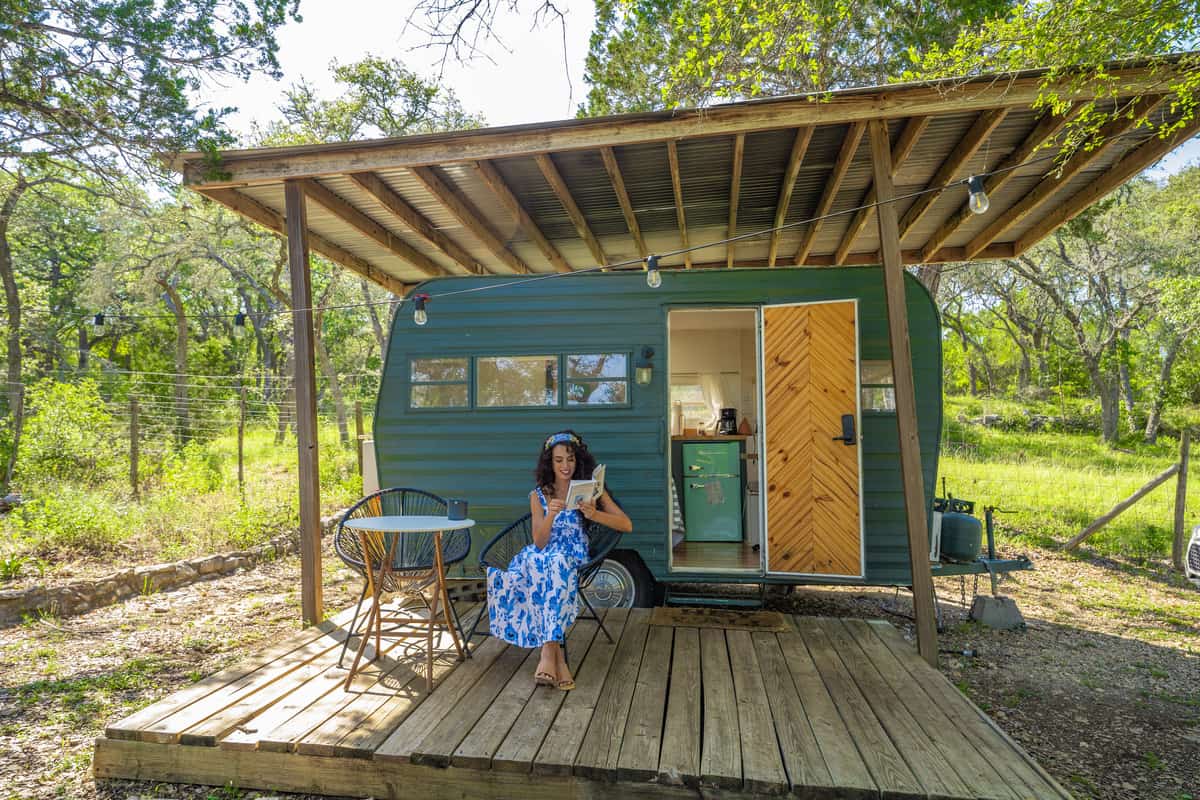 Lula, the remodeled camper at Mosaic Farms, welcomes guests with its irresistible charm. Inside, you'll discover delightful touches like a light blue mini fridge and colorful bedding, adding a touch of whimsy to the cozy space. Not to mention books to read that match the stay.
The tiny kitchen boasts retro vibes, featuring beautiful butcher block countertops, while the shower showcases penny and mosaic tiles, offering a refreshing experience with cool water sourced from the Edwards Aquifer. Although Lula is equipped with a single bed, it has comfortably accommodated couples, ensuring a snug and restful stay.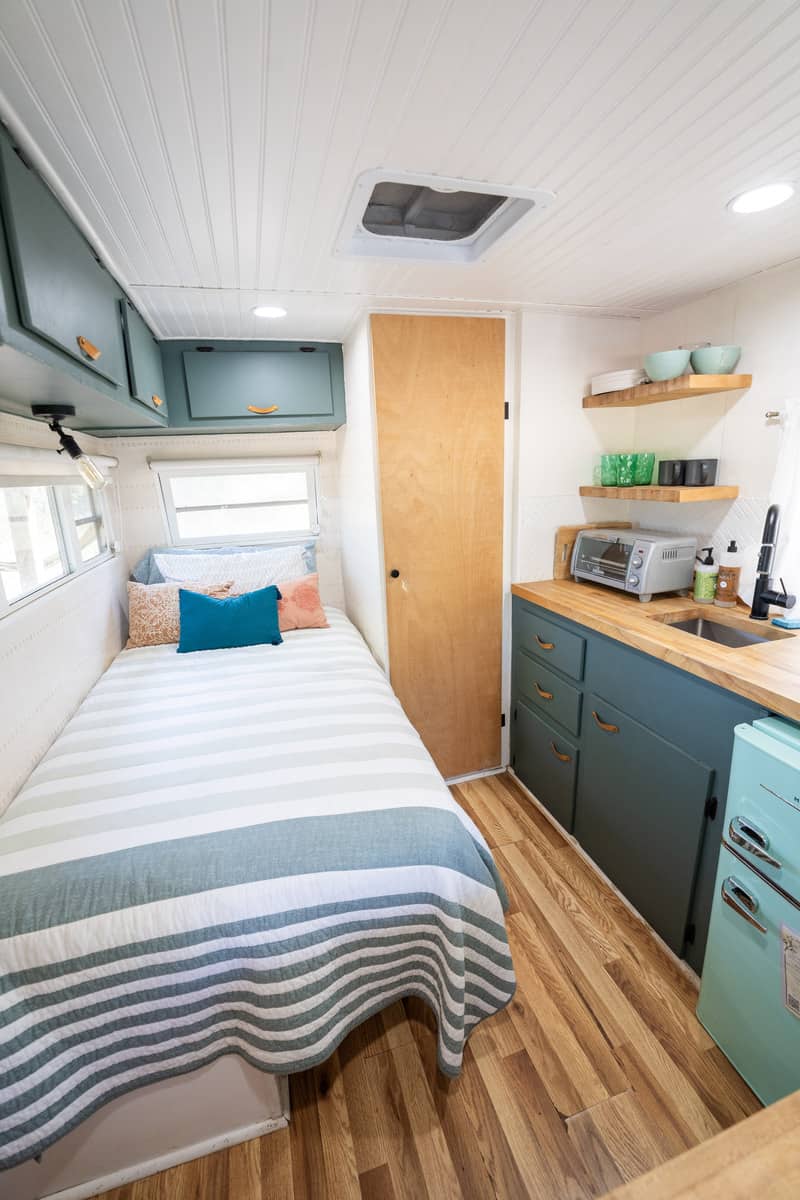 This is still glamping so make sure to bring some bug spray and double check everything as critters can (and probably will) get around. While there is no on-site toilet, there is a compostable toilet only about 20 yards away. And don't worry, you still have that strong AC to keep you cool during those Texas summers.
Amenities at Mosaic Farms
At Mosaic Farms, the experience extends beyond the enchanting Lula camper. The hosts offer a range of additional amenities to enhance your stay. Indulge in delicious Neapolitan-style pizza while learning intriguing details about life on the ranch during a captivating cooking class. For a convenient and delightful dining experience, have a scrumptious breakfast delivered right to your doors. To access these culinary delights or learn more about in-room dining options, simply reach out to your host directly.
Glamping Vibes That Embrace the Outdoors
When you're outdoors, you can enjoy sitting in a chair and drinking your coffee or resting in a hammock. While there are other rentals on property that are all a part of Mosaic Farms, the way this one feels so tucked away amongst the trees makes you feel like you have the whole place to yourself.
Good news! This spot is pet-friendly with a $15/day fee and the assumption that the dogs are well behaved. There is a maximum of two dogs allowed per camper. The hosts kindly request that furry friends be kept off the furniture and that owners clean up after their pets, ensuring a pleasant experience for all guests. Dogs must remain on a leash when they're outside of the camper to preserve the serenity of the surroundings.
Cozy Camper in San Marcos: Final Thoughts
In conclusion, the Lula camper at Mosaic Farms provides an idyllic retreat for nature enthusiasts seeking an immersive glamping experience while still staying cozy with a chic place to rest your head. Embrace the mixture of the outdoors with bright colors while reveling in the natural wonders of the hill country and taking advantage of the additional amenities Mosaic Farms has to offer.