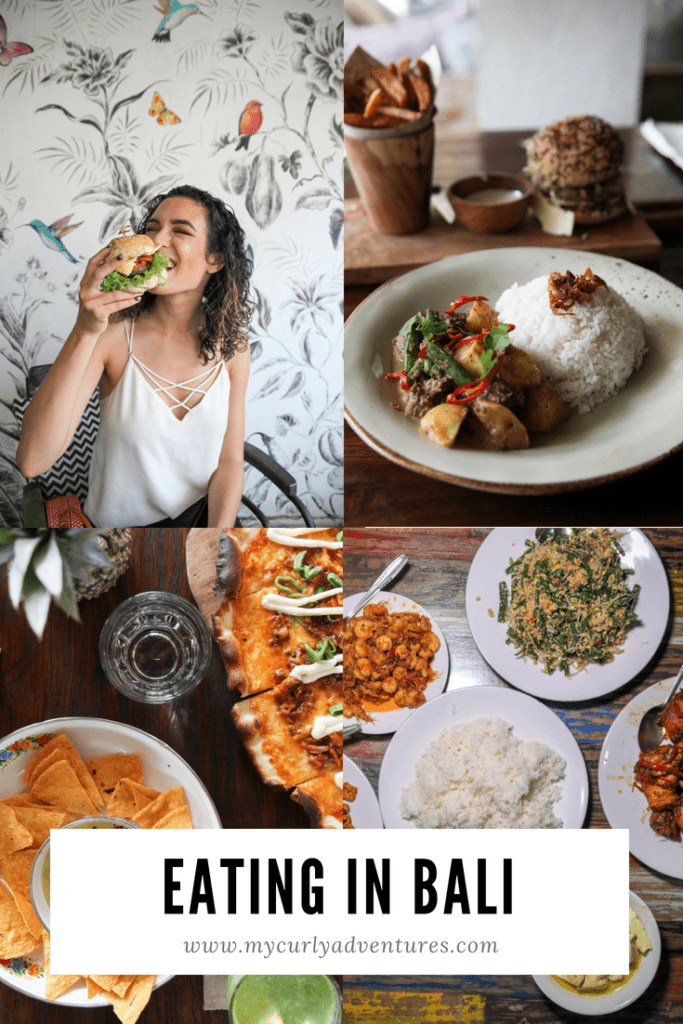 While in Bali we were constantly surrounded by some of the best foods imaginable! We ate in small warungs and enjoyed extravagant meals (without the extravagant prices). Honestly, there are so many options for eating and it's hard to say where specifically to go. However, I can share some of the dishes you have to try and some great places to eat that are probably right along the path of your travel plans.
Best Local Food To Try in Bali
If you have a driver I recommend asking them to take you to a local Warung. We stopped at several along the way and could get a dish for less than $2.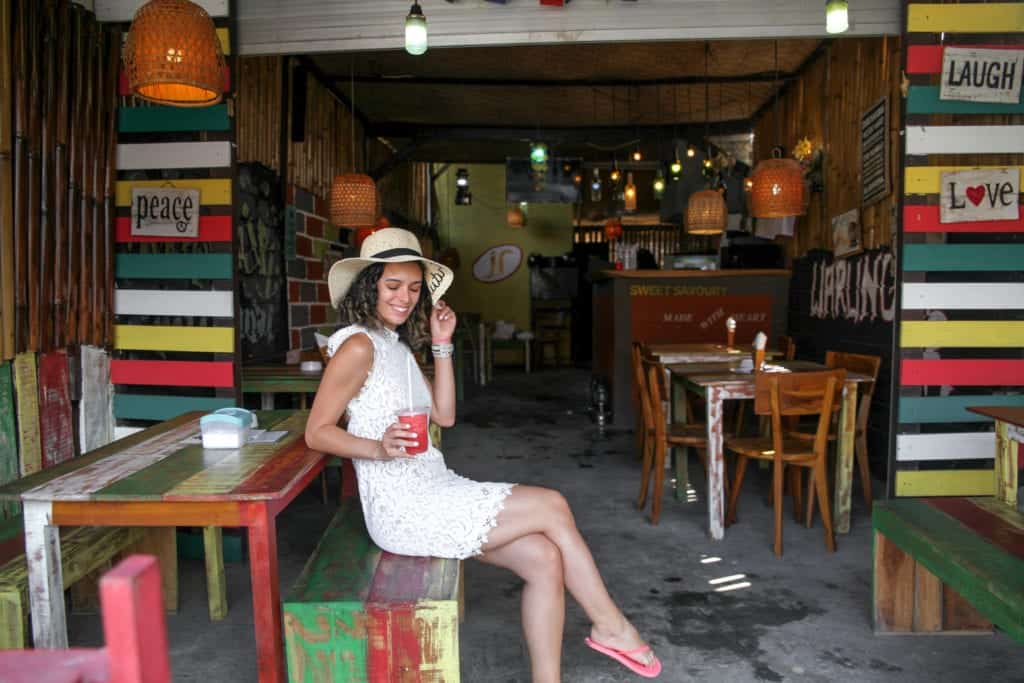 Make sure to add a fruit juice to your drinks! We got to try Dragonfruit, Papaya, Mango, Avacado, and other fresh fruit juices for amazing prices.
A couple of popular dishes are Nasi Campur which is essentially rice with a bunch of other smaller dishes. It's like a sampler platter!
In order to discover as many dishes as possible, we constantly asked locals what their favorite dish is! Time and time again we were told Babi Guling. Babi Guling is a whole roasted pig often served for special occasions. However, there are countless restaurants serving this.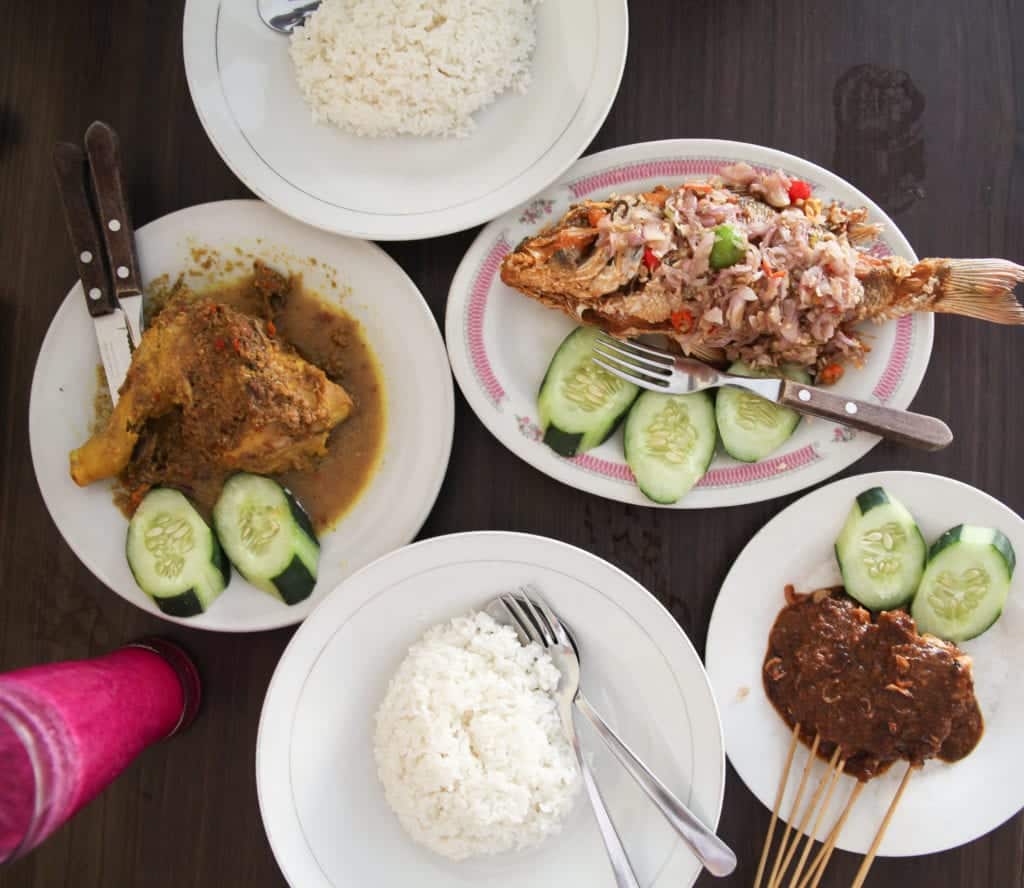 Another dish that was recommended quite often was Bebek Betutu, a duck dish wrapped in bambuu that you do not want to miss!
Beef Rendang!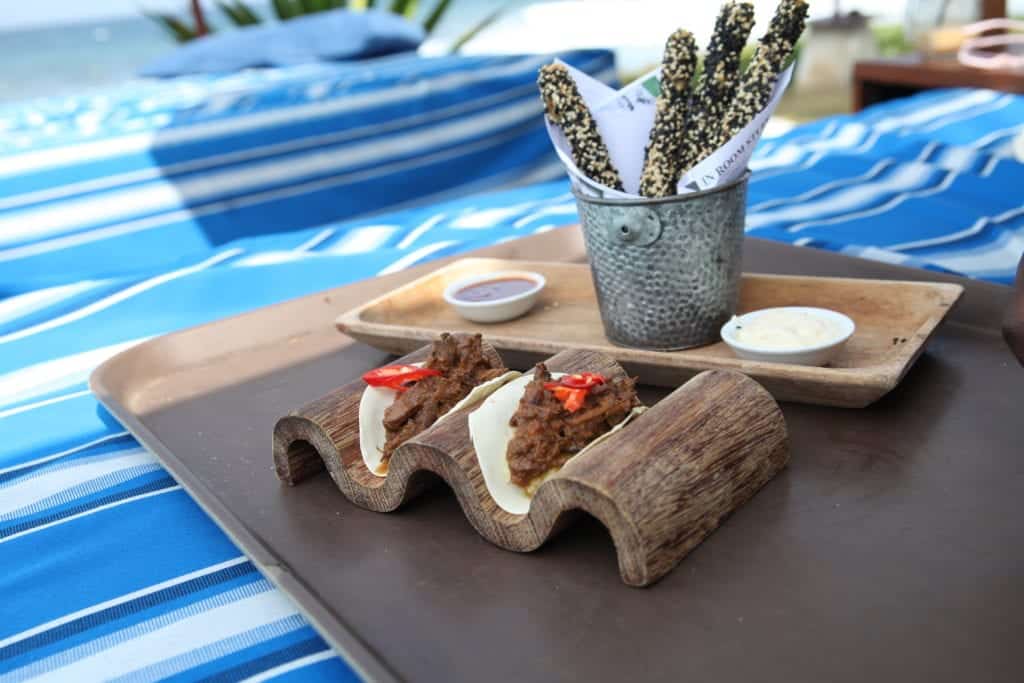 I honestly had this 3 different times because there were so many delicious variations of this! To me Beef Rendang was the absolute best food you have to try in Bali! It is a creamy beef that can be served with rice (or my personal favorite at the Komune Resort- as a taco).
Best Restaurants to try in Bali
It's likely that while visiting Ubud that you will visit Ubud Palace. Right next to the palace is Lotus Café which over looks the lily pads and Ubud Palace. We enjoyed Ayam Betutu and Mie Goreng which are stir fry noodles. A highlight for me was their coconuts. While coconuts are more than plentiful here, café Lotus has coconut with rum and was refreshing and delicious!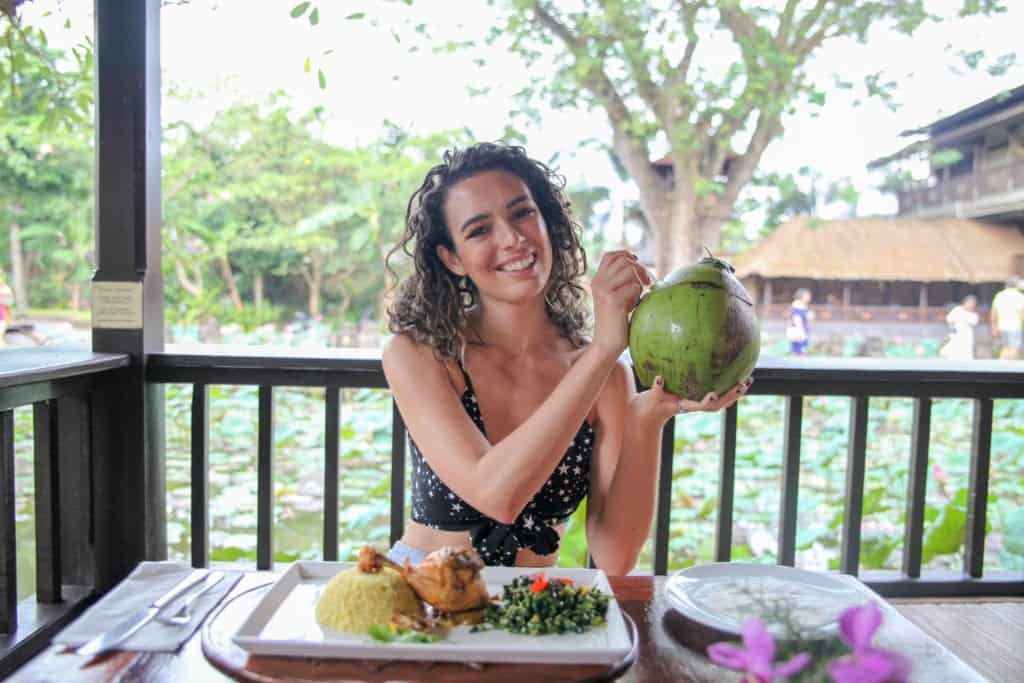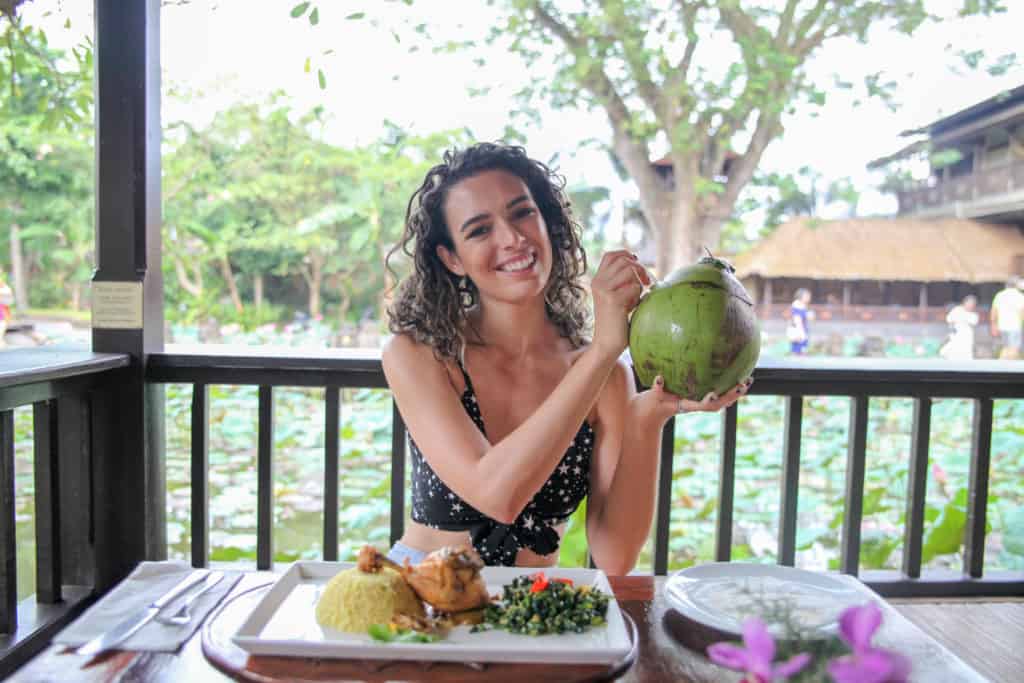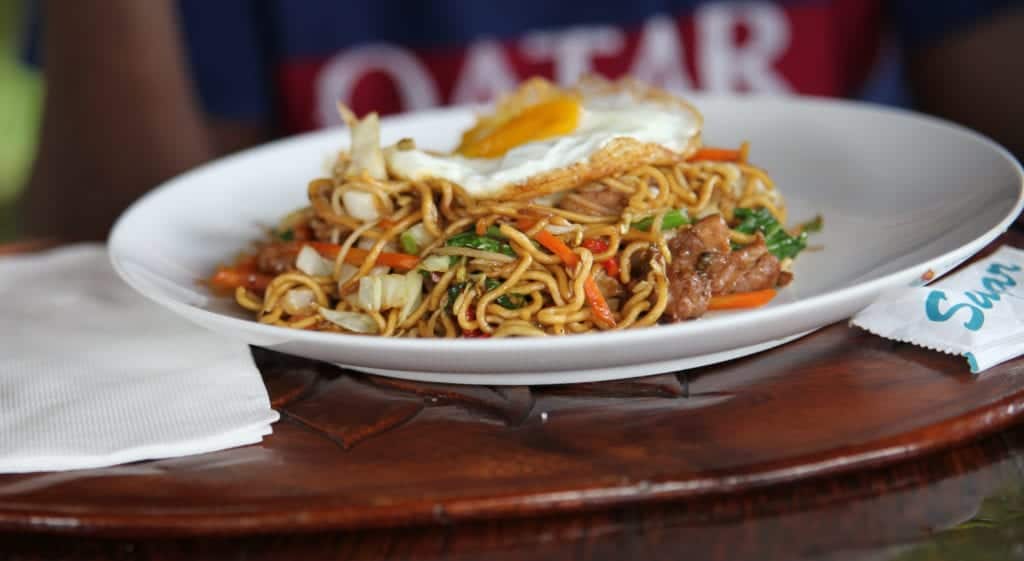 One thing that I found interesting was Mexican food and pizza! In America we are accustomed to the taste of these foods, but in Bali they had their own distinct, but still delicious flavor. We went to Café La Pasion an enjoyed queso and a bbq pizza. This is a popular expat spot with some truly unique food. You're not going to get pizza or Mexican food like this in the states and it's worth trying!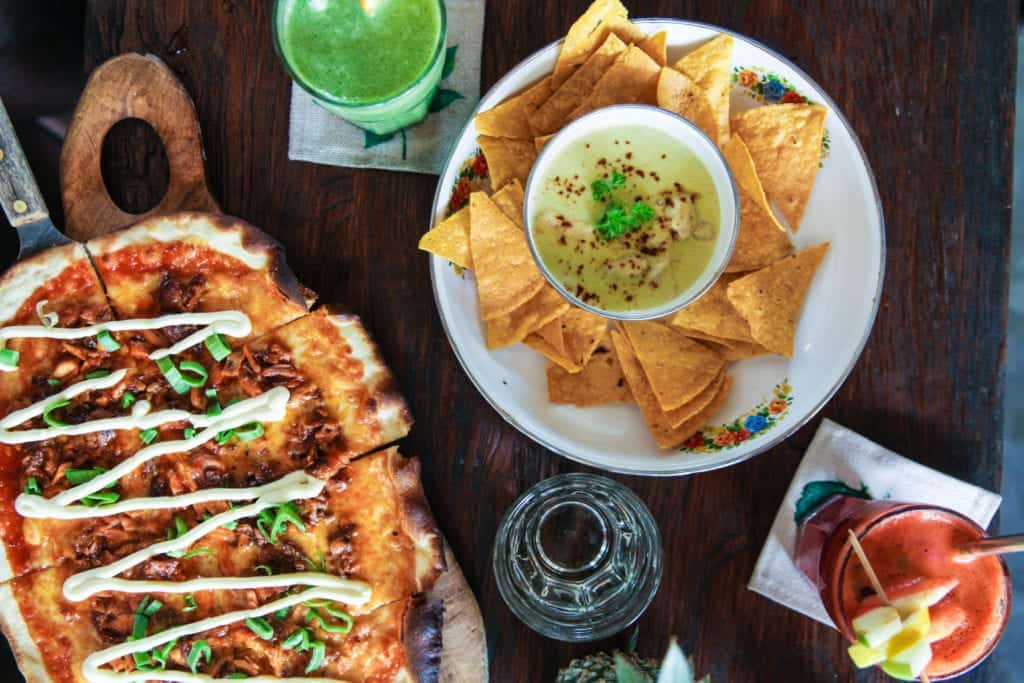 I know it sounds funny to say to try burgers in Bali, but my burger-addict husband was impressed with the quality there. A lot of the expat restaurants feature this and the burgers are always made with wholesome ingredients and packed with flavor. You can check out the Ubudian (in Ubud) for one of our favorites or Motion café which also included a decadent and guilt-free brownie!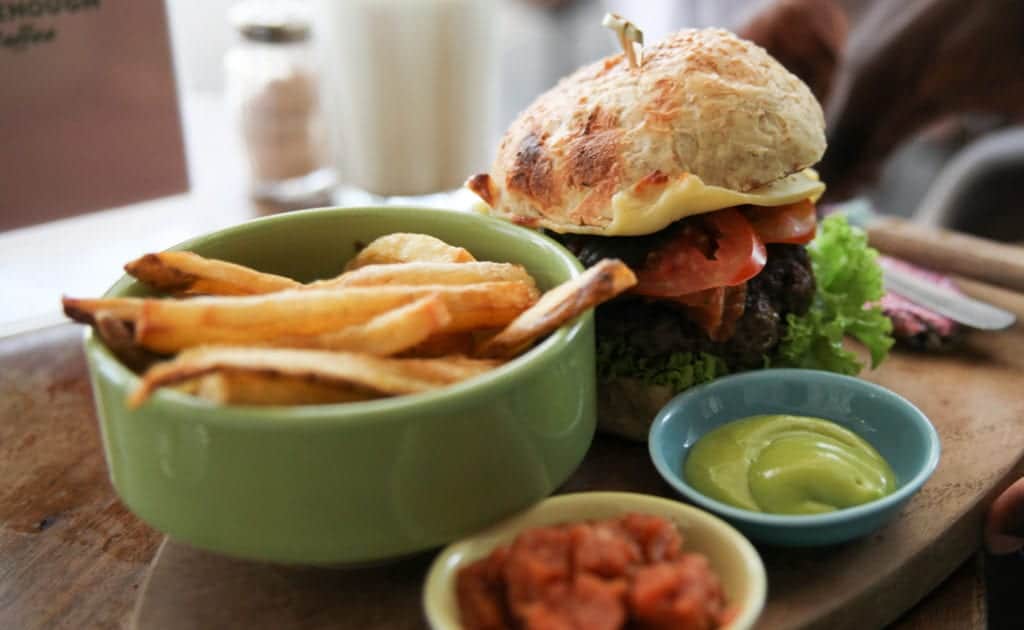 Cooking in Bali
I can't recommend this enough! Try some delicious food and bring back some skills to take home! We stayed with a host family who taught us how to make this amazing spread and included a cocktail using their local alcohol called Arak and it was quite a treat! You can find other cooking classes online or even stay with the family we stayed at in Ubud!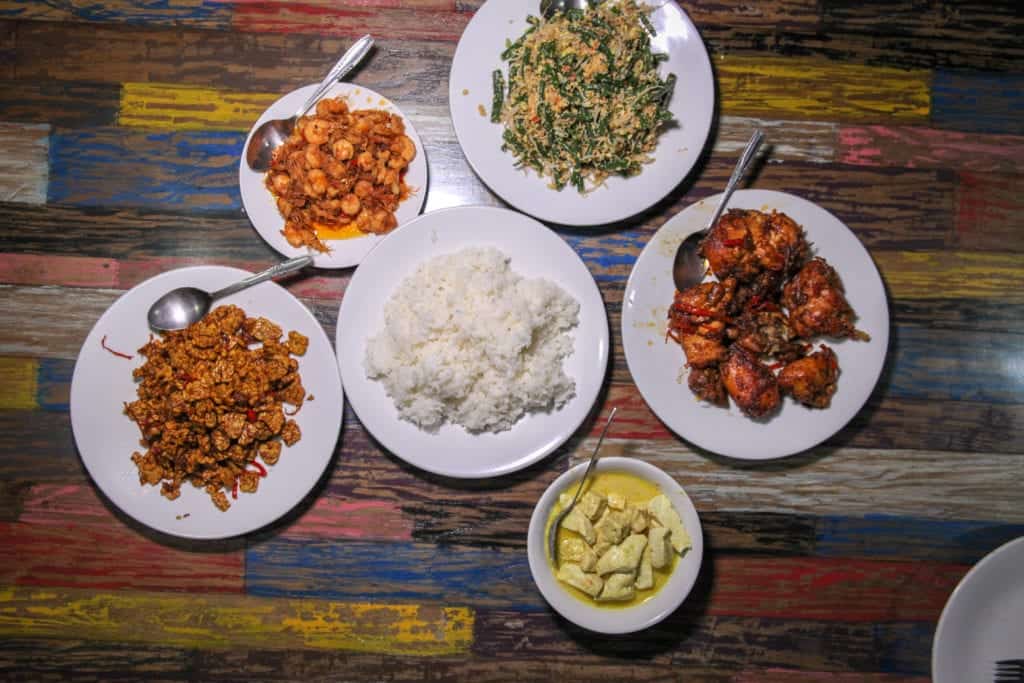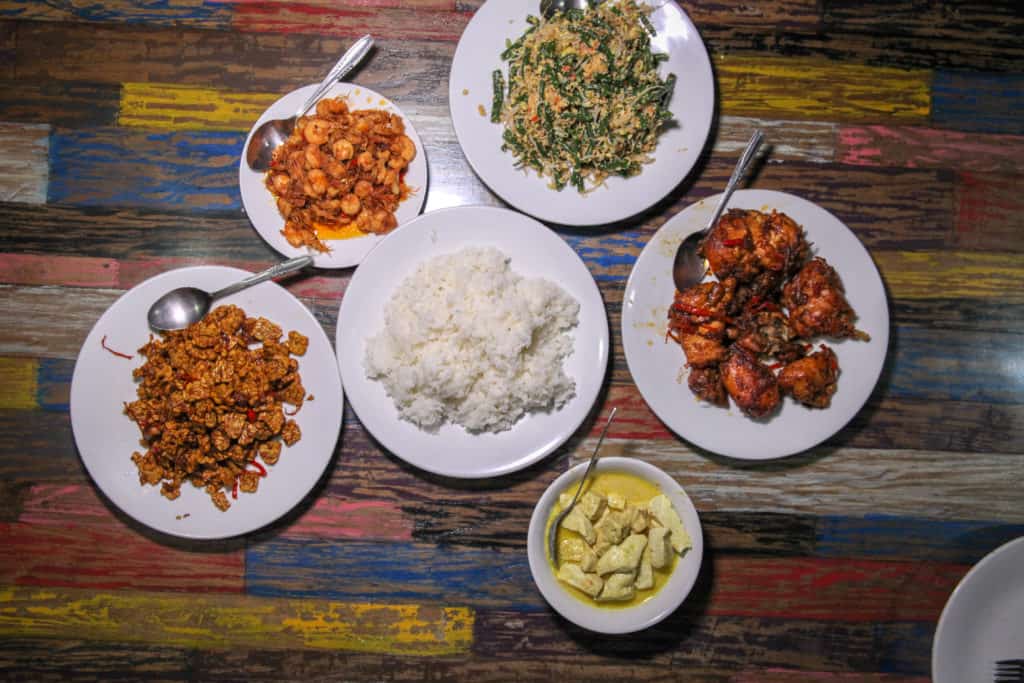 Honestly there are so many good foods, that identifying the best foods to try in Bali is quite difficult. The best thing I can suggest eat as much local food as possible! What do you recommend as the best food to try in Bali?