Ubud is one of the most popular destinations in Bali and it is easy to see why. It has a lot of local offerings while also serving the expat community. A lot of tours also start in Ubud and it's a popular place to take day trips from. We spent some days local and other days out exploring. We learned (unfortunately a little too late as you can read here) that it's best to have a home base rather than hop from place to place for this reason. Below I've put together a 5 day Ubud Itinerary.
You can either take it as a day to day itinerary or take little day trips from Ubud based on which area you want to visit. Some places in this Ubud itinerary are strictly in Ubud while others are day trips that can be done from Ubud.
Day 1:Top Local Ubud Sights
Start your morning off at Tegallang Rice fields! I recommend this first because it gets hot and packed throughout the day! The views are beautiful. While in Ubud we hired a driver (if we liked a Grab driver we asked if they could be hired for a day- most of them can) for less than $50 a day.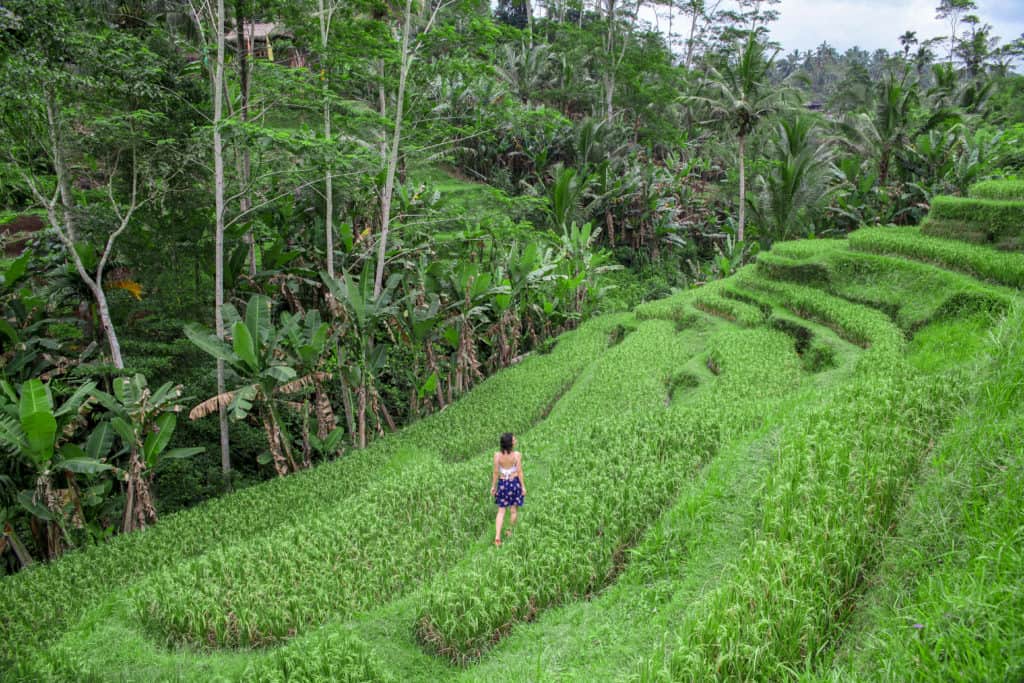 Start on the left side of the rice fields and then walk across through the right to get the most views. The land is owned by different people who ask you to make an offering to get through. Make sure to bring some 10,000 bills.
On the opposite end of the fields is a Luwak coffee which is worth the visit. What is Luwak coffee? It's the most expensive coffee in the world and comes from… well… a Luwak's rear end! The Luwak ingests the beans and what comes out is an altered and undigested bean. Gross? Absolutely! But also usually around $70 per cup except in Bali when it's about $3.50 so worth trying.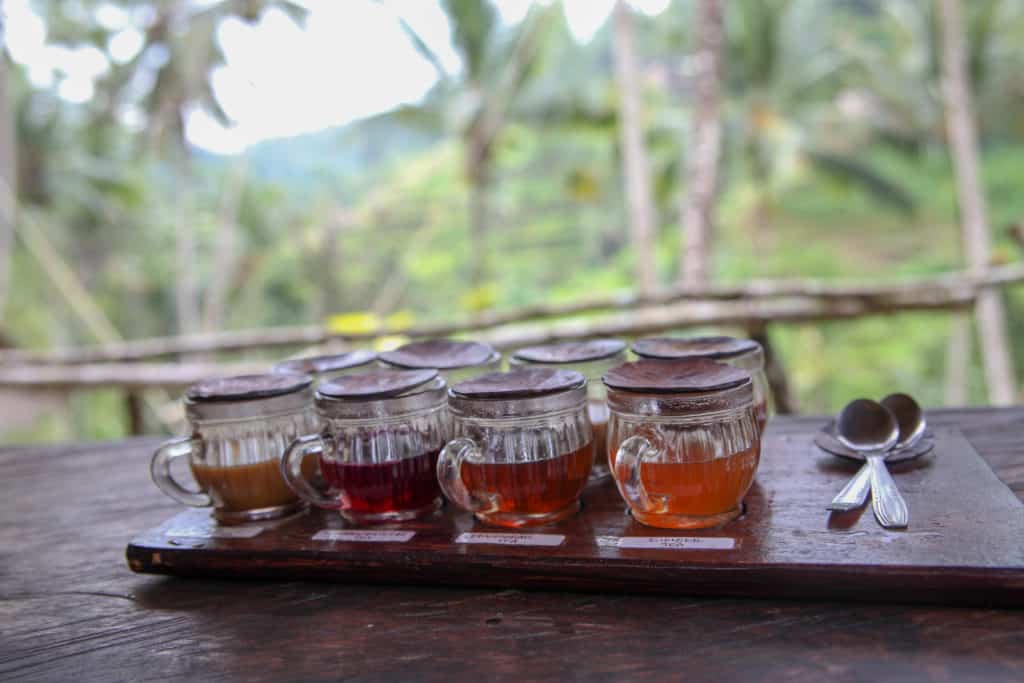 This Luwak coffee gives you a complimentary tea and coffee tasting with 8 samples total. My top picks were the Lemongrass tea and the coconut coffee, but they had a lot more too like Ginger tea, vanilla coffee, raw cocoa. The Luwak was extra. The people aren't pushy and are very friendly! We asked about the Luwaks and if we could hold them and they said yes!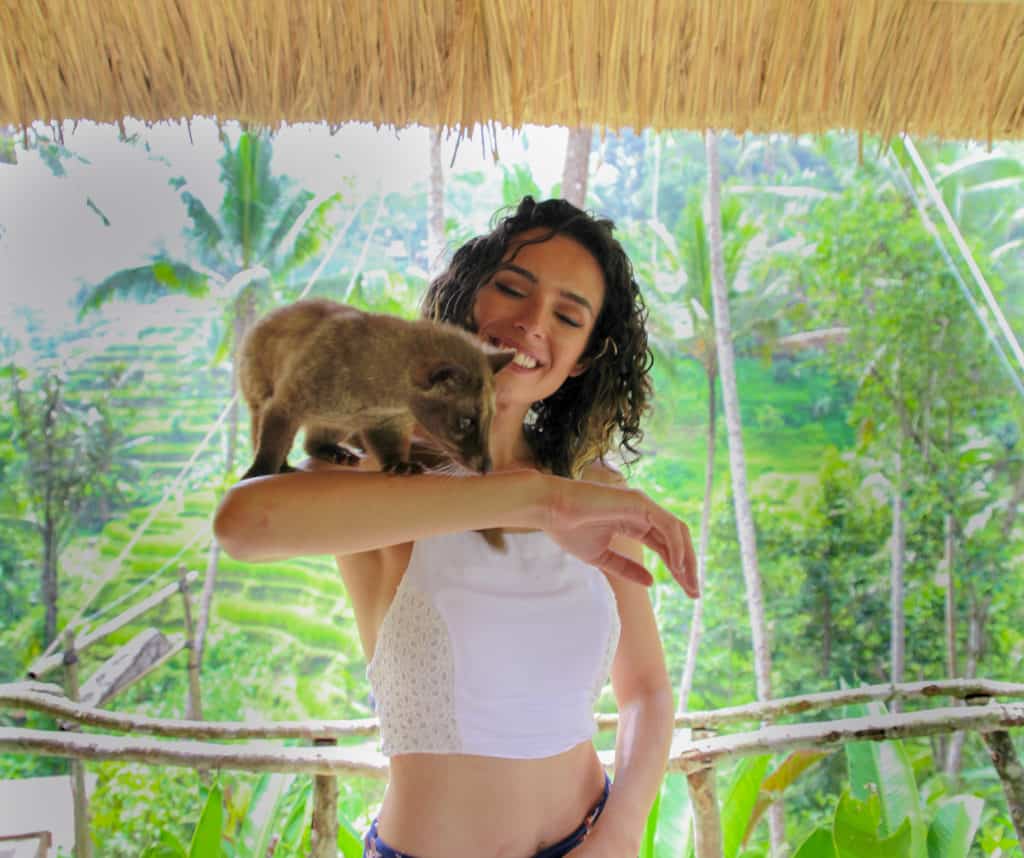 Also at the Luwak coffee shop is a swing overlooking the terraces! For about $7 they will let you swing! We swung forward and backwards! One for the gram and one to see the terraces!
The Ubud Palace
After working up an appetite, we drove to the heart of Ubud and the Ubud Palace. We had lunch at Lotus café. You get to enjoy lunch overlooking the Palace and Lotus pond which is gorgeous. Coconut water is found in almost every restaurant in Bali, but at Lotus Café they had an option to add rum!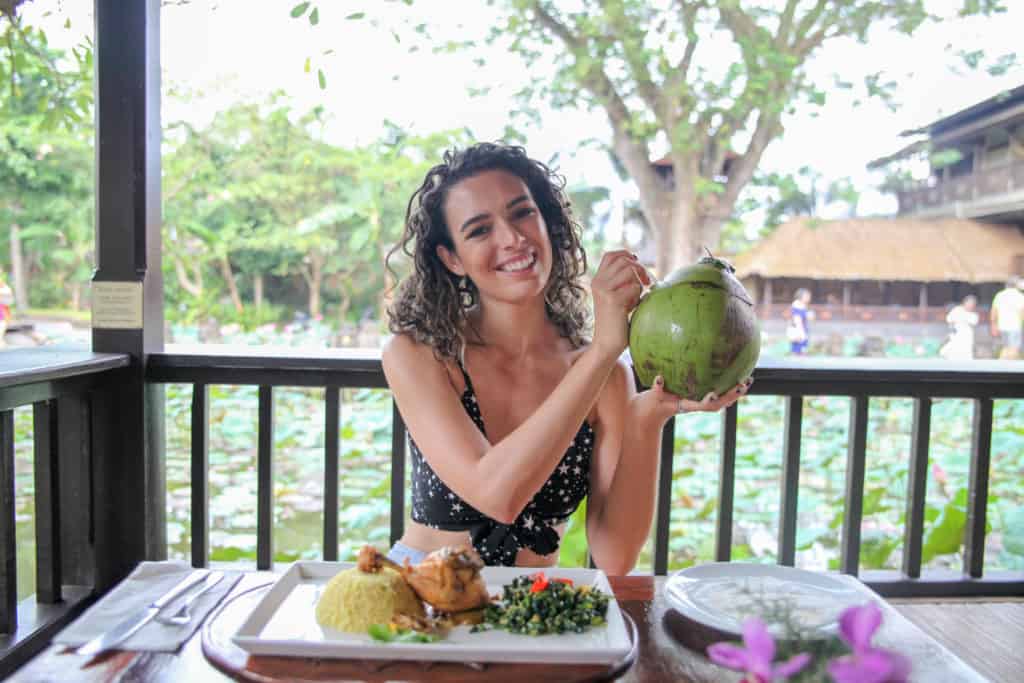 After lunch walk around Ubud Palace and then head out of the center for some shopping. No place in Bali lacks tourist shops, but I think the center had one of the largest selections that went on for blocks! Chief got some seriously cheap swim trunks, some touristy shirts, and I got a fun purse!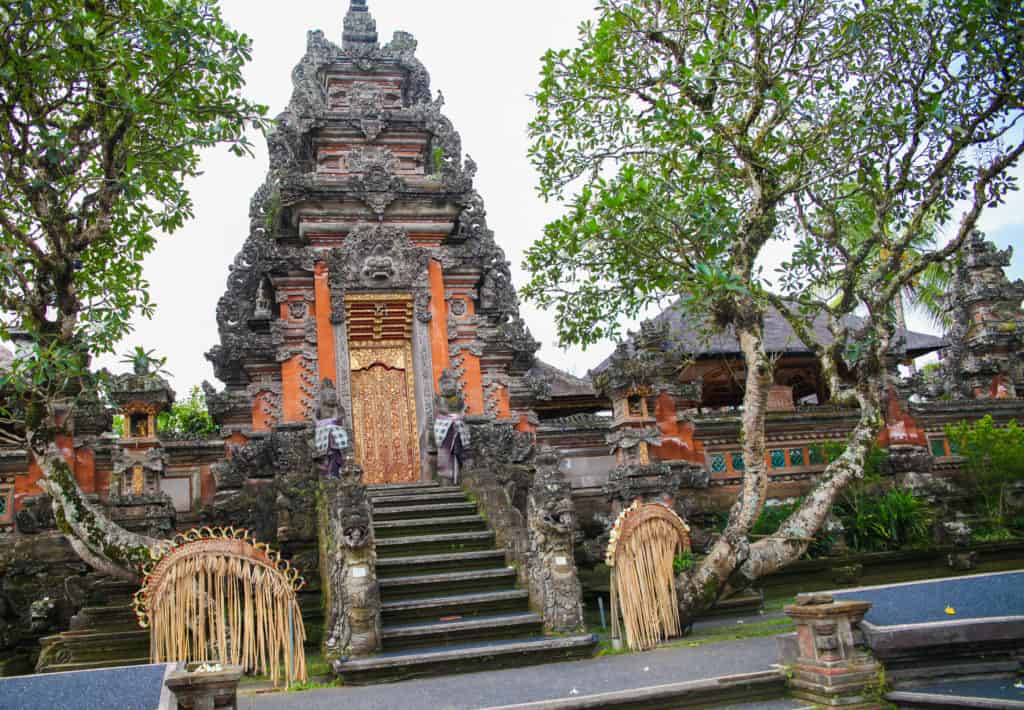 Ubud Sacred Monkey Forest
The monkey forest is where people get to see Macques up close and is always a place of preservation and research. Typically the monkeys don't bother them unless you have food or glasses! The park doesn't allow snack foods, but it did seem like they allowed bananas. I did not bring a banana, but on a trip to Gibraltar I saw how aggressive the monkeys got when someone had a banana hidden in her bag so my advice is to take caution. There are certain sections where you pay to hold a monkey if you would like.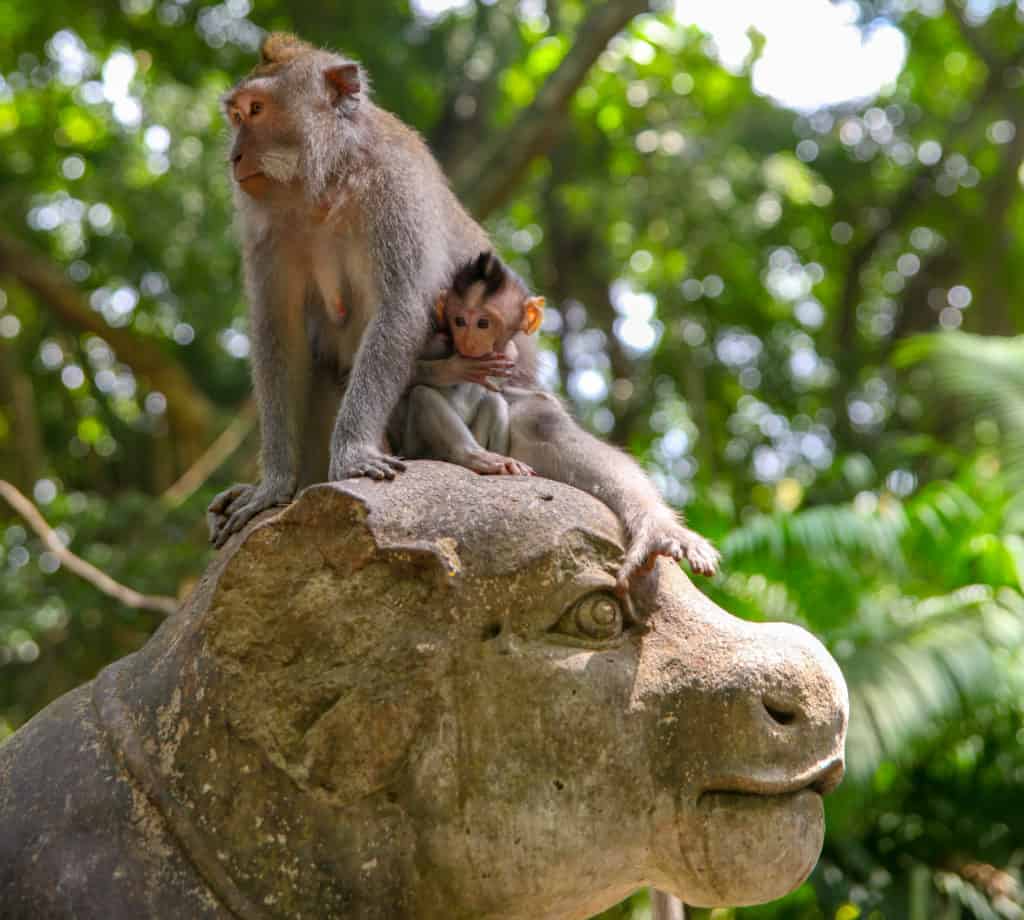 The park is pretty large and there are plenty of adult and baby monkey running around!
Goa Gajah
Also known as the Elephant Cave. It's a pretty quick visit and the most exciting part is the entrance of the cave. There are also some pools and a short hiking area. I would plan about an hour here. When we first arrived woman came to the car informing us that we had to wear a sarong. Luckily our driver informed us that they were provided for free at the entrance. Don't get caught in the trap! If you are wearing shorts you will have to wear the full covering. Since I had a long skirt I just wore this yellow scarf.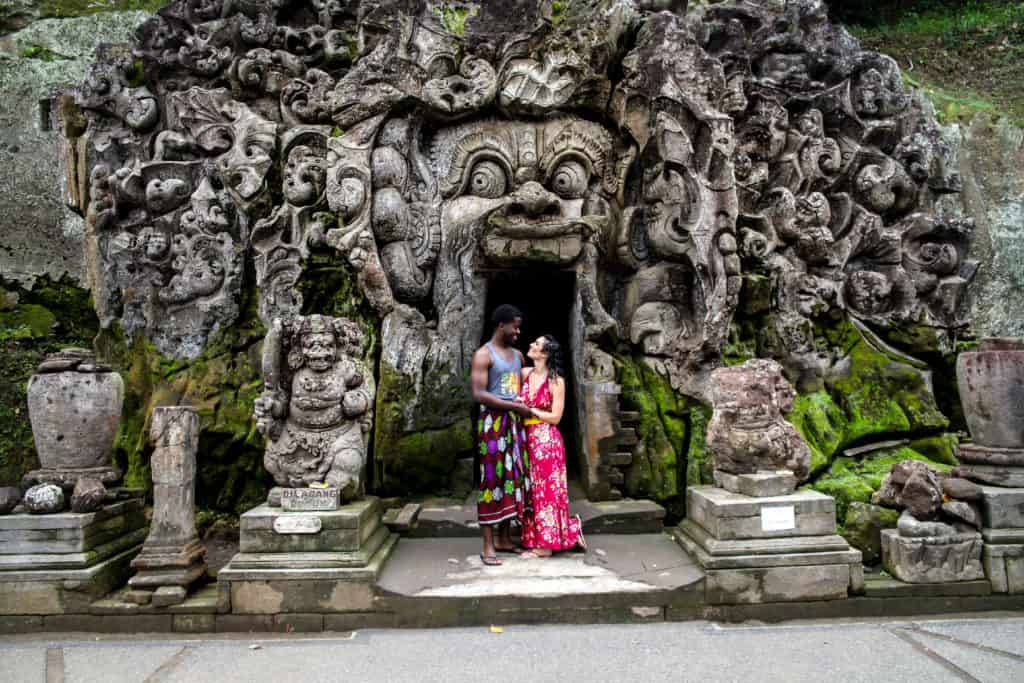 Day 2: Take a Day Trip to Tanah Lot
Tanah Lot is a beautiful water temple North of Ubud. Since it's a little bit of a drive I recommend stopping by Canguu for a fun healthy community and Love Anchor.
Love Anchor- Canguu
Love Anchor is on the way to Tanah Lot and is a cute shopping village with a market area with vendors and some other shops.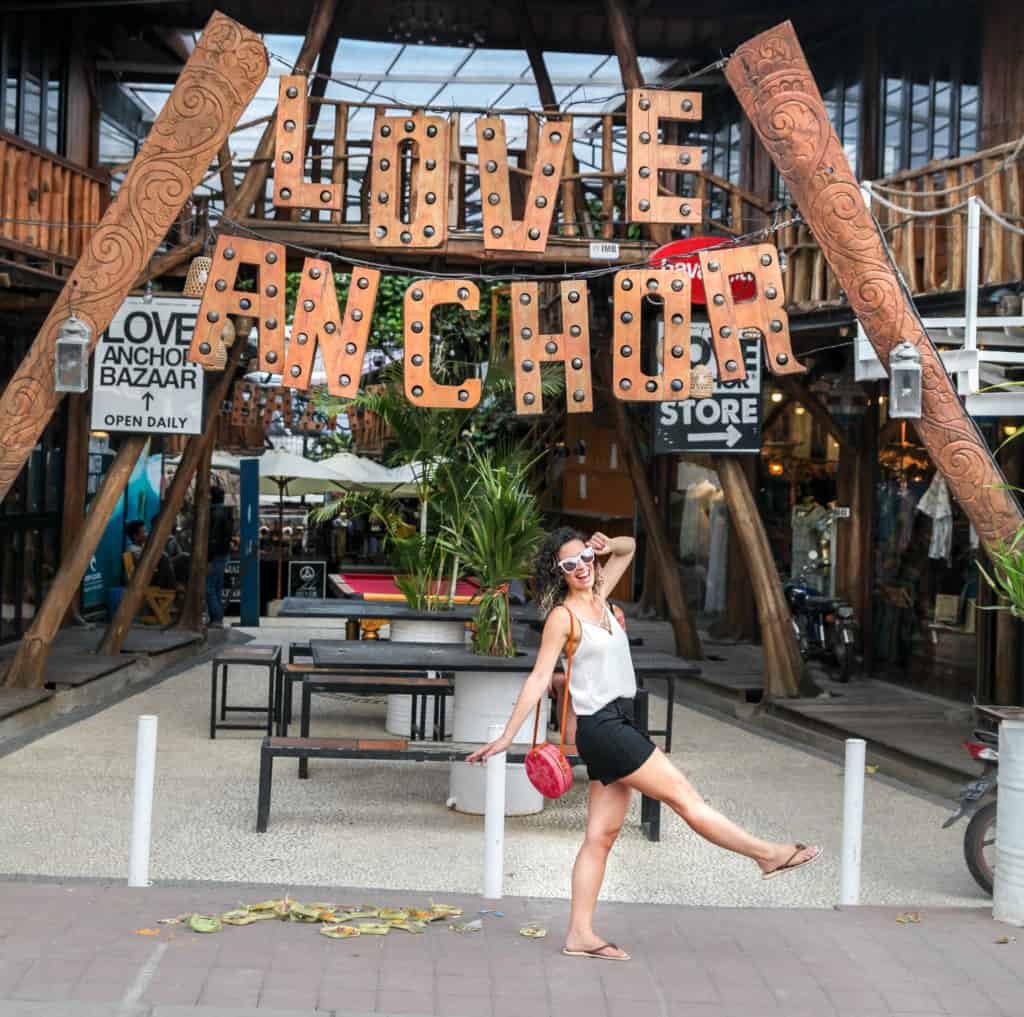 Canguu Is also a popular surfing village in case you want to hit the beach. Most of the restaurants surrounding Lover Anchor are healthy eateries. We indulged in burgers and brownies without the guilt! You can enjoy some of the most delicious healthy food in Canguu!
Finish the evening at Tanah Lot! Make sure to wear the right shoes because you can walk to the temple which means getting your feet wet. There is a small section of the temple that you can enter and be blessed by Holy Water. We enjoyed a sunset before heading back. If you stay a little later they also perform the Kecak dance here!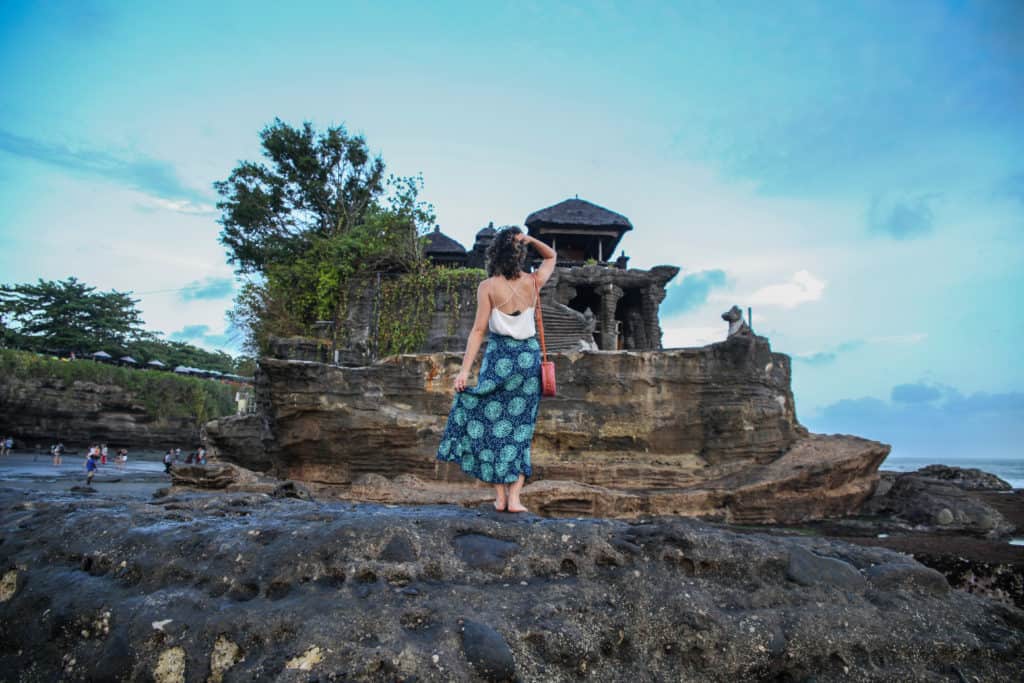 Day 3: Take a Beach Trip to Jimbaran Cliffs
Jimbaran is about an hour from Ubud, but is one of the most popular places because of the unparalleled sunset and romantic seafood dinners!
On the way to Jimbaran you can stop by Dream Museum Zone for some fun photo opportunities!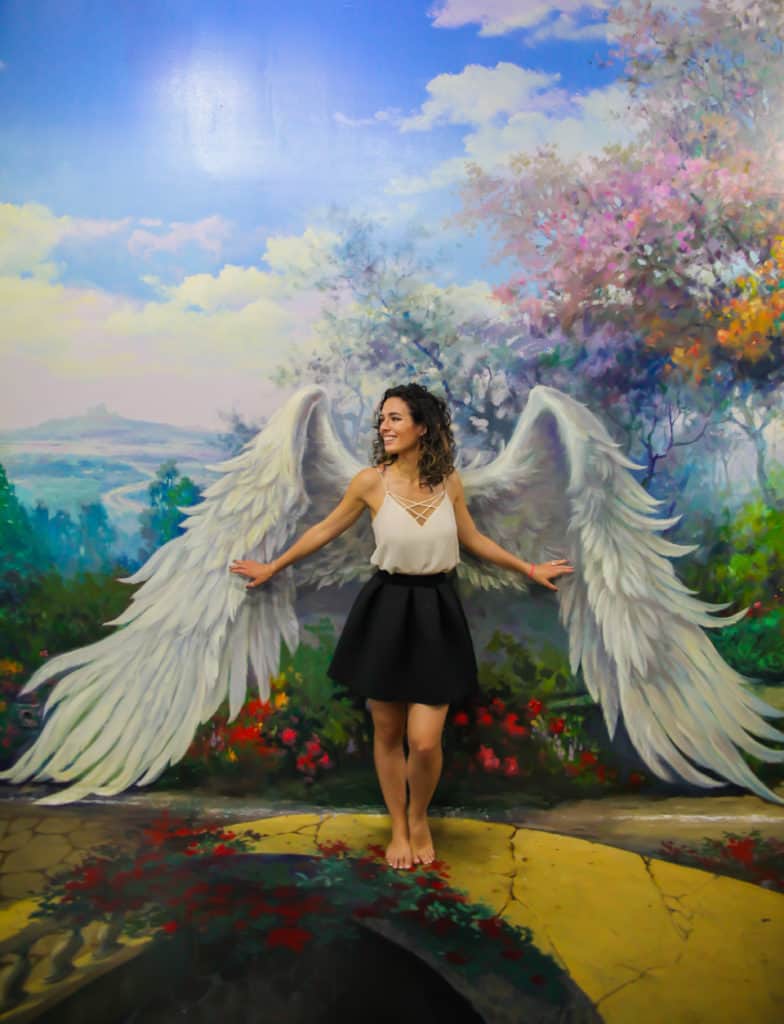 Right next to Dream Museum Zone is Taman Air Spa. After spending quite a bit of time researching different spas I decided Taman was the one to visit because of it's atmosphere, spa offerings, and price. You can read all about my experience here.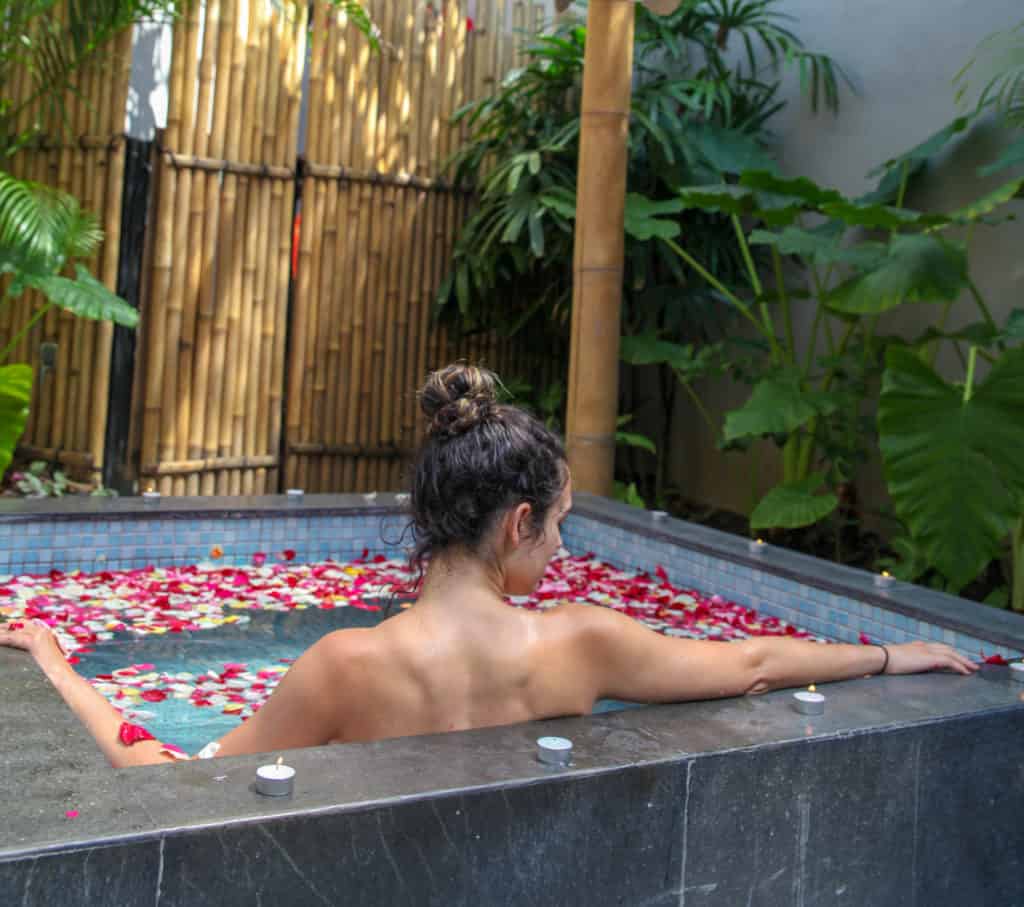 Jimbaran is a popular beach and it's worth spending the rest of the afternoon relaxing on the beach. Right before the sunset the restaurants start bringing their tables up front. We made sure to grab a seat up front so we had views of the water. You can feast on a Seafood meal and drinks for 2 for less than $50.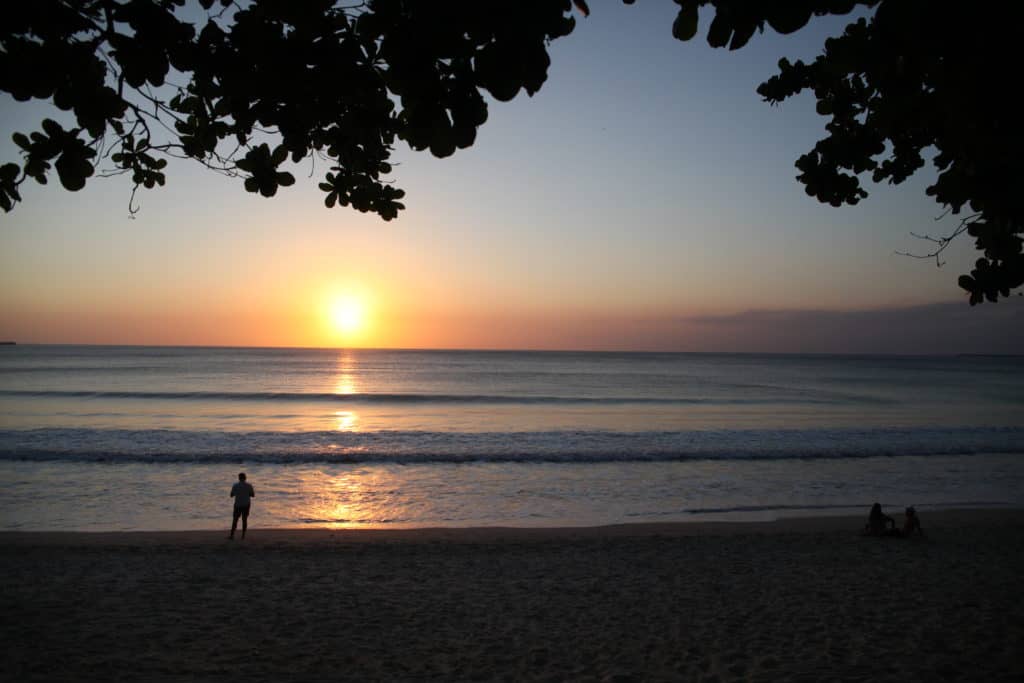 Day 4: Spend a Day Visiting Local Artisans
Create your own art at the Upside Down Museum! You will be taken through fun exhibits to create your own fun art like this!

Afterwards head to Celuk. If you look ahead of time there are places that let you create your own pieces. Having our driver was probably one of the best experiences for going through the silver village. The most in depth guide can be found here!
After using the gram I found one small shop that I wanted to visit called Japa Silver. They had a lot of cute rings at great prices.
Afterwards we went to a more well known silver shop called Prapen. We were able to watch some of the silver being melded.
On the same road as Japa and Prapen are a lot of smaller shops. Some have tiny selections while others have a much larger selection. These are known as family and it was nice to be able to visit these and support smaller businesses (the selection is smaller but the prices are cheaper).
We ended our silver shopping trip at UC Silver village. These are more high end but they had a large selection of high quality pieces. The outside of the shop is huge and also makes for fun pictures.
In the same area there are a lot of art shops. There are a lot of standard shops selling similar artwork as well as unique pieces. Most people (even if they say they painted it) source it from a whole seller. It's worth simple hopping shop to shop to find your favorite pieces.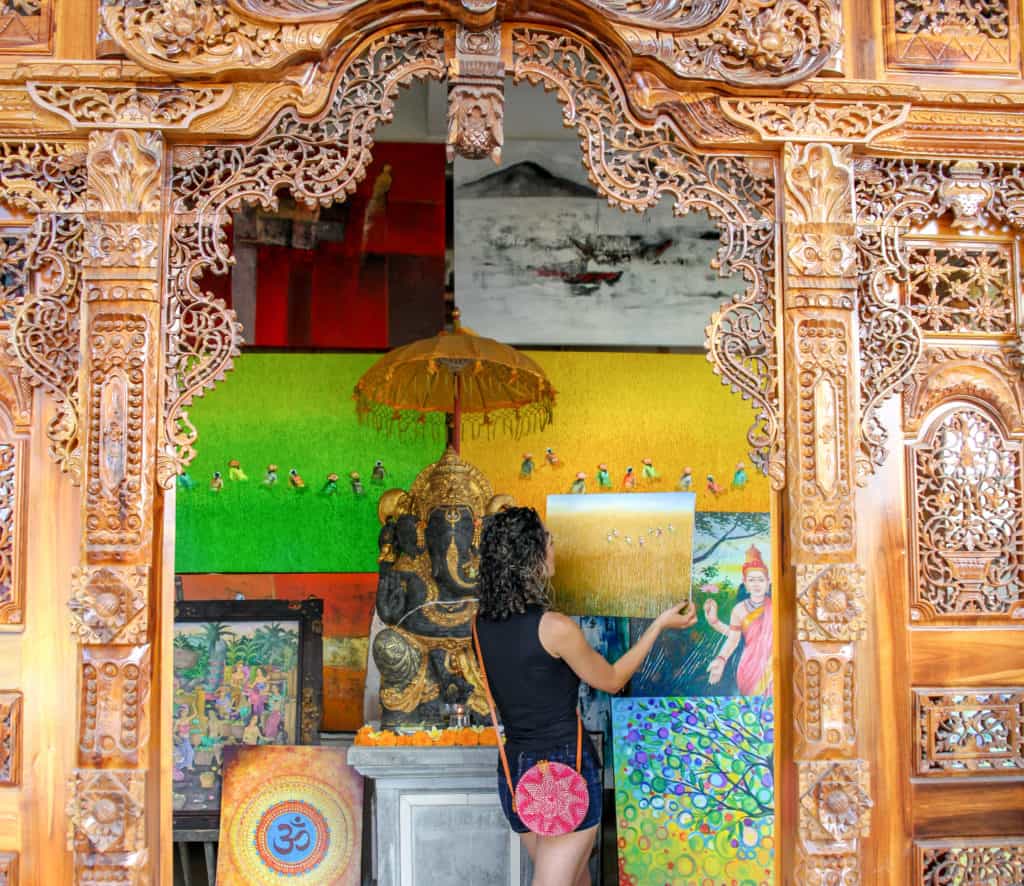 Now I mentioned most places get their art pieces from a wholeseller. Danaswari is one of the major art wholesellers in Ubud. They don't have a website and your tour guide isn't just going to take you here. However, this place is worth the stop because it has the largest selection of art I have seen! I put the exact coordinates below since they don't have an address. If you use the street viewer you can see the sign and the shop on both sides of the road!
8°35'27.6″S 115°16'47.6″E
-8.591011, 115.279888
Day 5: Have a More Secluded Beach Day at a Black Sand Beach
Keramas Beach is a beautiful black sand beach and is the closest beach to Bali. You won't see tourists walking down the beach and people won't be trying to sell you things. The most popular thing to do here is to go to the Komune beach club.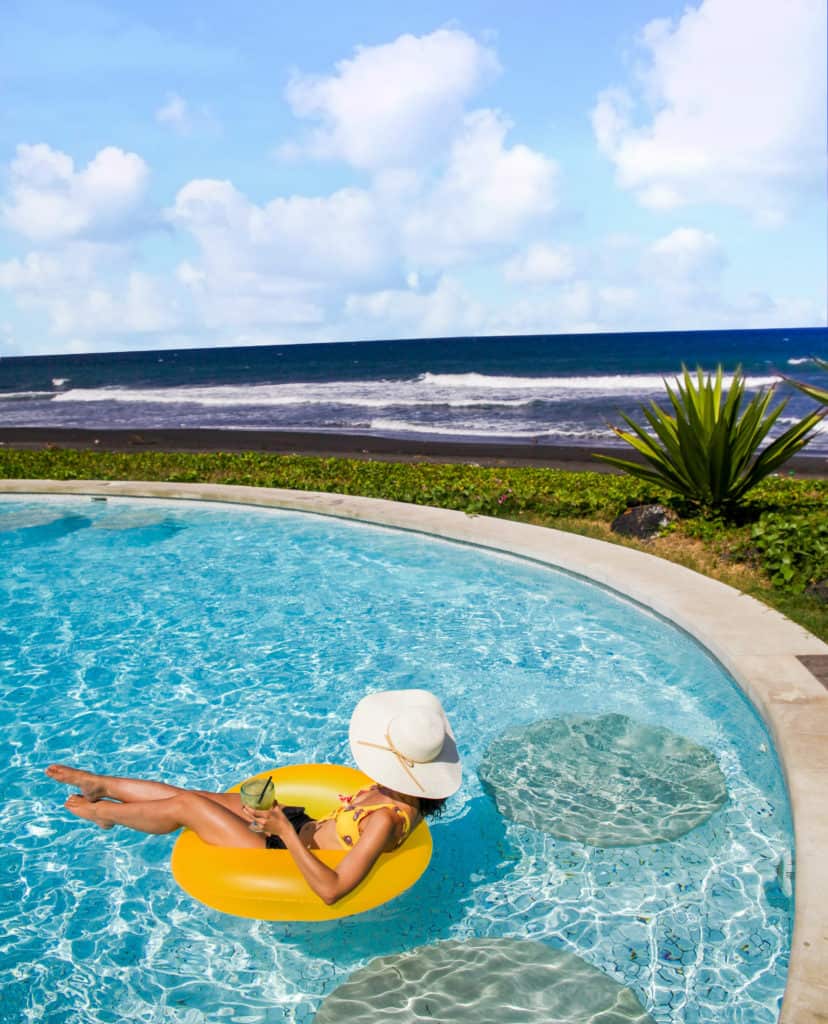 Komune is right along the beach and has it's own pool and lounge chairs. As long as you spend about $25 on food and drinks you have access to the pool, showers, restrooms, and your own lounge chair to lie on. My husband I ended our honeymoon doing this and it was pure relaxation.
Make sure to bring your own towels or you can rent them out for 3.50 each.
As the sun starts to set take part in a fun evening cooking class and learn how to make Balinese food. The family we stayed with provided a class but you can find some others here.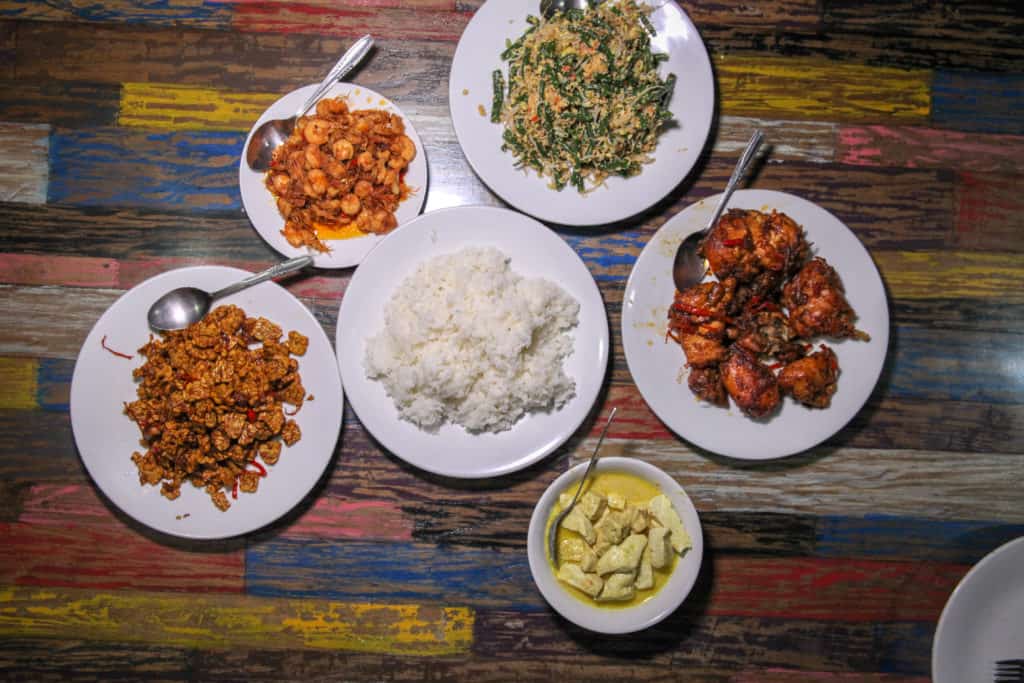 Bonus Itinerary
If you have an extra day head over to Mara River Safari Lodge which you can read about here!
Finishing Thoughts
Clearly there's quite a bit to do in Ubud and 5 days isn't enough. However, I tried to make sure that you could get the most out of each day! If you are looking for places to stay (such as an affordable place with beautiful infinity pool views or where to stay with a Balinese family) read here.