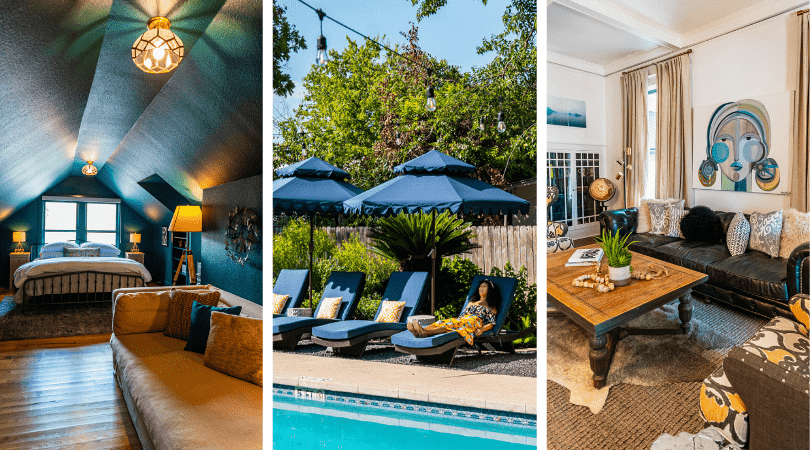 With stellar reviews and an average of 4.8 stars, Sophie's Gasthaus is not your average small-town bed and breakfast run by Grandma.
Located on the main street of New Braunfels, the exterior displays traditional, unsuspecting Texas brick with the interior pleasantly at odds with it. The front porch swing ties it all together and gives off a sense of both luxury and comfort.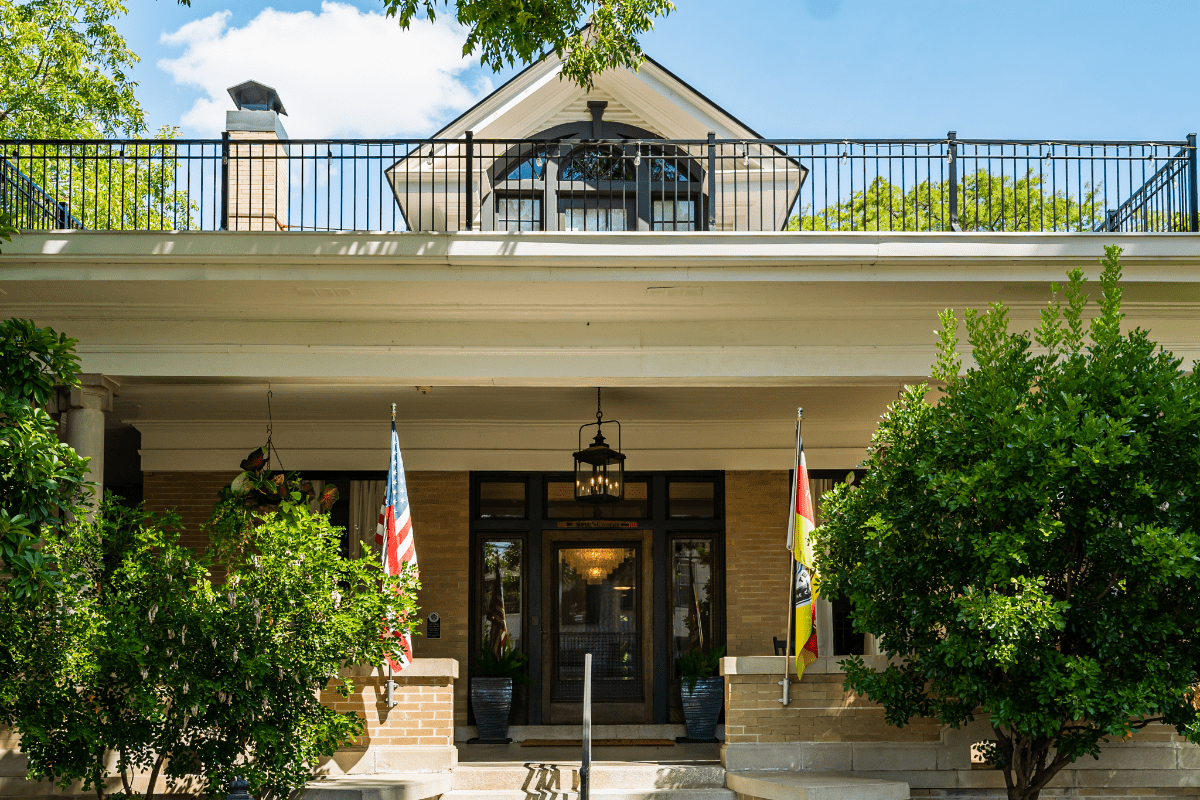 The current owners of Sophie's Gasthaus chose to preserve the home's original architecture from when it was first built in 1906. However, the interior of the house has been transformed with modern decor, bold colors, and eclectic details throughout.
As soon as you enter the lobby, your eyes are drawn to the art on the walls, the bold color scheme, the luxurious and intricate furniture, and the relaxed ambiance that permeates throughout the home.
The Concept at Sophie's Gasthaus
The concept at Sophie's Gasthaus is one of a kind. There is an on-site caretaker that can be reached by phone should you need anything, but check-in is contactless via a code, similar to what you may experience with most Airbnbs.
Guests have many positive things to say about the host, so while it is unconventional, it works well.
There's a ground-floor lobby with plenty of seating, a fireplace, and local artwork on display that is also for sale!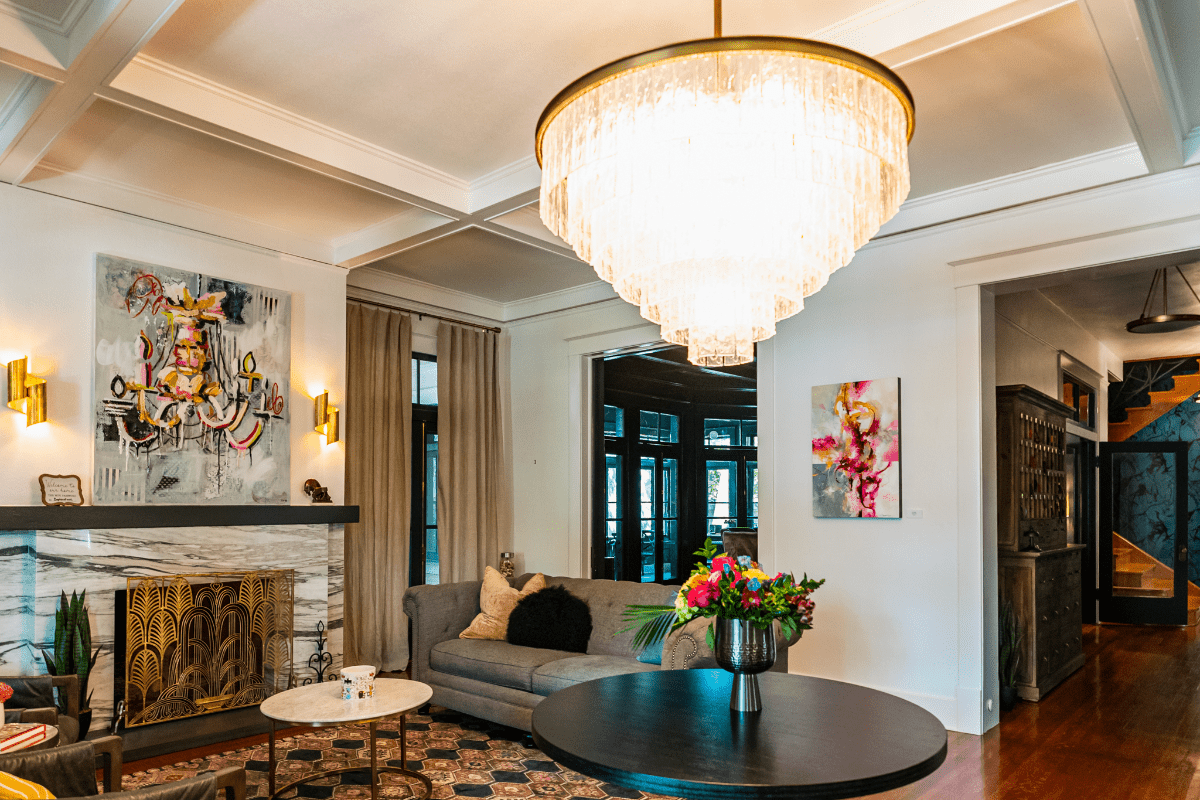 A butler's pantry with coffee, tea, and snacks is available to you throughout the day, and in the mornings, the host offers complimentary breakfast items like fruit, pastries, and oatmeal.
The Rooms at Sophie's Gasthaus
Each of Sophie's Gasthaus' eight rooms are distinctly decorated from one another, showcasing unique pieces while still maintaining the perfect balance of luxury and comfort.
Each room has a private bathroom with toiletries, a complimentary bar, a mini-fridge, a coffee and tea maker, and luxurious bedding.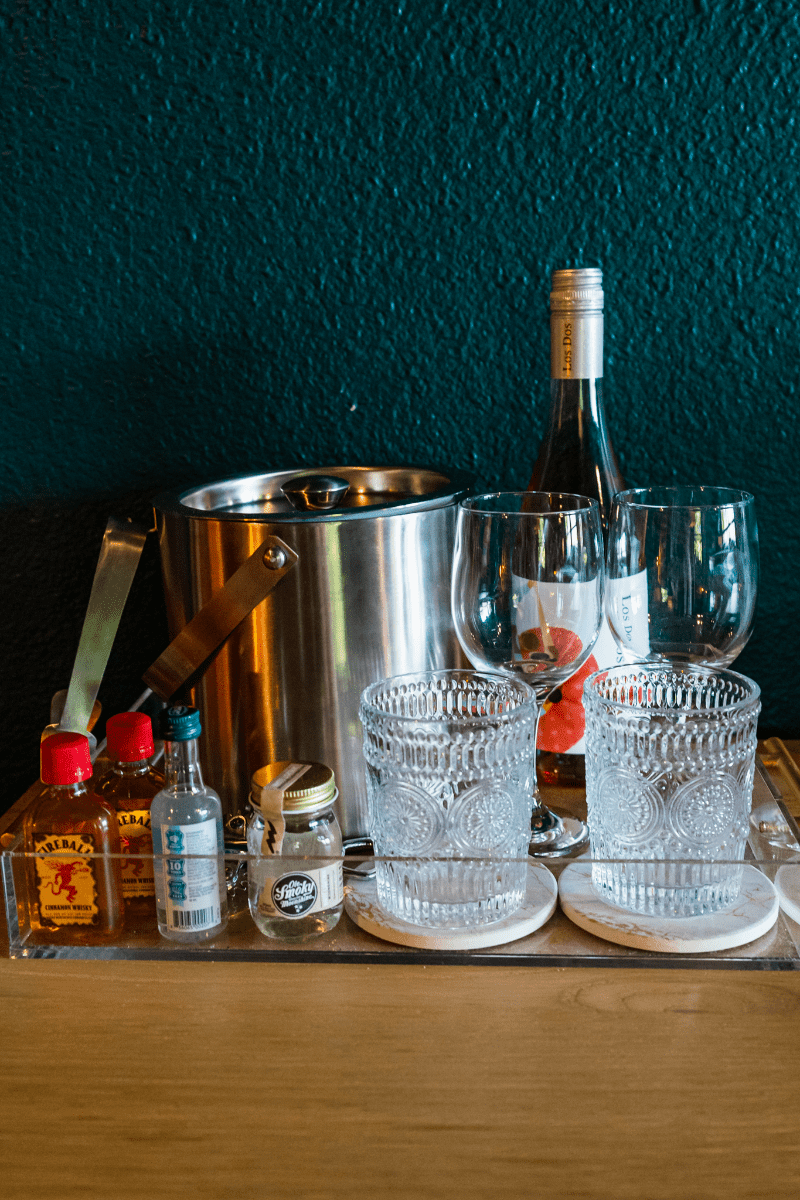 The Captain's Suite
The Captain's Suite combines classic and modern design with dark and moody colors and nautical decor.
It features an en-suite bathroom with beautiful brass fixtures, mood lighting, and a walk-in shower for two.
The Faust
The Faust is located on the second floor and offers a breathtaking view of the pool.
This room combines classic finishes and furniture with a modern design and forest-green walls that flow into the outdoor area overlooking the garden.
The Fischer
The Fischer is a king suite on the second floor of the main house with a twin chaise sleeper for added sleeping space. The room preserves the original German architecture while combining it with modern comfort.
The Eiband
The Eiband is named for George Eiband, who built this house in 1906. This king suite is decorated in a soothing shade of blue and is just steps from the pool and terrace.
The Prince Solms
The Prince Solms Suite features a king-size bed, a twin chaise sleeper, bright colored walls and furniture, plenty of lounge chairs, vaulted ceilings, and lots of natural light.
The Karbach
The Karbach is an elegant suite with a private terrace overlooking the front gates and downtown New Braunfels.
The Seele Suite
The Seele Suite is the best option for families. Located on the second floor, it features two bedrooms with queen-size beds, plus a twin trundle bed with a twin pullout if you're looking to fit a few little ones. The scent of magnolia trees wafts through the windows, and you'll have a bird's eye view of the pool.
The Hayloft
The Hayloft is a one-bedroom apartment designed for extended stays. The suite has a fully equipped kitchen with all necessary cooking equipment, a living room with comfortable and quirky furniture, and a long kitchen table. The room has a modern, retro look with fun touches of color. An optional queen-size, blowup mattress is also available.
The Amenities at Sophie's Gasthaus
The first thing you'll notice when you enter your room is the complimentary snacks and locally sourced drinks. It's really hospitable details like this that'll enhance your experience at Sophie's Gasthaus.
Guests have access to a private, fenced-in backyard with a beautifully tiled pool, a hot tub, plenty of sun loungers, and a large lawn with patio furniture and a fire pit. Their front porch swing is like something you'd see in your favorite movie set in the south on a farm. It's the perfect place to relax in the morning with your coffee or to unwind in the evening before bed.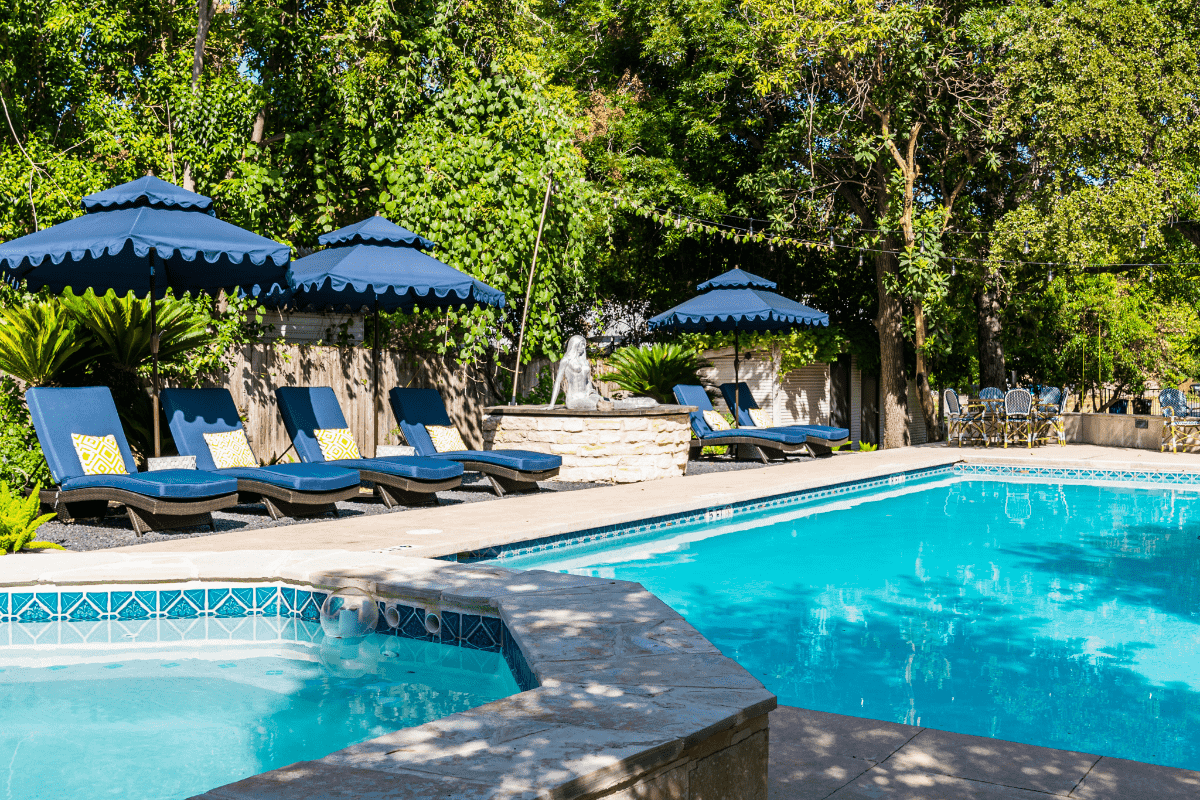 Good news for all pet owners: Sophie's Gasthaus is pet-friendly, but you will need to provide details upon reservation so the owners can prepare for your furry friend's arrival.
Host Your Next Event at Sophie's Gasthaus
Sophie's Gasthaus has experience hosting all kinds of events, like leadership meetings, staff retreats, and other special occasions!
They even work with local artists, displaying their art for sale to guests, and hosting pop-ups in the lobby or courtyard.
There is also a fully functional kitchen for your private event so you're free to prepare and lay out your spread in a space that feels like home.
Sophie's Gasthaus can accommodate 22 overnight guests in total, perfect for a bachelor/bachelorette party, family reunion, and retreats of all kinds!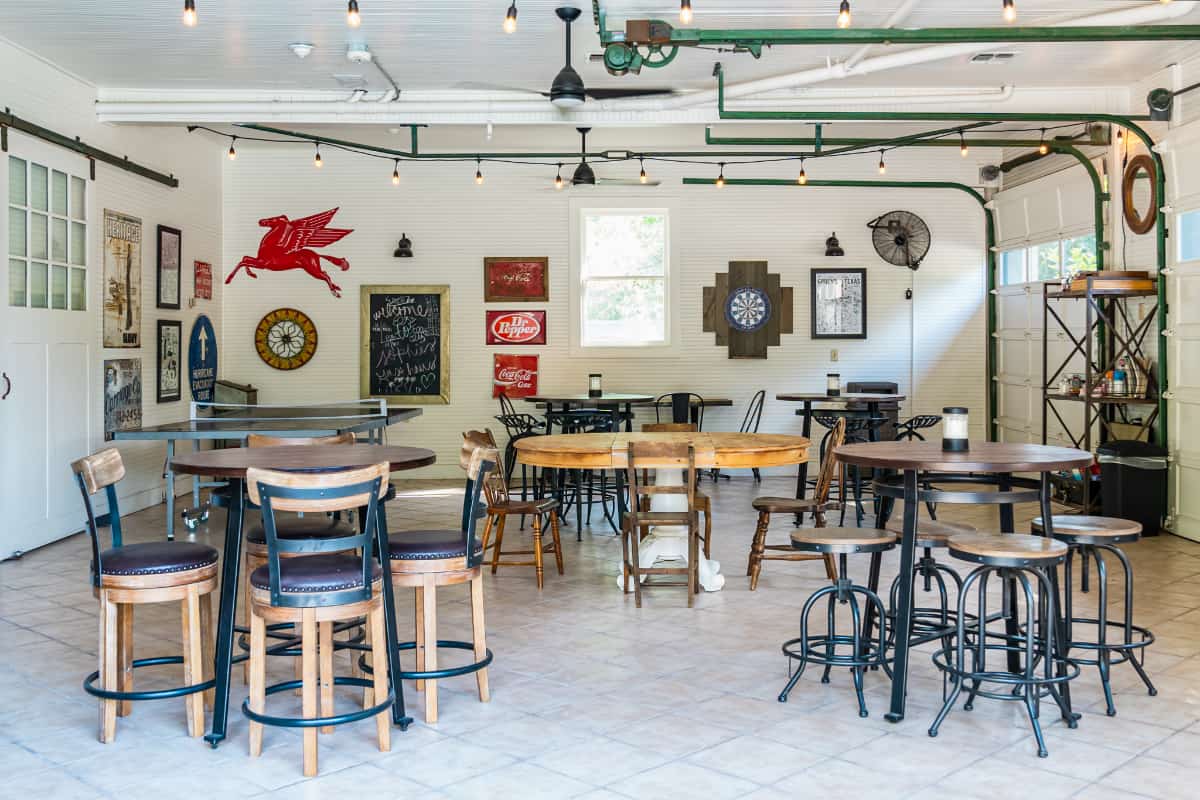 Where is Sophie's Gasthaus?
Sophie's Gasthaus is located in the heart of downtown New Braunfels, just a 10-minute walk from all the local cafes, restaurants, and bars:
Fuel up for breakfast at Krause's Café, a popular brunch spot
Shop for goodies at Texas' Best Farmers Market
There are numerous wineries and breweries
For a fine dining experience, try Myron's Steakhouse, McAdoo's Seafood, or Huisache Grill
Dress up and grab cocktails at Downtown Social or Pour Haus
Stop by Scoop Street or 2Tarts Bakery for dessert or when you're sweet tooth is pestering you
If you're looking for something fun to do nearby:
Stroll downtown and check out the unique boutiques, thrift stores, and antique shops
If you are more interested in history, visit the Sophienburg Museum and Archives
Picnic at Landa Park
Go tubing, paddle boarding, and rafting on the Comal or Guadalupe Rivers
Dust off your boots and go dancing at Phoenix Saloon or Gruene Hall
Listen to live music at Whitewater Amphitheater or River Road Icehouse
Check out our guide on things to do in New Braunfels for the complete list!
Sophie's Gasthaus really is the perfect choice for a small-town getaway in New Braunfels.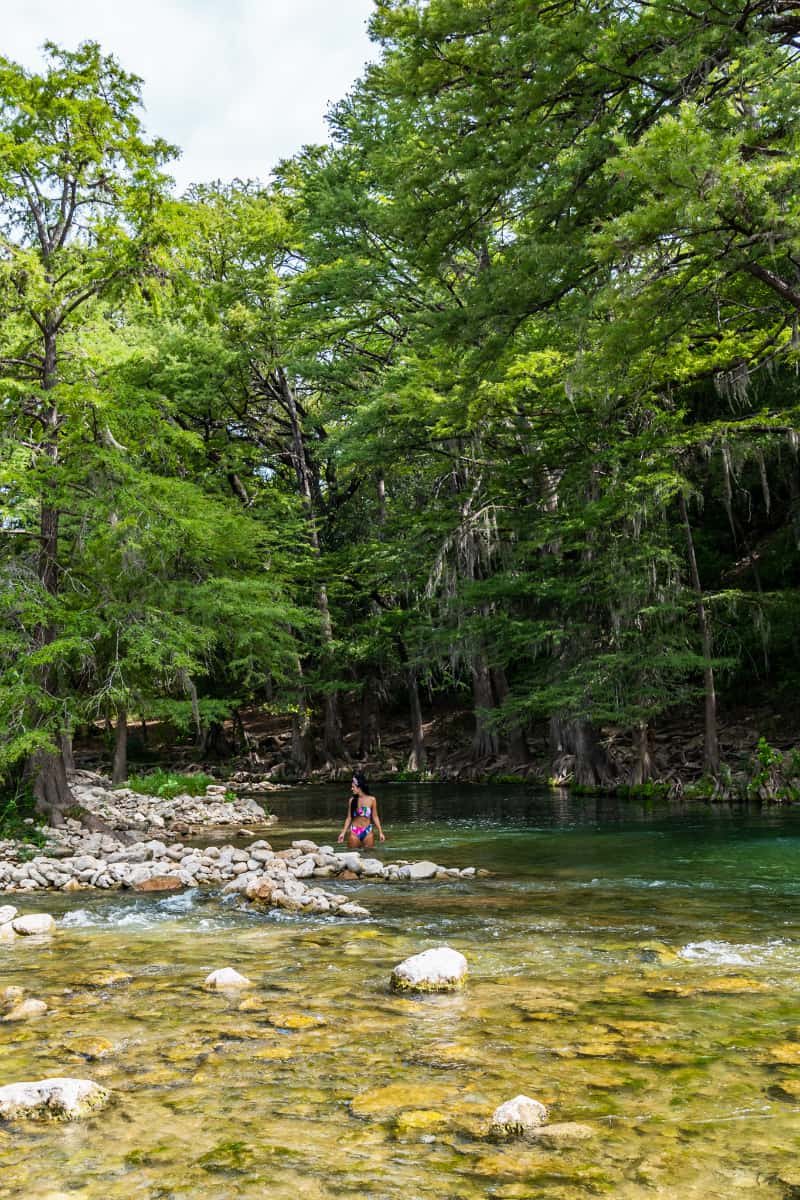 Sophie's Gasthaus: Final Thoughts
Make New Braunfels your next vacation destination, book a unique room at Sophie's Gasthaus, and enjoy the small-town lifestyle, even if just for a little while!