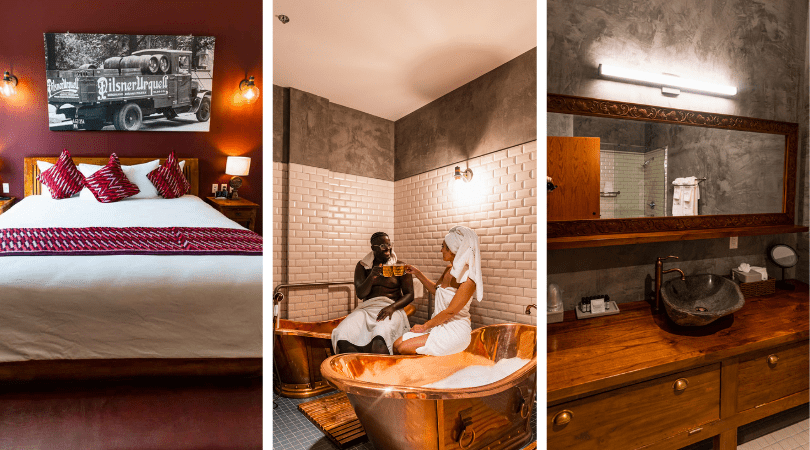 Of all the places to stay in Waco this weekend, the Pivovar Hotel has to be one of the most interesting! With amazing amenities and beautifully designed spaces, this Czech-inspired hotel offers luxurious rooms with colorful decor. The hotel has countless nods to Czech culture and the roots of Pilsner lager, a type of beer created in the Czech Republic. You can even find art made from blown glass for sale throughout the hotel. Not to mention, the Pivovar Hotel boasts a unique spa experience!
Its close proximity to downtown Waco and the city's abundance of things to do and places to eat this weekend, it is easy to see that the Pivovar Hotel is one of the best options of where to stay in Waco.
Stay in Luxurious, European Inspired Rooms
The Pivovar Hotel offers beautiful, cozy rooms with nods to the history and culture of the Czech Republic throughout. Our room had a spacious standing shower inside of a luxurious bathroom stocked with samples of their beer soap, beer body milk, shampoo and other hair products we could use during our stay. There were also complimentary robes and slippers so we could enjoy a spa experience from the comfort of our room. You'll also find a comfortable bed and pillows, a variety of lighting options, a complimentary charging station, and accessible Wi-Fi and AC. Some of the rooms even feature copper bathtubs!
There are also designated rooms that are pet-friendly.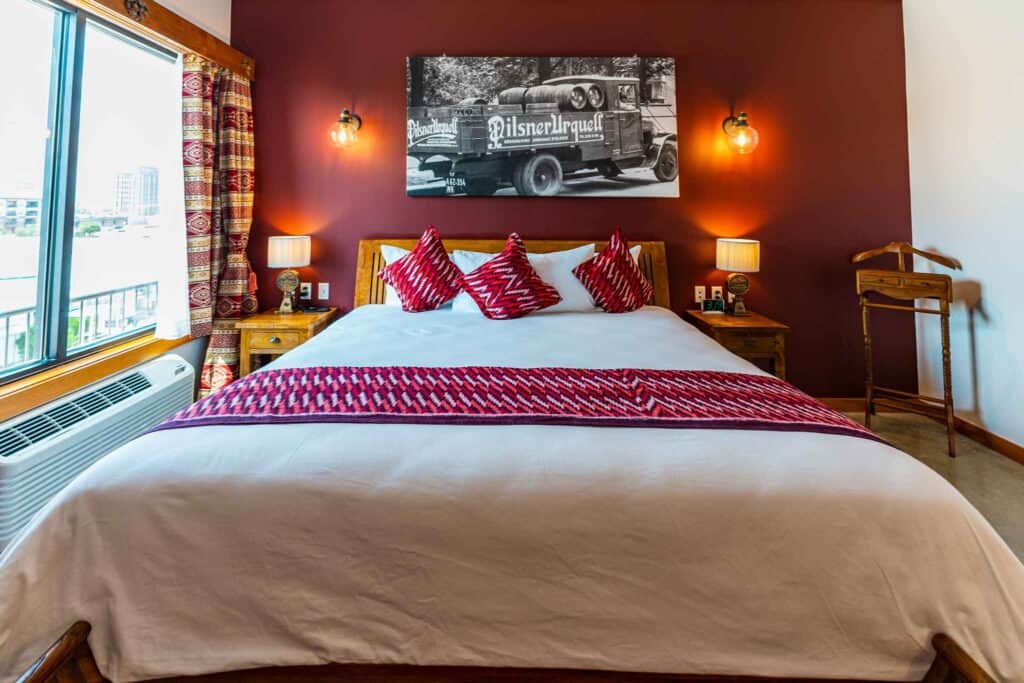 The Beer Spa
Interested in a relaxing experience that's also one of the most unique things a hotel can offer? Pivovar's beer spa is something that you cannot miss out on during your stay at the Pivovar Hotel this weekend. You are invited to take a private beer bath followed up with time to relax while you sip on the beer produced at the Pivovar's downstairs brewery. There is also the option to book a massage as part of your beer spa experience! If you are skeptical about the idea of a beer spa, don't worry; it is believed that soaking in beer yeast and hops can be beneficial for your skin and immune system due to its abundance of vitamins and nutrients.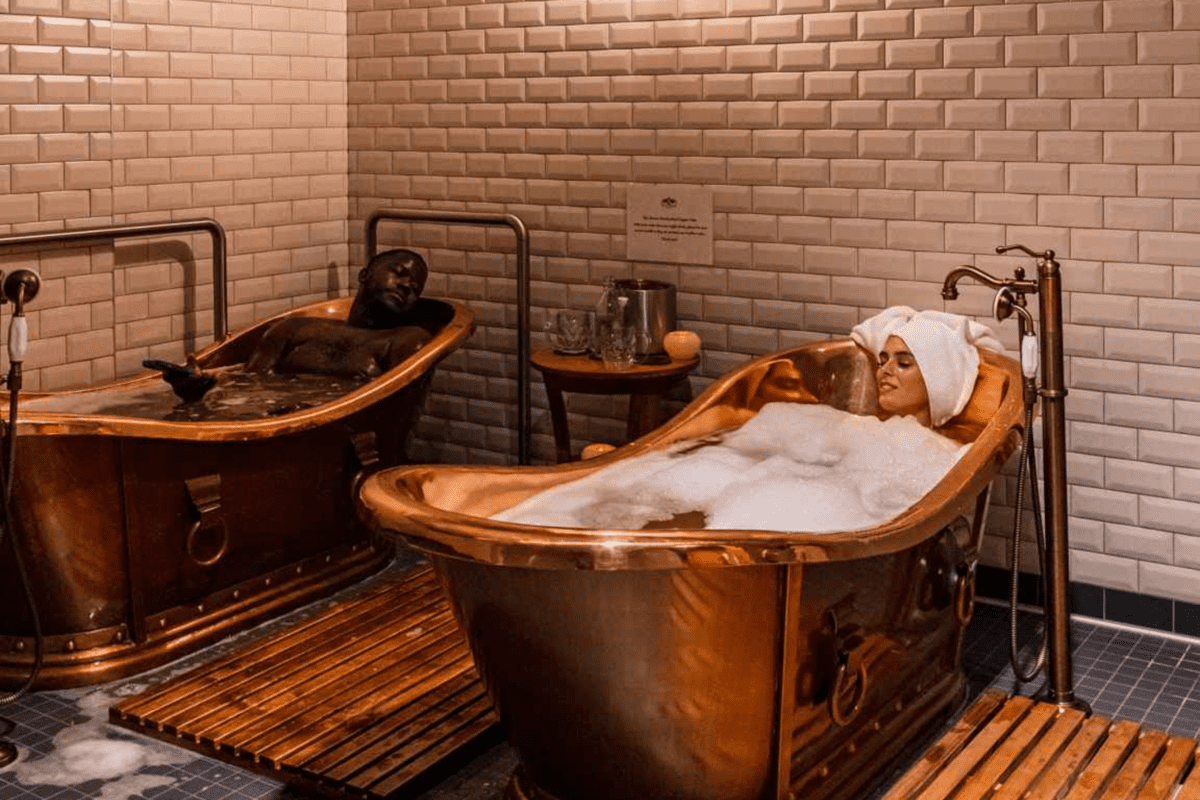 The Brewery & Biergarten
The Czech and Central European influences extend beyond the rooms of the Pivovar Hotel. There is also an on-site brewery that produces a variety of Pilsner lagers. Described as lighter and more refreshing than other beers, Pilsner has become a large part of Czech culture and is known for being some of the best in the world. This widely loved Czech beer is a must during your stay at the Pivovar Hotel this weekend and a great way to experience how the culture of the Czech Republic influences the hotel.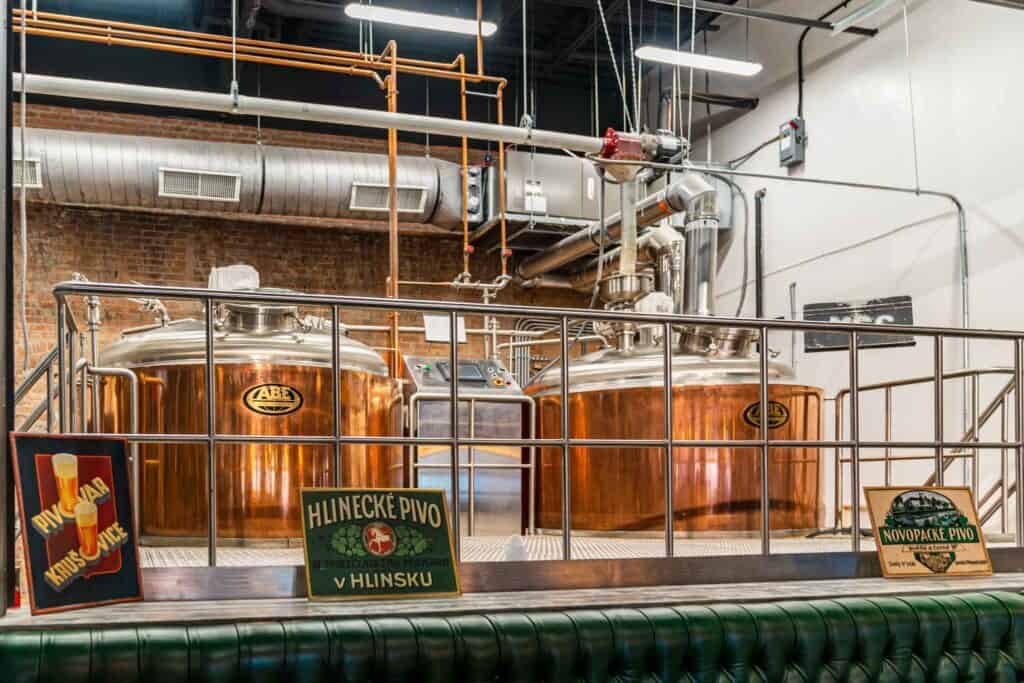 Another Central European tradition adopted by the Pivovar hotel is the biergarten, which you'll find next to the brewery. We definitely suggest spending some time here during your stay. It is one of the most popular spots in Waco for people to hangout and socialize over a beer and some amazing food. The space overlooks Magnolia Market next door and is known to be a family-friendly environment, so bring your whole family!
A Full-Service, Fusion Restaurant & Czech Bakery
The full-service restaurant at the Pivovar Hotel incorporates the fun atmosphere of a brewery with a menu that combines both European and Texas flavors and styles of cooking. For more about our experience at the Pivovar Restaurant and what we ordered, check out our extensive list of where to eat in Waco this weekend. The Pivovar franchise also recently opened a Czech bakery on-site, stocked with fresh bread, Czech pastries, and desserts.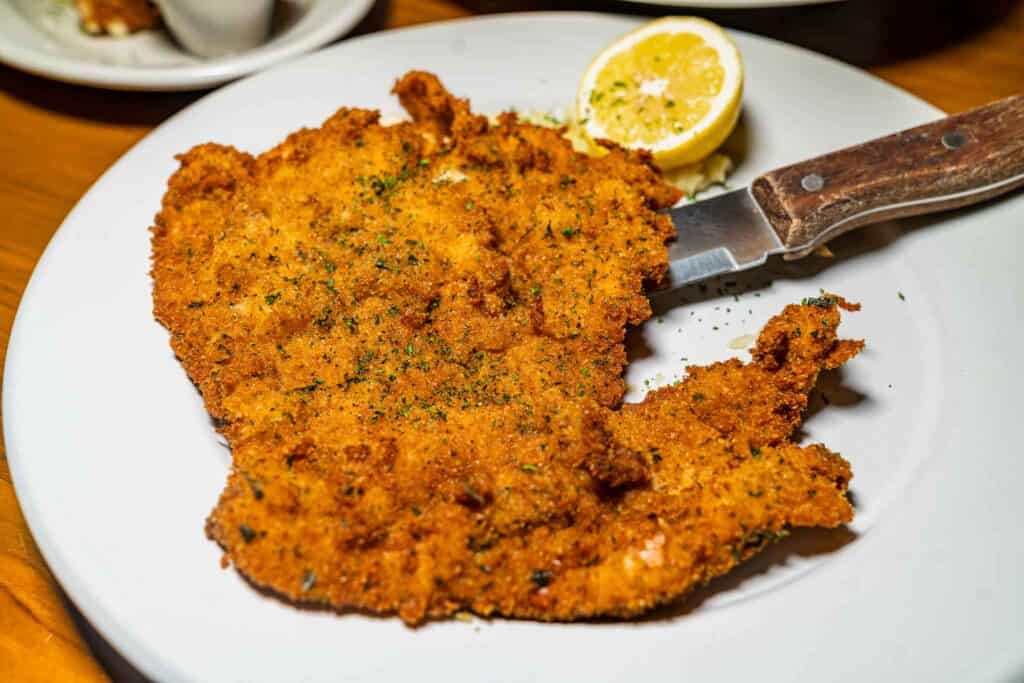 Things to Do Near the Pivovar Hotel
If you're planning a trip to Waco and are looking for where to stay, the Pivovar Hotel not only offers an amazing experience, but it is also conveniently located in downtown Waco. Next door you'll find the notorious Magnolia Market, which showcases a refurbished church, an operational baseball field, a variety of carefully curated shops, as well as food and drink stands. The Dr. Pepper Museum and the area's abundance of local shops and boutiques are also a short walk away! If you happen to sign up for a tour of the city, the meeting place for the bus is at the nearby Waco's Visitor Center! Check out our extensive list of things to do in Waco for more ways to explore the city this weekend!
A Review of the Pivovar Hotel: Final Thoughts
The Pivovar Hotel has to be one of the best places to stay in Waco TX, with its unique, Czech-inspired rooms, the things to do in surrounding downtown Waco, as well as their full-service "Czexan" fusion restaurant, on-site brewery, Czech bakery, and biergarten. Add the Pivovar Hotel's beer spa and your experience at this unforgettable hotel will be the cherry on top to all that Waco has to offer. Don't forget to venture around the city with our list of where to eat in Waco this weekend in-hand as well!