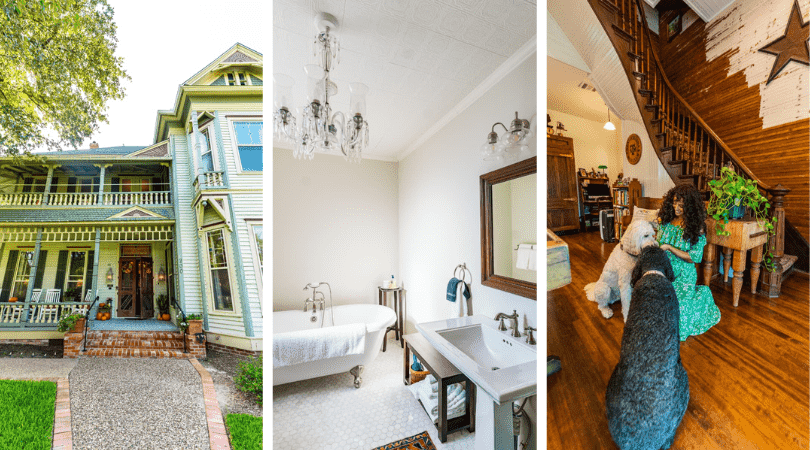 This Bryan, Texas Bed & Breakfast is what Hallmark dreams are made of! If you're headed to an Aggies game, visiting a vineyard, or planning a getaway, this charming, Victorian style estate comes highly recommended. We thoroughly enjoyed our time at the Milton Parker Bed & Breakfast and can't wait to share our experience with you!
When you're planning your next trip to Bryan, don't forget to check out our extensive lists of things to do, places to eat, and all the cocktail bars there are to try!
History of the Milton Parker Home
Denise and Bob Barbier are proud Aggies and owners of the Milton Parker home. They live with labradoodles Booker, Noe, and rescue pup Echo, who take their role as the welcoming committee at this Bryan, Texas Bed & Breakfast very seriously.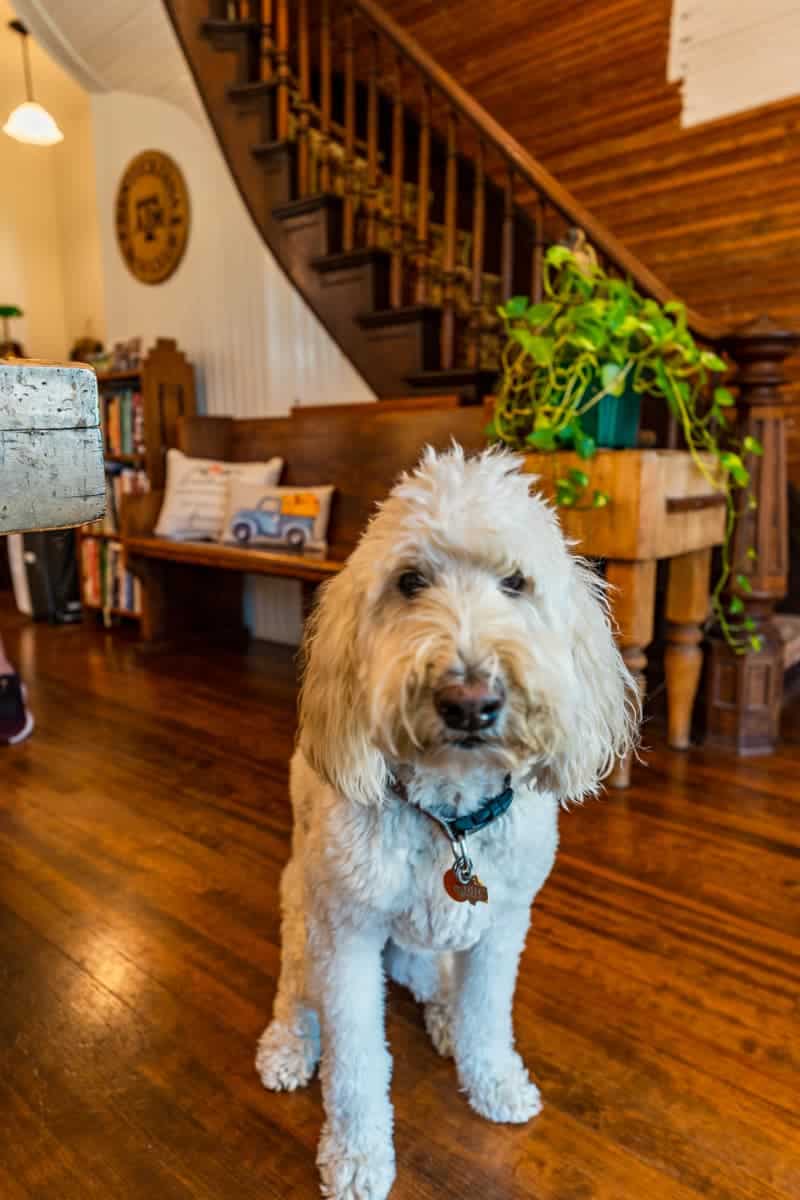 The Milton Parker estate has a rich history, and Denise and Bob love to share the home's legacy with guests.
The Parker family was looking to build a home that was more urban compared to the rural Texas town of Millican, where they moved from. Built in 1885 by Milton and Mollie Parker, they raised 10 children in this home until 1991. It was designed by a female architect from the Parker family and constructed by Dallas carpenters of German descent on a $6,000 budget.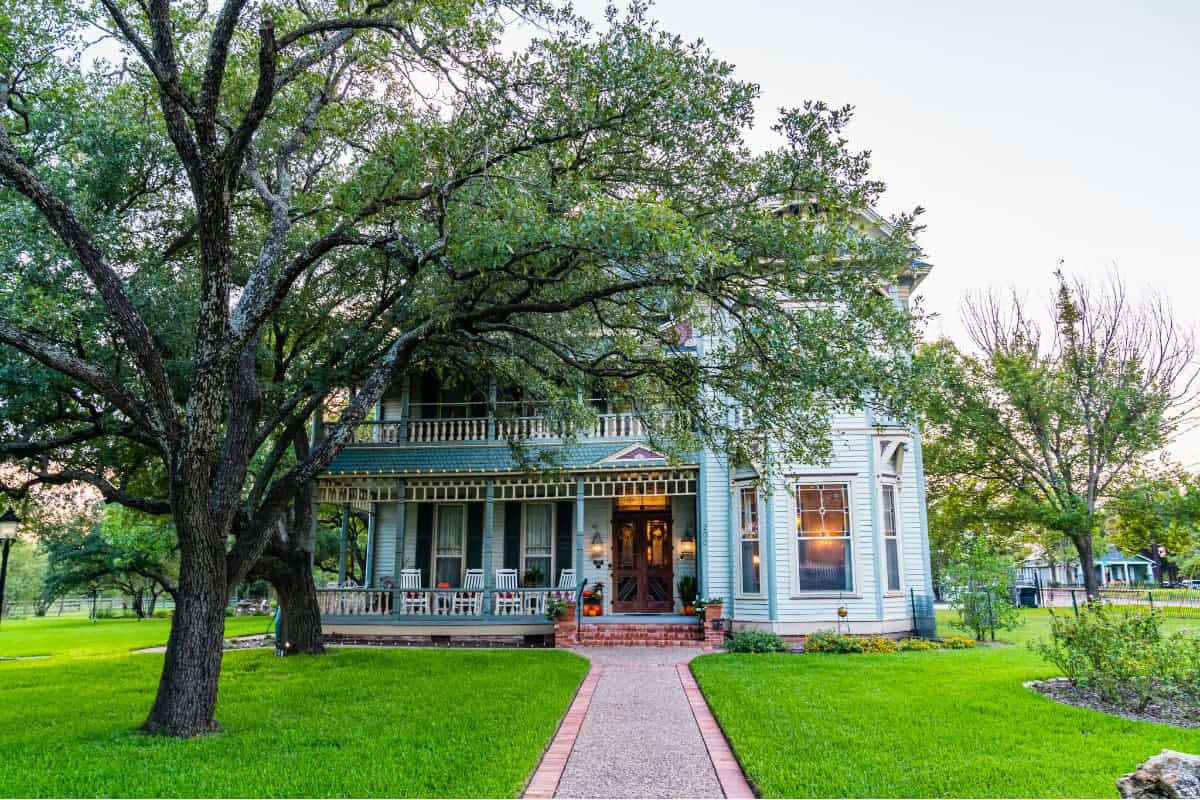 The Milton Parker Bed & Breakfast has lived many lives and has seen many changes, although today's owners have dedicated themselves to preserving the Milton Parker home. Over the years, many people have come and gone, taking a piece of this historic estate with them in their memories.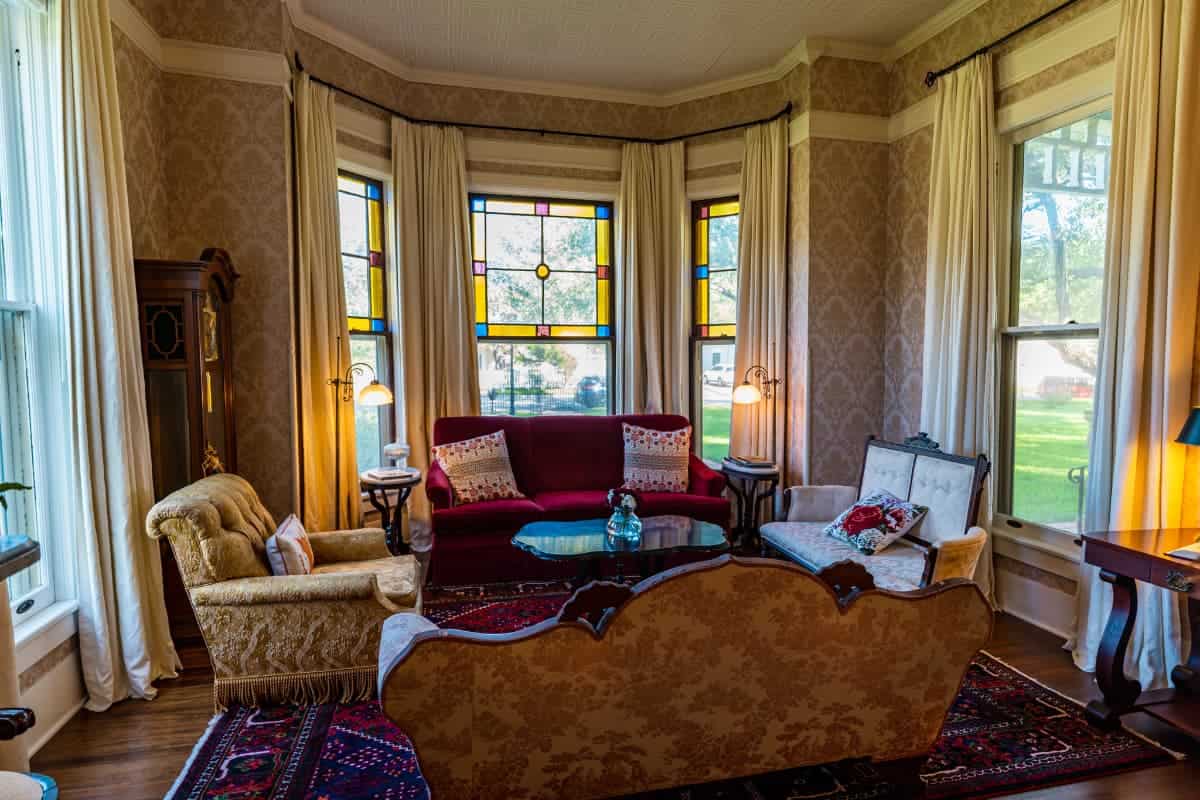 Next, the home came into the possession of Milton and Maggie Parker during the Great Depression, opening a boarding house for A&M students who enlisted, as well as WWII veterans. Eventually, it was also used as a venue for private events.
Katie Parker and Robert Bernath lived happily in the Milton Parker home from 1958 to 1991. Since the home had already housed Aggies, they gifted the house to Texas A&M University in 1991, where it would become a fraternity house for the next eight years.
The home changed families in 1999 when Dr. Van Walker and John Zieg restored the Milton Parker home to its Victorian roots. This is how it would remain from then on. They saw the property's potential and turned the home into what is known today as the Milton Parker Bed & Breakfast!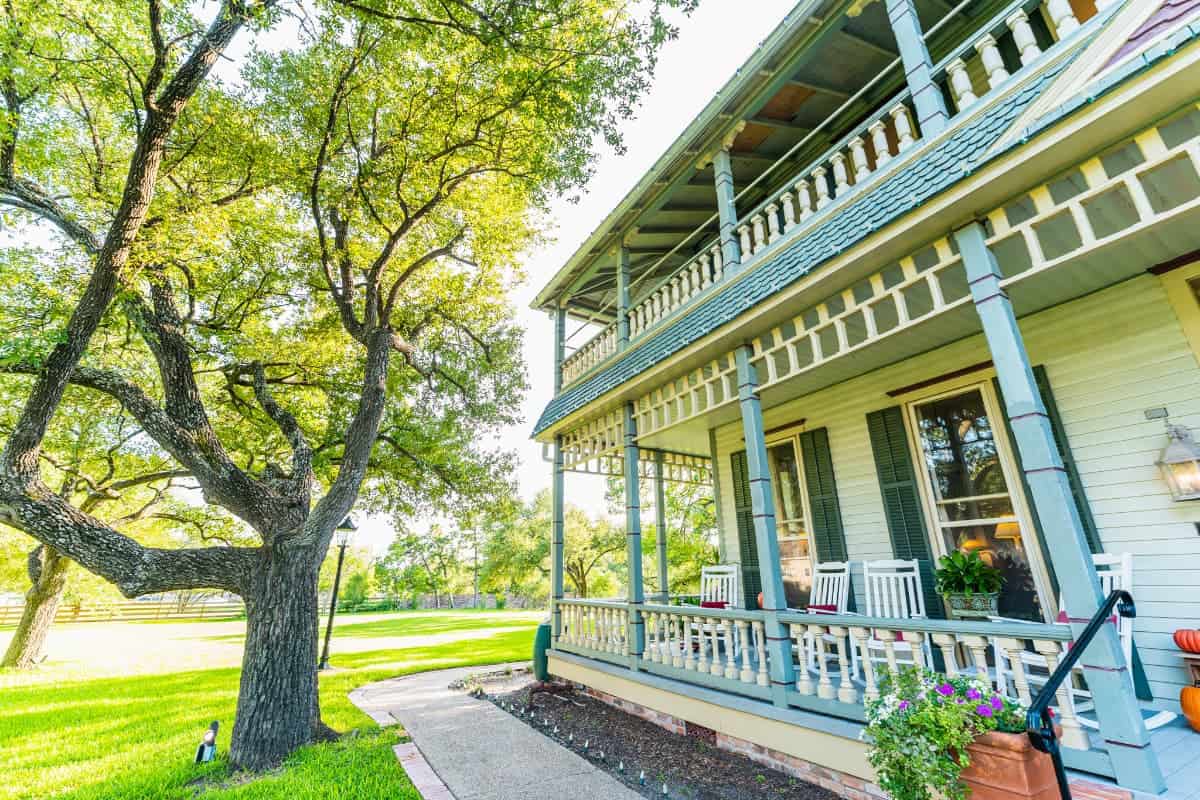 Finally, in 2016, Bob and Denise Barbier became the owners of the Milton Parker Bed & Breakfast and made beautiful renovations to the home, the venue, and the cottage while maintaining its Victorian roots.
It was also interesting to see that even the outside of the house still carries remnants of the property's history, like the iron fence and outdoor light fixtures. The welcoming committee, with baked goods, furry friends, and complimentary wine and beer, was just the cherry on top!
When you book a room at the inn, you support the continuation of this legacy so, in a way, each guest of the Milton Parker Bed & Breakfast becomes part of the home's history.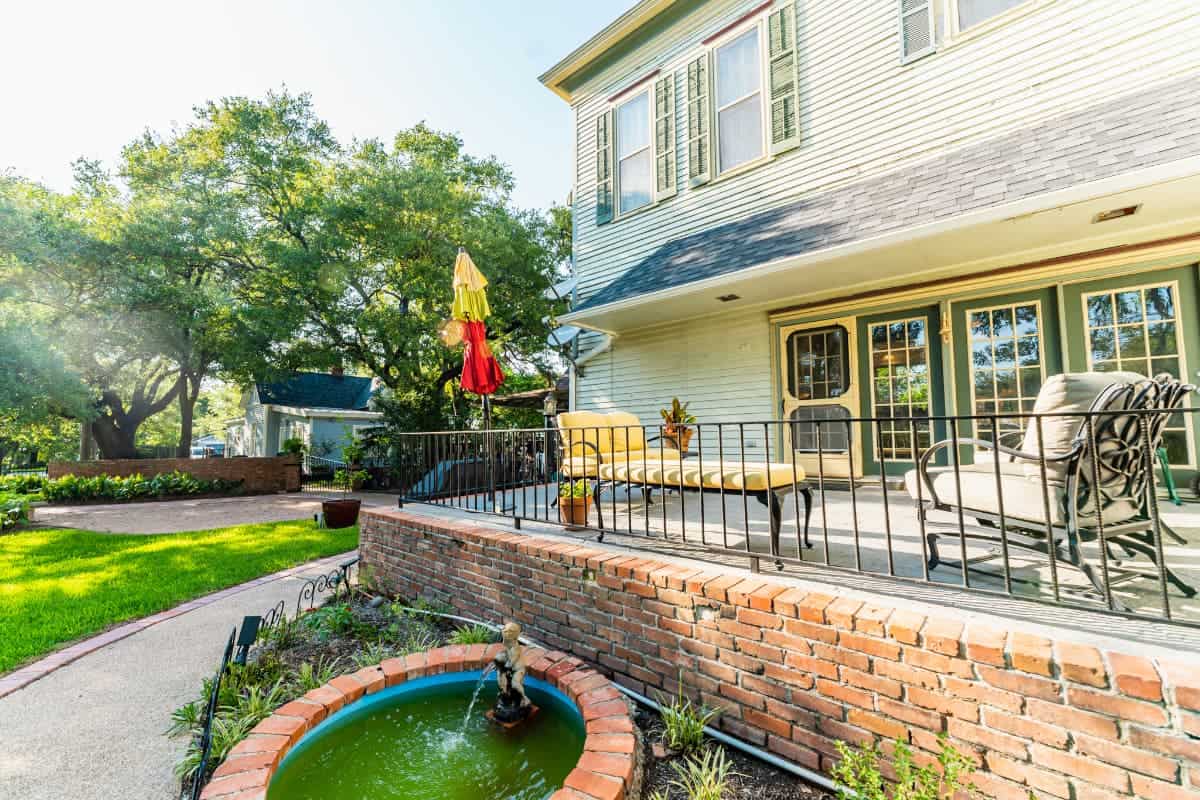 The Bedrooms at the Milton Parker Bed & Breakfast
The Milton Parker Bed & Breakfast has five distinct bedrooms to choose from, each named after members of the Parker family.
Located on the first floor, this cozy bedroom has floor-to-ceiling windows and a queen-size, Victorian style, iron bed frame. The room is decorated with antiques, a tiger oak fireplace, a beautiful antique desk, and a leather chair. The bathroom even has vintage pieces, like an antique Eastlake Victorian mirror and original sconces. It also has tiled marble floors and a walk-in shower.
This bedroom features a beautiful, king-size, four-poster bed, a coal burning fireplace, and a green vintage sofa for long nighttime talks, along with large windows and a grand view of the property. The bathroom has a large, 2-person claw foot bathtub if you're looking to book a room with a potential for romance.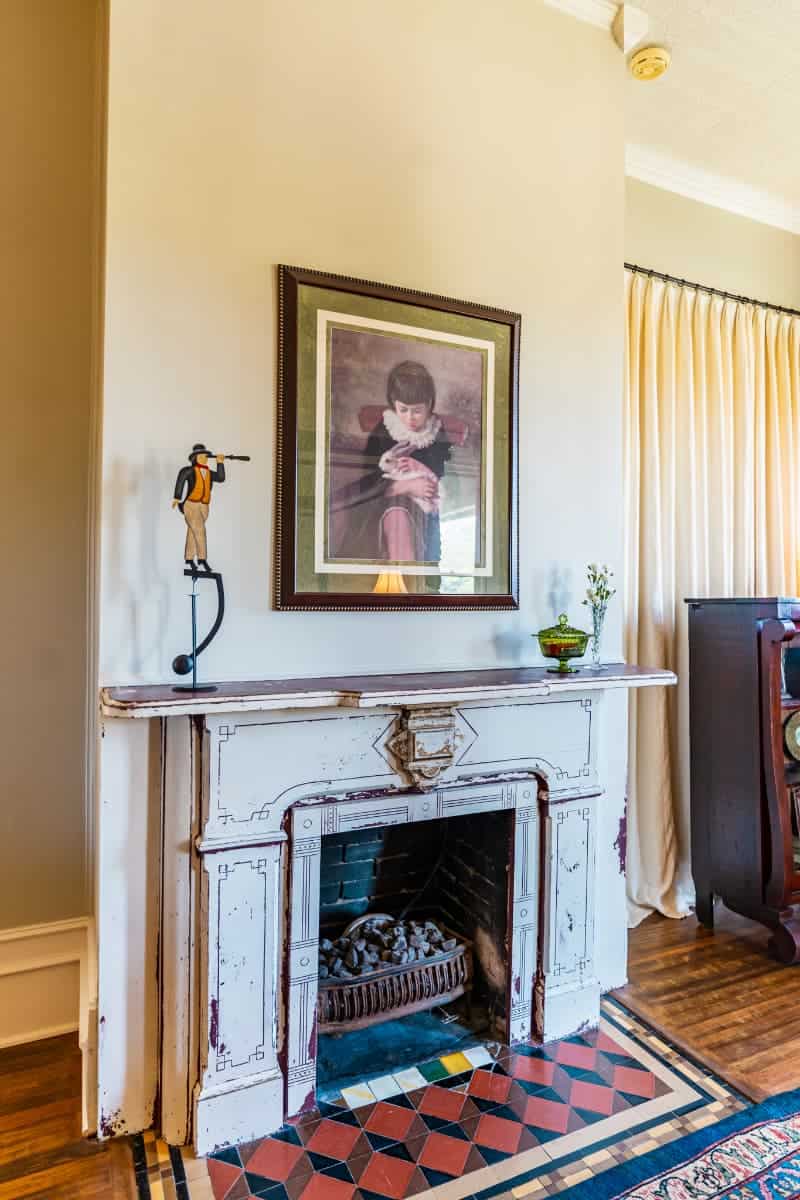 This is room is a guest favorite! Located on the second floor, stained glass windows open into a four-poster, king-size bed straight out of a Victorian romance novel.
The space has a vintage desk and sitting area, a jetted bathtub, and a handheld shower hose, along with a half-bath behind a door.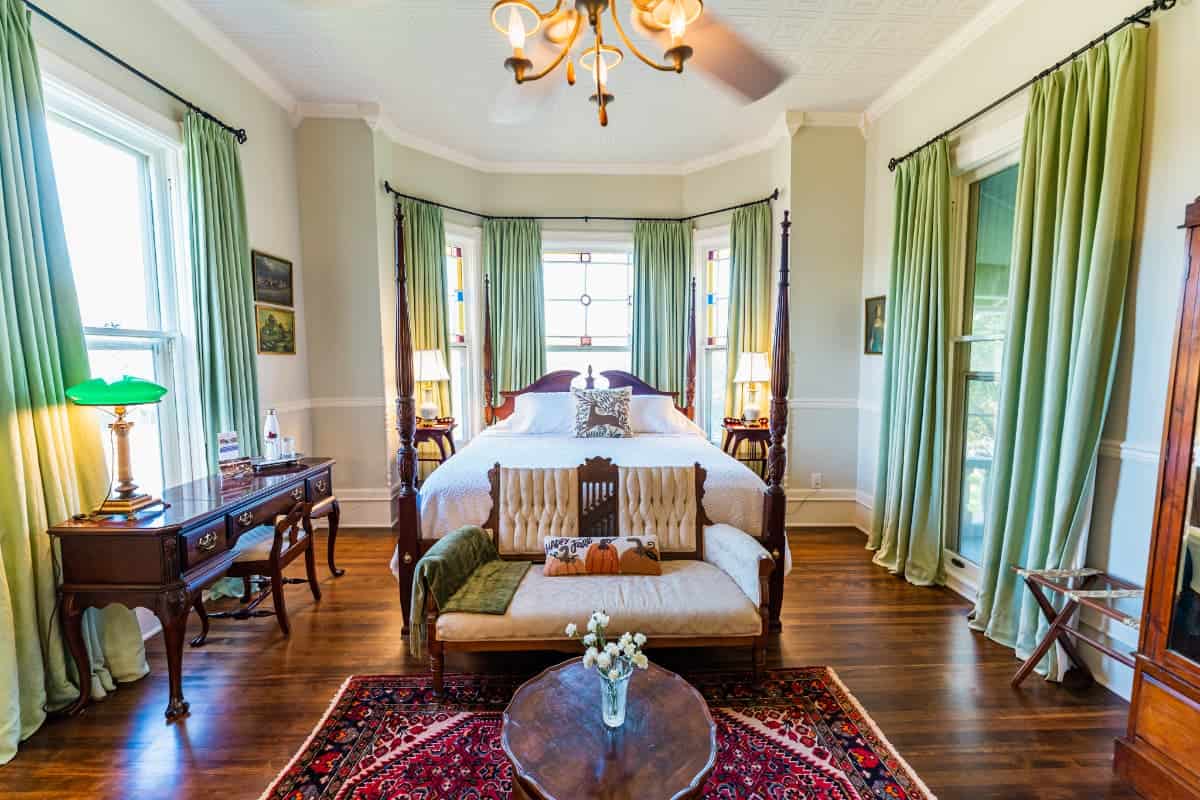 This room adjoins the Winifred Parker Bain Bedroom (described below). The room features a king-size bed, large windows, vintage furniture, a rocking chair, a newly renovated bathroom, and a walk-in shower with a scenic balcony overlooking the estate.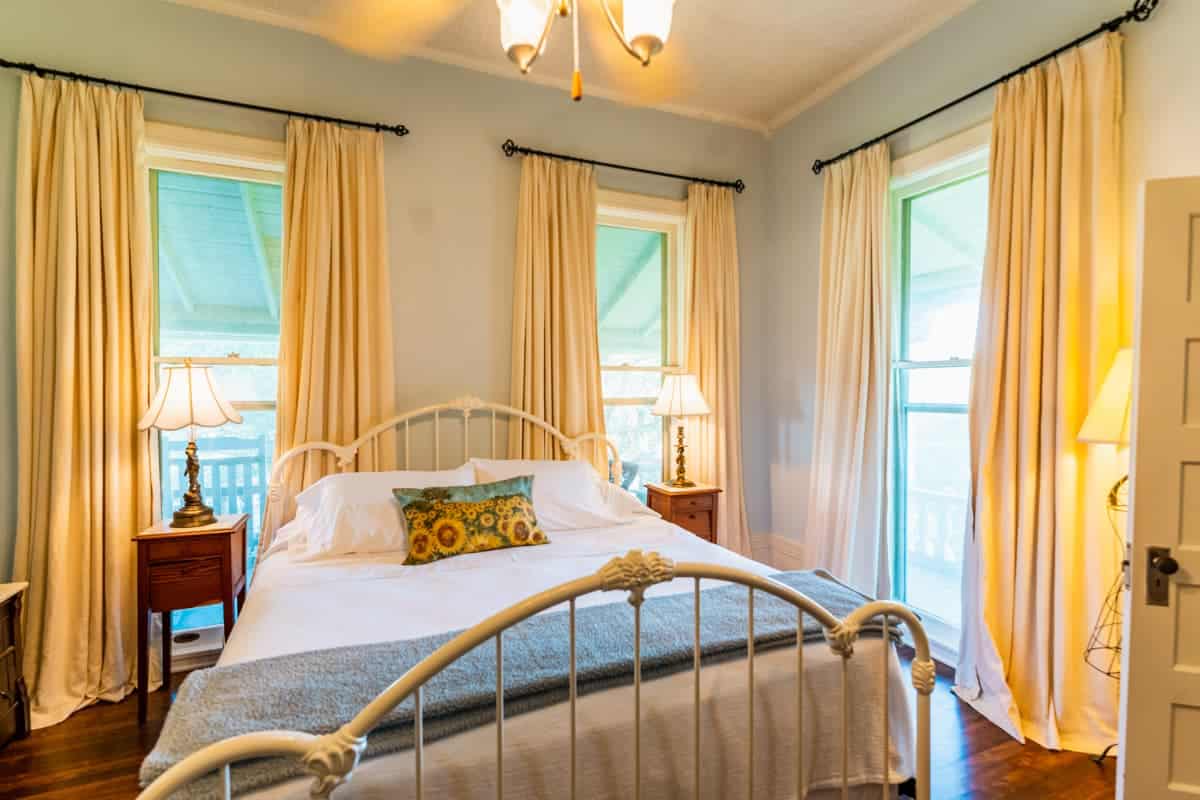 This former master bedroom has a Victorian style, iron bed frame, a queen-size bed, a luxurious sofa, and tall windows framing a beautiful view of the patio. It adjoins the Mary Parker bedroom (mentioned above) for families traveling together.
The room has a soothing blue, private bathroom with a tub and another handheld shower hose. It also has an antique marble vanity with a vessel sink that blends vintage and modern design seamlessly!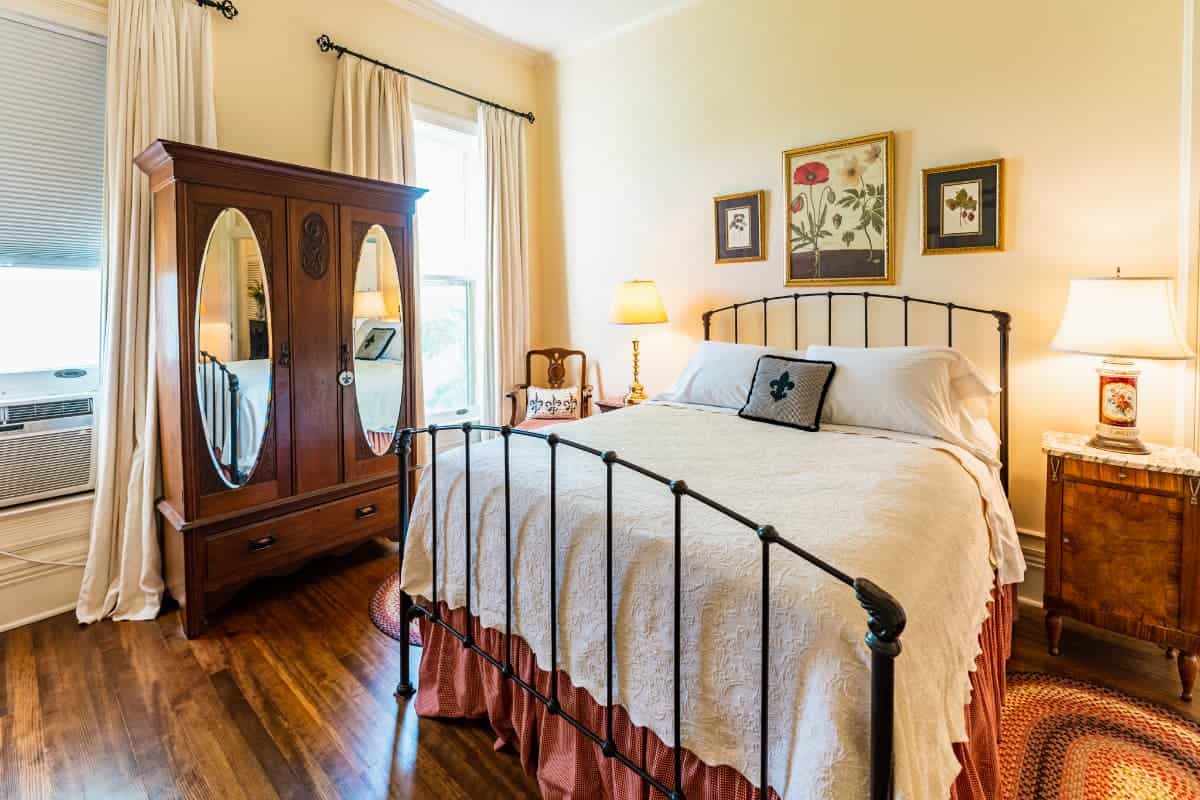 Renovated in 2016, the cottage was initially the Milton Parker home's working kitchen. It features an open concept with plenty of sitting nooks, comfy couches, tall windows, and farmhouse style decor. It was designed to accommodate 7 to 9 people, with 4 bedrooms and plenty of beds. In addition, the cottage features 2 full bathrooms and a small kitchen with all the essential appliances a big family or group of friends might need on a weekend getaway: a 5-burner gas stove, microwave, coffee maker, refrigerator, and an ice maker.