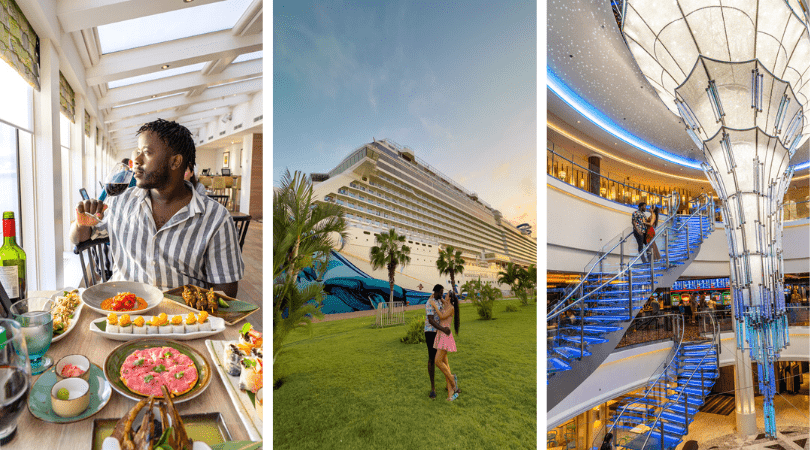 Shortly after returning from our Norwegian Prima cruise, one of the finest luxury liners on the seas, I was eager to be back at sea. Waking up surrounded by blue waters and diving into the myriad of activities was irresistible. So, when we had the opportunity to experience the Riviera Maya aboard the Norwegian Bliss, the third ship in Norwegian Cruise Line's impressive fleet, I couldn't contain my excitement.
Having experienced and fallen in love with the Norwegian Cruise Line Prima, I was curious what the Norwegian Bliss cruise ship would be like. In the end, it was, well, pure bliss! Keep reading for our full experience on our 7-day cruise aboard the Norwegian Bliss to the Mexican Riviera!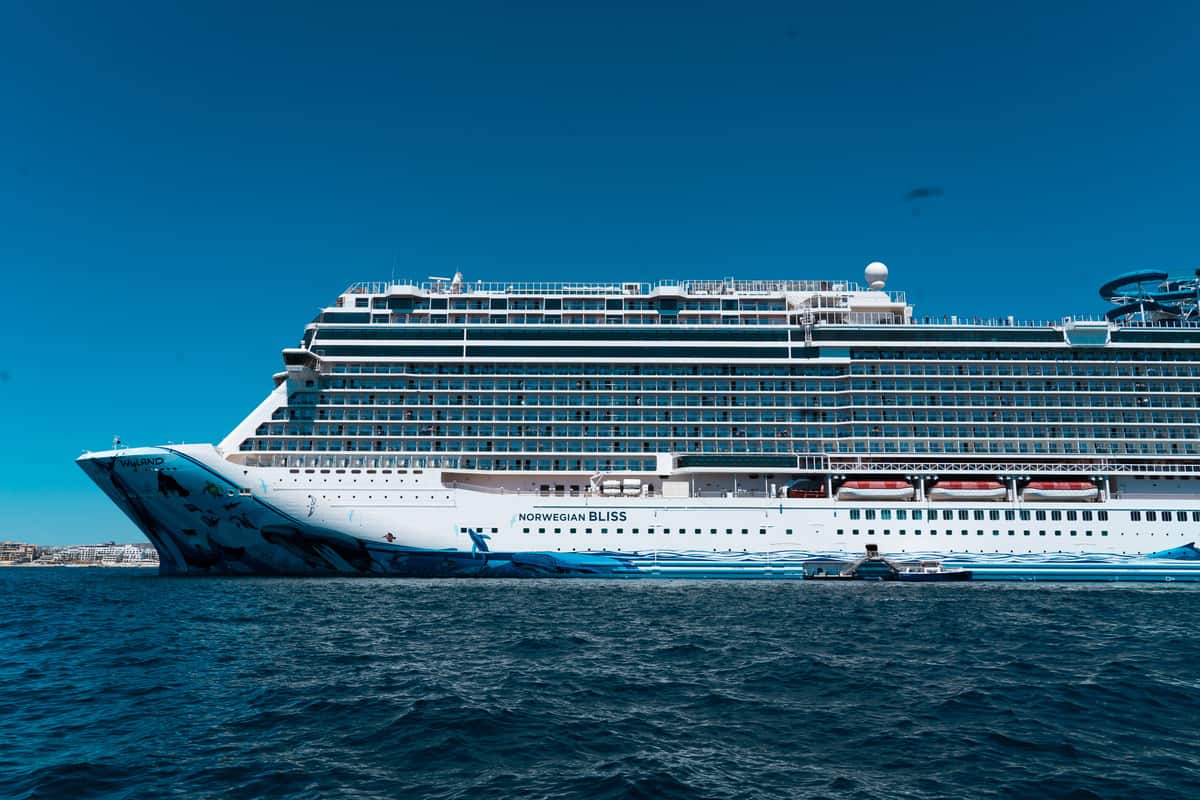 The Giveaways
There are so many amazing giveaways, like a $2,000 necklace (and free champagne for just entering)! Why wouldn't you take advantage of that? There are constant, different raffles going on over the course of the cruise where you have the chance to snag something fancy, along with complimentary beverages.
The Rooms
The Norwegian Bliss has several different room options, whether you're traveling with one person or the whole family. If you can, though, we highly recommend a room with a balcony and a queen-size bed.
We found so much joy in waking up and being surrounded by the ocean as the sun came up, enjoying room service breakfast on our balcony, and being some of the first to see the port when we pulled in. We even caught sight of some whales from our balcony!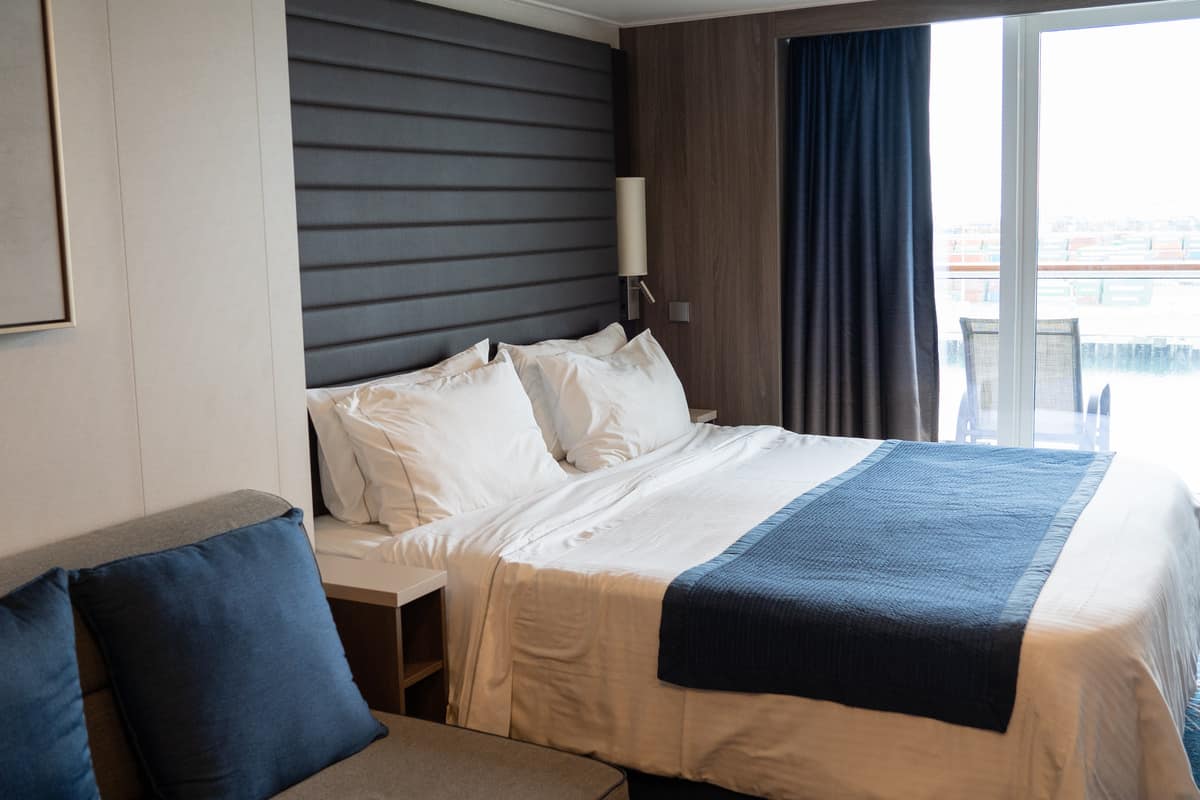 Dining & Drinking
When you're out at sea, you can't just hop in a car (obviously) to satisfy that day's cravings. There's a limited number of choices on board, aside from what you may find at port, so the food and drinks better be good!
Norwegian Cruise Lines doesn't disappoint when it comes to its food and beverage options. Choose from the complimentary buffet, specialty restaurants, and a variety of other dining experiences, like diner food, upscale dining, and hibachi.
The Norwegian Bliss main dining room is elegant and spacious. With a dash of sophistication and a sprinkle of contemporary charm, culinary delights abound on this luxurious cruise liner.
Sip and Savor at the Norwegian Bliss Sugarcane Mojito Bar
This vibrant oasis is a haven for those seeking the perfect blend of refreshment and relaxation. From classic mojitos bursting with zesty lime to innovative tropical twists, every sip is a sip of paradise.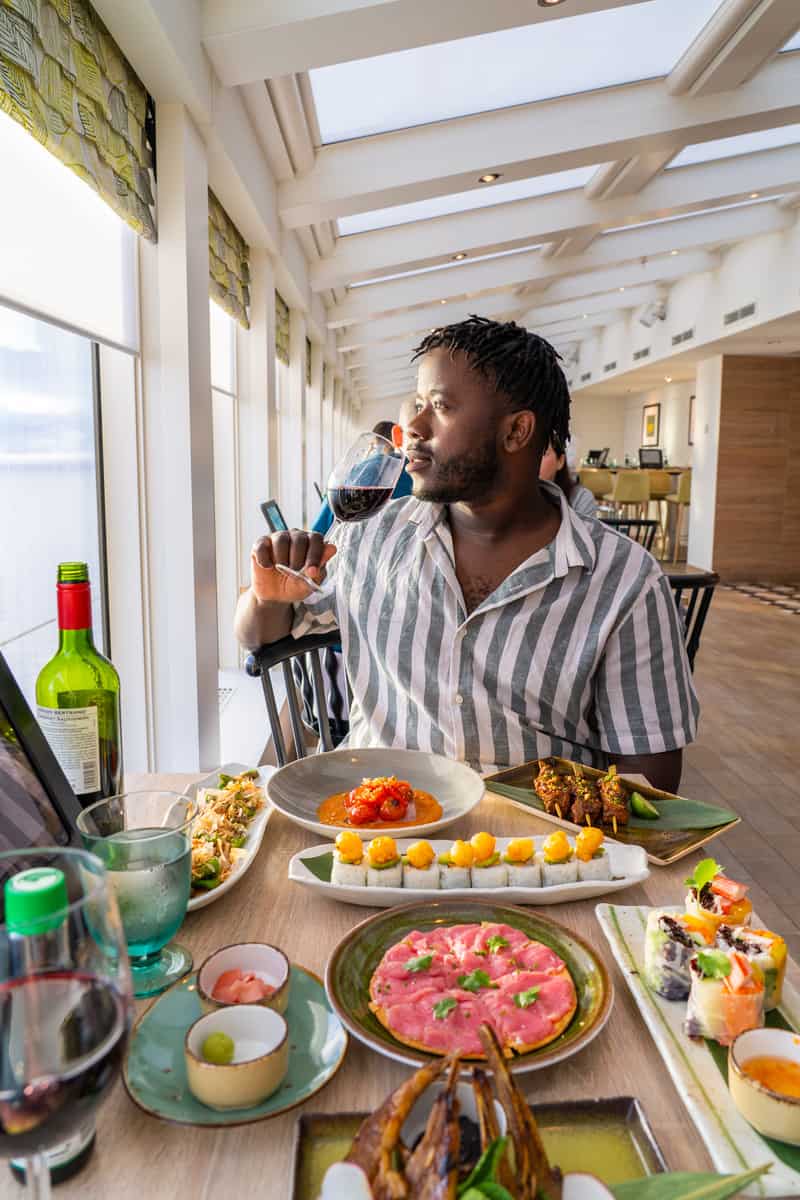 The Activities
Our expectations were set high on our cruise aboard the Norwegian Prima, and the Norwegian Bliss definitely followed suit.
At any given time, there are so many different activities happening. Sometimes, the hard part is choosing what to do. I've attached some of our itinerary to showcase all of the different activities aboard the Norwegian Bliss.
Unleash Your Inner Athlete at the Norwegian Bliss Fitness Center
Get ready to break a sweat and embrace your wellness journey on board the Norwegian Bliss. The fitness center is a haven for those who want to stay active while cruising the seas.
With state-of-the-art equipment, panoramic ocean views, and a motivating atmosphere, it's the perfect place to kickstart your day or unwind after exciting shore excursions.
Complimentary Entertainment
Complimentary access to Broadway shows, live concerts, and parties are some of the many perks of cruising on Norwegian Bliss.
Catch a Broadway Show: Catch two different Broadway musicals inside the Bliss Theater on your next cruise: Six and the Jersey Boys! As a seasoned theatergoer myself, I already found this to be an incredible deal since I had spent good money to be far away from the stage when I saw Six for the first time.
Attend a Live Entertainment Concert: Whether you like country, R&B, Latin music, rock, or even if you'd prefer a piano performance, there's always something to be enjoyed! We personally loved listening to Latin hits at the Mojito Bar.
Party with Old and New Friends: We had a nightly silent disco as well as different themed nights, like the GLOW Caliente Party on the pool deck and Late Night Clubbin' at The Social.
Laugh Out Loud: The comedy shows aboard the Norwegian Bliss were actually funny! We ended up laughing so much at the show we attended! They also have family-friendly comedy shows and others that are for 18+ only. Keep in mind that some shows require reservations while others don't.
Catch a Movie: Choose between movie showings in the Atrium or on the Pool Deck. Some of the movies that were shown during our cruise were Star Wars: The Force Awakens, Marry Me, Uncharted, and Black Widow! They offer different movies in the afternoon and at night, so if you're hoping to catch a movie with the kids or have a quiet movie date by the pool, there are options for both!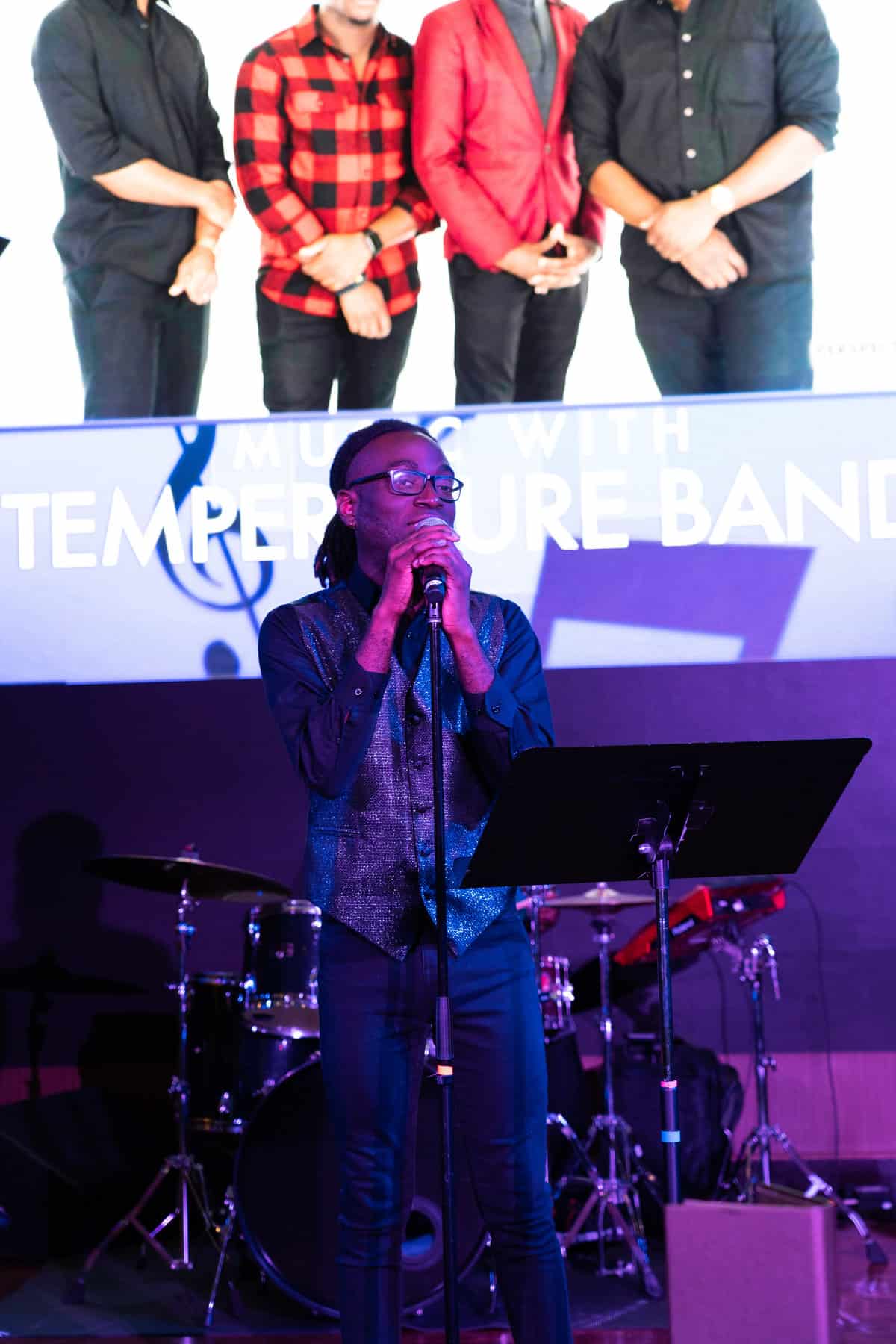 Free Fun & Games
Mini Golf: I never thought I'd play mini golf on a giant, floating resort, but the Norwegian Bliss really has thought of it all! The views of the surrounding ocean were just the cherry on top!
Trivia & Game Shows: Challenge yourself with activities like Morning Trivia, Speed Trivia, a Majority Rules Game Show, and a 55 to Stay Alive Game Show with challenges! Whether you're traveling solo or with a group, there are options for you to have fun too!
Karaoke: Choose from Family Karaoke and 18+ Karaoke throughout your time aboard the Norwegian Bliss if karaoke is something you enjoy!
Dance Lessons: Whether it's a little bachata or some line dancing, you can brush up on your dancing skills on the dance floor and then use them later that night at one of the nighttime parties!
Art Exhibits: One thing I was surprised to learn was just how big of a deal art is on this cruise. As we walked through the galleries, we admired so many different pieces! As it turns out, people will book a cruise based solely on which artist will be on board. While we weren't ready to add to our collection on this cruise, we were happy to learn about new artists and walk around a large art museum. They even have sessions and seminars, so you can work on becoming an art expert yourself!
Pro Tip – Free Spa Options: Even if a full spa treatment is out of your budget, there are some free treatments you can take advantage of, such as body contouring, massage demos, acupuncture, and facial consultations, in partnership with wellness brands and the on-board Mandara Spa.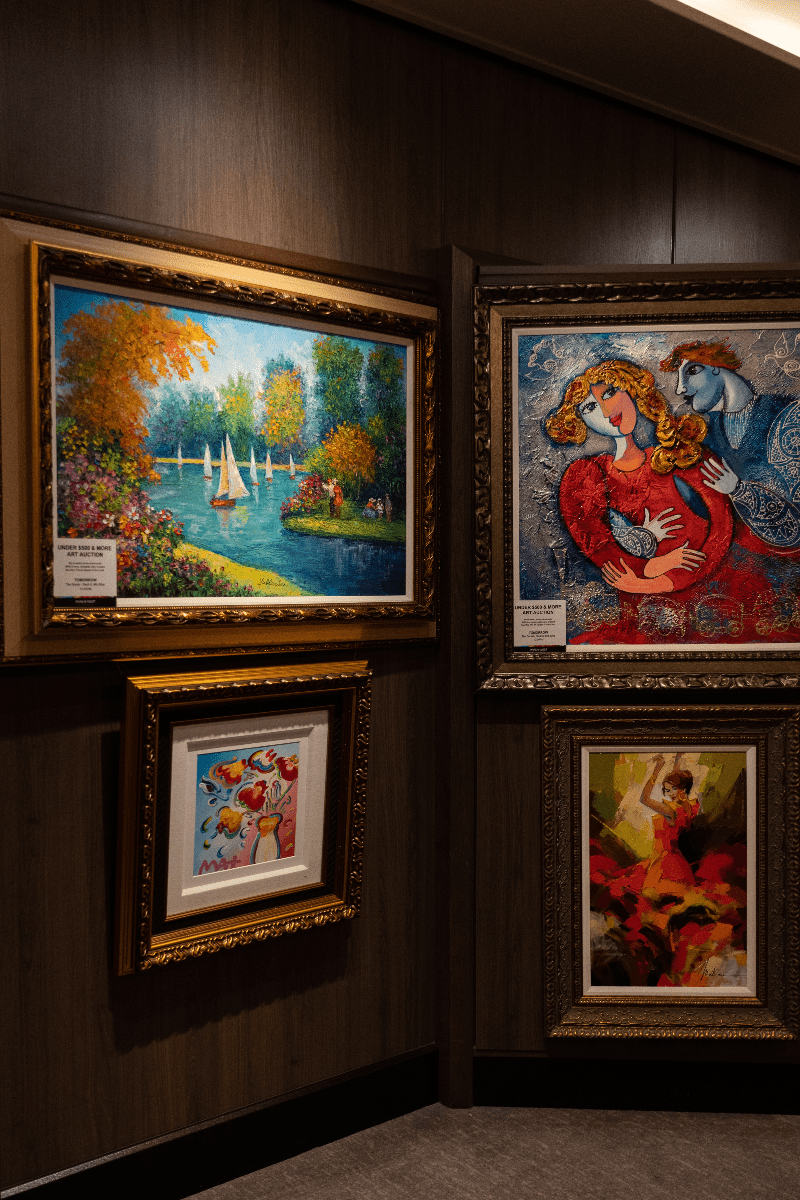 Additional Cost Activities
While you can certainly spend your entire cruise taking advantage of all the free activities, we found that the different add-ons, which come with additional fees, were such an exciting touch that made our trip extra memorable.
Bookable Activities
Game Shows: Although there are some free game show options, you'll also find others where you can purchase what are essentially gift cards with funds you can use to win the prize money! Maybe you've always dreamed of being a contestant on Deal or No Deal or simply playing a high-stakes game of bingo. It'll feel like you're a contestant on your favorite game show, with everyone cheering you on. And yes, real cash prizes are involved!
Laser Tag: Laser tag really got a glow-up aboard the Norwegian Bliss! Norwegian Bliss! They have such a unique, open-air laser tag course that is so immersive. They also had it where, if you get shot, you have to return to base. I found that to be a nice touch that really made it feel like we had to play as a team.
Go-karts: The multi-story go-kart race track is fun enough, but then add the 360-degree views of the surrounding ocean, and it brings it to a whole new level!
Video Arcade: As if it couldn't get any better, there is even an arcade on board with everything from racing games to basketball!
Casino: Of course, we can't forget about the casino! From slots to poker tournaments and everything in between, the casino remains lively for a little Lady Luck!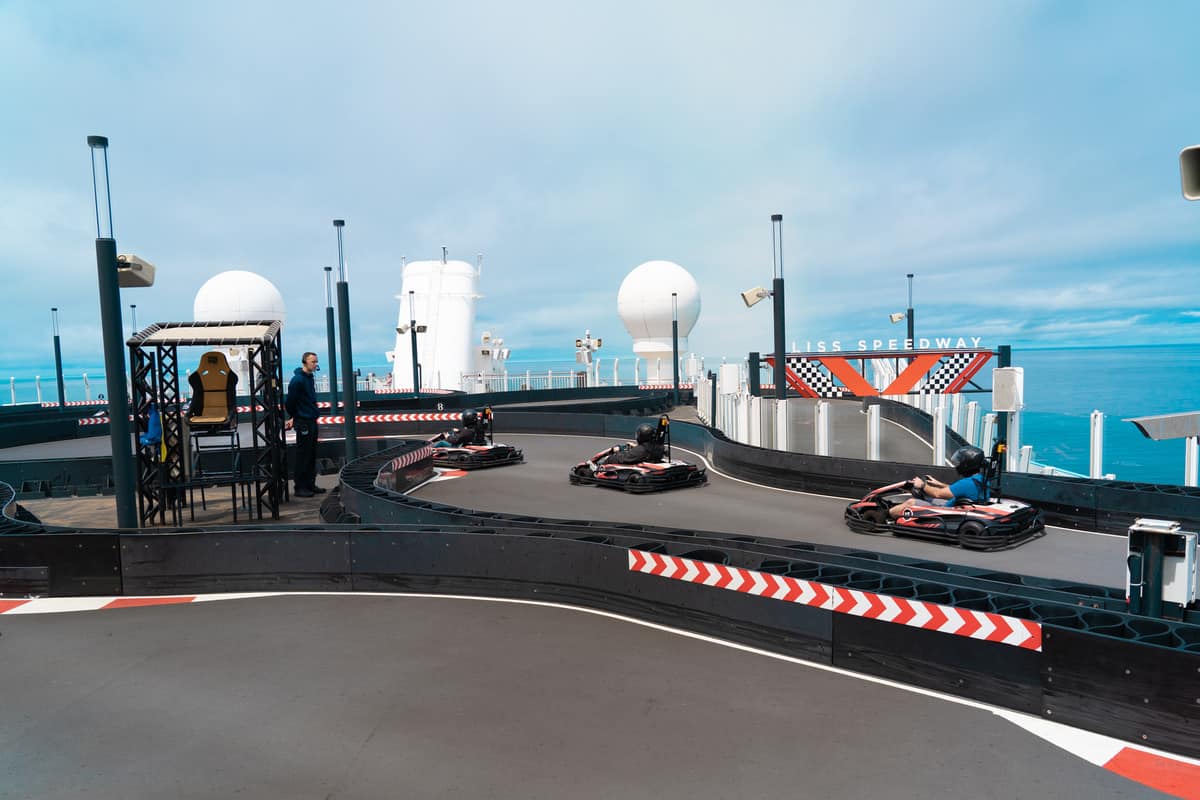 Scheduled Activities
Tastings: The tastings on Norwegian Bliss are such a great deal! We saw a mojito tasting and participated in a wine and Macallan whiskey tasting. The whiskey tasting was so insightful, and you were able to try some more high-class bottles that are extremely difficult to find off ship!
Canvas Painting: Tap into your inner artist with regular Paint and Sip classes, where you'll learn to paint things like beautiful landscapes and tropical destinations.
Behind-the-scenes Tour: Book a behind-the-scenes tour of the Norwegian Bliss, one of Norwegian's largest cruise ships. These tours typically only happen once during the entire trip, so spots may fill up if you don't book yours as soon as you can.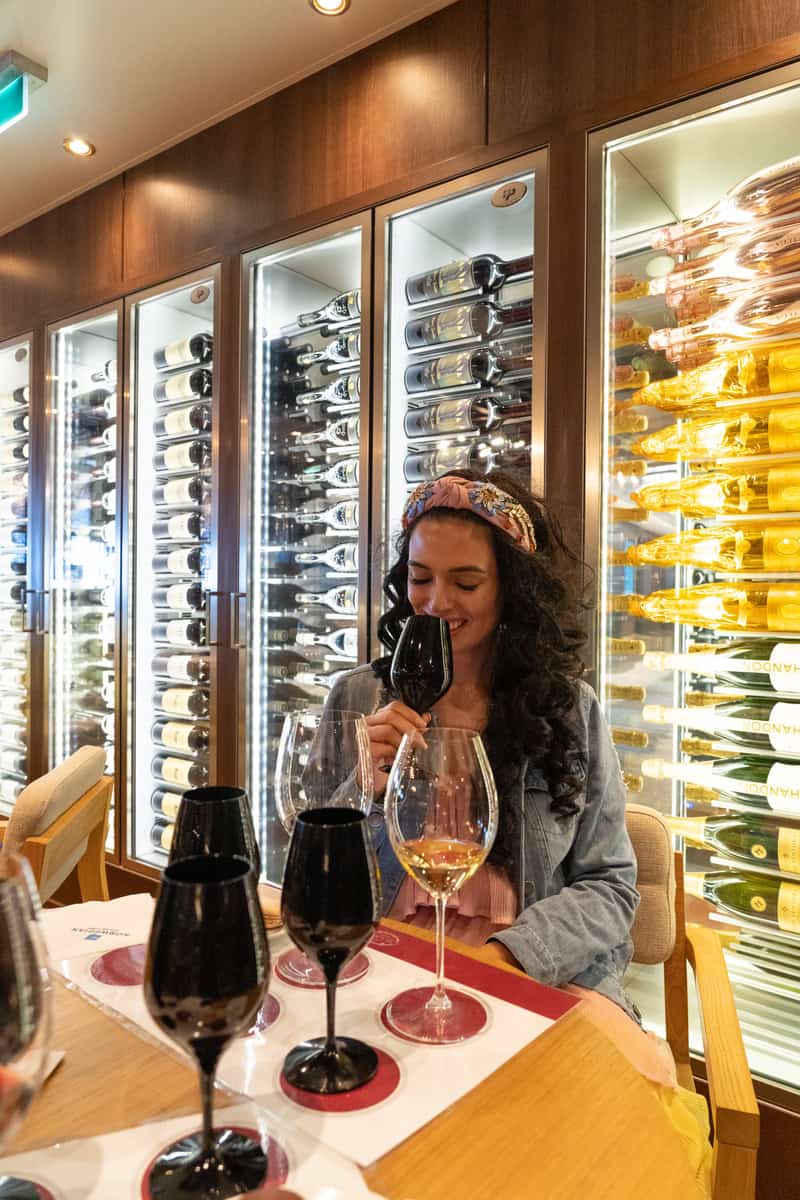 More on the Wine Tasting
Now the wine tasting at the Cellars is a category all its own! They have food and wine pairings as well as a blind taste. Since we've been trying to ramp up our wine knowledge, we wanted to see how we would fare at a blind tasting (not very well, it turns out, but that just means we need more practice).
The tasting was the best wine tasting I've ever done, in large part because of Yulia (I fell in love with Yulia's personality and stories, so we ended up visiting the Cellar most nights simply because of her)!
Not only was the wine tasting so insightful, where we felt like we learned a lot, but I've also never laughed so much during a wine tasting!
If you're worried about having an overly stuffy experience where people turn up their noses at you, you don't have to with Yulia! If we had more time, we would have booked another blind tasting. She mixes up the wines regularly, so you're constantly guessing and learning.
Swimming & Soaking
When I think about cruising, I'm thinking about getting as much sun as possible! The pool is where it seems like all the action is! With constant live music and fun activities, you'll definitely spend a lot of time here. They have a main swimming area, which is typical on most cruise ships. Don't miss out on their funny competitions, like the Harry Chest Competition and more!
In addition to the pools, you'll discover the Ocean Loops drop slide and the Aqua Racer if you're looking for some added excitement.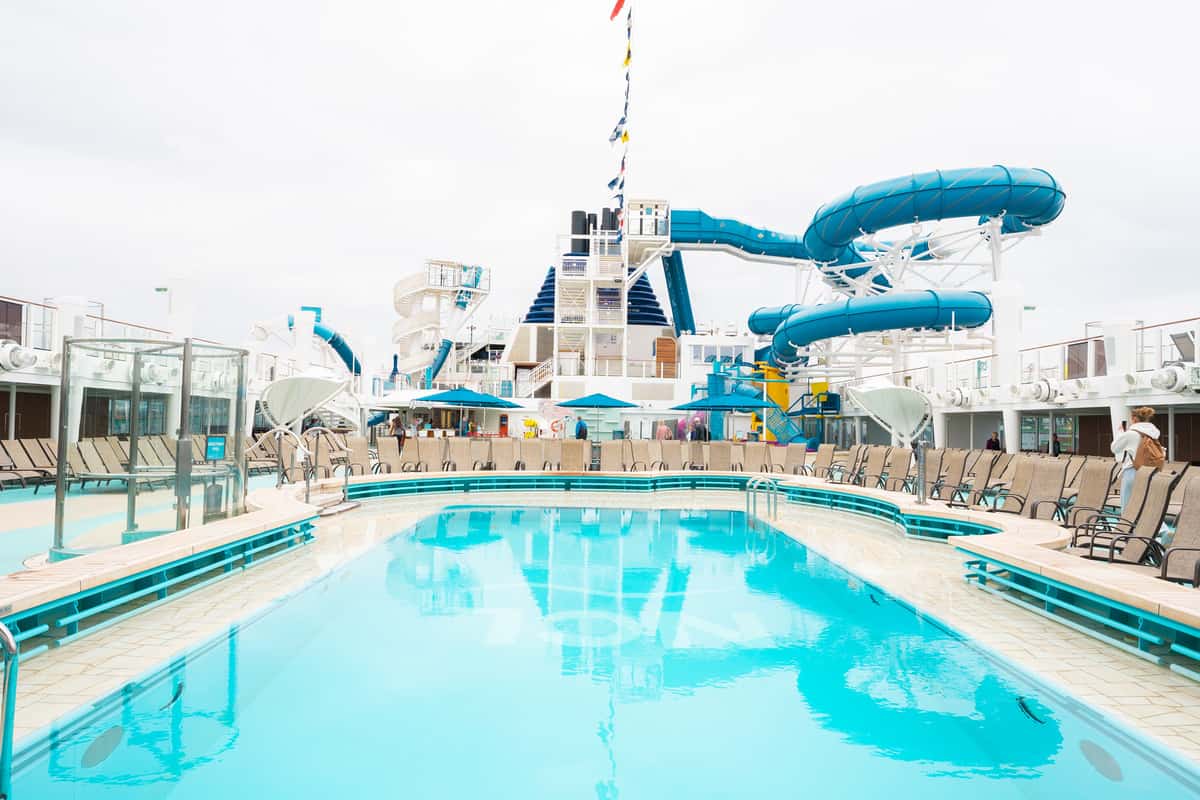 There are also several hot tubs all across the ship, which is so nice! We had a couple of chilly days, but we were always able to find a hot tub. You'll find them near the main pool area, so you can stay warm while still being near all the action.
The Vibe Beach Club has hot tubs too, but they feel a bit more private since only guests 18 and older are allowed and a pass is required to enter. The views here are unmatched! There are even drinks, snacks, and chilled towels available. Simply purchase a pass with Guest Services or book one prior to your cruise.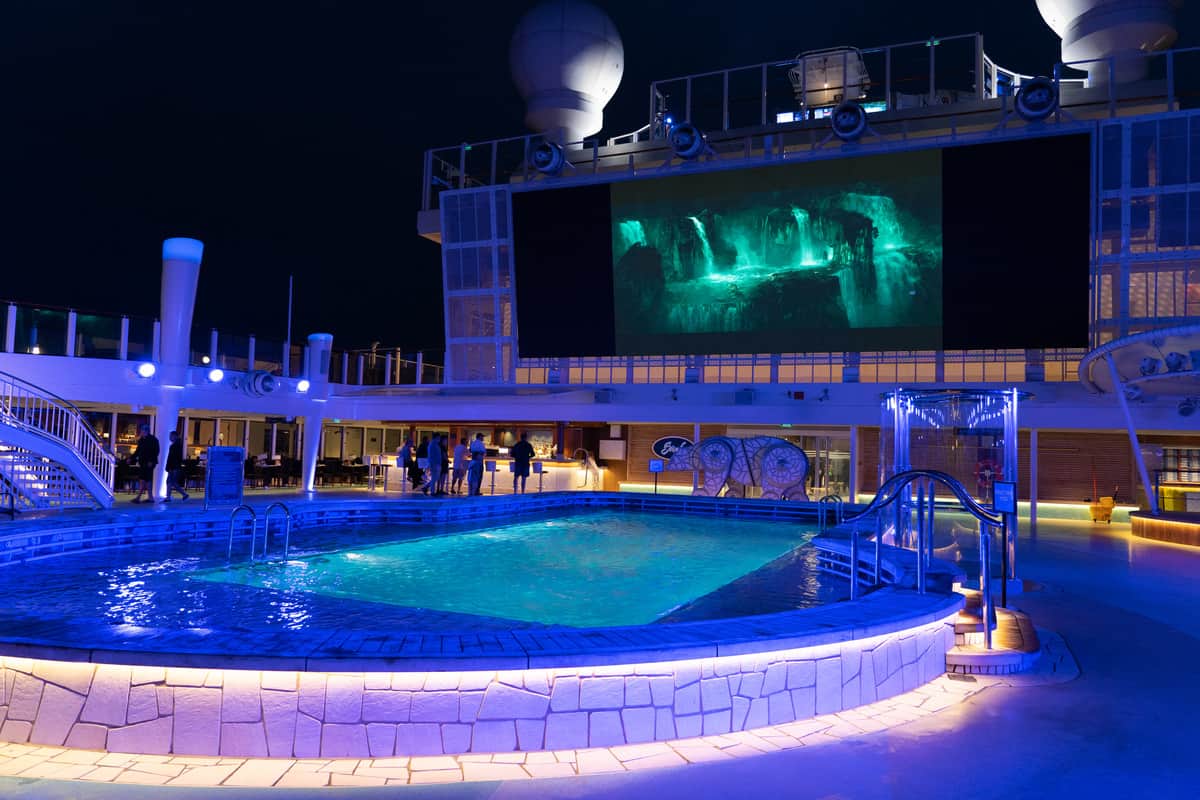 If that's still not enough, the adults-only area, Spice H20, also has hot tubs, cocktails, and poolside chairs, and it even becomes a club-like space during the evening hours.
For any kids you may be traveling with, there's the Kids' Aqua Park with a tube slide and small waterpark, family-friendly fun at Splash Academy, as well as the Entourage Teen Club with movies, games, and dance parties exclusively for teens.
The Mandara Spa: Where Luxury Meets Relaxation
Truthfully, this is where I spent most of my time during our cruise! We got a week's pass to enjoy the Thermal Spa Suites. If you're like me and find spas to be your escape from the world, then Mandara will not disappoint.
Their thermal suite consisted of a dry sauna, a regular sauna, a steam room, the Snow Room (yes, it was actually covered in snow), and the Salt Room. It also included a hot whirlpool and a thermal pool that had jets that gave you a nice back massage.
My daily routine consisted of relaxing in the sauna and enjoying the benefits of the Snow Room before relaxing in the Salt Room! I feel like on normal vacations, I'm just constantly going, so it's not often that I can just sit and prioritize rest.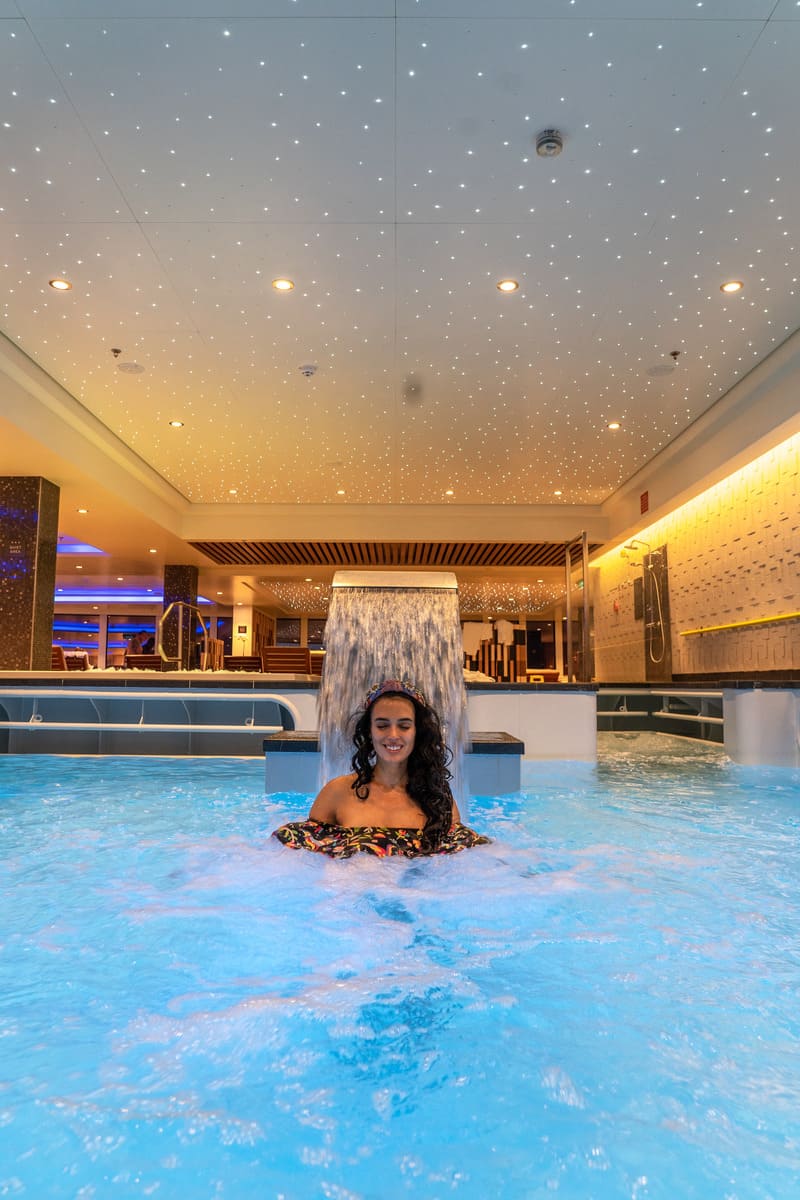 Additionally, Norwegian Bliss offers a wide variety of spa packages that really get you in the right mood to unwind and recharge. Just make sure to book them early, as the spa treatment rooms are a popular spot, and you want to get the best spots you can. I recommend going straight to the spa when you board (I'll explain more about scheduling in the section about tips below).
One of the coolest experiences is their Mineral Hot Stone Massage where you lay on a bed of gold pebbles while receiving a massage. The best part is just being enveloped in warmth and then being gently rocked back and forth.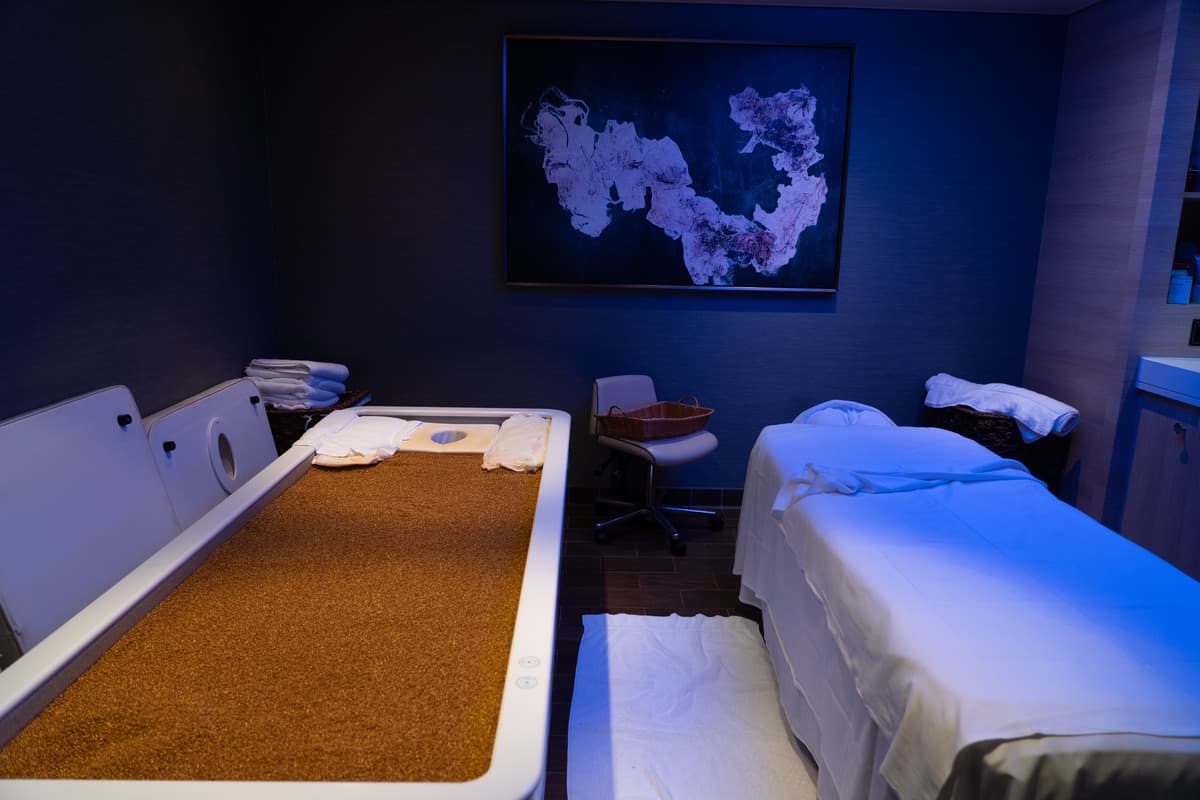 My husband and I even booked a couple's Seaweed Massage which was heavenly! The couple's room (make sure to request it) includes views of the sea as you're getting a treatment. You'll be covered in a seaweed paste before being wrapped in an aluminum foil bubble. You can feel the tingling sensation of the seaweed doing its work!
Meanwhile, you'll receive a revitalizing scalp massage followed by a foot massage (so nice right after a long day of walking around the port town).
After that, enjoy a nice shower before settling in for a therapeutic massage. It felt like my muscles were extra relaxed after having time to soak up that seaweed. Basically, I plan on getting this on every Norwegian cruise moving forward. It was just that delightful!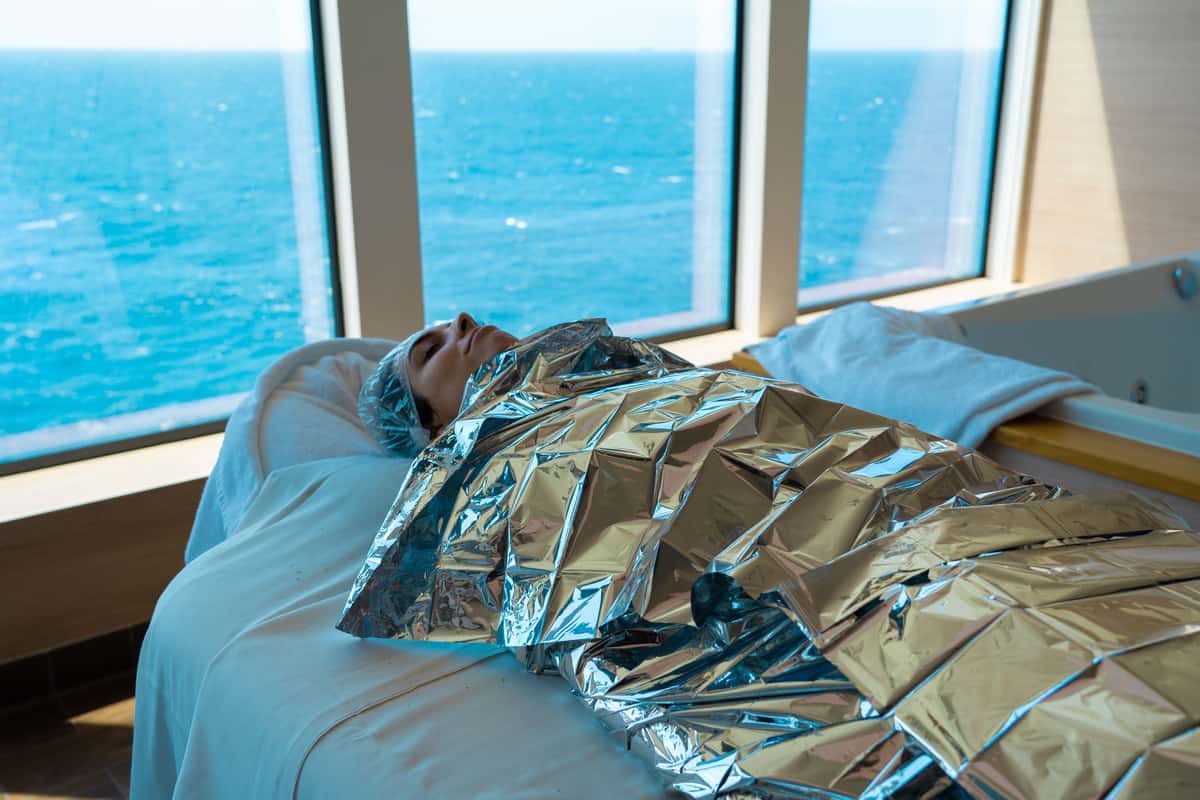 Another perk of having the spa on board is that you'll receive 10% off your first treatment, 20% off your second, and 30% off your third. They even go as far as making sure the treatment that costs the most receives the biggest discount (which was so nice since we applied that to the couple's massage).
Overall, the Mandara Spa aboard the Norwegian Bliss was one of my favorite spa experiences. Since this ship was so new to me, I wanted to explore everything, but I would love the opportunity to book another cruise and just spend an entire week relaxing and reading a good book.
In fact, I'm pretty sure you'll end up needing one cruise dedicated to partying with drinks and lots of activities and an entirely separate cruise to just let go and escape from the outside world.
Ports on the Norwegian Bliss Mexican Riviera Cruise
I'm big on getting to stay and explore an area for an extended period of time. However, the way that Norwegian ships laid out the ports ended up being so much fun for me! If you only have a week for a vacation, this is one way to visit four completely different areas that you wouldn't be able to do so easily on your own.
We stopped at Cabo San Lucas, Puerto Vallarta, Mazatlan, and Ensenada. I love exploring Mexico when I can! Mazatlan and Ensenada ended up being really exciting for me because they were smaller areas that I might not have had the opportunity to visit otherwise.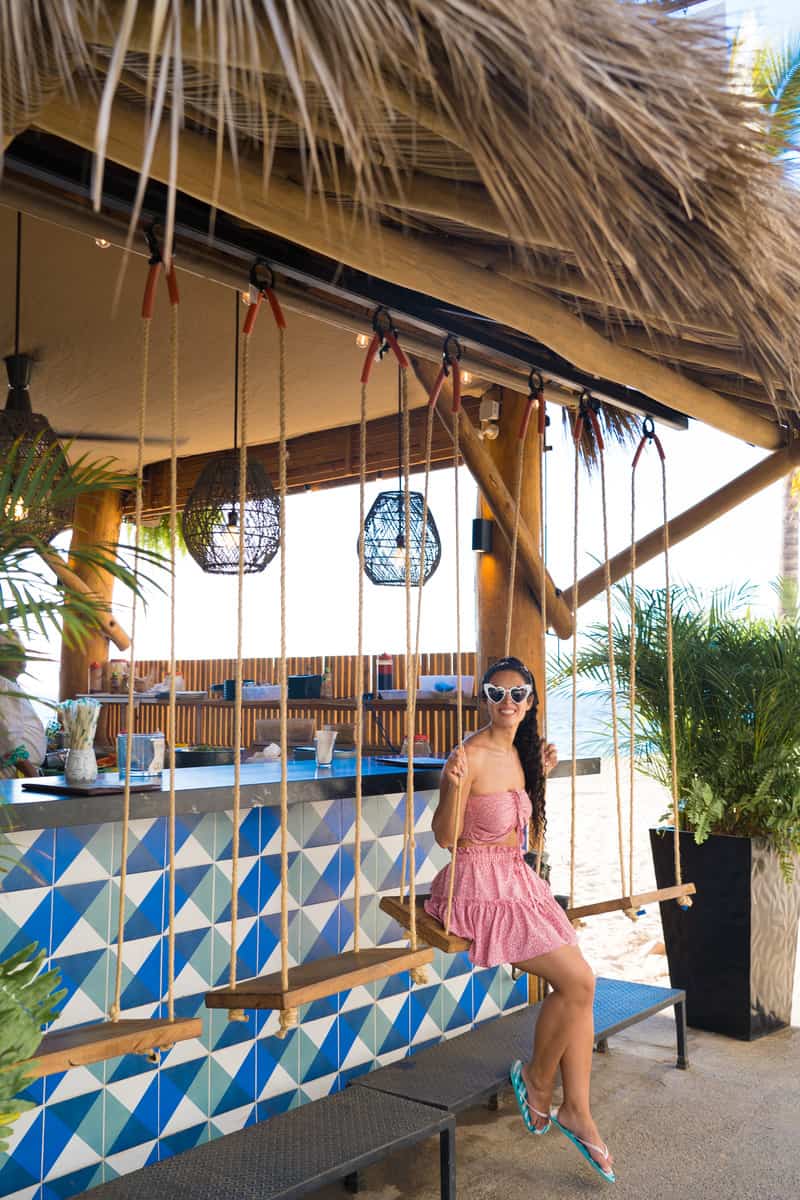 I didn't know much about these places before, but I was dazzled by the colors all over Mazatlan and the laid-back winery life in Ensenada. It's also home to the biggest blowhole in the world, which was a unique feature I didn't know about before.
A note on Cabo San Lucas: You have to take a tender (a boat) to get off in Cabo San Lucas. If you want to get off early so you have as much time in Cabo as possible, you have the option to either purchase a tender spot or book an early excursion directly through Norwegian Cruise Lines. The spots fill up fast, so take advantage of that early booking!
Traveling Solo on the Norwegian Bliss
I was surprised to learn that Norwegian cruises are the best option for solo travelers on an Alaskan cruise because of some of the activities they offer. While at the Cellars Wine Bar, we met a guy who had been on over 60 cruises! He said he chose Norwegian specifically because he was a solo traveler.
Solo travelers have a lounge dedicated just to them where they can meet each other and interact. Additionally, there are specific solo traveler meet-ups, and a crew member even assists solo travelers so they can attend shows or go to dinner together. It's easy to start the cruise solo and end up with a lifelong friend!
Cruising with Norwegian Cruise Lines is definitely a Norwegian escape you should experience.
Is the Norwegian Bliss Family-Friendly?
Overall, Norwegian is very family-friendly! They have options for kids of all ages! Only your room key is required for registration, if applicable.
Feel Free Play offers a space for you and your kiddos to play games and socialize with other families with children on board. However, this is not a drop-off service.
Although there is the Splash Academy, which is exclusively for kids from 3 to 12 years of age, the Youth Staff will supervise your children and occupy them with themed parties, sports, and more while you roam about and enjoy time with your spouse.
If you're traveling with teens, the Entourage Teen Club hosts supervised dance parties, movies, art activities, and sports for kids 13 to 17 years old. This is an additional drop-off service.
There's even a pool area specifically for kids: the Kids' Aqua Park, a mini water park with slides for the smaller ones who might not be big enough to go on the water slides in the main pool area.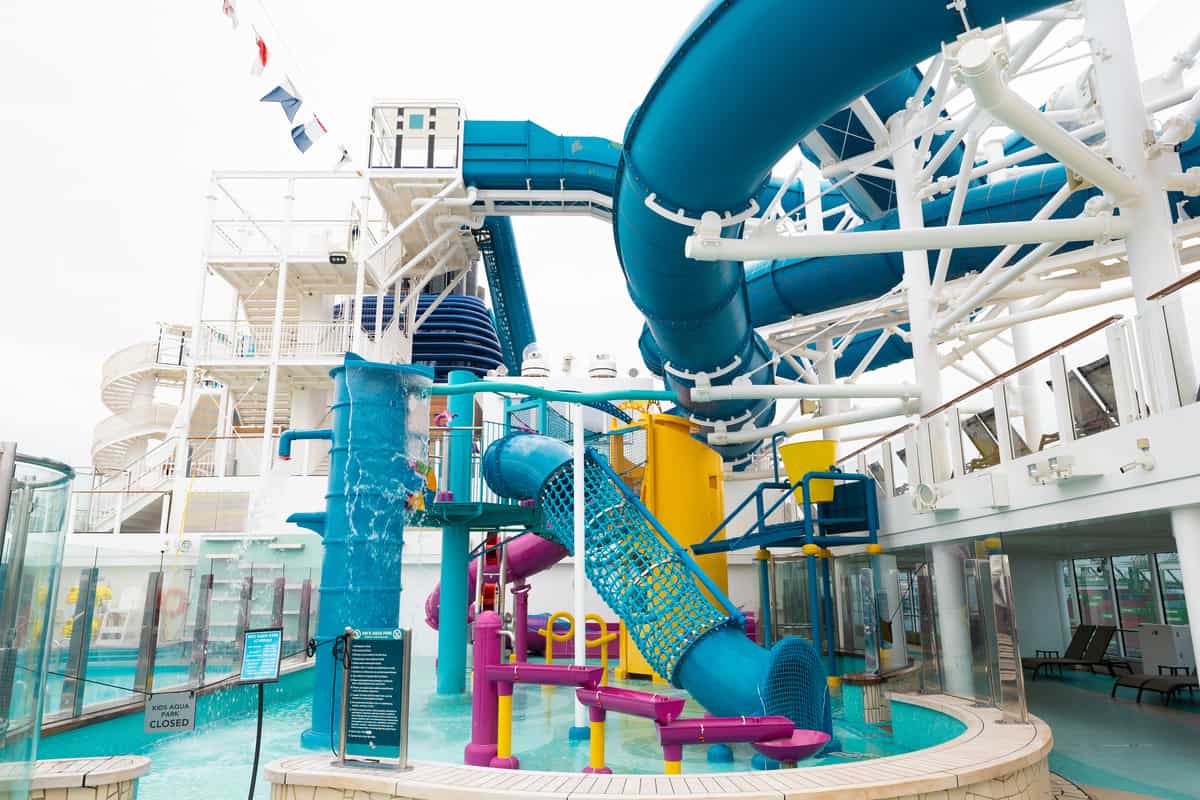 If you have kids under the age of 3, there is not a drop-off service specifically for them, although Feel Free Play has age-appropriate activities. Although you will be responsible for supervision, as previously mentioned. So, this is something to consider when booking if you're traveling with little ones.
There are also lots of family-friendly activities aboard the Norwegian Bliss that will allow you to bond as a family, like family Bingo, scavenger hunts, workshops, and more!
That being said, as an adult without kids, I was quite amazed at how I never felt overwhelmed by dodging kids. The kid's club, pools, and sections geared towards children mean we are in separate spaces. Additionally, there were plenty of adult-only spots, like Spice H20 and the spa.
Norwegian Prima vs. Norwegian Bliss
Honestly, if I had to choose which cruise to book again, that would be hard. Norwegian Cruise Line's largest cruise ship is the Norwegian Bliss, one of the many notable sister ships in the fleet.
The Norwegian Bliss is more of your typical cruise ship, with big, Vegas-style chandeliers and large pools where most of the gathering happens. If you like a traditional cruise environment, the Norwegian Bliss might be for you.
The Norwegian Prima, however, is more spread out. So rather than the large pool area, there are several much smaller areas for swimming. It's also more eclectic in terms of design, which makes a huge difference!
The Norwegian Prima has a huge, stunning spa with pools that really stand out in pictures, while the Norwegian Bliss has relaxing tubs with jets.
The Norwegian Prima has a larger list of extra activities, like virtual reality, darts, a more elaborate mini golf set-up, and a free upstairs gaming lounge. However, if you don't plan on spending money on those activities, it could be worth it to book the Norwegian Bliss.
The Norwegian Prima has a large, concert-like stadium with big parties, while the Norwegian Bliss tends to hold these events on a smaller scale.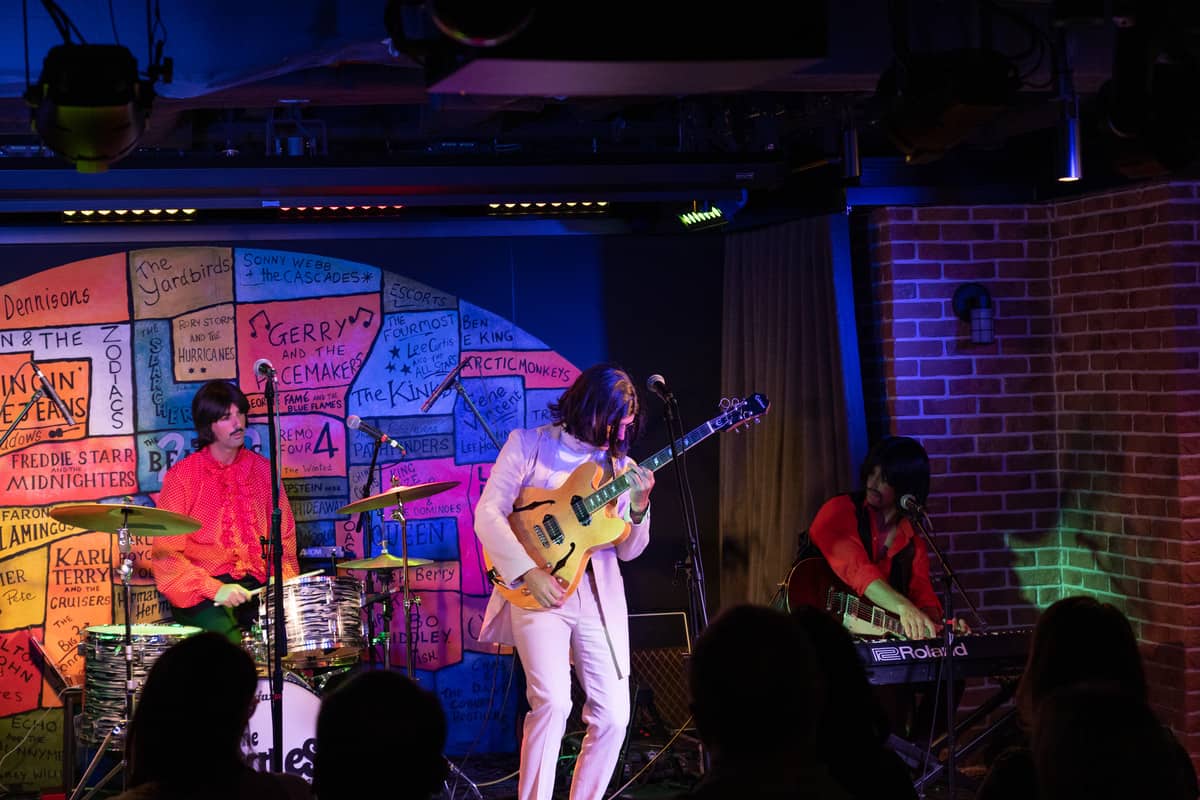 Overall, if I'm looking for a lot of adventure when it comes down to onboard activities, I would go with the Norwegian Prima. If I want a lot of relaxation, I would choose Norwegian Bliss. However, that's just me, and you certainly could do either or both on both ships.
Prices of Norwegian Prima vs. Norwegian Bliss
The Norwegian Prima is a newer cruise ship, so it has different destinations compared to the Norwegian Bliss, although some do overlap.
For those of my native Texans who are thinking about booking a cruise with Norwegian Cruise Lines, you can save money on flights by taking a cruise out of Galveston aboard the Norwegian Prima.
Otherwise, there isn't a huge price difference between the two, although the Norwegian Bliss is more established and allows for more options as far as ports of call, destinations, and number of days.
More About Norwegian Cruise Line's Offerings
The Norwegian Prima
The Prima is the newest cruise ship from Norwegian Cruise Line, and it's setting a new standard for luxury and innovation. Read our blog about everything the Norwegian Prima has to offer its guests, including its abundance of restaurants!
The Norwegian Encore
This ship is the largest in Norwegian Cruise Line's fleet, known for its innovative features such as the infinity pool and the Observation Lounge with panoramic views of the surrounding ocean.
Things to Do on the Norwegian Bliss: Final Thoughts
As soon as you get on the ship, I suggest connecting your phone to the Wi-Fi so you can make reservations for restaurants and shows. We made the mistake of waiting until that night, and most restaurants were already booked for the week, so we missed out on some great restaurants.
If you plan on doing spa treatments, go straight to the spa to book those (you can make your restaurant reservations on your phone while waiting for your turn at the spa). This will ensure you have the best slots.
If a show that requires reservations is full, don't be afraid to check-in the day of. A comedy show we wanted to see was fully booked, but we found out a lot of people ended up not booking, so we were able to attend.