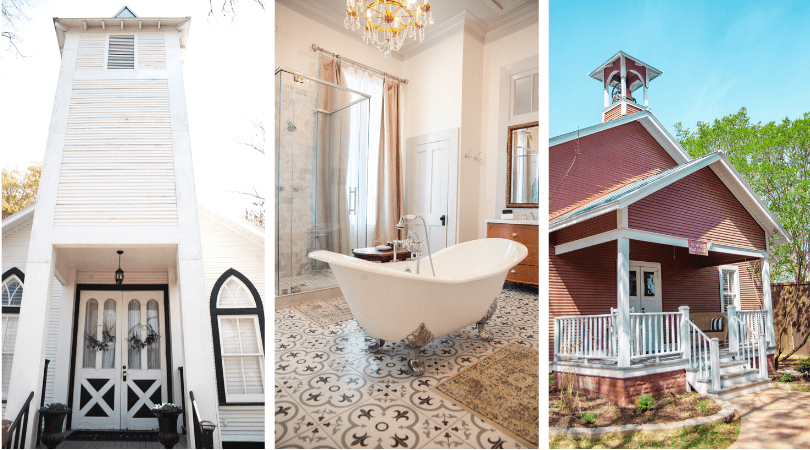 Located in Boerne, Texas, the Kendall is a beautiful boutique hotel with gorgeous suites, cabins, cottages, and even a church and schoolhouse you can stay in. Yep! They have transformed an old Lutheran church into quite the heavenly suite you can sleep in. With so many cool options to stay at in the Kendall, you have so many great reasons to come back for a different experience each stay. Plus, we have a special deal for our readers. Use promo code WINETIME for a free bottle of wine when you check in! While staying at the Kendall, make sure to discover all the fun things to do in Boerne.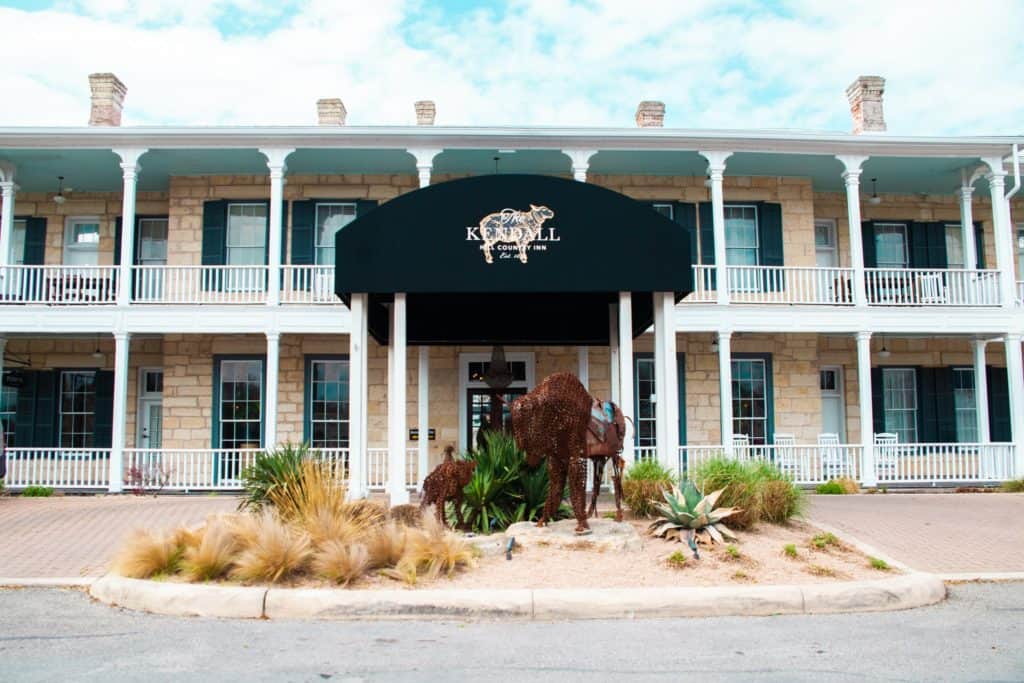 The Kendall Hotel: Sleep in a Church
The Kendall offers a one-of-a-kind experience by getting to sleep in a spacious renovated chapel that is sure to give you a heavenly rest. This two-room suite has a plush bed and beautiful décor all around and is tucked just a little outside of the hotel. Everything was gorgeous, but the highlight had to be the clawfoot tub in this blue bathroom and the dual shower right across from the tub.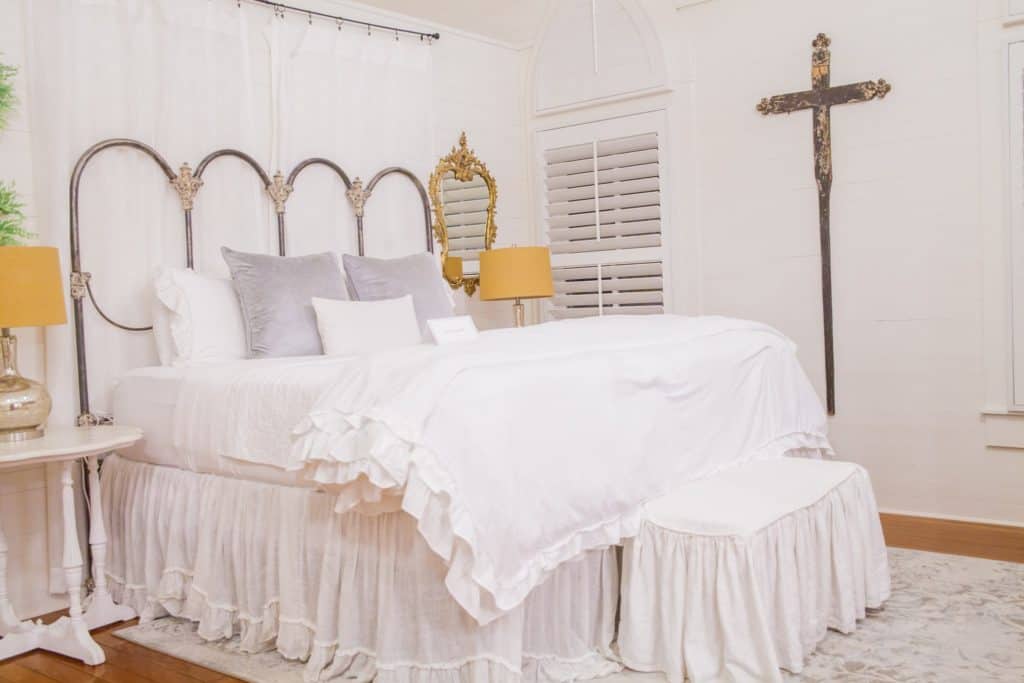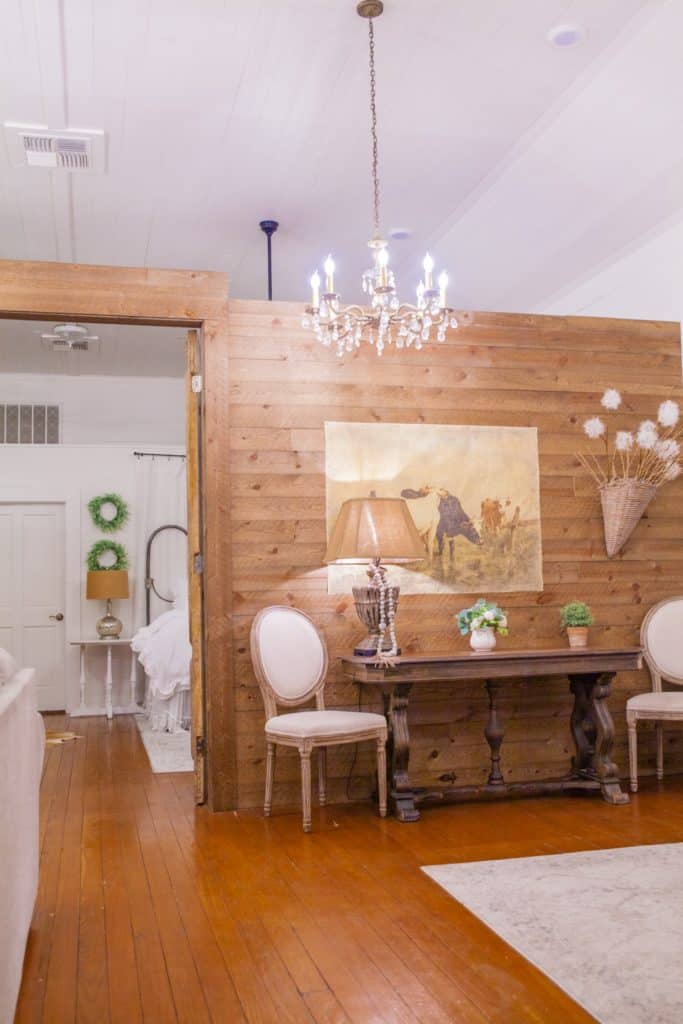 The Kendall Hotel: Sleep in a Schoolhouse
If you're looking for more unique options, you can even stay in an old schoolhouse at The Kendall in Boerne. There are three different suites you can book here, and each one is so fun with beautiful décor that also has little details that give you the schoolhouse vibes.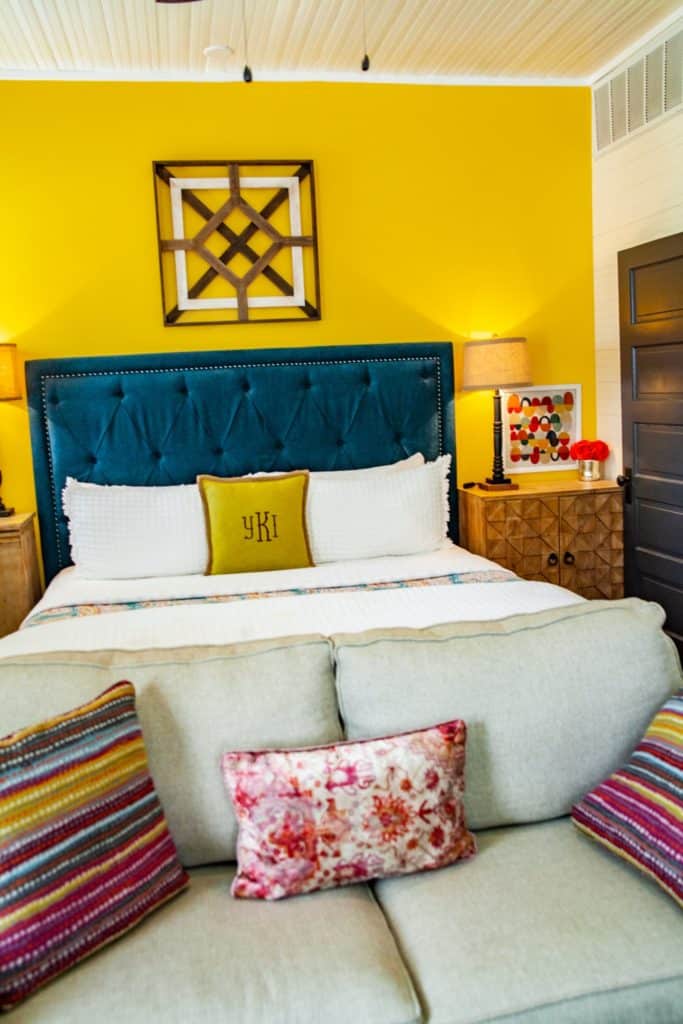 Other Cool Places to Stay at The Kendall
Grand Suites
If you're looking for a night of luxury, these grand suites are perfect. Located in the main house of the historic inn, each suite is stunning. In the Erastus Grand Suite you'll find elevated ceilings, a beautiful blue color, and multiple fireplaces to name a few. Each Grand Suite has its own design, and one of the highlights in the Erastus Reed and Sarah Reed is the clawfoot tub that sits in the middle of the bathroom.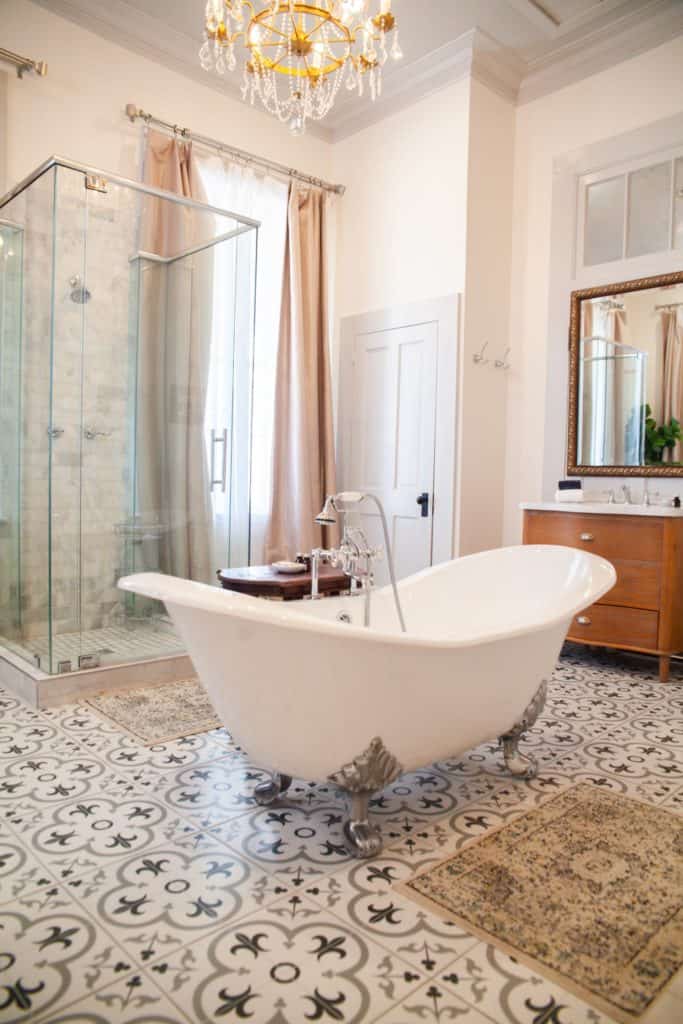 Cabins
You'll find true Texas charm in these very Texan log cabins at The Kendall. Like everything else, each one has a different design, from the historic Waco cabin that embodies true Texas spirit, to the Enchanted cabin that makes you feel like you could be in a fairy tale. And of course, many of them incorporate that long sought after clawfoot tub!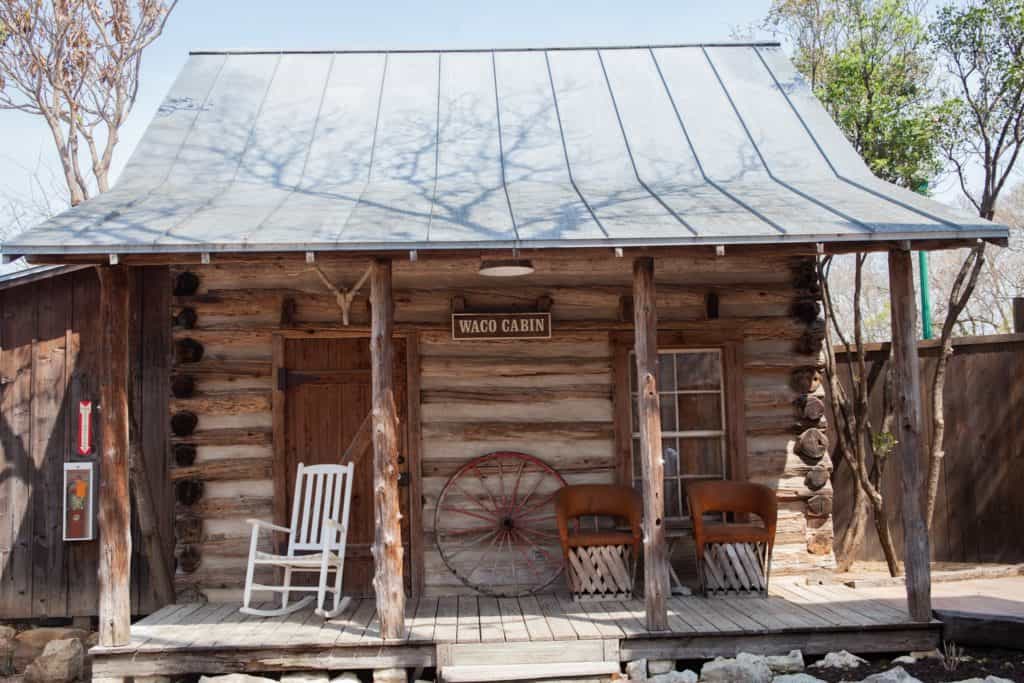 House
The different houses in The Kendall are great options for people looking for a cozy option right off the hotel that allow for some privacy. Their name explains it best as they feel much like a home, and you even get your own front porch to sit outside and enjoy your coffee in the mornings.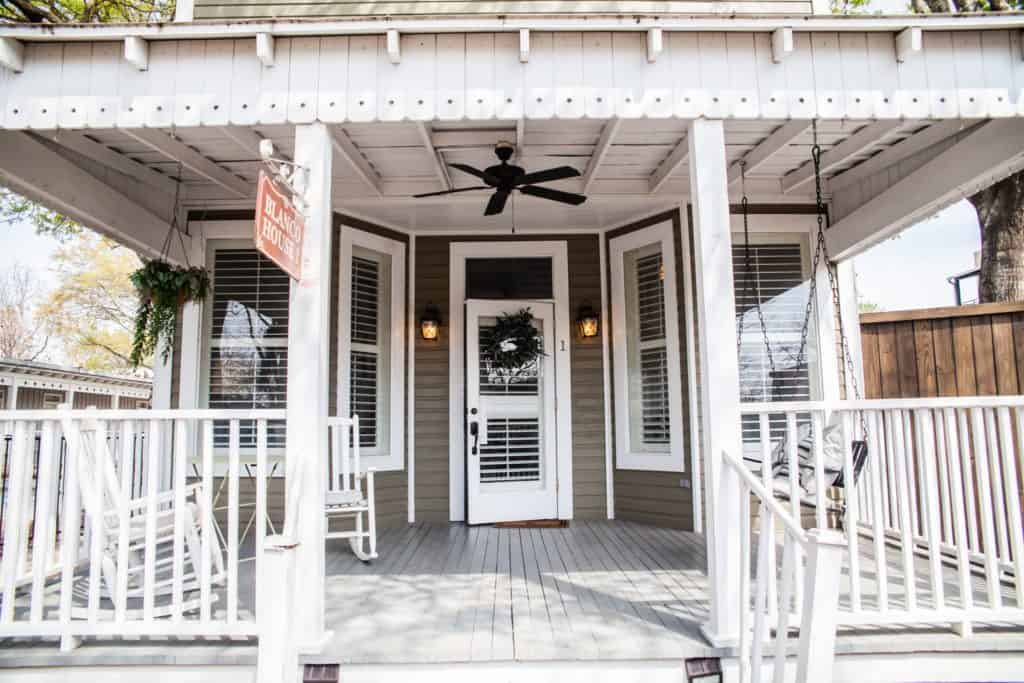 Courtyard Rooms
Another aspect of the Kendall are the different courtyard rooms which tend to be the most budget-friendly with some even under $100, and yet still equally stunning! One of the most exciting rooms is the Sewing Room, where you can enjoy a beautiful room with a clawfoot tub for under $100. I don't know anywhere else where you can find a deal like that.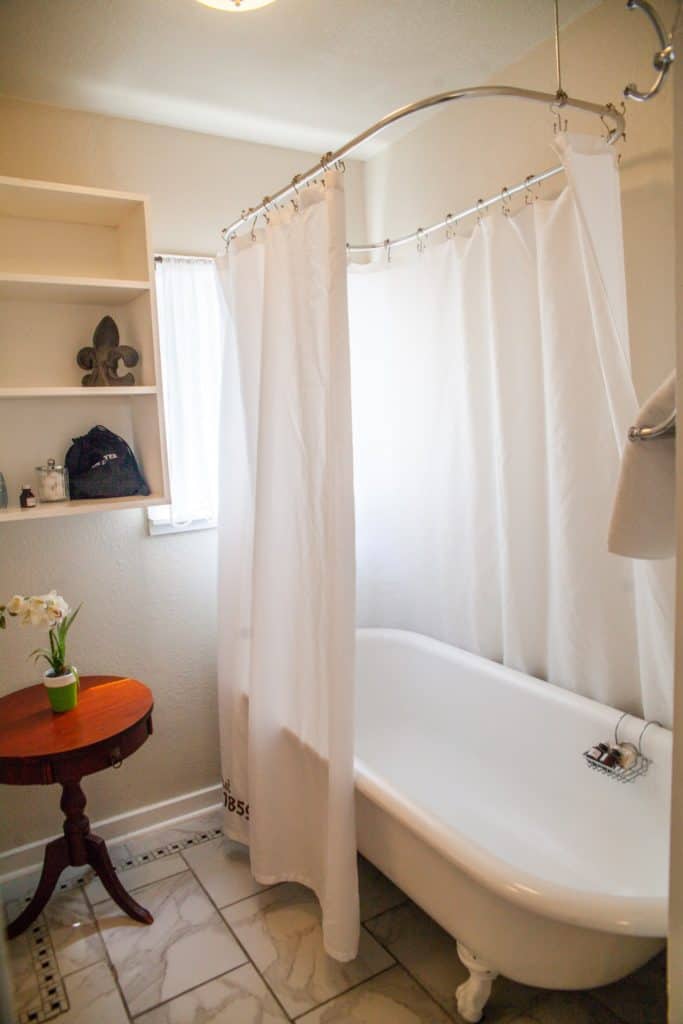 Peggy's on the Green
Another great highlight about staying at the Kendall is having Peggy's on the Green right on-site. This beautiful restaurant serves up fine wagyu steaks and a special barrel reserve of Código Tequila that George Strait picked out himself. It's the perfect spot for a beautiful dinner.
The Kendall Hotel: Final Thoughts
The Kendall is sure to provide a memorable stay. In addition to the beautiful rooms, the concierge team here is incredible. Being a small boutique hotel, they're able to provide so much attention to detail and accommodate their guests. They truly do so much to make each guest's stay special. They're also conveniently located on the Hill Country Mile where most restaurants, bars, and shopping are located. It makes it convenient to grab a drink and be able to safely walk home. And if you're flying in from San Antonio, they even provide a pickup service. When you plan your stay here, don't forget to use code WINETIME for a free bottle of wine during your stay. There is so much to do in Boerne, so while staying at the Kendall, be sure to explore the town as well.