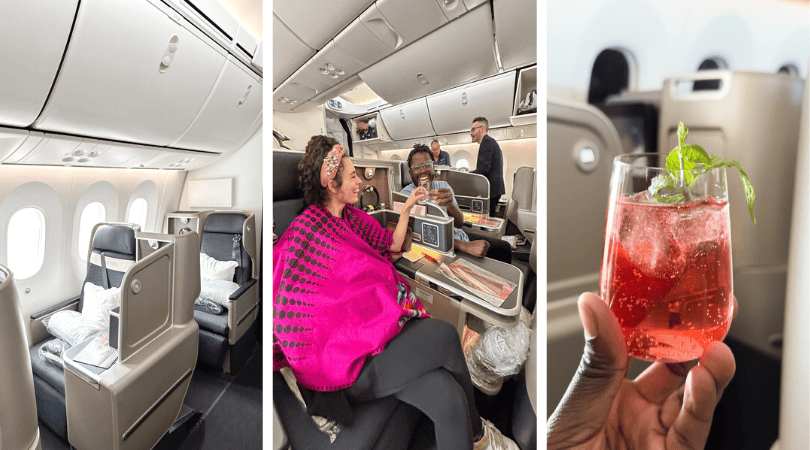 I actually said that I would never fly on another flight that was longer than eight hours unless I was in Business Class or First-Class. Not because I'm trying to be fancy, but between flying in a cramped seat for 8+ hours and flying 2ish hours, I would much rather fly to a closer destination than be uncomfortable (and usually sick) for a long flight.
This is all because I am extremely sensitive to sleep deprivation, and the last few times I've traveled internationally, my health has been completely ruined by being unable to sleep well in Economy Class. That one night of bad rest mixed with the air and everything else usually causes 3ish days of sore throats, coughs, and generally not feeling well on top of the jetlag. However, I do have tips on how to survive long-haul flights in Economy you can read about here.
We even wrote a blog post full of Australia travel trips, including how to combat the jet lag, when/how to plan your trip, and more!
I spent weeks before our recent trip to Australia stressed and browsing every imaginable airplane pillow or anything else that would make me more comfortable on this upcoming flight. I read airline reviews about Premium Economy seats and wasn't convinced. However, it wasn't until we boarded our plane that I truly understood what a huge luxury Premium Economy is.
Why Qantas Airways?
I've dreamed of visiting Australia for so long and I finally had my chance to see it for myself!
We were thrilled to find out that we could choose from several direct flights between the United States and several Australian cities without having to worry about a layover or connecting flight when we flew with Qantas Airways. It was even more convenient for us in this instance since we could fly out of Dallas-Fort Worth and fly directly to our final destination of Melbourne, Australia!
You can also find direct flights to specific cities in Australia from Los Angeles, San Francisco, Honolulu, and JFK Airport (beginning June 14, 2023). Qantas also offers domestic Australia flights and international flights from Australia to London, Rome, Manila, Delhi, and more!
Although this was our first time flying with Qantas (but it wasn't our first time flying on a long-haul international flight), the luxury Qantas provided us in their Premium Economy and Business Class cabins made the trip that much better!
@mycurlyadventures ✈️ You can now fly non-stop from DFW to Melbourne w/ @Qantas and we got to try it on premium economy! Let me be honest, I was stressed leading up to our flight. I spent weeks leading up to our flight reading everything on surviving long haul flights and buying every travel pillow out there (literally!). In the end it turns out I stressed myself out over nothing. I ended up sleeping like a champ! In the end the extra space in premium economy meant I could sleep due to the extra space to lounge back, use the foot rest, and thick blanket! By the time we landed I felt energized and ready to explore @Visit Melbourne Part of the experience was getting to try premium Australian wines to get us ready for our trip as well as all the delicious snacks and meals, plus entertainment all included! It was like our Australian vacation had started as soon as we stepped on board! Comment Fly Qantas for our full Qantas review! [ad] #visitmelbourne #australiavacation #thingstodoinaustralia #internationalflights #dallasflights #dallasairport ♬ original sound – MyCurlyAdventures
Flying Premium Economy with Qantas
Pre-Flight Benefits
When you fly Premium Economy, you'll receive priority check-in and your very own check-in counter, so you don't have to wait in those longer lines. We were also grateful to receive priority boarding.
The Seats
Overall, the things that stood out to me were the extra 6-8 inches of seat pitch, which is from the back of the seat in front of you to your own seat back, meaning you also have extra legroom and space to recline your seat. The seats are 2-3 inches wider as are the armrests. If you're traveling solo or sitting separately from your group, this is a nice plus so you're not rubbing forearms with a stranger. There is also storage space for your devices as you're using them interchangeably during the long flight.
It was a huge plus that we had in-flight entertainment, so I didn't have to worry about draining my phone's battery while watching my downloaded shows, movies, audiobooks, etc. It helped to have a USB power port to charge my phone mid-flight. This way, my phone was charged when we landed in the case that I did use it more than I slept.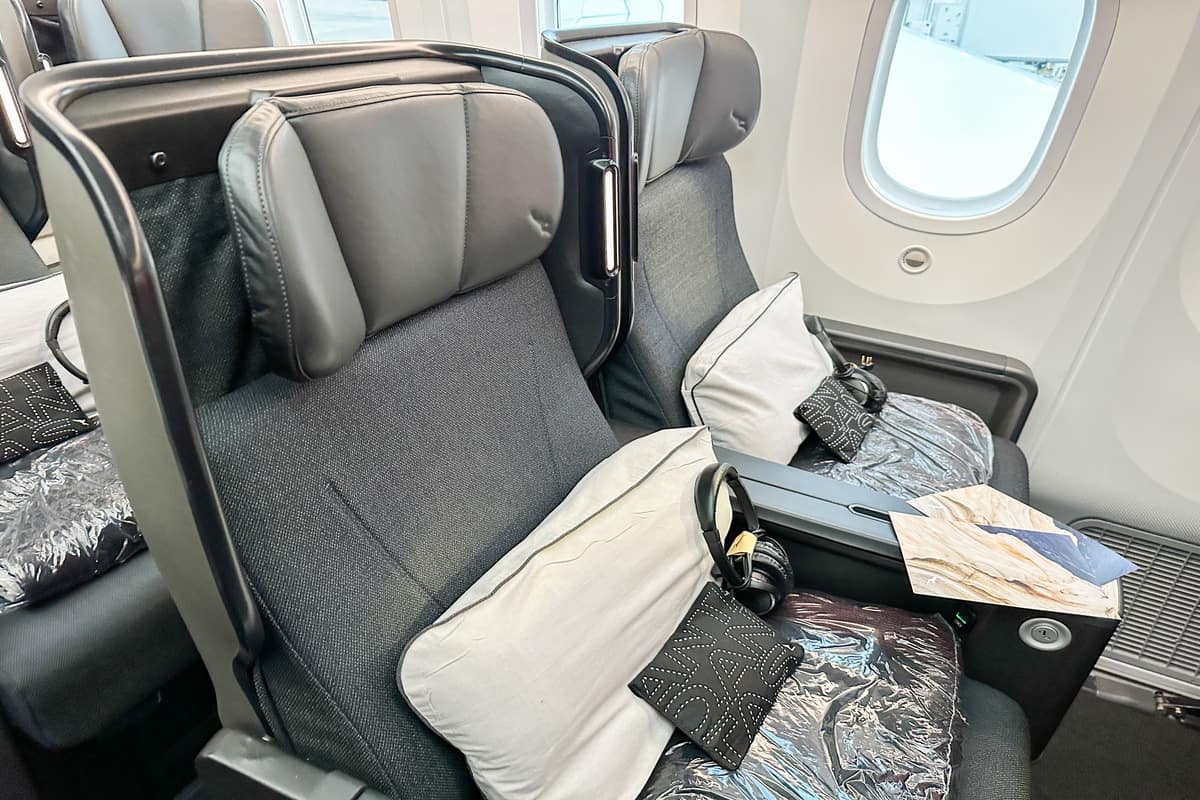 Keep in mind Qantas' flights on international routes do not have in-cabin Wi-Fi, so be sure to come prepared if you have a specific show you're wanting to binge during your flight.
There was also a little footrest with a net that I could stretch out my legs and rest my feet in, and when I reclined my seat, the whole thing morphed to my body. The headrest also has moveable pieces on the side which as a side sleeper helped to be able to adjust a little better. They even provide you with a pillow that truly did provide the extra comfort. This was great for my back and my neck while I slept.
Sleeping in Premium Economy
Being just 5'4, I ended up feeling like I was laying horizontally, which improved my quality of sleep during the flight. I also used a blow-up pillow, and since I am a side sleeper, I wrapped my arm around that. Even though I have the benefit of being short-ish, my 5'11" husband also spent the entire next day talking about how amazing it was!
In the end, I got some of the best rest on a flight that I've ever experienced. It didn't compare to a usual night in my bed at home, of course, but overall, I felt rested when we landed in Melbourne after a 17-hour flight time.
The Amenity Kit
We were also given an amenity kit, complete with an eye mask, a dental kit, and socks, as well as noise canceling headphones (although you can opt to use your own if you'd like, just make sure that they are compatible with the plugs). If you don't bring your own pillow like I did, they have one for you to use along with a wool blanket.
Food & Beverage Service
Another thing we enjoyed about Premium Economy was the attentive customer service. Whenever we needed water or something to drink, the flight crew was ready and waiting to help. I was amazed at the kind service that the Qantas team provided and how special they made us feel. No matter what, the Qantas team was so friendly, but overall I noticed we were able to get much faster service when needed.
We were so impressed by the meal service and the good food! When we boarded, we were welcomed with a complimentary glass of a drink of our choice. You could choose anything from sparkling wine to a cocktail or juice.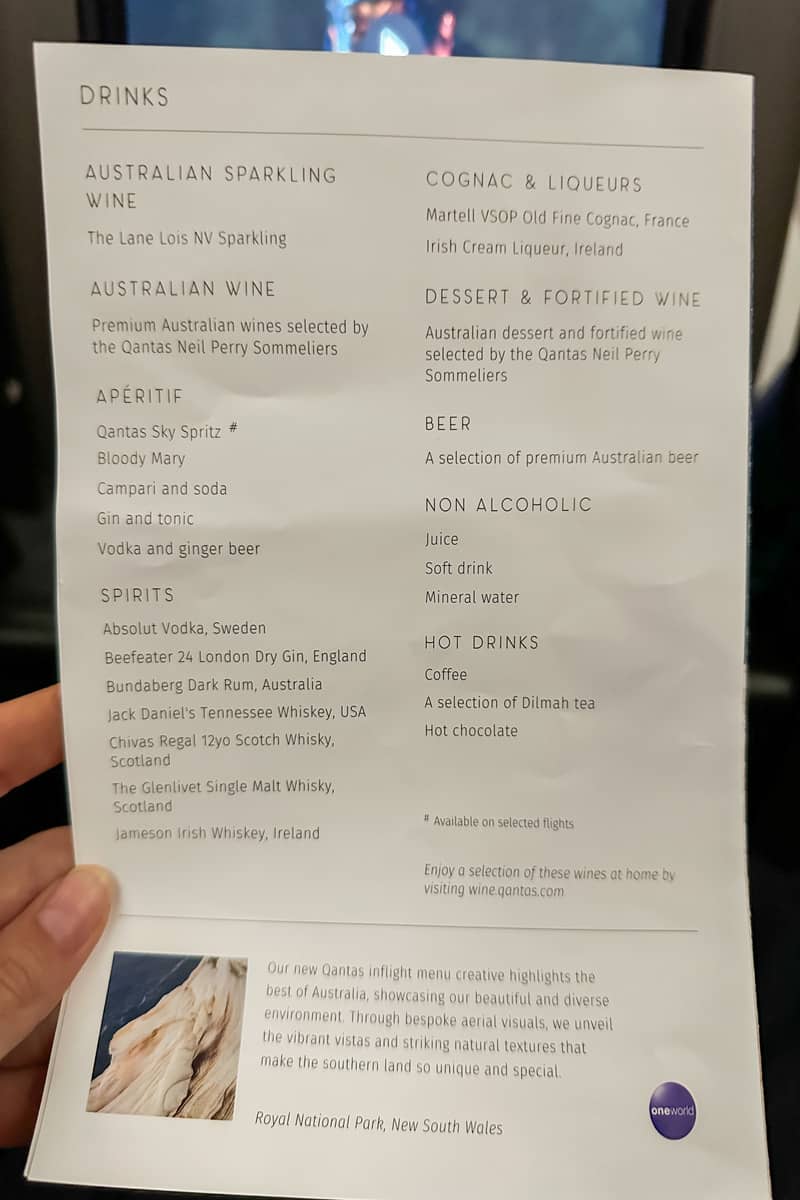 We started off with a two-course dinner with entrees like Salad of Chicken with Mexican rice, charred corn, black beans, and chipotle lime dressing and a chocolate brownie with berry sauce for dessert. There are several options to choose from for the main course depending on your preferences and dietary restrictions.
Mid-flight you can choose from hot snacks like a ham and Swiss cheese toastie or savory French toast, as well as chips, cookies, chocolate, or fresh whole fruit. Drinks are also available that they'll either deliver to your seat or you can retrieve from the inflight bar if you need to stretch your legs. Prior to landing in Melbourne, there were several breakfast options available.
Also, this is an Australian airline which means even the coffee is good! Australian culture is huge on high quality coffee and we definitely saw that reflected in the coffee they served!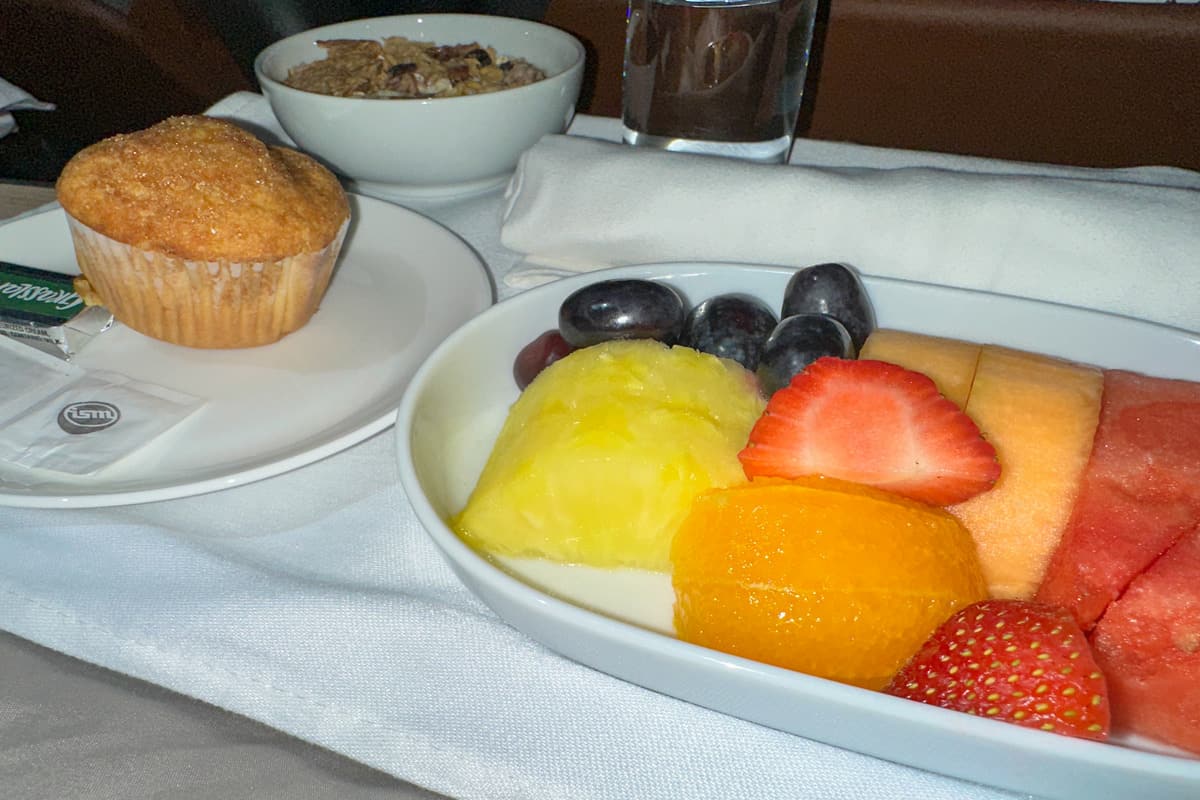 Qantas' Wine Program
We actually received a little taste of some of our itinerary items before we even landed in Melbourne. Not only did we get to sample Australian wines from the Yarra Valley, but we also sampled an exclusive Qantas gin made by Four Pillars Distillery, an award-winning, craft gin distillery that we would visit during our trip.
We were served sparkling Australian wine, sparkling moscato rose, and we had a choice of two varieties of red wine and two of white wine.
The wine selection on Qantas international flights are curated by a panel of sommeliers, so you know you're getting the best no matter where you choose to sit, whether that's the Economy, Premium Economy or Business Class cabin. The price point of each wine does tend to get a little bit higher based on what class you book. Qantas has actually won awards for Best Overall Wine Cellar and Best First-Class Wine Cellar.
So is Premium Economy Worth It?
Having experienced Business Class on the way back to DFW from Melbourne (which I discuss in more detail below), I will of course opt for more Business Class seats when the choice aligns. However, in the end, I was very happy with my Premium Economy seat on our flight to Melbourne and I feel like I may break my rule a little bit about not flying unless in business class when I take a trip that requires more travel time. By booking Premium Economy, I'll at least have peace of mind knowing I will get a good night's sleep (which I have found to not be the case in Economy seating).
If you covet more miles or you're working towards an elite status credit card, paying for that Premium Economy seat will likely earn you even more than simply flying Economy. Same goes for if you decide to upgrade to Business Class. In the end, it may just equate to the difference in cost for a better seat.
Not to mention Premium Economy often offers at least one complimentary checked bag, whereas in Economy, you'd have to pay a baggage fee. However, Qantas is an all-inclusive fare, so your food, drinks, and checked bag(s) are covered. Although, the higher the travel class, the heavier your checked bags are allowed to be. On Australian international flights, you're allowed a maximum of two carry-on items.
Your likelihood of being upgraded to Business Class is higher when you're bidding from Premium Economy. This may have contributed to our odds when we won the bid on the way back to DFW from Melbourne (again, I'll explain more about that below).
When it comes to travel, it's important to travel within your means and to not splurge on a seat on a plane when you could put that money elsewhere, such as booking unique experiences. However, for me, there are some things about paying the higher price for Premium Economy that I'd rather not forego.
However, if you're set on saving that extra bit of money and you aren't a frequent flyer, I also have a guide on how to survive long haul flights in Economy.
Business Class with Qantas
So, as much as I enjoyed Premium Economy, I did see an opportunity to bid on Business Class seats on the way back to DFW from Melbourne. Actually, my husband jokingly put in a bid. We didn't expect to get them, and then two hours later, we received confirmation that we had been upgraded!
It was definitely nice to have Business Class seats on our flight back. However, I'm glad I was fortunate enough to experience both types of upgraded seats, Premium Economy and Business Class.
This was our first international Business Class flight, so we were quite excited and also not quite sure how it worked. In fact, we actually made a small error that I will talk about below.
Pre-Flight Benefits
Before we even got on the plane, we received priority check-in at exclusive check-in desks meant for both Premium Economy and Business Class. However, because I am also a part of the AAdvantage Loyalty Program with American Airlines (they have a partnership with Qantas), I would've received priority check-in anyways.
Qantas Business Class Lounge Access
We were so excited to try the Qantas Business Lounge in Melbourne. As soon as we arrived, the staff member at the front was so friendly and we just chatted away. Because we had been upgraded, my seat assignment wasn't next to my husband, so they worked on trying to get us seats together.
First, we went straight to the coffee bar. You actually have someone who custom makes your latte, as well as DIY cocktail bar, and a DIY juice machine. We put in fresh cucumbers and a lot of ginger because my throat was feeling scratchy. I really appreciated fueling up on some vegetables and healthy ginger before hopping on the plane.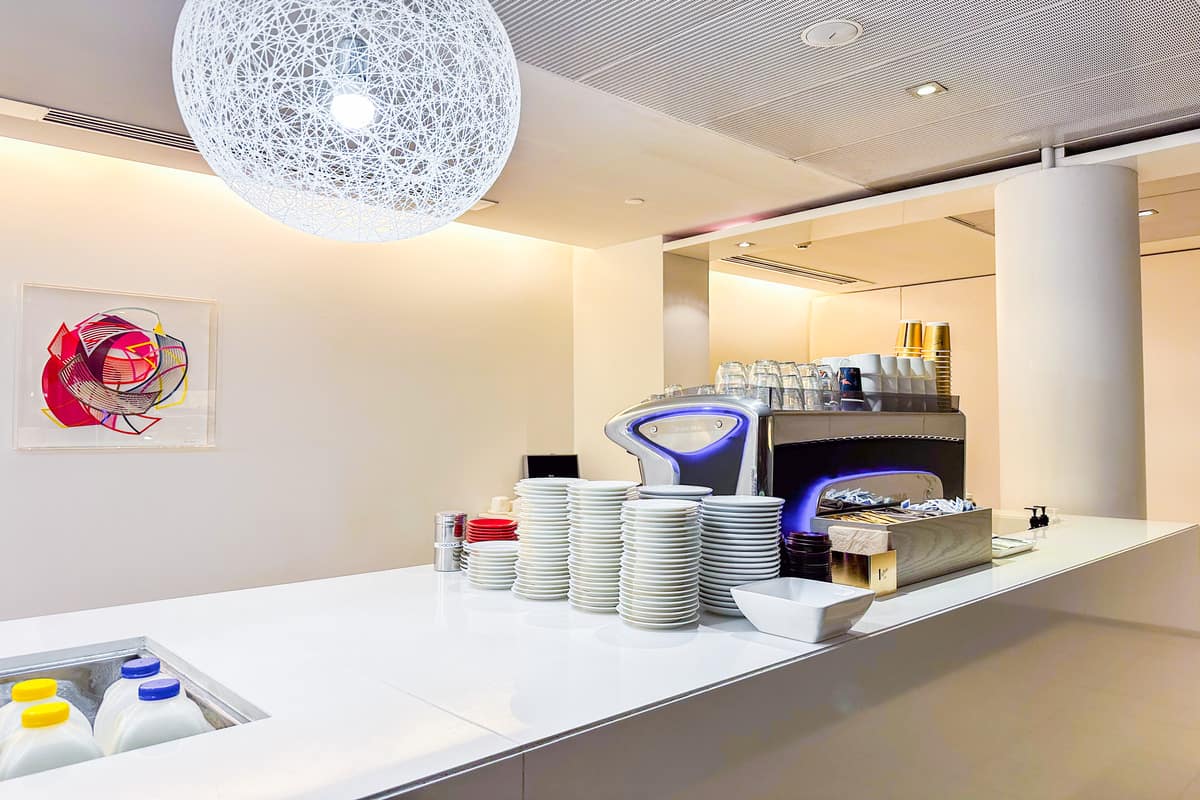 They were serving breakfast while we were there, with a full English breakfast spread, including hot items like sausage, bacon, eggs, hash browns, orange juice, and even grilled tomatoes! You can also choose from cold breakfast items like yogurt, cereal, and fresh fruit salad.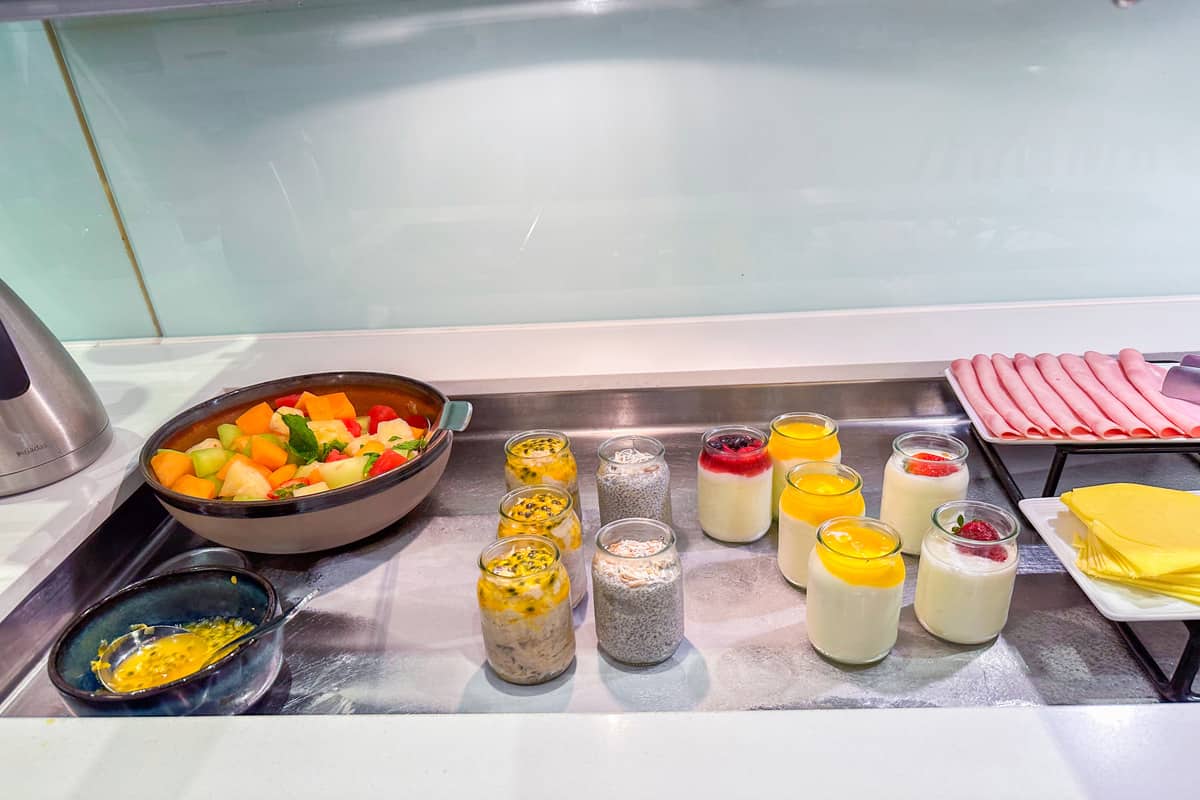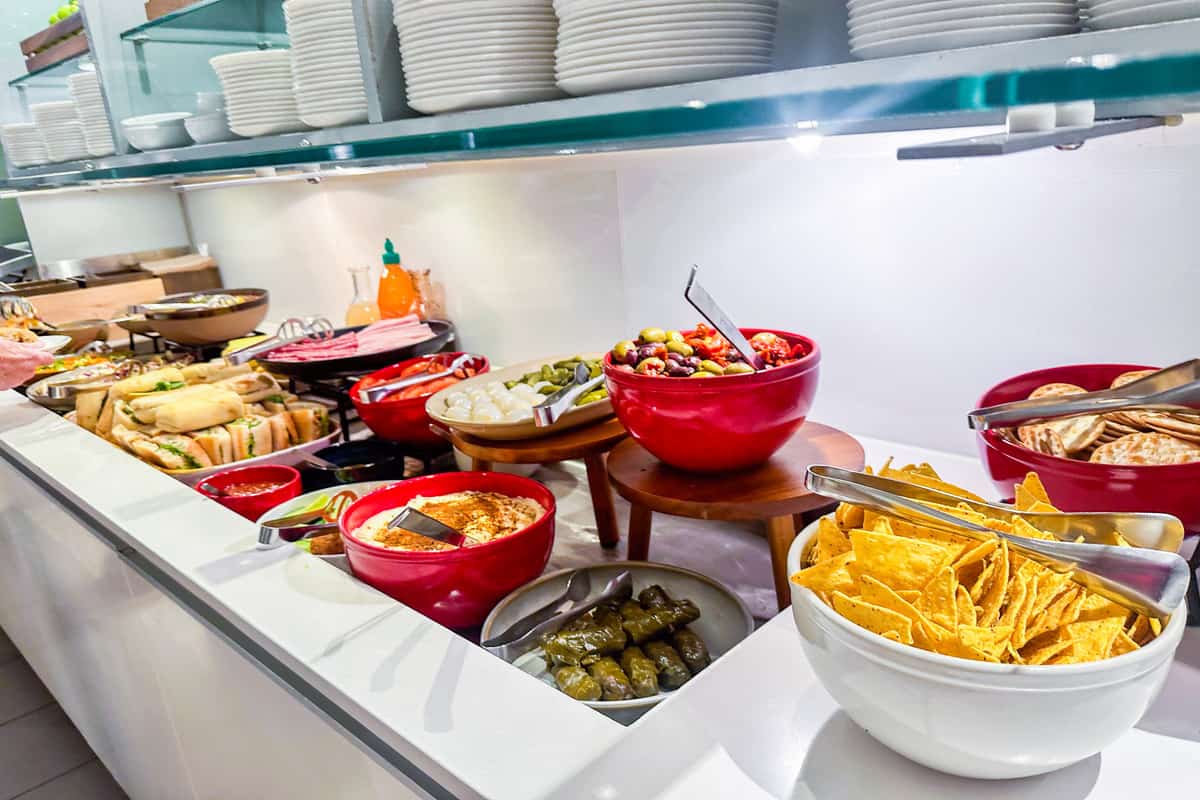 Beginning midday, the alcohol flows freely. Keep in mind the alcohol is not of the premium variety if you are particular about your drinks.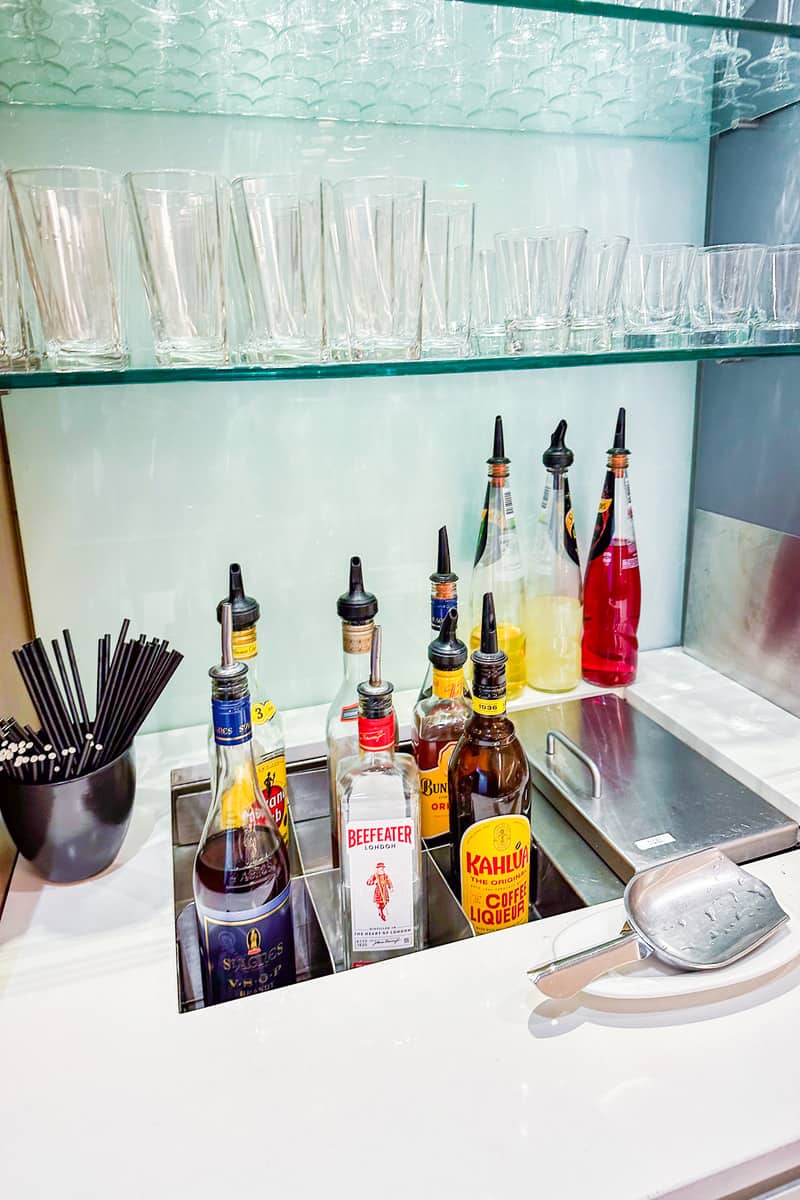 Be sure to stop by the barista coffee bar to see what the special plate of the day is. It's made fresh to order after only a short wait.
I made sure to take advantage of their showers so I was as clean as possible before boarding the plane. There are several showers that you simply check-in and out of. Towels are provided at the front desk.
I do wish that they were cleaned in between uses like I have seen in other airline lounges, but overall, it was quiet and nice to have for sure. Some of them were dirty, so you just have to walk around and find the best one (and when I say dirty, they weren't really that dirty. I'm just very particular about using showers after other people).
The First-Class Lounge
But here is where I messed up. We went back to the front desk to check on the status of our flight and our seats when the front desk attendant noticed that we actually should have been upstairs in the First-Class Lounge due to our American Airlines status, which essentially meant we were Emerald for all Oneworld Partners, including Qantas. Keeping up with this status stuff is hard sometimes!
At this point, we had about 40 minutes to board, and so we quickly ran upstairs, and we were instantly amazed at the entryway with its marble walls and the gorgeous displays all around. I realized if we had checked it earlier, I could've gotten a 30-minute massage or facial!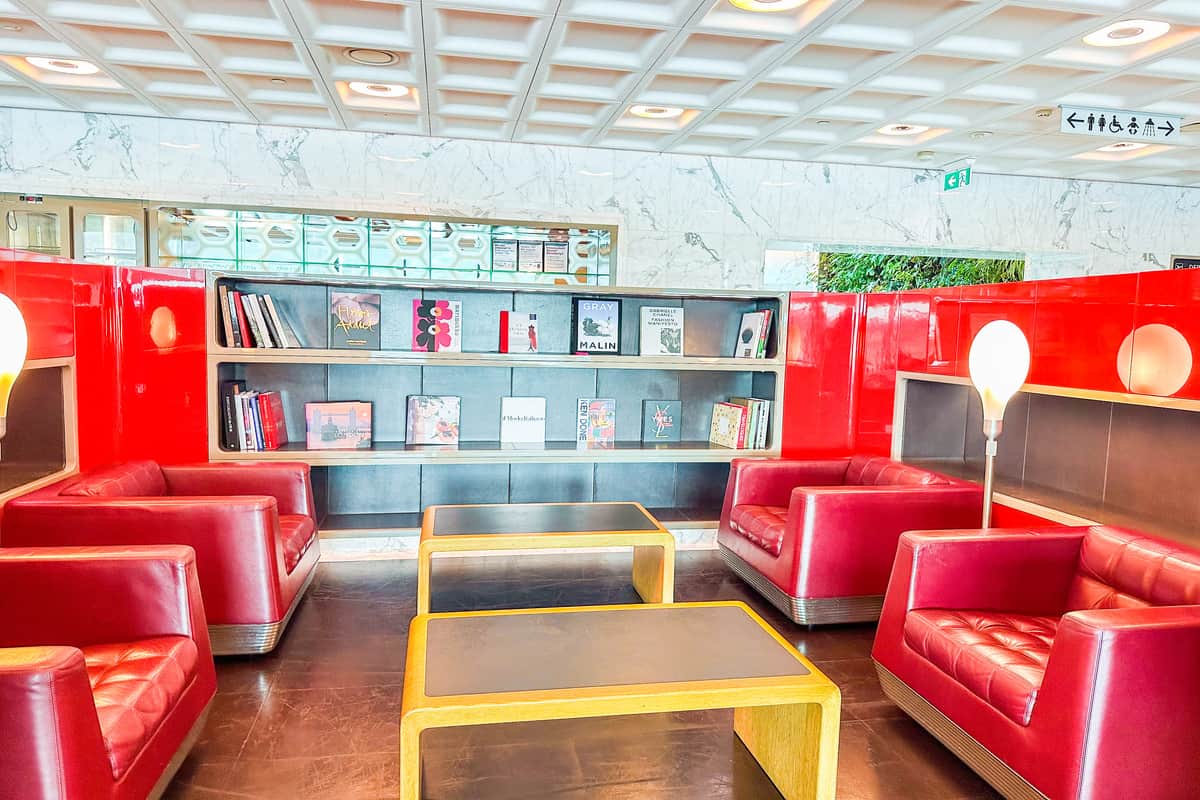 We quickly went to the dining area for lunch and to take in as much of the First-Class Lounge as we could in the little time we had left.
They had a complimentary selection of food and drink with a lot of amazing wine options from places like Australia and even Tasmania. The design was quite nice and overall, the lounge was private since it wasn't as busy and there were fewer people around.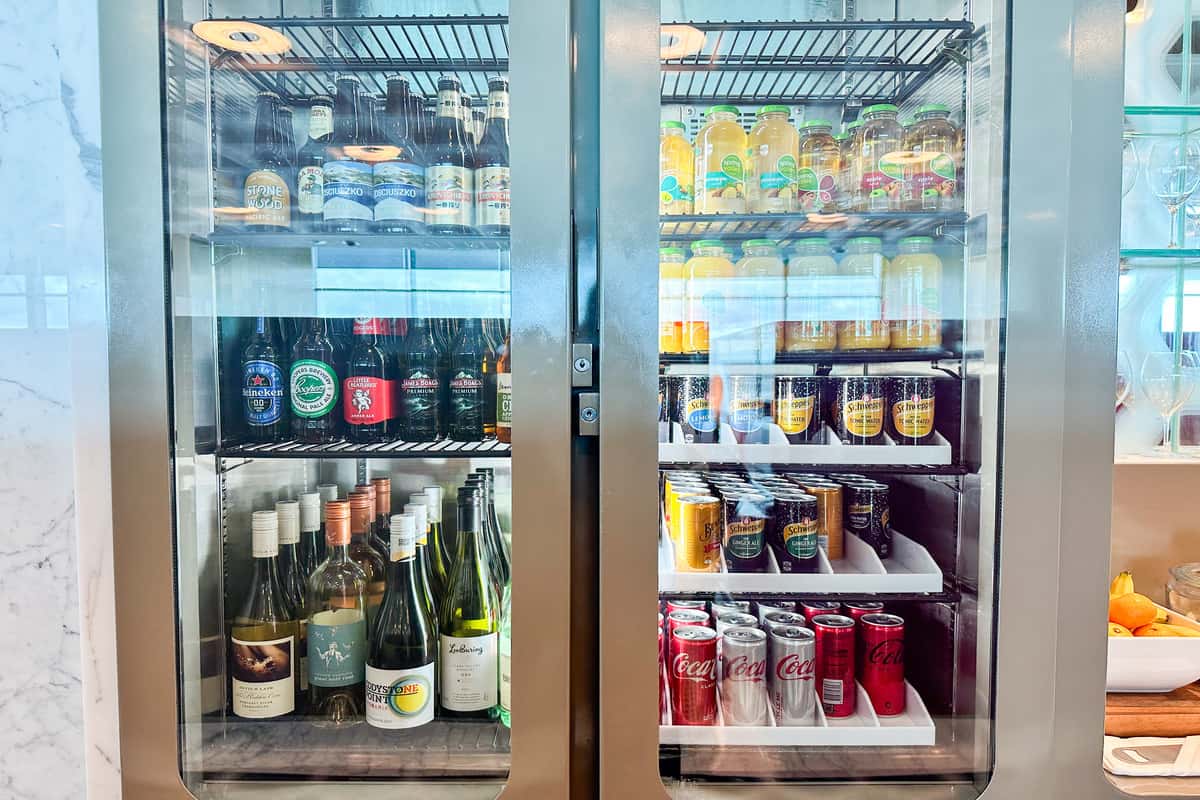 This lounge also offered private showering facilities.
We enjoyed a nice lunch with items like Korean Fried Wings, but had we got here earlier, we could've had both breakfast as well. Hopefully we will be able to experience this some other time and we're grateful that we even had the opportunity.
The Seats
So, after our short, but beautiful time in the First-Class Lounge, we went to board our plane. We were seated pretty quickly, which was nice so we could figure out all of the different buttons and get comfortable.
The cabin crew came around with sparkling water and wine, which was such a nice touch as we were getting ready to take off, and they had us fill out a breakfast card for the next morning, and walked us through the dinner menu, which was quite impressive.
I was just ready to watch my movies and fall asleep. The plane ended up having a communication issue, so we ended up spending extra time waiting to take off. I felt so grateful at this point to be in Business Class because I was just watching my movies and didn't really notice a difference. Honestly, I just felt like I was getting more of my money's worth by having more time to sit in this cozy chair.