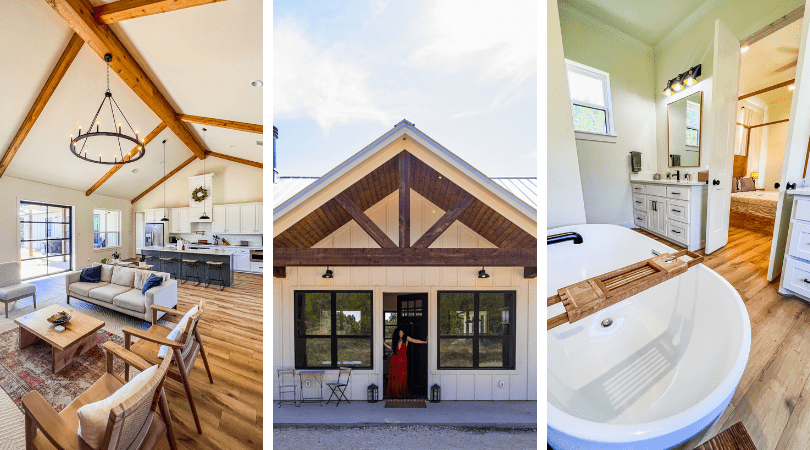 Located right outside of Glen Rose TX, the city of wonder and wildlife, this Luxe Farmhouse at La Palmilla Farms immerses guests in the true definition of Southern charm. The lovely property introduces a modern twist on a typical farmhouse by adding quaint decor and luxurious amenities. A short drive from many unique things to do in Glen Rose, the property makes for a delightful getaway and can be the perfect place for a family vacation.
Inside the Farmhouse
The Luxe Farmhouse is a gorgeous accommodation that you would love nothing more to live in and have all to yourself. Seated within 20-acres of cedar rich beauty, the house serves as a great escape from everyday life while still providing modern luxuries. The white walls give an open space feel and pair well with the plethora of natural light that comes in. The property has 2 bedrooms and 2 bathrooms. The master bedroom has its own private soaking tub while the second bedroom has bunk beds for kids that make this luxe farmhouse perfect for families.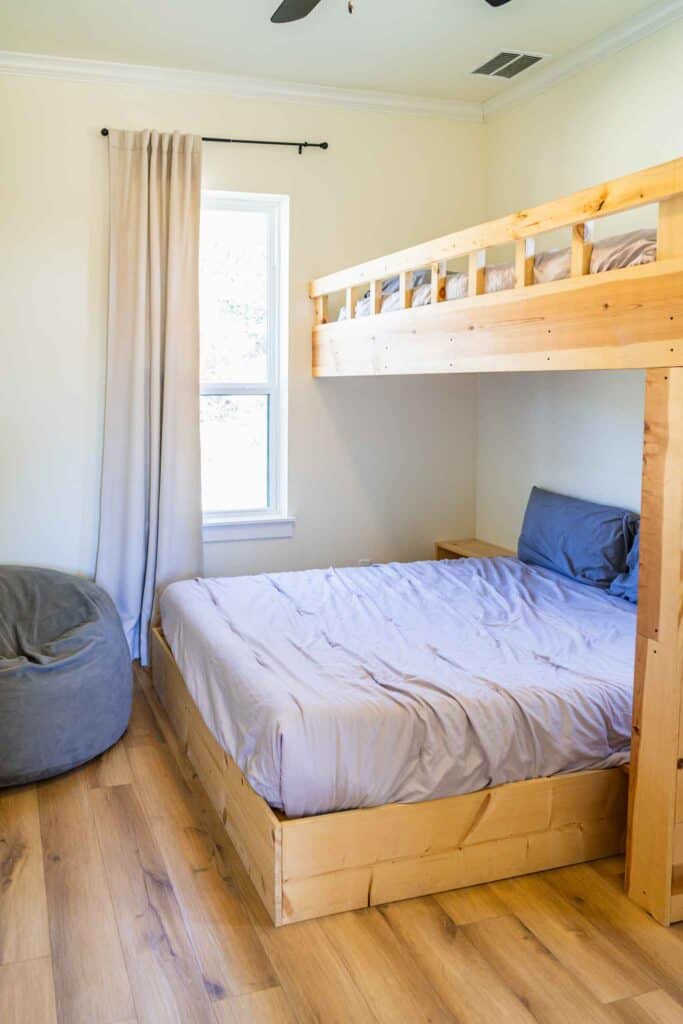 This farmhouse in Glen Rose encompasses a beautiful full kitchen that basically begs to be used. It is so spacious and filled with stunning appliances. You could film a cooking show in here! You can also enjoy a cozy living space, as there are many lounging areas to sit and relax in front of the fireplace, as well as things like books and games, for a sense of serenity.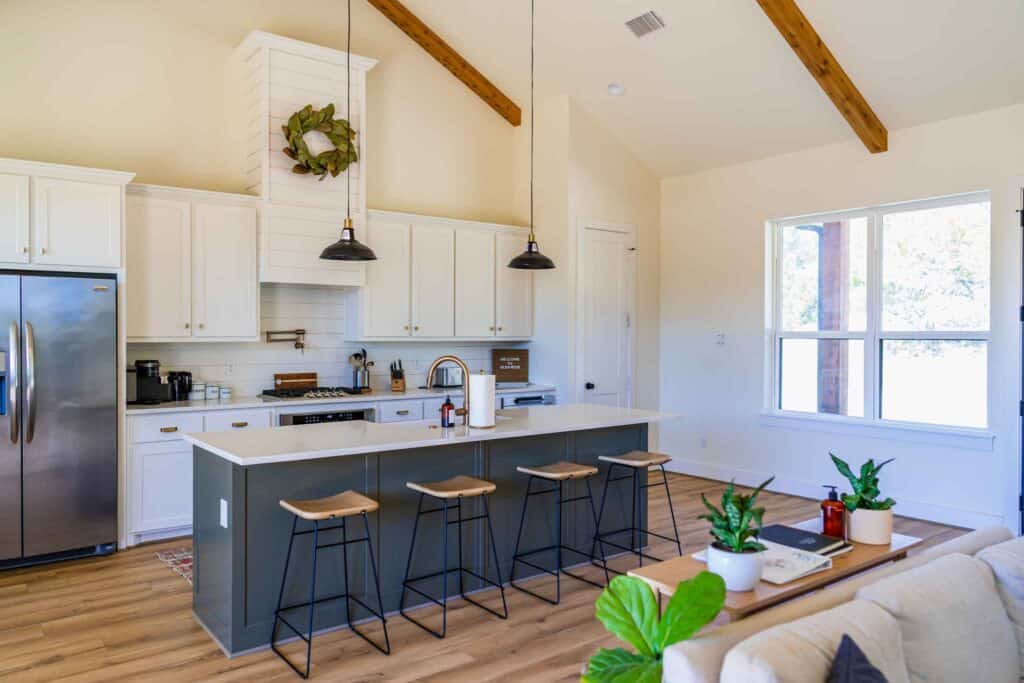 Amenities That Feel Like Home
The property features many amenities that are available for guests to enjoy, elevating their experience at this luxe farmhouse. A hammock and fire pit are conveniently located outside and allow for a magical way to take in the breathtaking vistas of central Texas. A feeder attracts local wildlife to the property, so you might see deer in the morning. The farmhouse can be accessed 24/7 using a keyless entry and the code is sent to you the morning of your arrival, offering a convenient entry to start off your stay. An Apple TV is located in the living room area and guests can log into their streaming accounts to access platforms like Netflix and Amazon to enjoy cozy movie nights.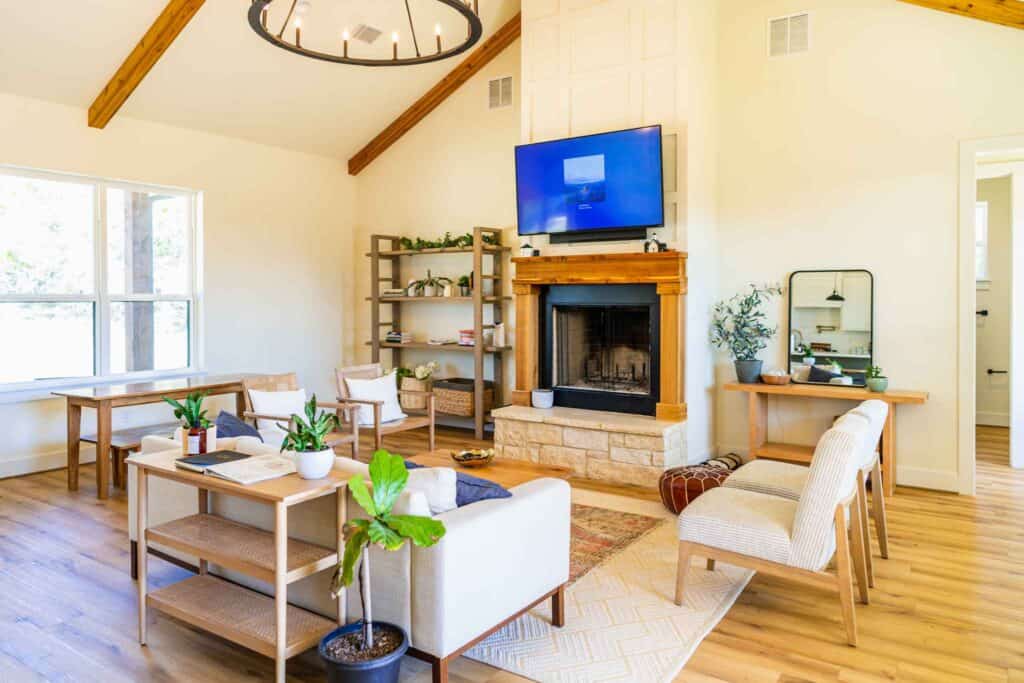 Pets are allowed without an extra fee, but you must inform the property owners while booking. The farmhouse is incredibly pet-friendly, providing a lot of space for them to run around, but there are a few rules in place to keep this luxe farmhouse in pristine condition. Animals are not allowed on any of the furniture in the house, including the beds. They must also be crated while you are away, and you must pick up after them.
Explore Glen Rose and Beyond
Often referred to as the dinosaur capital of Texas, Glen Rose is a city filled with adventure and cool dino-themed attractions. Places like the Fossil Rim Wildlife Center, Dinosaur Valley State Park, and Dinosaur World allow visitors to make their Jurassic dreams a reality as they explore the wonders and intricacies of this quaint town. Visitors can also enjoy sightseeing in Glen Rose too. There is bountiful wildlife and stunning natural areas. Plus, you can visit historical landmarks like Barnard's Mill. Check out our list of things to do in Glen Rose TX for some more ideas.
For more adventures, a short 15-mile drive will provide guests with more amazing things to do in Granbury.
A Charming Farmhouse Near Glen Rose: Final Thoughts
For a cozy stay surrounded by nature, the Luxe Farmhouse near Glen Rose TX is the perfect getaway, whether you're a couple, a family, or you have a fur baby you wish to bring along. Just minutes away from all the action and adventure, the farmhouse serves as a tranquil environment out in the country that will connect you with the outdoors. The Luxe Farmhouse will exceed all your expectations of what makes a great vacation. While in the area, check out our extensive list of fun things to do in Glen Rose.