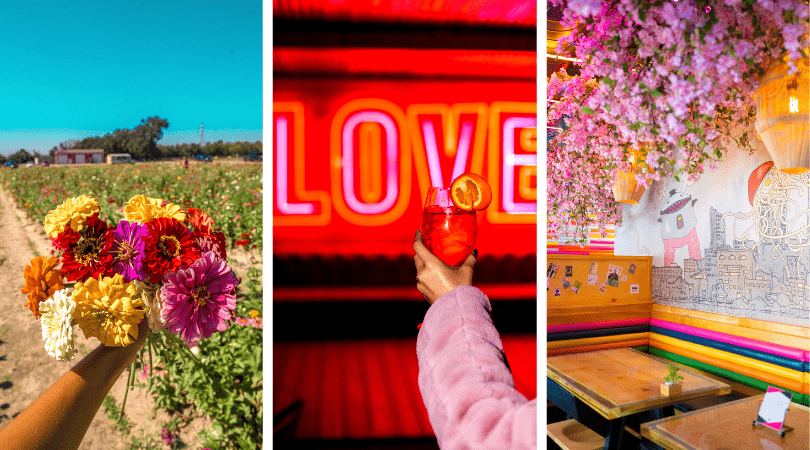 If you're looking for ways to celebrate LGBTQ+ Pride in Texas over the next few months, there are so many events, festivals, and celebrations to go to and LGBTQ+ businesses to support! You'll also find monthly and weekly events so you can celebrate Pride throughout the year, as well as support groups, Pride organizations, and Queer brands/individuals/publications linked throughout. If we missed anything, please reach out to us so we can make this guide to celebrating Pride in Texas as comprehensive as possible.
Where to Celebrate Pride in North Texas
Arlington
Arlington will be celebrating Pride in Texas with its 1st Arlington Gay Pride event on June 11 from 12 to 4pm. The event is free and there will be drag shows at 1pm and 3pm. There will also be live music, DJ Al Farb performing, food, drinks, and games.
Experience Disney in Texas and celebrate Pride at the same time at the Disney Drag Brunch. Tickets include a family-style brunch and there is also a champagne add-on option. Mark your calendar for Sunday, June 12 at 2:30pm and prepare to be wowed by all of the amazing entertainment. A portion of the proceeds will go to the HELP Center of Arlington and the Arlington Museum of Art.
Dallas
Dallas Arboretum & Botanical Garden's Pride in Bloom will be Saturday, June 11, 10am to 4pm. There will be live music, mural installations, the Pride Pop-up Market, a floral mall, and you can even bring a picnic!
ViiV Healthcare, an organization dedicated to aiding those living with HIV/AIDS, created an interactive exhibit in Dallas devoted to the organization's cultural initiatives. This free exhibit will be at 2700 Swiss Avenue through July 1st. Register here.
Juneteenth Unity Weekend, hosted by Dallas Southern Pride, will last from Thursday, June 16 through Sunday, June 19. The Juneteenth Unity Festival will include a pool party with live music on Saturday, June 18, 5pm to 9pm at the Samuell-Grand Aquatic Center, plus the Emancipation Ball at 2am Sunday and brunch at noon. Throughout the weekend, there will also be club events and parties for a weekend of celebration.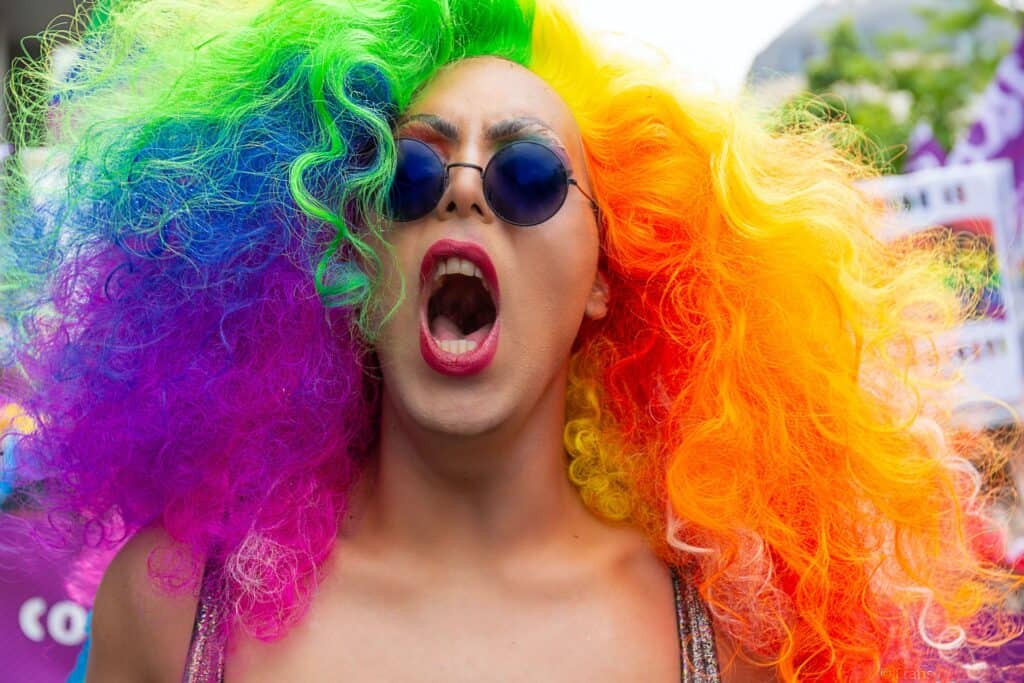 Check out the 2022 Pride Block Party in the Dallas Arts District on Friday, June 17 from 6pm until midnight. You can look forward to activities like board games, drag shows, and other live performances. For more information, they have a full list of their itinerary on their website.
Drop into Union Coffee for their annual Pride Variety Night on June 17th at 7pm for performances from queer performers. If it'll make you more comfortable, you're invited to bring lawn chairs and blankets as well!
June 18 from 4pm to 12am will be Dallas's Annual Pride Bar Crawl where you'll pop into 9 bars. The ticket will include entry, two drinks or shots at each bar, and entry to the after-party. For more details and pricing, click here. A portion of the proceeds of this event will go to the Trevor Project.
You can also get free admission to the Dallas Holocaust and Human Rights Museum on Sunday, June 19!
Denton
Pridenton, the city's LGBTQ+ organization, will host Night Out on the Square at the city courthouse from 6pm to 9pm on June 17, followed by the Chosen Family Reunion with live music at the Harvest House on June 18 from 8pm to 12pm, the Big Pride in Lil' D Chalk & Chill at Oak Street Draft House on June 25 beginning at 8am, and a trans youth panel at North Branch Library on June 29 with a mixer at 6:30pm and the panel beginning at 7pm.
Fort Worth
Sunday, June 19 is the Imperial Pride Pageant! The pageant itself begins at 6pm and contestant check-in will begin at 5pm.
Check out this free, family-friendly event celebrating Pride at Magnolia Green Park! Trinity Pride Fest will be June 25, 3pm to 10pm, with food trucks, an artisan vendor market, live music by local queer artists and bands, as well as an interactive program for youth in the cooling tent.
The North Texas LGBT Chamber of Commerce and the American Airlines CR Smith Museum will be hosting a free event, PRIDE Punch & Learn, on July 16 from 10am to 4pm. Here you'll learn about local LGBTQ+ organizations and enjoy free water, soda, wine, beer, and a "PRIDE Punch" with snacks available for purchase. Register here.
Tarrant County Pride will be celebrating their Pride Parade and Festival October 1 with the Pride Picnic on October 2. Keep an eye on the Tarrant County Pride Facebook page for more information.
Celebrate Pride Night at the Ball Park on June 11 at Hodgetown Ballpark, but hurry because tickets are limited.
Attend the screening of the documentary, Mama Bears, which tells the stories of mothers who have fought to protect their LGBTQ+ children. Tickets are just $10, and the screening will take place on June 22 beginning at 7pm.
The Annual Panhandle Pride Festival is June 25 at Starlight Ranch. The gates will open at 3pm and a $5 donation is requested at the gate.
Plano
Celebrate Pride with the North Texas Pride Foundation at their 11th Annual Come as You Are Festival on September 17, 11am to 7pm. This event will benefit a non-profit (TBA) and will be family-friendly, complete with vendors, food, drinks, dive-a-ways, kid activities, a DJ, dancing, and other entertainment. Follow the event page for more information about general admission.
Richardson
On Friday, June 10, celebrate Brandon's Birthday with all money raised going to the Miss Gay Texas State Pageant System & beneficiary, the Greg Dollgener Memorial AIDS Fund. There isn't any cover to get into Six Springs Tavern, but donations will be accepted. There will also be a food and drink menu, plus an auction, raffles, and give-a-ways with local entertainment. Doors will open at 6pm and the show will begin at 7pm.
You can also attend the Celebrating Pride Show and brunch at Six Springs Tavern on June 26 at 3pm. There isn't any cover, but donations will be accepted at the door.
Sherman
Saturday, June 11, Grayson County Pride 2022 will include resources, local vendors, small businesses, entertainment, live music, food trucks, a waterslide, and a Grayson County Pride merch pop-up! Festivities will be from 9am to 5pm here.
Where to Celebrate Pride in Central Texas
Austin
The UMLAUF Sculpture Garden + Museum will be hosting an After Dark event on June 7 from 6pm to 8pm with live music, beer from Austin Beerworks, cocktails, and a pop-up by the Little Gay Shop (more information below on this local LGBTQ+ art store). Doors open at 5pm to members.
Austin Black Pride will also be hosting various celebrations from June 9 to June 13.
For a family-friendly pride celebration, get a ticket to Waterloo on the Creek on Saturday, June 11 from noon to 9pm. Waterloo Park is an 11-acre public park and will be filled with live music, a kids sculpture garden, Drag Queen Storytime, a fitness class, and Pride Parade in the Park, plus several community partners and vendors.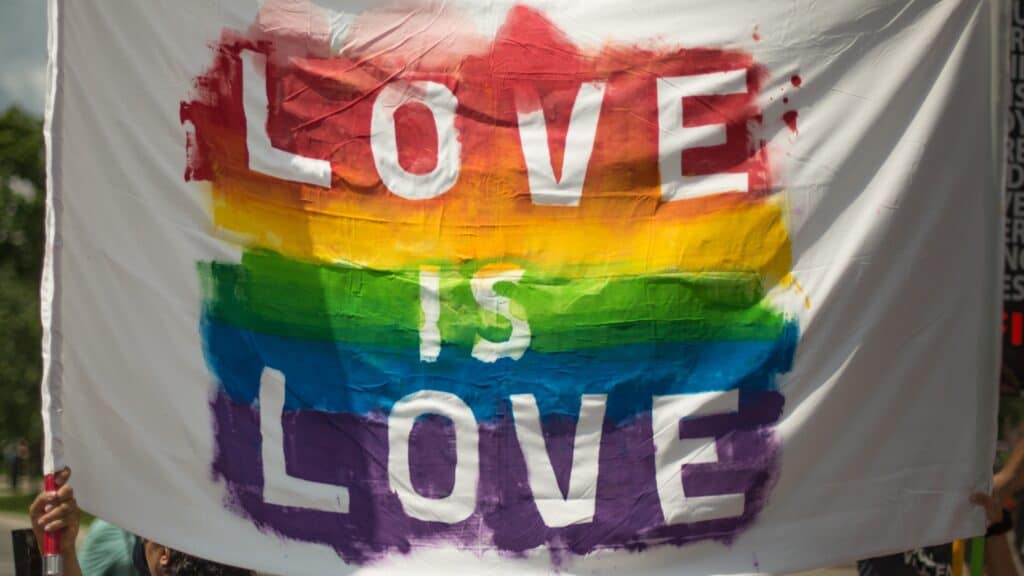 Visit the Big Gay Pride Market hosted by Eastside Pop Up with over 20 queer vendors and makers on Sunday, June 12 from 11am to 3pm. For more information and full list of upcoming Pride Month events, check out Little Gay Shop's Instagram highlights! Click here for more queer-owned businesses.
June 18 from 4pm to 12am will be Austin's Annual Pride Bar Crawl where you'll pop into 13 bars. The ticket will include entry, two drinks or shots at each bar, and entry to the after-party. For more details and pricing, click here. A portion of the proceeds of this event will go to the Trevor Project.
Although the details of the festivities are still in the works, Austin has a date: August 20! Keep checking their website for updates.
Bastrop
Drop in for Bastrop's 1st annual Pride Month celebration! Friday, June 10 will be the Xceptence Drag Show beginning at 7pm, complete with music, dancing, and more. Celebration in the Park will be Saturday, June 11 from 3pm to 8pm at Fishermen's Park. There will be food, drinks, cornholes, games, and contests.
Boerne
PFLAG Boerne will be hosting a Pride Walk on Saturday, June 11 at 10am beginning at the Patrick Heath Public Library Ampitheater.
Dripping Springs
Hosting two events on June 25th, Pride of Dripping Springs will be celebrating Pride Month with a festival from 12pm to 7pm, featuring the Texas Gay Rodeo Association, with horse events, events for various ages and families, plus food, alcohol, and vendors. Pride After Dark (18+) will be from 7pm to 11pm with a live DJ, dancing, a drag show, and additional food and alcohol. Use their website to register. Although both events are free, Pride of Dripping Springs is asking that you register for both.
The city proclaimed June Pride month on May 18th, 2021. We are so happy to see continued support for the LGBTQ+ community across Texas.
Lockhart
Plan to celebrate the city's first Pride Month from June 12 through June 19. Events will include brunch, Q&A's, Youth Mixers, talent showcases, drag shows, and movie nights. Click here for a full calendar. The final celebration will be Pride Fest from 4pm to 10pm on June 19 at Luna Gardens.
Marble Falls
Highland Lakes Equality Center (HLEC) will be hosting its free, 2nd annual Equality Fest on June 18 from 10am to 4pm with food trucks, local vendors, and live entertainment, plus artwork for sale, DIY kits, and an onsite workshop from the Painted Pallet. HLEC speakers and representatives will also be in attendance to offer information and resources to anyone in attendance. There will also be a Pride After Dark (18+) event including a drag show put on by the Haus of Fatale from 7pm to 10pm. Tickets for Pride After Dark are $15.
Pflugerville
Their Pride Pfestival in downtown Pflugerville will be on Saturday, June 18 from 1pm to 6pm. You can expect performances by Tammie Brown from RuPaul's Drag Race, plus LGBTQ+ comedians, musicians, and a panel on LGBTQ issues with State Representatives such as Celia Israel and Sheryl Cole.
Pride Center San Antonio will be hosting the 2022 Icons Brunch on June 12 from 11:30am to 3pm with live entertainment, special guests, and an unlimited Bloody Mary and Mimosa Bar.
The free, 1st annual Youth Empowerment with Pride Conference will be on June 23 from 9am to 4pm with free lunch and snacks.
The free Youth Empowerment with Pride Summer Camp on July 21 will include activities like hiking, archery, crafts, and teambuilding from 9am to 5pm. Both of the above youth events are for ages 12-17 years old. For more events hosted by Pride Center San Antonio, check out their Pride Center Events Calendar.
Pride San Antonio will be hosting their first-ever Pride Week. Night Out at the Zoo Friday, June 17 from 6pm to 10pm at the San Antonio Zoo will kick it off. The events and activities will include a parade, a fashion show, dance party, plus animal encounters, community resources, and unique vendors.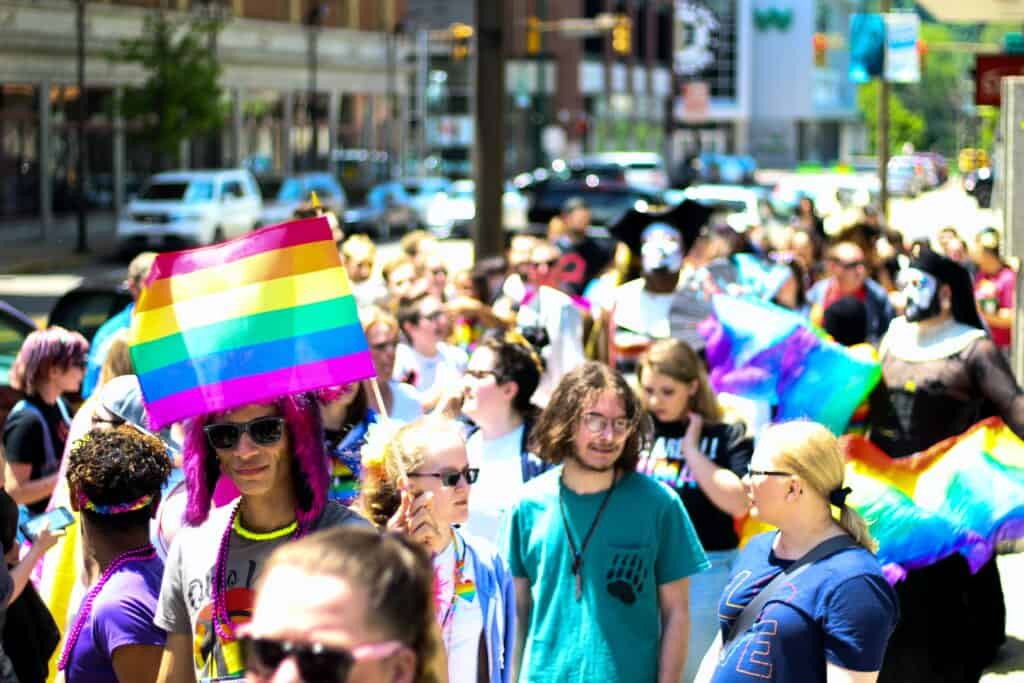 If you're a fan of RuPaul's Drag All Stars, you have the chance to see Chad Michael perform Saturday, June 18 at 8pm. Click here to purchase tickets.
Or celebrate pride with a soccer game at Toyota Field with Pride San Antonio and San Antonio FC. A portion of ticket sales will go to Pride San Antonio.
Register a full team or just yourself at the Cedar Creek Golf Course in support of Pride San Antonio. Your fees will include a round of golf, a golf car rental, a commemorative golf shirt, complimentary lunch, and a donation to Pride San Antonio. Registration lasts through June 18.
Next is Pride Bigger Than Texas 2022 at Crockett Park on Saturday, June 25 from 11am to 7pm, with food, live entertainment, a PRIDE wedding, health fair, and more. At 9pm, San Antonio's Largest Gay Pride Night Parade will begin on Main Street.
Lastly will be Pride in the Park at Fiesta Texas on Sunday, June 26. Five dollars of every ticket sold will support Pride San Antonio. There will be a dance party, cocktails, food items, and Pride merchandise. Save money by buying your ticket online here and entering the promotional code listed at the bottom of the page.
October 7 through October 9, Pride San Antonio will host their 9th Annual San Antonio LGBT International Film Festival at the Public Theatre of San Antonio. Keep an eye on their website for more details.
San Marcos
Celebrate Pride in San Marcos from Friday, September 9 through Saturday, September 10.
Roughhouse Brewing and SMTX Pride will be hosting their Youth Family Pride, which will include food, drinks, a bounce house, and other kid-friendly activities, on Friday, September 9 from 5pm to 8pm. Follow the event page for more details as they become available.
The SMTX Pride celebration will be family-friendly and free, including music, art, local networking, and a parade, on Saturday, September 10 at 10am in Plaza Park.
Head back to Roughhouse Brewing at 7pm for a Pride After-Party and a Drag Show at 8pm.
This tiny Texas town will be hosting its 2nd annual Pride Festival from 2pm to 10pm on June 25 on Second Street. Events will include a burlesque show, live music, street food, and a tent for the kids to have a little fun of their own.
Attend the Spill the Tea Queer Social on Friday, June 10 from 6:30pm to 8:30pm at Foxdog.
Also, Saturday, June 25 from noon until 10pm, vendors will be available until 5pm at Foxdog, in addition to free face painting and glitter tattoos.
Wimberley
Celebrate Pride in Wimberley on Saturday, September 17. Follow their Facebook to get more details as they become available.
Where to Celebrate Pride in South Texas
Corpus Christi
Pride Corpus Christi will be hosting a variety of events through June 26 in celebration of Pride Month. Click here for a full list and additional details. They will also be hosting a Block Party & Parade October 8 at the Corpus Christi Museum of Science and History, as well as a Family Fun Day October 22 at St. Paul UCC.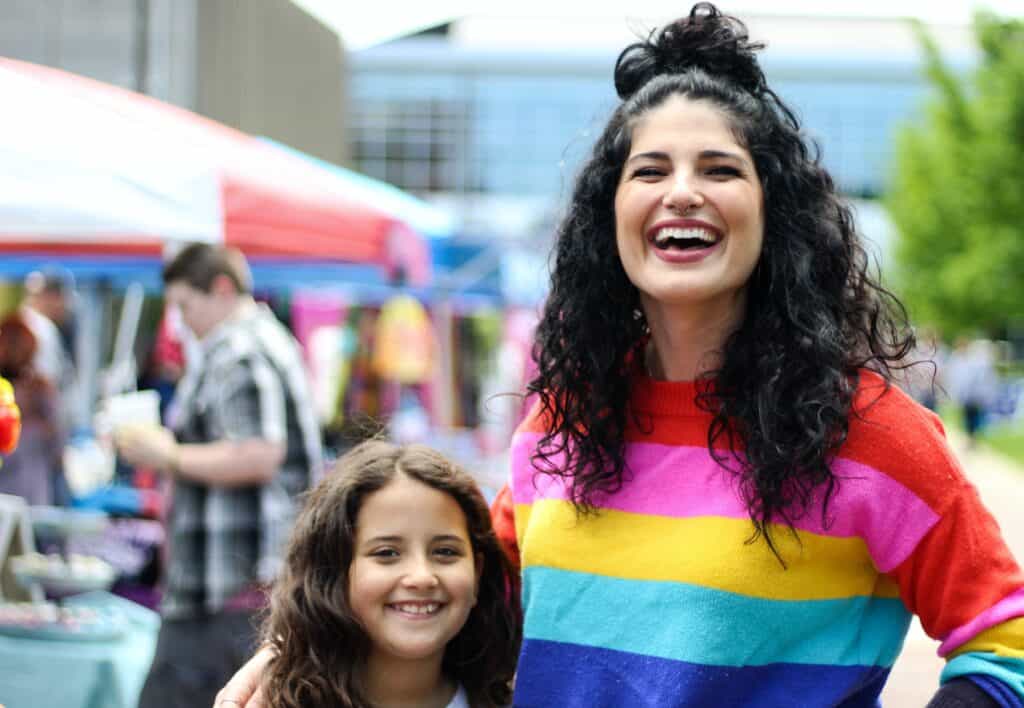 Rio Grande Valley
Enjoy live music, drag shows, food trucks, a beer garden, pride beach access, a youth activity area, Lotería, free HIV testing, and more at this family-friendly event hosted by Rio Grande Valley Pride. Taking place at the Cameron County Ampitheater & Event Center on June 25, cost of admission is a $10 donation. Keep in mind parking at Isla Blanca will be $12. The professional workshop sessions will be 9am to 4pm and the Pride Festival will be 4pm until midnight. For more information, click here.
Where to Celebrate Pride in East Texas
Bryan
See Nirvana Piranha and Alaina at the 2022 Pride Kickoff Party at the 101, a queer-friendly bar, in Bryan, Texas with festivities beginning at 8:30pm.
Attend the Pride Pool Party at the Cove at BearX on Saturday, June 11 from noon to 4:30pm.
The Pride Community Center will host the 2022 Pride Picnic June 12 from 12pm to 4pm. Hosted at Kinder Hill Brew in Bryan, the event will be family and pet-friendly with entertainment, food, and games. Vegetarian and gluten-free options will also be provided with a special menu provided by Chef Tanner and Wild Garlic Pizza.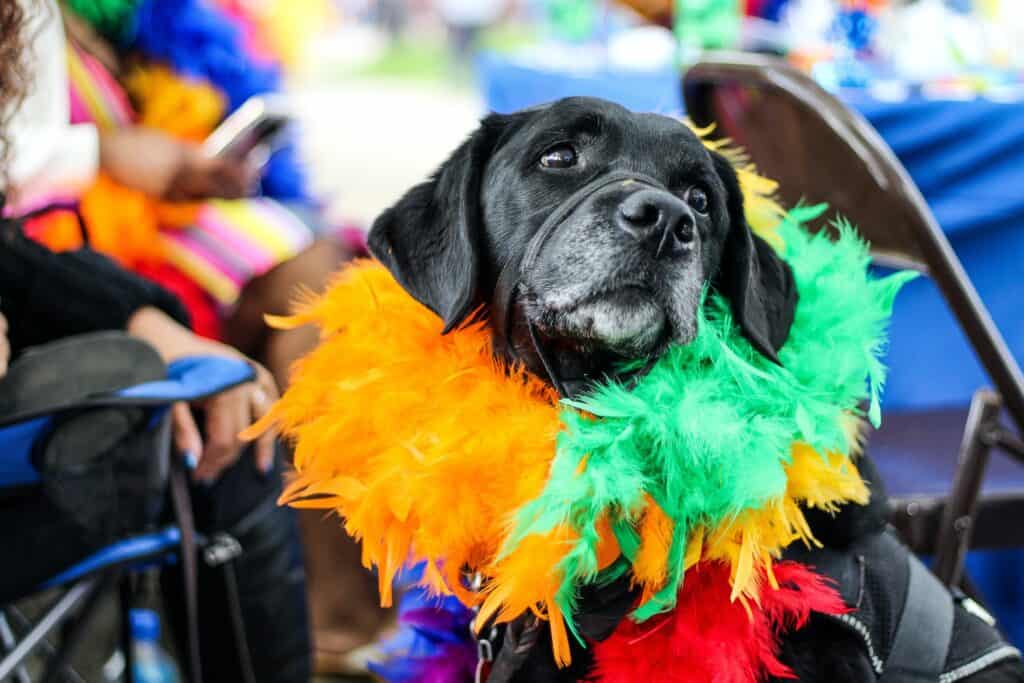 For tickets to any of the above Brazos Valley 2022 Pride Weekend events, click here.
Conroe
Attend a BYOB (and snacks) Pride Painting Class at Painting with a Twist in Conroe either June 25 7pm to 9pm or June 26 2pm to 4pm.
Galveston
Pride Galveston is hosting a Mr. & Miss Pride Galveston Friday, September 2 from 9pm until midnight! Come out and have a good time! Scored categories include presentation, talent, gown, and on-stage question and answer.
Party on the beach and celebrate Pride in Texas at the Beach Bash on Saturday, September 3 from 10am to 5pm. There will be live music, snacks, and free gifts!
The 3rd Annual Pool Party will present the winners of Mr. and Miss Pride as well as other special guests. There will be drinks specials and male dancers as well. For more information about all three of the above events, click here.
Drop into the Rosenberg Library, the oldest operational, public library in Texas, and see the first openly LGBTQ+ item, a rainbow medallion displaying a Pride flag, donated to the Rosenberg Library Museum. From the Silk Stocking Ball of 1995, this event, as well as the ball hosted in 1996, raised money for local AIDS charities. The medallion will only be on display during the month the June so don't wait!
The Houston Pride Band will be closing out their concert season on June 11 at 8pm. The Celebrations Concert will be hosted at the Midtown Arts & Theater Center Houston.
Pride Chorus Houston, one of the first and oldest gay choruses, will perform at the Moody Center for the Arts on June 15 from 5pm to 7pm. There will be complimentary cocktails and live music beginning at 5pm with the ability to also see the exhibition "Baseera Khan: Weight on History." This free event will feature queer artists and pride anthems, but make sure to register!
Spanning from June 8 to June 22, the Rooftop Cinema Club will be playing LGBTQIA+ films with portions of the proceeds going to Pride Houston.
The Pride Pool Party, by Pride Houston 365, is the self-proclaimed "largest LGBTQIA+ pool party in Texas," will be June 18 from 2pm to 8pm with live DJs, entertainment, dancers, Hookah, games, and prizes with food and drink specials as well.
The Pride Bar Crawl in Houston (Saturday, June 18 from 4pm to 8pm) will include eight bars and an afterparty with two to three free drinks and exclusive drink and food specials. A portion of the proceeds will go to the Trevor Project, which provides suicide prevention and crisis intervention for LGBTQ young people.
Wednesday, June 22 from 11:30am to 1:30pm is Houston's Pride in Business Celebration focused on LGBTQ+ businesses. You can purchase a ticket here!
The annual Rock the Runway Pride Fashion Show features LGBTQIA+ designers and models in summer fashion. The event is open to the public and free to the first 200 people who RSVP. Otherwise, you will purchase tickets here. Clear your calendar for Thursday, June 23, 6pm to 11pm and prepare to be amazed!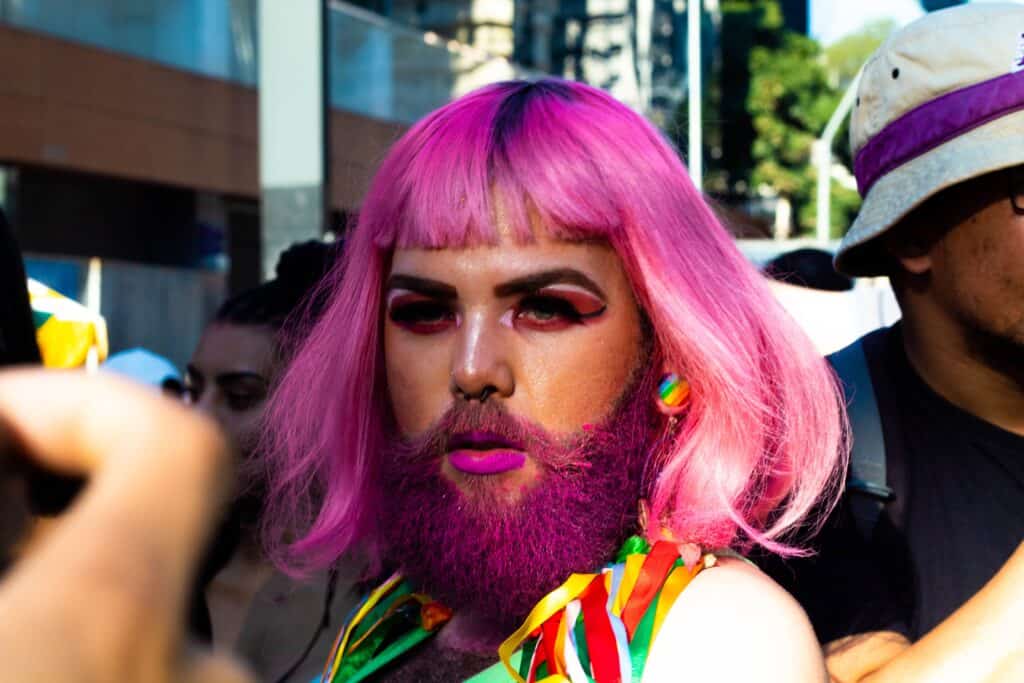 The Monica Roberts Resource Center will be honoring activist and late transgender journalist Monica Roberts at their first celebration of trans Pride on June 24. Beginning at 6pm at Maceo's, a venue owned by a lesbian couple, there will be an awards ceremony to recognize Houston-based, trans individuals and businesses who have shown to be allies within their community. There will also be music and drinks offered. When you register, tickets are free, but you are asked to donate if you are able.
Attend Rainbow on the Green to celebrate families who have spoken out against legislation that denies medical treatment to trans-gender children on Friday, June 24 from 7pm to 10pm. Entertainment will include local drag queens, Houston singer Christina Wells, and with "America's Favorite Dragapelle Beautyshop Quartet" the Kinsey Sicks headlining. Admission is free!
On June 24 from 9pm to 2am, celebrate Pride Houston's annual, official girl+ party at RISE Rooftop. It's at a new location and this year and it's supposed to be bigger and better, so get your tickets here to check it out!
For a family-friendly event, the 2022 Pride Run (and walk) will be Saturday, June 25 from 8:30am to 10:30am at Hennessy Park.
On June 25 from noon to 10pm is also the 44th Annual Official Houston Pride LGBT+ Celebration at Houston City Hall. Admission is free for children 12 and under and seniors 60+. Otherwise, the festival is $5 per person and the parade is free.
Close out your Saturday night after the Annual Official Houston Pride Celebration with the afterparty at RISE Rooftop until 3am. Purchase tickets here.
Longview
The largest and oldest LGBTQ+ Pride Event in Northeast Texas, the Longview Pride Festival will be Saturday, June 11 from 2pm to 8pm in Heritage Plaza. As the center of the city's Arts and Cultural District, you'll be happy to also see vendors, a drag show, and other forms of entertainment!
Tyler
Tyler will be celebrating Pride in Texas on Saturday, June 18 during their 12th Annual TAG Pride in the Park. Enjoy yourself and the vendors, food trucks, drag show, and the 2nd Annual PoochiLicious Fashion Show. The celebration will start at 10am at Lindsey Park. For a full schedule and more details, see here.
Waco
The Waco Pride Network will be hosting the OUT and PROUD Dance (18+) Saturday, June 18 from 7pm to 11pm. The funds will go to hosting Out on the Brazos. You can expect a DJ, song requests, merchandise, a silent auction, a dance-off, games, prizes, and snacks.
June 19 is the 2nd Annual Love is Love Paws & Pride in partnership with the Humane Society of Central Texas and the Waco Pride Network. All proceeds will go to the Humane Society.
Keep an eye out for more information about Out on the Brazos 2022 on Saturday, October 8 at 11am.
Where to Celebrate Pride in West Texas
Abilene
Pride 2022 will be celebrated for the first time in Abilene on September 24 at 2pm. The event itself is still in the works but there will be a parade and a festival at Festival Gardens afterwards. Sign-up for the Abilene Pride Alliance newsletter or their Facebook to get more information as it becomes available.
El Paso
El Paso Sun City Pride will be adding a disco flair to the Farmers' Market at Ardovino's Desert Crossing in celebration of Pridefest. This market will occur June 11 from 8am to 1pm with a live DJ, local drag queens, "Gay Yoga at the Market," a full outdoor bar, food, local vendors, and a dunk tank with all proceeds going to the El Paso Sun City Pride Scholarship Fund.
Saturday, June 18 beginning at 3pm is the 16th Annual El Paso Sun City PrideFest. There will be indoor and outdoor stages with live performances from DJs and live bands to drag queens and local vendors. General admission is $30 for children 10+.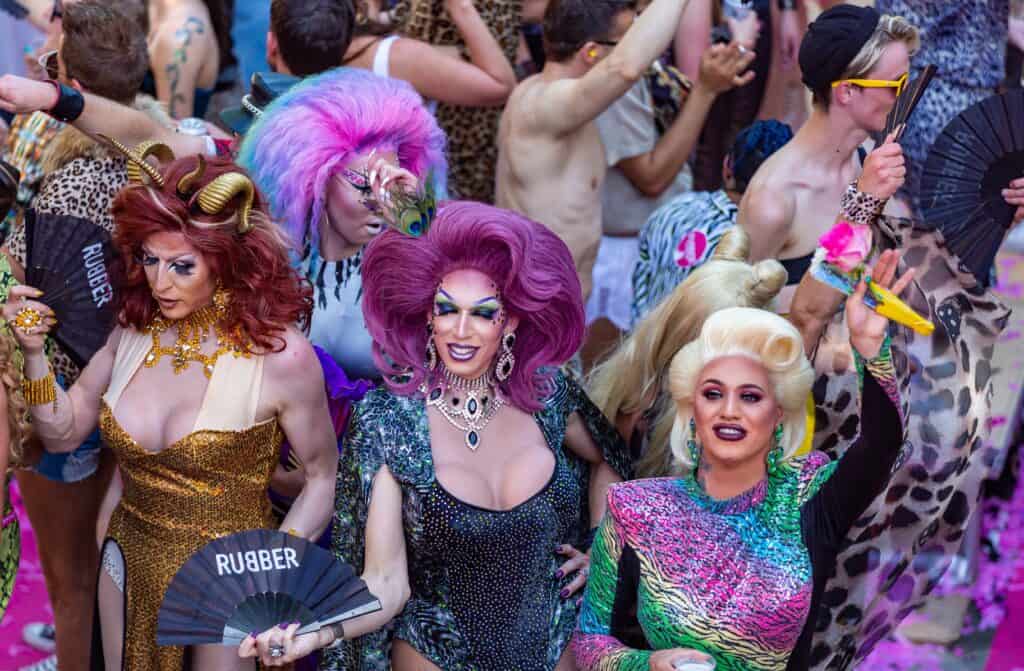 Take everyone out to the ball game and watch the El Paso Chihuahuas versus the Round Rock Express on June 30 at 6:35pm. Indulge in concessions and celebrate Pride at Southwest University Park. A portion of each ticket when you use this link will go towards the El Paso Sun City Pride Scholarship Fund as well.
Visit the largest pool party in El Paso at Wet N Wild Waterworld on Saturday, July 3 from 10am to 9pm. In celebration of Pride, Splash Party 2022 will be offering food, cocktails, music and dancing. General admission for 14+ is $50.
At the Lubbock Public Library, Lubbock PRIDE will be hosting a casual talk about sexual health for the LGBTQIA+ community on Saturday, June 11 at 2pm.
Ways to Celebrate Pride Virtually
LGBTQ+ Youth of Color Group – hosted by the Pride Center in San Antonio every Wednesday from 7pm to 8pm.
Pride Trivia Night – hosted by the Pride Center in San Antonio June 10 from 7pm to 8:30pm. Register your team online before spots fill up!
The Little Gay Book Club – hosted by the Little Gay Shop out of Austin, this all-inclusive, queer-centric book club offers a variety of monthly packages and even a needs-based package to get you started.
Texas-Based, Queer-Focused Publications
The Qmmunity is part of the Austin Chronicle, focusing on queer news and events in Austin.
OutSmart reports on local and national news and has readers across the country and even internationally! You can pick up a free copy at 375+ locations across the Houston area. It is also displayed in Austin, Brownsville, Corpus Christi, Dallas, El Paso, and San Antonio. Subscribe to get their weekly newsletter or order an issue online!
Dallas Voice is online, in print, and you can also watch their newscasts live on their website. They cover a wide variety of topics and news
OUT North Texas is a LGBTQ Visitor's Guide released yearly for North Texas, a part of Dallas Voice.
Weekly & Monthly LGBTQ+ Pride Events in Texas
From weekly/monthly events to regularly meeting support groups, you can find some below. They are listed by what region of Texas they are located in.
West Texas
Pride Center West Texas hosts a variety of groups for a variety of ages in support of LGBTQ+ youth and their families. Click here to see their calendar. Locations include Odessa and Midland.
Follow the Abilene Pride Alliance Facebook page for news of LGBTQ+ events like their support group.
Central Texas
Every first Thursday of the month is a queer comedy open mic, Tongue in Cheek, at Swan Dive Austin beginning at 8pm, so you can celebrate Pride at least once a month! For more events, like Transy Warhol, Naga Brujo, Maddie and the Deadnames (June 16 from 9pm to 2am), hosted by Swan Dive Austin, click here.
The House of Lepore in Austin also hosts a first Thursday Vogue Night beginning at 10pm for only $5 at the Swan Dive. Check their Instagram for more events throughout the year!
Drop into the Swan Dive Austin on the first Friday of the month for their live music showcase of queer and femme artists, also at 10pm for only $5.
On Saturdays in Austin, check out Lavender Thug's drag show with new performers every time! The show begins at 7pm at Cheer Up Charlies and the fun doesn't stop there! Visit Cheer Up Charlies Instagram for more events!
Austin's main website even has a guide to gay-friendly things to do and see for year-long experiences celebrating Pride.
The Waco Pride Network has an events calendar on their website if you're looking for other ways to celebrate LGBTQ+ Pride.
Follow Temple Pride's Facebook page and keep an eye on their website, which is currently under development, but is already so bright and colorful. Can't wait for it to be finished!
San Marcos Texas Pride's Facebook page for other events.
On the Wimberley Pride's Facebook page, you can find more details about future Pride events.
East Texas
There will be a Slay All Drag Show at the Social Beer Garden on Saturdays beginning at 2:30pm. There are $20 bottomless mimosas and rotating food vendors offered as well. Bring cash if you can and tip the performers! For more events celebrating Pride in Galveston, follow Pride Galveston on Facebook.
Keep tabs on the Tyler Area Gays Facebook page for more information on events throughout the year, like their monthly Rainbow Market from 10am to 4pm and the approaching 2022 TAG Ball.
South Texas
PFLAG Boerne, a support group for parents and friends of queer youth, meets every third Tuesday at 6:30pm at the Patrick Heath Public Library. Touchstone Community Church is a LGBTQ+ friendly church welcoming queer parishioners.
North Texas
DFW Gay Live's Facebook page has events going on all year-long celebrating LGBTQ+ Pride.
For events celebrating Pride in Grayson County, follow Grayson Pride on Facebook.
The Help Center for LGBT Health & Wellness serves the queer community in Fort Worth and Arlington. Check out their website for services and event information, as well as their Facebook.
For more events throughout the year, check out Tarrant County Pride's event page and mark your calendar!
Follow the Dallas Pride Facebook page for 2023 Pride Month news and other events.
Ways to Celebrate LGBTQ+ Pride in Texas: Final Thoughts
Thankfully, more rural Texas towns are taking the necessary steps to support and celebrate those in their community who are LGBTQ+. Nothing makes me happier than to see increasing acceptance and allyship across our state. Although, there is still work to be done.
If we missed any ways to celebrate Pride in Texas or LGBTQ+ events, publications, businesses, resources, etc., please send us an email so we can include them! Note that if the event had passed as of June 5th, we did not include it, but we will be making changes to this guide next year, so favorite it and come back in 2023!