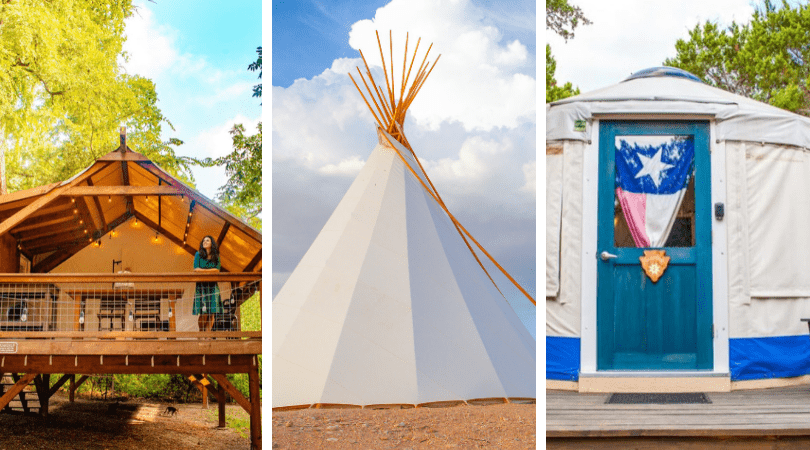 Looking for something beyond the usual hotel to stay in on your Texas vacation? There are so many unique places to stay in Texas for a quirky and fun Texas trip. Plus, check out Hipcamp where you can save $10 off for many of these bookings!
A Glamping Bubble
If you aren't the camping type, but are in love with the idea of sleeping under the stars, Hozhoni on the Hill has the perfect accommodation for you. On the very top floor of their Glampominium sits the Stardome Suite, a crystal bubble that frames a breathtaking view of Horseshoe Bay and 5-billion stars. It offers the serenity and solitude of nature without compromising the simple pleasures of city life, and they've bumped it up to the next level with an outdoor star-soaking tub and private deck.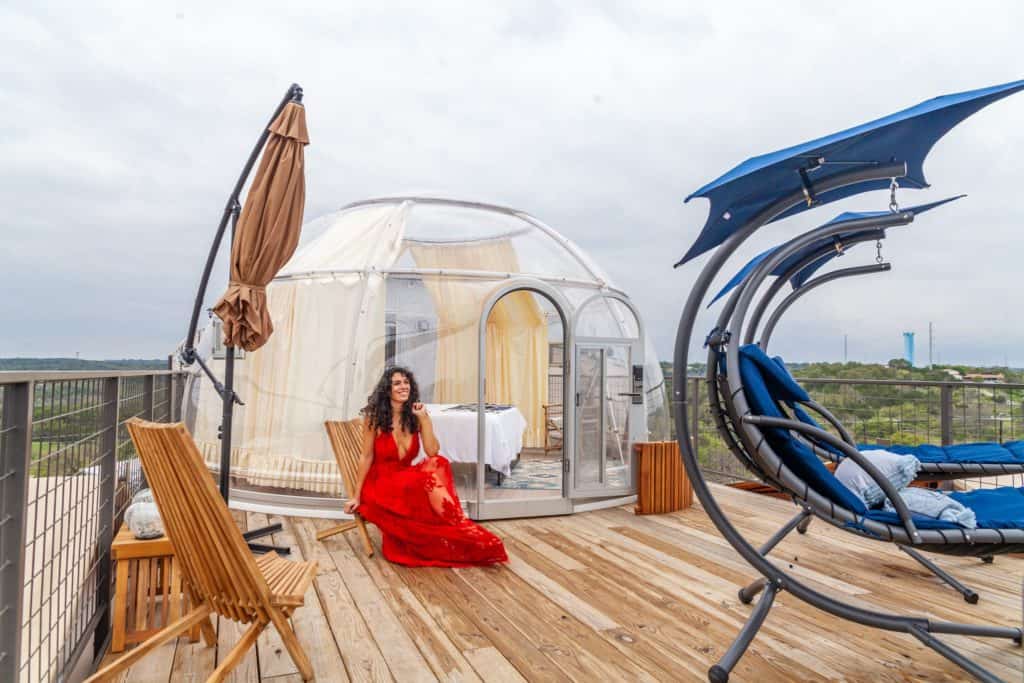 A Train
In Lubbock you can sleep in a renovated caboose of a train! The Woodrow House Bed & Breakfast actually transported this train car and changed it to put a full bed, kitchenette, and small living area. Talk about unique places to stay in Texas! This one is a treat!
A Treehouse in a Safari
At Asante Lodge you can stay in a beautiful treehouse perfect for a romantic getaway in the middle of a safari. Asante Lodge sits in the middle of an exotic animal preserve to promote animal conservation, and now the owner has opened it up for people to enjoy the creative diversity. From Nyala, Nile Lechwe originally from Ethiopia, Kudu, Dama Gazelles, and more, it's incredible all the animals you can see. If you're dying for another treehouse stay, there are treehouses all over Texas!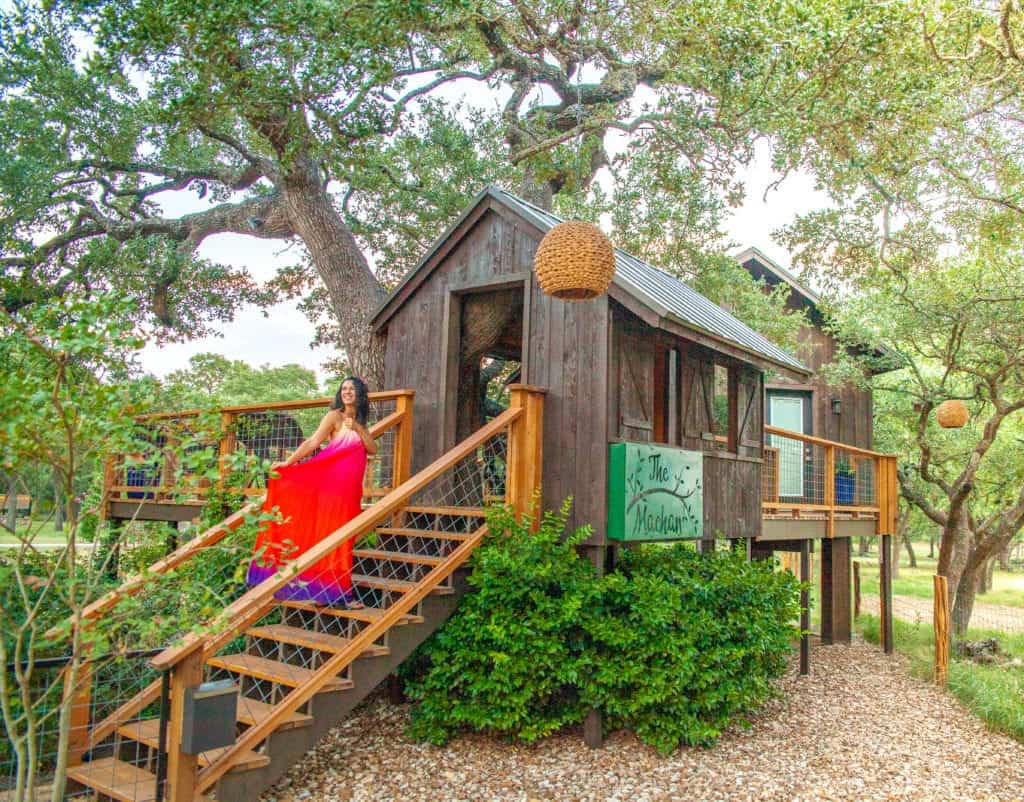 A Retro RV
The bright colors and the manicured, green grass at Blue Skies Retro Resort in Fredericksburg will remind you of an illustration out of a children's book. Enjoy the simplicity of country life complemented by amenities like a private bathroom and toilet, extra storage, A/C, a fridge, microwave, and even a common area with board games, a fire, and a grill! And downtown Fredericksburg is only 15 minutes away!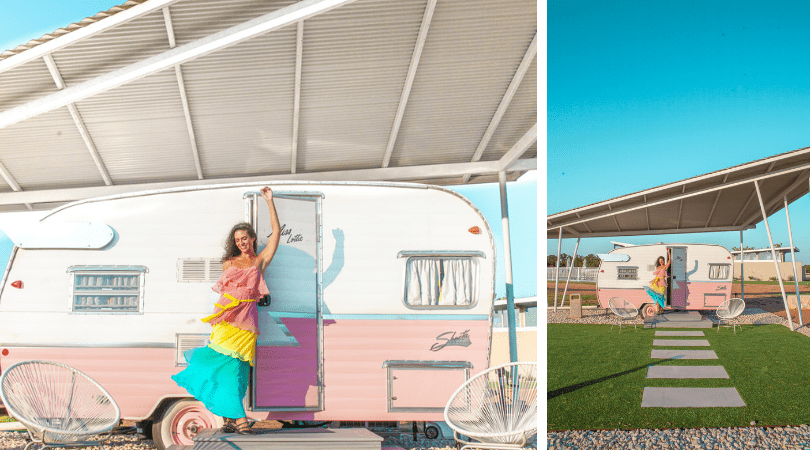 A Fairy Tale Cottage Tiny Home
Right outside of Austin is the enchanting encampment of Havenwald, full of unique tiny homes. Here you can stay in a tiny home that looks like it came out of a fairy tale. Made out of reclaimed wood and salvaged items, this adorable home includes a downstairs kitchen and small living room, as well as an upstairs tiny bedroom.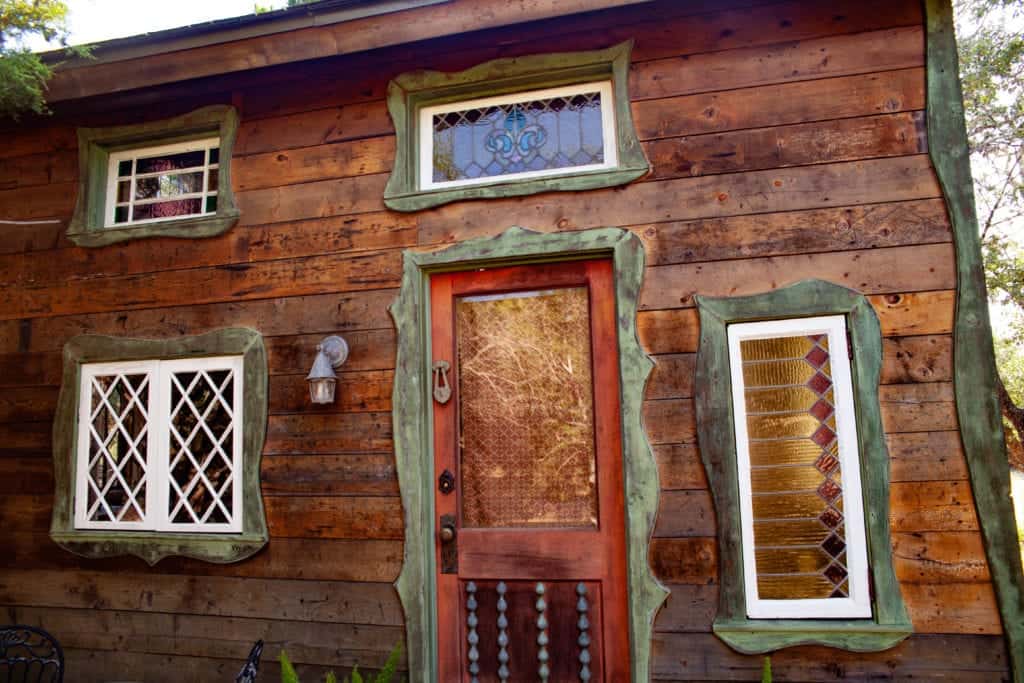 A Colorful Paper Crete Castle
Eve's Garden Bed and Breakfast is an experience of its own! This multicolored hand-made paper crete castle is one of a kind! It almost looks like a building that belongs in Chefchaouen with the bright blue in the desert.
A Yurt
Enjoy the wilderness in your own yurt surrounded by trees and a fireplace out front. I loved all of the beautiful designs like the Texas flag hanging outside our door. The whole site offers a pool, clean bathrooms (a must when glamping) and beautiful nature!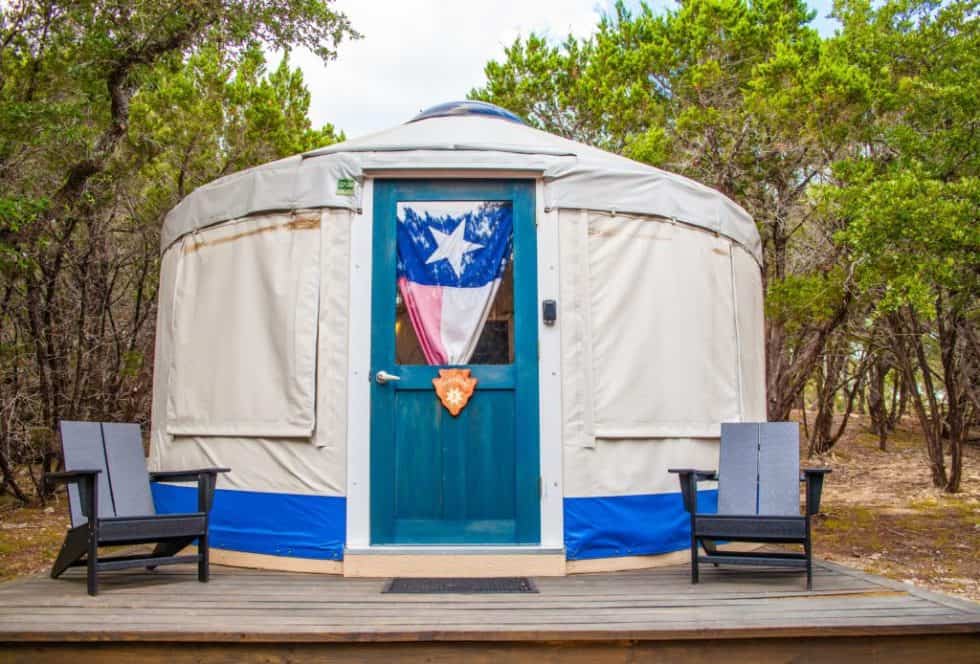 A Retro Airstream
RV's are cool and all, but these retro RV's?! Even better. Their front porches and folded chairs, tiny grills, matching retro kitchen appliances and the community area that offers wine and s'mores make for a wonderfully affordable destination. Pop into the nearby Texas towns of Hico and Glen Rose too!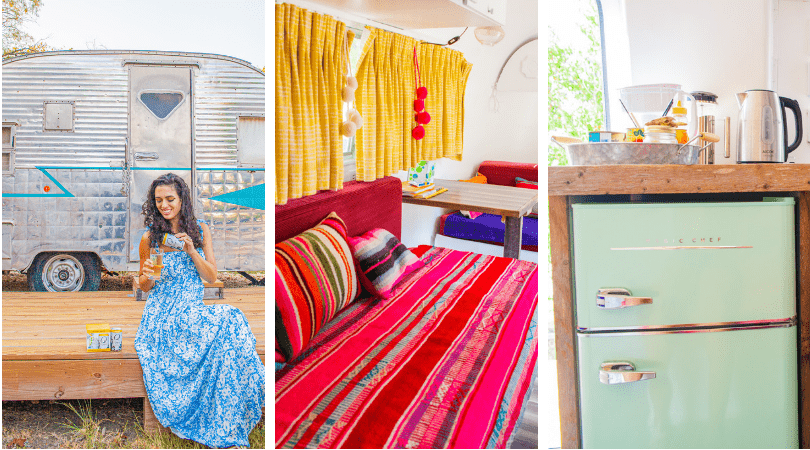 A Bus
Who knew a bus could be so stylish?! Well a couple in Lubbock renovated an old school bus for a place that makes a cozy getaway! There are thoughtful touches like chocolates, snacks, fresh coffee, and farm fresh eggs for breakfast in the morning! Worried about missing any of the creature comforts? No need to worry! They even have a TV with all the stations you need!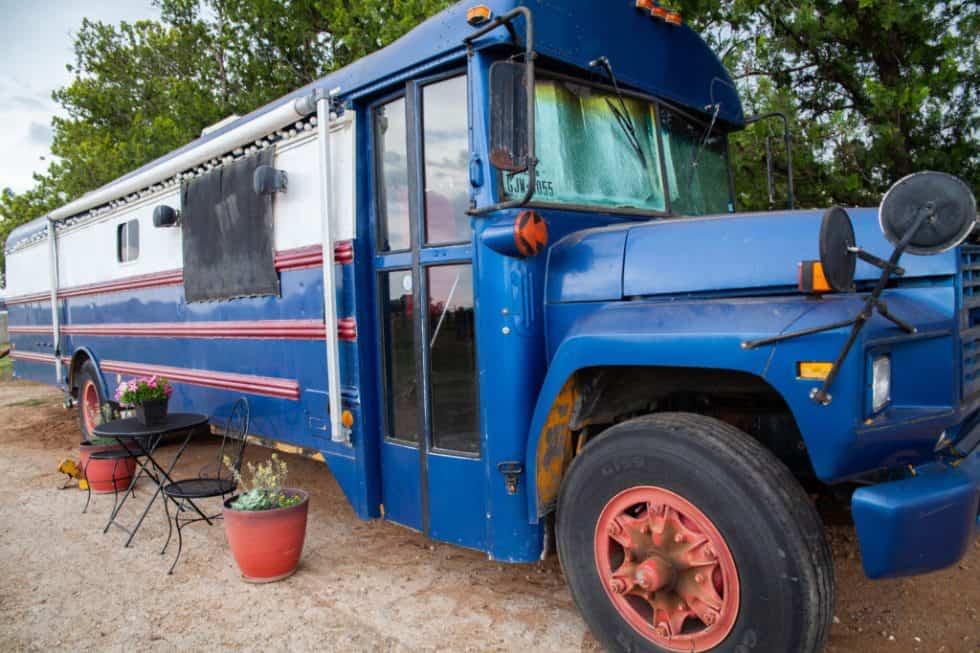 A Budget-Friendly Scenic Cottage
Having a unique experience doesn't always have to blow your budget! In this scenic cabin you have a full wall of windows looking over miles of Texas for unrivaled views. And for less than $100 a night, it's quite the steal!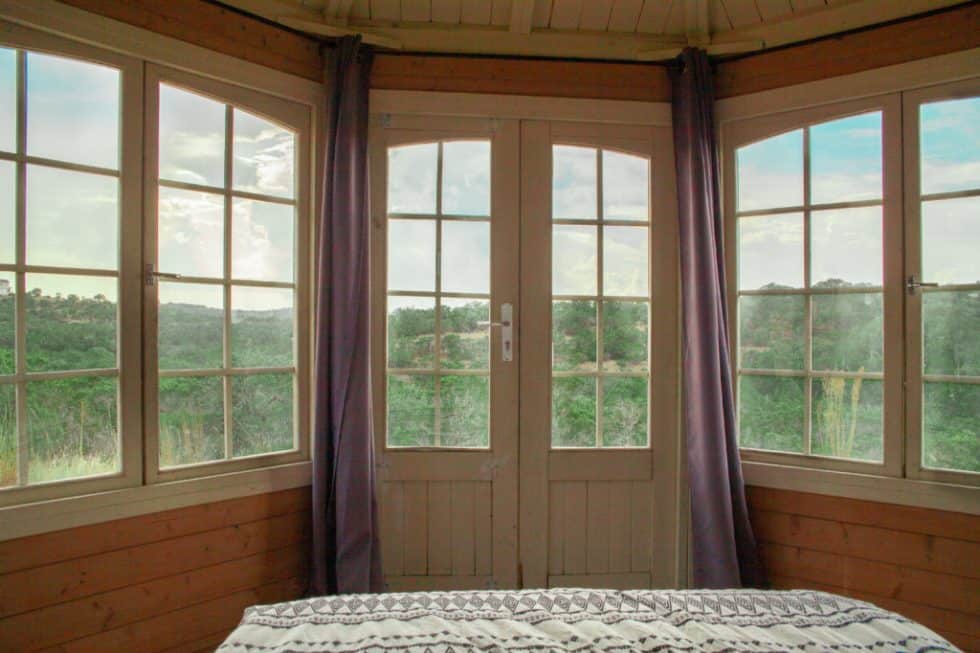 A Church
Nestled on the property of the Kendall Hotel in Boerne, you can sleep soundly inside a renovated Lutheran chapel. Its splashes of color, grandeur bathroom with a clawfoot tub, and modern dayroom are just the cherry-on-top to this unique lodging experience. Use promo code WINETIME for a free bottle of wine when you check in!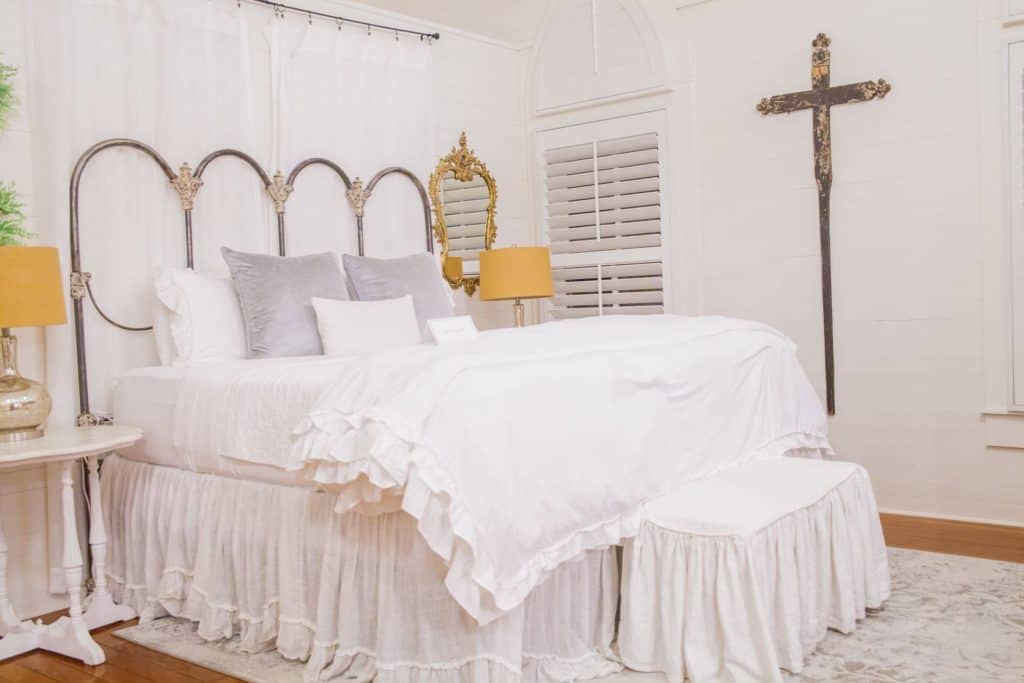 A Cabin in the Trees
In Seguin you can go up high in a cabin in the trees for a secluded glamping adventure! This stylish space is like grown up camping where you get a bed, fridge, and nature! The site is right along the river, and they provide kayaks, paddle boards, and tree swings for all of the summer fun.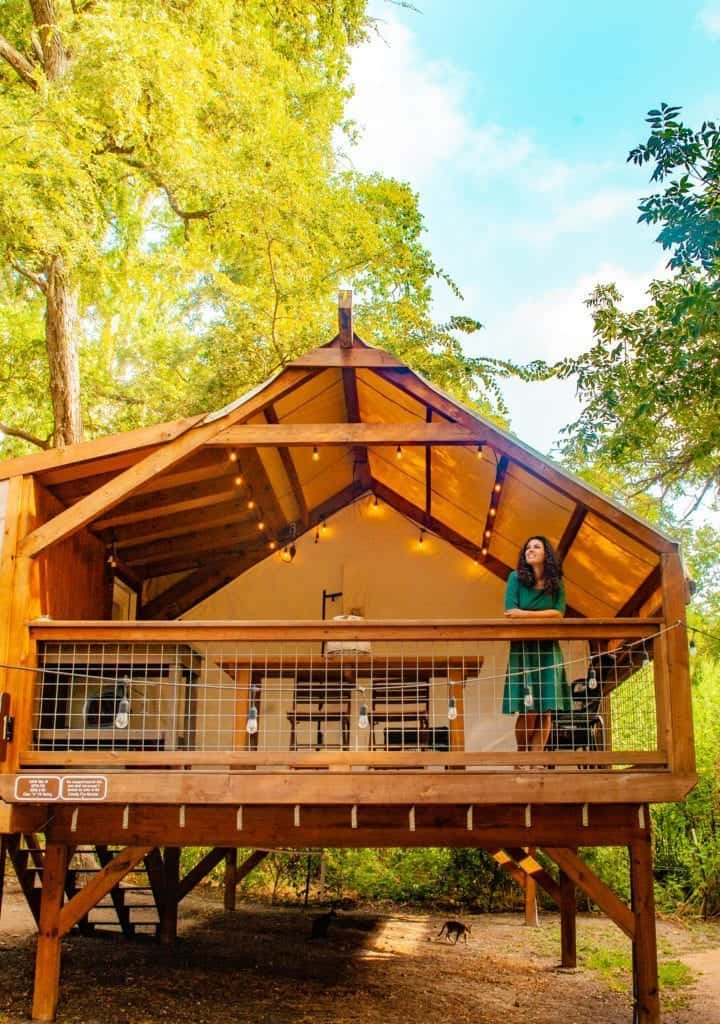 A Haunted House
The Magnolia Hotel is a famous spot for ghost hunters and fans of the paranormal and has even been rated as one of the most haunted houses in Texas! Part of the hotel has been restored to represent how it looked during its time of two-room cabin turned stagecoach station, hotel, and even at one point, a jail! The other part remains in its latest state and unrestored. On Saturdays you can take a guided tour, or you can book their AIRBNB to stay overnight!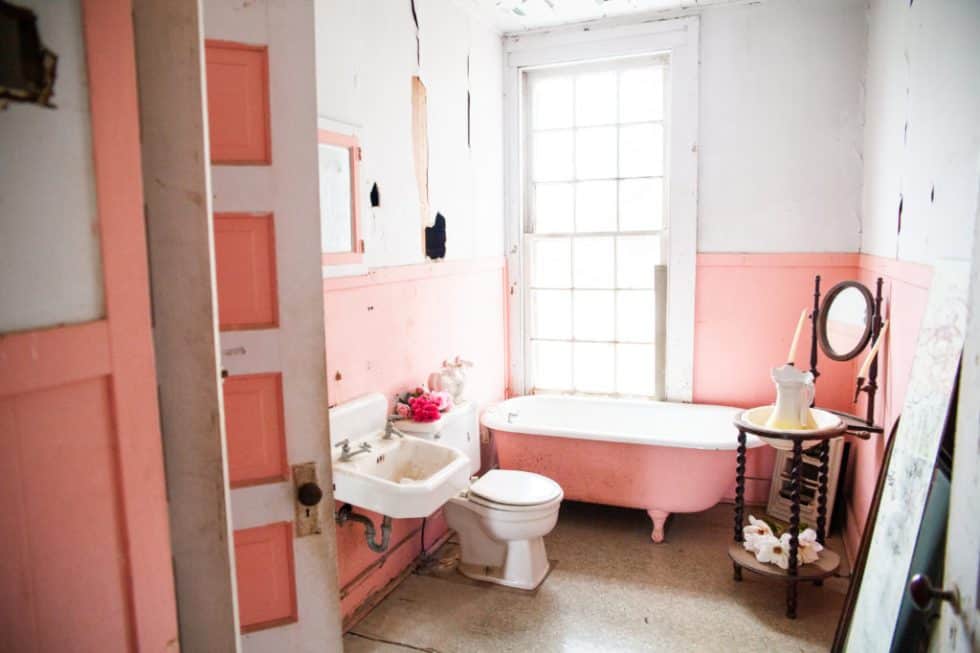 A Snazzy Motel
My memories of motels aren't usually positive. However, Stonewall Motor Lodge has completely changed that perception with the cutest motel in Texas! Located on the famous 290 wine trail and used to house U.S. Secret Service while Lyndon B. Johnson was in office!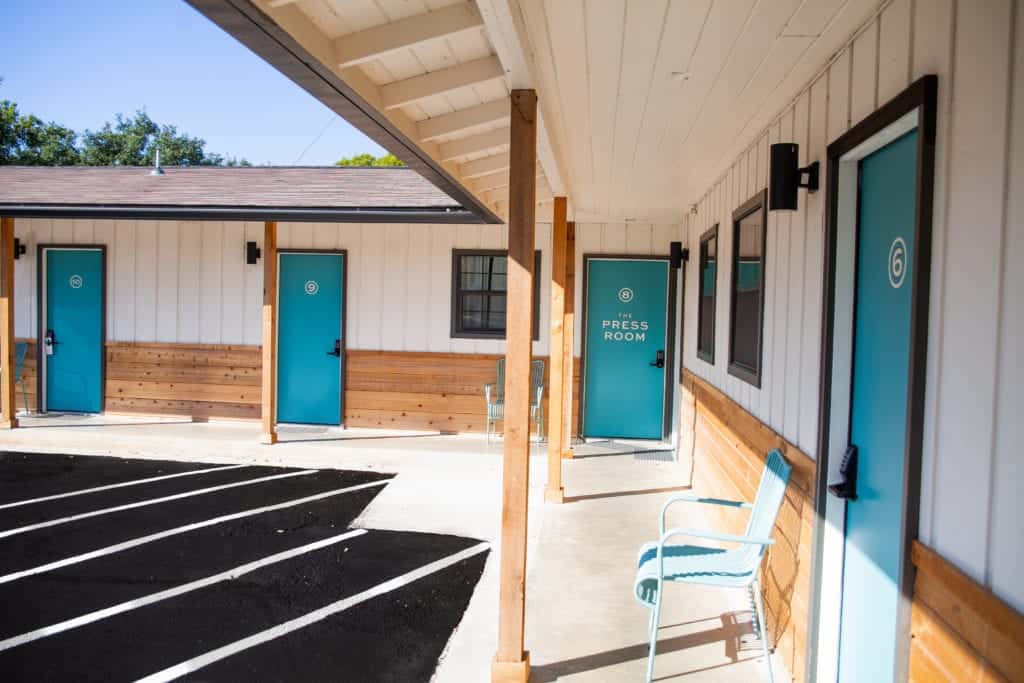 A Shipping Container Home
The best way to see the views of Big Bend is with as many windows as possible. So, this shipping container was built on the outskirts of Big Bend with one side of walls converted into windows for breathtaking views of the sunrise and sunsets. Fossil Knob Ridge has everything! Seclusion and fast Wi-Fi. Off grid views and comfort with all the amenities needed. It's the best of both worlds!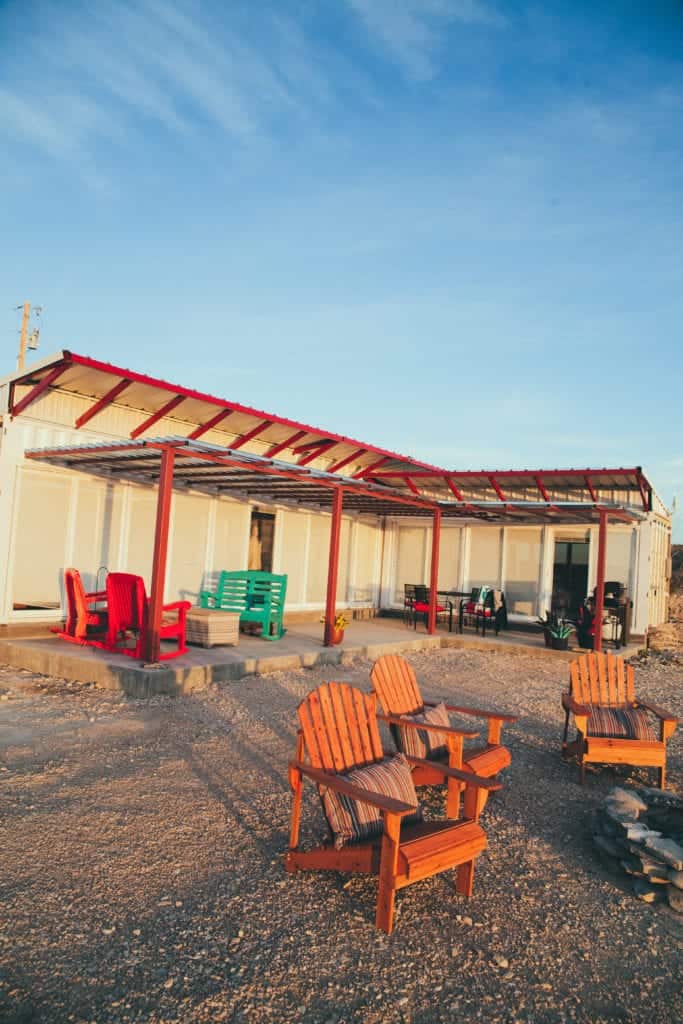 Colorful Cottages
Every touch on these colorful Concan cottages has been placed with great care to make your stay one to remember. You'll find fun things like an abundance of books, a tree swing, a hammock, mangonadas sold on site, and unique decor inside each one. They also have three pet-friendly options!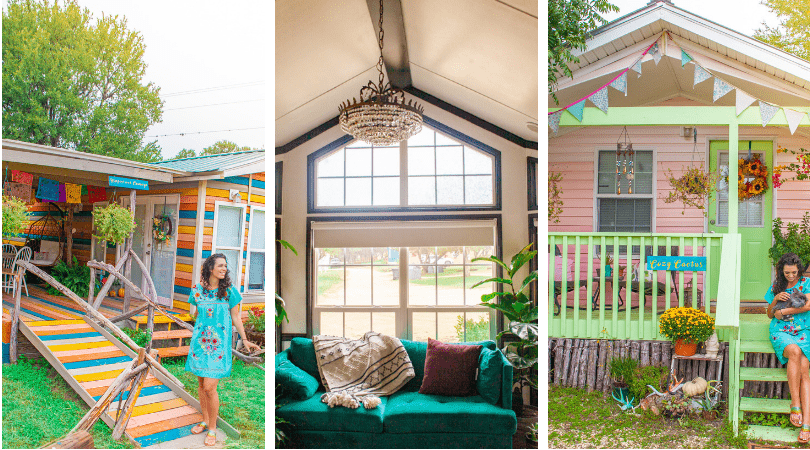 An Honorary Texan: Conestoga Wagon
Okay. It's not Texas. However, considering how big Texas is, Oklahoma City is likely closer to a lot of Texans' homes, so we figured it had to be included. Plus, how cool is it that you can sleep in a wagon?! Way more glamorous than back in the day where you had to cross miles with only your small belongings and no AC.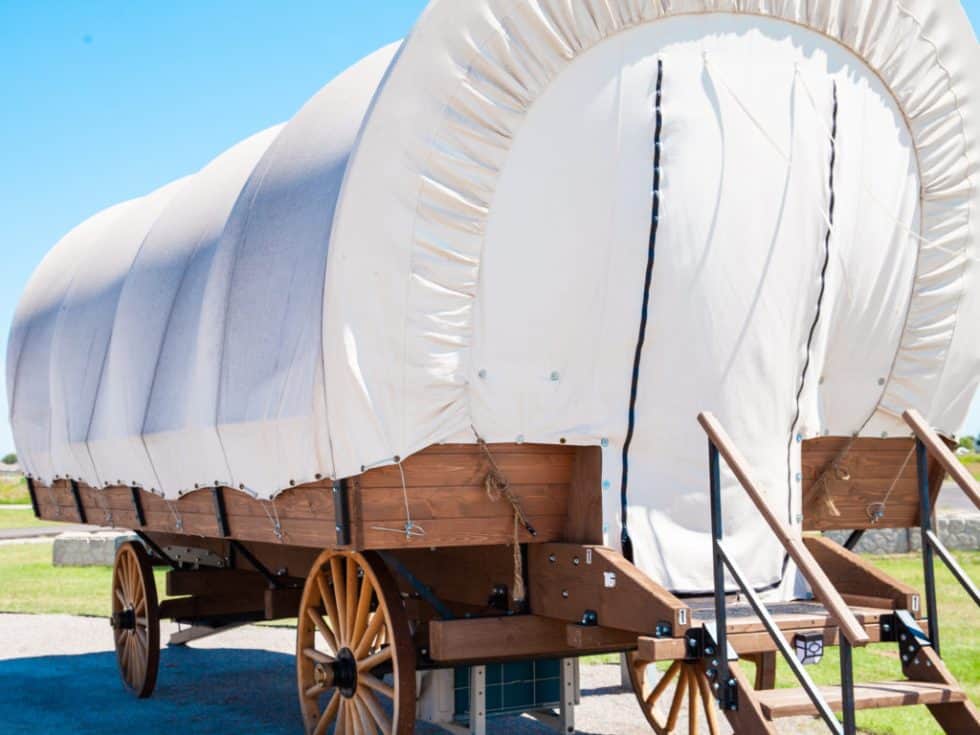 A German Castle
Sleep like royalty inside an authentic German castle created by native Germans turned Texans. Lake Livingston Castle houses a four-poster, king size bed and has medieval relics throughout.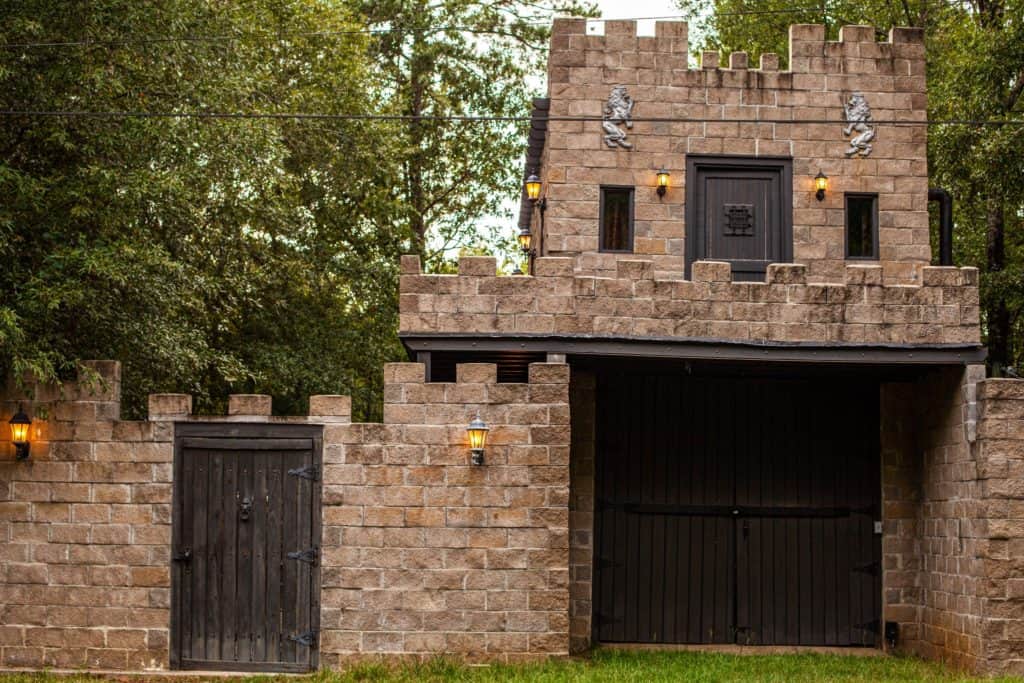 Unique Places to Stay in Texas: Final Thoughts
There truly is no shortage of unique places to stay in Texas. Whether you're looking for a unique glamping experience, something more haunted, or living out your fairy tale dream. The only question is, where to visit next!