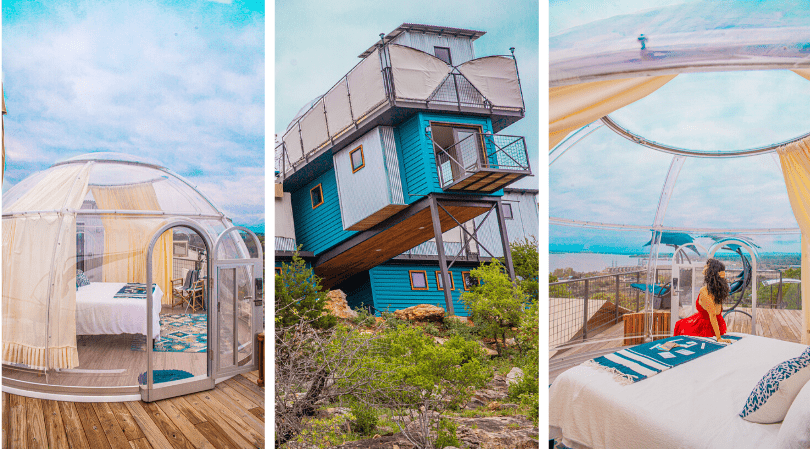 Everyone hopes to glimpse an oasis at some time in their life, on a honeymoon, a vacation, a retreat, or a spur-of-the-moment adventure. The Retreat on the Hill is a wedding venue and glamping destination that offers all the amenities you could need while on vacation, but with indescribable views that you will only find in the Texas Hill Country. Four suites make up the Glampominium, structured to offer privacy no matter which one you choose. Whether you want to show off your home state to out-of-towners, experience a different side of the Texas landscape, or plan a staycation for a quick getaway, it's as little as an hour from Austin and San Antonio (and a few hours from Dallas and Houston)! And here's a little treat: Use discount code "Curly" to get 10% discount!
Imagine waking up to a breath-taking sunrise over the water or enjoying dinner as the sun sets with nothing to obscure your view, perfectly positioned for the most breath-taking view of the Texas Hill Country from the comfort of your bed. The Retreat on the Hill's one-of-a-kind glamping bubble, The Stardome Suite, is perched 101-feet above Horseshoe Bay. It's transparent ceiling and walls will provide shelter while framing the 5-billion stars that will litter the sky as you drift off to sleep. You'll feel like the only person in the world on your private deck, with amenities like a private bath, indoor/outdoor shower, and an outdoor star-soaking tub that'll keep you close to the simple pleasures without compromising your time to connect with nature. Excited for your next stay? Book here now!
The Texas Hill Country has completely redefined what it means to camp in a tent. The Eagle's Nest Retreat has made it luxurious, complete with a king-size bed under a safari tent, mood lighting, sunning chairs on a private deck, an indoor/outdoor shower, and an outdoor tub. Take advantage of the view of the city lights beaming off Horseshoe Bay as the sun sets and the morning breeze off the water with a cup of coffee in-hand. You won't want to leave. Click here to easily book your amazing stay!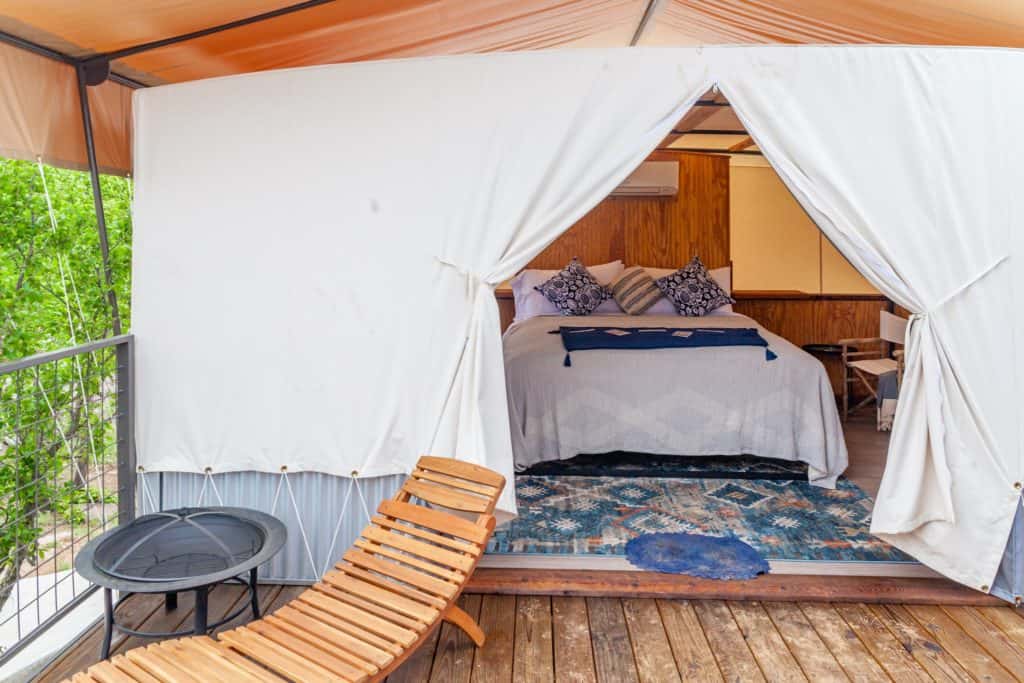 If you're looking for a getaway that will make for lasting memories, stay at the Twins. With all the charm of the Eagle's Nest times two, these safari tents house a king-sized bed and two queen-sized beds connected by a private deck with plenty of seating and a hammock. There's plenty of space for your family and friends, plus all the same amenities to keep everyone happy and comfortable. Book now and create unforgettable memories!
Who knew "shipping container" and "charming" could be used in the same sentence? Inside this seemingly small, square suite in the Texas Hill Country is a queen bed, sitting area, mounted TV, a private balcony just steps from your bed, vaulted ceilings, and a "wet bath" shower. The bright lighting, vintage appliances, and rustic touches will make you feel right at home while still experiencing some time away. Book now and have an amazing experience!