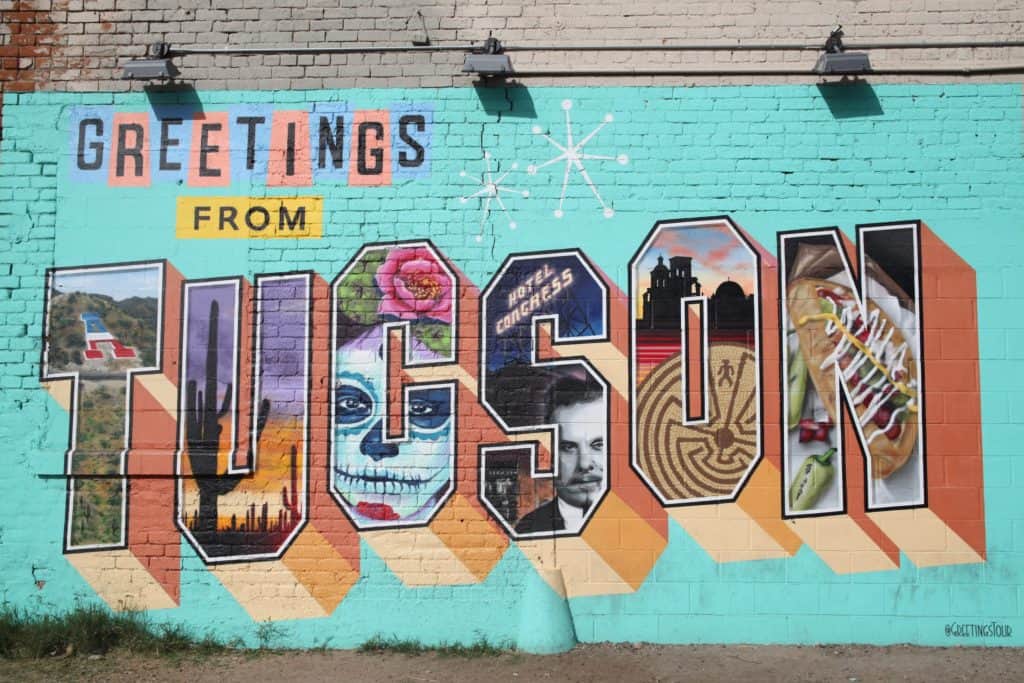 As if Phoenix wasn't enough fun, I also had to make a stop to Tucson, Arizona. With only a weekend in Tucson how do you decide what to do? Don't worry! I've got you covered on the best things to do and places to eat in Tuscon!
Weekend Itinerary for Tucson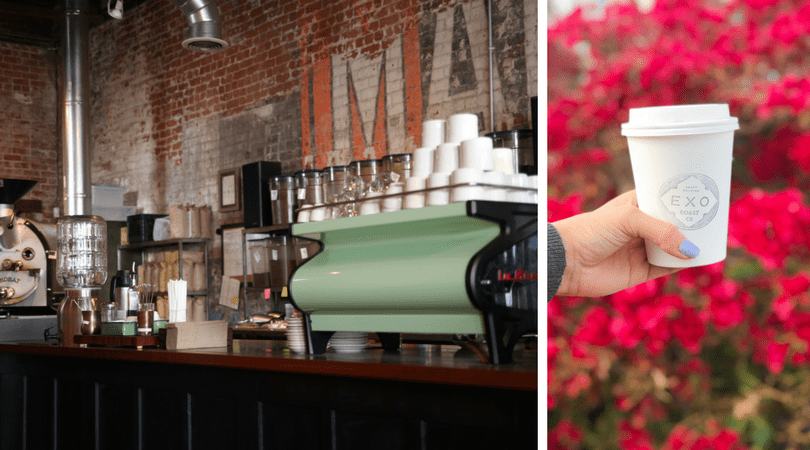 We started the day at Exo Roast Co (a local recommendation). I loved this coffee shop because they incorporate desert flavors. I grabbed a dulce mole latte before heading over to Seis Kitchen.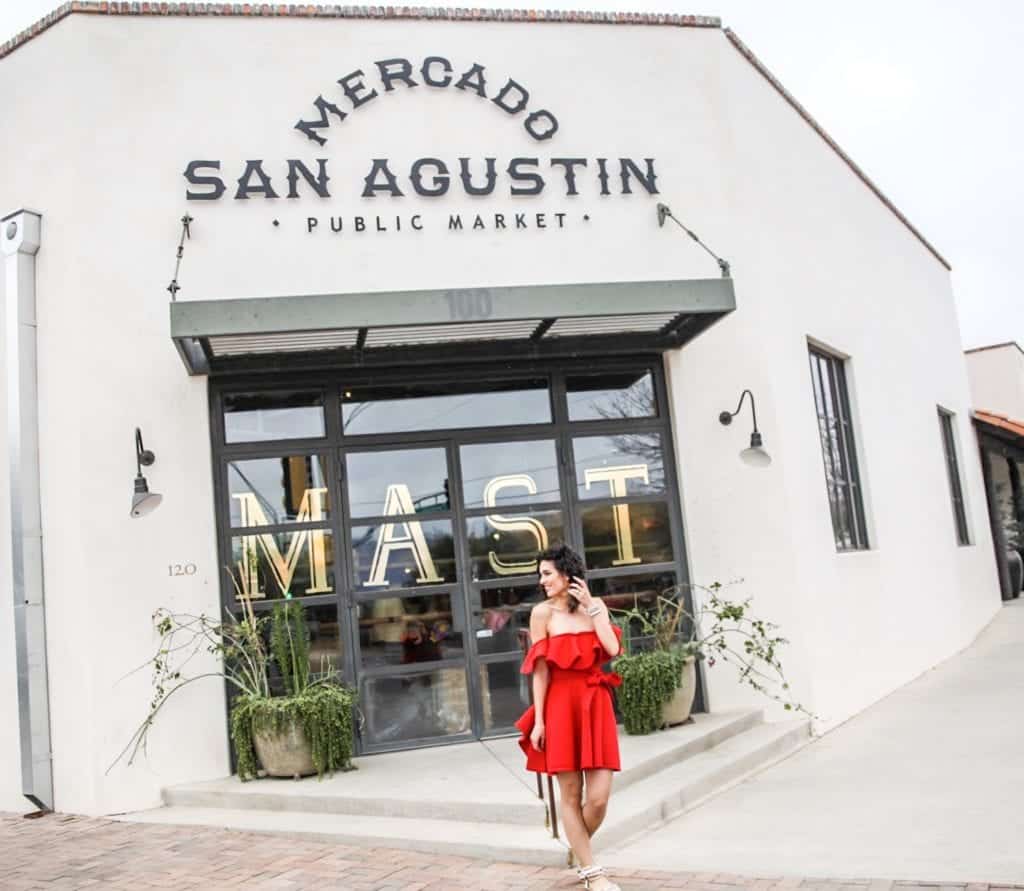 Mercado San Augstin is about 5 minutes away from Exo and is a cute shopping area with eateries and boutiques. We stopped into Mast with fun jewelry pieces and a random punching bag! I loved the floral shop-Bloom Maven with their unique arrangements and seriously considered taking one for the road and just leaving it on the dashboard.
There are often events going on as well so make sure to check their calendar. There was a vintage market right across the street when we there which was fun to browse.
We sipped on coffee and browsed the shops before grabbing breakfast at Seis Kitchen. Tucson has quite a bit of Mexican food, but all have their own fresh spin. Seis was perfect because they serve fresh food. I had a Chile Torta and it was filled with flavor and fresh veggies. Chief had a burrito. Since we planned on hiking after we definitely needed something that would leave us feeling good after.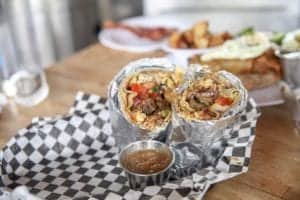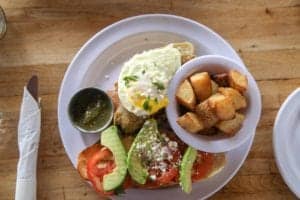 Hiking in Tucson Arizona
Sabino Canyon has several different hiking trails, but one of the most popular is Bear Canyon Trails to 7 Falls, because it ends in a gorgeous swimming hole with waterfalls. The roundtrip hike is about 9 miles and takes 4-5 hours. They label the hike as moderate. It was definitely a difficult hike, but most people are capable of doing it! We hiked over large rocks, up and down the mountain, across streams, and got lost once. When we finally made it, it was worth the view! I'm guessing it's called 7 falls because it's comprised of 7 levels of falls. We climbed up a couple of the levels and enjoyed the falls.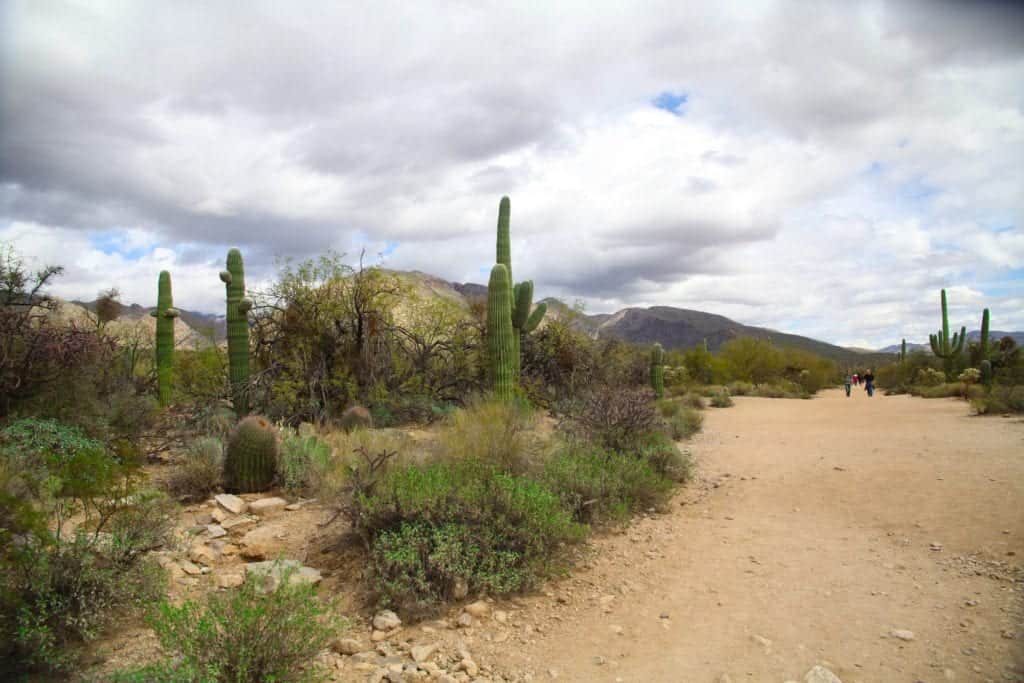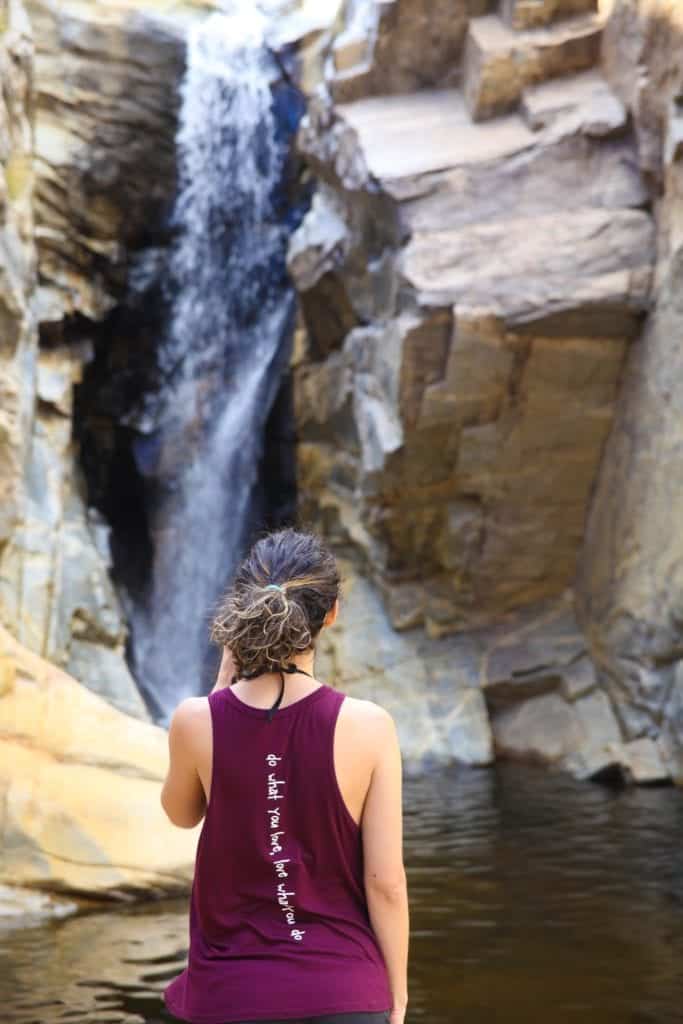 Some people were swimming, but it was just a little cold for me! Make sure to pack at least two bottles of water per person and maybe a couple of snacks. We had our water, some mandarin oranges, and a vegetable juice from Blueprint. I definitely needed all of this for the energy to make it back.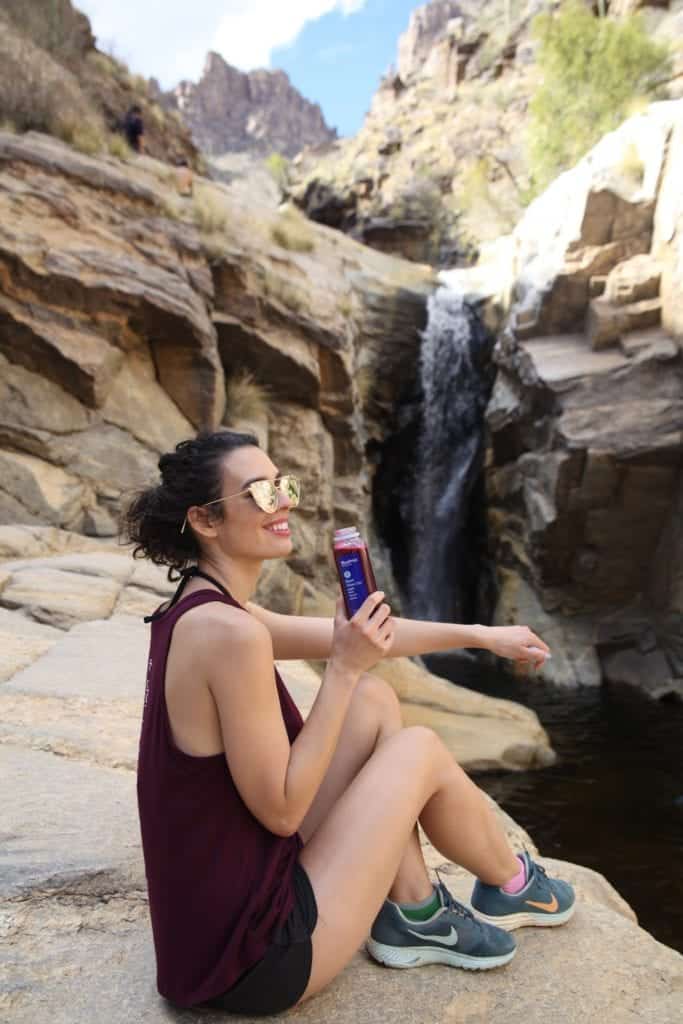 By the end I was so sore and was ready for a hot bath for my aching legs. We checked the signs, and they had some even more intense hikes! I definitely want to go back for those (might need to workout a little bit more and start earlier).
That night we rewarded ourselves with margaritas and a garlicky queso fundido from Elvira's. The service was a little slow, but I would come back just because of the amazing flavor of everything. The hibiscus margarita was the perfect flavor or sweet and tart and was one of the most memorable margaritas I've had (I can say that because margarita is my drink of choice whenever we go out!).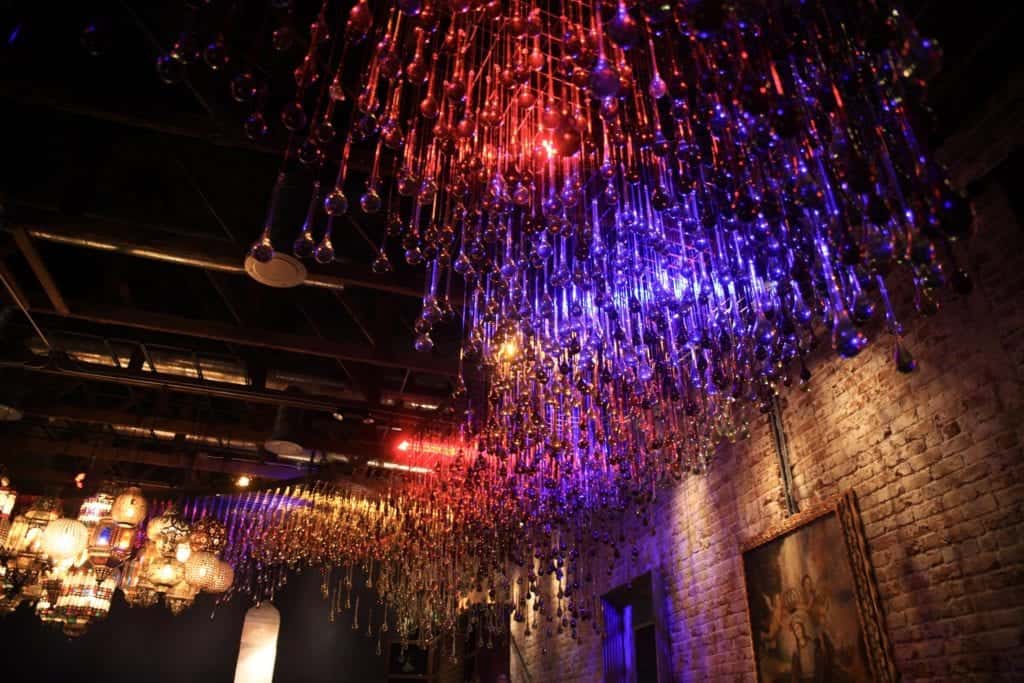 Day 2 in Tucson Arizona
The next morning we went to another local recommendation Prep and Pastry. I feel like I could talk about the food in Tucson all day. We didn't eat a single bad thing! Prep and Pastry was a true treat! I ordered duck funfit- duck with eggs, cherries, potatoes, and goat cheese. Not my typical breakfast, but if I lived here I would come here regularly just for this dish. I didn't know potatoes could be so good or that all those flavors could go together so well! Chief ordered an omelette and it was equally as good. We told the people at the bar that we were heading to California and they gave us a blood orange infused dark chocolate croughnut for the road. It was as decadent as that name sounds!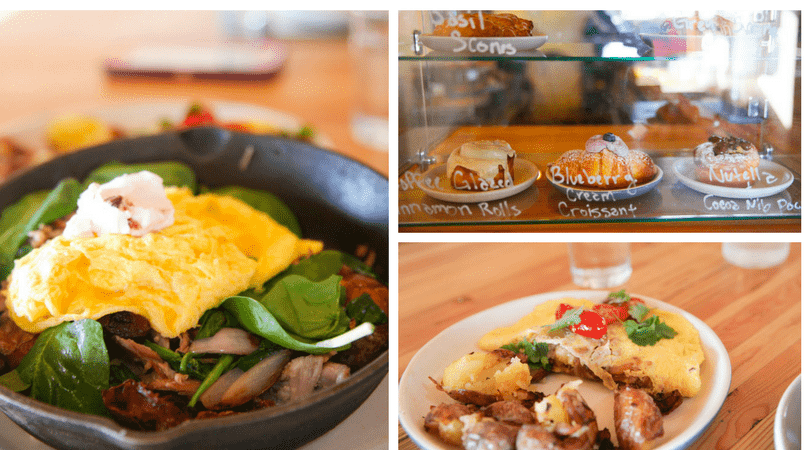 Lines can get wrapped around the store so make sure to call in advance.
With our bellies satisfied we went to Historic 4th Street District. You could easily spend all day here. It's filled with fun shops. They have an amazing Goodwill that's definitely worth the stop! The highlight of my shopping was a store called RazorzEdge. It has a punk retro theme and carries fun clothes and accessories. I wanted a Thor backpack and some of their dresses, but found an item I could never find! They had an otter purse! Yes I'm obsessed. They also had other cute animals!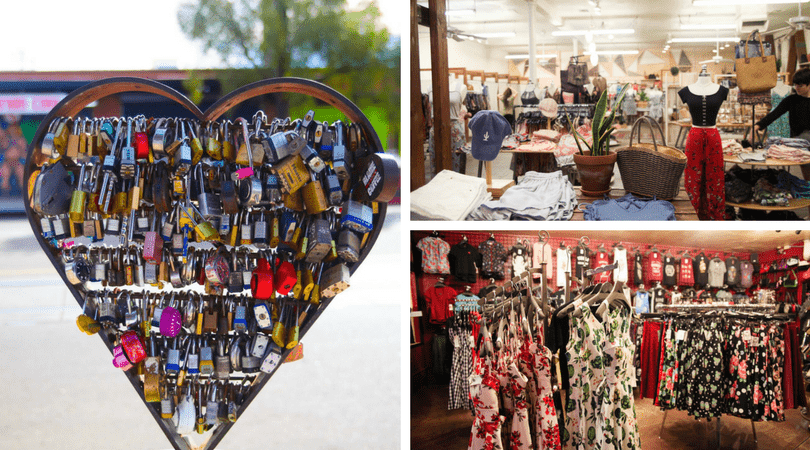 Some other shops to note was Tucson Thrift Shop a costume thrift store and Creations Inc a boutique with a large selection of cute and affordable pieces. Every block or so you can find a sculpture with locks hanging from it. If you come with (or without if you feel like it) a significant other you can add your own lock as well!
Tucson also has quite a funky art scene. Murals are all over this walk and nearby you can find the Greetings from Tucson sign!
We ended our stop for lunch at Lindy's. There were too many good options to choose from, but I went with the Fat Bastard. A bacon, egg, and cheese burger between two honeybuns. So many calories-0 regrets. Chief got a Dirty Sanchez, the top ordered burger there. Green Chiles, jalapenos, pepperjack cheese and other spicy goodness.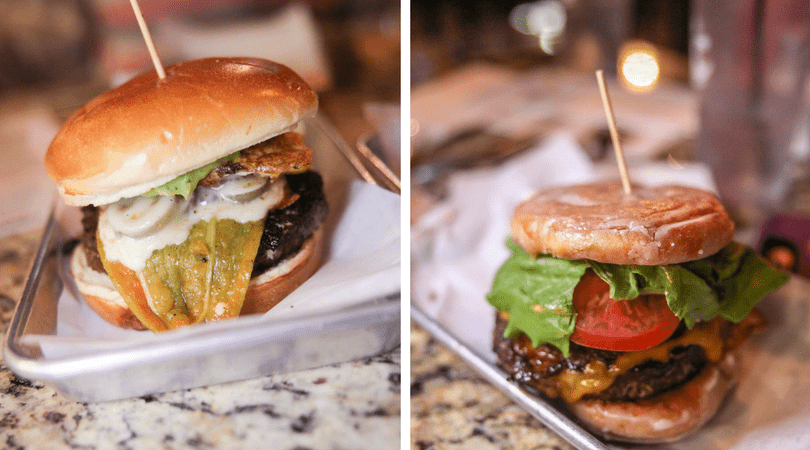 I have to say Tucson was pretty good to our taste buds. Foodies will love this place as well as those who enjoy more active activities. Or in our case- we like to combine both! I can't wait for another trip!