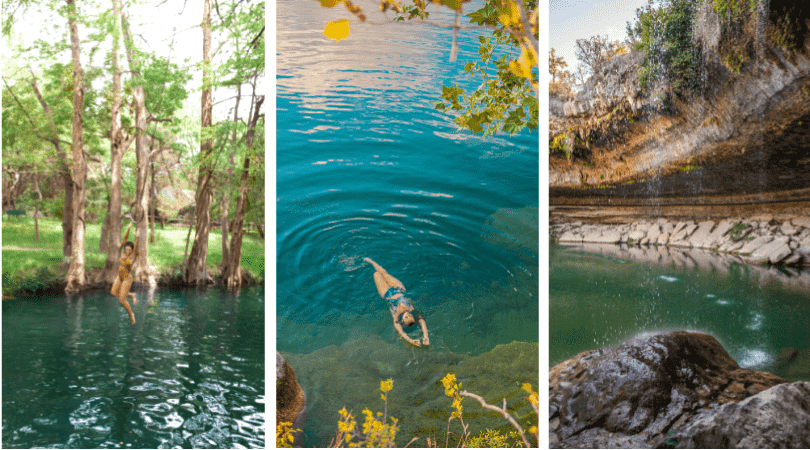 It's no secret that Texas is HOT in the summer, so when I think of the best places to visit in Texas in summer, I'm looking for places to swim and cool off. Luckily Texas is abundant in so many wonderful summer destinations, whether you want to break a sweat, take a dip, lay in the sun, or take advantage of the wonderful invention that is AC while doing something fun. Reference our list of lake getaways in Texas for even more summertime adventures!
Belton
Lay out on this Texas beach along the shores of Belton Lake or at Temples Lake Park. Stop by Walker Honey Farm and Dancing Bee Winery for fresh honey and blackberry honey wine. If you venture a little further out of Belton, you can visit Stillhouse Hollow Lake with the clearest water and an island you can walk to when the water levels are low.
Jacksonville
Jacksonville is full of greenery and Southern charm. Take an easy hike to a gorgeous waterfall in Nichols Green Park or do some serious exploring through the Neches River Wildlife Refuge and its 20-miles of hiking trails for every experience level. To escape the heat, swim in Lake Jacksonville, visit the Texas Basket Company, or book a room at the Hotel RITUAL with its all-inclusive wellness experience and pool.
Bryan
Drive through Bryan's Aggieland Safari so you can enjoy the AC while feeding giraffes and all of the other cute animals. Indulge in views of Lake Atlas along the Lake Walk and dodge the summer sun as you eat and shop your way around. Before it gets hot, visit the Brazos Valley Farmers Market or kayak on Lake Bryan.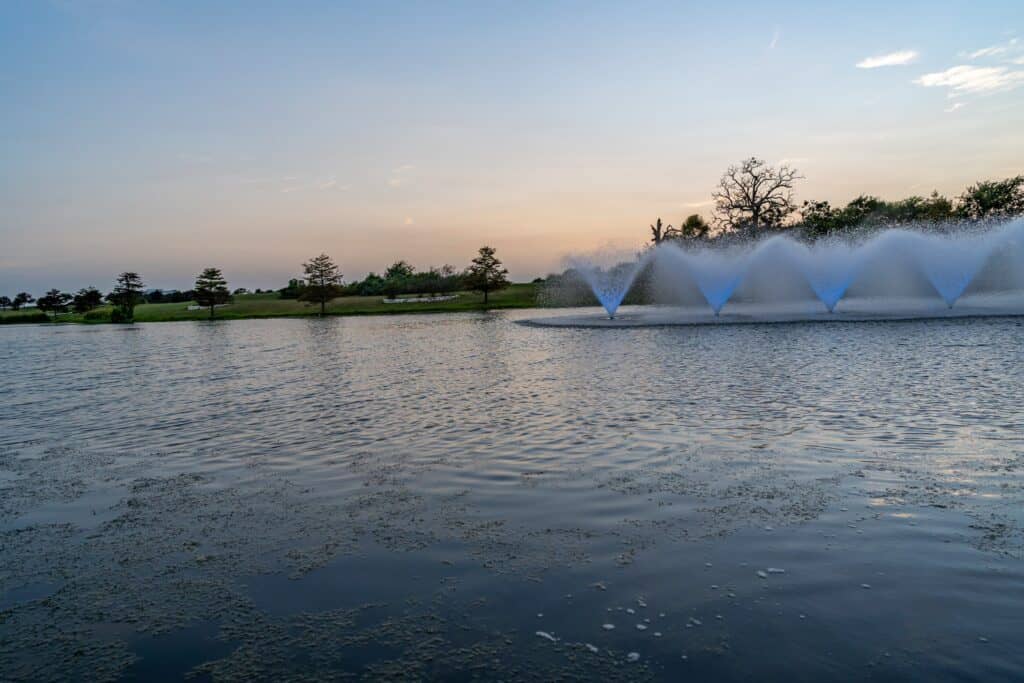 Tyler
Paddle out on Lake Tyler and enjoy the way the water feels as it sprays you when the wind blows or the breeze as you zipline over Tyler. Cool off and replenish at local winery Kiepersol, with an indoor wine tasting and a Charcuterie class, or enjoy the Villages Resort's indoor waterpark with so many waterslides and a lazy river in neighboring Flint TX.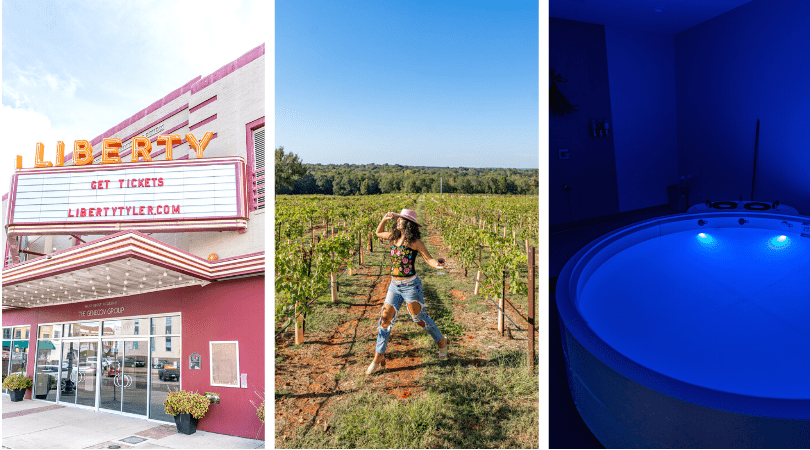 Concan
With crystal clear rivers that rival some Caribbean waters and one of the best state parks in Texas, Concan is one of the most popular Texas summer destinations. Plan to spend all weekend tubing, exploring swimming holes, and even wandering through caves.
Frisco
With the Frisco Rough Riders lazy river, your next summer vacation could involve floating in a pool while watching a baseball game, getting a little taste of winter with ice skating, and doing a little surfing, all in Frisco TX!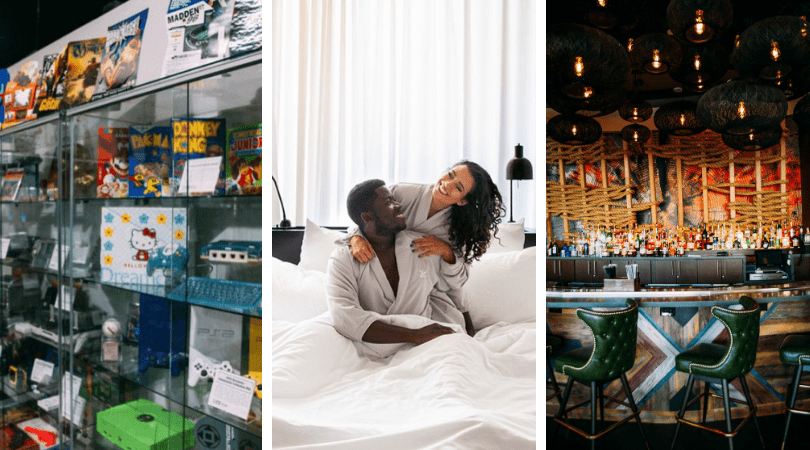 Austin
The Texas Hill Country is known for swimming spots! McKinney Falls State Park makes for a great daytime getaway. Right in the heart of Austin, you'll find the chilly waters of Barton Springs Pool that feel so refreshing against the Texas heat.
Burnet
Will you take the plunge into Devil's Waterhole at Inks Lake State Park? Even if not, there's still the opportunity to swim in the lake in Burnet or go down into the cool Longhorn Caverns State Park.
Dallas
As a big city, Dallas is an any kind of weather town where you'll find some of the best hotels to spend your summer vacation relaxing at the pool, cooling off with a sip from a local distillery, and escaping the Texas sun with a nice, air-conditioned museum.
Wimberley
With popular swimming spots like Jacob's Well and Blue Hole, Wimberley has just about all you need for a refreshing Texas summer vacation! This fairytale like town has the river running right through it and people who visit can't get enough of the gorgeous color of the water.
Fredericksburg
It's hot. And honestly, Fredericksburg has a different perk for each season, but if you want to go when everything is in bloom and you can frolic through the vines with a glass of wine in hand, the summer is the time to go! Check out the different wineries, as they have options for grape picking and grape stomping, a fun event that you can only do during this time of year.
Castroville
A little bit outside of Castroville is Paradise Canyon and it is a Texas summer paradise indeed! Go for a swim and then come back to Hillside Boutique Hotel to enjoy resort living by the pool overlooking the Texas Hill Country. Castroville is known as the "France of Texas" because of the Alsatian people who moved here, and you get to see little nods to that around the town.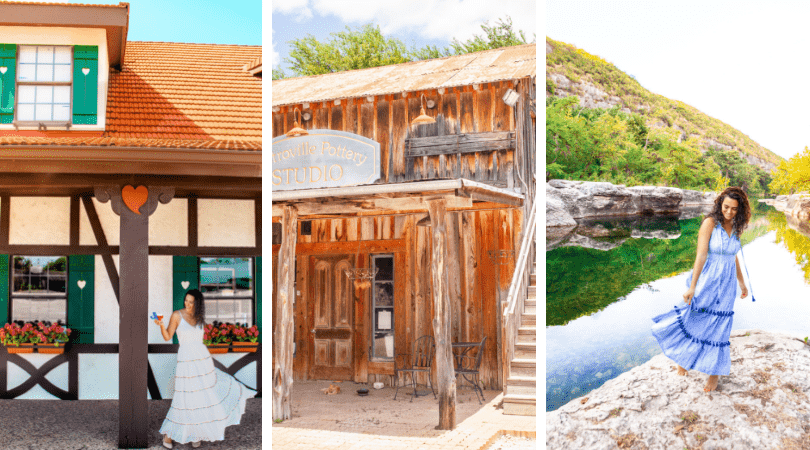 Dripping Springs
Dripping Springs is particularly famous for Hamilton Pool (make sure you make reservations well ahead of time). Or visit Reimers Ranch for another swimming spot! Dripping Springs is another place known for several wineries and, just like Fredericksburg, it is great for admiring the grape vines.
Port Aransas
Of course, what is a Texas summer vacation without a little beach time? We really enjoyed the beaches of Port Aransas, as well as fun beach activities like learning how to build a professional sandcastle and sailing on a pirate ship!
Seguin
People might not automatically think of Seguin as a Texas summer destination (but that's what makes it less packed). You can spend all day at a cabana at Son's Blue River Camp, enjoy the ZDT Amusement Park with significantly shorter wait times for rides, and even stay in a haunted house!
Georgetown
Texas has this thing about naming a lot of swimming spots Blue Hole and Georgetown is no exception! The Blue Hole is the perfect little swimming spot with a mini waterfall. If that isn't enough water time, you can head over to Lake Georgetown as well!
Glen Rose
Go swimming and search for dinosaur tracks in Glen Rose at Dinosaur Valley State Park or enjoy the fun at Big Rocks Park. When you're not swimming, there are other great spots like Fossil Rim or exploring the cutest downtown.
New Braunfels
Choose between getting your thrills at Schlitterbahn with three different waterparks in one, tubing down the Comal River, or wakeboarding at Texas Ski Ranch. Or why not just do all three in New Braunfels?