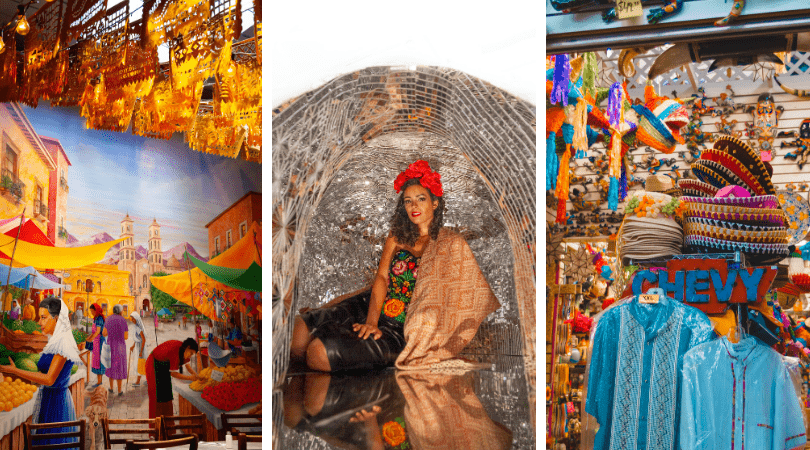 Thank you Hotels.com for making this article possible. As always, all opinions are my own.
A rainy day or gloomy forecast doesn't have to mean no fun! There are so many exciting indoor activities in San Antonio for a day of excitement in San Antonio. Whether you're a tourist whose outdoor plans got cancelled or a local who just wants to get out of the house, here are some indoor ideas for things to do in San Antonio when it's raining outside (as opposed to inside).
One of my favorite things to do to make a rainy-day special is to feel like I've gotten away at a cool hotel. San Antonio is full of so many great spots to escape to from staying in downtown San Antonio along the river walk or going out toward the Hill Country! Check into one of the many amazing hotels in San Antonio where you can enjoy some room service, beautiful architecture, and a scenic view while watching the rain pour down.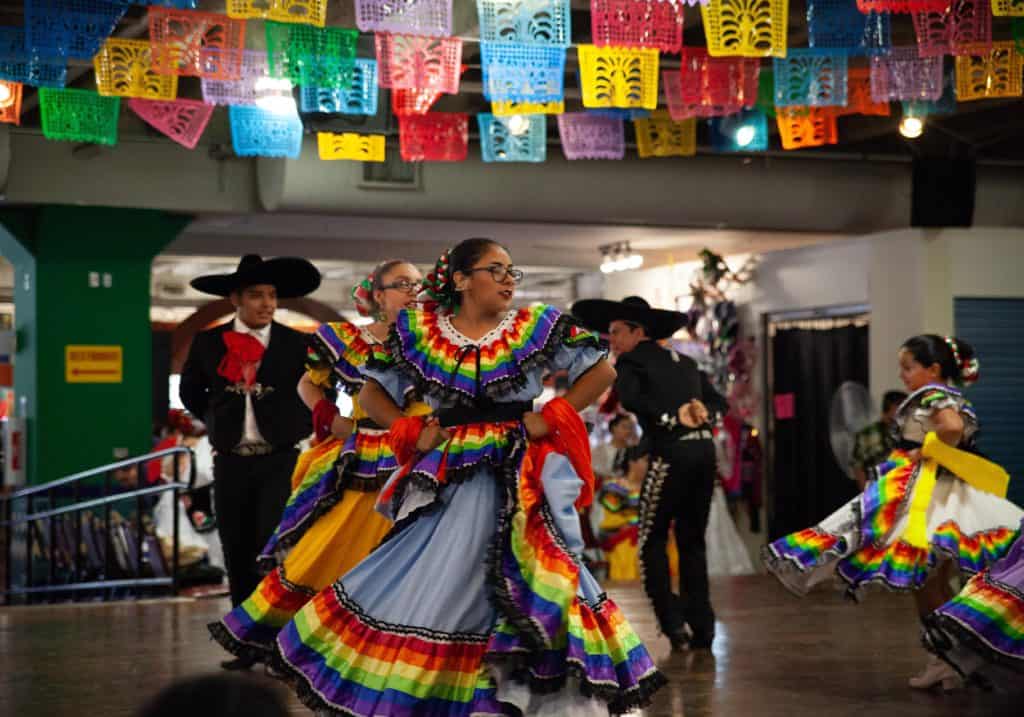 Things to Do in San Antonio on a Rainy Day
Grab Drinks In the Sky – The Tower of Americas offers views around San Antonio which add an extra dimension of beauty during those rainy San Antonio days!
Enjoy Drinks and Jazz – Listen to the smooth sounds jazz music over cocktails and good conversation. Jazz, TX has two performances a night with no cover Tuesday-Thursday at 5:30.
Relax in a Salt Cave – A rainy day in San Antonio calls for some rest and relaxation! Enjoy all of the relaxing and healing properties while laying back in the salt caves a the Eforea Spa.
Make a Bouquet – You can still enjoy some floral beauty on a rainy day in San Antonio! Head over to the Vintage Bouquet Bar in the Pearl District where they have flowers there that you can put together and make a thoughtful bouquet.
Listen to the Symphony – Rainy days are the perfect opportunity to catch a good show at the San Antonio Symphony. In addition to the classical concerts, the San Antonio symphony has other shows such as movies in concert and even pop music!
Visit One of San Antonio's Most Romantic Restaurants – A little rain doesn't have to stop someone from having a great meal! San Antonio has so many great spots for a romantic dinner including Ocho in the middle of a beautiful glass observatory where you can watch the rain without getting drenched, Bonaham's that was ranked as one of the top 100 restaurants in America, and Signature for a French inspired meal.
Take a Couples Massage Class – If you're looking for something to do as a couple, why not try a couples massage or even better, a couples massage class. At the Love Institute you can learn the skill that will last a lifetime. Just be prepared for your SO to expect massages regularly now!
Turn it into a Vacation/Staycation – There's something so peaceful about checking into a nice hotel and enjoying all the indoor comforts on a rainy day! Order room service, watch some movies, meet people at the bar, and enjoy the beauty of the place. Bonus if it comes with an indoor pool or spa!
Catch a Show at the Majestic – Another great option is to see what's playing at the beautiful and historic majestic theatre, built in 1929. With top Broadway shows, comedy shows, performers, and other incredible shows there's always something going on, and you can often snag last minute tickets!
Visit a Speakeasy – Enjoy a drink, prohibition style, at one of the speakeasy themed bars in San Antonio. I could do the work for you, but what's the fun in that ? a little searching should do the trick!
Fun Nights at the Alamo Drafthouse – Go for an interactive show where you get to be part of the fun! More than just a regular theater, the Alamo Drafthouse has special events where they invite you to sing along, react out loud, and engage with the movie.
Go Two-Steppin – Grab your cowboy boots and put on your cowboy hat for a fun night of two stepping. With all the loud music, you won't even know that it's raining outside!With a live band and dance lessons for those who don't know how, Cowboys is always a good time. Some others include Wild West and Thirsty Horse Saloon.
Catch a Basketball Game – The blood of people from San Antonio runs silver and black and going to watch a Spurs and Silver Stars game is a must! A rainy day in San Antonio is the perfect excuse for an indoor basketball game!
The Doseum – The Doseum has all kinds of interactive and fun exhibits that give you something active to do indoors. Plus, the Doseum isn't just for kids. At the Redo nights you can unleash your inner child, but with drinks involved.
Check out the Vintage Shops – Maybe you're in San Antonio and weren't ready for the rain. Set up a budget, see who can get the best rain outfit together or set a theme, and get creative. Of course make sure to wear it out if you're brave enough! Thrift Town has one of largest selections or hop around to a couple of other local spots like Montage and Revolution Thrift.
Go Racing at K1 Speed – K1 Speed is the fastest indoor electric go karts in Texas that go 45 mph. Gone are the days when you had to strategically choose the go-kart that was fastest and win on sheer luck. You race through tight turns in karts that go up to 45 mph in these European styled go karts.
Play Arcade Games – Grab a drink and play old arcade games together at Slackers where they have giant jenga, pool, air hockey, and the classic arcade games.
Visit a Comedy Club – The couple that laughs together, stays together. There are a couple of different places to check out including the Laugh Out Loud Comedy Club, the River Center Comedy Club, and the Blind Tiger Comedy Club.
Sing Horribly Together – Luckily a rainy day doesn't have to stop some good karaoke! The people at Dad's Karaoke really get into the karaoke and are a fun group!
Escape Room – How well do you react under pressure? Solve puzzles to escape the room or save the world, or whatever task there is. Each Escape Room has a different theme such as James Bond themed rooms, raiding the tombs, and more. Check out Extreme Escapes and the Texas Panic Room for some great themes.
Go Indoor Skydiving – With the rain, you can still go skydiving even if the experience is a little different (and honestly, more favorable for those of us who don't care for extreme heights!) At IFly you can do back flips in the air and experience flying inside a small chamber.
Practice Your Golf Skills – Another activity that is usually outdoors can be played with protection from the rain! At Top Golf you get to stay in one place and hit a bunch of balls at a target while eating good food and drinking cocktails. No worrying about chasing golf balls around the course.
Meet Your Favorite Celebrities – Or at lease their wax replicas at Madame Tussauds Wax Museum. Go through the Wax Museum and take pictures in the White House and with your favorite celebrities, and trick your friends.
Become a Texas Ranger – Or at least go on a guide with a ranger at the Buckhorn Saloon and Texas Ranger Museum. You'll feel like you're in the wild west. Plus grab a drink at the saloon.
Go Bowling – Bowling has really gotten an upgrade from the past. Now at places like Bowlero and Pinstack, where they have cool arcade games and gourmet dining and drinks rather than the questionable cheeseburger, it's easy to spend hours there having a good time.
Catch an event at the Guadalupe Cultural Arts Center – There's always a unique event going on at the center from weekly performances, music festivals, dances, and the free Galeria Guadalupe.
See the Art – At the McNay Art Museum. Just wandering through the grounds of the McNay makes for a beautiful day indoors in San Antonio, but there are so many great art exhibits that are regularly changed out for new exhibits.
Explore the Institute of Texan Cultures – A Smithsonian Affiliate, this museum shares the global culture of those who call San Antonio home. They have exhibits and events throughout the year.
See the Stars – At the Scobee Planetarium you don't have to go outside to watch the aurora lights from above.
Get Pedis – There's nothing like pampering your feet that you spend standing and walking on all day everyday.
Visit the San Antonio Fire Museum – Honor the people who keep this city safe and learn about being a firefighter. Then you could even head over to Battalion, a restaurant inside of an old fire station.
Explore the Art of the West – The Briscoe Western Art Museum shows all of the art and history of the West. Get into deep conversations over the art and learn something new.
Watch a Hockey Game – Ice Hockey is another great sport to enjoy indoors when it's raining. Even if you're not a big hockey fan, you can easily get into the excitement of the a hockey game with the San Antonio Rampage.
Create a Masterpiece to Take Home – At Board and Brush you can work stay dry inside while creating something to take home and enjoy for years to come.
Take an Art Class – Clay Casa has all kinds of crafting activities to do for a rainy day including fused glass and painting pottery.
Create Your Own Pottery – Or rather than just painting your pottery, learn to create your own pottery at Sunin Clay Studio.
Get a Foot Massage – If you're looking for something more budget friendly than a regular massage, but still want to get pampered on a rainy day, try a foot massage. You'll be surprised at how much tension you hold in your feet and the benefits from visiting GG Foot Spa.
Meet Your Favorite Character – Another great indoor dining experience is dinner at the Magic Time Machine where the wait staff dresses up as different Disney, cartoon, and super hero characters and serves you dinner acting like that character.
Attend a Poetry Slam – Enjoy the messages of spoken word or even get up there yourself with Puro Slam that hosts weekly events.
Hang with the Animals – At the San Antonio Aquarium where the attractions are indoors. There's so much beautiful underwater wildlife at the San Antonio Aquarium but also unique animal encounters with lemurs, sloths, kangaroos, an octopus, toucans, and more.
Learn Magic – Ever wonder how the magicians do it? Learn a few tricks to impress your friends at your next game night with magic lessons at the Magician's Agency.
Or Keep the Magic Still Magical – You don't have to learn the tricks, but continue watching in wonder as the Magician's Agency also hosts magic shows to see.
Visit Another World – Technology has come so far that you can now go on a date to another world with different virtual reality worlds! Infinite Worlds has different games that you can step inside of while Hologate puts you inside of a virtual reality arena plus an indoor motion theater, and a ropes course for all kinds of fun.
Break Things – Short Tempered also has an indoor rage room with plenty of items to break.
Dueling pianos – If you've never been, dueling piano bars are such a fun and unique idea where two pianos duel it out and the crowd gets into it, as well as singing along. Weekdays often involve no cover at Howl at the Moon.
Find a Fun Concert or Festival – There is always something going on in San Antonio so there's never a reason to be bored. Visit San Antonio has a great list of events and festivals, but also one of my favorite things to do is to just go to the Facebook events tab and search events for a certain date range. Plus, sometimes you find something unexpected and cool on a weekday as well as free events! Some events might move their activities indoors if it's raining and you can find indoor activities as well.
Create Something for Home – When it's raining outdoors one of our favorite things to do is simply cuddle in a blanket, but rather than staying at home, you can do something to spice up your home a bit! At the Crafty Home DIY you can create a personal piece to add to your home.
Catch a Performance at Market Square – There is always so much going on at Market Square. Weekends are more busy, but also when there's more activity. Inside there are often performers like Flamenco dancers. Plus it's fun to check out all of the colorful items being sold from all of the different vendors.
Check out the Art at Ruby City – Ruby City is a beautiful and new art installation with pieces that make you think or want to snap a pic. The art is modern, fun, and beautiful.
Improv Workshops – For a fun and unique rainy day idea, learn improv over at Overtime Theater! Soon you may just be on the stage yourself. They also have very affordable shows if you are too afraid to go up and perform.
See the Art at the Mexican Cultural Institute – In Downtown San Antonio, this museum is always free and open to the public. Every time I've gone there's been a new and interesting exhibit to check out!
See How Shoes are Made – You can tour the SAS Shoe Factory, a San Antonio tradition that started with a small family. Learn about the complex steps that go into making these shoes that you see all across the country.
Go Two Steppin' – Every Wednesday and Friday at 7pm Cowboys Dance Hall has free two-step and other dance lessons. Then stay afterwards and dance the night away for free. Plus check their website for other free events and specials.
Visit the Artspace – The Artspace always has different art exhibits to check out. From 8-10am they have free donuts and a mixer to get to speak with the artists. Plus check out their event schedule for other fun and free events.
Check out the Art Galleries – At the Blue Star Arts Complex where multiple artists reside and a beautiful spot right along the river while still having protection from the rain by being indoors. And of course, there are always free events to check out
Volunteer at the Food Pantry – Use the rainy day as a chance to do some some good! A place that is always looking for volunteers is the food pantry. There really is such great bonding that comes from working together to make the world a better place.
Go to a Cooking Class – William Sonoma has some free cooking technique classes where you get to learn to make, and then eat, different dishes!
Make S'mores – You don't have to go outdoors for s'mores! Halycon is a cute coffee and wine shop, but they also have s'more that you can roast indoors on their little personal s'mores set. Plus, there are no worries about smoke blowing in your eyes!
Go on a Brewery Tour – You can either go on a guided brewery tour where you can check out multiple breweries or visit some on your own to some of the places like Ranger Creek, Free Tail Brewing Co, and Alamo Beer Co.
Distillery Tour – There are so many local distilleries to check out during those rainy San Antonio days. You can do them all at once by going on a tour and then hanging out and enjoying the drinks or spread them apart and visit some of the places including Rebecca Creek Distillery, Ranger Creek, Alamo, and Andalusia.
Take a Mixology Class – Learn the art of creating the perfect cocktail together from a mixologist at Cellar Mixology, and get ready to create restaurant-worthy cocktails from home.
Become a Sushi Master – With a fun sushi making class where you will learn the art of rolling sushi and be able to make your own dinner!
Solve a Murder Mystery – A Murder Mystery Dinner at the Dinner Detective combines a delicious four course meal with a thrilling criminal mystery case where you're in charge of figuring out who did it!
Take a Spirit Clasb – Total Wines is always hosting classes to help you learn more about making drinks, understanding what you're drinking, and just gaining new knowledge. And unless it's not obvious, yes, San Antonio does love to drink!
Grill your own Korean BBQ – At places like Hon Machi Japanese & Korean BBQ you get to be the chef! Wait staff bring out different kinds of meat and a little grill to make your own food. You get to season it and add sauces to create your own dinner for a more interactive couples dinner date in San Antonio.
Explore Turkish Culture Through Food – Raindrop San Antonio hosts special events including cooking classes, Coffee nights, Turkish breakfasts, dialogue and friendship dinners, and even Turkish language classes to become immersed in the culture right here in San Antonio.
Try a Cooking Class – Learn a skill that you can use at home to make a gourmet meal. There are so many different places offering different cooking techniques, themes, and schedules. Check out the Culinary Cottage, classes at Sur La Table, the Culinary Institute of America, William Sonoma, and Central Market.
Go on an International Food Tour – You can travel the world without ever leaving San Antonio with all of the diverse restaurants there are in the area. Create a list of your own or check out some of the ones below and work your way across all the different countries. Maybe even watch a video or do some research beforehand. Some great places to check out include Saffron Persian Cuisine, Moroccan Bites Tajine, and African Village Restaurant.
Dinner and a Show at the Hibachi Grill – At the hibachi grills like Kobe Japanese steakhouse, they make the food right in front of you. They seat you at a table and part of the cooking experience includes fiery onion volcanoes, comedy, and food acrobats for an entertaining dinner date for couples
Go Roller Skating – There's nothing like skating around in endless circles and dancing silly to the music they play for a fun activity during a rainy day.
Laser Tag – Grab a group of friends so you can play together rather than with a bunch of kids or use a place like San Antonio Laser Tag that comes to you! Sometimes it's the activities that we loved as kids that make the best dates!
Go Swing Dancing – The Swing Dance Society has all the details on meetups, socials, and classes so you can go back in time and jive. Plus it's fun to do all the twirls.
Dance Salsa, Bachata, and Cumbia – Arjons International Club is a club playing top Latin music that you can dance to, or check out Semeneya that hosts classes, boot camps, and socials you can attend.
Go Rock Climbing – There are so many activities to enjoy even when it's raining outside! There are several climbing gyms in San Antonio where you can try traditional rock climbing as well as bouldering.
Learn Acroyoga – If you've never tried acro-yoga before, you might be surprised how much fun it is. Aerial Horizon offers acro yoga fundamentals courses so you can learn even without any experience.
Become a Ninja – Test your ninja skills at Ninja City with their adult open gyms, and try all of the American Ninja Warrior inspired obstacles. I remember the days of climbing on monkey bars and it seemed much easier back then!
Go Ice Skating – Pick up some ice skates, skate around the rink, and pretend it's snowing outside instead of raining.