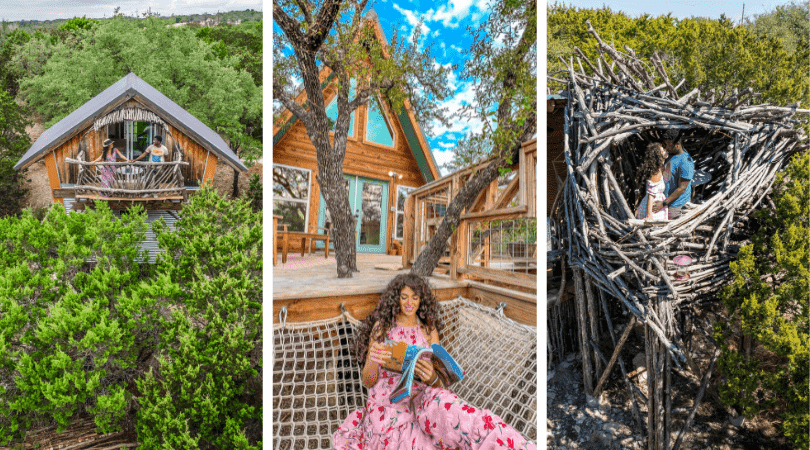 Perched among the trees, come experience the refreshing breeze and incredible views at SkyBox Cabins in Glen Rose TX. Established in 2017, SkyBox Cabins offers adventurous, Instagram-worthy accommodations that are just as luxurious as they are relaxing. Each cabin, as well as the glamping tent, include electricity, AC/heating, and hot water so you can enjoy overlooking the beauty that flourishes just outside of the DFW metroplex without giving up all the creature comforts of home that you enjoy.
Keep in mind that all guests of SkyBox Cabins must be over 18 years of age. In addition, the property has several animals including two dogs, one cat, two cows, and three horses that love to meet guests! Along with other great, on-site amenities and all the fun things to do in Glen Rose, SkyBox Cabins needs to be on your list of unique getaways and where to stay in Glen Rose!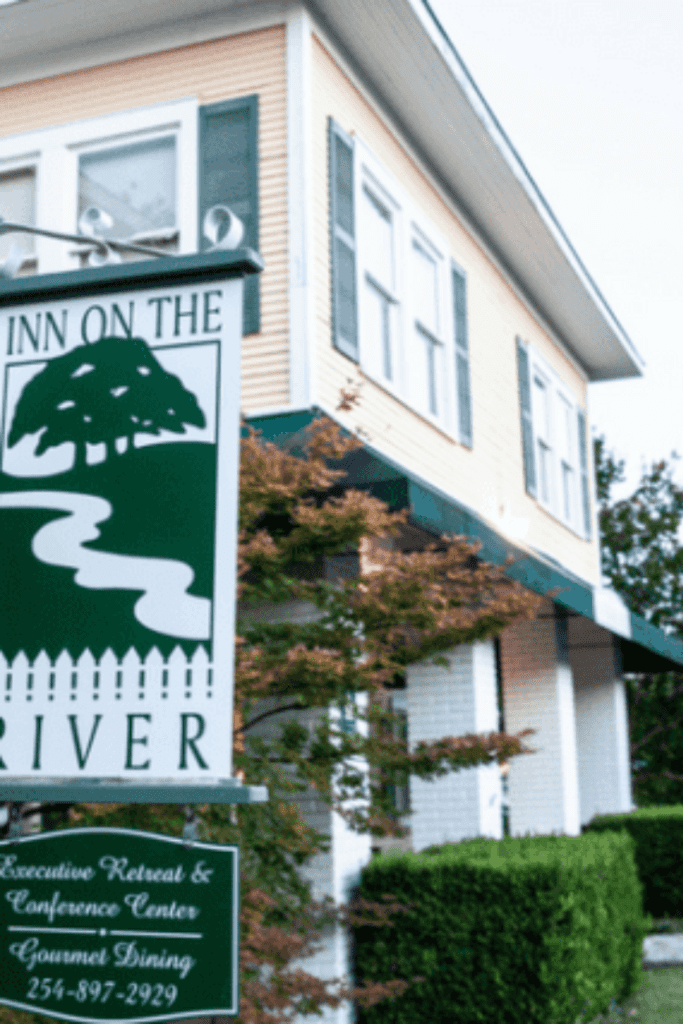 Experience Elevated Design
The Birdhouse brings you back to your childhood with its fun, tree-house design while also offering a luxurious, peaceful getaway in the Texas Hill Country. Suspended in a tree-top platform, you'll enter the cabin by climbing the outdoor stairs and crossing a suspension bridge. Inside, you'll find the second-story bedroom, which sleeps two guests, and an outdoor balcony with gorgeous views of the surrounding acreage. Descend the indoor staircase to the first floor, where you'll find a kitchenette (including a microwave, small refrigerator, and a Keurig for your morning coffee) and a bathroom with a unique walk-in shower. Outside, just steps from the cabin, you'll find a rustic covered patio, complete with a firepit and lounge seating, perfect for indulging in the peace nature has to offer you here.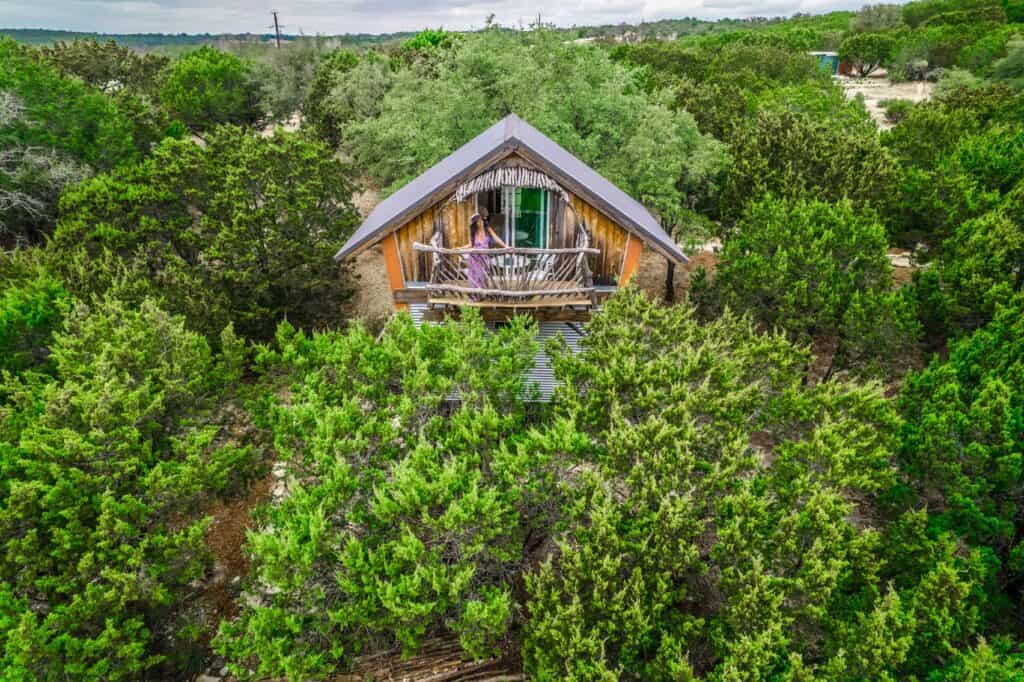 The Nest has a mix of "treehouse" and "bohemian bungalow" that makes for a truly unique, Instagram-worthy stay. Sleeping two guests, the cabin includes one bedroom with French doors that open to the outdoor patio. There is also a bathroom, kitchenette (complete with an induction cooktop, microwave, Keurig, and small refrigerator), and a seating area with another set of French doors that open to the patio. Once outside, a crowning feature of the Nest is the actual bird's nest for guests to enjoy – the Texas Cedar Observatory, perfect for lounging and stargazing in the Texas Hill Country. The outdoor patio also includes a small hammock, a patio table, and chairs, an ideal spot to sip a cup of coffee or a glass of wine.
Inspired by 17th century French Pigeonniers, La Tour is bound to captivate and inspire. The cabin is located on a ridge, nestled among two large oak trees, and provides guests with unparalleled views. Entering the cabin on the first floor, you'll find the bathroom, a small seating and dining area, and a kitchenette (complete with a microwave, toaster, small refrigerator, and Keurig) along with an outdoor balcony. Upstairs, the second story includes a bedroom, which sleeps two guests, and another outdoor balcony that is perfect for watching the sunset. There's also has an outdoor patio area with a picnic grill and rope hammock – the perfect place to cook up dinner and hang out.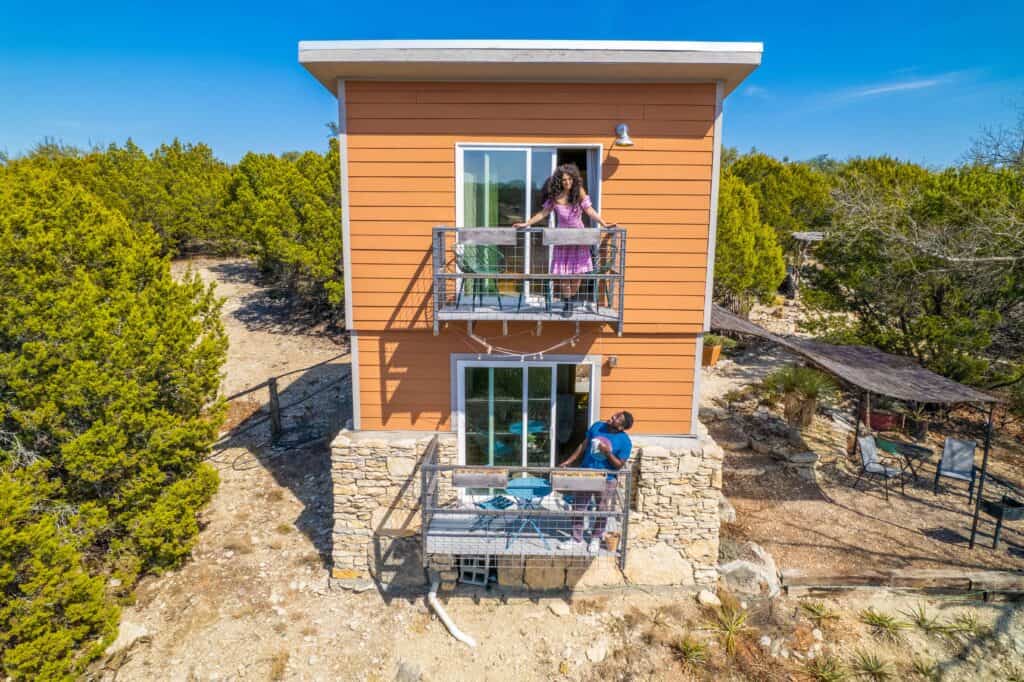 Nestled among the trees, the Glamp features a furnished bell tent with wooden floors on a raised platform. The tent includes a queen-sized bed that sleeps two guests and includes air-conditioning and heat. Steps away, you'll find a detached building with a full bathroom and small kitchenette (with a drip coffee maker, induction cooktop, microwave, and small refrigerator). Central to everything, the outdoor patio features a dining table (a great spot for dinner) and a couple of hammocks that invite you to relax and take in all that nature offers. Guests can also enjoy more glamping experiences with another seating area near the tent, in addition to a fire pit that's ready for roasting marshmallows.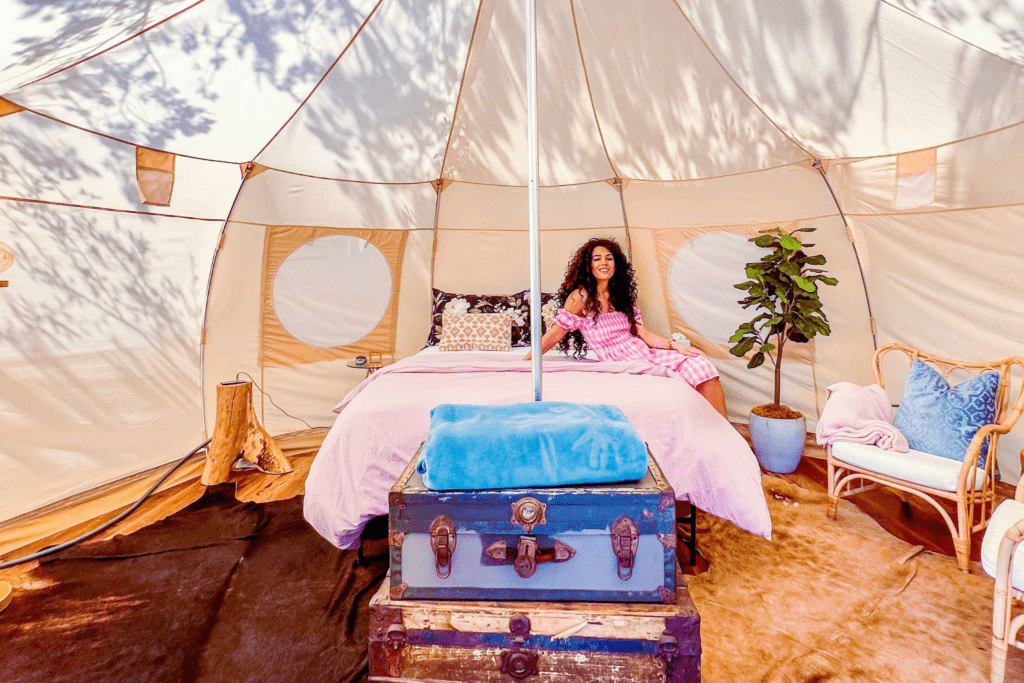 The Hive, the newest cabin on the property, features a beautiful A-frame design with a treehouse vibe. A crowning feature of the cabin is the 15-foot-high deck that includes a deck hammock, or loft net, the perfect place to hang out and daydream. Inside, the second story encompasses a cozy bedroom and sleeps two guests. Downstairs, the first floor boasts an abundance of natural light and includes a kitchenette (with a small refrigerator, drip style coffee maker, microwave, and induction cooktop), dining area, and a living room with French doors that open to the deck. In addition to the hammock, the deck also has plenty of seating for you to enjoy a morning cup of coffee or have dinner with a view.
A Review of SkyBox Cabins: Final Thoughts
Every cabin at SkyBox Cabins provides guests with a unique, peaceful, and luxurious stay. Whether you're looking to sleep in a treehouse or want to experience glamping for the first time, SkyBox Cabins is ready to combine adventure with comfort. Nearby, there's also plenty of things to do in Glen Rose, like visiting Dinosaur Valley State Park, Fossil Rim, and the numerous shops and restaurants downtown, making SkyBox Cabins a perfect getaway and where to stay in Glen Rose if you're looking for some adventure, time in nature, and a place to recharge.