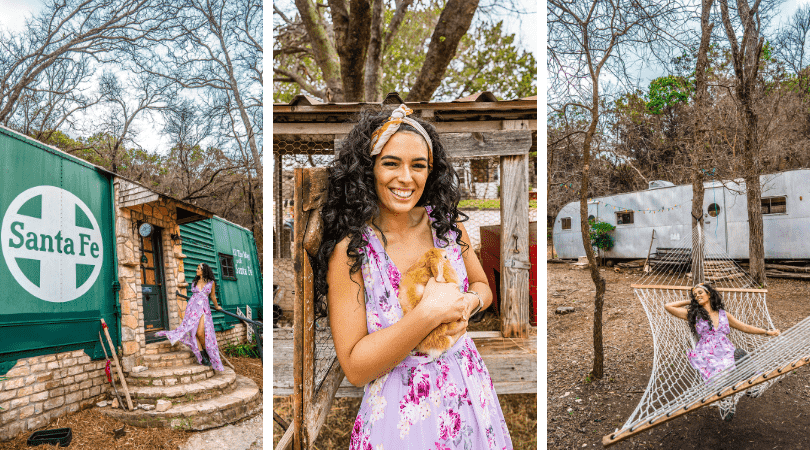 The Country Woods Inn in Glen Rose TX is a great place to stay if you're looking for a relaxing getaway. The inn offers a family-friendly glamping experience right by the Paluxy River. Aside from featuring super cool lodging options for your stay, the Country Woods Inn also has a ton of things to do, as there are a variety of activities to enjoy every day as well as different animals that you can interact with on the property! Here are some of the reasons you should make the Country Woods Inn your home base on your next getaway. Don't forget to check out all the things to do in Glen Rose TX while you're there too!
Go Glamping Under the Trees
One of the best things about the Country Woods Inn is the unique places you can sleep. They have several different exciting options to take your glamping experience to the next level, like sleeping in a railroad car or in a vintage airstream. You can also book a room in the Main House or one of the other main cabins, which are perfect for families and full of old country charm.
The Country Woods Inn is pet friendly as long as advanced notice is given and your pet is under 50 pounds. The pet fee is $25 per pet and puppies are not allowed.
Santa Fe Railroad Car
This railroad car has been renovated to host four people, equipped with two sets of bunk beds, as well as a full kitchen and sitting area. There is even a claw-foot bathtub and AC, for a truly unique glamping experience. Nearby is the Cabin in the Woods (must stay a minimum of two nights), perfect for parents who might want some quality time away from the kids for the night. Enjoy your coffee on the screened-in porch with plenty of space for time spent all together.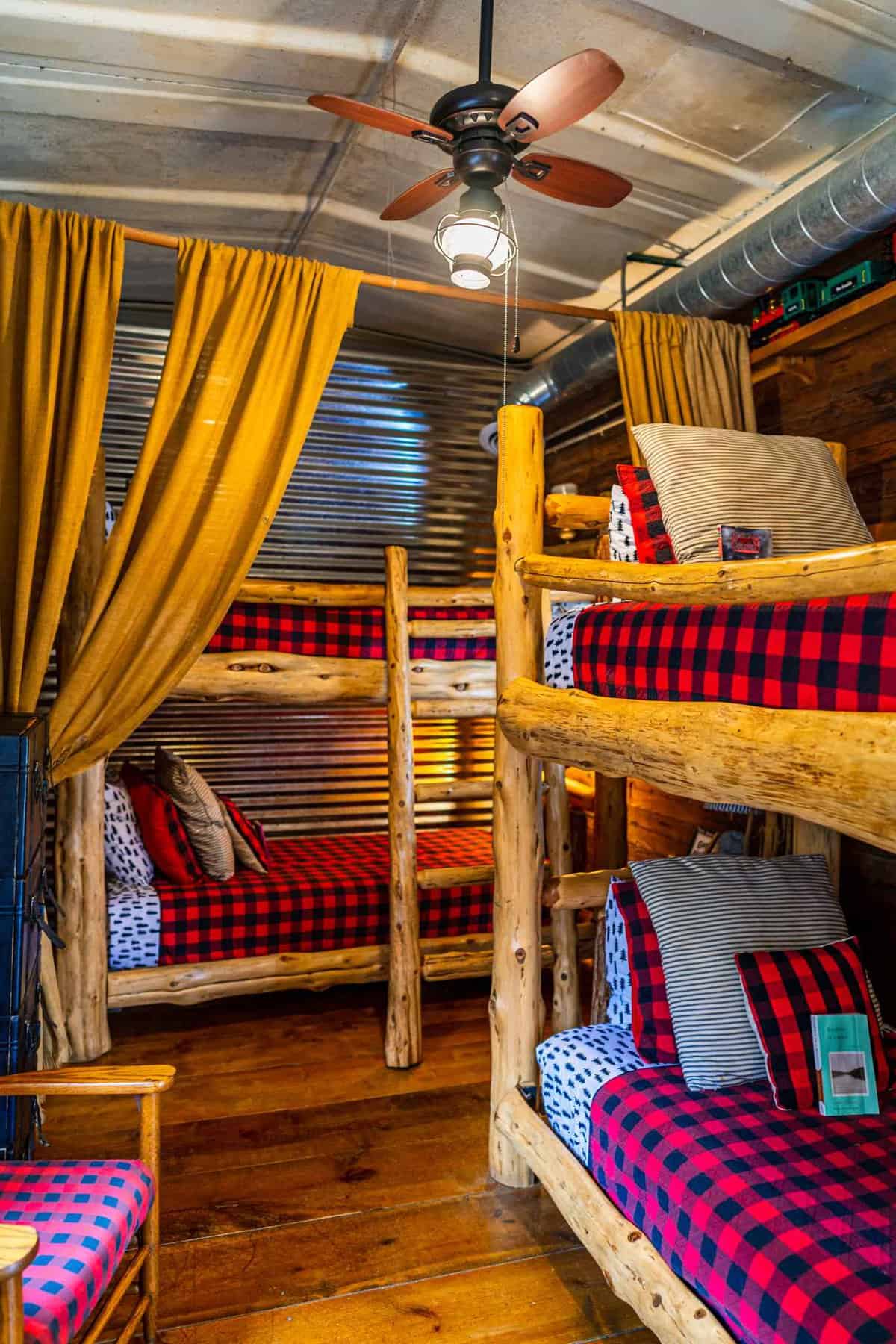 Trails End Vintage Airstream
This vintage airstream is secluded from the rest of the inn's lodging, sitting along a wooded walking trail near a meadow. If you choose to stay here, you will get to enjoy a convertible booth, shower, and a kitchenette, among other amenities with enough space for four. If you happen to have a larger group, you can also rent the nearby Santa Fe Railroad Car so everyone can be close by without worrying about being cramped.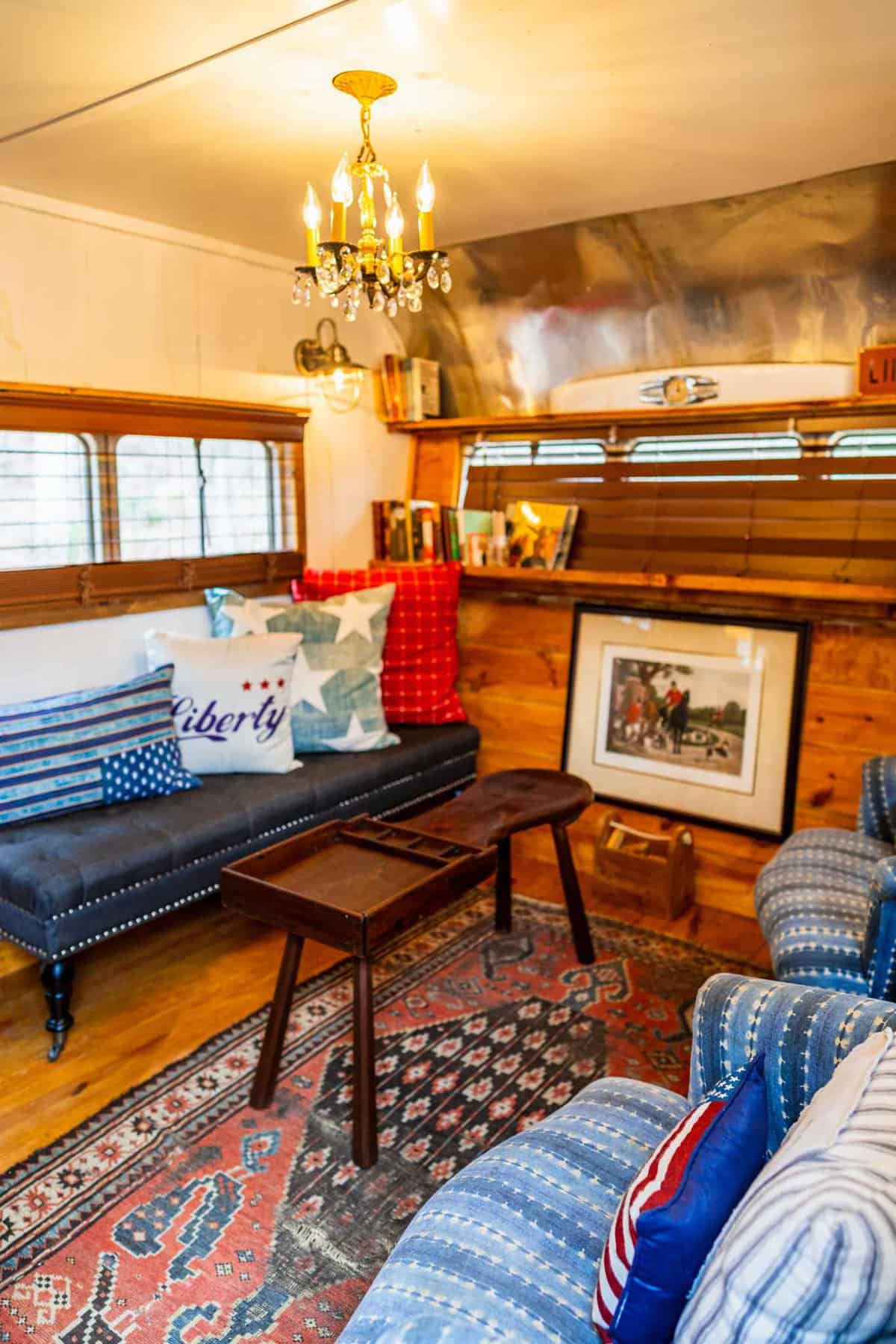 1975 Vintage Spartan
This lodging option comes equipped with everything you need for a memorable glamping experience. It features four bunk beds, a private bathroom, and a full kitchen (not including a stove), plus a TV and AC. It sits right along the on-site trails where you're likely to come across fossils, so it is easy to get involved in unique activities at the Country Woods Inn! You can also rent the 1948 Vintage Liberty (fits three guests) or the Hideout Vintage Airstream (fits four guests).
The Main House
The Main House is the most spacious lodging option and can host around 12 people. There are four diversely decorated rooms that guests can choose from, each with a different theme ranging from Victorian to woodland. The loft-style space upstairs has full and twin-sized beds, plus a balcony, while the downstairs rooms feature cozy spaces with queen-sized beds. You're conveniently close to the river, for fishing, and hiking, along with a playground and on-site lawn games. Venture out and see all of the things to do in Glen Rose too!
The Farm House
This historic, charming farmhouse in Glen Rose TX provides some flexibility, with two separate wings that allow some privacy or added space if you group isn't quite big enough to fill the Main House. Each wing also has its own porch as well! The East Wing has two bedrooms, one with a queen-sized bed and another with two twin-sized beds, plus a kitchenette and a claw-foot bathtub/shower. The West Wing has one full-sized bed and one full-sized futon with a large kitchen and a rustic rock shower.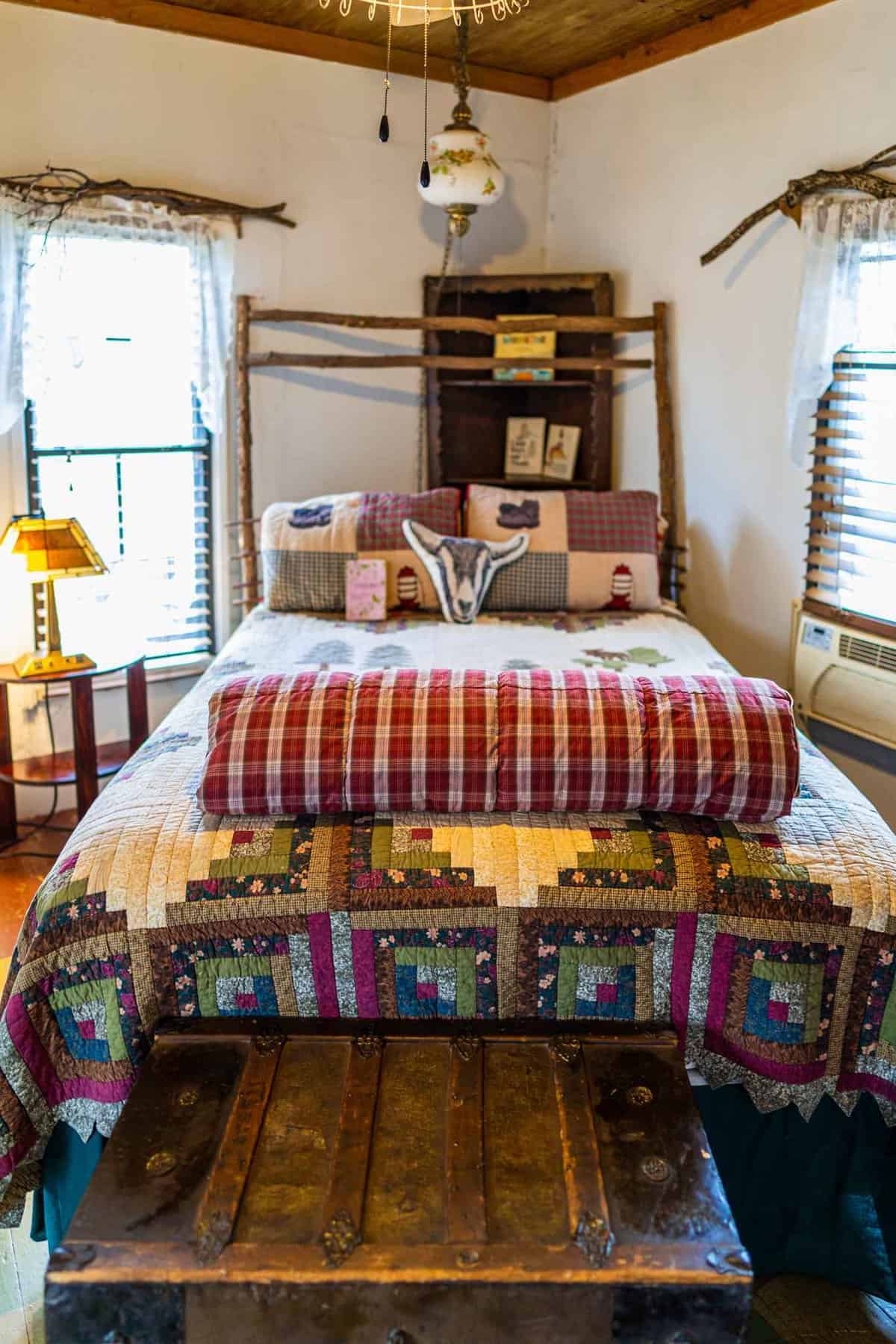 The Prairie House
This family-friendly river cabin features four bedrooms (one king, two queens, and one full-sized bed), two front porches, and beautiful bathrooms. This is a great choice for sleeping at Country Woods Inn if you want a more private, cabin-style stay, as it is close to the Paluxy River, as well as the barnyard, playground, and on-site campfire (you simply have to bring your own wood or charcoal).
The Carriage House
Equipped with a queen-sized bed, a full-sized bed, and a full kitchen, this quaint home at the Country Woods Inn provides easy access to everything from horses and farm cats to fossil trails and an outdoor clubhouse for the kiddos.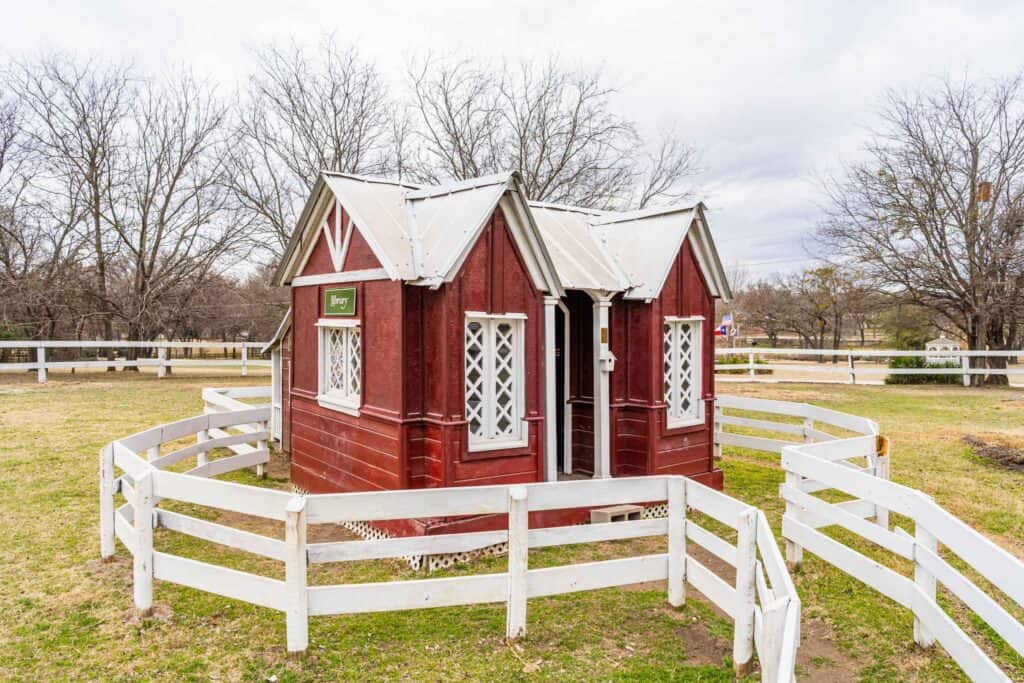 The Saddle House
Originally the mechanic shop for the farm, this cabin offers not only two full-sized beds, but also a full kitchen and a living area. Large windows look out over the gorgeous property and guests even have access to a private campfire circle, a covered patio, a hammock, and a charcoal grill. You'll also be close to the goat and donkey pen so you can fill your time with plenty of love from these furry creatures.
Enjoy Country-Style Dining
The Country Woods Inn offers a complimentary, country-style breakfast in the morning, adding to the inn's charm and authentic feel. There's also a wide variety of restaurants close by in Glen Rose. There, you can enjoy even more country style food or any other type of dining you're in the mood for; there is everything from Mexican and Italian food to a variety of cafes and donut shops.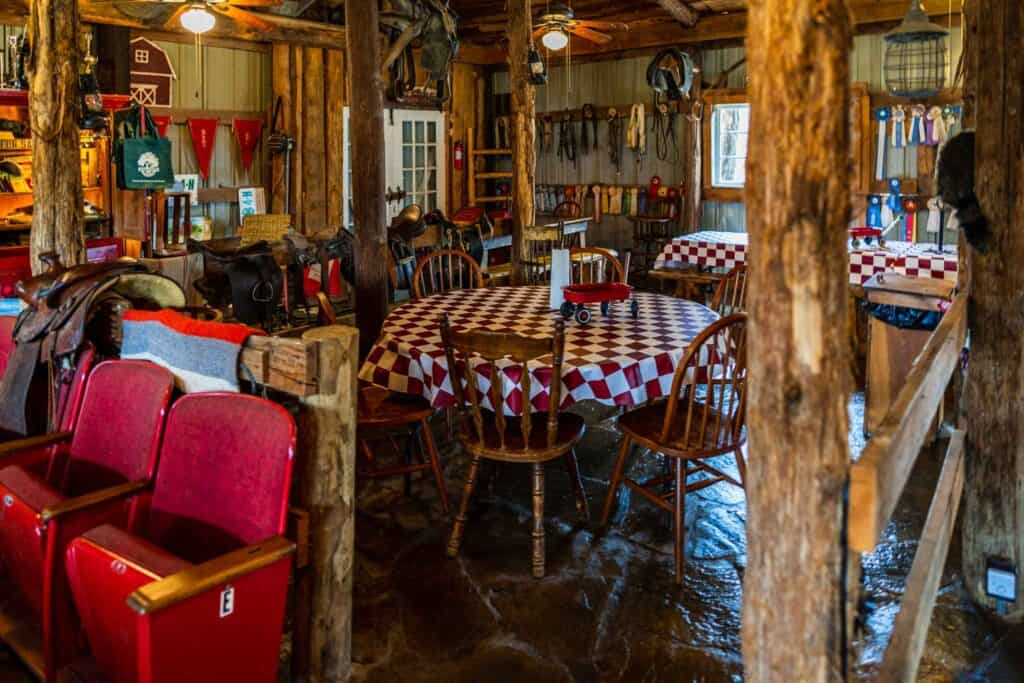 Join the Fun Activities
There are plenty of things to do just steps away from your door at the Country Woods Inn! Its location on the Paluxy River makes it easy to fish, take a walk along the river, or enjoy a picnic on the riverbank. There are also spots where you can do things like rock climb, pick wildflowers, stargaze, or roast marshmallows over a campfire. Bird watching is also a popular activity here, as well as exploring the beautiful forests and meadows! Glen Rose is also home to an abundance of things to do and is famously known as the Dinosaur Capital of Texas.
Meet the Animals
There are all sorts of animals you can meet and feed! One of the cool things is getting to feed the horses and donkeys. There's even a play area in the middle of the llama pen, and there are scavenger hunts and activities for the kids. All of the animals are friendly, just make sure you close the gates when you stop to see them!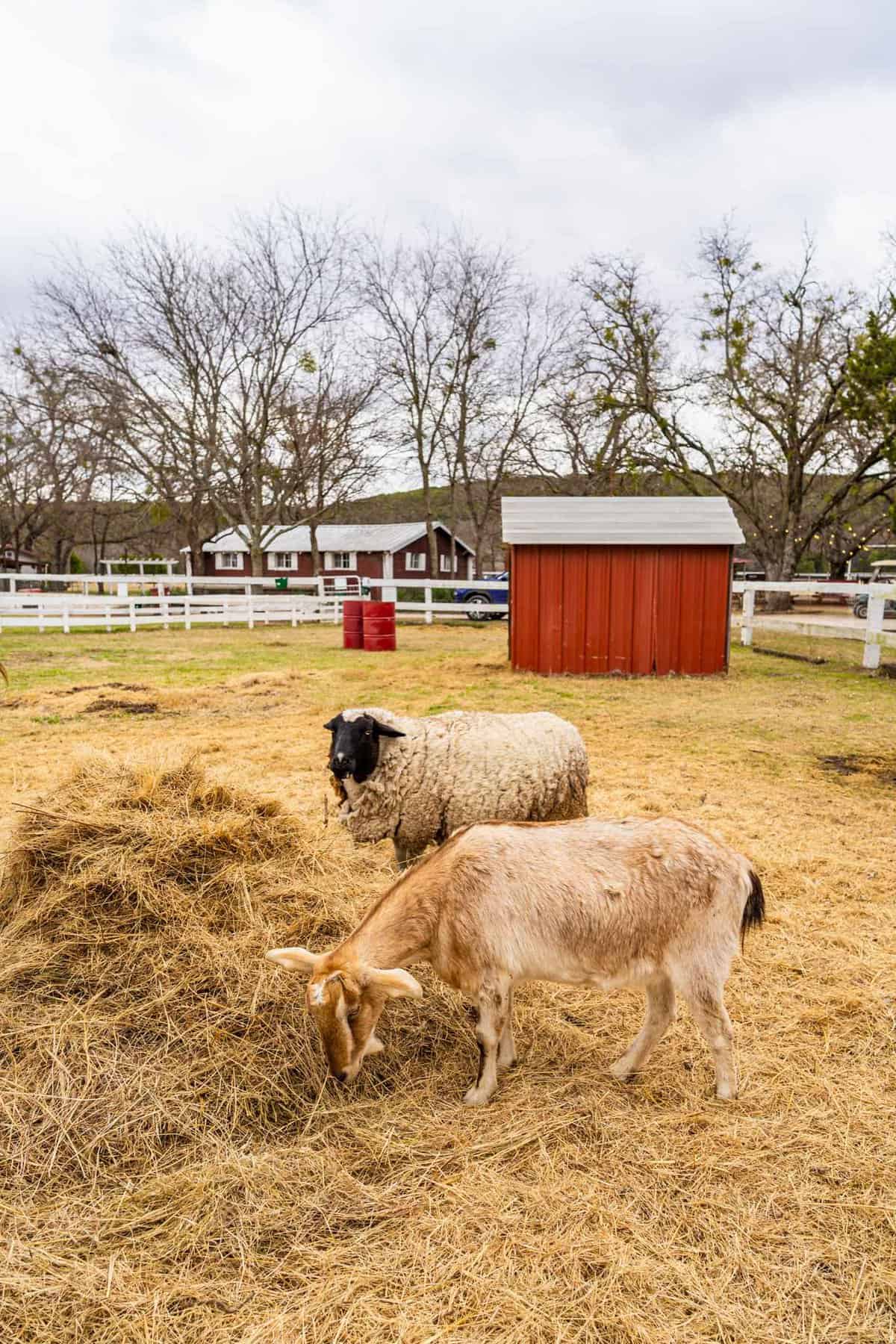 A Review of the Country Woods Inn: Final Thoughts
Staying at the Country Woods Inn is a great experience, and it is definitely the place to go if you are looking for something a little out of the ordinary that the whole family can enjoy. The exciting thing about this little farm in Glen Rose is all the different activities available to you on-site and in Glen Rose. It's one of those places where you don't really need to leave because you can enjoy all that's happening there and be able to unwind and truly relax surrounded by the outdoors. Make sure you keep the Country Woods Inn in mind when planning your next Texas adventure.