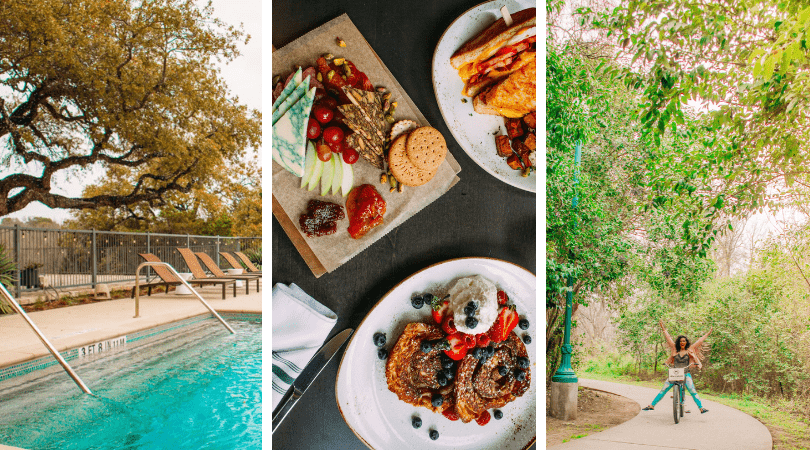 While taking a fun vacation in Georgetown TX, we had the pleasure of staying at the Sheraton Hotel & Conference Centre of Georgetown. A full-service, pet-friendly hotel with world-class service, it offered everything we needed for an unforgettable time.
The hotel is located just a short drive from both the Austin-Bergstrom International Airport and Killeen-Fort Hood Regional Airport, making it easy to get to and from the hotel.
When we weren't out exploring all of the fun things to do in Georgetown TX, there were so many great amenities that the Sheraton Georgetown Hotel provided.
Plus, the Sheraton is close to many of the city's top restaurants, so we found it easy to walk to dinner and even some of the activities on our itinerary! Check out our list of things to do in Georgetown TX to see what we got ourselves into.
Excited for your stay? Book here now!
The Rooms at the Sheraton Georgetown
You'll enjoy spacious accommodations at the Sheraton Georgetown, complete with a convenient desk area for work, a flat-screen TV, and complimentary breakfast. Additionally, guests can enjoy free Wi-Fi during their stay.
The Sheraton Georgetown also features breathtaking views of the surrounding Texas Hill Country, where tree-lined park views and picturesque rolling hills create a serene backdrop.
After a fulfilling day of exploration, returning to the Sheraton's comfort was one of our favorite parts of the day! It was the perfect place to relax and unwind with the Sheraton signature sleep experience.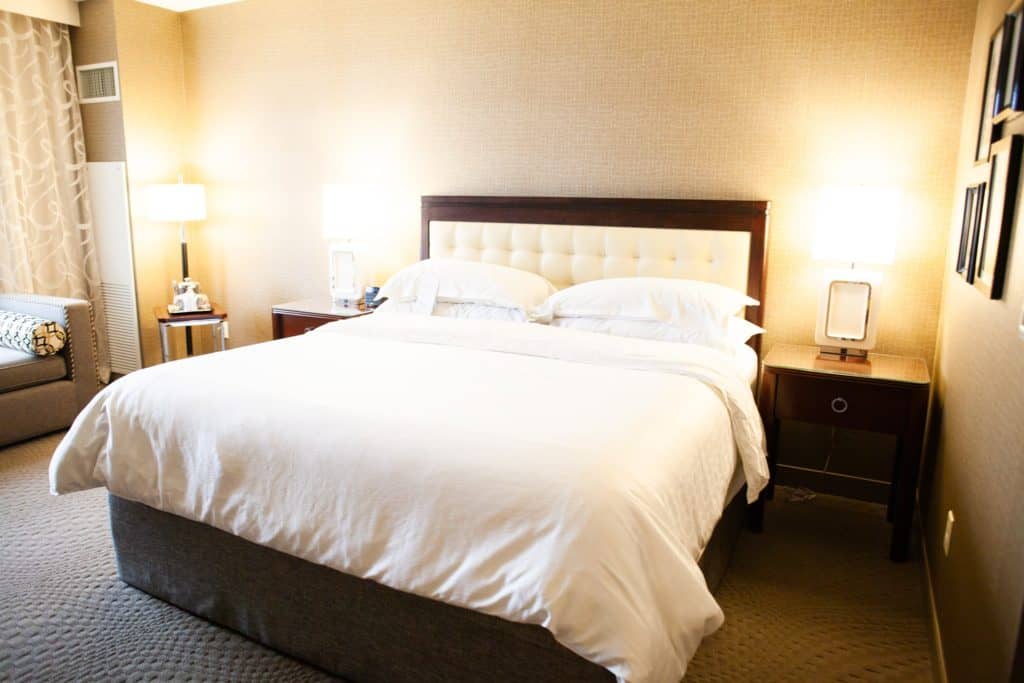 Some other amenities available when you stay at the Sheraton Georgetown:
24-hour fitness center
Coffee maker
Hair dryer
Free toiletries
24-hour room service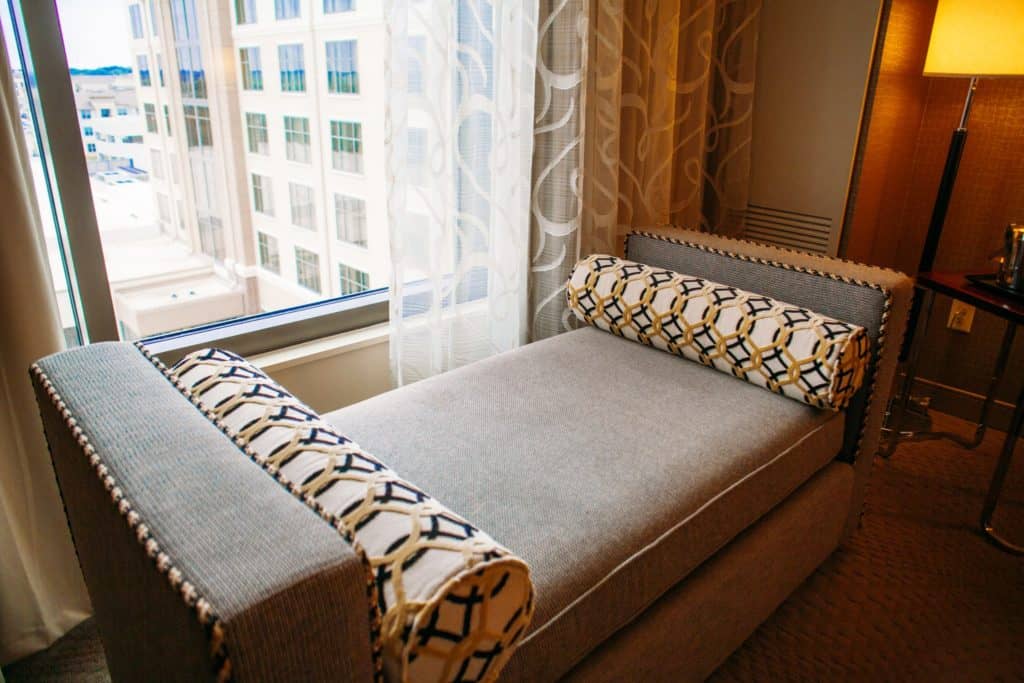 The Pool at the Sheraton Georgetown
We visited Georgetown when the weather was a little cooler, which means we were able to take advantage of the heated, outdoor pool! There was also corn hole, Jenga, and fire pits.
If you're looking for a great place to relax and unwind during the day, the outside patio area was the perfect place, featuring corn hole, Jenga, and fire pits. It is especially great if you have kids with extra energy to burn.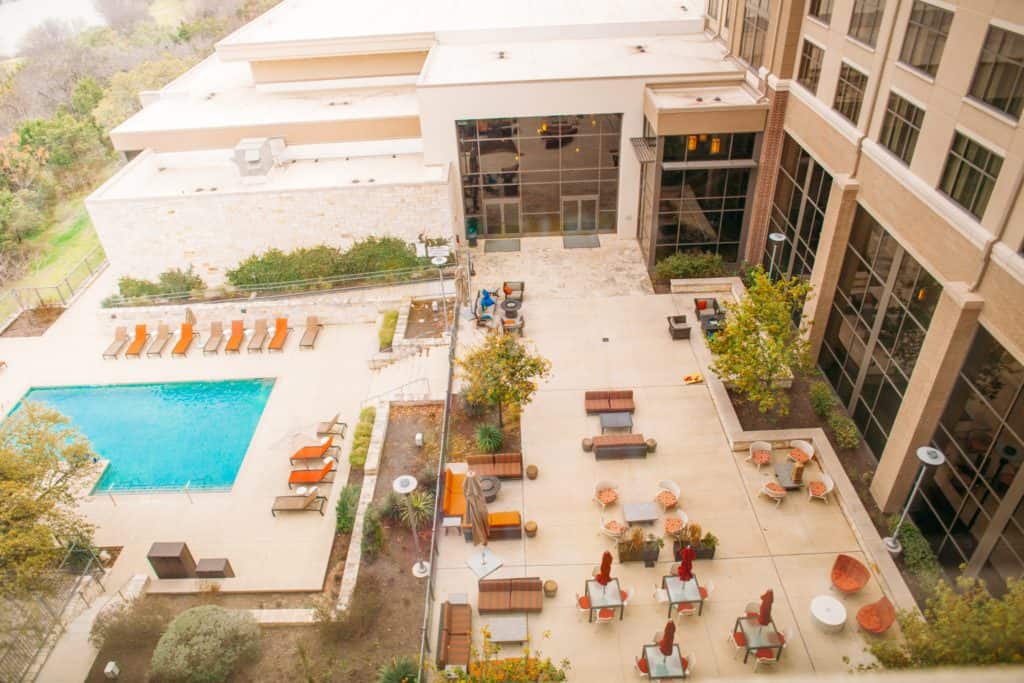 In addition to the pool, the Sheraton Georgetown has complimentary bicycles for all ages and miles of trails right behind the hotel! The trails even follow the river, and it's such a lovely ride with birds and foliage all around.
Dining at the Sheraton Georgetown
​2020 Market Scratch Kitchen & Bar
First things first, "scratch kitchen" means that the dishes are prepared from scratch. Fresh ingredients? Check. Authentic flavors? Absolutely. The moment you step into 2020 Market, you're greeted with an ambiance that strikes a balance between modern elegance and cozy Texan charm.
The menu is a delightful rollercoaster of flavors, ranging from classic comfort foods with a twist to innovative dishes that showcase local Austin produce. Whether you're craving a hearty steak or a light and refreshing salad, 2020 Market Scratch Kitchen & Bar has got you covered.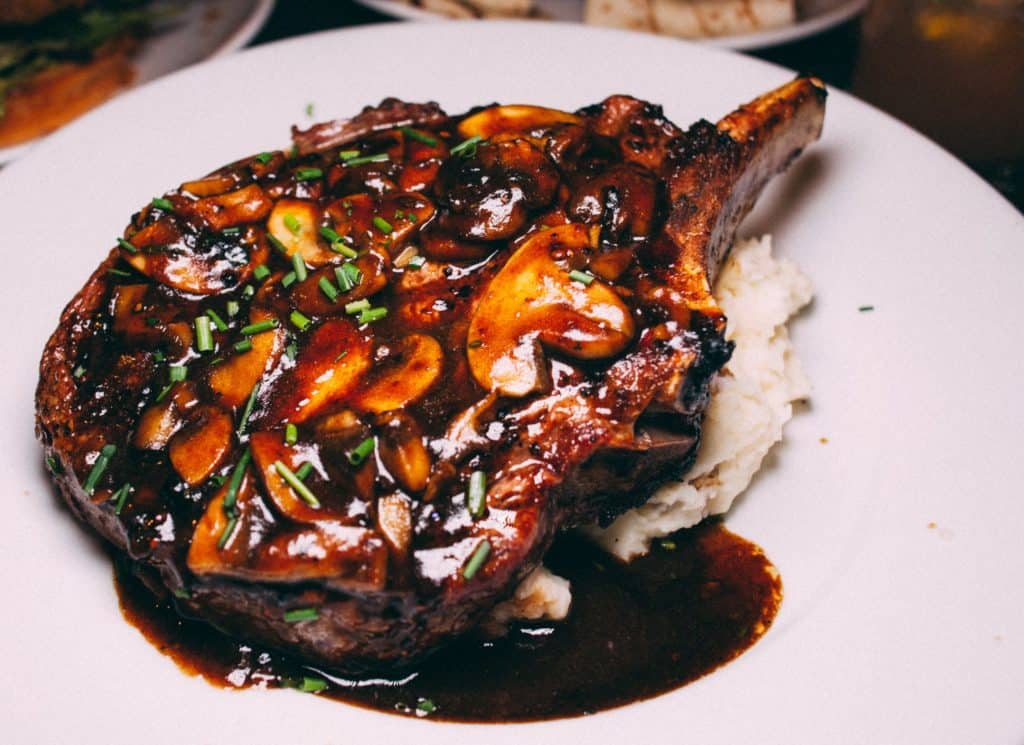 Brix and Ale
The on-site gastropub restaurant, Brix and Ale, will set aside all ideas you have about hotel food. Brix and Ale is a dining destination all its own with views of the river and a gorgeous patio.
They incorporate beer and ale flavors into their menu, like in the porter cheese on their cheese board and their beer-battered shrimp. They also prioritize using locally sourced goods like meat and even honey, which they harvest on-site!
For plant-based foodies, they include meals that go beyond your typical salad or rice bowl to create unique and drool-worthy vegan dishes.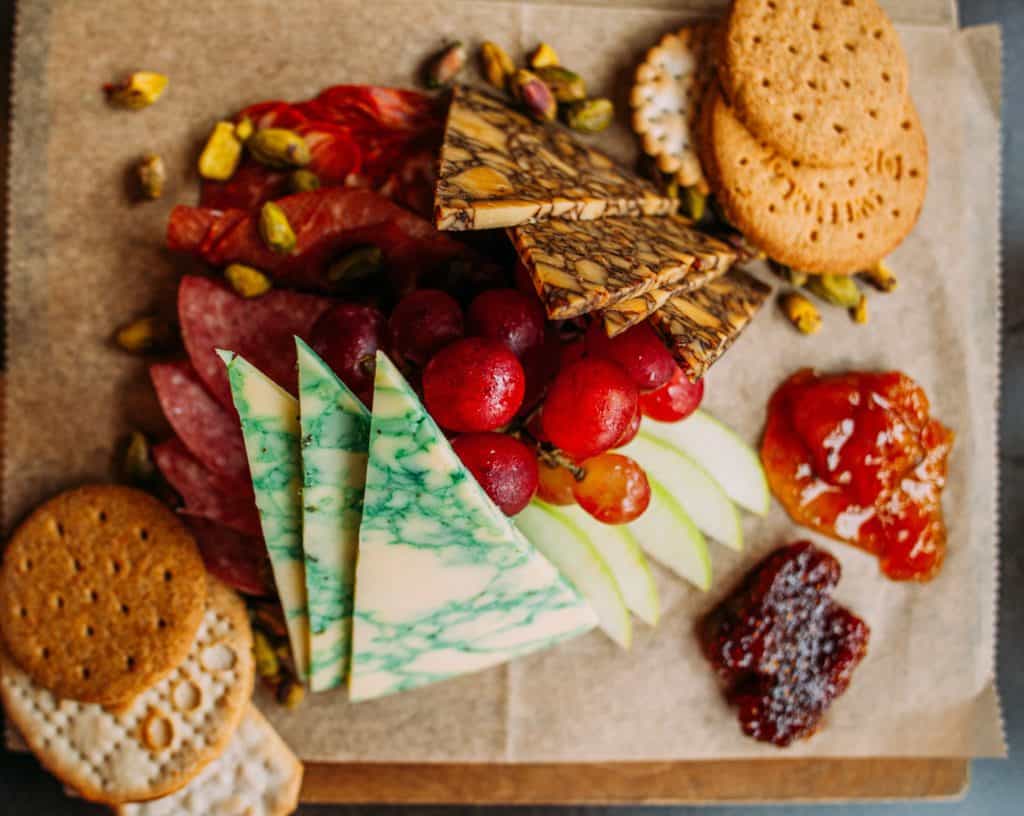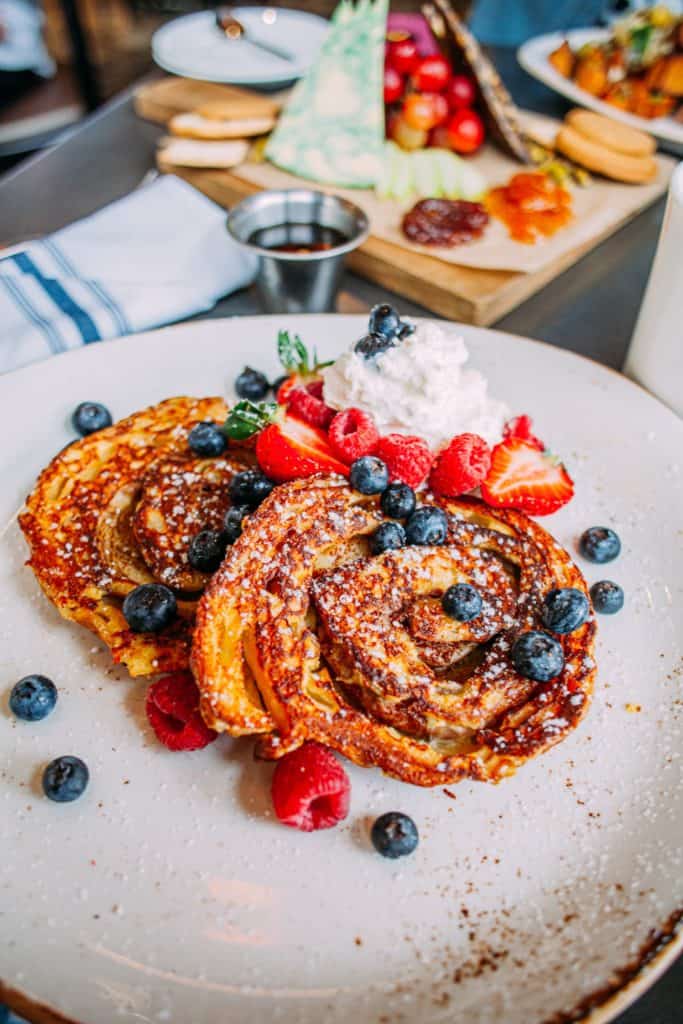 Breakfast or brunch is a must at Brix and Ale, with options like cinnamon roll pancakes that look just like cinnamon rolls, plus savory breakfast sandwiches, chicken and waffles, and more!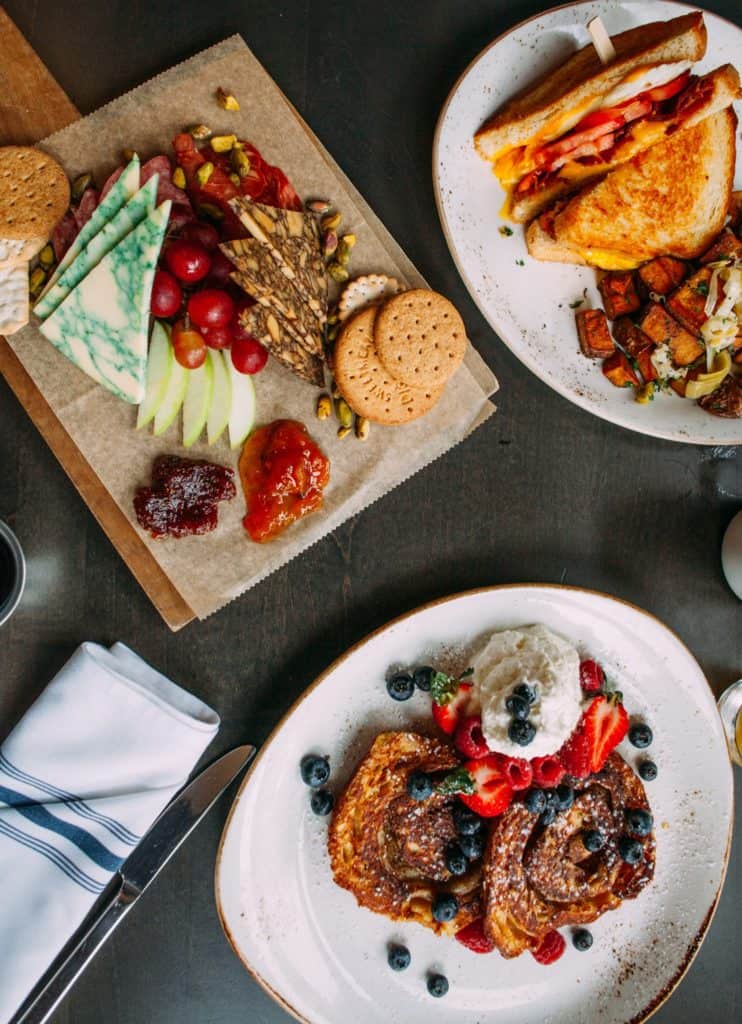 The Pet Policy at the Sheraton Georgetown
Most of the Sheraton Hotels & Resorts welcome guests and their pets, but each hotel determines its own pet policy.
The Sheraton Georgetown welcomes two pets per room, up to 40 pounds each, for a $50 fee.
The hotel has a designated pet-friendly area with a water bowl and waste bag dispenser. There are also pet-friendly amenities available for purchase at the front desk, such as beds, bowls, and toys.
The staff at the Sheraton Georgetown are pet lovers and are happy to help make your stay as comfortable as possible for you and your furry friend.
Here are some other things to keep in mind if you are staying with your pet at the Sheraton Georgetown:
Pets are not allowed in the pool or hot tub.
Pets must be on a leash at all times when in common areas of the hotel.
Guests are responsible for cleaning up after their pets.
Things to Do Near the Sheraton Georgetown
The Sheraton Hotel is located in the center of Georgetown TX and is a few minutes' walk from many of the city's attractions. Guests can also explore the adjacent trails by taking advantage of the hotel's free bike rentals.
Some of our favorite spots near the hotel were:
Blue Hole City Park – The water is crystal clear and refreshing, and the park offers a variety of amenities, including swimming, picnicking, hiking, and fishing.
Georgetown Palace Theatre – This theater is a testament to the rich history and artistic spirit of Georgetown TX. Immerse yourself in the magic of the stage and create unforgettable memories that will enhance your stay in Georgetown.
The Williamson Museum – The museum is located in the historic Farmers State Bank building right on the town square. It houses a collection of artifacts and exhibits that tell the story of Williamson County.
If you're feeling adventurous, Round Rock is just 20 minutes away with even more fun things to do!
The Sheraton Georgetown: Final Thoughts
The Sheraton hotel in Georgetown was the perfect place to rest our heads at night while staying in Georgetown TX.
I had a comfortable room to sleep in at night, a pool and patio to relax by during the day, and gourmet food just steps away from my room.
The hotel staff provided excellent service, offering a warm and welcoming atmosphere that perfectly encapsulated the essence of small-town Texas hospitality.
While here, don't forget to check out all of the other fun things to do in Georgetown.