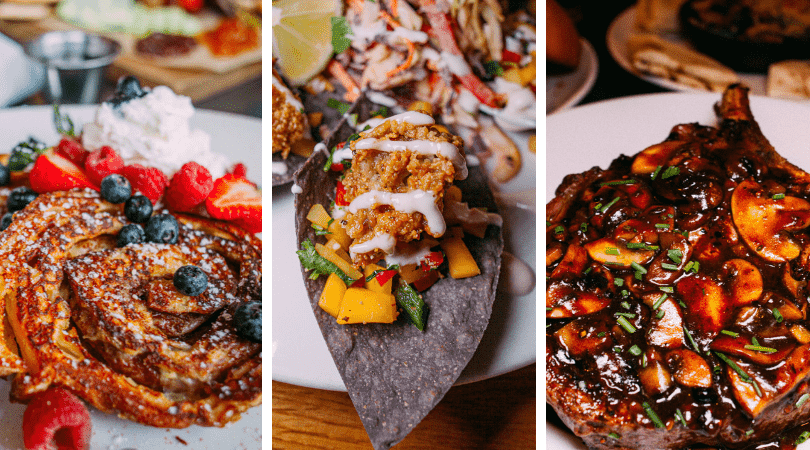 Food enthusiasts, listen up! My first visit to Georgetown, TX, was a whirlwind of flavor and culture. If you're on the hunt for the best restaurants in Georgetown, TX, then strap in and come along.
On top of all of the fun things to do in Georgetown TX and sights in the town, the Georgetown restaurants truly stole the show.
I was just as excited about all of the great places and new restaurants we visited to eat! One of the most memorable steaks, cute houses for breakfast, and so much locally sourced food meant that everything we ate was phenomenal.
Best Restaurants in Georgetown TX: Steaks and Burgers
2020 Market Scratch Kitchen and Bar
As soon as I bit into the steak at 2020 Market Scratch Kitchen and Bar, I was sold. This steak easily outperforms most steakhouses. Maybe it's that they source their beef locally, or maybe it's the care they take in carefully seasoning and cooking this steak to perfection.
All I know is that each bite of this steak was pure delight, whereas I find many steaks at even prominent restaurants fall flat.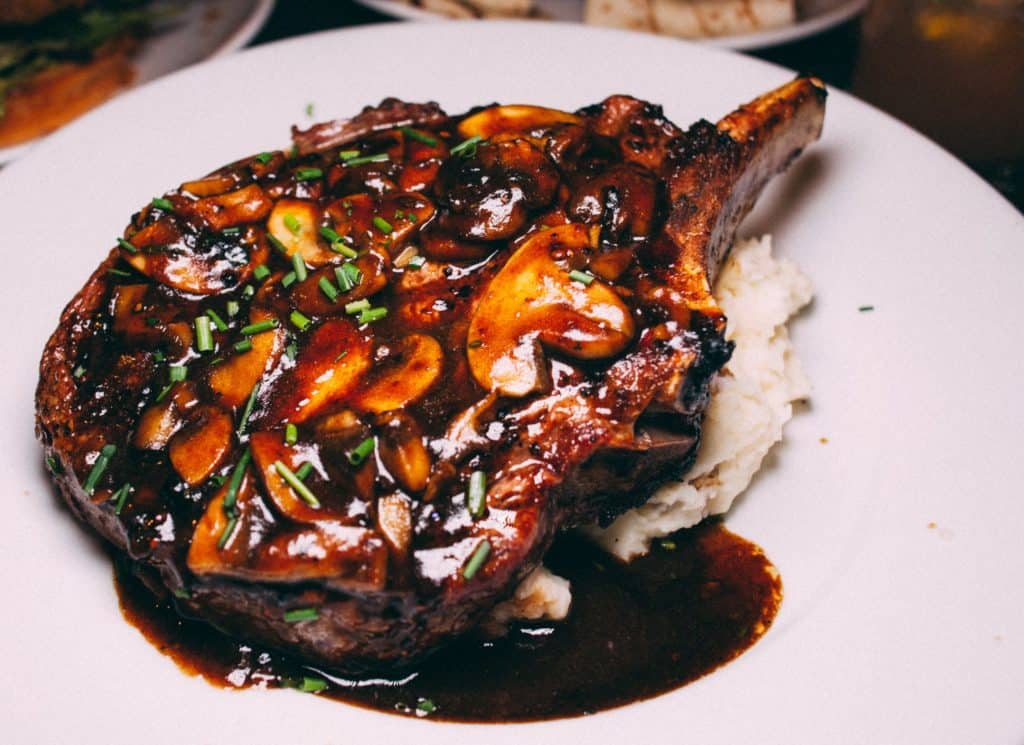 Equally impressive was their burger lineup. Being an aficionado of unique burgers, the "burger of the month" feature always keeps me coming back. But the star for me? The Big Tex Burger is not just your regular burger.
Imagine biting into chicken fried brisket, a fried egg, hickory bacon, lettuce, and tomatoes, all drenched in cracked peppercorn gravy, housed in a sweet bistro bun. Talk about delicious food packed into every bite.
They have excellent service with friendly and attentive staff who were happy to answer any questions I had.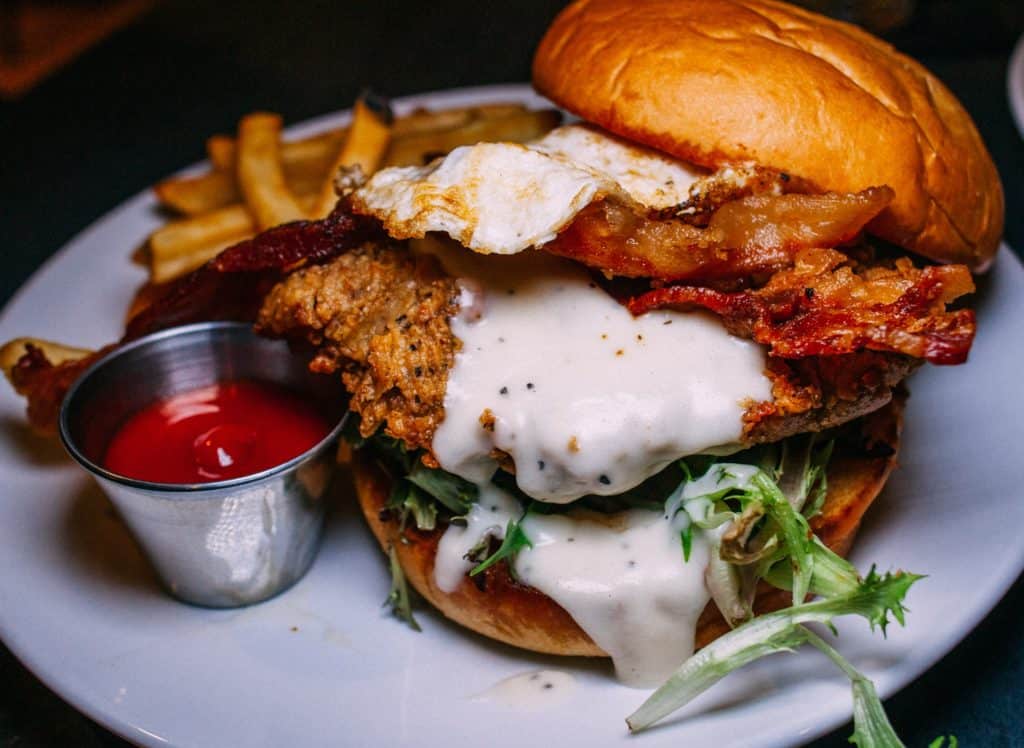 City Post Chophouse
This is a popular spot for steak lovers in Georgetown. The restaurant is located in a beautifully renovated historic building, and the menu features a variety of steaks, chops, and seafood. The steaks are cooked to perfection, and they have good service.
City Post Chophouse is a great place to enjoy a special occasion meal or a romantic dinner. Their wine bar also features a variety of wines from around the world.
Best Restaurants in Georgetown TX: Affordable Breakfast
Sweet Lemon Kitchen
Sweet Lemon Kitchen is a local favorite that offers not only mouthwatering dishes but also presents them at a great price.
A good thing to keep in mind is that this great place does fill up on the weekends, so arrive early or prepare for the wait ahead of time.
Either way, it's worth it with mouth-watering croissant sandwiches and a French berry bake for less than $5 that is equally filling and delicious. You don't have to break the bank for a delicious breakfast.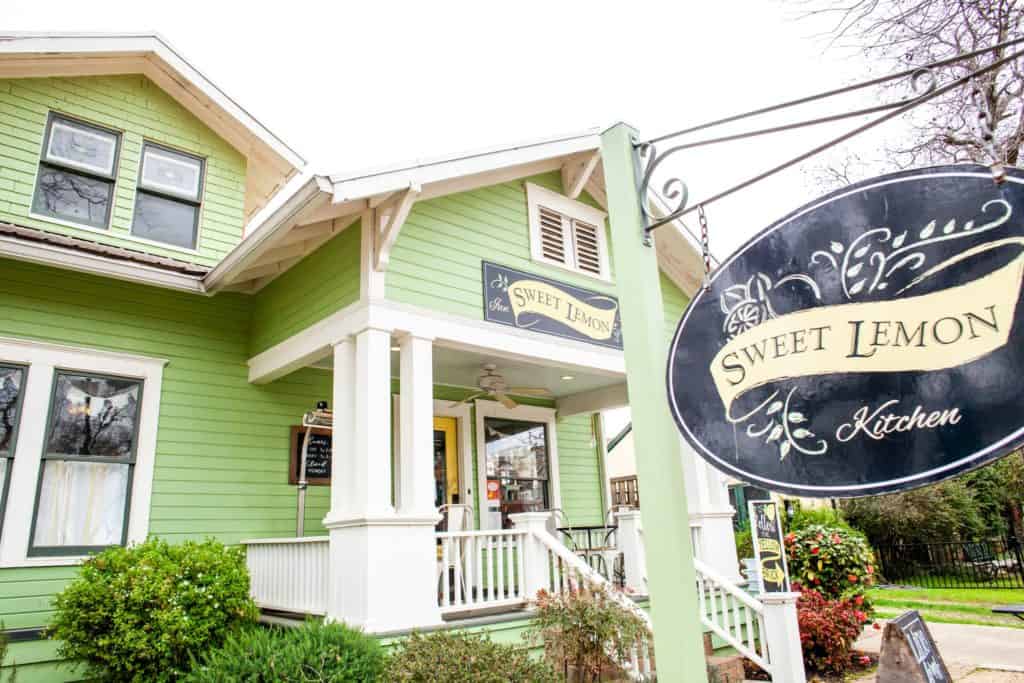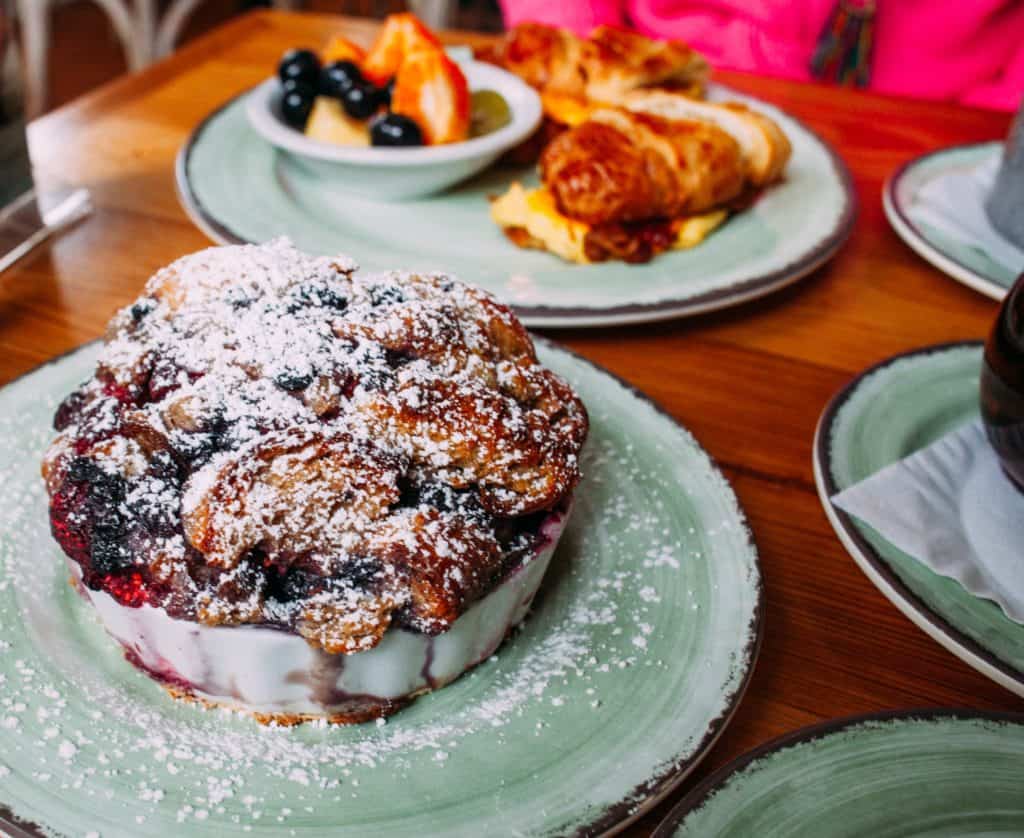 In addition to the amazing food, Sweet Lemon Kitchen also has live music on Friday and Saturday nights. The music starts at 5 p.m. and goes until 8 p.m., so you can enjoy a delicious meal and some great tunes.
Best Restaurants in Georgetown TX: Southwestern Cuisine
Blue Corn Harvest Bar & Grill
The menu items at Blue Corn Harvest Grill were just so fun! Texas Tinga Nachos, which I guess could be classified as Tex-Indo-Mex, and flash-fired oysters started the meal with so many different, unique flavors.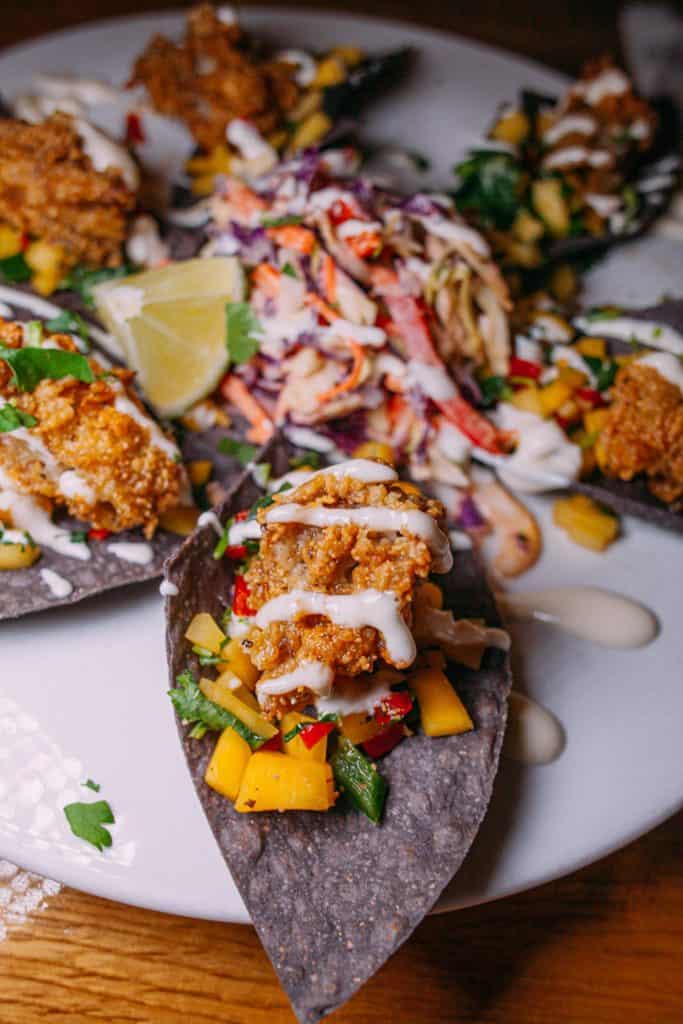 And for the main dish, let's talk about that grilled chicken stuffed with blue crab! It's a party of ingredients, giving you an abundance of flavors in every single bite.
And guess what? Blue Corn Harvest Grill also offers an irresistible happy hour featuring a fabulous list of margaritas, tequila-based cocktails, and other fun drinks. Cheers to that, foodies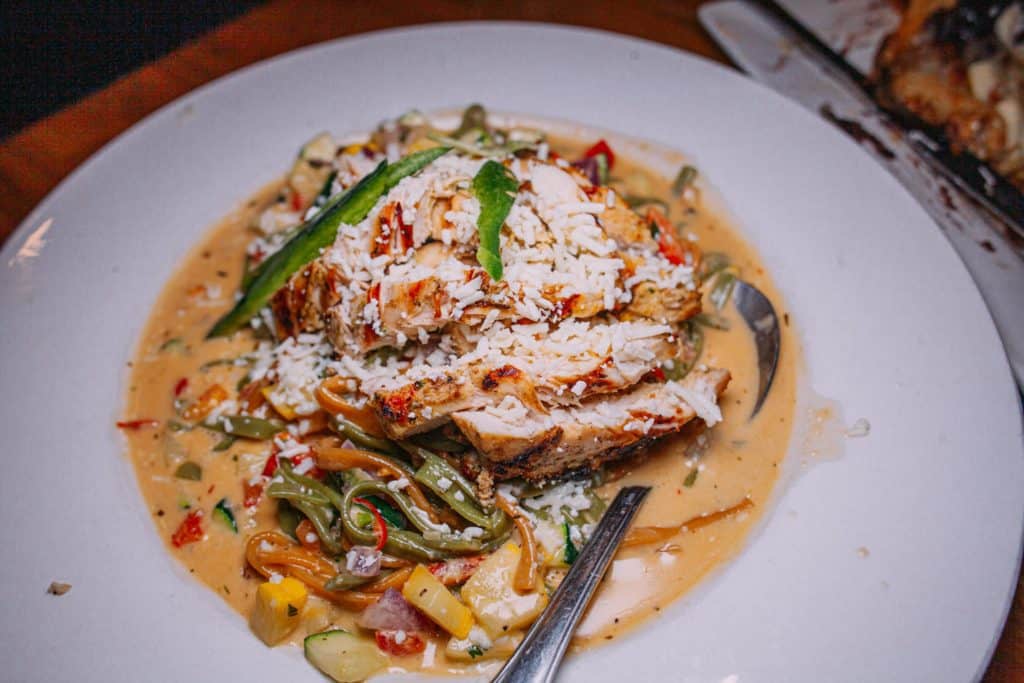 El Monumento
Another restaurant to add to your list is El Monumento. Right in the heart of Georgetown, this gem is the perfect place to experience the best of Southwestern cuisine.
It's not just about the eye-catching design; it's their mouthwatering menu that truly pays homage to the Southwest's culinary heritage. Think farm-fresh ingredients meeting bold flavors, from tangy enchiladas to soul-warming chili bowls.
Best Restaurants in Georgetown TX: Brunch & Vegan Dishes
Brix and Ale
If you're scouting the best places to eat in Georgetown, TX, especially for a Sunday brunch or a late lunch, Brix and Ale should top your list.
Though it's attached to the Sheraton Hotel in Georgetown, don't be misled. Brix and Ale isn't just another hotel restaurant; it's quickly become a great spot. It's one of the Georgetown residents local favorites.
Their great service combined with their distinct breakfast menu is what sets them apart.
If you are a craft beer fanatic, you will appreciate the dishes that incorporate those brewery flavors, such as the porter cheese or the beer-battered shrimp, where you can actually enjoy that beer flavor.
However, I came for their equally enjoyable brunch consisting of an incredible cheese board, a savory and buttery breakfast sandwich, and a cinnamon roll pancake that actually looked like a mixture of cinnamon roll and pancake!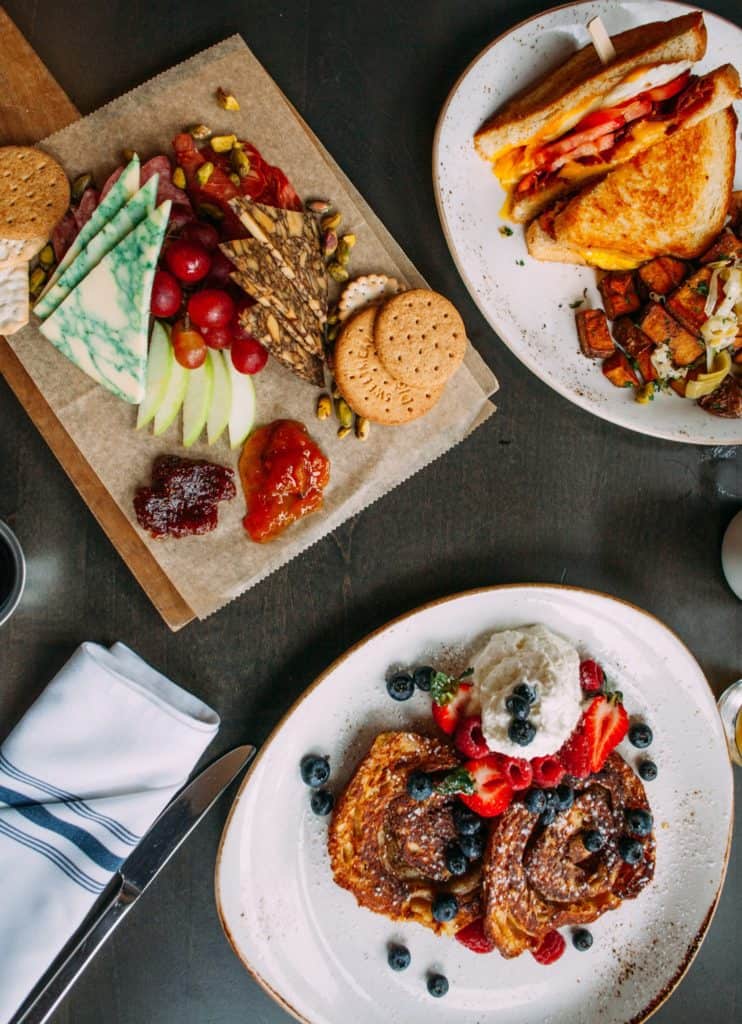 One thing I loved about Brix and Ale was their emphasis on making sure plant-based eaters and vegans also got to enjoy eating here.
Rather than having to deal with the typical salad or rice bowl, Brix and Ale came up with exciting dishes like this apple squash that was delicious for vegans and non-vegans alike.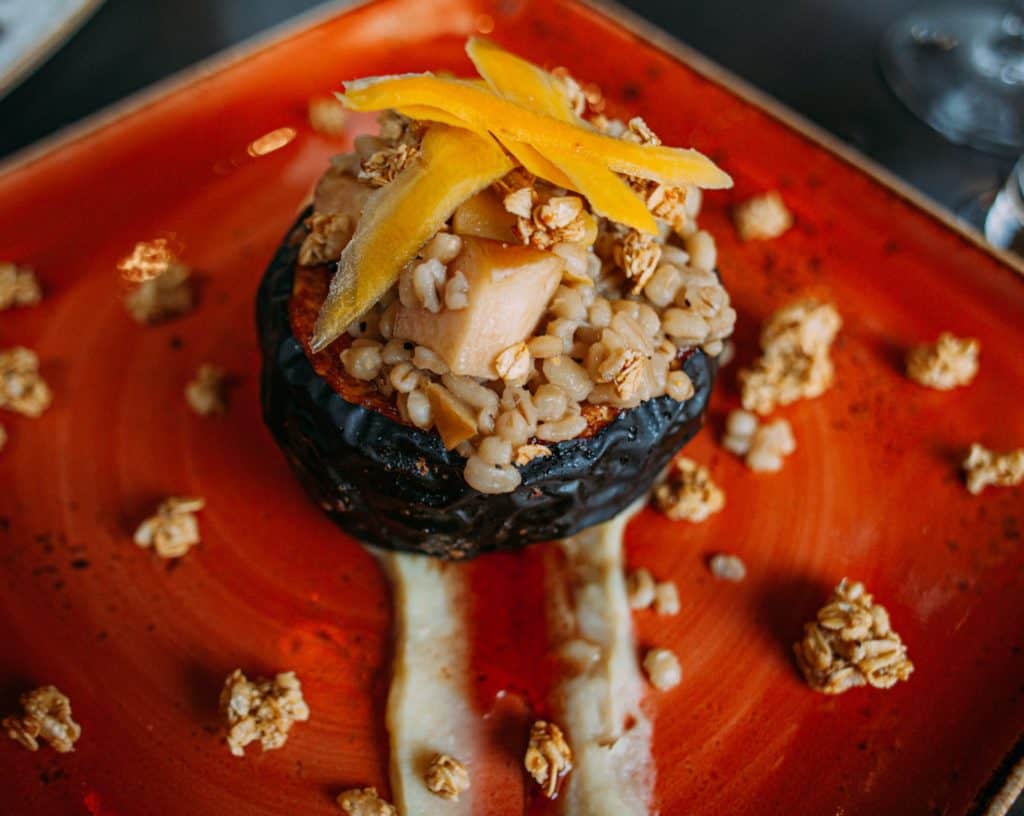 Best Restaurants in Georgetown TX: Italian Cuisine
600 Degrees Pizzeria
If you're on the hunt for the best pizza, look no further than 600 Degrees Pizzeria. This Italian restaurant is not just about pizza; it's a culinary journey straight to the streets of Italy.
From their wood-fired pizzas to their creamy pastas, every dish tells a story of Italian tradition and passion. A must-visit for all Italian food lovers!
Best Restaurants in Georgetown TX: Final Thoughts
Georgetown is an enchanting town brimming with delicious meals at every corner. The town has so much good food that, even with a packed schedule, we weren't able to try everything.
There are so many unique flavors in Georgetown, so diving into something new and different always promises a good experience.
Plus, check out all of the other top things to do in Georgetown, TX.