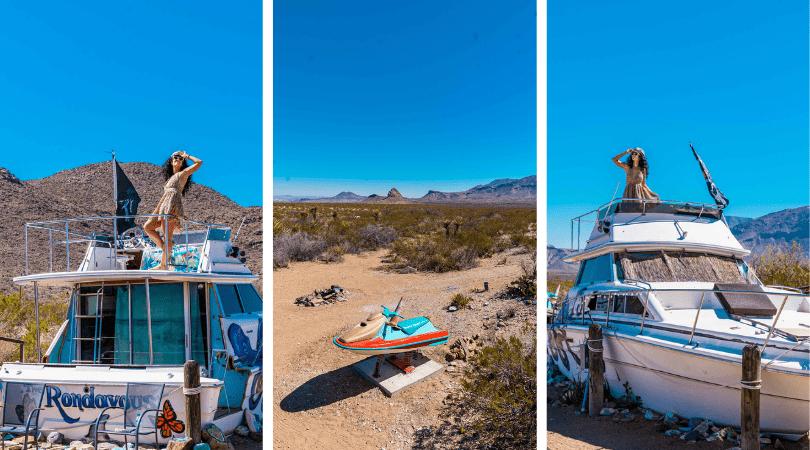 It's not often that you see a yacht out in the desert, and even more rare to see a landlocked one that you can stay in overnight surrounded by mountains! At the Rondavous Land Yacht, guests can take in the breathtaking vistas of Big Bend and the Rio Grande while immersing themselves in the life of a pirate…a desert one, anyways. Rondavous is also the first clothing optional campsite in Tin Valley, but the yacht is docked on its own desert island and provides a lot of privacy, so you don't have to worry about seeing anyone else.
With over 90-acres of land and nights full of stars, this beautiful campsite is the perfect lodging location for those looking for adventure. Big Bend has many cool things to do, including the 5 best hikes this state park has to offer, plus nearby Terlingua. Tin Valley has a long list of other funky rentals, so be sure to check them out as well for a one-of-kind outdoor getaway.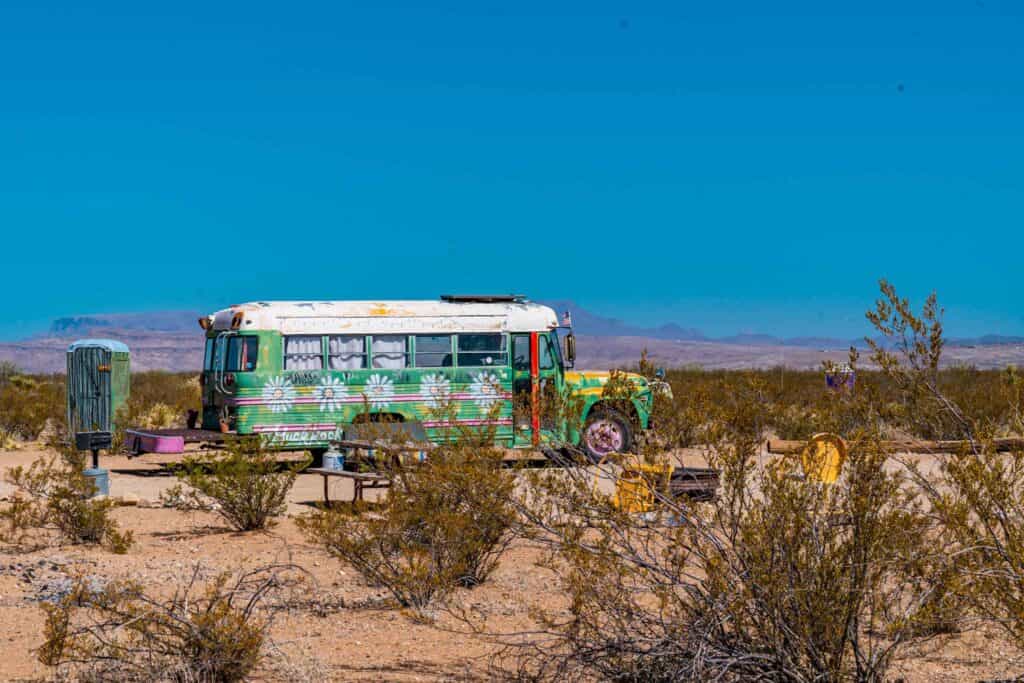 The Yachting Experience
The inside of the yacht is surprisingly comfortable and roomy. It is a single bedroom space with a kitchen that has a pot cook stove, a microwave, and a mini fridge. Running water is also available, so you can take a nice hot shower. A working AC system is in place and can be adjusted to the perfect temperature on hot or cold nights. The yacht uses solar lights for a natural source of energy and power, making for a sustainable camping experience.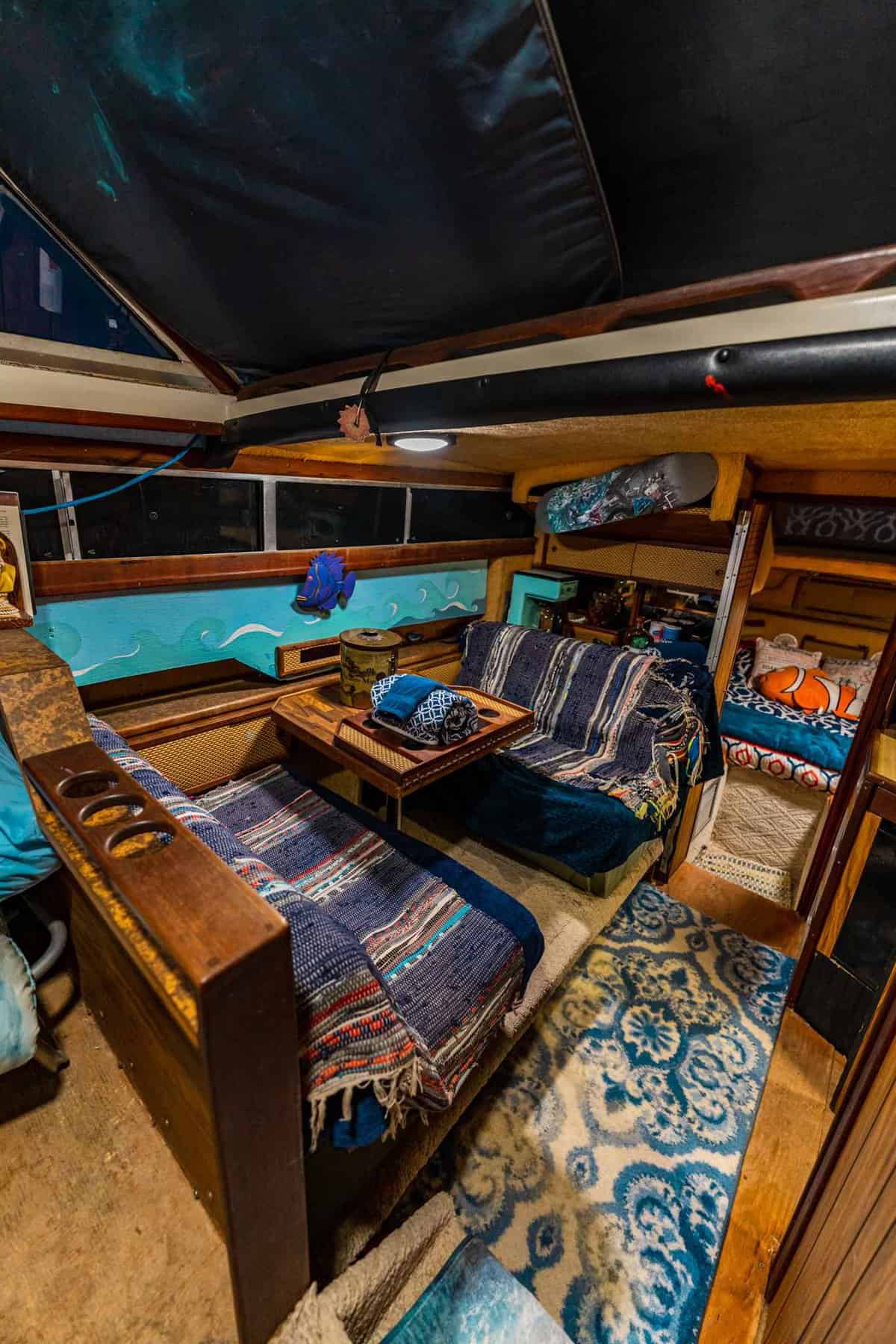 While there isn't any Wi-Fi, there was a surprising amount of LTE right near the office headquarters. The more you drive into downtown Terlingua, the better the service and the more things there are to do!
One of the highlights of the Land Yacht is its marvelous upper deck look-out, which when paired with the entrance ramp, really gives guests the feeling of occupying a boat docked in the water. For a cool, creative experience, the team at Tin Valley Retro Rentals invites you to add your own special touch to the campsite. There are brushes and paint at the yacht that can be used to paint any rock on the property, including the mountain. Make the rock your own by painting something special and pick a spot to leave it so that your stay can become a permanent mark on the campsite.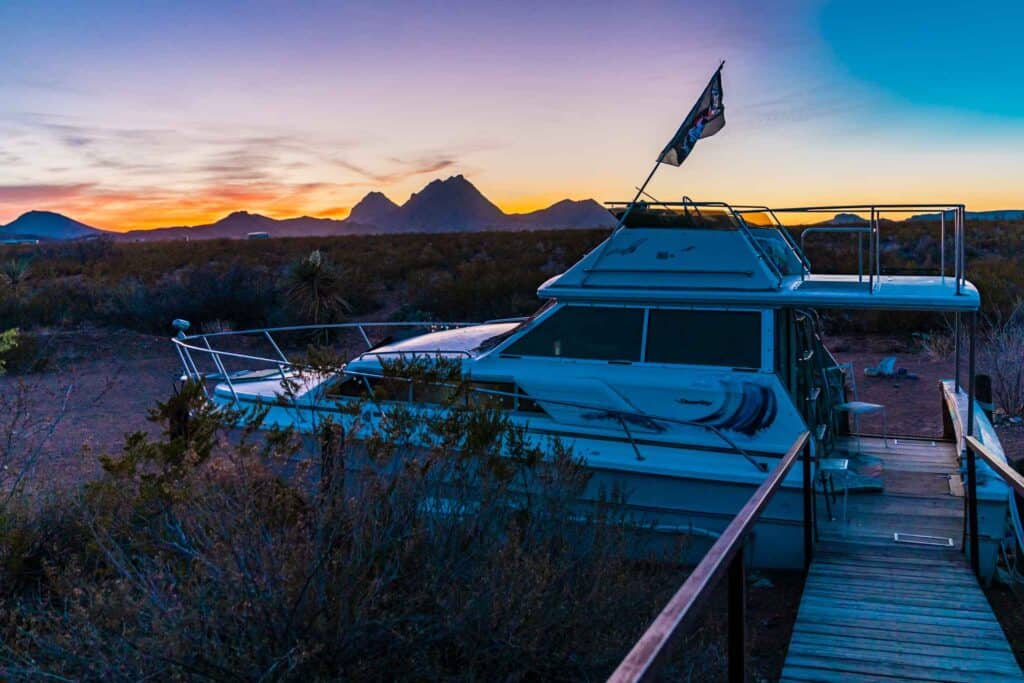 Amenities at the Rondavous Land Yacht
The Rondavous Land Yacht has several cool amenities for guests to make the most out of their stay. The campsite is complete with a large fire pit and charcoal grill, so you're able to cook up the best barbeque surrounded by the gorgeous wildlife of Big Bend. The property also has a sand pit that is big enough to add another tent or two for those looking for more space. A jet ski is there as well for fun Instagram-worthy pictures.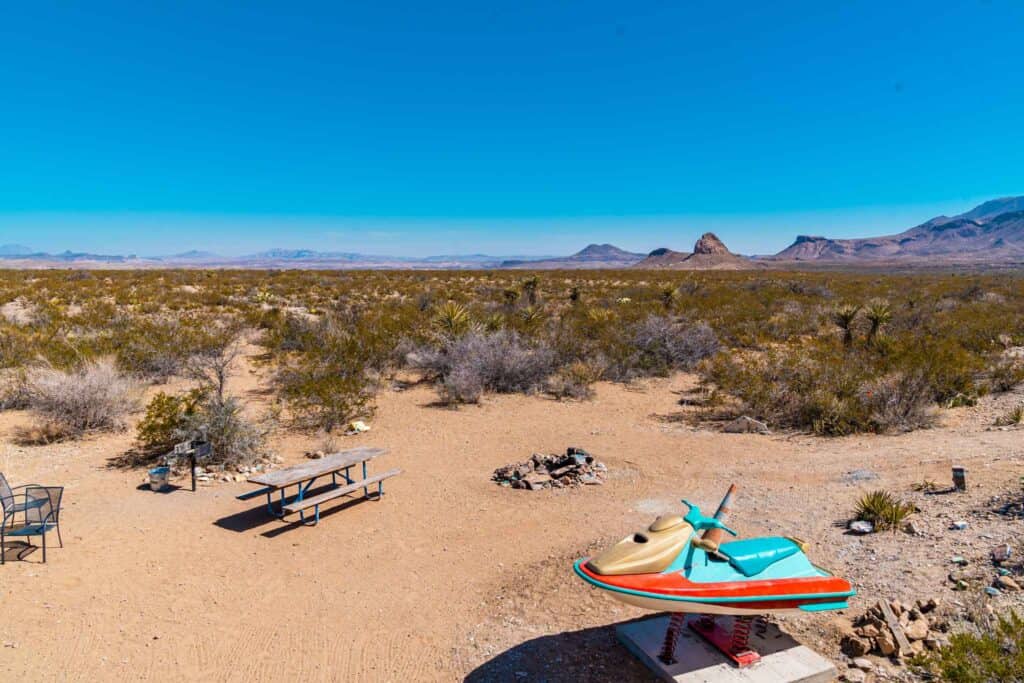 Explore Nearby Big Bend and Terlingua
A stay at the Rondavous Land Yacht can be paired with many outdoor adventures, including Big Bend National State Park. Look for wildlife as you trek the many hiking trails and natural landmarks of southern Texas. The Land Yacht is also a short drive from the Rio Grande River, so be sure to make a stop there to take in the stunning views.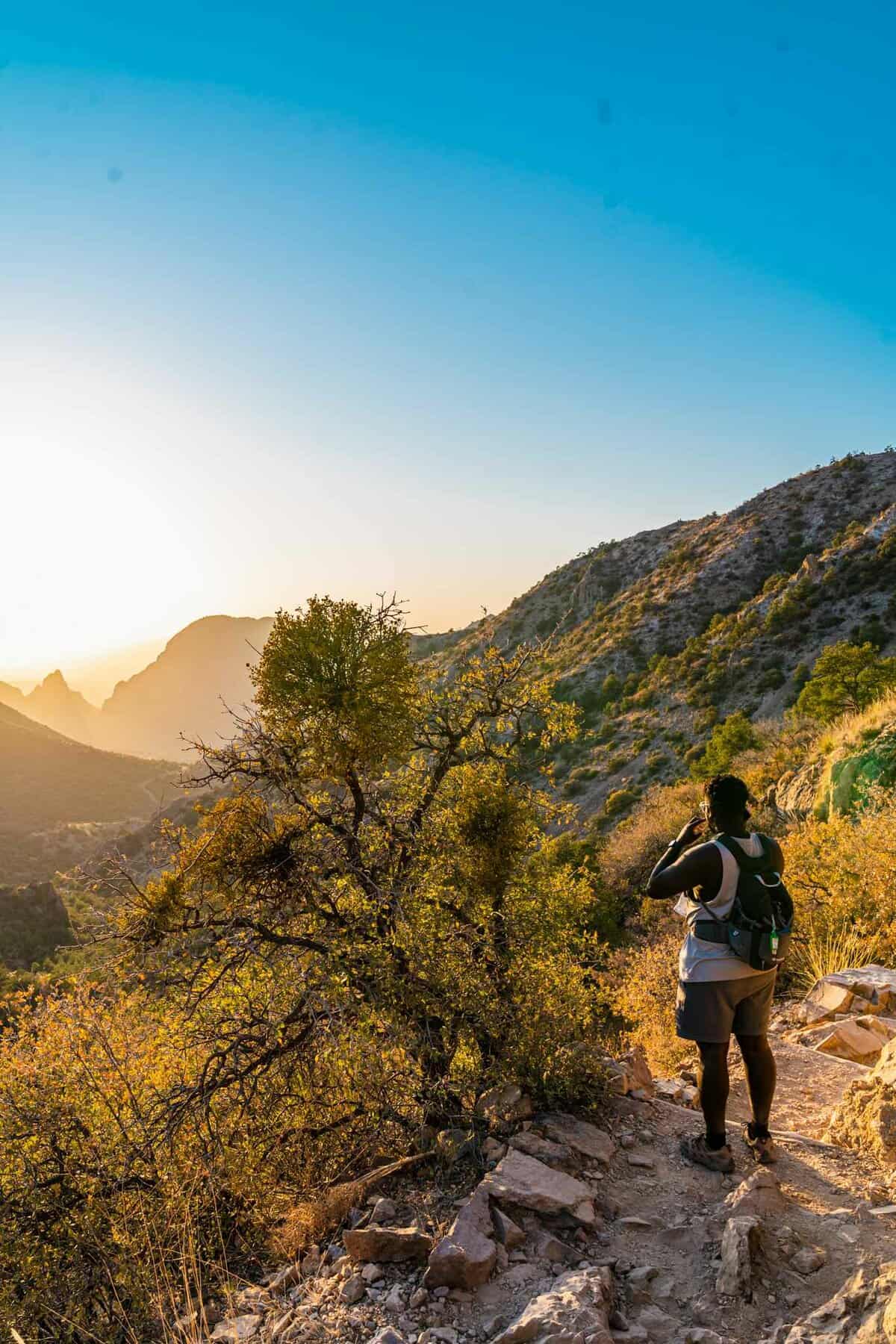 You'll be surprised to find all the things to do in Terlingua, an old mining town with activities like ghost tours and cool historical sites, so be sure to come on through!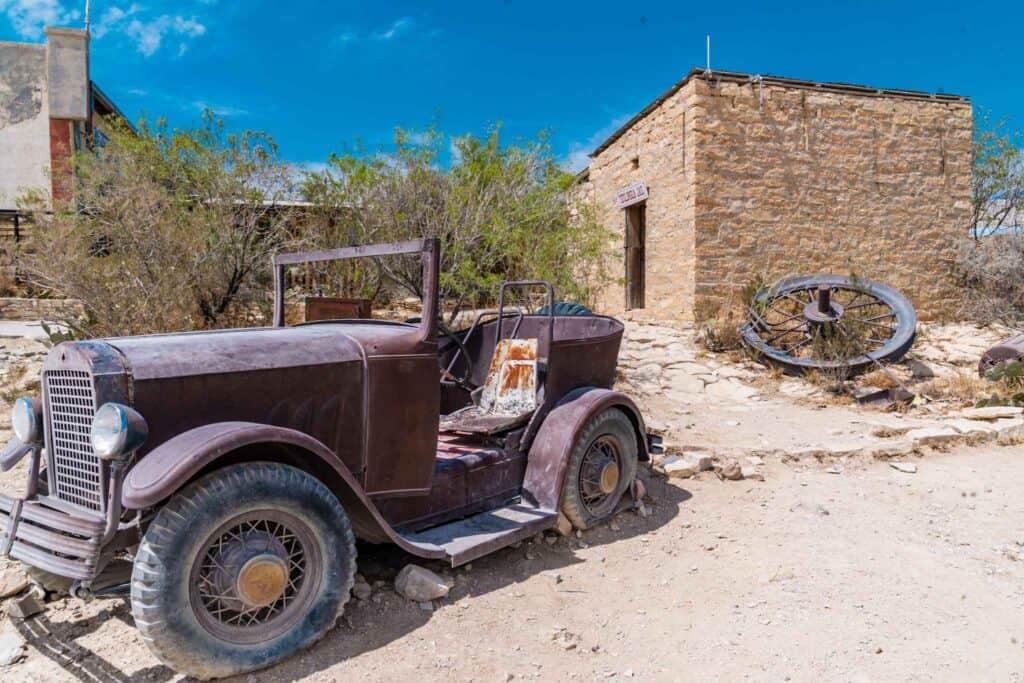 The Rondavous Land Yacht: Final Thoughts
The Rondavous Land Yacht is a unique vacation getaway where you can escape into the outdoors and gain a new appreciation for our breathtaking Texas landscapes. Surrounded by the south Texas mountains, the best hiking trails, and native species, the campsite really gives visitors a remote experience that you won't be able to find very easily. This one-of-a-kind venture will be one for the books!
Be sure to check out our list of things to do in Big Bend and other interesting lodging experiences like a glamping bubble, an off-grid adobe dome, or a luxurious suite in a Texas cave.