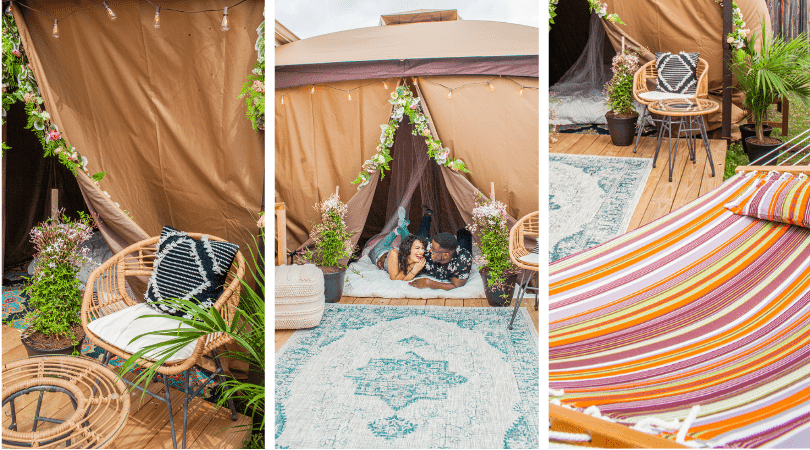 With so many fun adventures, it's always kind of sad when that vacation has to end as you return home. Except this time we decided we didn't want our adventures to end, so we used some backyard glamping inspiration that we got from our past experiences to create our own backyard glamping Hometrip.
One of our favorite areas to visit is Austin and the Texas Hill Country. You have all the bright murals, photo-worthy backdrops, and plenty of fun glamping tents! We knew we wanted to drive some inspiration from one of our favorite destinations so we could always feel like we're traveling.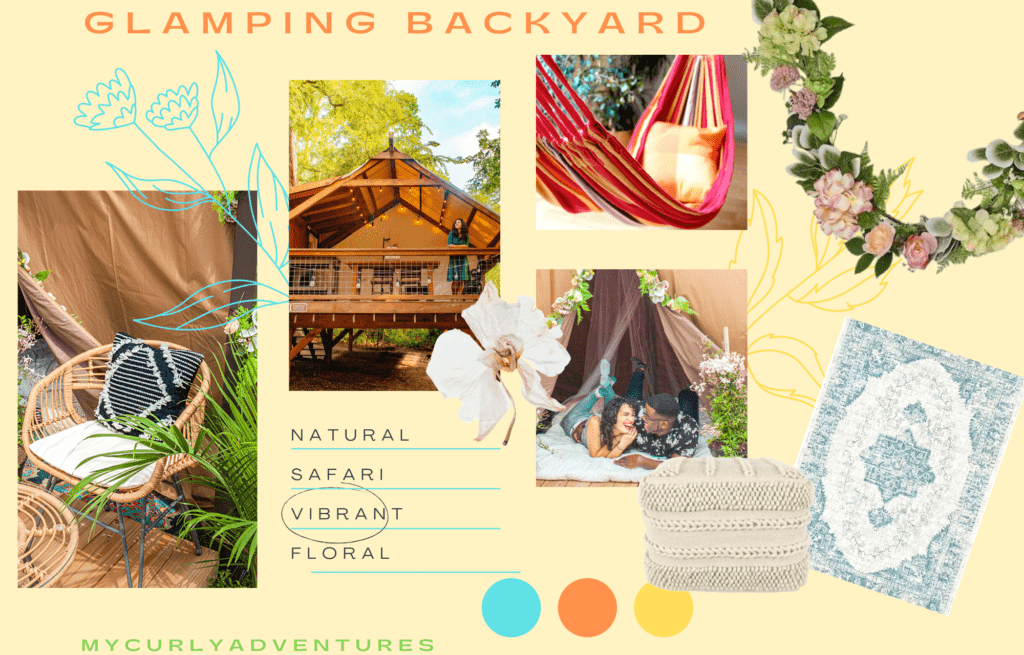 We started out by choosing some of our favorite glamping and Austin inspirations and putting together a mood board of the colors we wanted, as well as some of the products we most wanted! We loaded in our car and headed out to Lowe's to start with our backyard project.
Backyard Glamping Inspiration Elements
Safari Tent
One of the biggest parts for recreating our glamping experience was our safari tent! During the day we could use it for all types of relaxing and hanging out under the shade. At night we could do some camping, have romantic dinners, and pretend we were escaping to those glamping spots in the Texas Hill Country. We took a brown gazebo and tied the panels to make a tent shape. Inside we put lights, a canopy and an air mattress for those fun glamping nights.
Mural
Austin is known for its bright and colorful murals, so we wanted to create our own to add a little unexpected brightness to our backyard. To paint the mural, we started with the Lowes Valspar Season Plus Exterior Paint Primer. Then we got a few different colors of the Valspar Storm Coat Exterior Paint. Finally we sealed it all in with Thompson's Water Seal Signature Series Wood Protector in Clear. I love having something so colorful and one of a kind.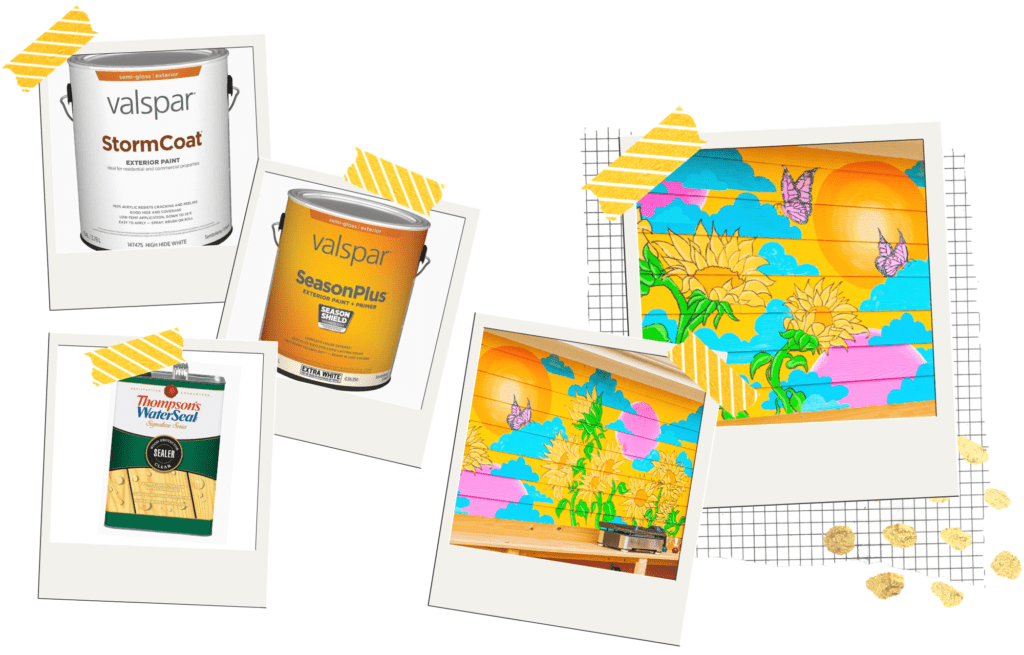 The Details
After that, it was all about adding the details. We loved the bright colors and the festivals in Austin where we would hang out and relax on the hammock. We got some chairs and added colorful pillows to them. Made sure to add pops of color with a rug and vibrant plants. We had a section for grilling and for fun outdoor cookouts!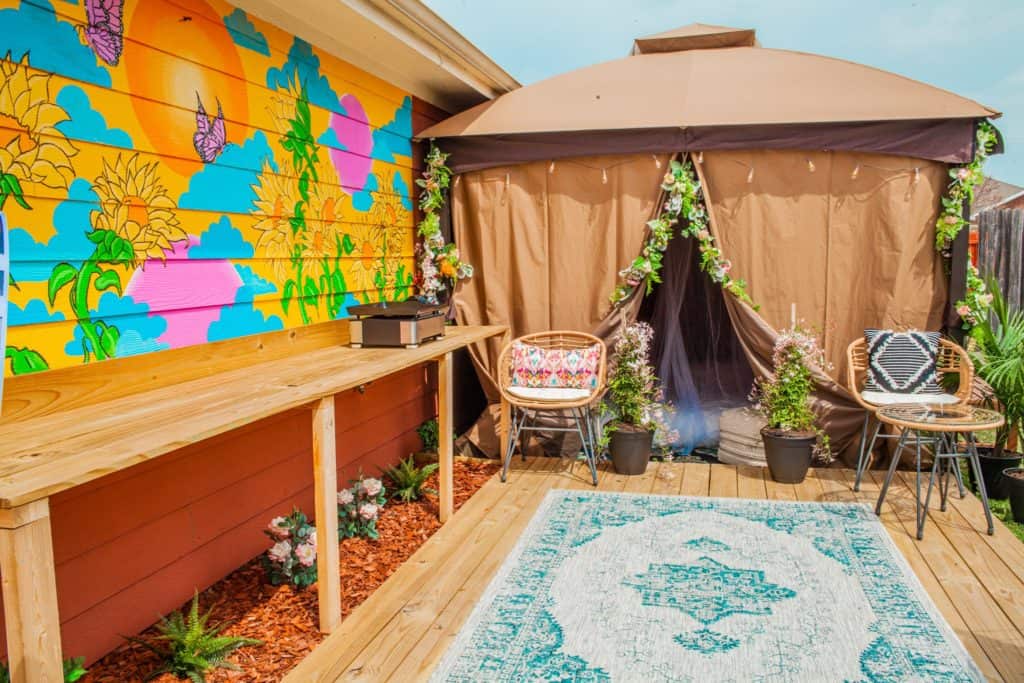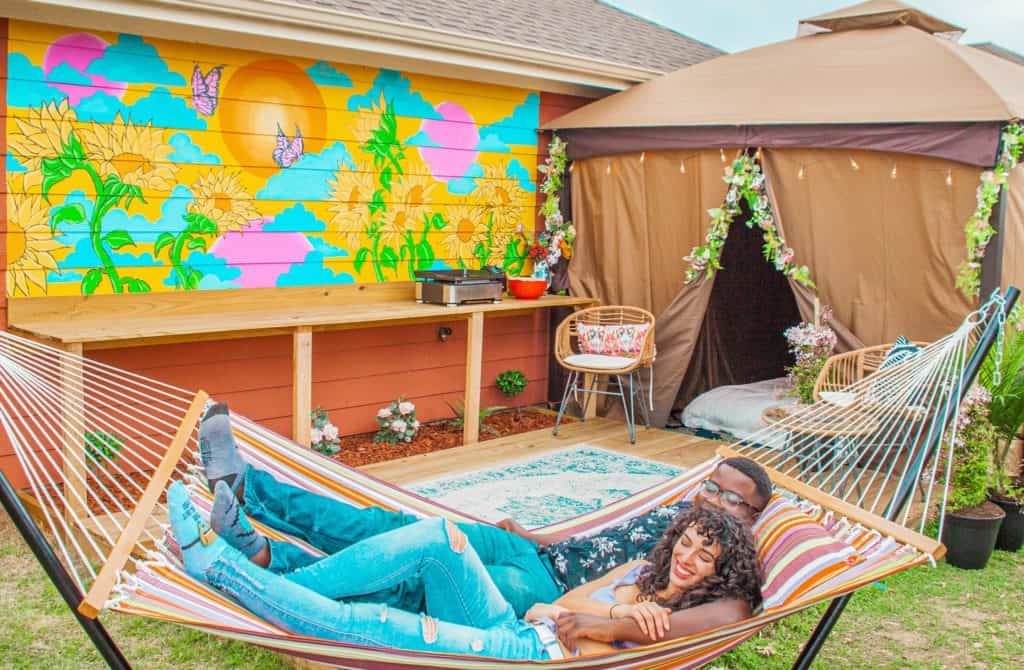 Backyard Glamping Inspiration
We loved how our Austin-inspired glamping backyard came out! There's so much that we can do back here for a vacation experience at home. Game nights on the patio, glamping in our tent, cooking out, relaxing in our hammock, reading a good book, and so much more. We were so impressed at how easy it was to recreate our favorite travel experience at home with products from Lowe's! If you want to see the items we used to create our Hometrip, check out the list below for everything you need for your own inspiration to plan your backyard glamping experience.
What's one of your favorite travel experiences/destinations you'd like to recreate at home? Leave a comment with a Hometrip you'll take this spring!