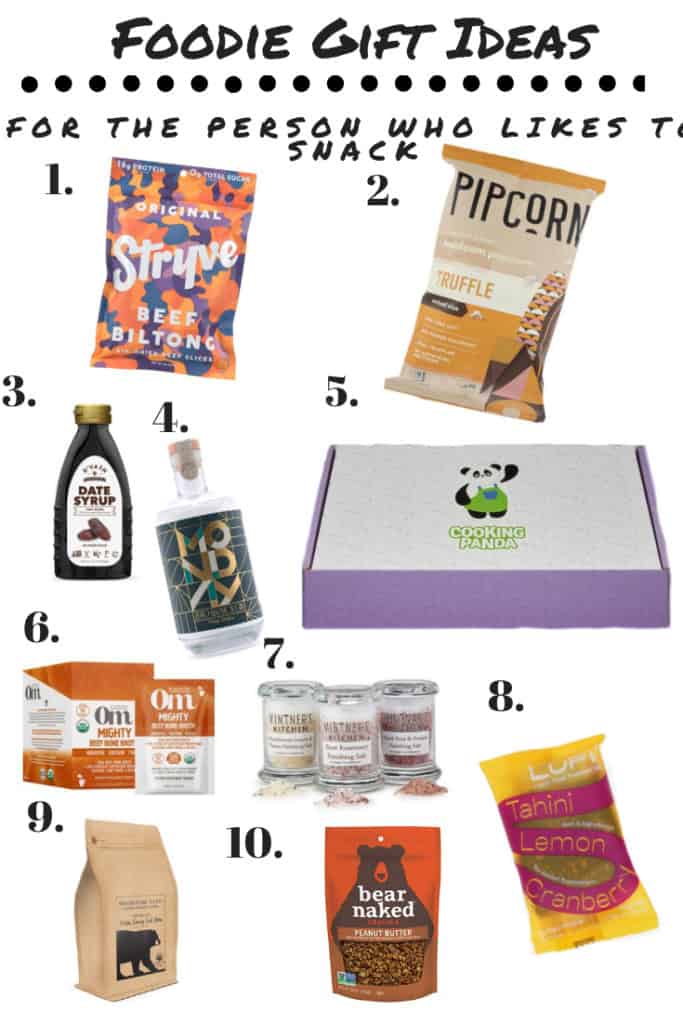 Looking for a great gift idea for the foodie in your life? Snacks are always fun because you get to try new foods and you can bundle different items together for an easy and affordable gift for Christmas they will love. We've compiled a list of unique, fun, and tasty snacks perfect for that foodie.
Stryve is a beef jerky with no sugar, MSG, gluten, nitrates or preservatives. You can buy a whole snack pack to try the different flavors like hatch green chile or spiced peri peri, or just grab a whole pack of their favorite flavors.
2. Pipcorn – The owners went in search of the best heirloom popcorn, and tracked it down to a small Indiana farm, and from there, a new brand was built. Plus when you purchase from Pipcorn, you are supporting a small, woman, and minority owned business.
3. D'Vash Organics – Get all the sweetness with less of the sugar. Date syrup is a great alternative to honey and other sweeteners and has a great flavor for baking, adding to coffee, and other items.
4. Monday Gin– Gin without the alcohol, Whether you have a foodie who doesn't drink or is maybe planning to cut back in January, you can still have your favorite gin based drinks without the alcohol.
5. Cooking Panda Mystery Box – Not sure what snack to get for your foodie? The Cooking Panda Mystery Box contains over 20 different snacks and fun food items to discover. You get a great deal with all that you get in the box as well!
6. Om Mushroom Coffee Latte – It sounds a little strange at first. However, if you have a foodie who enjoys trying different super foods, the mushroom latte is a delicious way to get the benefits from these.
7. Wine Infused Salts – When you love wine and cooking, these salts are a great addition to adding subtle wine flavors to steaks, pizzas, and other dishes.
8. Lupii Bars – These bars are made from a lupini bean and make for a great source of protein when on the go. You can get fun flavors like almond butter cinnamon raisin and tahini lemon cranberry.
9. Wandering Bear Cold Brew Coffee – The trip to the local grocery store adding up? Give them a bag of cold brew so that they can enjoy this coffee anytime from the comfort of home.
10. Bear Naked Granola – It's like dessert that can be eaten alone or added to yogurt, oatmeal and other items. I love the dark chocolate almond which reminds me of cake, but they have strawberry shortcake and other fun flavors too.