The Great Ocean Road is a must visit spot when visiting the Australian state of Victoria. It's famous for its scenic views, crystal-clear blue waters, and beaches that go on for miles!
Some people opt for a one-day trip just to hit up the 12 Apostles, but I think that does the Great Ocean Road, and all the amazing stops along the way, a huge disservice. Sitting in a car for multiple hours for a quick trip just to turn around after an hour or two doesn't sound like my kind of trip.
Of course, if that's all the time you have, definitely do it, but I'm so glad that we stretched our trip out into 5 days so we could see everything!
Frequently Asked Questions: The Great Ocean Road
Where can I see Kangaroos along the Great Ocean Road? Anglesea is going to be the best spot for Kangaroo sightings, especially at the Anglesea Golf Club. They actually offer Kangaroo tours! Other than that, they're definitely spread out all over the Great Ocean Road and we saw quite a few, but usually from a safe distance. They are wild after all and should be treated with caution as they can be dangerous if they consider you a threat. There are sanctuaries where you can get up close to the Kangaroos, but we found the best and most ethical place to do that was at the Moonlit Sanctuary to the east of Melbourne, like we talk about in our Melbourne blog post.
Where and how long is the Great Ocean Road? It stretches along the southeastern coast of Australia, starting at Torquay, near Melbourne, and extending for approximately 243 kilometers (151 miles) to Allansford. That being said, we took a slightly different path based on how much time we had and what sites we were most interested in.
How much time do I need for the Great Ocean Road? Most people recommend 2-3 days. That's certainly nice, but if you want the hidden gems without the crowds, I recommend 5-7 days.
When is the best time to visit the Great Ocean Road? January and February will have the best weather (when it's summer in Australia). However, that's also when it's the most crowded. We visited during their fall season for the pleasant weather and smaller crowds, which worked out because it also gave us more flexibility to change our plans without worrying about hotels being booked out.
Does it cost to visit the Great Ocean Road? No, almost all of the sites, including 12 Apostles are completely free. That being said, there are additional activities that cost extra.
Why don't you include the costs in your blog? Things change constantly and we have hundreds, reaching thousands, of blog posts. As much as I wish I could constantly update to reflect pricing changes, I would never get anything else done. There are also so many other factors that can affect pricing.
Can you swim along the Great Ocean Road? For the most part, yes! The water here is cold, but beautiful. Some areas have stronger currents than others, but there are signs that indicate what the conditions are like along the beach. You cannot swim at the 12 Apostles or go down to the beach, as there is a colony of fairy penguins. However, there are plenty of places nearby to swim!
And check out our list of Australia travel tips and things you need to know for more information!
If you only have one day, here are a few options that are perfect!
If you have a few days, but not quite 5 days, there are unique, customized itineraries available, so you don't have to put up with the hassle of planning it out yourself. There are even some where you tell them what you want to do and what experiences you want, and they put the itinerary together for you! You just get to sit back and enjoy! There are even tours that include some additional spots!
If that's not enough, there are some longer tours that take you beyond the Great Ocean Road.
A 5-Day Great Ocean Road Itinerary
Anglesea, Victoria
We started off our multi-day trip along the Great Ocean Road by making the 1.5-hour drive from Melbourne before our 2:00pm check-in time and spending our first night at the Great Ocean Road Resort.
You can also do this or spend that extra full day in Melbourne, drive to Anglesea the following morning/early afternoon, do some exploring, and then check into the hotel. There's too much to experience in Melbourne to rush your time there, so be sure to check out our list of things to do for some ideas!
At the Great Ocean Road Resort, we had our own, private studio, an indoor pool, and my favorite part, an outdoor area with trampolines, close to Anglesea. Our room had a huge tub (always a plus in my opinion when staying at any hotel).
On our drive from the airport to Anglesea, we didn't catch sight of any Kangaroos, but it seemed like as soon as we entered Anglesea, the Kangaroos appeared. I noticed them almost immediately at a park in Anglesea. You'll have lots of opportunities to see these iconic Australian animals all over Anglesea as well so keep your eyes peeled!
Bumblebeez Cafe
I'll never skip out on a cute, local coffeeshop. I think Anglesea had the best cafes along the Great Ocean Road. Whether you've been following along on our travels for a while now or you're new, I love (and need) coffee so we always make a point to find unique places to grab a cup whenever we're traveling.
In Anglesea, we stopped at Bumblebeez. I highly recommend their Avocado Toast and Chili Scrambled Eggs, especially since they are popular dishes in Melbourne if you haven't had a chance to experience them yet. They put me onto sourdough bread, and they definitely have it figured out!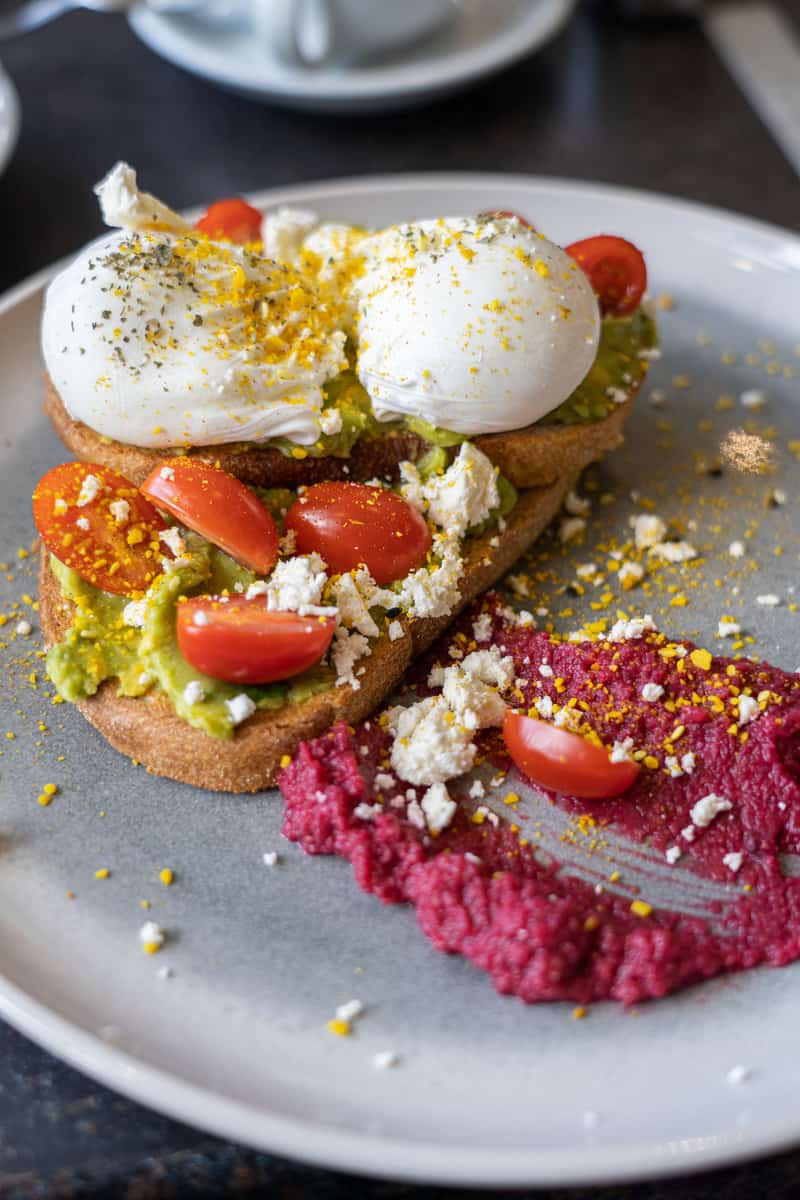 Kangaroo Viewing at Anglesea Golf Club
In true Aussie fashion, the Anglesea Golf Club is nestled in native bushland and home to 300 resident Kangaroos that seem to be unbothered by visitors. So, whether you're here to work on your swing or just to see the Kangaroos fairly close up, it'll be a memorable experience for everyone!
We did the Kangaroo Viewing Tour (no golf included) and it was so funny to just see Kangaroos chilling as golfers made their way around them. Apparently, a group of Kangaroos made their way to the golf course where they found so much food that they decided to make it their permanent home.
At the end of your tour, you'll get a coupon for 10% off at their on-site restaurant, which is otherwise only open to golfers.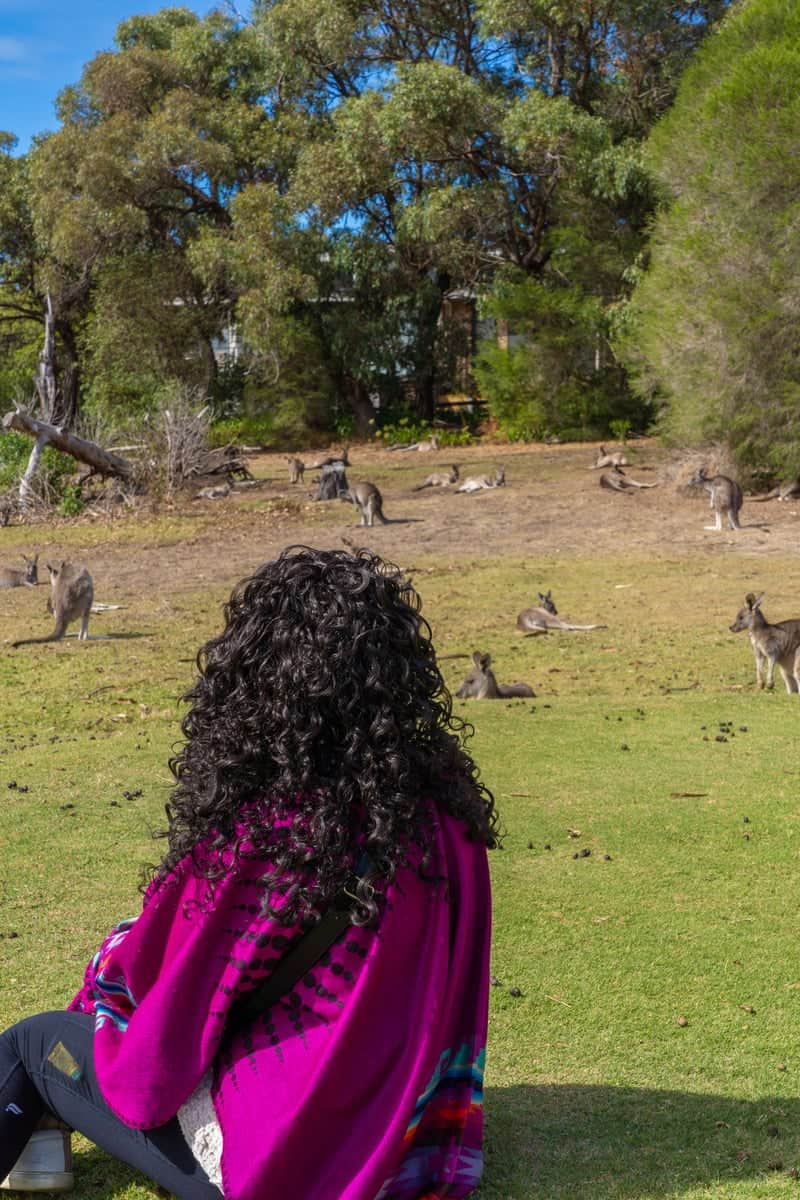 The Anglesea Golf Club itself has amenities like an 18-hole mini golf course, a clubhouse, practice fairways, putting greens, and a driving range, not to mention the stunning views the Great Ocean Road is known for. You don't have to golf to go on a tour.
Point Roadknight
This was one of our favorite spots in Anglesea! The beach was stunning! The rocky terrain and crashing waves along the point create little waterfalls and clear, shallow pools of water. The way the shore stretches out a little further into the ocean protects Urquhart Bluff Beach from strong waves and winds.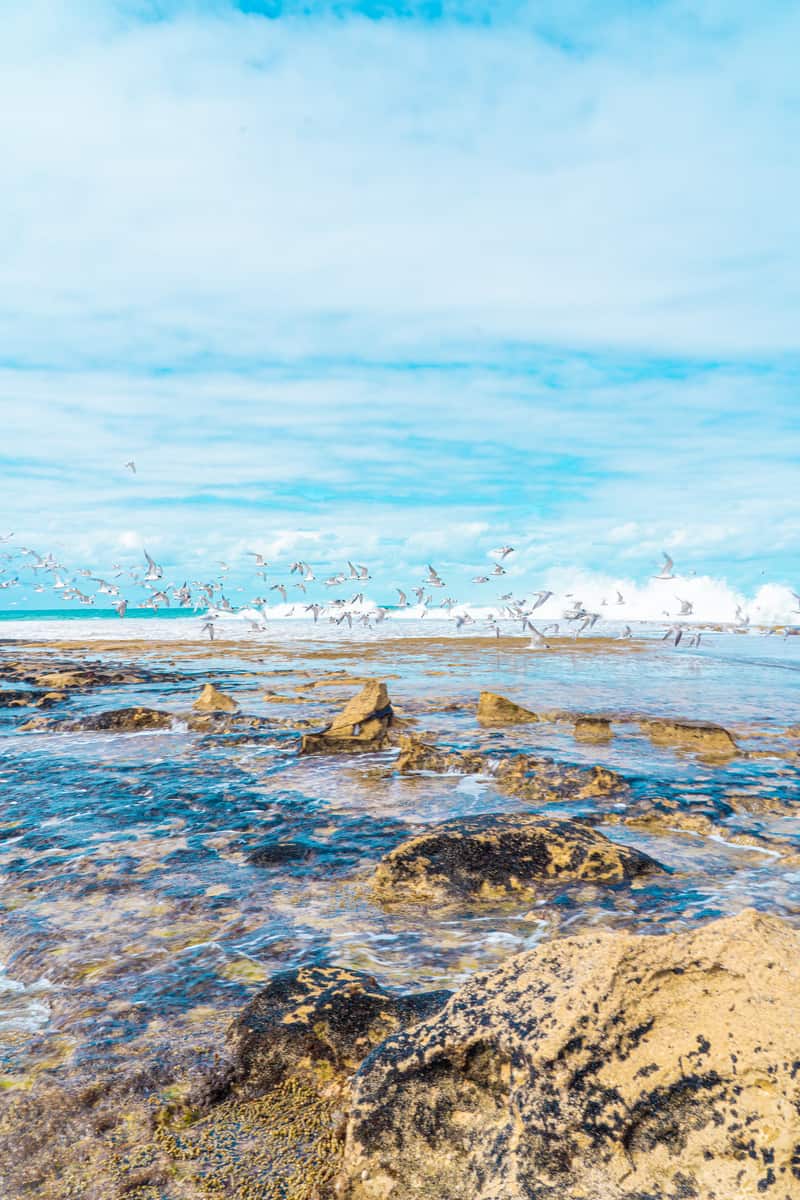 Point Roadknight is a quieter beach with less foot traffic compared to others. It's tame waves and calm water make it an ideal spot for surfers, swimmers, and snorkelers. Fishermen are often seen fishing off the point as well.
If you're arriving closer to high tide or you're looking for more of a leisurely swim, this is a great substitute for Urquhart Bluff Beach. Or just stop here to stretch your legs, fill your tummy, and enjoy breathtaking scenery.
Sunnymeade Beach
Surrounded by rock formations, Sunnymeade Beach is a quieter beach hidden by a steep embankment. Keep in mind you'll have to walk about a quarter of a mile down to the water from the parking area and the steps are quite steep. When you get down to the shore, walk towards the cliffs and you'll find these picturesque, rock arches with water flowing through them. From Urquhart Bluff Beach, it's a little over a half-mile walk.
This area experiences fewer waves when conditions are ideal, so fishing and snorkeling are possible.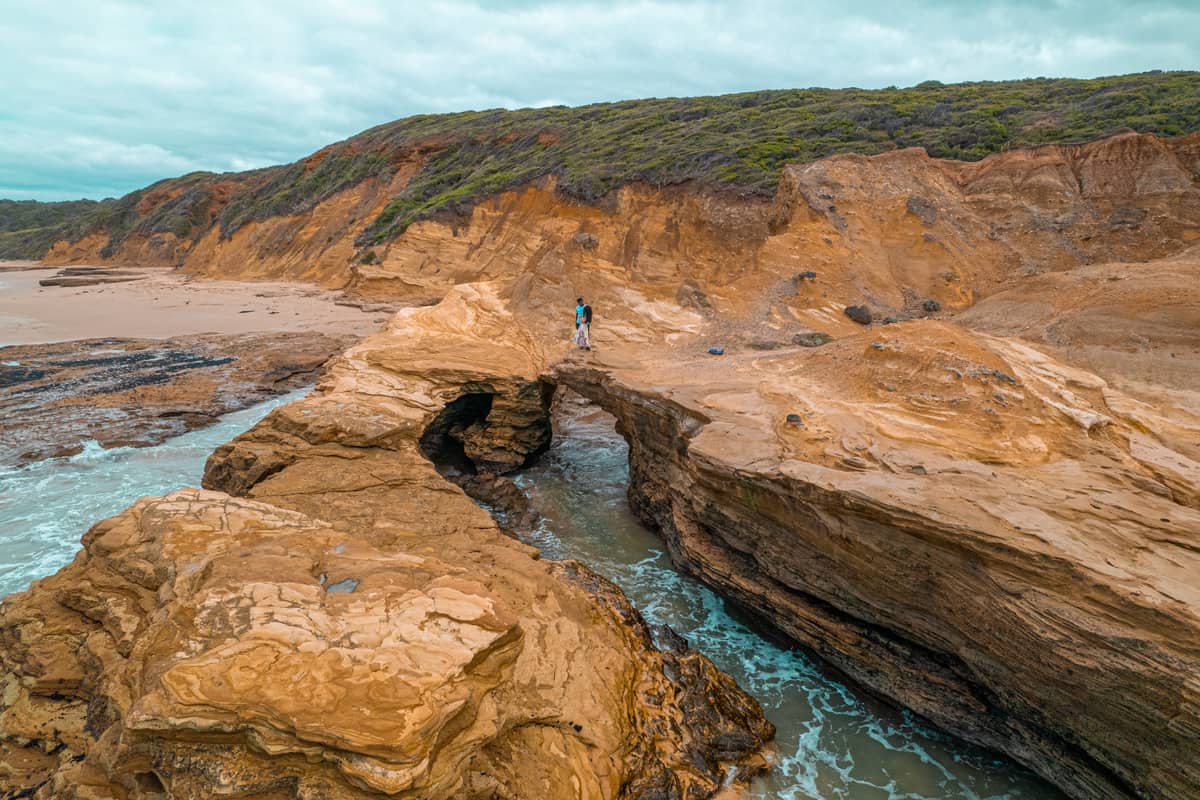 Urquhart Bluff Beach
As the name suggests, Urquhart Bluff Beach is comprised of several bluffs, or rounded cliffs, that overlook the water. You can either park in the parking lot at the bluff or, at low tide, walk along the entirety of the beach at the base of the cliffs. Otherwise, you'll be cut off from where you're parked. You can also access the beach from Point Roadknight, but again, only at low tide.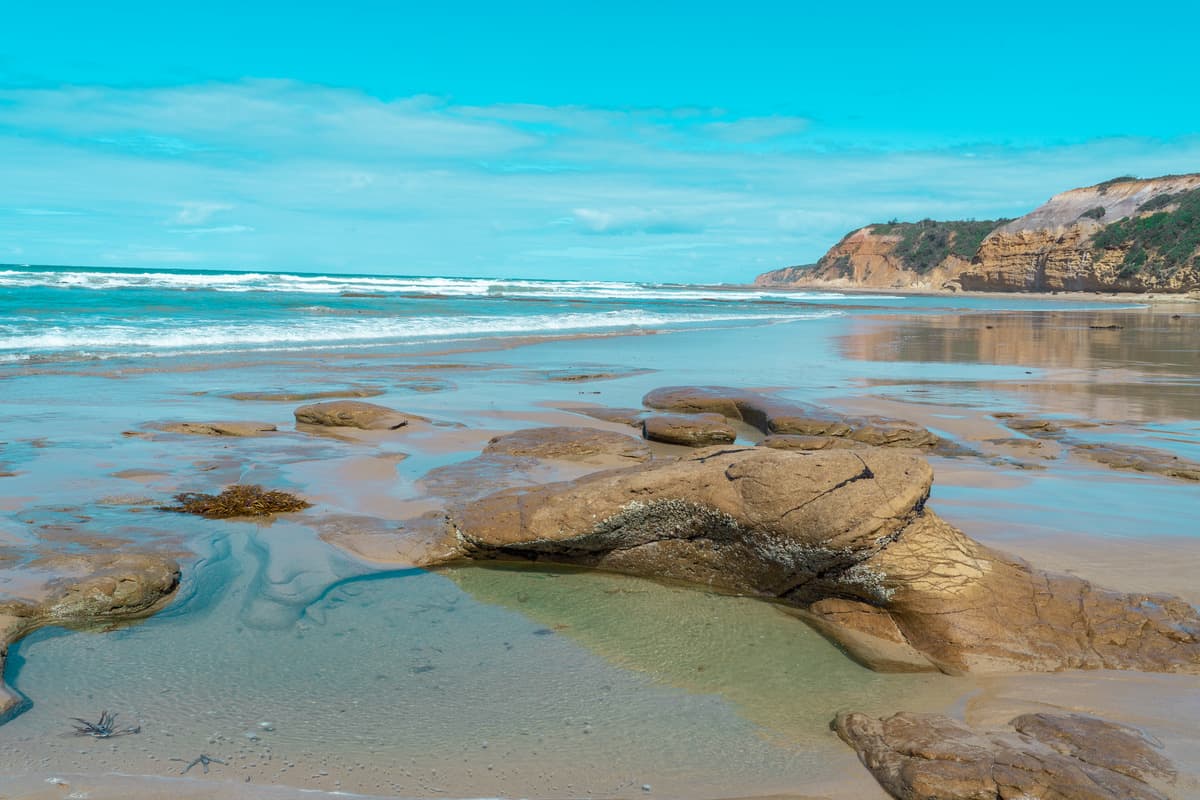 Keep in mind that there are reefs along the shore, so it isn't an ideal place for beginner swimmers or surfers. However, at low tide, these reefs are exposed for a glimpse into what lies beneath the ocean's surface.
You can also start the Surf Coast Walk Trail at Urquhart Bluff Beach, a 1.8-mile walk that takes you slightly inland, through part of the Great Otway National Park, before ending at Sunnymeade Beach.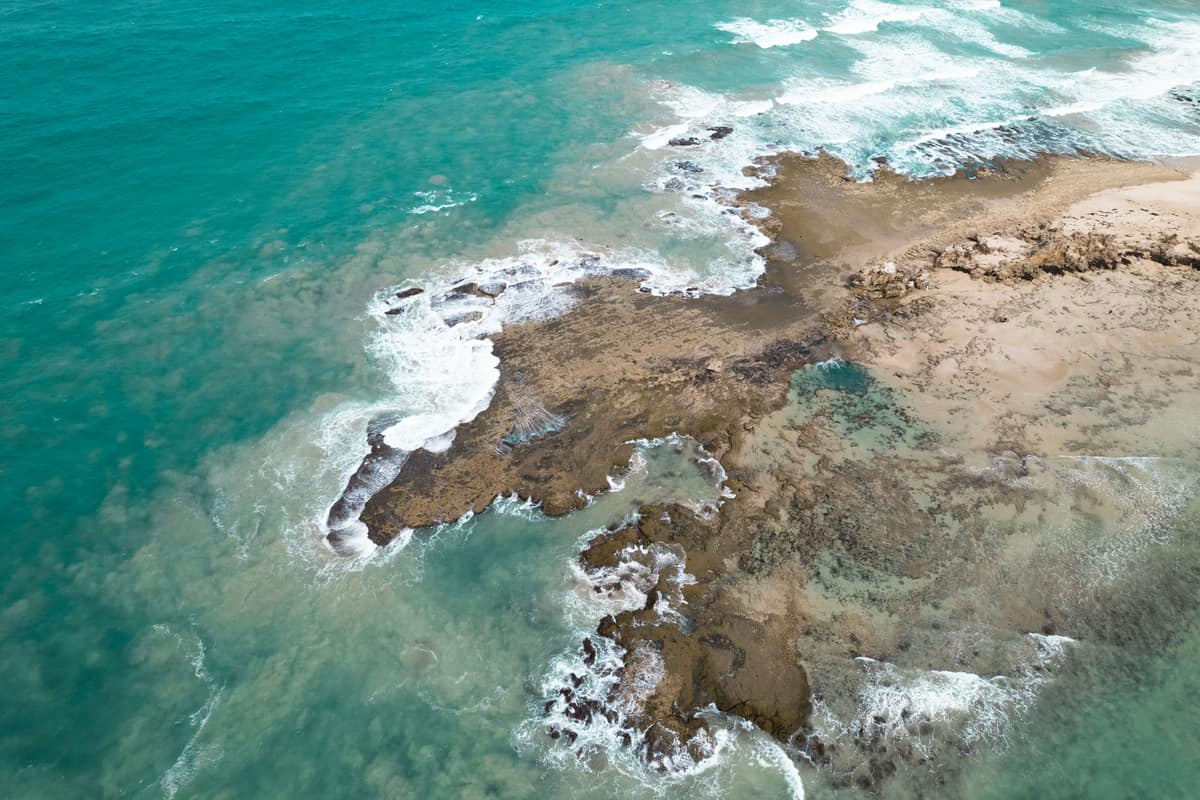 Other Things to Do in Anglesea
Add one or a few of these other things to do in Angelsea to your plans for the day before heading back to the Great Ocean Road Resort or dedicate some of the following day to exploring Angelsea before heading to the next town:
Angelsea Indoor Market – Drop in to do a little shopping from 70+ businesses or participate in one of their many classes, with everything from resin workshops to canvas painting. If you unfortunately run into some bad weather, this is a fun indoor activity to try.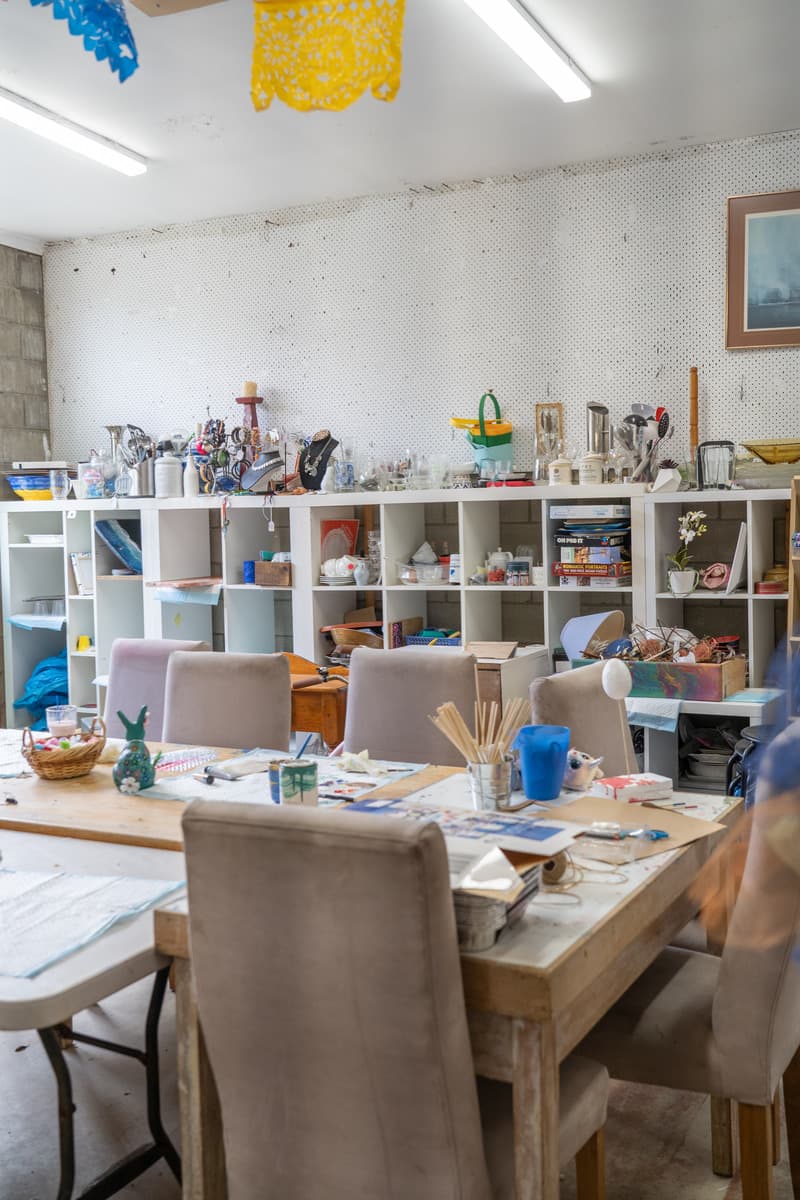 Anglesea Overlook – This is a great spot to see the beach from afar and snap some awesome vacation photos. For a few minutes of a stop, this is a must!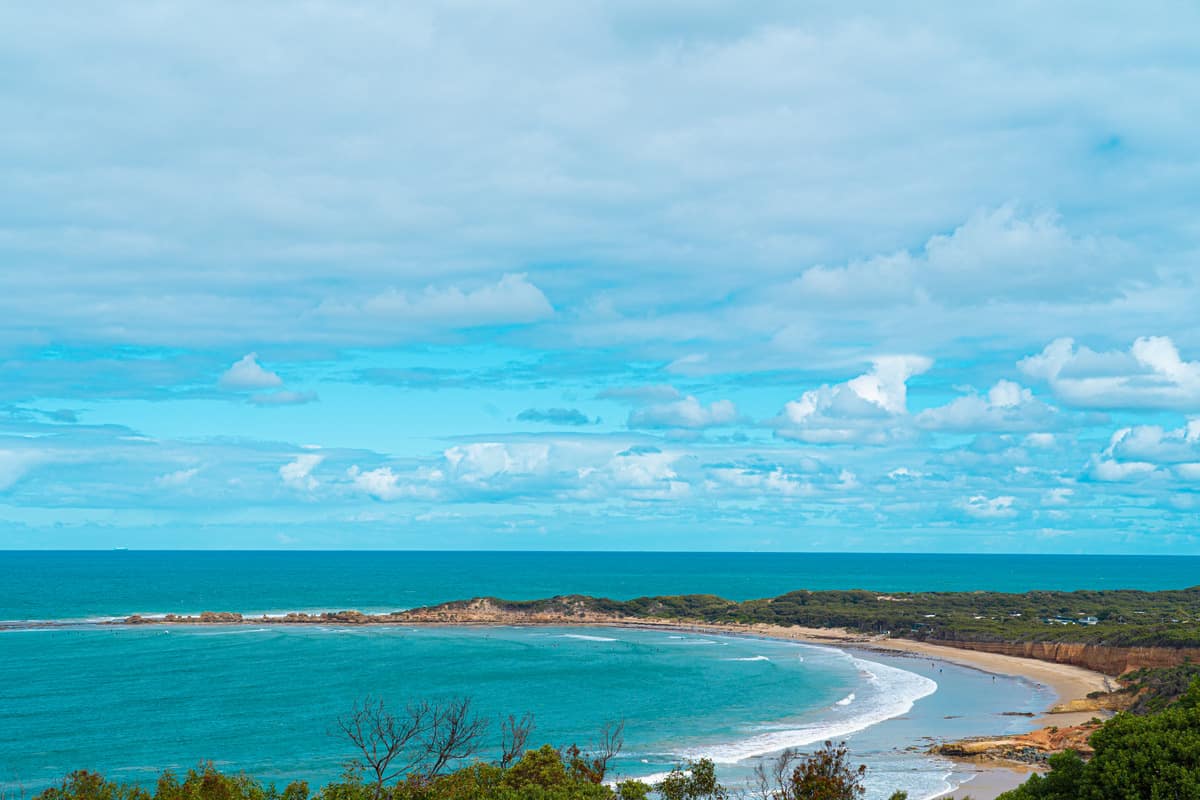 Love House – This is a cute, aesthetic spot with a view of Angelsea Beach to grab dinner. Dinner. We tried Beet Root, a popular Australian dish, along with the Sticky Lamb Ribs, Korean Fried Chicken Bao, and Slow-Cooked Chipotle Angus Beef Short Rib. I'd recommended making reservations beforehand. Even during the slow season it can be hard to get a table.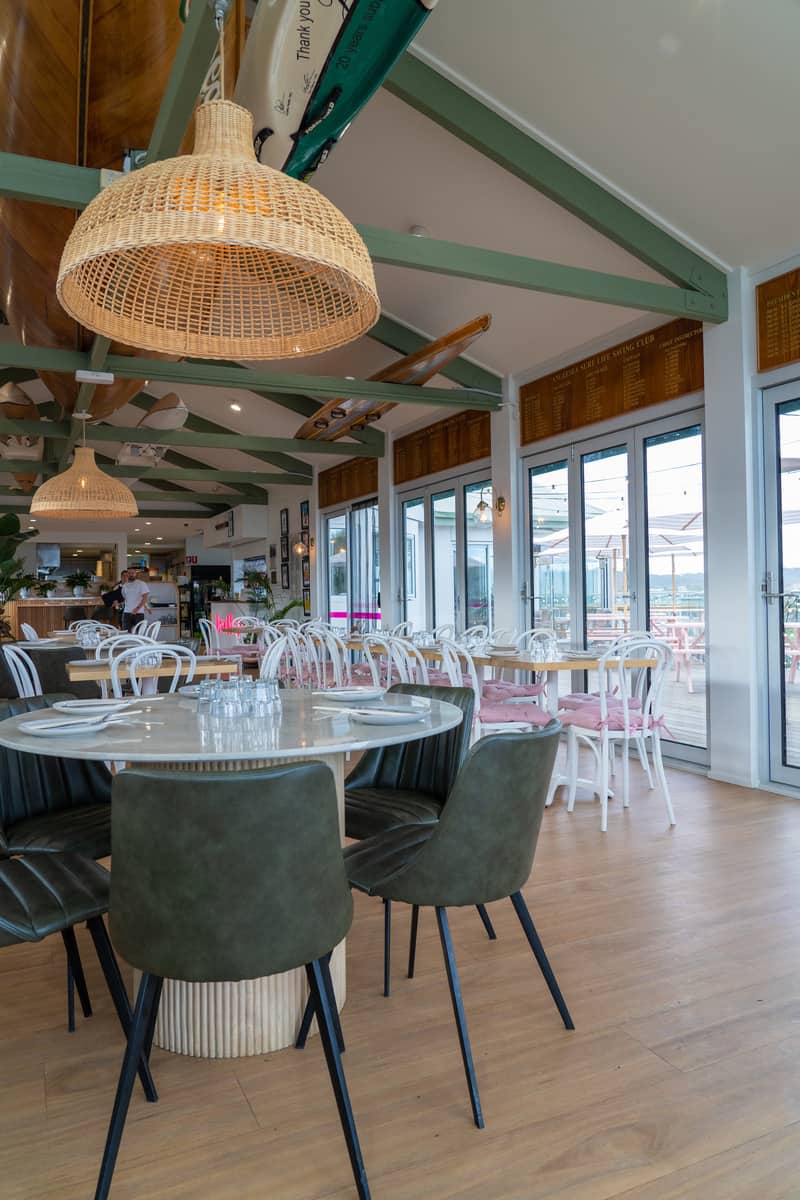 4 Kings Coffee & Food – Here, we grabbed coffee and pastries. They also offer breakfast dishes like Avocado on Toast and Noisette Fruit Toast (raisin toast with butter).